Here's our list of bathroom essentials including the must-have accessories, storage options, cleaning materials, decor ideas, and bathroom necessities checklist.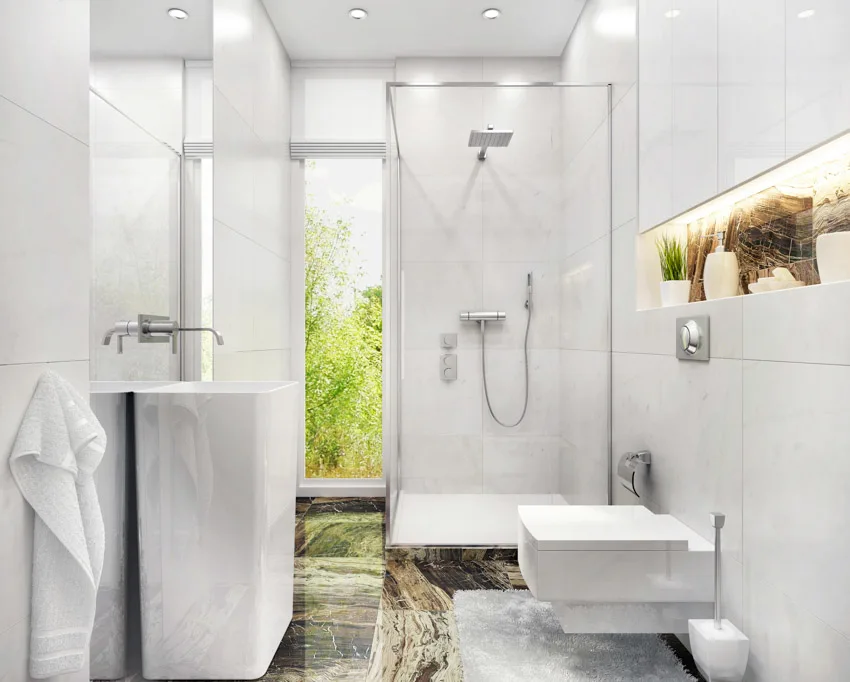 Having a lovely bathroom can make you proud of your home. You can enjoy the beauty of the space while doing your necessities and personal grooming.
So, what are the things that must be present in your bathroom? Here are some of the most important accessories to have in the bathroom.
Must Have Bathroom Accessories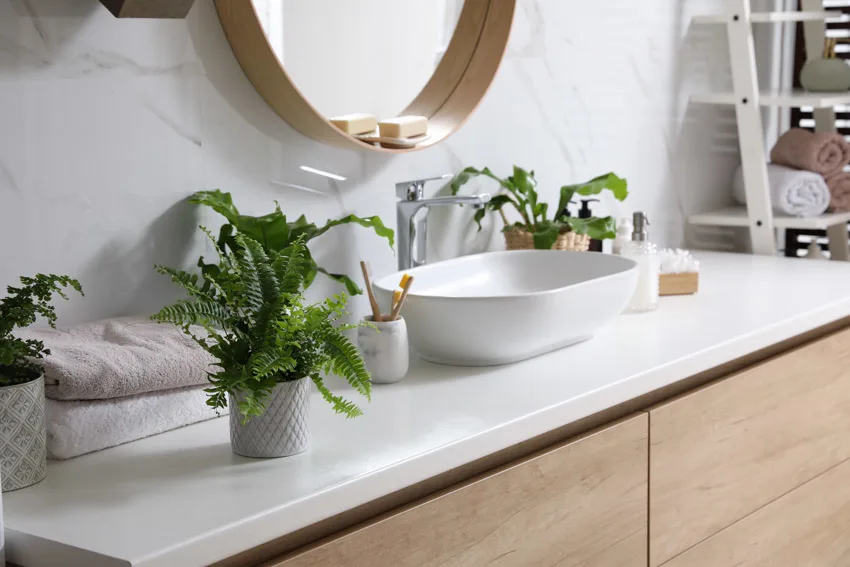 Here we share the accessories that you must have in your bathroom.
Hand Soap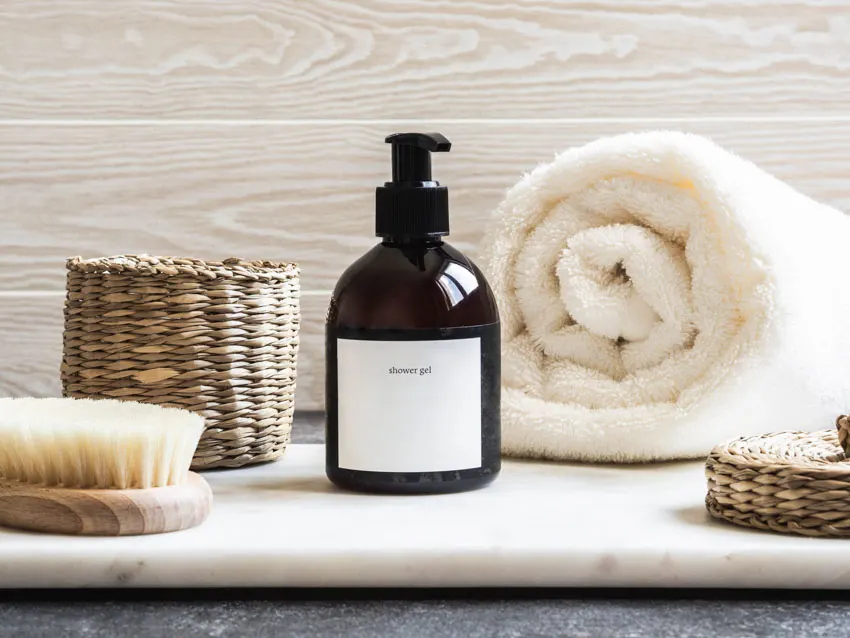 Hand soap is among the bathroom essentials found in most types of bathroom vanities. Washing your hands thoroughly after you use the toilets gets rid of germs that can contaminate everything that you touch or handle. Hand soaps have antibacterial and germicidal properties.
Since bathrooms are possible lurking places of germs, washing your hands, whether you use the toilet or not, is important for proper hygiene and one's health.
Make your hand soap containers decorative by selecting those that match the color scheme and bathroom decor. Wireframes can also be used as hand soap bottle holders.
Hand soaps come in various scents and forms. Bar hand soaps can also be used in the bathroom. Most of them contain moisturizing ingredients such as Aloe Vera and Shea Butter to keep your hands soft.
Toilet Paper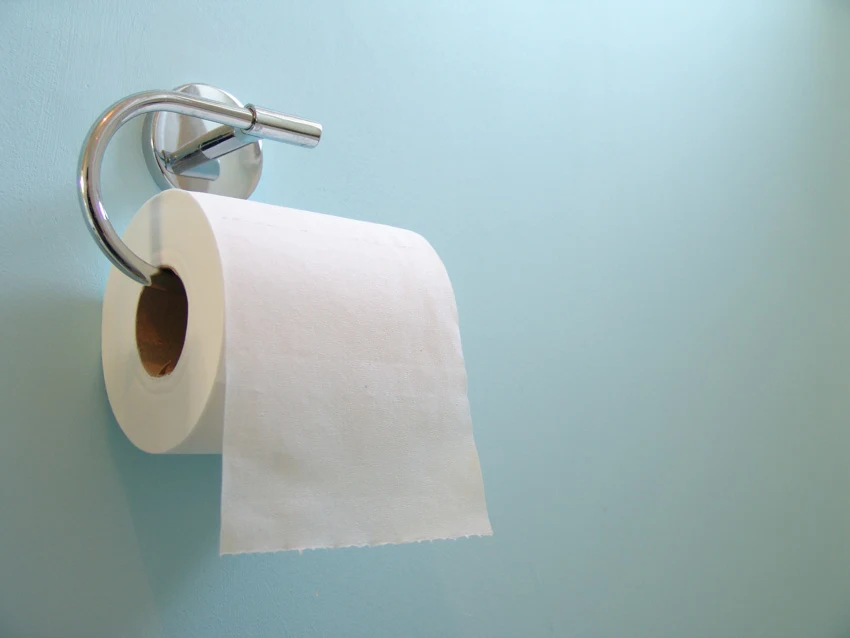 Toilet paper is one of the bathroom essentials that you must have. Family members and guests need it after using the bathroom for personal necessities. They also need it to wipe dirt or blemishes from their face. Others use it to wipe moist surfaces before touching them.
Towels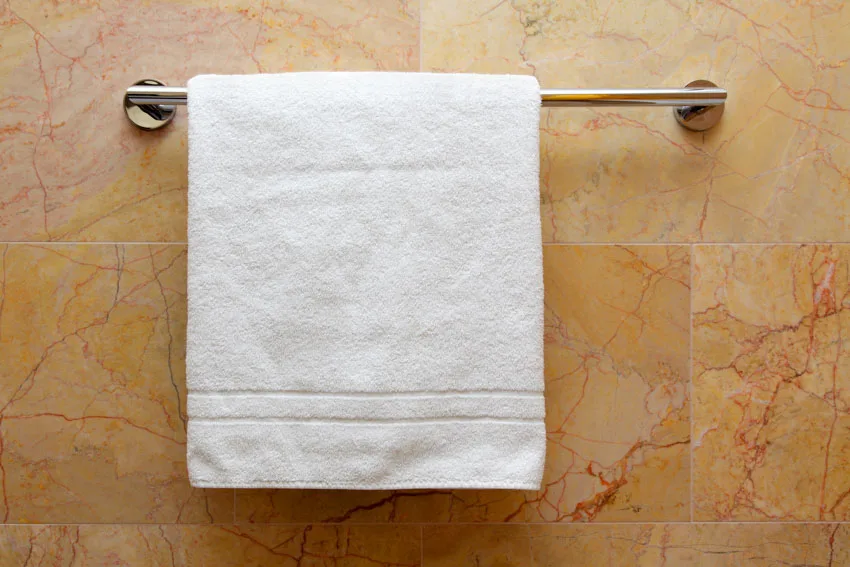 Have you experienced having to leave the bathroom dripping wet after a bath because you forgot to bring a towel? This can happen if you live alone in your apartment and think there is no need of storing towels in the bathroom.
Bath towels, hand towels, and face towels must be stored in the bathroom for your convenience. Keep several of these bathroom essentials so that they are ready when you need them.
Bathrobes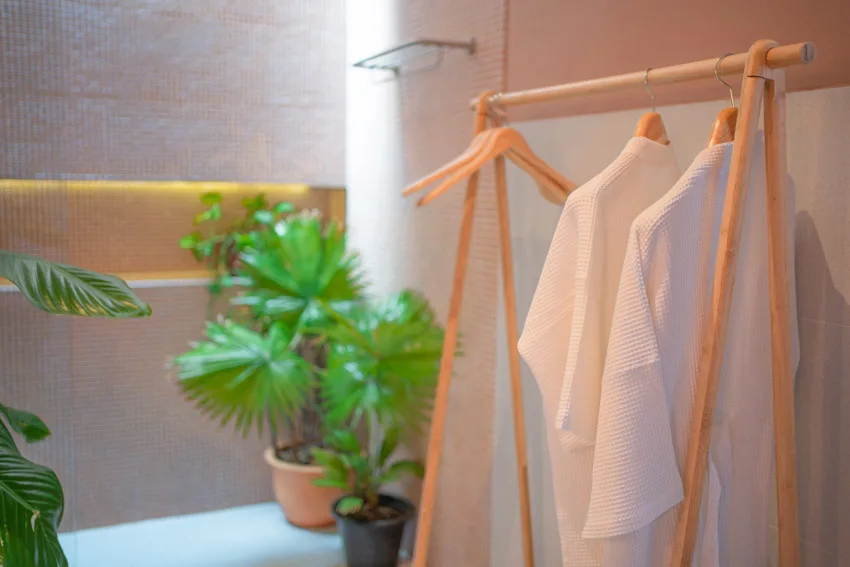 Bathrobes can be used as towels and clothes at the same time. You can use the robe to dry yourself after bathing. You can wear it from the bathroom to your room to change your house clothes or go out in one.
Does a delivery man ring the bell? No need to let him wait while you dress. You can come out on your robe. Having a soft and lovely robe and towel can make you look good even if you have just stepped out of the bath.
Toiletries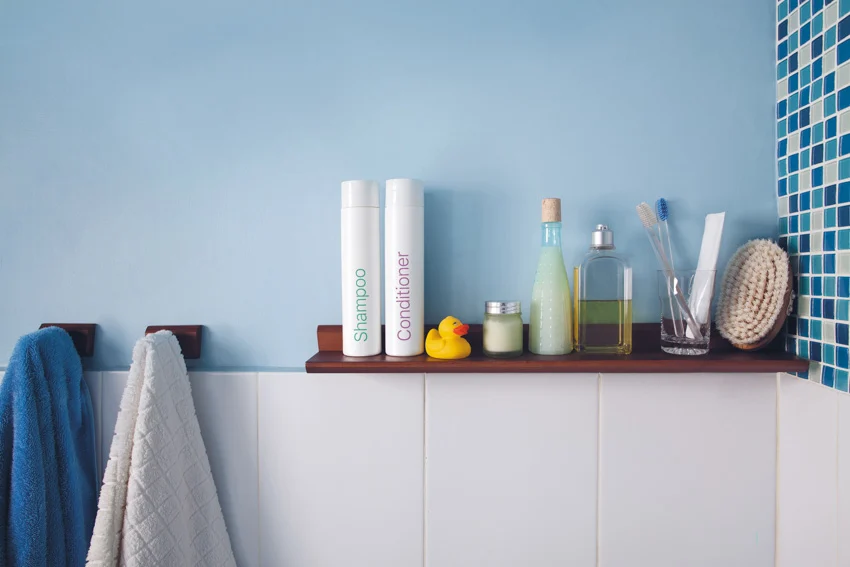 A functional bathroom contains basic toiletries. These are items that people use for their grooming. Such as soap, shampoo, lotion, toothbrush, toothpaste, cream, shave, tweezers, floss, hair conditioner, deodorant, toilet paper, and a lot more.
Check your stock and replenish these bathroom essentials when necessary. You do not want to drive early in the morning to buy some toiletries. Always replenish items that need topping up. If you live somewhere far from stores, you do not want to drive early in the morning just to buy toothpaste or shampoo.
Store these items systematically in your bathroom so that you can find them easily. Check the supply of toiletries in your bathroom regularly and replenish them as soon as the supply is low.
Soap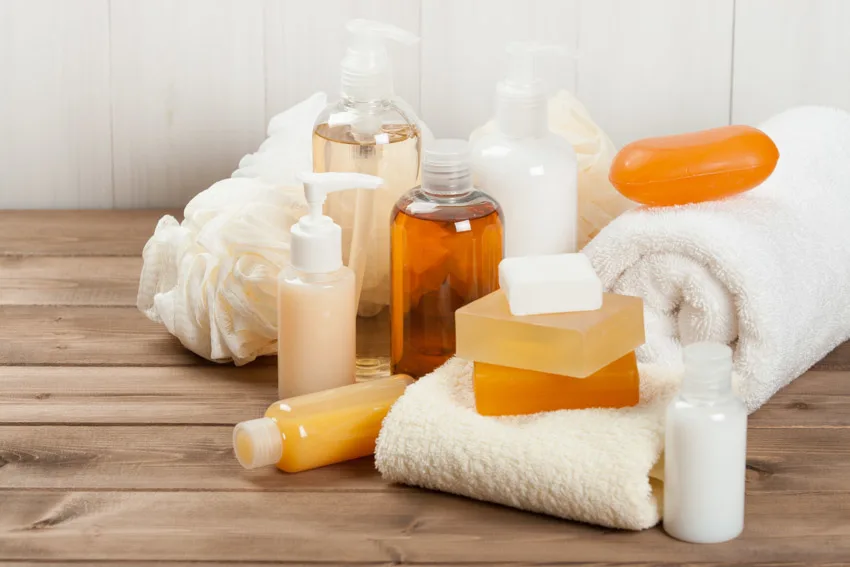 Soap has been part of human personal grooming since ancient times. It helped man to maintain cleanliness and proper hygiene. Men were able to feel fresh and relaxed after washing off the dirt, sweat, and tiredness from their bodies.
Nowadays, soaps come in various forms, types, and scents. Keep hard soap, liquid soap, hand soap, and bathing soap in your bathroom to meet the needs and tastes of everyone in your home and guests.
Soaps with a strong scent can also be used to freshen up the smell of robes and towels that you keep in the bathroom. Place a scented soap inside cabinets to have fresh-smelling towels and bathrobes anytime.
Mirror
Most bathrooms come with a mirror. Yet, small residential units might have small types of mirrors while big homes may have big and standing variants where you can see your image from head to toe.
The only way to know is if you are well-groomed already in the mirror. You have no way of seeing if there is dirt or blemish on your face or if your hair is in a disarray except by looking at your reflection in the mirror. Most residential units have a built-in mirror in the bathroom. Yet, they are quite small.
You can install a full-length mirror if there is ample space. It will be helpful to see yourself from head to toe. Add a mirror that comes with storage space for the endless items you need for personal care and grooming.
Shower Curtain With Liner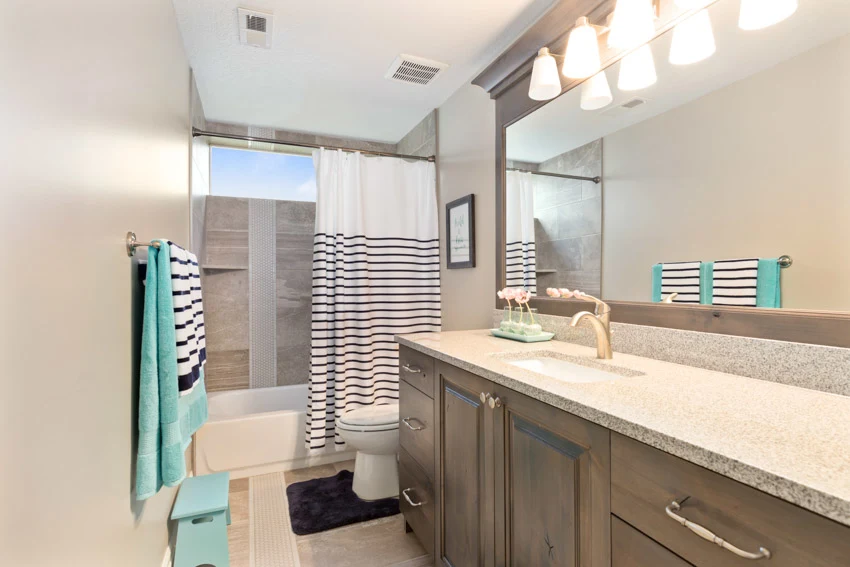 One cannot avoid getting the bathroom floor wet when using the shower. A wet floor does not only attract dirt but also danger. Bathroom floors can be slippery and cause one to slip and fall.
Prevent water from wetting the bathroom floor by containing it within the shower area using a shower curtain with a liner. Water will not spill over the floor of the bathroom. A dry bathroom floor is hygienic and safe.
Bathroom Mat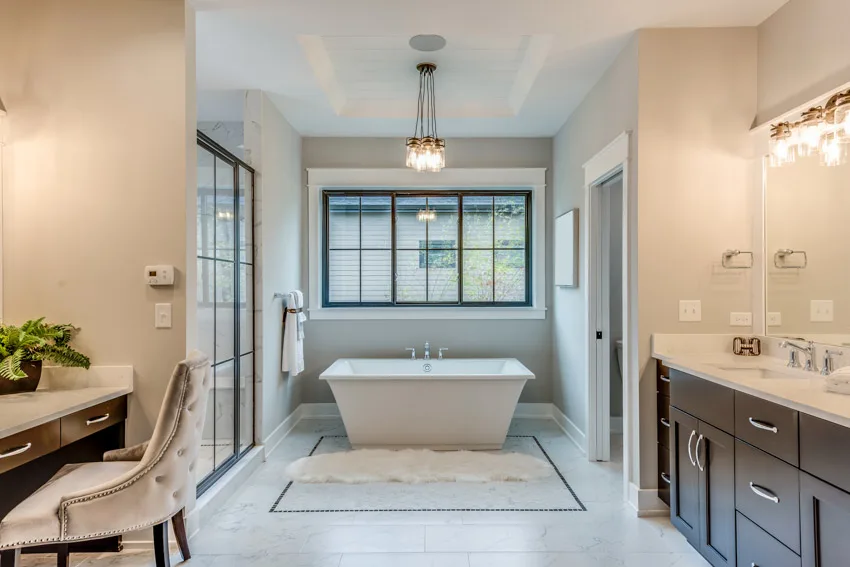 Bathroom mats catch the water that drips from your body when you step out of the shower. Slipping or sliding on the floor is prevented. Choose a durable, yet luxurious mat for the bathroom. The mat keeps your feet dry and warm during winter.
Bathroom mats can add aesthetic value to your bathroom. Choose designs and colors that match your space. If your bathroom is spacious, buy large mats rather than small ones to spare yourself from washing several pieces every day.
Wall Hooks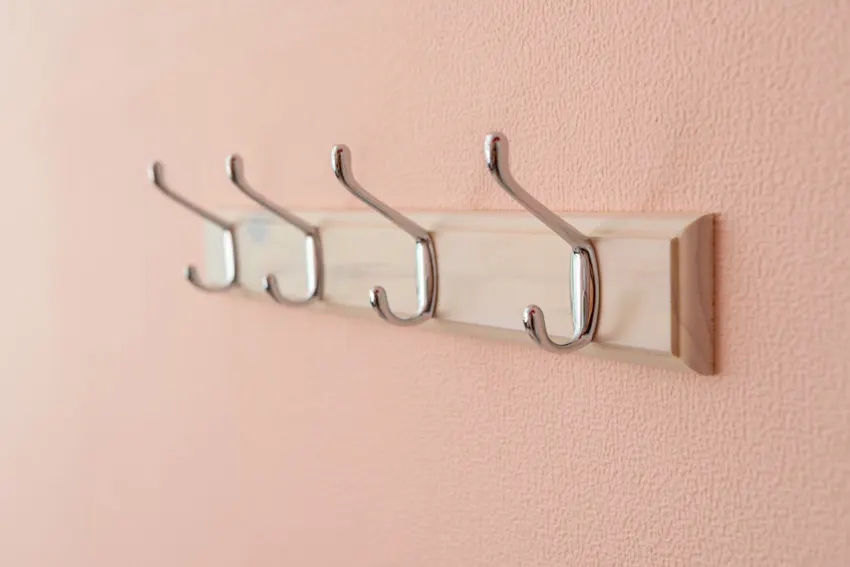 Have you ever noticed clothes and towels scattered on the bathroom floor? You can install hooks on the wall and remind everyone to hang their discarded clothes on the hooks.
If they do, you can prevent too much clutter in the bathroom. Moist clothes everywhere are an eyesore. They can also develop an unpleasant smell that can fill the bathroom.
Trash Can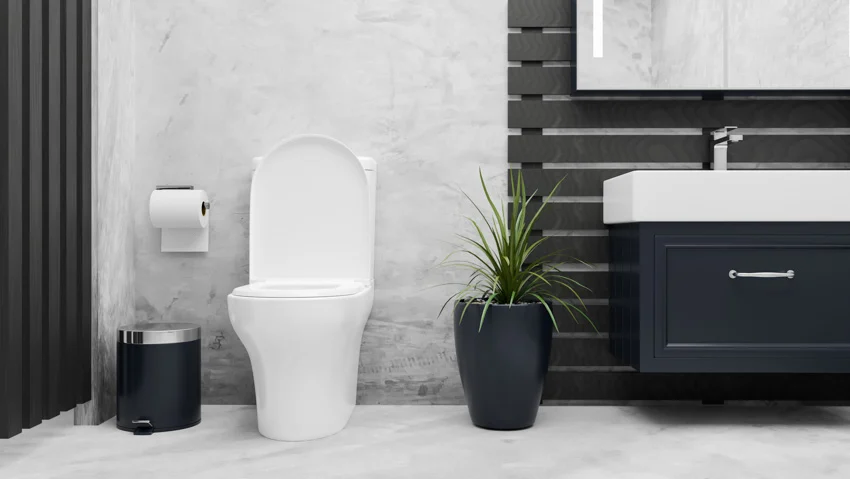 A trash can is another bathroom essential. You need a container for your empty shampoo sachets, lotion bottles, soap wrappers, and a used sanitary napkin and panty liner. You cannot flush them on the toilet. Yet, if there is no trash can in the bathroom, others might do it.
They might also find hiding places in the bathroom, making the air quality substandard because of the odor coming from those items that you have hidden.
Cleaning Supplies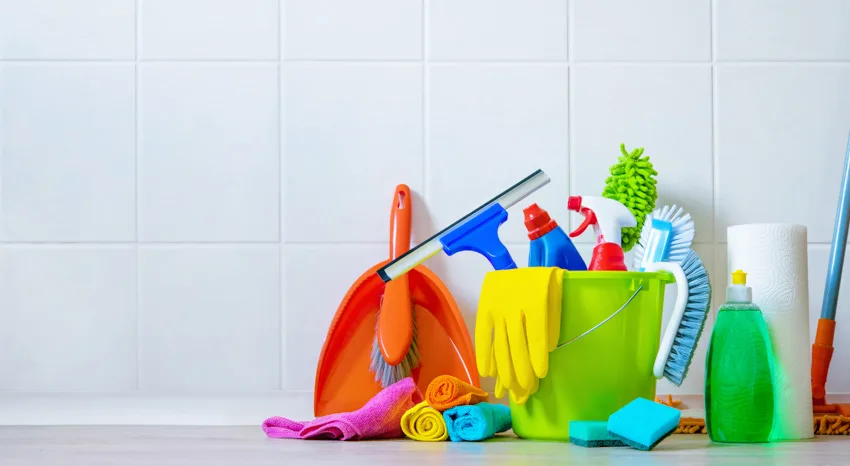 The bathroom must be the cleanest part of the house. You should not feel as if germs come with you every time you leave it. Designate a storage area for your toilet cleaner, scrub, brush, plunger, garbage can liners, scrubs, sponges, and other items that you use to clean the bathroom.
Keep an ample supply of cleaning materials for your bathroom to save you a trip to the store when you find out you do not have them anymore.
Bathroom Storage Options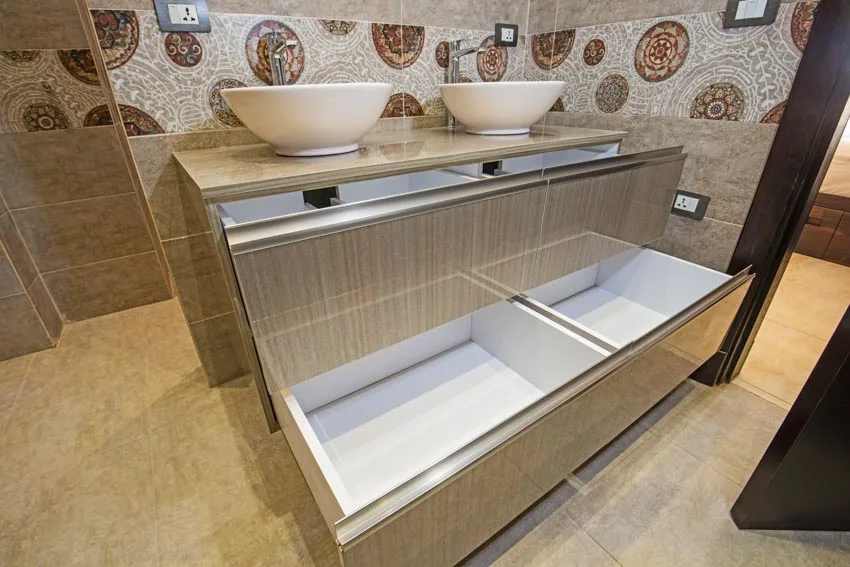 Organizing the bathroom can be a challenge especially if you do not have enough space. But, with ingenuity, it is possible to have a bathroom in tip-top shape. Consider these organizers for your bathroom:
• Storage Containers and Carts: If you have a small bathroom, having storage containers and carts is essential. Find vacant spaces on medicine cabinets, under the sink, or behind the door. If you cannot keep them out of sight, use decorative containers.
This option is among the best small bathroom ideas that can enhance the aesthetic value of this space. Use a rolling storage cart for your hair products, lotion, towels, and other items. Storing tissue papers, cosmetics, and styling paraphernalia will be easy.
• Shower Caddy: Put empty shampoo and lotion containers on a caddy hanging in the shower. It must have two or more shelves to contain items within easy reach.
• Canisters: Canisters are used to hold sugar, flour, or coffee beans. In the bathroom, you can place cotton balls and sponges, and for your makeup.
• Hamper: Used wet towels must be neatly placed in a hamper. Do not shed it off on the floor. Have a hamper in the bathroom always ready and placed conveniently. Just toss the wet towel on your way out of the bathroom.
• Cabinet: Does your bathroom have enough space for a cabinet with several doors, shelves, and drawers? Who does not have one? This type of cabinet can hold many things. It can also contribute to the beauty of the bathroom by adding beautiful accents.
Bathroom Cleaning Materials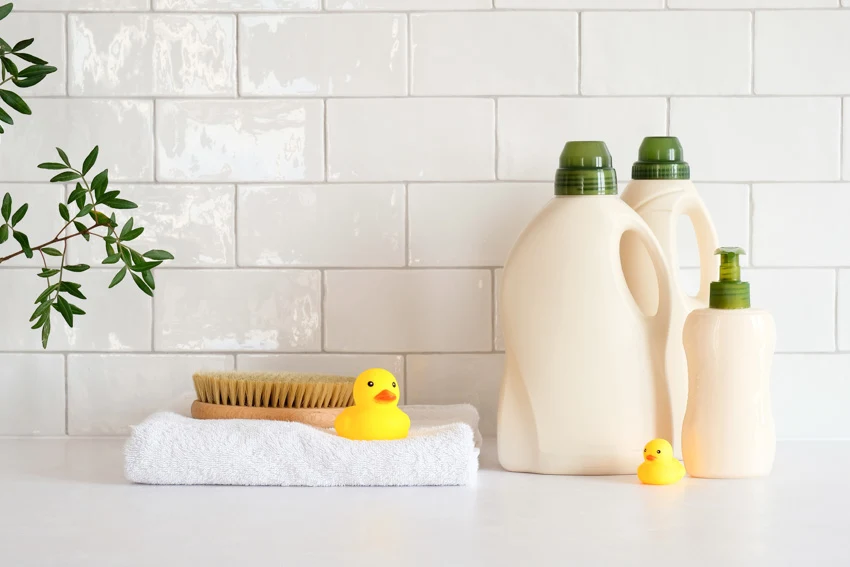 A clean bathroom is something that every homeowner should be proud of. No matter how expensive or stylish a bathroom is, no one would be comfortable using it if it is dirty.
If you want to have a clean bathroom, use cleaning products that have been proven to be effective, as well as cleaning tools that work. Here are the basic cleaning bathroom essentials:
• Toilet Brush: If you want to have a clean bathroom, learn how to use the toilet brush. You can pay a cleaner or you can do it yourself. Brushing must be done when the need arises. Seeing dirt rings inside the toilet bowl or sensing a bad smell might require a good scrubbing.
The sides and back of the toilet bowl must also be scrubbed. One cannot prevent water droplets, soap suds, and other fluids from reaching the toilet bowl and leaving its footprint. Brush them off every time you clean your toilet bowl.
• Toilet Bowl Cleaner: To have a sparkling white and clean toilet bowl, you will need a trustworthy toilet bowl cleaner. Choose one with a container designed with an angled neck. It makes cleaning the lower part of the bowl easier.
• Tub and Tile Cleaners: Keep dirt from accumulating and getting hard by spraying the tiles and tub after every use. This way, no trace of dirt remains. Waiting for your schedule in cleaning the bathroom to come up will result in harder-to-remove stains.
• Room Spray: When a person uses the bathroom, it will usually stink afterward, especially if the user forgets to flush the toilet bowl.
Make sure that anyone who enters the bathroom will have to cover his nose because of the smell. Spray the room with an air freshener so that no unpleasant odor remains for the next user.
• Disinfectant Wipes: Get rid of germs on the handle of your faucet and other surfaces of the bathroom sink. When you cannot wash your hands before touching the faucet, the handle becomes infected. How can you solve this? Have disinfectant wipes available and within reach. The wipes will get rid of all the germs present.
• Rubber Gloves: If you are hesitant to clean the bathtub and the toilet bowl, wear rubber gloves. A pair does not just protect your hands from coming into direct contact with dirt. They also prevent harsh chemicals in cleaning materials from harming your hands.
Bathroom Décor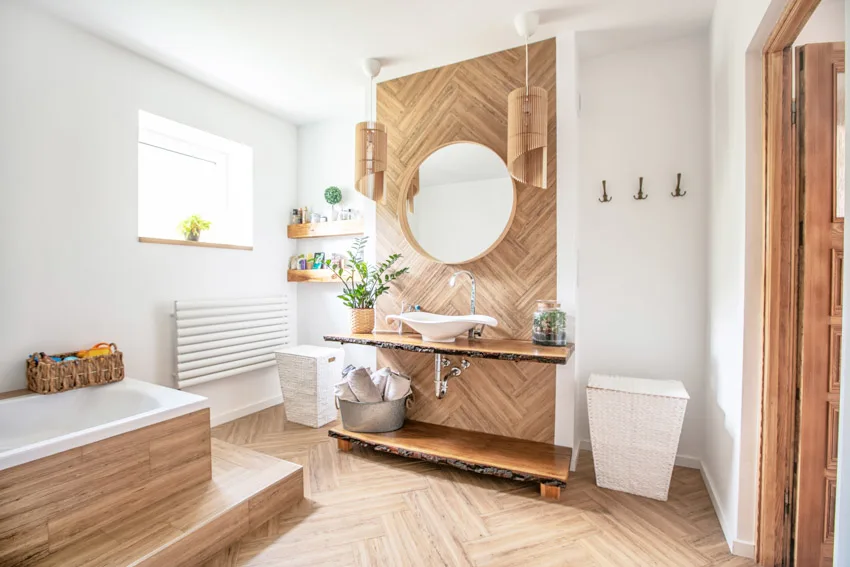 Keep the bathroom stylish by adding some decor or an artistic touch. Have candles in the bathroom and light one when you are enjoying a bubble bath. This allows you to experience the luxury of a spa without paying for it.
• Blinds or Curtains: The bathroom must have the utmost privacy you need. Prying eyes can see what is going on inside. Avoid this by installing curtains or blinds on the windows. Read more about bathroom window blinds here.
• Wall Shelves: Maximize space by adding floating wall shelves. You can display decorative items on the shelves even if your bathroom is not so big.
Bathroom Essentials Checklist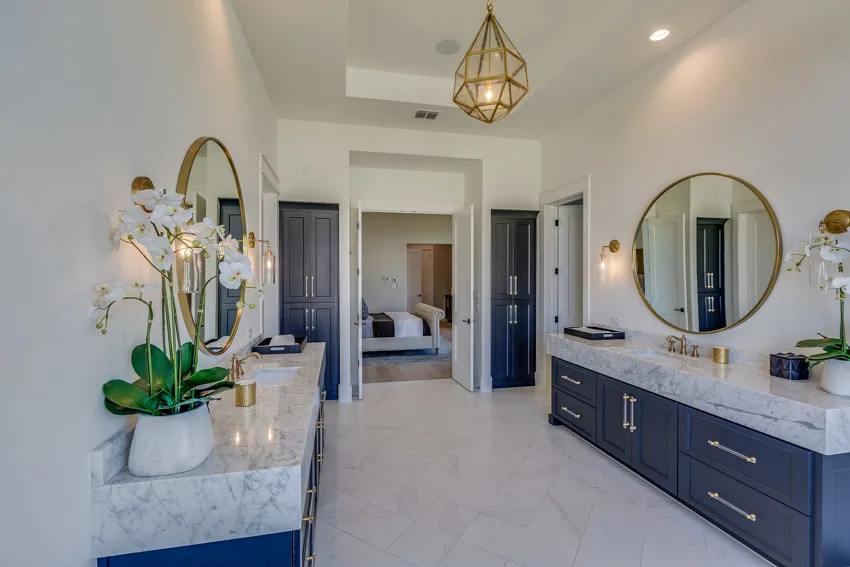 To recap, here are bathroom essentials that you must have in your bathroom:
• Shower curtain
• Shower curtain liner
• Toothbrush
• Toothbrush holders
• Toilet paper
• Toilet paper holder
• Bath mat
• Mirror
• Trash can
• Non-slip shower mat
• Tissue box
• Plunger
• Storage baskets
• Storage containers
• Hamper
• Storage cabinets
• Toilet brush
• Room spray
• Toilet Bowl cleaner
• Glass Cleaner
• Rubber gloves
• Hand towels
• Vanity set
• Wall shelves
• Curtains
The list can be endless. Some are not as important but they give the bathroom the looks and ambiance you can be proud of. Be creative. Make your personality stand out and etched on your bathroom without spending much.
You do not need to hire a decorator for the bathroom or a cleaner for that matter. Learn the basics and add something new and nice every day.
See more related content in our article about the best floating bathroom vanity ideas on this page.