Here, we share our bohemian paint colors guide, including the ideal hues that help you achieve this style and the different color schemes you can use in your home.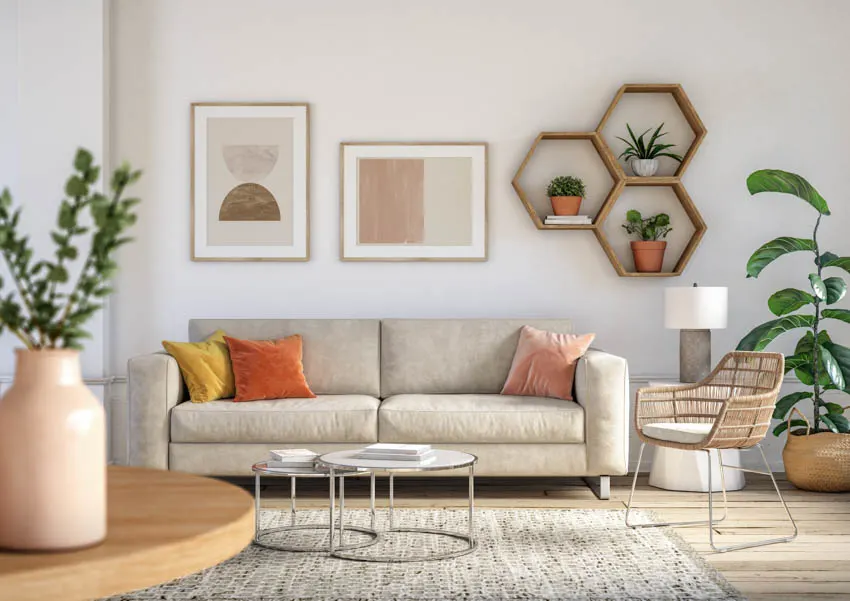 The Bohemian look offers a carefree aesthetic inspired by the collection of memories and the arts, making it a perfect theme for a more relaxed and personalized bedroom space.
The eclectic theme means you can have more layers of color, textures, and patterns compared to your contemporary spaces. Draw inspiration from these visually captivating color palettes.
What Colors Are Boho?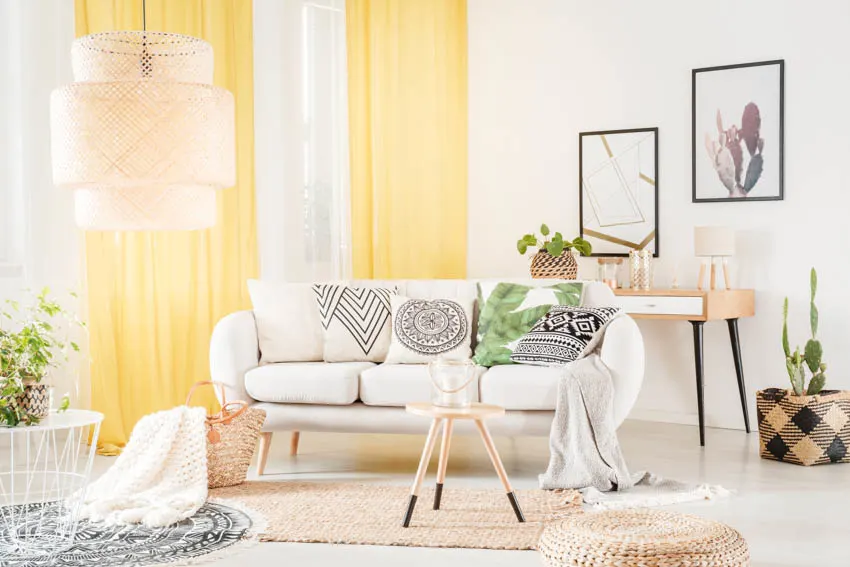 Working colors for your boho are generally eclectic and unconventional, which means you can literally choose whatever color palette you want, with a few exceptions. Include both warm and cold hues, which means you've got a good range of creative options for your interior.
To fully benefit from the varying colors, combine three shades of the same hue. For instance, with blue, you can mix it with sky blue, navy, and turquoise. You can choose 6 to 12 colors at once but with three dominating shades.
However, if you lean towards a more contemporary look, choose less and have one or two major colors for your interior.
Colors to choose: Neutrals, Pastels, and Rich Earthy Hues.
Common boho colors include Rust Orange, Peach, Emerald Clementine, Lemonade, Teal, Turquoise, Red, Bubble gum, Purple, and Electric Blue.
Colors to avoid: Neon and Highly Saturated Hues
Accent: Metallic Gold, Emerald Greens, Royal Blues, Reds
Part of choosing your color is the materials you plan to use for your furniture, fabrics, and décor:
Materials: Denim, Leather, Turquoise, Rattan, Raffia, Wood, Suede, Lace, Crochet, and Leather
Furniture: Carved wooden furniture, hanging chairs, rattan lounges, butterfly chairs, Moroccan poofs, and peacock chairs.
Décor: Macrame, sculptures, pottery, printed rugs, quilts, paintings, wooden baskets, pendants, lamps, sconces, botanicals, and other vintage treasures.
Rugs: Beni Ourain Rug and natural jute rugs.
What Is A Bohemian Color Scheme?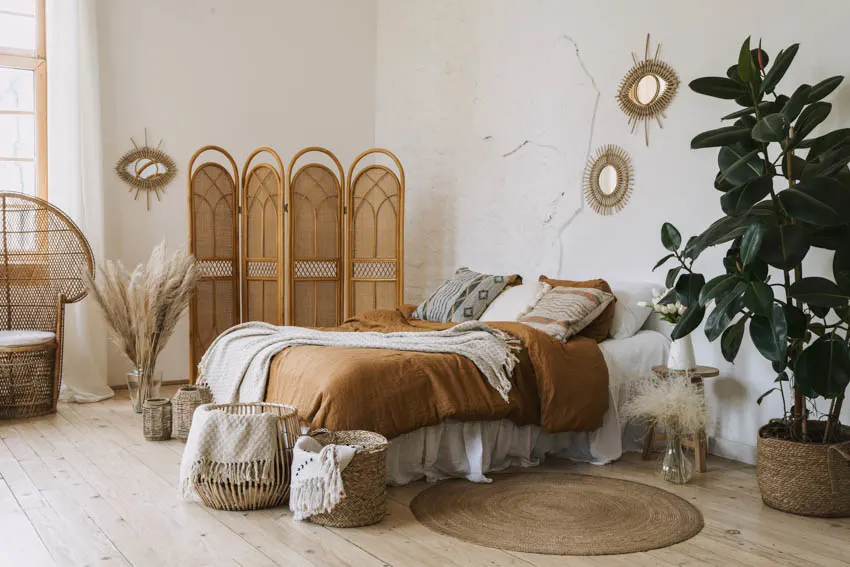 A bohemian color scheme generally employs neutral hues, warm skin-toned hues, vibrant but earthy tones, and accent gems and metallics. The bohemian color scheme depends on the mood you are aiming for.
The Groovy Hippie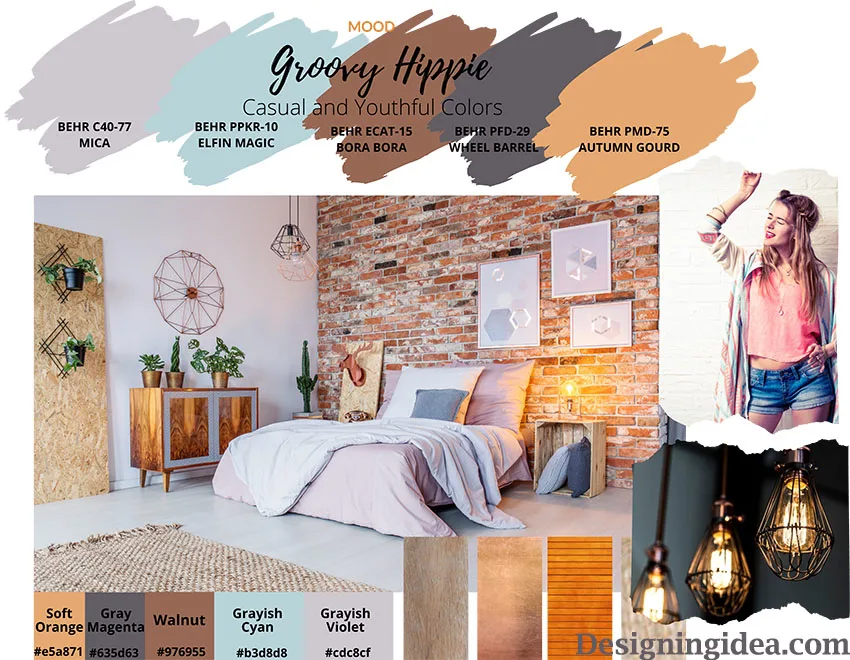 By taking a cue from the bohemian hippies of the 1960s, the Groovy Hippie color scheme is based on the vintage look of worn-out leather jackets, white rock shirts, and maxi dresses. In the interior, it's one of those bohemian paint colors that can look casual yet remain elegant when put together well.
Main Colors:
Soft Orange #35a871
Gray Magenta #635d63
Walnut #976955
Grayish Cyan #b3d8d8
Grayish Violet #cdc8cf
Get the vibe: Behr Paints
Behr C40-77 Mica
Behr PPKR-10 Elfin Magic
Behr Ecat-15 Bora Bora
Behr PFD-29 Wheel Barrel
Behr PMD-75 Autumn Gourd
The Romantic Bohemian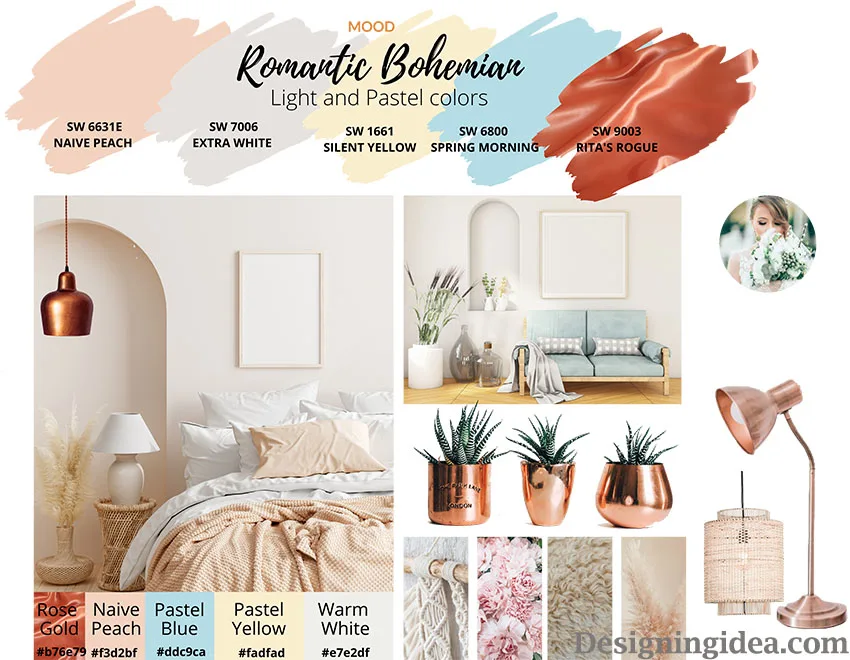 Think brides in long crochet dresses in white. This invigorating color scheme for your bedroom has a wistful and fairytale air, where white, organic beige, and pastel shades dominate.
Wicker baskets, silk fabrics, vintage chandeliers, and botanicals grace the space. The whimsy look is the perfect choice if you still want fewer colors for your boho-inspired bedroom.
Main Colors:
Rose Gold #b76e79
Naïve Peach #f3d2bf
Pastel Blue #ddc9ca
Pastel Yellow #fadfad
Warm White #e7e2df
Get the vibe: Sherwin Williams
SW 6631E Naïve Peach
SW 7006 Extra White
SW1661 Silent Yellow
SW 6800 Spring Morning
SW 9003 Rita's Rogue
Mod Gyspy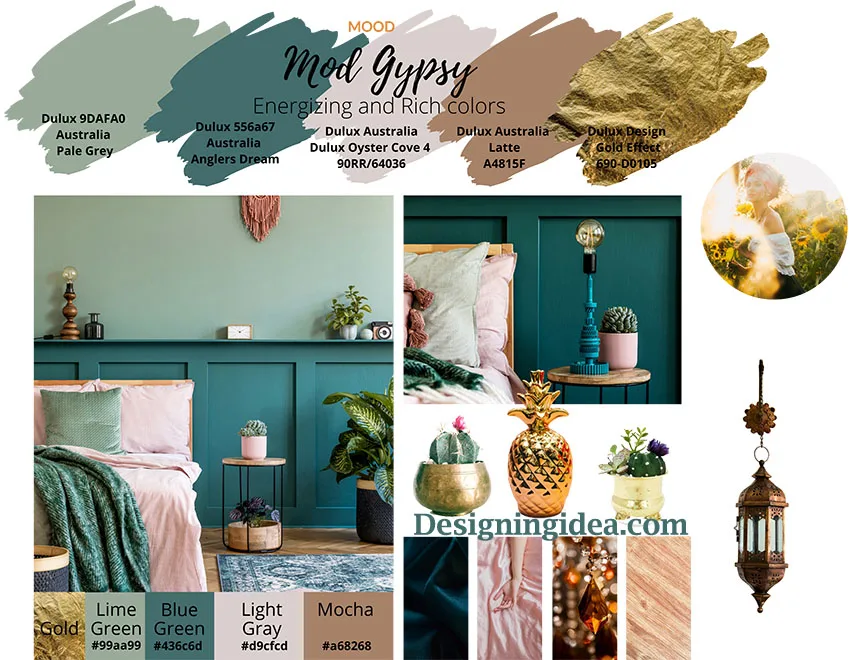 The Mod Gypsy takes inspiration from the French Roman Esmeralda with an eclectic style in lush emerald, blush pink and gold combinations.
The general look has an inviting and reenergizing vibe thanks to the use of soothing colors such as green and light browns. It's a great color scheme if you want a different color landscape if you live in the city. Read more about our guide on colors that go with green here.
Main Colors:
Mocha #a68268
Light Gray #d9cfcd
Blue Green #436c6d
Lime Green #99aa99
Gold (Metallic)
Get the Vibe: Dulux Australia
Dulux 9DAFA0 Pale Gray
Dulux 556a67 Anglers Dream
Dulux 90RR/64036 Oyster Cove 4
Dulux A4815F Latte
Dulux Design 690-D0105 Gold Effect
Boho Morocco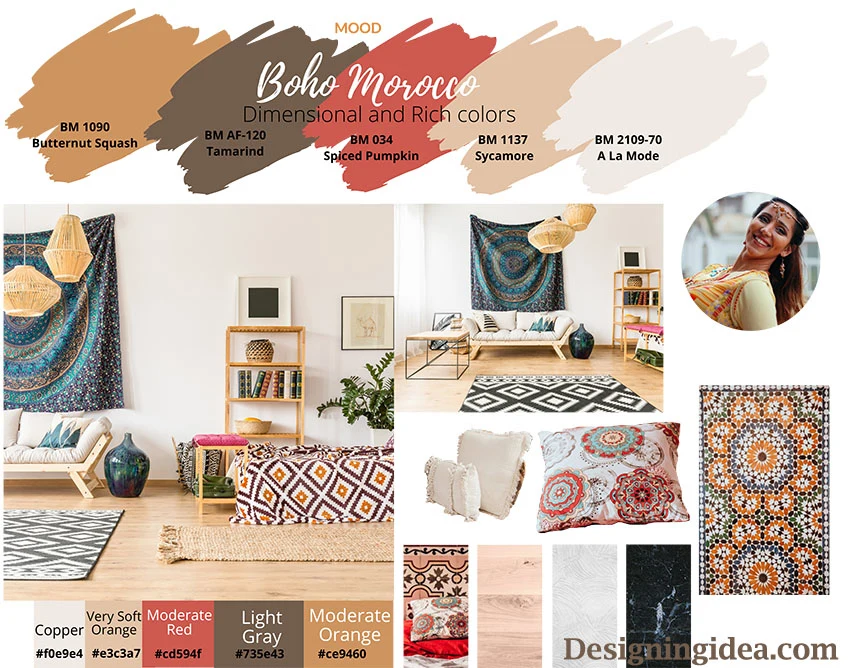 This Mediterranean Bohemian style gives a rest on wood and wicker textures and instead incorporates tile and stone finishes. You can either leave a whitewashed wall or have it painted in burnt red or cobalt blue for more color.
Moroccan tiles commonly use cobalt blue, vivid scarlet, and emerald green, which infuse gorgeous, uplifting hues into the earthy center of the color scheme.
Moroccan walls can also be whitewashed with elements of green, which is the Islamic hue, and blue, which is a characteristic Mediterranean color.
Get the Vibe: Behr Paints
BM 1090 Butternut Squash
BM AF-120 Tamarind
BM 034 Spiced Pumpkin
BM 1137 Sycamore
BM 2109-70 A La Mode
Main Colors:
Copper #f09ef
Very Soft Orange #e3c3a7
Moderate Red #cd594f
Light Gray #735e43
Moderate Orange #ce9460
Edgy Boho Style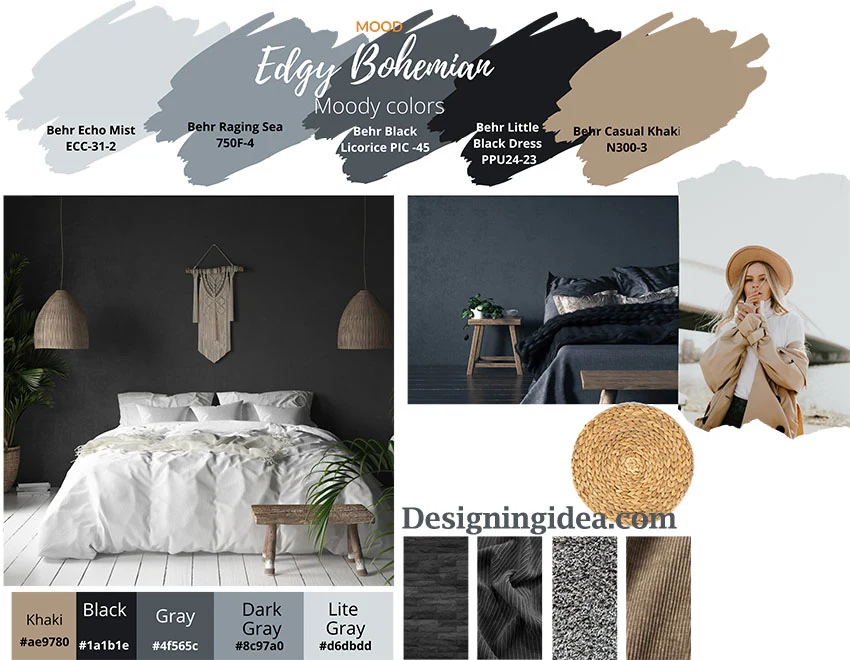 Among the bohemian paint colors, this scheme is perfect for a bedroom for that moody and masculine touch. The staples of the edgy boho look take off with darker hues, the inclusion of leather and cool metal with sleeker silhouettes, think Lenny Kravitz, was funky meets suave. Your unique décor can have vintage and grunge details with metallic details.
Main Colors:
Khaki #ae9780
Black #1a1b1e
Gray #4f565c
Dark Gray #8c97a0
Lite Gray #d6dbdd
Get the vibe: Behr Paints
Behr Echo Mist ECC-31-2
Behr Raging Sea 750F-4
Behr Black Licorice PIC-45
Behr Little Black Dress PPU24-23
Behr Casual Khaki N300-3
The English Bohemian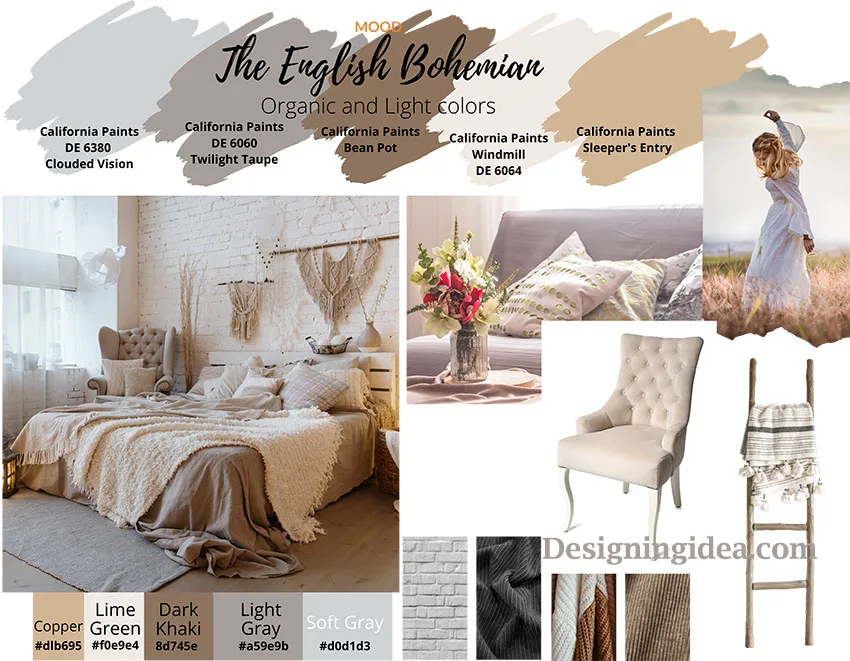 Burrowing a few pieces from its Nordic cousins, the English Bohemian brings an earthy yet lite and whimsy version of your Scandinavian aesthetics.
The bright neutral hues are great for small bedrooms as it opens up the space and lets light drench through the light-colored textures.
To create depth, you can add dark brown accents. Layered textures are still present in your English Bohemian but have fewer patterns. Read more about our guide on what colors go good with brown here.
Main Colors:
Copper #dlb695
Lime Green #f0e934
Dark Khaki #8d745e
Light Gray #a59e9b
Soft Gray #d0d1d3
Get the vibe: California Paints
Behr Clouded Vision DE 6380
Behr Twilight Taupe DE 6060
Behr Bean Pot
Behr Windmill DE 6064
Behr Sleeper's Entry
African Bohemian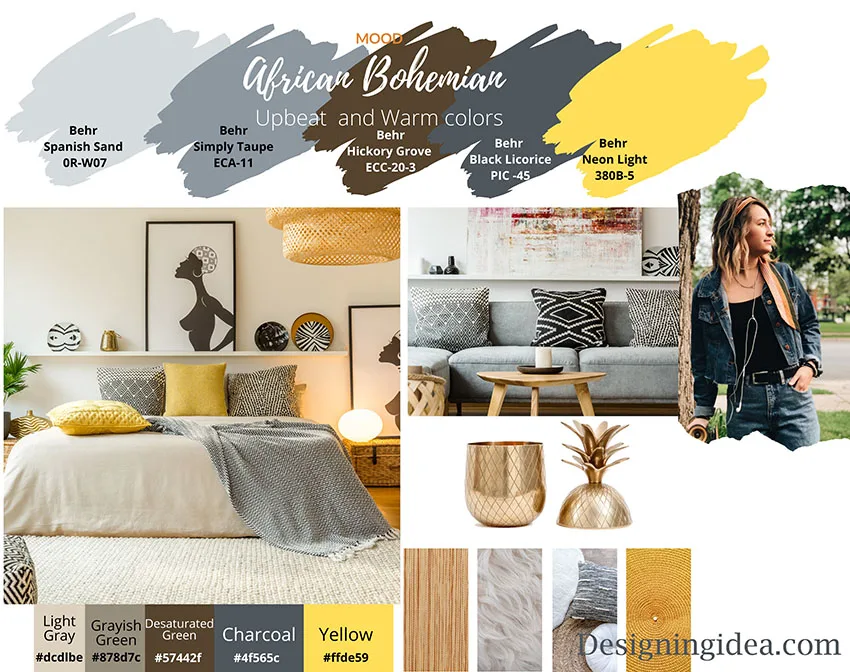 The African Bohemian is an inclusion of zigzag prints, intricate black and white geometrical patterns, and touches of the upbeat and warm colors of the culture and place.
The layers of rich patterns are well balanced off with earthy neutral hues and vibrant accents that make your bedroom visually stimulating while keeping it a relaxing space.
This ensemble has fewer loose textiles and instead uses hand-knotted and tufted rugs. Incorporate wicker pendant luminaires to extend the rich textures towards your ceiling.
Main Colors:
Light Gray #dcdlbe
Grayish Green #878d7c
Desaturated Green #57442f
Charcoal #4f565c
Yellow #ffde59
Get the vibe: Behr
Spanish Sand 04-W07
Simple Taupe ECA-11
Hickory Grove ECC-20-3
Black Licorice PIC-45
Neon Light 380B-5
Bohemian Traveler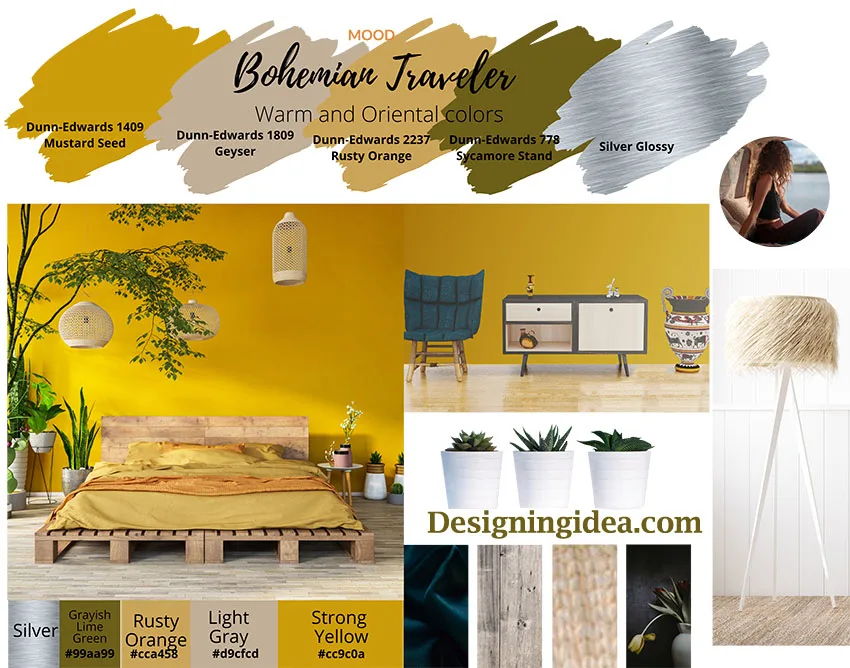 Across from the East to the Mediterranean, this free-spirited style boasts a collection of different styles from all over the world. Have a sun-kissed surround, with ebony or white wood furniture to give contrast.
Moroccan tiling, Macrame, and a faux zebra printed rug are other décor pieces that keep your bed space interesting.
The mix of vibrant and organic hues can be a collection of bohemian paint colors from the East to the Western regions, where the amber hue keeps everything anchored. The bold color palette is perfect for any bedroom that receives most of the gloomy days.
Get the vibe: Dunn-Edwards
1409 Mustard Seed
Geyser 1809
Rusty Orange 2237
Sycamore Stand 778
Silver Glossy
Main Colors:
Grayish Lime Green #99aa99
Rusty Orange #cca458
Light Gray #d9cfcd
Strong Yellow #cc9c0a
Bohemian Jungle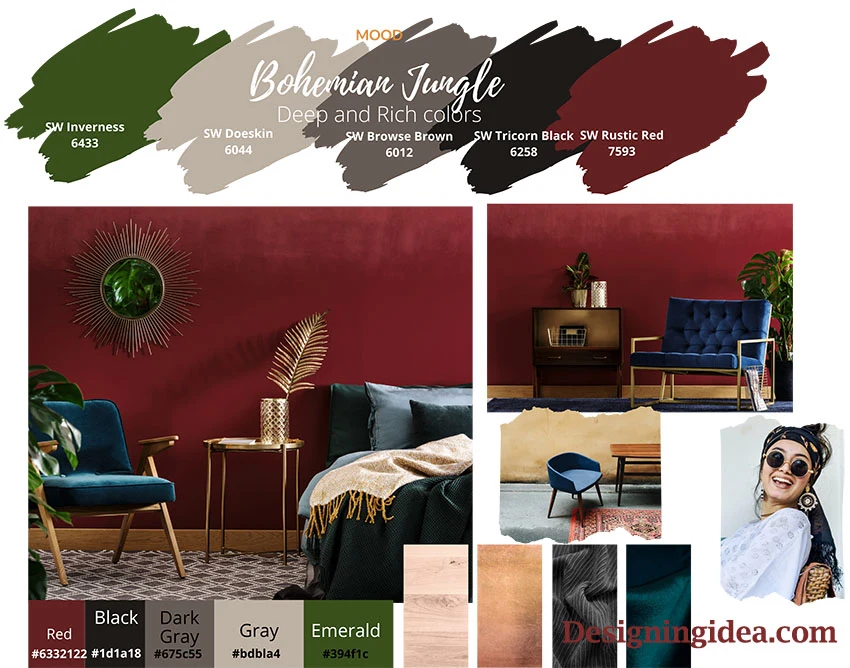 An exotic look of the Boho style is your Bohemian Jungle-inspired bedroom, where forest colors such as dark green, deep reds, and blues are matched up to create a surprisingly relaxed space. The striking and expressive combination can be personalized by blush and brass colors , giving a whole look a regal feel.
Main Colors:
Red #6332122
Black #1d1a18
Dark Gray #675c55
Gray #bdbla4
Emerald #3944f1c
Get the vibe: Sherwin Williams
SW Inverness 6433
SW Doeskin 6044
SW Browse Brown 6012
SW Tricorn 6258
SW Rustic Red 7593
Metro Boho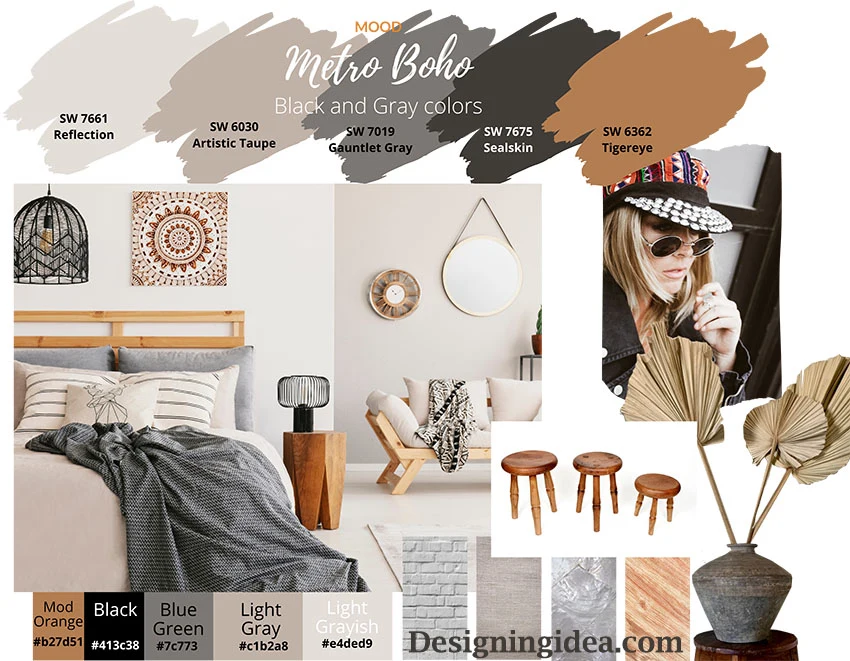 This is a great Boho style choice for the bedroom in the city by having less fluff and cleaner lines but still incorporates distressed metal colors such as pewter and brass. Adding opal and seashell textures can also add contrasting hues to your wood and earthy tones.
Main Colors:
Mod Orange #b27d51
Black #413c38
Blue Green #7c773
Light Gray #c1b2a8
Light Grayish #e4ded9
Get the vibe: Sherwin Williams
SW 7661 Reflection
SW 6030 Artistic Taupe
SW 7019 Gauntlet Gray
SW 7675 Sealskin
SW 6362 Tigereye
Adding a dash of color to your home shouldn't be a routine at all. Using a scheme that revolves around these bohemian paint colors, you can infuse new life into your residence.
See more related content at our article about rustic bedroom paint colors on this page.