Here we share our guide on what color to paint the basement ceiling. It includes essential basement color considerations, tips on wall paints, how to make your basement look larger, and ceiling paint shades for the exposed basement ceiling. We will also discuss preferred basement colors for specific features such as basement ceilings with exposed pipes, and options for painting over imperfections.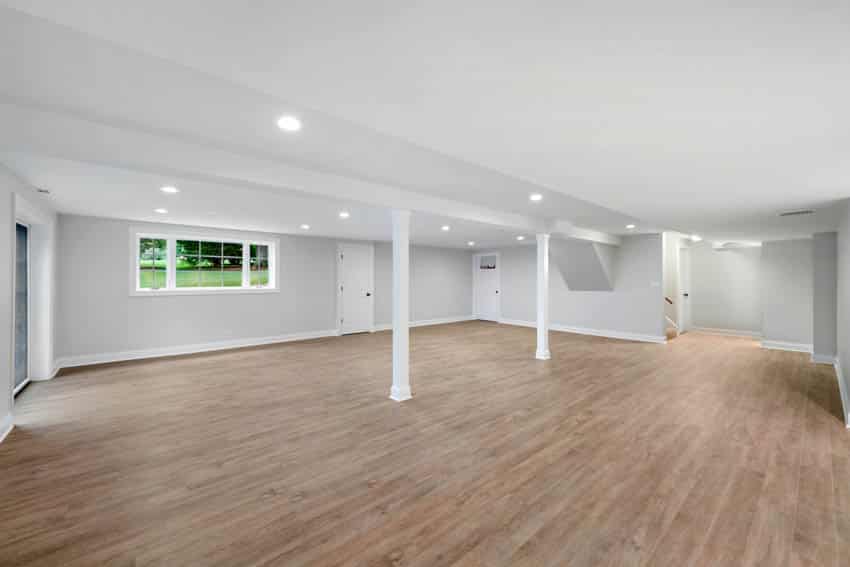 The basement is one of the overlooked rooms in the home. It's a waste of space if you leave it bare. How about turning it into something useful, making it your little project? It's time to primp your basement up. Let's start with what ceiling paint to pick for the basement, including the appearance of black or brown pipes on the ceiling.
Quicklist: Tips on How to Paint the Basement Ceiling
• No rules say the basement ceiling needs to be the same color as the basement walls.
• Ceilings and walls having the same color create a cozier ambiance and a more polished look.
• Choose a darker color if you want a more intimate ambiance. Dark shades like black or brown can help conceal any imperfections on the ceiling, such as exposed pipes or uneven surfaces.
• Dark colors on white walls create drama.
• Bright and light colors make the drab basement room appear bigger than its size.
• If you want to turn your basement into a kid's playroom, yellow might be a good choice.
• Gray paint can be soothing and relaxing.
• When painting basement ceilings, consider applying multiple coats for a more professional finish and desired shade.
Color Ideas for Painting Basement Ceilings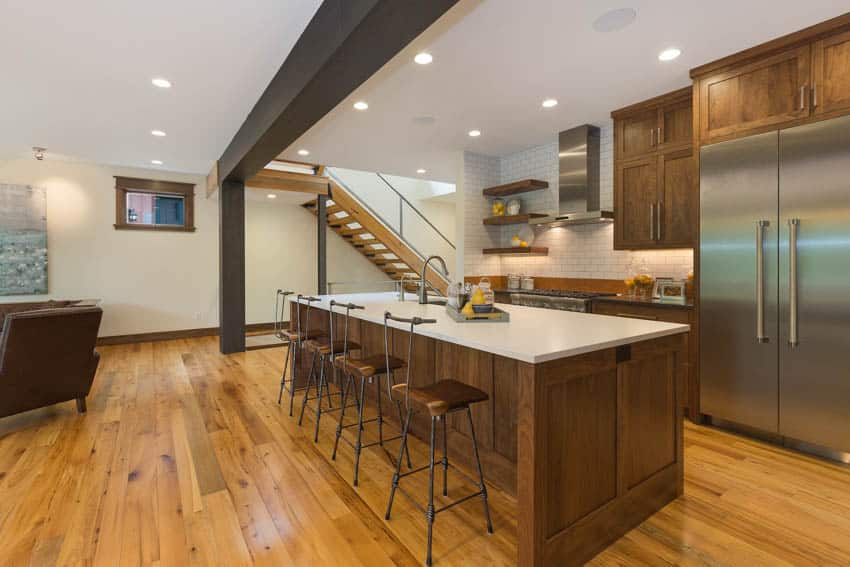 Your color preference depends on certain considerations. What are your plans for the space? What color do you plan to use on the walls of your basement? Does your basement need help to look bigger? Do you plan to paint the basement ceiling the same color as the walls? These are only a few questions you need to answer before starting your project.

Are You Painting the Basement Ceiling the Same Color as the Walls?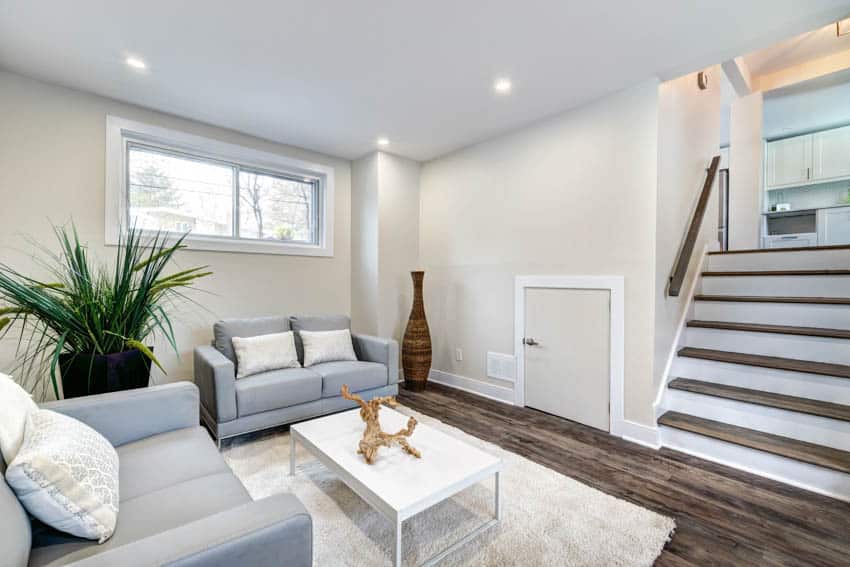 The bottom line, it is a matter of choice. No rules say basement ceilings needs to be the same color as the basement walls.
There may be pros and cons to whatever color preference you may have. Find your happy medium and that element that can satisfy your project vision. Read more about our guide on basement wall colors here.
On Matching the Basement Ceiling and Walls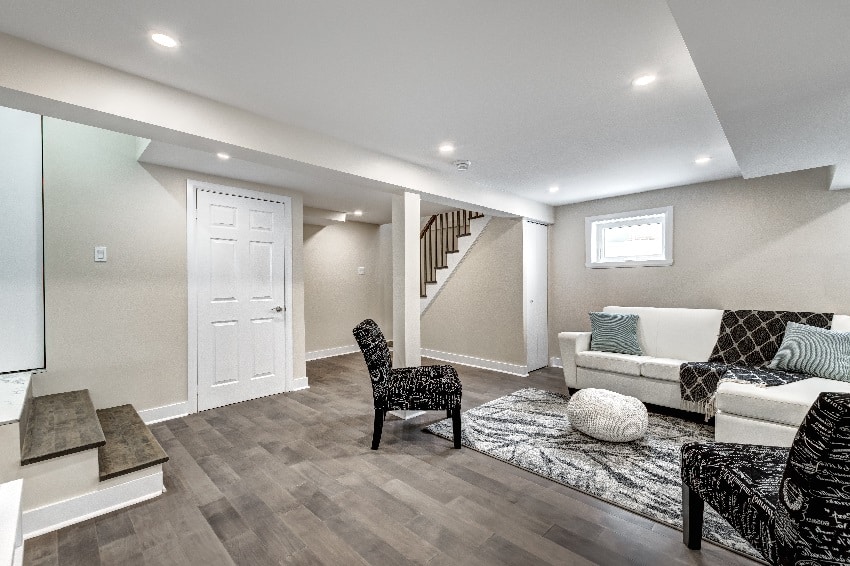 Ceilings and walls having the same color create a cozier ambiance and a more polished look. This color combination works best for basements with low or flat ceilings.

Choose a darker color, like black, if you want a more intimate ambiance. Lighter shades create depth and tend to widen the space.

Do you paint the basement ceilings the same color as the walls? The answer is yes if you want to tie a room together and create a cozier vibe.
Lighter Basement Ceilings, Darker Walls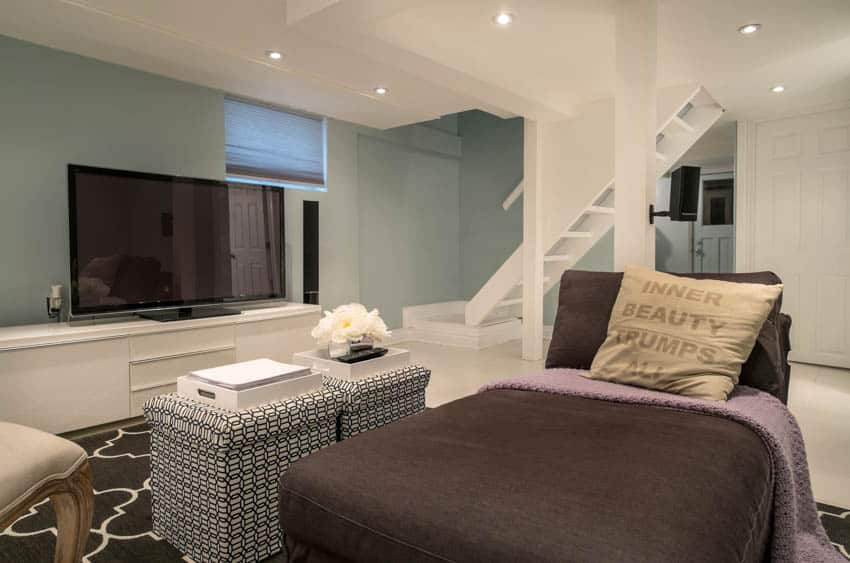 The basement living room above has muted grey-green walls, rich brown furniture, cream ceiling and subtle purple undertones:
Painting the ceiling with a lighter finish than the basement walls opens the room. Most basements are dimly-lit, so the lighter-ceiling-with-darker-wall color combination would be the way to go.
You can choose a lighter color for your basement ceiling if you want:
To make the dark basement look larger

To open up a room with lower ceilings

A room with a low-contrast look

Subtle and straightforward tone changes and clean lines
However, if your basement already has significant lighting, with beams illuminating all of your space, go ahead and paint the walls and ceilings with the same color. Incorporating warm, muted tones like soft orange, pink, or purple can enhance the room and give a playful ambiance.
Darker Ceiling, Darker Walls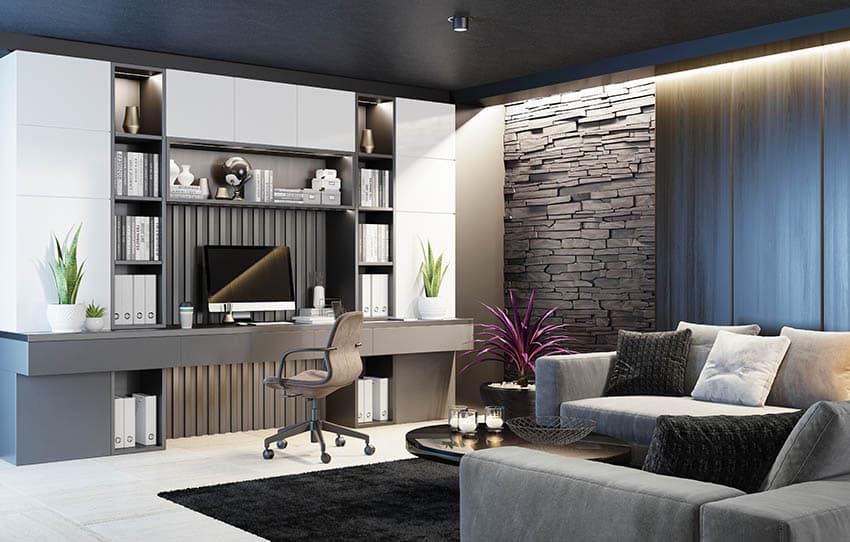 Dark colors combined with white walls can create a dramatic appearance. If you don't like the striking contrast, choose a hue only two or three shades darker for a sophisticated look. Read more about our guide on paint colors that go with dark wood floors here and discover the benefits of various shades.

Consider a darker basement ceiling color if:
You want the decorative things like crown moldings to pop out.
You only want subtle changes in your color palette.
You want to match it with white walls or light color furnishings to have that high-contrast look.
You want a basement with a more dramatic vibe.
What Color Makes a Basement Look Bigger?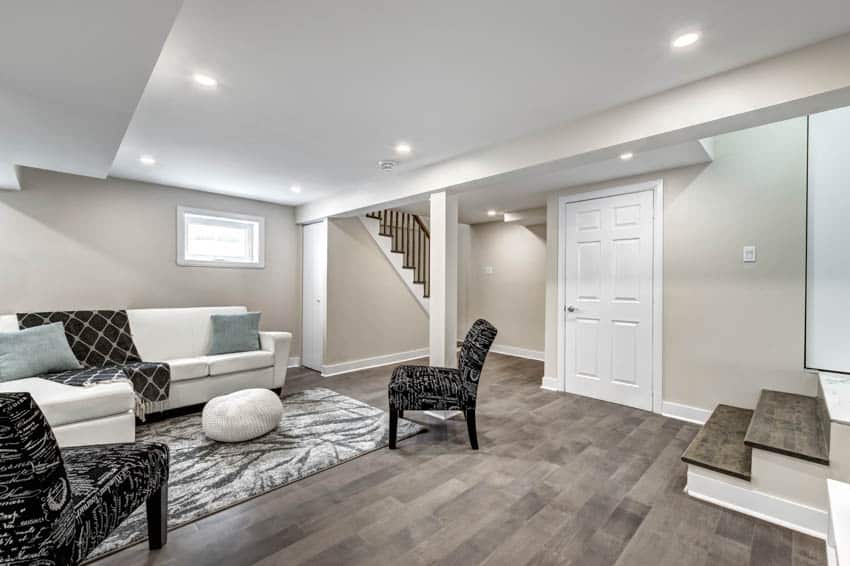 You can apply color combination techniques for a small room and basement to make it appear larger. For instance, select bright ceiling color if you have a cramped basement with a low ceiling with just artificial light.
Bright and light colors make the drab basement room appear bigger than its size. Choose light colors like white and cream and pale yellow, blue, and gray.
Apply the color scheme to the entire basement, not just the basement ceilings or walls. Here are some tips you can do and choose from:
Light-colored and water-resistant flooring

Paint the baseboards and molding with several shades brighter than the walls

Install light-colored decor and carpet

Try a glass table with transparent or even bright furniture
If you are using your basement as a living area, we have an article on the best paint colors for living rooms here, including the advantages and visual benefits of each shade.
What Type of Color to Use When Painting Exposed Basement Ceiling?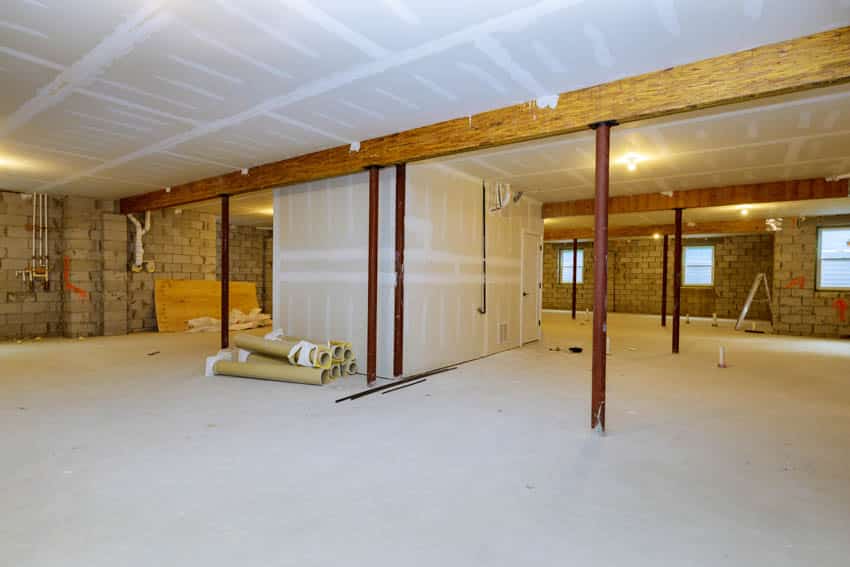 Now that you have a general idea of your basement's vibe, you can start your project soon. Your exposed basement ceiling, though, can be a problem if you don't have a plan for that yet. What type of paint can be used for an exposed basement ceiling?
One thing you can do is to leave the ceiling exposed, free from drop ceilings and drywall. Painting it directly can be a good idea, especially if your basement is already small.
Use latex paint for the exposed wood basement ceiling. You may also want to try a mix of primer and paint with matte or satin finishes for easy cleaning.
Best Paint Color for Basements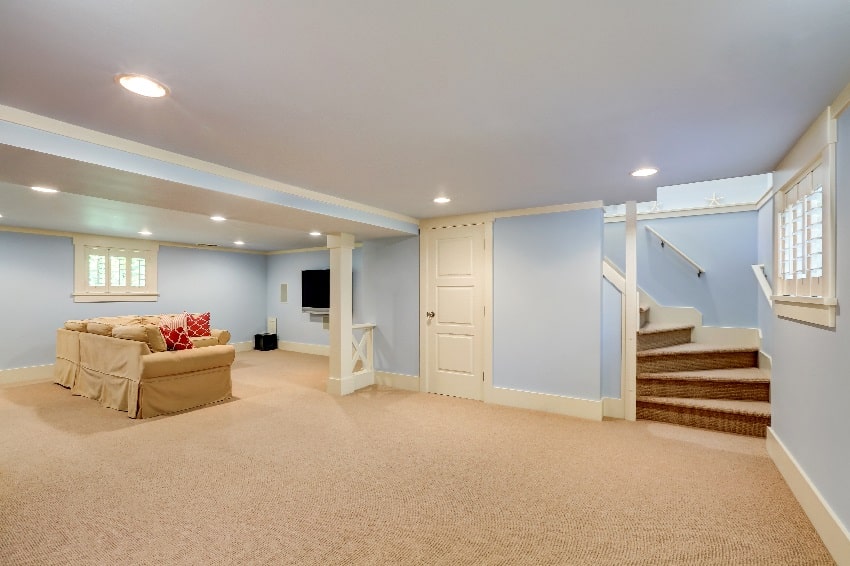 This large basement lounge design has a sectional sofa, soft blue walls and a touch of warm, red hues. Other lighter tone accent colors to consider with light blue are peach, grey, orange, and pink.
Do you now have a general feel of what your basement should be? Have you figured out what to do with your exposed basement ceiling? Great! Now, let's figure out the best paint color for basements. Let your vibe be the guide on your basement preferences.
"Before you commit to a color, buy a quart and put it on the wall. That's the only way you'll know what it's going to look like in your room." – Roger German, Remodeling a Basement – Expert Advice from Start to Finish
Here are some choices you can consider when you want to paint a basement ceiling:

White
White paint is often a generic choice for a small basement since it lightens the room and makes it appear more prominent.
Make sure to avoid going full-on by painting the basement ceiling white paint as that has a cold vibe. Choose a cool and comfortable shade that can create an inviting atmosphere in any room.
Here are several white paint types to choose from, which all offer unique benefits: Magnolia One Horn White

Extra-white by Sherwin-Williams

Chantilly Lace OC-65
Yellow
If you want to turn your basement into a kid's playroom, yellow might be a good choice. Here are some yellows to check out:

Benjamin Moore's Morning Sunshine (2018-50)

Benjamin Moore Banana Yellow (2022-40)
Gray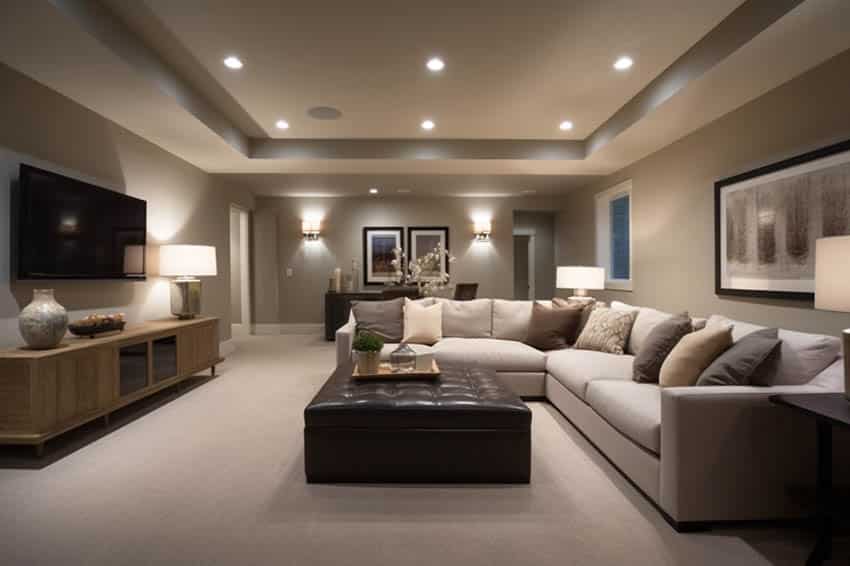 Gray paint can be soothing and relaxing. It can also be a timeless and classic look for a room. Some of the gray paint colors you can use for your basement are: Sherwin-Williams Mindful Gray (SW 7016)

Farrow & Ball Purbeck Stone 275
Blue
You can go for a sky blue to brighten up your basement or navy blue for a more classic look. Whatever vibe of blue you like, there is something you can use. Here are some choices to try out:

Sherwin-Williams Manitou Blue (SW 6501)

Sherwin-Williams Inkwell SW 6992

Benjamin Moore Light Blue 2066-70

Pantone PMS 5395-CP
Green
Green is another safe shade you can also fall back to. A green undertone is relaxing, and the earthy feel gives off a more mature personality. Here are great green hues you can consider:

Sherwin-Williams Watery (SW 6478)

Behr's Moss Mist (S380-1)
These are also excellent choices if you still wonder what inviting color to paint the basement ceilings. Assess the natural and artificial light you'll be using and what you want your basement to be. Make sure to coordinate your colors to complement each other.
Make sure to do your painting project in spring or fall when air circulation is more manageable and the windows are left open for ventilation. [Source: cpsc.gov] Consult with professional painters for an accurate estimate of materials required and ensure quality results.
Use the colors to your advantage and to meet the goal of your project – whether it is a playroom or a man cave. See more related content in our article about the different man cave colors on this page.