We've crafted the best basement wall colors to make your space more inviting, fresh, big, modern, homey, and relaxing atmosphere.

It can be quite easy to overlook the build and design of basement walls when doing home renovations. This is mainly because basements aren't readily visible. Basements, for the most part, are often used for storage space.
Light and comfort aren't usually the first things in mind but with a few upgrades, such as updating your basement wall colors with the best ones you could get your hands on, you can make all of the difference in the world.
You can effectively turn your basement space into something that is not only functional but also beautiful. A fresh paint job can turn out to be a really easy place to start with as far as upgrading your basement is concerned.
Best Color For Basement Walls
A combination of colors paired along with the right furniture pieces and accessories can change up how your basement space ends up looking and feeling right once the renovations are all over.
In order for you to arrive at the best color for your basement walls, you need to consider variables such as lighting, wall textures, as well as personal preferences for design.
Here are some of the best colors to consider for your next basement wall repainting projects:
White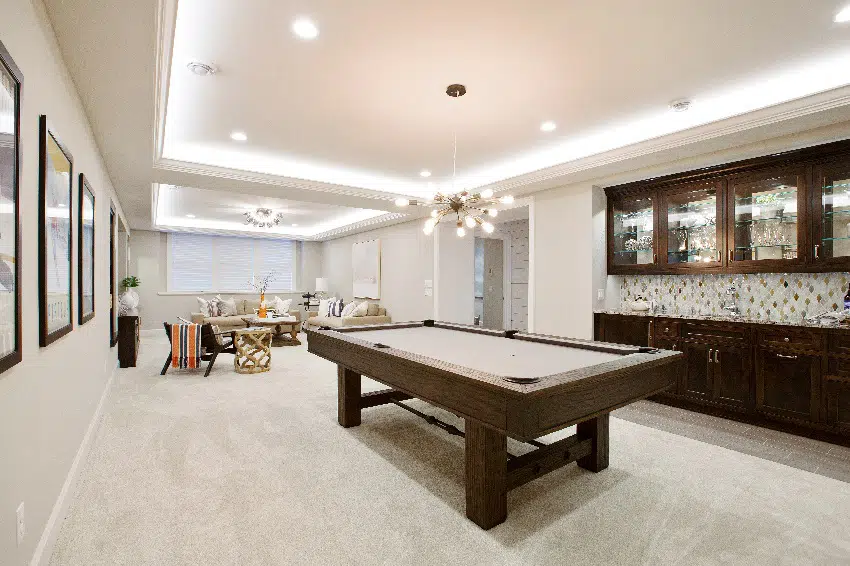 A brilliant white hue on your basement walls is a great way to diffuse light and make the space appear bigger and brighter overall.
White is considered as a versatile color because it's the easiest blank canvas to mix and match with accessories and other furnishings for the basement.
Different shades of off-whites are also a great choice for this space. If you want to create a basement home office off-white is recommended for increased productivity.
Red Red is a great way to inject energy in any type of space and can definitely liven up a dull old basement. It's also a great color choice for when you're planning to convert your basement into an entertainment area or some sort of movie room or home theater.
Red also works great as an accent wall that pops out from the other neutrals.
While using red can be symbolic of emotions such as boldness, warmth and even passion it also shares some negative traits.
The downside to red is that it can raise blood pressure by raising danger bearing emotions that are averse to having a peaceful basement sanctuary.
While red is a stimulating color it may not be the best choice for a relaxing retreat space.
Gray Grays work well with minimalist setups and can actually have a very neutral and calming effect on your basement walls. Grays are great when paired with bright fabrics and neutral furniture.
This creates a timeless look that can last all throughout the years.
Black. Black normally has a stigma for being moody and dark but when paired with colors like gold and other rustic hues, it can add character and a certain sense of richness to your basement walls.
Investing in a great light fixture is key to making black basement walls work.
Yellow

This is an energetic color that can instantly warm up a dark space like a basement. Brighter shades of yellow can be challenging to use as it tends to intensify with sunlight.
Lighter and warmer shades of yellow can illuminate your basement spaces perfectly though which makes it a great option for your basement walls.
Cream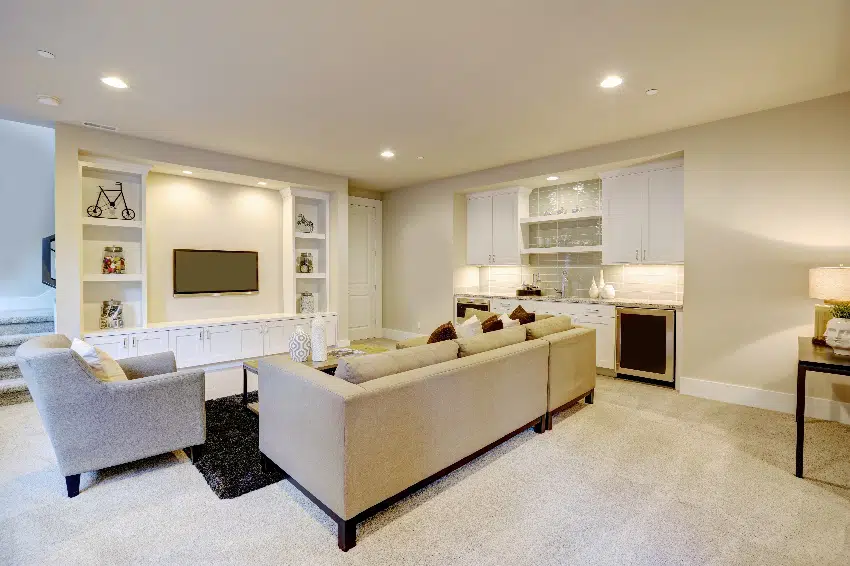 Cream is the perfect balance between beige and pure white hues, creating a really exciting atmosphere. This is a warm neutral color that's quite versatile and can either work as a background or as an accent.
This is perfect when paired with woodsy reds and golden honey or something similar.
Turquoise
This hue is the perfect balance between blue and green and basement walls painted in this color can bring tranquility and uplift your basement space.
Blue is tranquil whereas green is energetic and uplifting and turquoise perfectly brings everything together.
Pairing it with earthy tones can convert your basement wall into a space where you can meditate and relax.
What Is The Best Color For Basement Walls?
Although we've already mentioned the general colors that can work best with basement walls, it would be even better for you to have a bit of an idea about the perfect colors for finished walls.
These colors can be quite flattering and can brighten up any type of space and more than that, they work well with finished basement walls.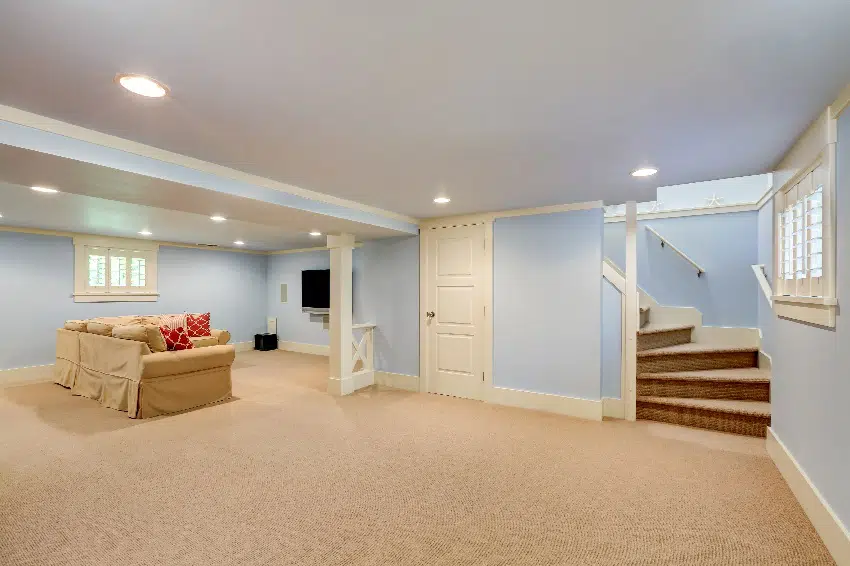 Basement Wall Color Ideas
Here's some of our favorite picks for basement wall colors.
Polar white Not all white paints have been created as equal. In the pursuit of brightening up your basement walls, you need to pick out a white color that works for you instead of against you.
The best advice for getting ultra bright basement walls is simple. Stay away from creams and yellow tones.
Skip out on yellowish tones such as the creams and the beiges because they can look dirty in areas that don't get enough natural light.
Stick to paints that have cool undertones to really achieve a bright white color on the basement walls.
Striking Cyan A lively pop of color in the basement can be a pretty great idea.
A bold blue or striking cyan in your basement walls as this draws the attention towards it.
It makes for a great statement or accent walls and works best with comfortable furniture such as beds and couches.
Soft gray

Airy gray colors are designer favorites because they're a great way to make the basement walls look striking without making them seem stuffy or eerie.
It can bring out dimensions in your basement design and works great with artificial or natural lighting.
If you want to mix and match paint colors for your basement walls, grays can be great bases.
Modern Basement Wall Colors
Inviting and fresh modern colors can really turn your basement design around if you've previously been dealing with something that's stuffy or dark. Basements don't have to be dreary.
However, they aren't all the same, either. Your basement might have tons of natural light coming from a walkout door.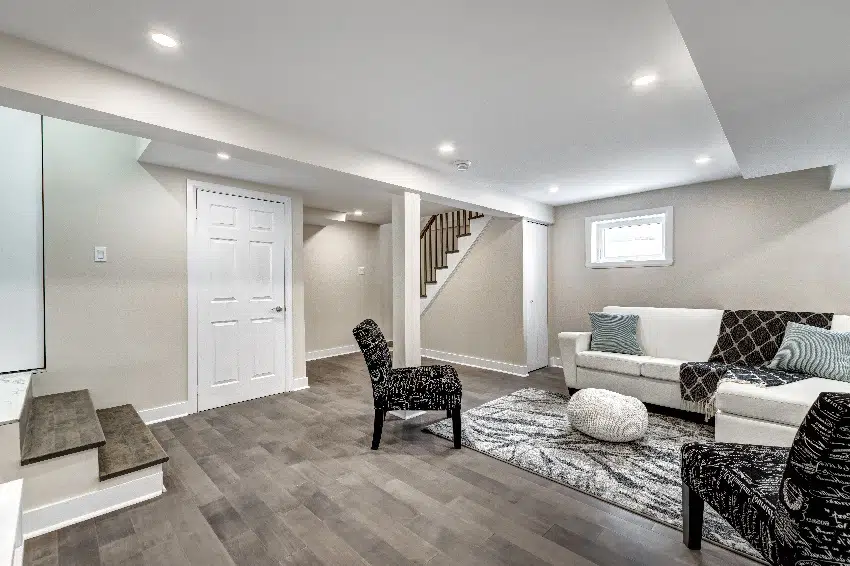 On the other hand, it might be a bit dark and might only have small windows for lighting. It's important that you assess how much natural light you're getting in and how much artificial light you will need so that you can pair it with the best modern basement wall colors out there.
Neutrals and a few pops of color can make your basement modern and current. When choosing paint colors, whites are great for mimicking natural light.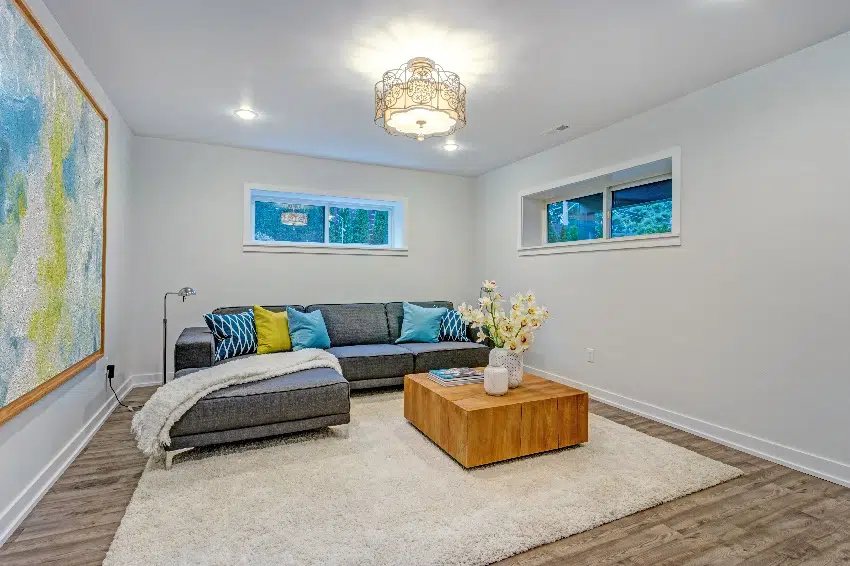 Medium warm yellows are great for illuminating a light-starved basement. This is similar to other creams and light colors that have warm undertones.
Blues are also quite popular for the modern taste. The perfect shades of blue can make your basement feel energized yet relaxing at the same time and it can be very cool on the eyes.
What Colors Make A Basement Look Bigger?
The concept is pretty simple. Darker shades absorb light. This means that they can, in concept, make your basements appear smaller and in close quarters.
If you fancy yourself a basement that would look or seem bigger than it actually is, you might want to go for shades of whites, creams, and other similar colors that mimic and reflect light.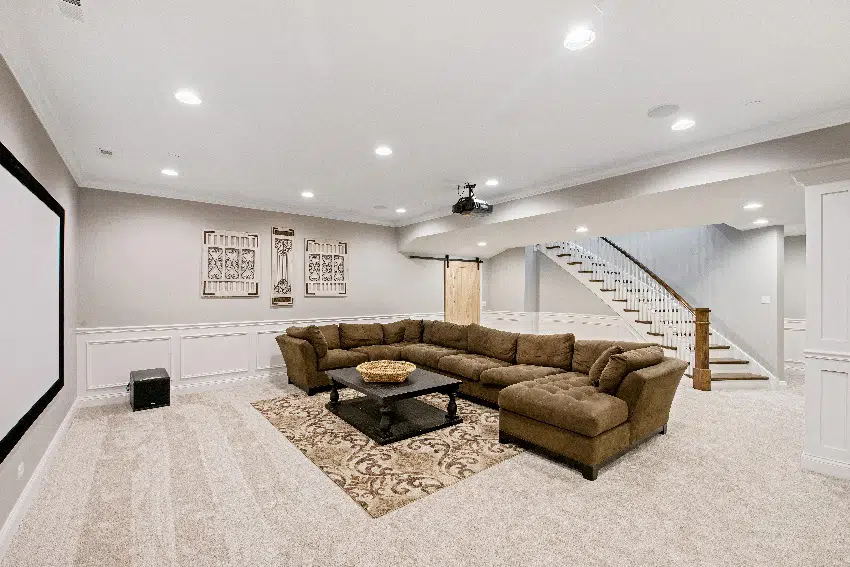 This can expand the look of the basement space and if you get to pair it with the right combinations in colors, they can end up complementing your light trims.
Another trick up your sleeves would be to make sure that your baseboards and molding are several shades brighter than your wall. This will push the walls back visually and appear to be of a much bigger space.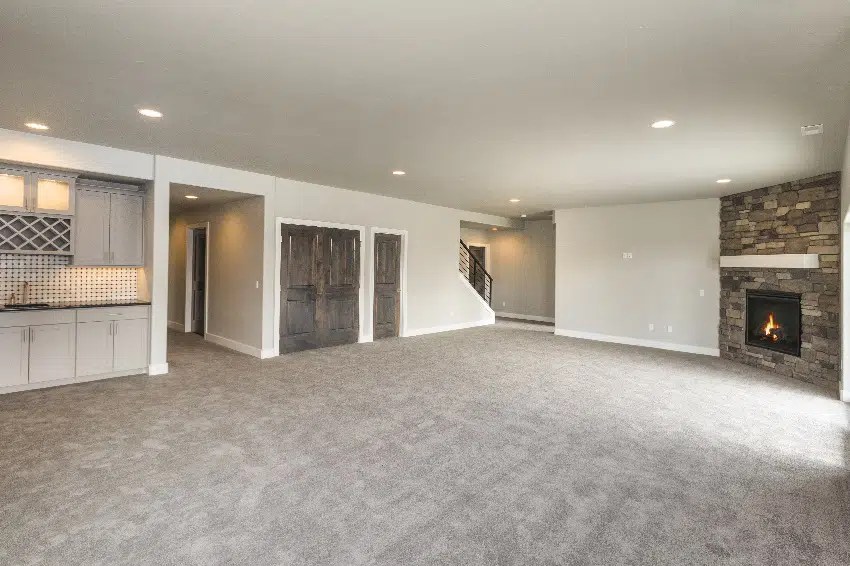 Furniture also factors in to making your basement look bigger. You might want to look into transparent furniture such as glass tables or clear plastic chairs.
This tends to trick the mind, making it think that the space is much larger than it actually is.
What Are The Worst Colors To Paint Your Basement Walls?
There is no one-size-fits-all solution for basements. Every basement is different and you just need to adjust accordingly and work with what you've got.
The main categories to base your decision off of is the amount of natural lighting that actually goes into your basement.
Basements with lots of natural light. If your basement has lots of natural light coming in, you might want to veer away from the ultra-bright shades such as blinding white or similar vibrant colors that might turn out to hurt the eyes if you pair it with an ample amount of sunlight.
It would be best to go with colors that have blue or cooler undertones to make it a little more soothing on the eyes. Some greens, grays, and blues would be perfect for basements with lots of natural lighting.
Dark basements with limited natural light. On the other hand, if your basement is a little lacking in the natural light department, you might want to go for something brighter.
Paints with natural yellowish or warm undertones would be perfect for this type of space as it would bring in the element of light just from the color of the basement walls alone.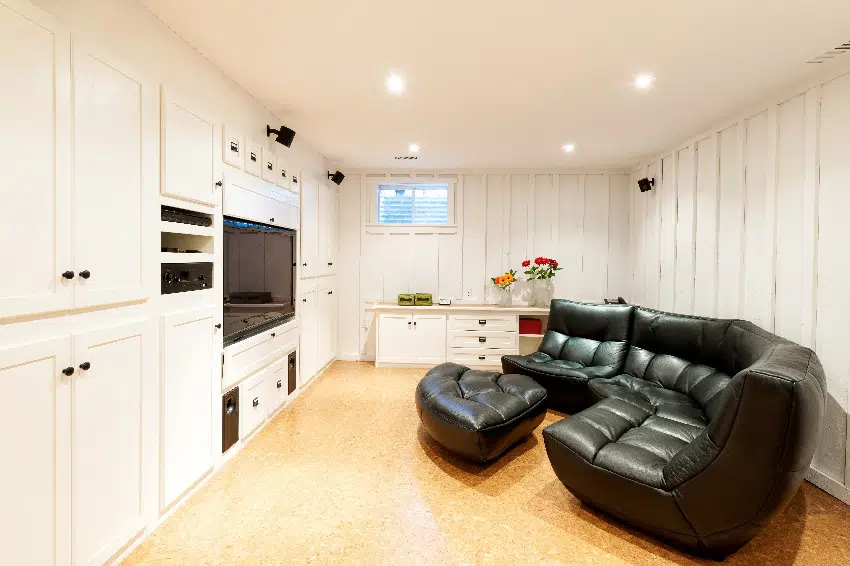 Bright whites, creams, and even vibrant and popping colors such as reds and purples as accents can work well with this type of basement.
For more like this visit our gallery basement flooring ideas.