Here's our shiplap ceiling design guide including DIY and restoration ideas for your home.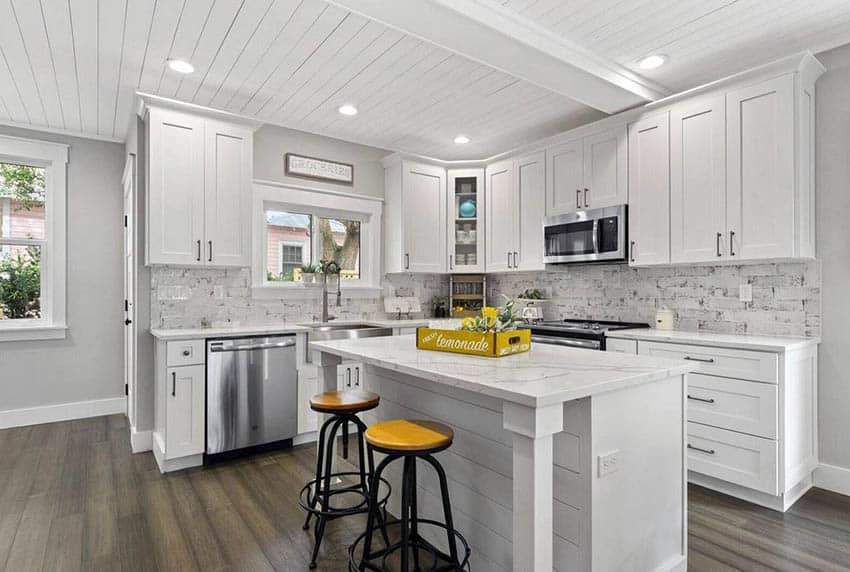 Shiplap is a type of wooden board used for both exterior and interior siding and ceilings. Historically, shiplap was used on the exterior of barns, sheds, and ships to keep the elements out of the structure. The way shiplap fits together makes it perfect for this purpose, as the construction forms a waterproof seal on the structure.
The historical use of shiplap was not limited to those types of structures, however. It was also used in homes for the same purpose of keeping the structure safe from the elements. Before sheetrock and drywall were common, shiplap was used as a baselayer in the wall. Not meant to be exposed, shiplap would then be covered with a layer of cheesecloth or a similar material, then covered with wallpaper.
As drywall and sheetrock became more common, shiplap was not used as often in home construction. Since drywall and sheetrock formed a better seal, shiplap was almost forgotten for decades.
While no longer used in a functional sense, shiplap has come into style recently for its aesthetic qualities. When used as a design element, shiplap can transform a living space. The exposed wood brings a warmth and coziness to the room, in the same fashion as a log cabin. The texture gives a finish that eliminates the need for art or other items that would tie the room together.
This article is going to discuss shiplap cladding, and how to incorporate this design element into the home. From cost to the steps of installation, this article is going to detail anything a homeowner would need to know about shiplap cladding.
Shiplap Ceiling Ideas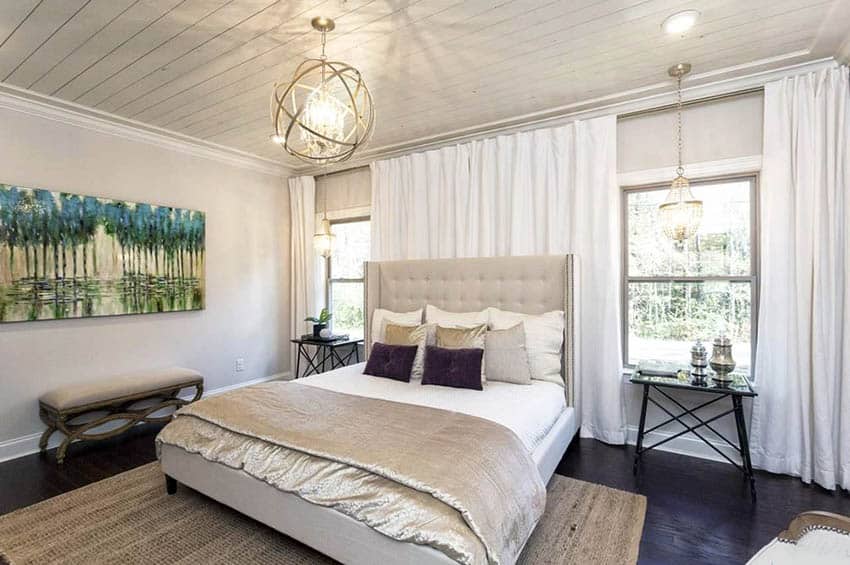 As with any home renovation, a shiplap ceiling can be done in innumerable ways. While the project should be done in a way that does not compromise structural integrity or safety, this does not mean that there's only one specific way to design your very own shiplapped ceiling. This project should be as unique as your home, and should fit the style of its inhabitants.
One major aspect of shiplap is that it can be stained or painted to suit any number of room schemes. For those looking for a more rustic look, opting for stained or even bare boards would be a good choice. This will coordinate with furniture and other elements to create a warm, welcoming space.
Painting the shiplap ceiling, however, will provide a much different feeling to the room. Painted shiplap white can give the room a modern feel while pastel colors go well with farmhouse decor. Bright shiplapping can also lend itself well to kids' rooms too.
There is also the consideration of patterns. Just like hardwood flooring, the look of shiplapping can differ depending on the direction the wood goes. For instance, a flat ceiling can look good with shiplapping in a uniform direction. On the other hand, a vaulted ceiling can lend itself to an upward pattern on either side of it meeting at the highest point.
Some shiplapping also uses decor touches such as beams over the shiplap. This is popular with, once again, vaulted ceilings. The beams in these cases are rather uniform themselves as they are a set distance apart from one another. This creates a symmetry that's aesthetically pleasing.
They may lay flat against the shiplap or they may connect from one side of a slanted ceiling to another like rafters. Bare exposed beams are another way to add a rustic touch if you decide to paint your shiplap.
Shiplap Ceiling Cost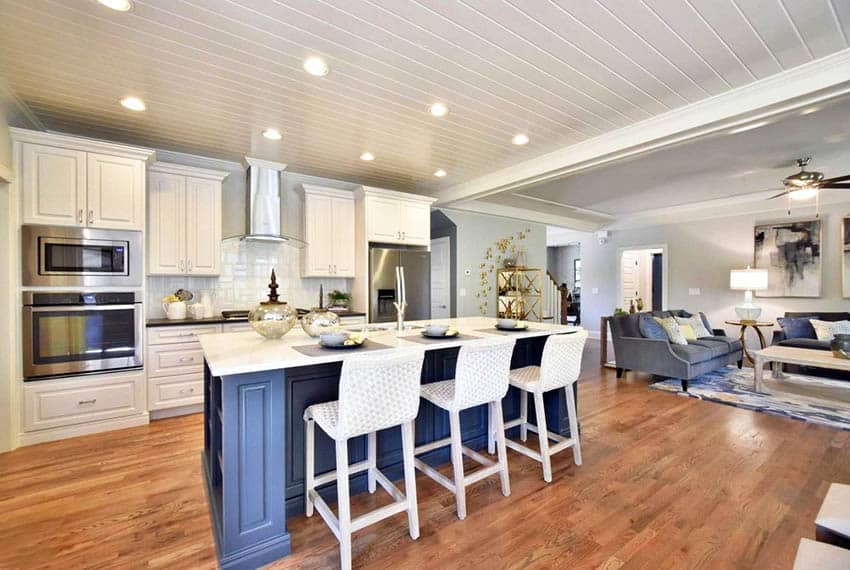 Those looking to perform this renovation may be wondering, how much does it cost to shiplap a ceiling? While a precise answer will have to come from the individual contractor performing the job, this guide can supply a range of prices that would be helpful.
There are a variety of factors that will determine the cost of a shiplap ceiling renovation. These factors will include the type of wood used, the price of other materials needed for the project, and the price of labor for installation.
The type and amount of wood used is probably the elements of the project that will affect the price the most. Three of the most common woods used for shiplap ceilings include hardwood, cedar, and pine.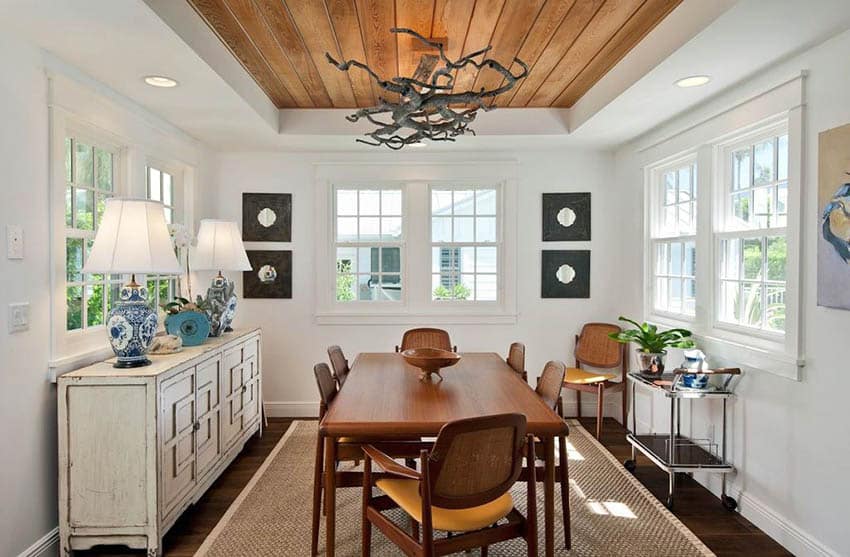 "Hardwood" refers to wood taken from any broad-leafed tree, meaning that the type of wood in a bundle can vary. This can include options such as maple and oak. Because hardwood can vary, prices will vary in turn. Homeowners can expect to pay anywhere from $0.80 to $4.00 per square foot, depending on the manufacturer and type of hardwood.
For homeowners looking for a uniform wood, pine may be exactly what you're looking for. An average quality pine will run anywhere between $2.50 to $4.00 per square foot. For homeowners looking at higher-end options, cedar is an excellent choice. Running between $4.00 to $7.00 per square foot for high quality cedar, the expense is worth the investment.
Cost of materials is another element that factors into the cost of a shiplap ceiling. Necessary materials include underlayment, brad nails, spackle, painting materials, filler, and finish. The prices for these are much less expensive than the wood itself or labor. You can typically get all the nails you need for $2 to $6 while primers runs at around $25 per gallon.
The final part of the cost is that of labor. Each contracting company may differ in price for labor, as their per hour rates will vary. Most contracting companies consider the difficulty and size of the product in their cost. Any company worth their salt should give you an estimate before getting started.
For homeowners with a do-it-yourself spirit, this cost may be eliminated entirely, by choosing to take it on as a DIY project. It is important to mention, however, that this can be a long project. So, if you're looking for a quicker timeline, it might be best to go with a professional. We'll go more into how you can pull this DIY off in a minute.
Like any other home renovation project, it's a good idea to shop around with different hardware stores and contractors to find the best price estimate for the job and its supplies.
Shiplap Ceiling DIY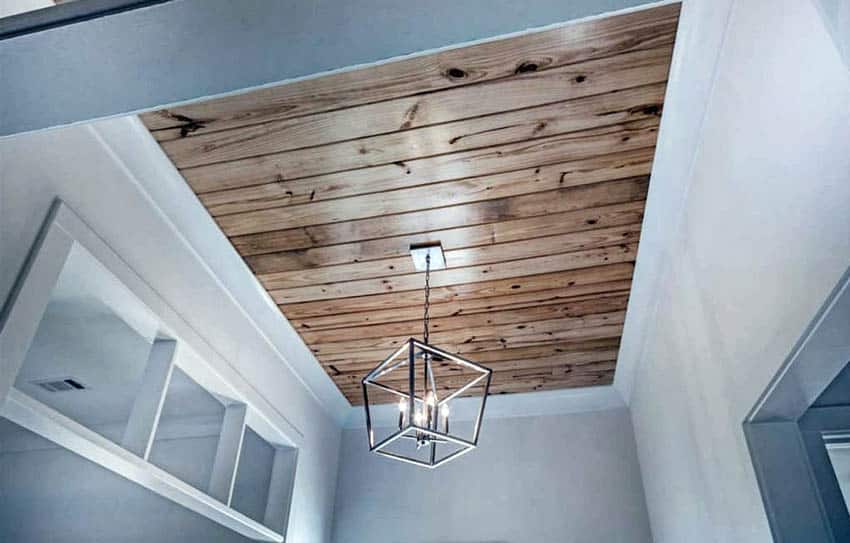 Taking on a shiplap ceiling as a DIY project has a few benefits. First and foremost, it can help save on the costs incurred by hiring a contractor. In addition to that, it can be a great way to add a personal touch to your home. Not to mention, DIYs are popular because they can be fun!
The exact steps for installing a shiplap ceiling can vary a bit depending on the exact design you go with. For now, we'll take a look at some basic DIY instructions.
To start, you'll need to gather all your materials. Wood glue, nails, a nail gun, a hammer, and stud finder are important. You'll also want your wood planks and a jigsaw to cut them down if necessary. Remember to grab safety tools as well such as safety glasses and a pair of sturdy step stools or ladders.
Now, you need to find out how much wood you'll need. Measure the room lengthwise and width-wise. Then, choose the width of each plank. With these measurements, you should be able to calculate how many boards you need to create your pattern and keep it consistent over the whole ceiling.
Before securing anything into place, mark where it's supposed to go. It's much easier to change a chalk mark than to rip out an move secured wood. It's also going to save you a lot of material. When marking these out, a stud finder can help you find the right spot. It can also be useful to try a test nail before trying to nail boards into place.
If the boards aren't pre-cut, you'll want to go ahead and measure and cut them. If you want to stain the wood, it's also a good idea to do it now. This will allow you to get a smooth, clean stain. Not to mention, it'll help keep the stain on the wood and not on your ceiling.
However, you'll want to make sure to wait until the stain sets and dries before trying to apply it to your ceiling. This will take around 18 to 24 hours. Most projects will call for more than one layer of stain but that doesn't necessarily mean that it will take days and days just to stain a single piece of wood.
Let's take a moment to discuss how to stain wood. The two main options are water-based and oil-based stains. We're going to take a look at liquid oil-based stains here because, while they have a longer drying time, they also have a more durable and even finish. Liquid is also easier for projects of this size than gel-based options.
To start, you'll want to lightly sand the wood down and apply a pre-stain. Let this sit for at least 30 minutes but apply the stain before 2 hours. Stir the stain well and apply a coat. Allow it to absorb for about 5 to 15 minutes before wiping the excess away. After that, you can apply another coat if it's wanted or needed. Now, let the wood sit for 18 to 24 hours. Don't attempt placement with wet stain.
Now that that's done, you can start placing them. The same rule applies to shiplapping as to wood floors – the placement of the first board is probably the most important part. The chalk marks you made earlier are your best guide to ensure everything lines up the way you want.
Some shiplap ceilings include beams under them rather starting on an already smooth ceiling, so you'll want to work around or covering those, depending on the style you're going for. It's also important to remember to keep space for any installments in the ceiling such as around ceiling fans or recessed lights.
When you're ready to place the boards, start by adding a few lines of glue to the side that will lay against the ceiling. Then you're ready to start driving nails into boards. When securing them to the ceiling, a nail gun is an efficient way to get the job done.
The nail holes in the planks aren't invisible, of course. So, after the ceiling is installed, you're going to want to use something to fill them in. There are plenty of options and some of the most popular include caulk, wood filler, and painter's putty. Many homeowners choose to paint their shiplapping once it's installed.
Faux Shiplap Ceiling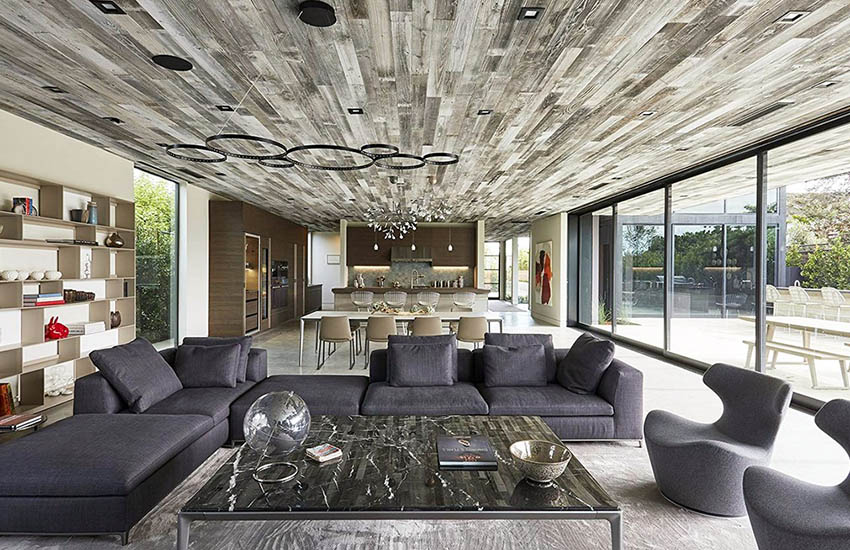 See these reclaimed wood faux shiplap ceiling planks at Amazon [sponsored link]
While most of us try our best to invest in the real thing, there are times that using faux shiplap would be more prudent. In situations where the renovation is cost prohibitive, faux shiplap would be a good investment as it is significantly less costly than genuine wood. Faux shiplap would also be a good choice for those who live in particularly humid climates, as real wood is prone to expanding and constricting with heat.
For those who are looking for a quick renovation at a fraction of the cost of real shiplap, shiplap wallpaper is worth considering. It has the look of shiplap, and can easily be installed in just a few hours. While it does not have the texture of actual wood, this is easier to mask as the wallpaper will be used on the ceiling.
If faux shiplap is a good choice, but wallpaper doesn't suit the homeowner's interests, there is another way to achieve a faux shiplap ceiling. By using plywood instead of traditional wood planks, the shiplap cladding design can be achieved without the price of the real thing.
Restoring Shiplap Ceiling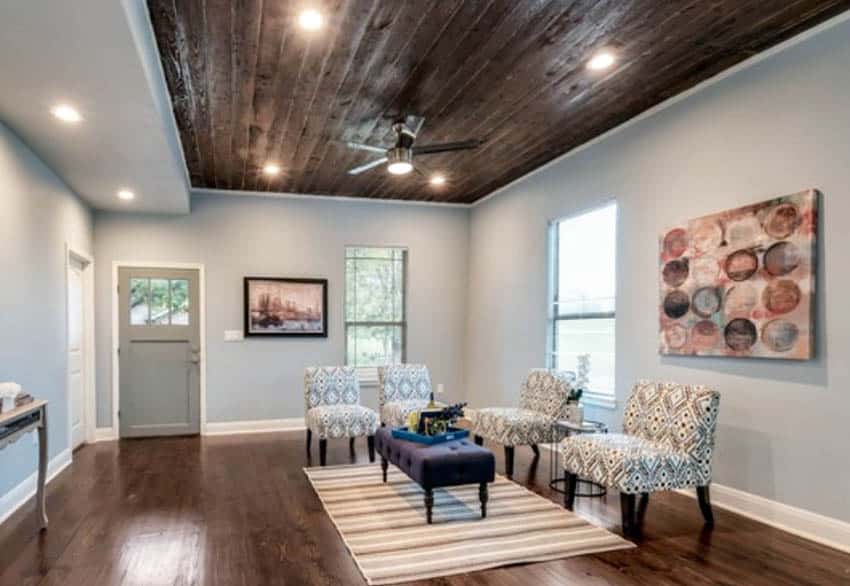 For those looking to install a shiplap ceiling, it is important to understand the restoration process for when that time comes. Alternatively, you might have shiplap already installed but it's obviously seen better days.
Because shiplap cladding results in exposed wood, it will need to be renovated every so often as the stain fades. This will be especially important for homes in particularly wet climates, as the shiplap will be more prone to water damage.
Another situation which will require the restoration of shiplap cladding will be when those in a historical home wish to repurpose their existing shiplap for a new project. In this situation, the homeowners will have discovered that there is shiplap cladding in the walls of their home, likely during a separate renovation.
Once found, the homeowners may choose to repurpose this cladding to use decoratively on the walls or ceiling. In this case, the shiplap would have to be completely renovated before it could be used, to ensure that the boards are fit for use.
For homeowners looking to repurpose old shiplap, the boards need to be removed from the ceiling and any nails need to be removed. Once the boards have been removed and inspected for rot and mold, they can be restained or painted to suit the homeowner's taste.
Once stained, the panels can be installed in the new location as if they were new. If the wood is greatly degraded by problems like rot, it might not work for repurposing. The idea is to take advantage of still viable wood and give it a second life. Aside from saving money, repurposing and restoring older wood is a great way to be more environmentally friendly in your shiplapping project.
Utilizing restored shiplap is beneficial to the homeowner as it eliminates the cost of wood from the project's budget. Additionally, this is beneficial for the environment as it does not create an increased demand for fresh timber.
Shiplap or Tongue and Groove Ceiling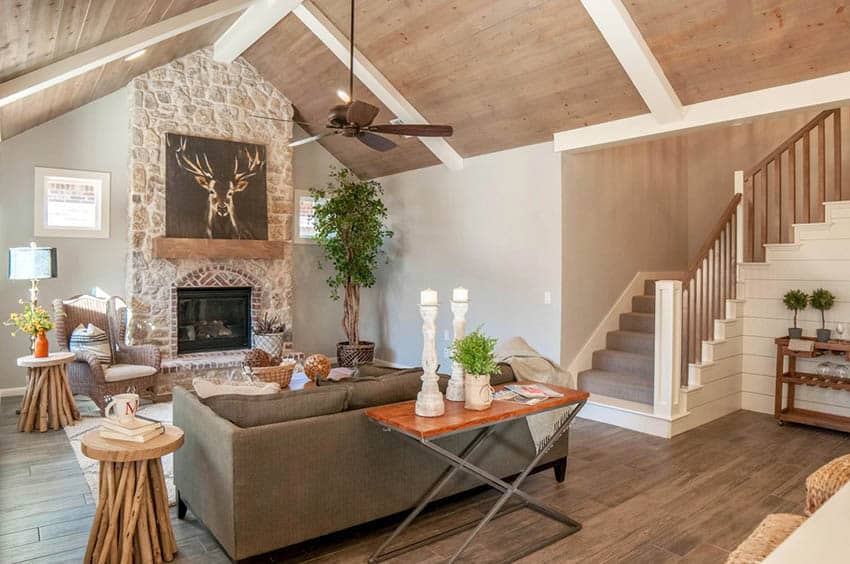 Another way to obtain this look is to use tongue and groove boards to clad the ceiling. Shiplap and tongue and groove cladding look remarkably similar when installed, but there are a few differences between the two styles.
The main difference between shiplap and tongue and groove cladding is that shiplap has a longer lip to connect the boards. This gives shiplap cladding superior ability to protect the structure from rain and other elements. It is for this reason that shiplap is better suited for walls that will directly encounter the weather.
Another small, but important difference between shiplap and tongue and groove cladding is cost. Because shiplap panels have a longer lip, extra wood must be used to cut these panels. Tongue and groove panels have a much shorter lip, so less wood must be used for each panel.
To put this into simpler terms, traditional shiplap boards overlap when installed in a side-by-side fashion whereas tongue and groove ceiling panels lock into one another.
The cost of additional materials may be significant for projects that use an expensive wood such as cedar. It is worth considering whether tongue and groove cladding may be cost effective for the project, as it would provide a similar look for a lower cost.
Shiplap Ceiling with Beams
Shiplap boards combined with a wood beam ceiling provides an attractive ambiance that is sure to make an impression.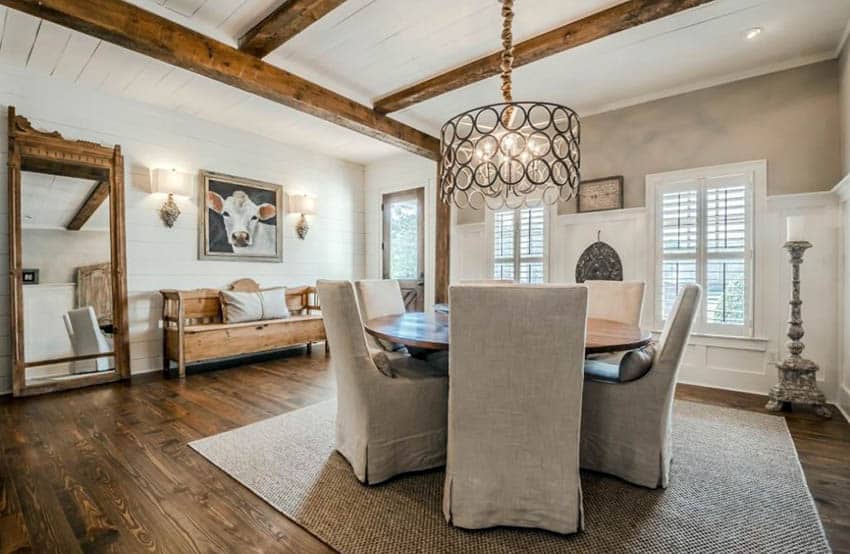 This French colonial dining room provides a mix of interesting elements such as its white shiplap ceiling, white wainscoting walls and exposed wood beams.
Shiplap Vaulted Ceiling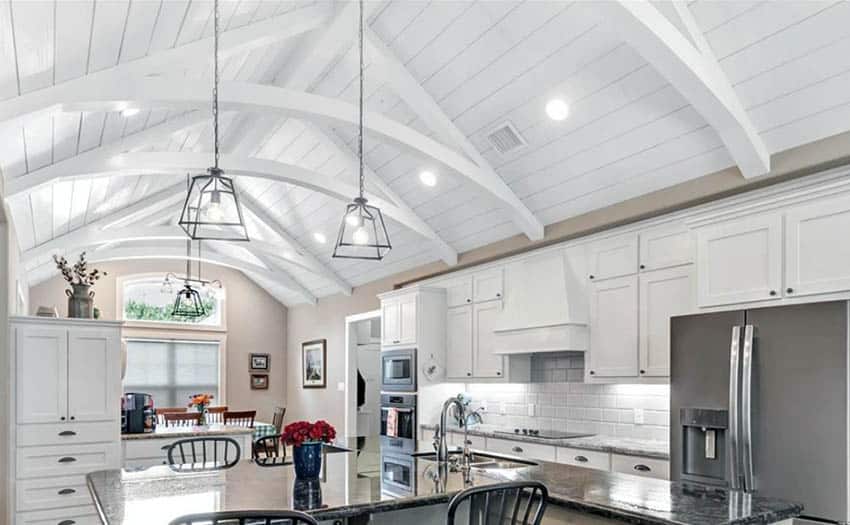 The vaulted shiplap ceiling in this kitchen makes a grand impression. By painting the ceiling board white one can maximize light relection and help keep the space looking bright and inviting. See more pictures of wood kitchen ceiling designs here.
Shiplap Ceiling Kitchen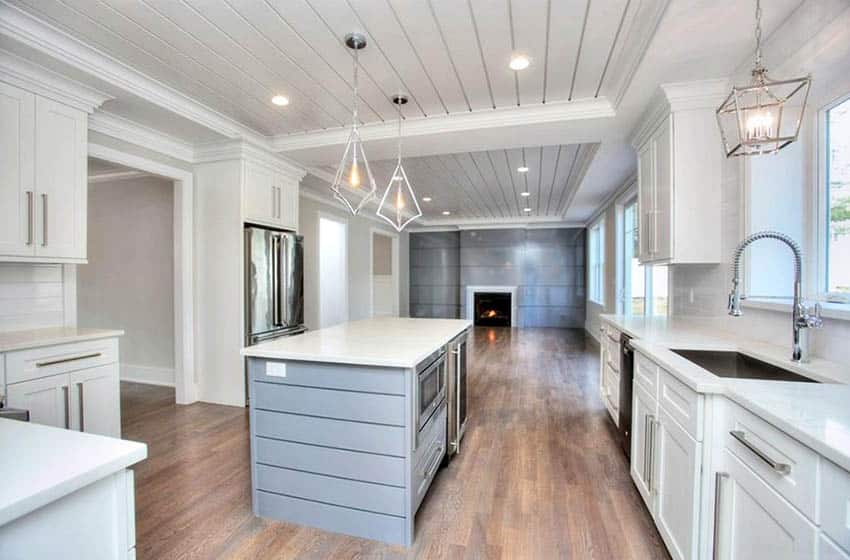 This beautiful white cabinet kitchen has painted white shiplap ceiling that flows in to the open living room and a gray shiplap kitchen island with quartz countertop.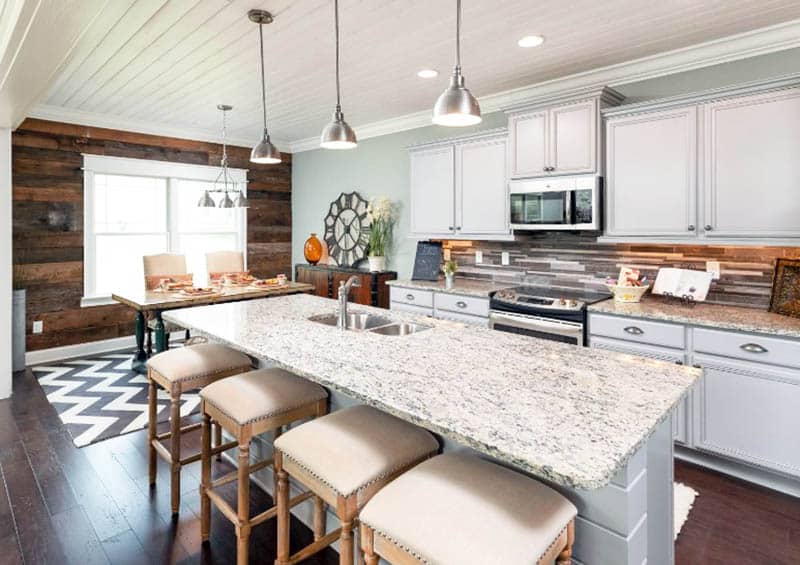 This kitchen has several standout features including its white shiplap ceiling and wood accent wall. To further tie in the kitchen design to the ceiling there is a shiplap island with white granite countertop.
Shiplap Walls and Ceiling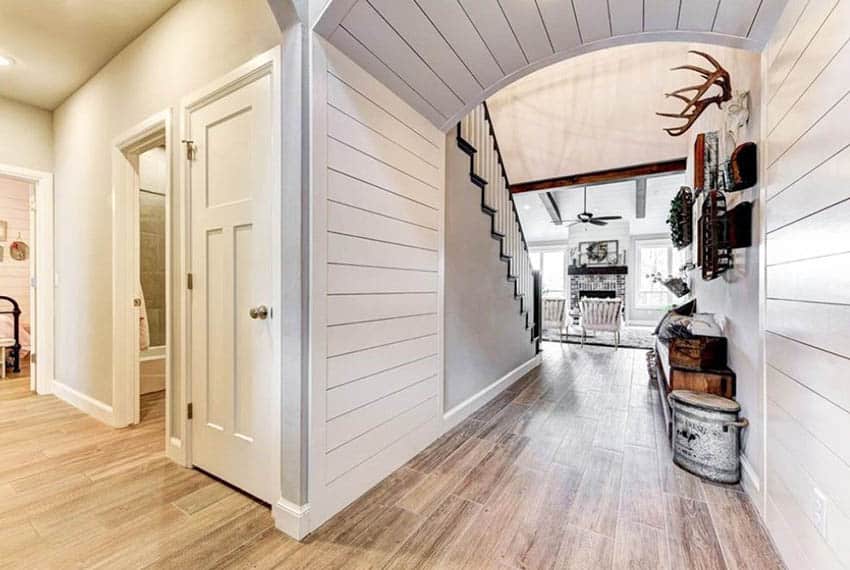 This home's hallway features custom shiplap walls and ceiling to create a farmhouse style feel.
White Shiplap Ceiling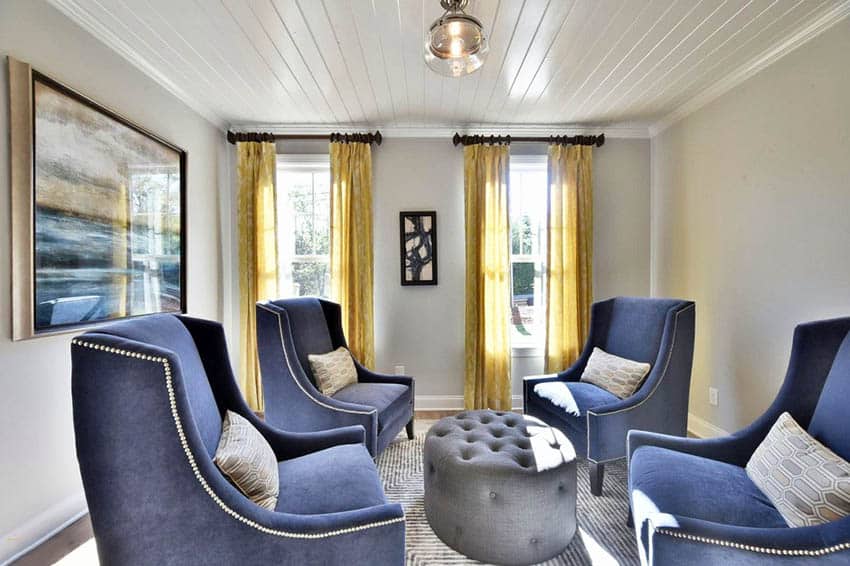 This formal dining room with shiplap uses white planks for the ceiling combined with gray painted walls and colorful decor with great results.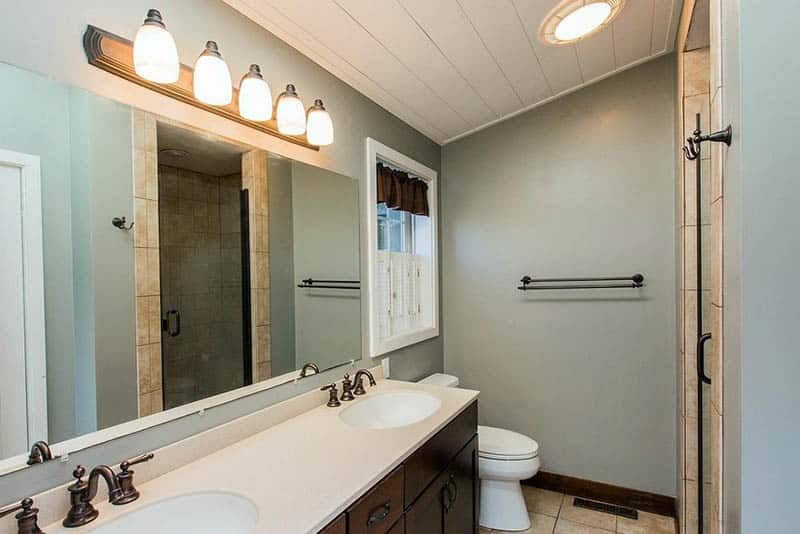 A small bathroom with shiplap painted white can help to brighten the space and provide a farmhouse style atmosphere in the room.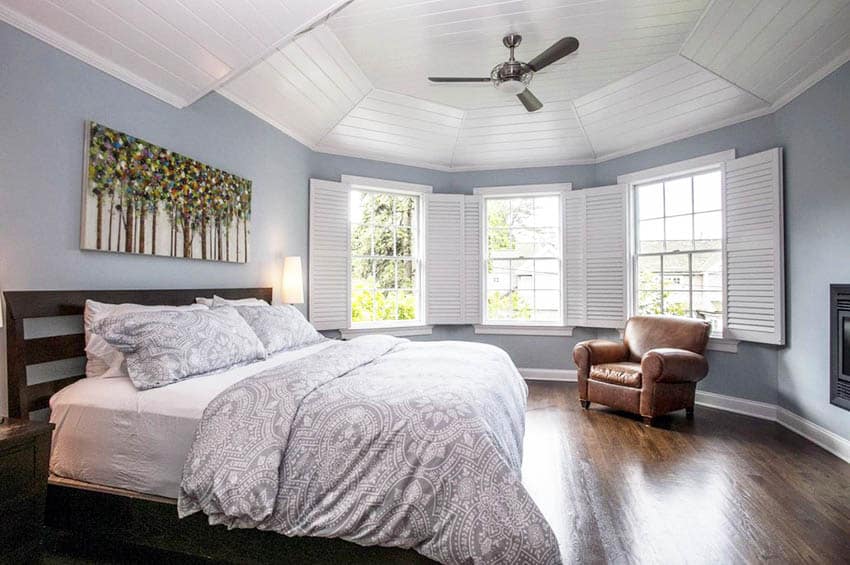 This master bedroom offers an interesting white shiplap tray ceiling to help keep the room light and airy looking.
Gray Shiplap Ceiling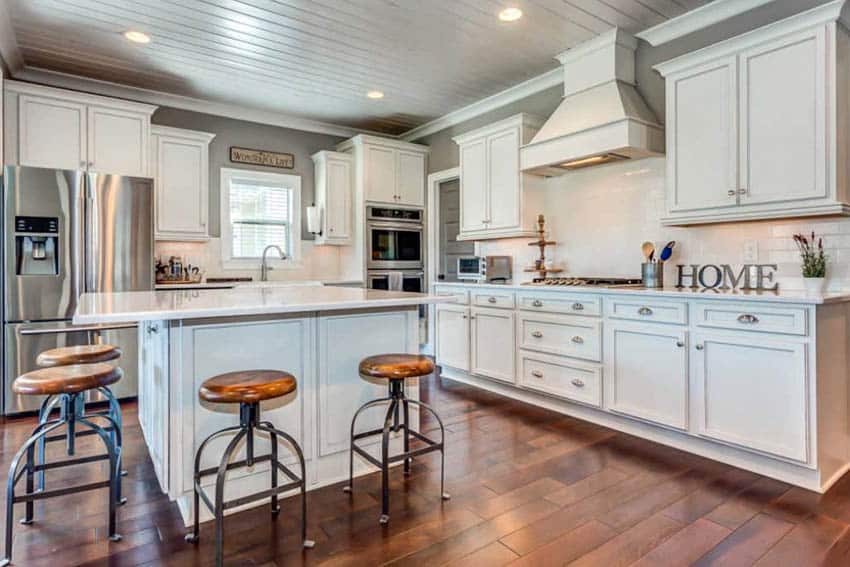 This cozy cottage style kitchen features a gray shiplap ceiling that provides contrast against the all white cabinets, subway tile backsplash and quartz countertops.
Gray paint and hardwood floors also work to provide visual interest to the room. See more gray and white kitchen designs on this gallery page.