Here we share the most durable kitchen countertops with pros & cons, average cost, design styles and which are easiest to maintain.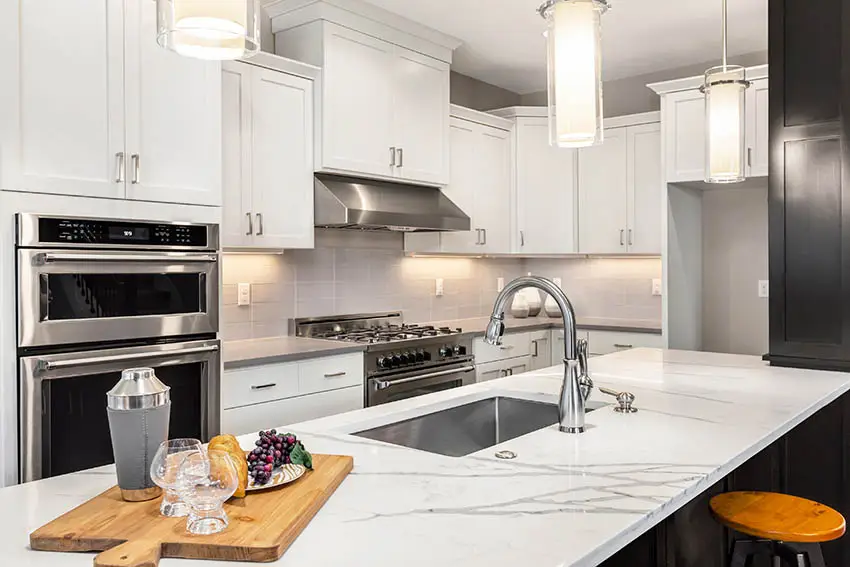 Nowadays, we have so many options for countertops. They all come in different colors, patterns, textures, and offer different benefits and aesthetic value to our spaces. There are many factors you need to consider before choosing the optimum countertop material for your space.
The first would be the size – there are certain materials, especially natural stones, that only come in limited sizes, so make sure your counters can be accommodated by standard slab sizes, to minimize countertop joints.
Another factor to consider is intended use – if you're doing a lot of baking/rolling dough on the countertop, or if you won't really use your kitchen so much for heavy cooking.
Maintenance is also an important factor – some countertop materials are more low-maintenance than others, so you need to keep that in mind when selecting your material.
Of course, durability is a very important factor to consider. Durability will help with the longevity of your countertop, making it a very worthy investment.
We've broken down the different durable countertop options and their pros and cons below, to help you decide which countertop material would be best for your needs.
Quartz Countertops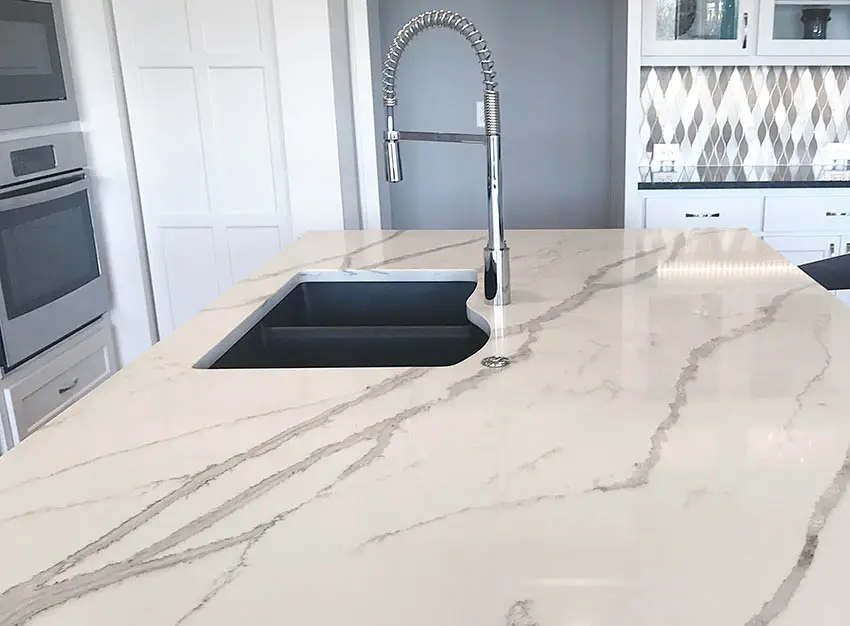 Quartz countertops are a combination of synthetic and natural materials. This material is made from crushed quartz, which gives it its signature "sparkly" look and is bonded by resin, making it the most durable material.
Pros:
The most durable: resists most scratch, stains, heat, and even impact.
Comes in many sizes / can be custom sized to fit your requirement
Non-porous: lack of pores means it is bacteria-resistant and does not need sealant
Low-maintenance: stain-proof, scratch-proof, easy to clean
Cons:
Can be expensive: $50 to $150 per square foot on average.
Visible seams on lighter-colored quartz tops
Difficult to repair when damaged: sharp corners are more likely to chip, so it is recommended to round the edges and corners.
Has a very contemporary look/feel, so it may not match well with more traditional style kitchen designs
Granite Countertops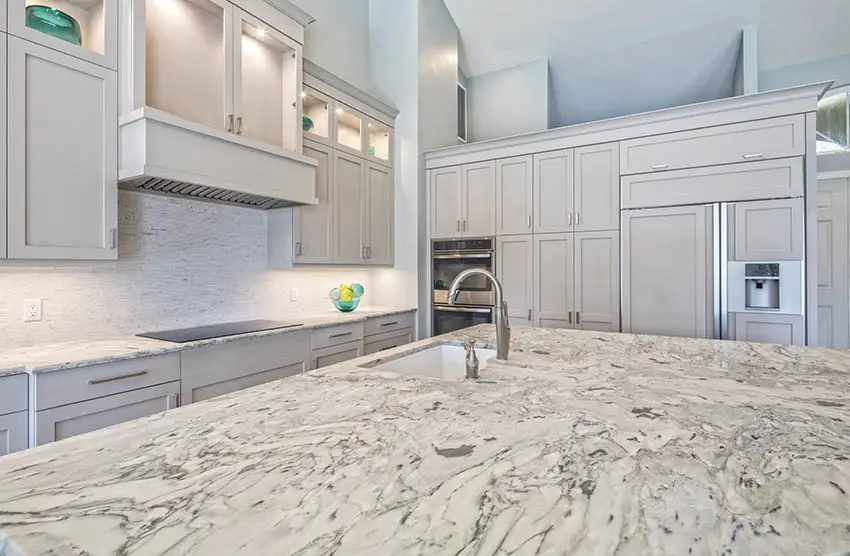 Granite is a very popular material in both classic and contemporary kitchens. It comes in many different sizes of slabs, thicknesses, colors, and grain patterns.
The charm of granite countertops is that no piece is exactly the same as the other, as it is a natural material. If you want a timeless countertop that can match any design style, granite is a great choice.
Pros:
Low Cost: $50 to $100 per square foot
Durable: scratch-resistant, heat-resistant
Can be resanded/refinished in case of stains or small chips
Comes in many different colors, thicknesses, textures, and patterns
Cons:
Has a more limited sizing, as it is a natural material
Not impact-resistant: be careful of dropping heavy items on the countertop surface as it may cause chips and damage
Porous: lighter colors are more susceptible to stains
Maintenance: you need to re-apply the sealant annually to keep it at its tiptop condition
Crushed Glass / Recycled Glass Countertops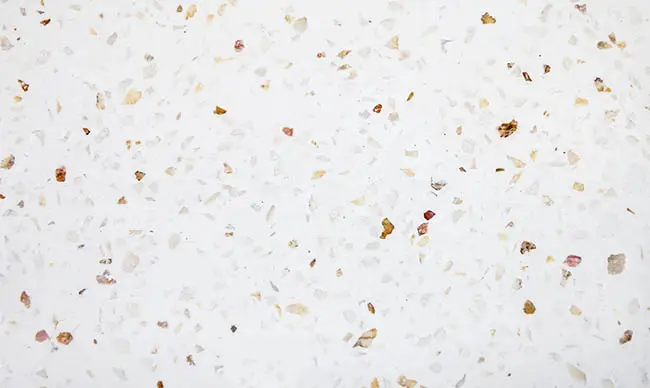 If you're looking for an eco-friendly material choice, crushed glass countertops are a new addition to the market, and offer a unique look and a variety of colors.
Recycled glass is crushed and is then mixed into a binding material, such as resin, acrylic, or concrete. This material is currently gaining popularity, as it can mimic the look of terrazzo, but can come in more fun, bright colors.
Pros:
Flexible sizes
Eco-friendly
Non-porous: no need for sealants & easy to clean
Durable: stain, scratch, heat & fade-resistant
Cons:
Can cost up to $60 to $120 per square foot
Can be damaged by acidic food/liquids, so you also need to be careful on your choice of cleaners
Corners/edges are prone to breakage/cracking around the corners and the edges
Soapstone Countertops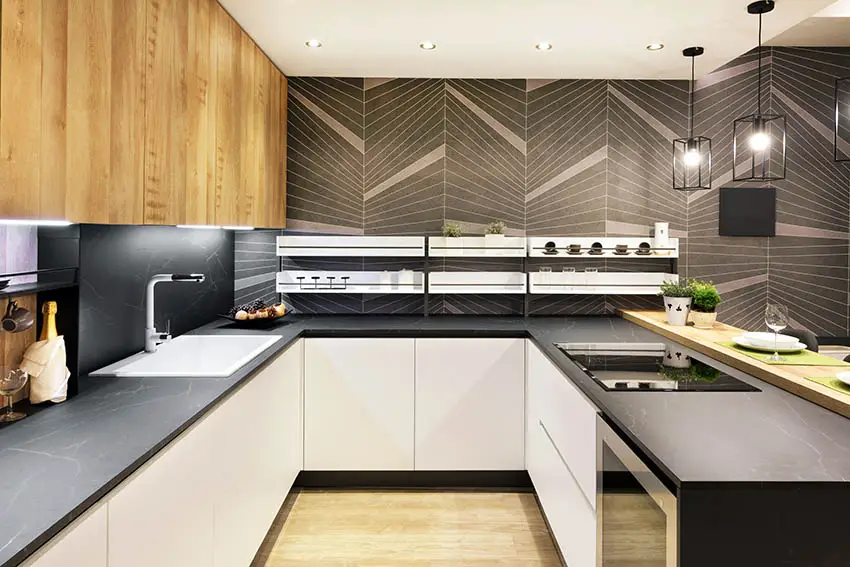 Soapstone is another natural material and comes in a variety of slab sizes and thicknesses. Although, unlike the tougher materials like granite, the recommended thickness for soapstone countertops is around 1.25″, as it is a softer material compared to granite.
The unique feature of soapstone would be its patterns and colors, which are softer and matte-looking due to the talc content.
Pros:
Natural look
High heat-resistance & resistance to acids: this material is popular in science laboratories because of its high resistance to acids
Non-porous: no need for sealing, so you save on countertop maintenance!
Can easily be refinished: if you accumulate dents & scratches, it is very easy to resand and recoat your counters, and it is also less likely to crack when you drop hard objects on it
Cons:
Soft: soapstone is softer compared to granite and quartz, dropping heavy and sharp objects can cause a dent to the counter surface, as well as create visible scratches
Uneven wear: if you want darker soapstone, you need to apply oil into it, however, the surface coating of the countertop areas used more often will be very visible.
Maintenance: if you like your soapstone counters in darker shades, you will need to reapply mineral oil more often
Limited sizes
Price: around $70 to $120 on average
Laminate Countertops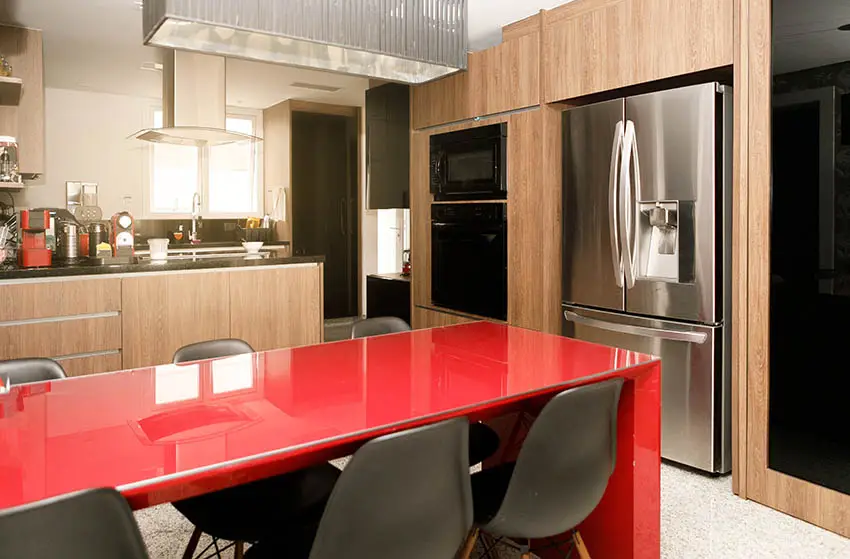 This is a modern synthetic material composed of multiple layers of paper and plastic. Laminates are very thin, making them a lightweight material that you can apply on substrates (typically plywood, and similar wood boards).
Laminates can come in virtually any colors & patterns you can think of. It also has a variety of finishes, such as matte, satin, high gloss, and even textures like pebbled or woodgrains.
The flexibility and low cost of this material make it really popular, especially for smaller apartments.
Pros:
Low Cost: $10 to $50 per square foot only
Variety: you can basically choose from a multitude of colors, patterns and textures
Low maintenance: no need for sealants or coatings
Cons:
Susceptible to scratch damage: it is not recommended to directly use knives on laminate surfaces, as it will permanently damage your material
Lower heat/burn-resistance: compared to natural stones and synthetic stones, laminate tops have a lower heat limit, so it is not recommended to directly place hot pans on their surface
Repair: damage to laminate countertops usually mean you will have to replace it
Solid Surface Countertops

Popularly known as the brand Corian (although there are other solid surface brands as well), this is a synthetic material made from polyester & acrylic.
Solid surface counters come in many different colors and patterns, and one of the most low-maintenance countertop options
Pros:
Low-maintenance: no need for special sealants and cleaners
Non-porous: stain & bacteria-resistant
Seamless: this is usually the most desirable feature of solid surfaces, as this is often the material of choice for very large countertop surfaces and waterfall counters.
Can be molded: you can even create a one-piece countertop and backsplash with a solid surface
Color and design options
Can be resanded
Cons:
Price: $35 to $100 per square foot
Can easily scratch and burn: you should not directly cut on its surface or place extremely hot pans and pots directly
Made from synthetic material, so it is not an eco-friendly/sustainable material option
Might not look good on classic style kitchens
Marble Countertops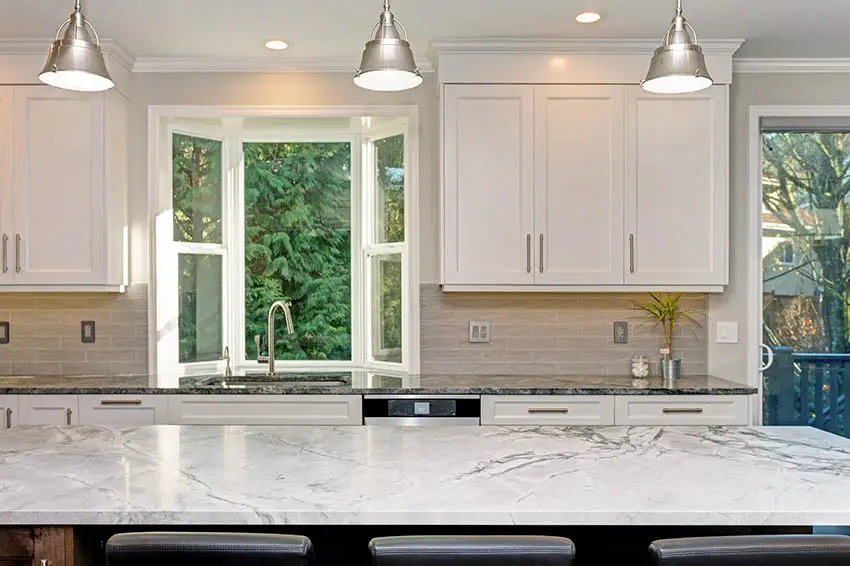 Marble countertops are an undeniable classic. The variety of natural grains, patterns, and colors of marble has been tested and proven in its popularity and attractiveness through many many years.
A marble countertop would often increase the value of your home or kitchen. This is a sure classic that will never go out of style.
Pros:
Unique and natural look: the main selling factor of marble would be its overall look & beauty
Stain-resistant: as long as it is properly sealed and maintained
Made from natural materials
Can increase a home's property value
Cons:
Price: Expensive, with a price that can go anywhere between $40 to $200 per square foot
Prone to chips and scratches, more so than granite and quartz
Sensitive to acids
Porous: any liquid spillage is recommended to be wiped clean immediately to avoid molds and bacteria
High-maintenance: you need to reseal this more often, to keep it in good shape
Butcher Block Countertops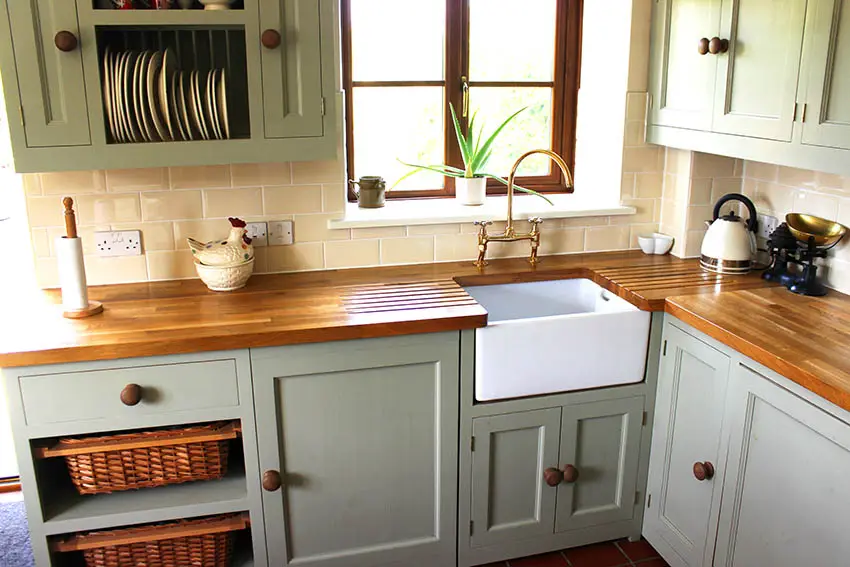 Unlike all the other materials in this list, butcher block is the only wood material. Butcher blocks are made from natural wood, either in solid whole slabs, or pieced together to form the countertop surface area.
You can basically use any type of wood, but the most recommended species are Maple, beech, and teak. Wood countertops are recently gaining popularity and are often found in farmhouse or rustic-style kitchens, or in contemporary spaces as a kitchen island counter.
Pros:
Gives your kitchen a warm, homey look
Can help brighten the space
Easy to install and repair: you can easily re-sand and refinish in case of damage
Affordable: $20 to $150 per square foot
Can last up to 20 years, as long as granite countertops, as long as it is maintained well
Cons:
Easily scratches and dents, although you can easily sand them out as well
Sensitive to liquids: as wood is porous, if you don't properly seal it, it will be a breeding ground of bacteria, molds, and stain
Prone to warping: moisture & heat can cause your wood to warp & crack. If you live in a place where there are extreme temperature changes, reconsidering using butcher blocks
What is the Most Durable Countertop?
The most durable countertop material is quartz.While it's comparable to granite in the form of its durability, quartz provides superior stain resistance.
Which Countertop is Easiest to Maintain?
When it comes to natural stone, quartz wins as the easiest countertop material to maintain. It doesn't require frequent sealing like marble and granite does. Since quartz is a non-porous material it offers excellent stain resistance.
The overall winner of the easiest countertop to maintain is laminate. Laminate just needs to be cleaned with soap and water to keep it looking good. Laminate is also very inexpensive when compared to other types of countertops.