Find out ways to update your granite countertops including using overlays, painting over, and ideas for changing your granite countertop color.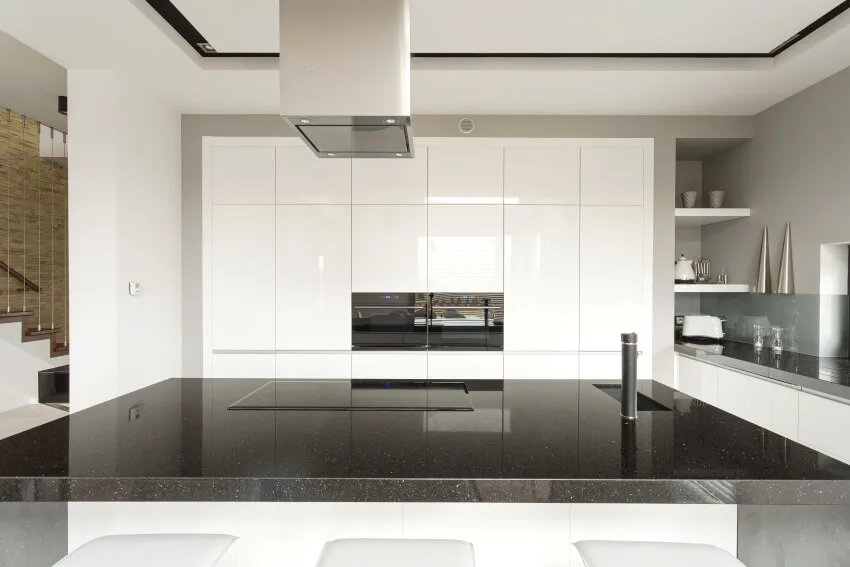 Granite is one of the most durable and longest lasting materials for countertops, but over time, you can get tired of its looks and would want to give it a fresh makeover. Of course, it is easier to purchase a new countertop ,but sometimes, replacing them entirely
is not an option. Good thing there are several ways you can try to update your granite countertops without breaking your budget.
Below, we give you our very own recommendations on how you can effectively update your granite countertops, along with some tips and how to change its color. Read on to know more about ways on how you can give your old, outdated granite countertops a completely new look.
How To Update Granite Countertops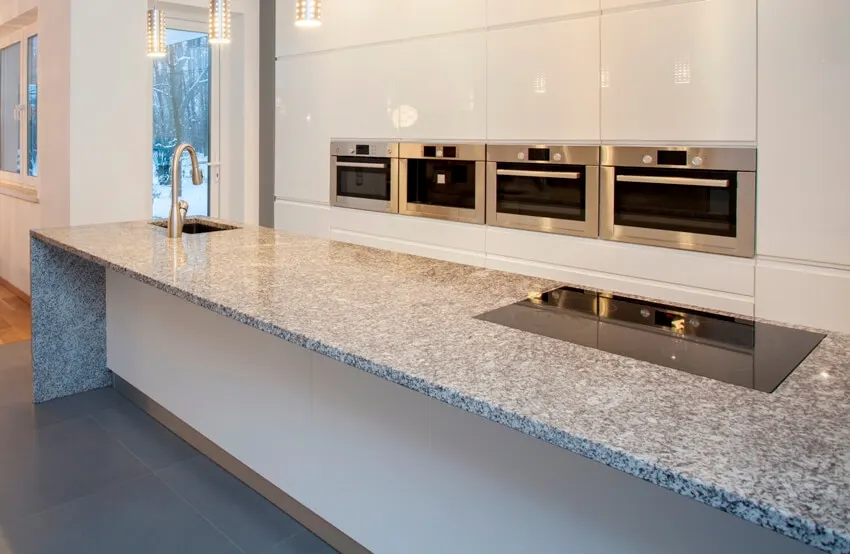 Here are some of the most practical ways to give your old granite countertops a new look:
Tile Over the Existing Granite Countertops
Tiles are more popularly used as a finishing material for floors, walls, showers and backsplashes, but they can also be used as a great countertop material.
Tiles can be placed directly on top of old granite countertops provided that the surface is flat and stable enough to prevent the new tiles from cracking. Another requirement to tiling existing countertops are square edges. Countertops that have curved areas, waterfall design and bullnose edges are not suitable for tile installation.
Two of the most common types of tiles you can use over granite countertops are ceramic and porcelain tiles. Glazed ceramic and porcelain tiles are resistant to heat, water and staining and also come in a wide variety of colors, sizes and shapes.
Natural stone tiles can also be used over granite countertops. However, they are less recommended because they are more prone to absorbing liquids and need to be sealed periodically to protect them against stains.
There is, however, one drawback to tiling over granite countertops – the seams and grout lines can collect grime over time. To prevent dirt build up, make sure to seal the grout after tile installation and reapply at least once a year or as directed by the manufacturer.
When it comes to the installation process, your existing granite countertops need to be thoroughly cleaned and the surface needs to be roughed up with a power sander. The tiles can then be installed directly over using thinset mortar.
Another alternative is to start with a layer of ¼ inch cement or tile backer board glued to the granite countertop and to lay the tiles over that. See more pictures of tile countertops here.
Use a Countertop Refinishing Kit
Another practical solution you can use to update old granite countertops is to use countertop resurfacing kits. These kits include epoxy paint and decorative embellishments like stone chips to produce a surface that looks like natural stone.
Refinishing kits typically include materials which are enough to cover a standard size countertop and a front edge. These kits can be used to make over old countertops including granite and can last for years.
When choosing a countertop refinishing kit, make sure to go with an opaque color to cover up your old material. You can then add decorative chips into the mixture to give it flecks or designs which will make it more unique.
The whole process of using a refinishing kit requires moderate effort. The steps are pretty straightforward but require attention to detail. It can also be a bit messy because you need to sand the existing surface.
Lay Laminate Over the Countertop
Laminate is one of most affordable materials you can use to overlay an existing granite countertop. In general, any type of countertop can be overlaid as long as it is strong enough to support the overlay.
Laminate countertops are a composite artificial material that is made up of thin layers of paper pressed together and bonded by resins. The top layer is printed with solid colors or decorative patterns which often mimic the appearance of natural stone and solid wood.
Laminates are typically sold in 4 feet by 8 feet or 5 feet by 12 feet sheets with a thickness of ⅛ inches. The most popular brands include Formica and Wilson Art and both come in a wide range of colors and textures.
To cover granite countertops with laminate, you'll need to cut the sheets a bit larger than the counters then trim it once it is glued. Contact cement can be used as adhesive. Find out more ideas on how to cover countertops without replacing them on this page.
Contact Paper Countertops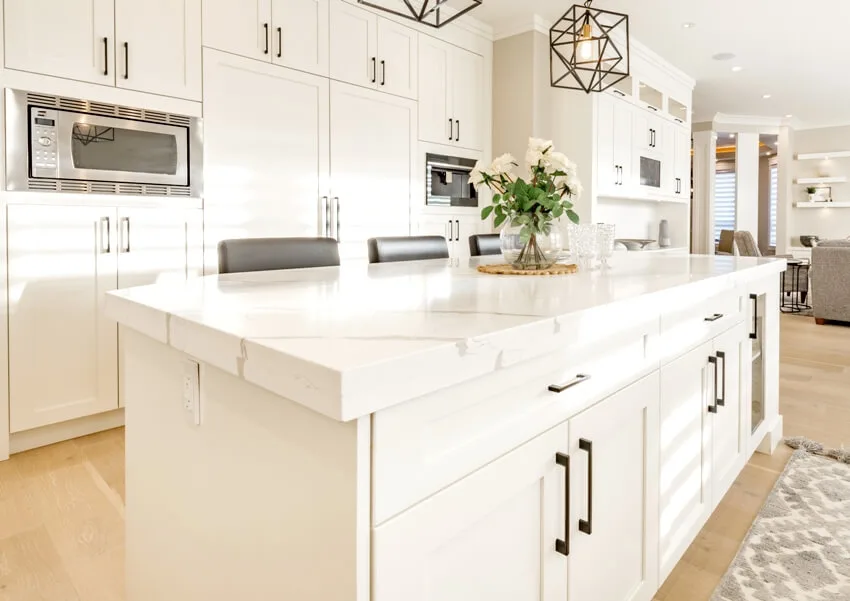 Contact paper countertops have been a popular choice for homeowners in recent years because they provide an easy, practical and quick way to update the look of your countertops without breaking your budget.
Also known as "peel and stick countertops' ', contact paper countertops do not require major renovations and can be undertaken as a Do It Yourself project.
Contact paper is an inexpensive material that has an adhesive backing on one side and a decorative pattern printed on the other side. It is usually made with a vinyl type material that is somewhat similar to a shelf liner.
Contact paper sold by the roll, allowing installers to easily cut what they only need. It is widely available in a variety of patterns with some designs resembling the look of solid wood and natural stone like granite or marble. Contact paper is highly durable and very easy to stick onto any surface, including granite countertops.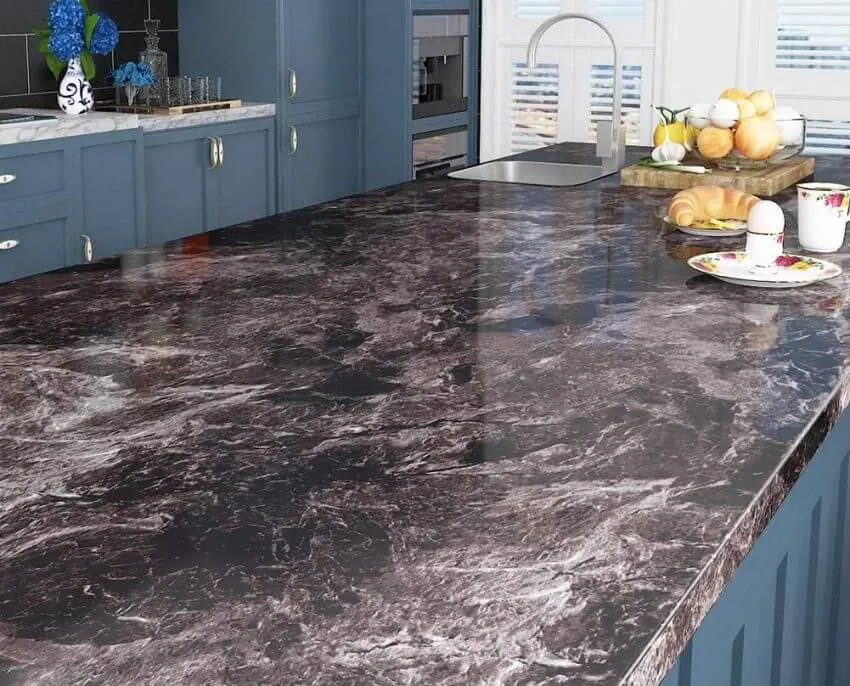 See this peel and stick contact paper countertop at Amazon [Sponsored link]
When it comes to cost, it offers the cheapest way to cover up old granite countertops and give them a new look and pattern. Typically, contact paper is priced at an average of $5 to $11 per 30 sq ft roll, depending on the design.
Contact paper is available in various colors and patterns to mimic real countertop materials like marble and granite. They are also available in wood and concrete look.
You can easily buy contact paper in home improvement stores, local hardware stores, big box department stores and even online. Some popular places that carry contact paper are Home Depot, Amazon,Target, Walmart and some dollar stores.
Cover With a Countertop Film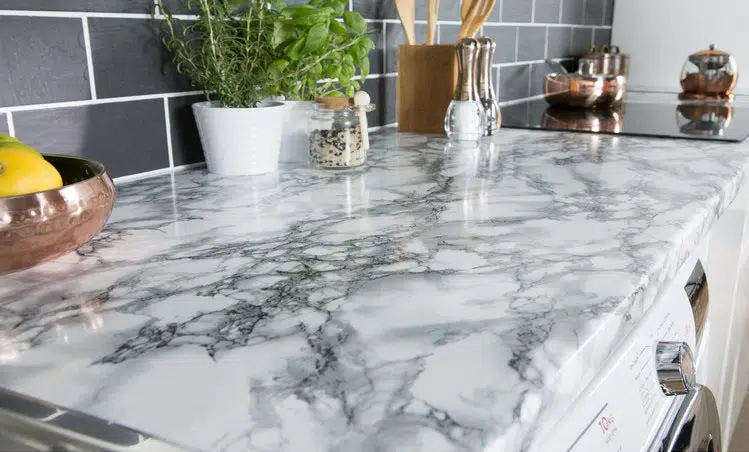 See this vinyl self adhesive film at Home Depot [sponsored link]
Countertop film is a thicker, tougher version of contact paper. It is actually like a combination of vinyl flooring and shelf paper and is much more resilient. Countertop films also come with a self adhesive backing and can stick into any existing countertop material.
Installation is similar and as easy as laying out the film, trimming it to size and aligning the countertop edges. Sticking it to the countertop can be done gradually using a squeegee. Doing it as carefully as you can will ensure that no air bubbles are formed.
The only drawback to using countertop films and contact paper to update granite countertops is that they won't work long term and are more of a quick cover up and short term solution.
Skim Coat the Existing Counter With Concrete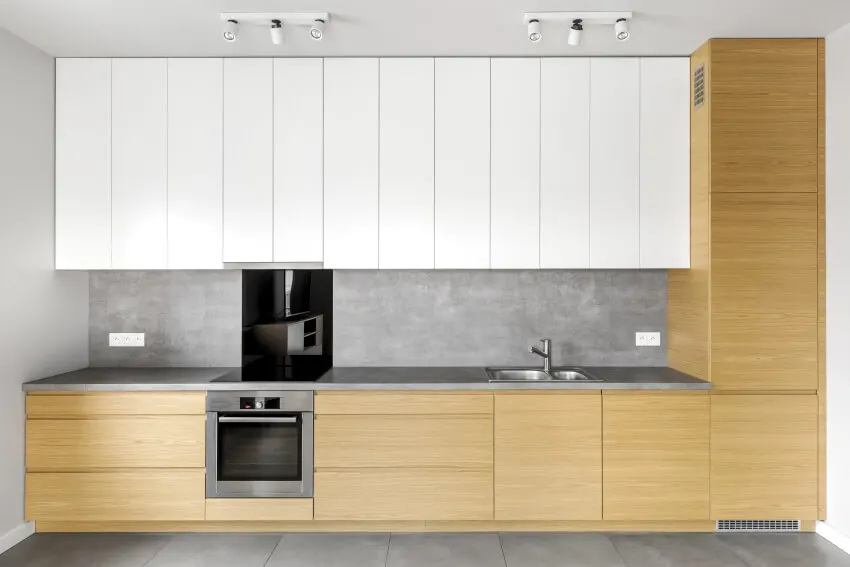 Concrete slab countertops are a popular trend especially in industrial inspired kitchens. If you want to give your granite countertops a more modern look, you can get the same feel of concrete slabs by coating the existing countertops surface with thin cement.
To ensure adhesion, make sure to buff the granite's surface with sandpaper. This is because cement will stick better to a rougher surface. Apply multiple coats of cement leveler using a trowel. As a finishing touch, seal with food grade sealer for a shiny finish.
The only thing you need to be careful with skim coated granite is that it is more prone to scratches and stains. So make sure to use chopping boards during food prep and wipe down any spilled liquids to prevent damage.
Add a Wood Overlay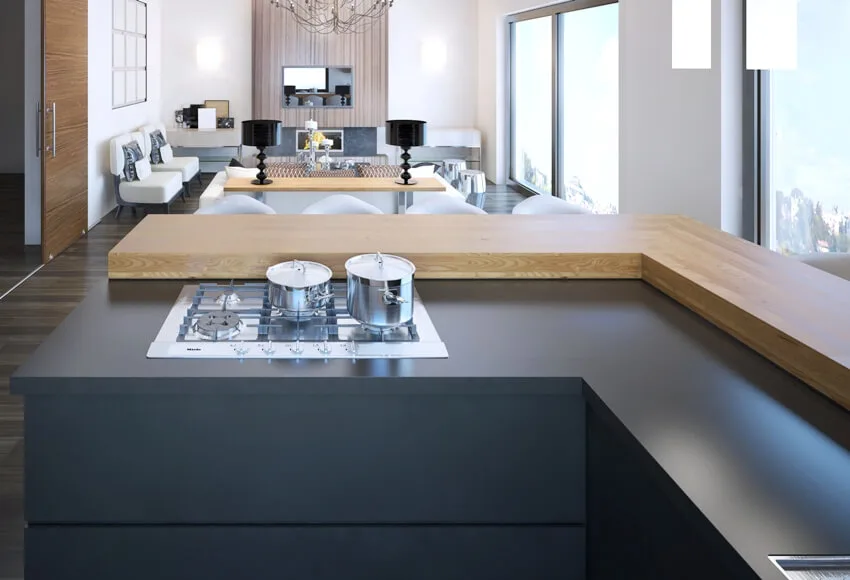 If you're drawn to the distinct beauty of natural wood, you can cover your old granite countertops with countertop overlays. Some materials you can use are solid wood planks, plywood or bamboo plywood.
Between the two, solid hardwood planks are more durable because plywood is thinner. However, the latter is less expensive and comes in bigger sizes. Bamboo countertop overlays, on the other hand, are a more practical solution because they have a thicker top layer than plywood. It typically comes in 4×8 feet boards which you can easily cut to fit your granite countertop size.
Installing wood overlays would require basic woodworking skills. After cutting the plywood or wood to the desired size you can glue it to the granite counter and add a front edge to cap the ends. To add some protection, you can apply oil based stain and a sealer.
Spray Paint the Countertop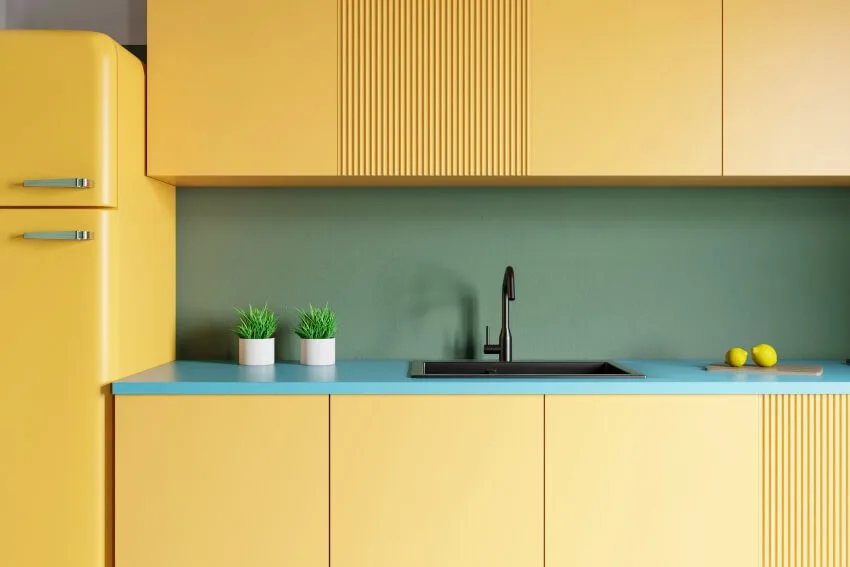 Another quick solution you can try to give your granite countertops a fresh look is spray painting. Spray painting offers a quick and easy way to change the color of granite. Compared to roller brushing, spray painting produces a smooth finish.
Before application, make sure to buff down the granite's surface with fine grit sandpaper. Matte finish is also more ideal because unlike glossy paint, it does not show scratches easily.
You can spray on at least three to four coats to ensure that the whole granite countertop is covered. Also, make sure that each coat fully dries before applying a new one.
Hone your Existing Granite Countertops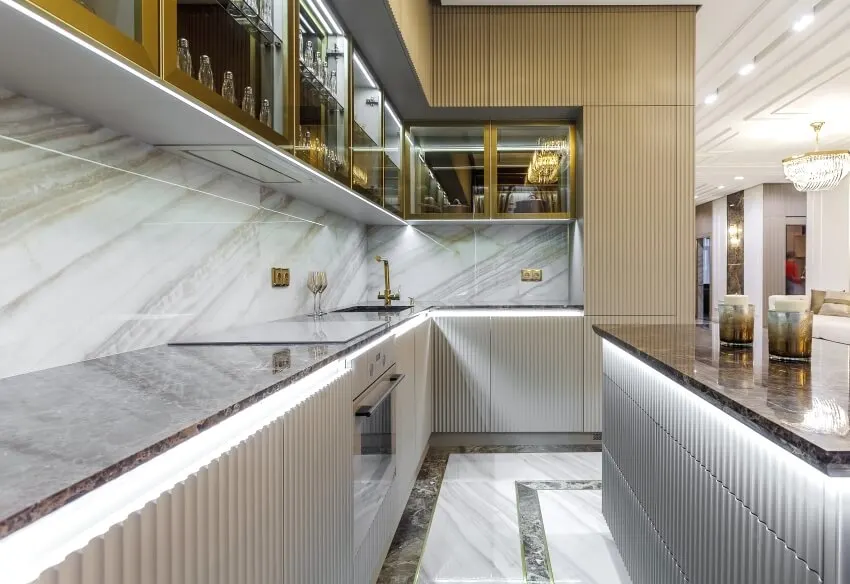 Honing is another technique you can use to give your granite countertops a fresh new look. Honing can be done to a variety of materials and when used in natural stone, it gives a soft look. Honed finish is popular among homeowners who prefer an aged and more casual effect.
With honing, the polishing process ends before buffing. The result is a matte, low gloss finish. Unlike glossy finish, honed granite lacks the mirror-like reflective surface of traditional granite.
So once you hone your existing granite countertops, the shine is removed and the speckles will be less intense. Honed granite will look darker because they reflect less light.
Once granite is honey, you'll need to apply a matte, food safe sealant to protect your countertops.
Honing provides a practical way to give granite countertops an up to date look without having to replace them. Although typically done before installation, honing can be done once the stone is in place.
You can choose to hone granite counters yourself or hire a professional to do it. Expect to pay around $50 per square foot for professional honing.
Can You Change The Color Of Granite Countertops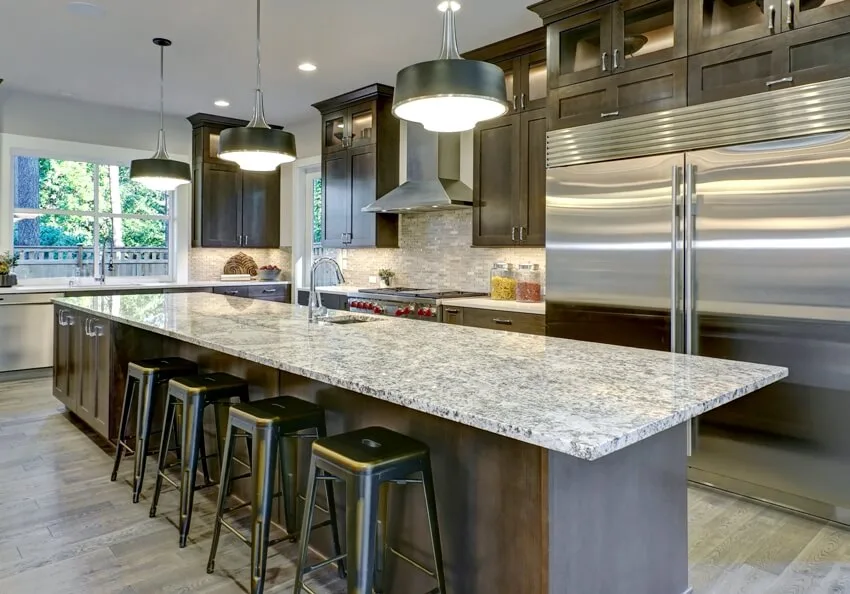 There are several ways you can change the color of your granite countertop and these include using color enhancers or paint. A new coat of paint is an easy fix to update your old granite countertops without tearing them down.
Can you paint granite countertops? You can definitely paint over granite countertops but you need to prepare for it ahead of time. You'll also need the proper primer, paint and sealer.
Paint will not simply stick to granite because you need to etch it first to ensure adhesion. You can do this by roughing up the surface of the counters using sandpaper.
When it comes to the type of paint, you can use latex, epoxy or acrylic paint. Acrylic latex is an excellent choice because it stands up well to heat and moisture.
Painting granite countertops is best left to the professionals because you can easily ruin the job especially if you are not skilled. The work requires a meticulous process and you must understand each step brother taking on the project.
Painting Over Granite Countertops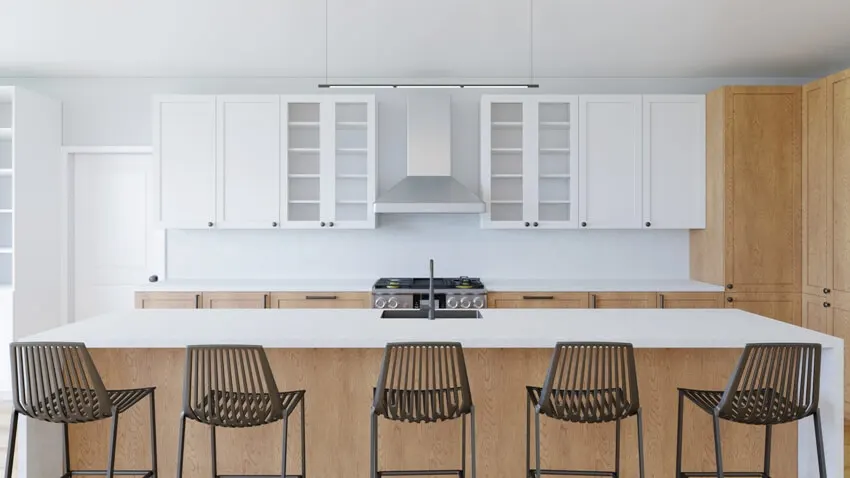 Below are some of the materials, tools and steps that you need in painting over granite countertops.
• Materials and Tools
• Sandpaper or electric sander
• Latex, epoxy or acrylic paint
• Primer
• Roller brush
• Cloth
• Painter's tape or masking tape
• Newspaper or plastic
• Rubbing alcohol for cleaning
• Degreasing soap for cleaning
Steps For Painting Over Granite Countertops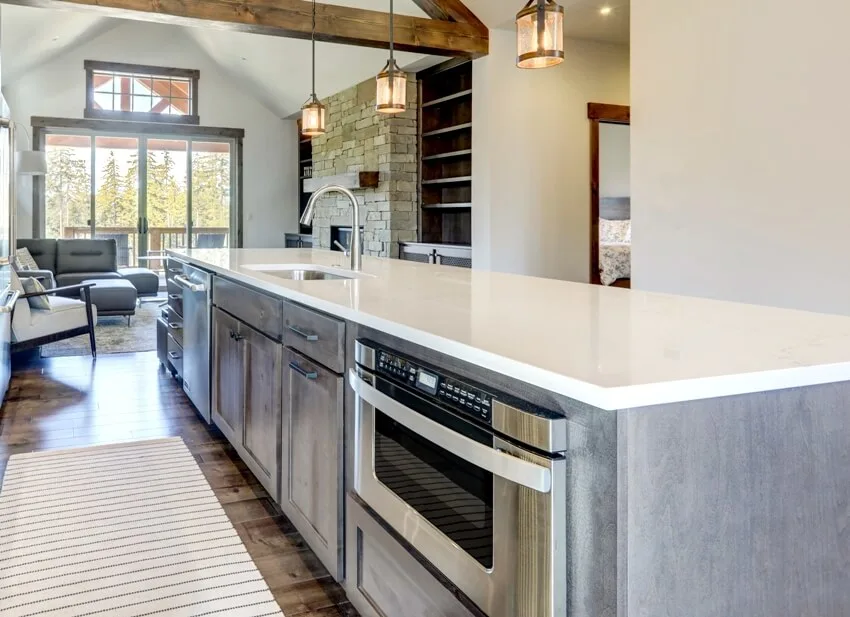 1. Preparing and cleaning the granite countertop. First you'll need to remove and scrub off any silicone caulking and any residue using rubbing alcohol. Clean the countertops with a water based degrading soap, gently scrub and rinse the surface with clean water. Make sure to do this thoroughly so the paint can adhere to the granite well.
2. Mechanical or chemical abrasion of the granite's surface. Paint will not stick to smooth glossy surfaces so you'll need to rough up the granite first. You can either do this mechanically using a sandpaper or electric sander, or chemically using an etching product.
Using an electric sander will save more time but make sure to cover all areas. You can also sand the surface of the granite using a sandpaper and do it until it's a bit coarse.If you choose to use an etching agent, make sure to follow the manufacturer's instructions because they can be harsh.
3. Cover any areas that will not be painted. Use painter's tape to mask off any areas that will not be painted. Cover backsplashes, cabinets or any hardware using plastic, tape or newspaper
4. Applying the primer. Choose a primer that is compatible with the paint you'll use. Apply the primer using a roller brush and do it in one direction until the whole surface is covered. Let the primer dry before applying your fist coat of paint.
5. Applying the paint. Once the primer is dried you can now paint. Make sure to go with a finish that is specifically made for countertops because ordinary paint will not hold up to moisture, heat and general wear and tear.
Using a roller brush, apply your choice of paint and avoid leaving any noticeable strokes. You may go with two or more coats but make sure to allow each layer to dry before applying the next one.
6. Apply details (optional). Some homeowners choose to add veining by freehand painting it into their countertops. You can use a thin brush to add any details of your chosen color. Alternatively, you can leave it as is and finish with a solid colored countertop.
7. Apply the sealer. After the paint has dried, apply a chemical or food grade sealer to keep your finish from fading over time. This will also give your newly painted countertops added protection against moisture, heat and wear and tear.
To add granite colors to your kitchen, check out our page sharing granite countertops and paint colors for more different ideas.