Here we share poplar kitchen cabinets including what this material is, its hardness, pros and cons, cabinet door designs, and if poplar wood is a good option to use.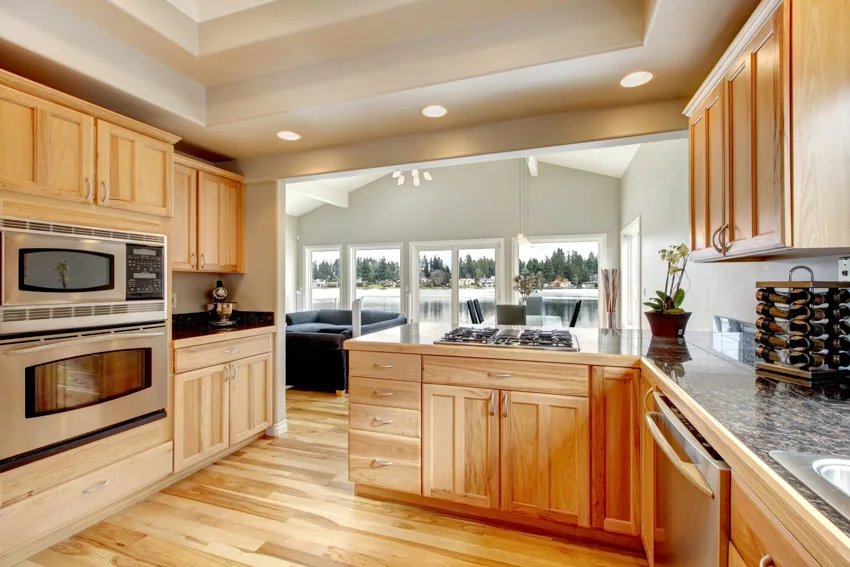 Have you ever considered using poplar wood for your kitchen cabinets? Poplar is a beautiful, sturdy wood that can give your kitchen a unique look.
Wooden cabinets can be made of various materials, such as oak, pine, or poplar. Poplar wood is a type of softwood readily available and often used in constructing cabinets, furniture and wooden toys and decor.
If you're considering renovating your kitchen, read on to learn more about poplar cabinets and whether they might be right for you.
What Are Poplar Wood Cabinets?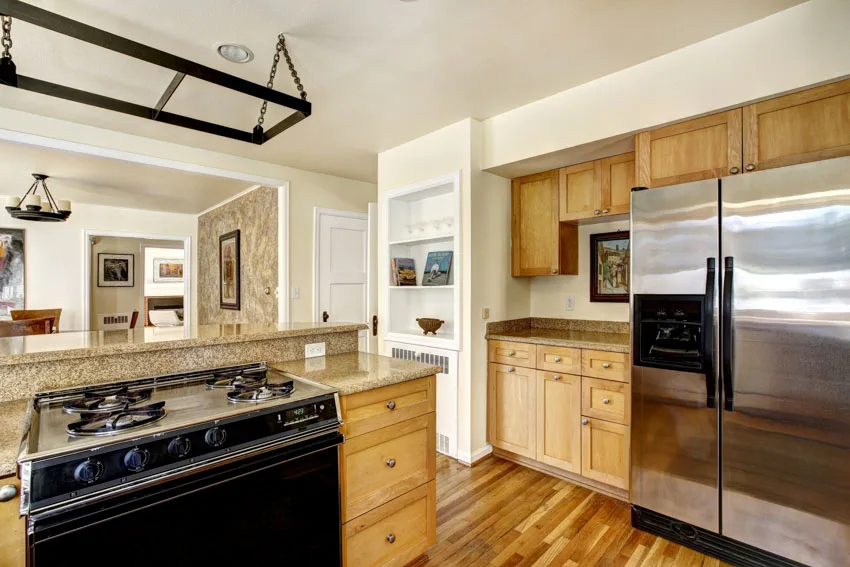 Poplar wood is a type of hardwood that comes from the tulip poplar. The wood is light brown to creamy yellow in color, with green or brown streaks running through the heartwood of the board.
The grains of poplar wood are straight and uniform in texture. It is lightweight and easy to work with, making it a good choice for interior furniture components like kitchen cabinets. Some characteristics of poplar that make it the most popular hardwood species used in the industry are its workability and cost-effectiveness.
This wood has a medium density, which makes it easy for paints and glues to adhere exceptionally well. There are two types of poplar wood that are readily available in the United States. these are the tulip poplar tree and the rainbow poplar tree.

• The tulip poplar tree grows quickly and is easy to find in stores. It is a good choice for woodworking because it grows quickly, and it is easy to find straight boards with no knots.
Tulip poplar is reasonably stable and will do well in many environments. The Janka hardness rating for the tulip poplar is 540 pounds-force (lbf), which is softer than most other American hardwoods.
• Sometimes, you will see a board marked with "rainbow poplar." That means the wood has been stained with minerals from the soil. This can happen if the tree grows in an area with high levels of minerals.
The wood will have different colors, like green, brown, purple, and red. However, these colors may not last for very long because poplar is photo-reactive and tends to brown quickly.
Poplar Wood Hardness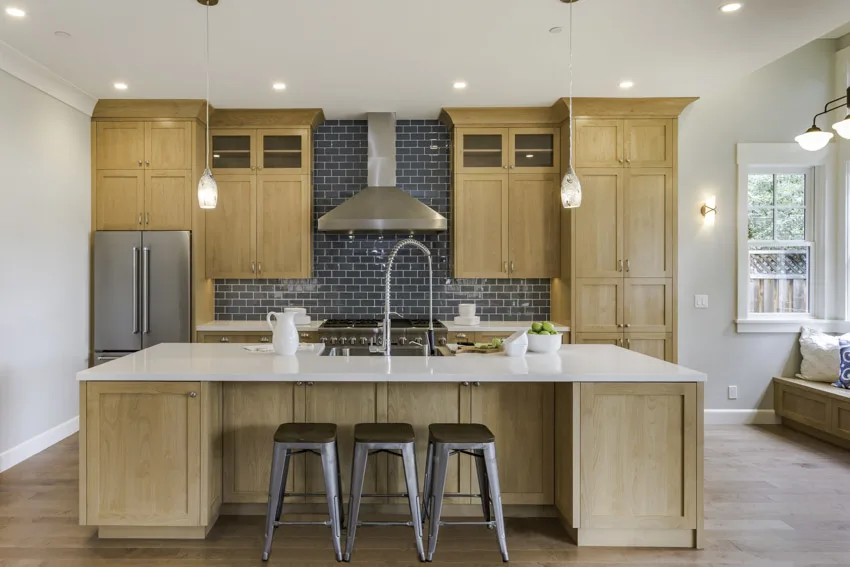 Poplar wood is a strong type of wood. It is denser, stronger, and more resistant to bending than many other woods. This makes it a popular choice for cabinets, furniture, picture frames, and many other items. Poplar is more robust than any softwood but is not as strong as most hardwoods compared to density or resistance to bending.
The density of wood is a measure of how strong it is. The higher the density, the stronger the wood. Poplar has a specific gravity of 0.42, higher than most softwoods and some hardwoods. This makes it a strong choice for construction and woodworking projects.
Poplar wood's strength can also be determined by its compressive strength at 5540psi, stiffness at 1.58Mpsi, and bending strength at 10100psi. Additionally, the Janka hardness scale of the wood is assessed at 540.
Poplar Wood Kitchen Cabinets Pros And Cons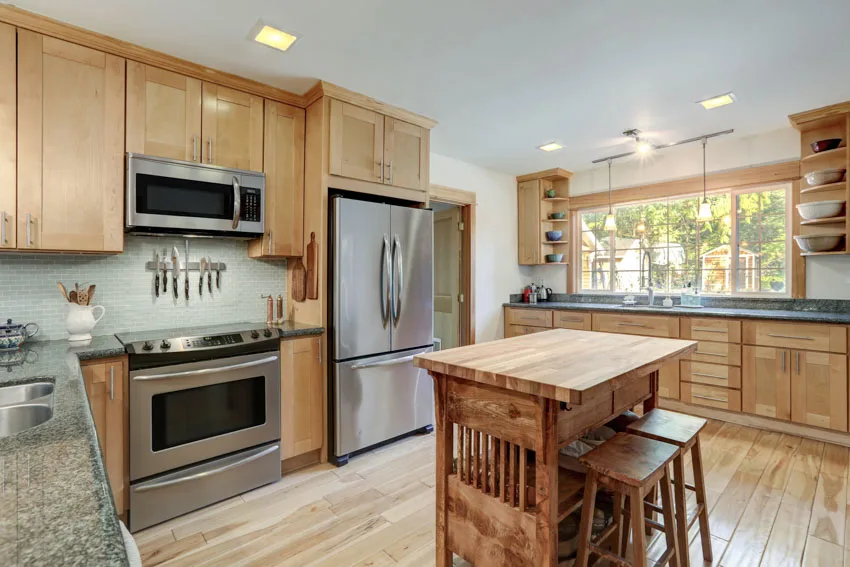 Poplar natural wood kitchen cabinets are a popular choice for homeowners looking for an affordable option. But poplar cabinets come with a few disadvantages you should be aware of before making your purchase.
Pros of Poplar Kitchen Cabinets
The poplar wood kitchen cabinets pros are as follows:
• They are lightweight, making them an excellent choice for interior furniture components such as kitchen cabinets, dining tables and chairs.
• Poplar is the easiest hardwood to work with since it is soft and often straight-grained, it planes well, and cutting joinery in poplar wood is effortless.
• This type of wood is the standard choice for kitchen cabinets that needs to be painted because they can take paint very well.
• Poplar is the most common utility hardwoods in the US, which can be used for rough framing.
• They are inexpensive and considered one of the most affordable hardwoods in the Eastern United States because of their high availability.
Cons of Poplar Wood Cabinets
The poplar wood kitchen cabinets cons are as follows:
• They are not exceptionally durable and can easily dent or scratch
• Poplar wood cabinets are not very resistant to moisture and humidity; they can easily twist, warp, swell or rot
• Although poplar wood is one of the most popular paint-grade woods, because of its low hardness rating, it dents easily, and so the finish on them tends to wear off quickly
• The constant movement of swelling, expanding due to humidity, and shrinking when it gets dry causes the paint to crack and chip
• They are highly porous, and their end grain is very absorbent, which means they will require additional coats of primer and paint
• Cabinets made of poplar wood do not readily absorb stains
• They are not particularly good at hiding fingerprints or dirt
• Poplar can be pretty expensive compared to other types of wood cabinets.
• These cabinets are soft and not as durable as some other hardwoods for a hard-use environment like a kitchen.
• This material is a less-stable wood due to their broader and less dense annual rings
Poplar Kitchen Cabinet Doors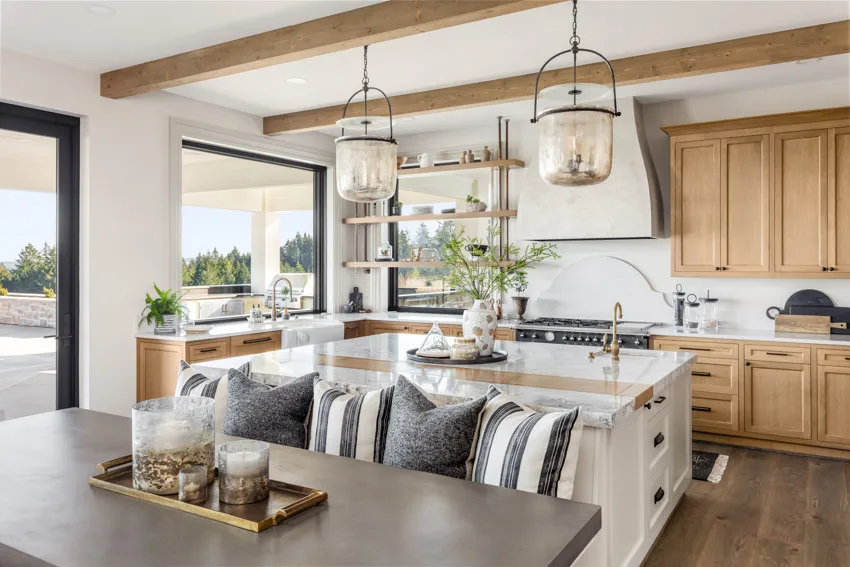 Poplar shaker cabinet doors: This door style is a well-liked choice for kitchen cabinets because poplar is a hardwood that is widely available and easy to work with. Poplar shaker style cabinet doors are also reasonably priced, making them a good choice for economical cabinetry.
The shaker-style door is also famous because it is simple and elegant. The door comprises four panels that are joined together with rails and stiles. The door is a versatile material that can be stained or painted and used in both traditional and contemporary settings.
The shaker-style door's classic design is also a timeless look that will never go out of style. It features plain, un-beveled rails and recessed square center panels, which can complement traditional, transitional, and contemporary themes.
Their clean and straightforward appearance allows them to be used in many applications, including kitchen cabinet doors that add a contemporary flair to any cabinets.
Unfinished Poplar Kitchen Cabinets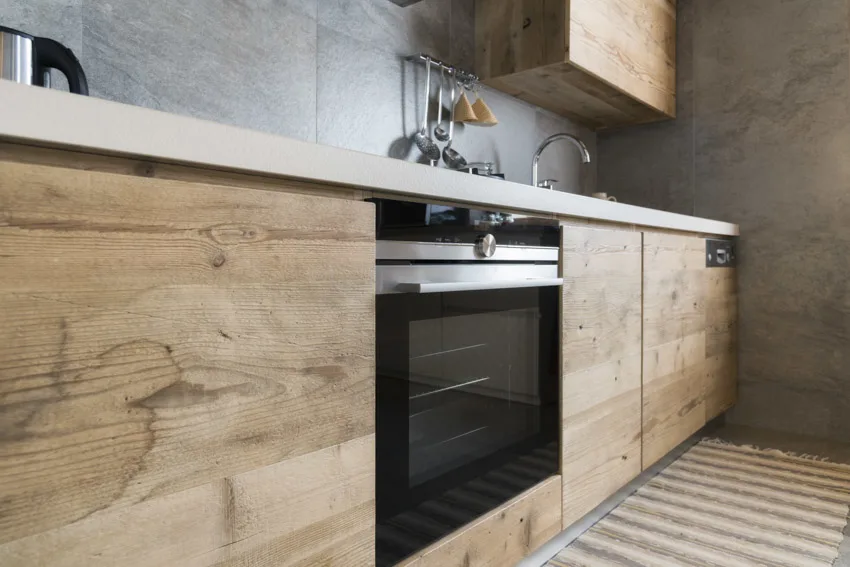 Poplar wood kitchen cabinets are a great option if you want something durable and stylish. Additionally, poplar is a light-colored wood that can brighten a kitchen space.
However, poplar is a soft wood, so it is more susceptible to scratches and scuffs than harder woods like oak or maple. Poplar may require more upkeep than other types of kitchen cabinets, as they may need to be sanded and stained more frequently to maintain their appearance since they can turn yellow over time.
Poplar kitchen cabinets can be left unfinished, its smooth, close-grain structure and light color give them a clean and finished look. Unfinished poplar kitchen cabinets allow you to customize the look of your kitchen. There are many benefits to choosing unfinished poplar kitchen cabinets.
One advantage is that you can stain or paint the cabinets to match your kitchen décor. You can also choose the different types of cabinet hardware that suit your needs and preferences. Poplar often has visible knots, giving the cabinets an unfinished look.
With the right finishes, poplar cabinets can provide any kitchen with an elegant and timeless look. These factors combine to make poplar an excellent choice for unfinished kitchen cabinets.
Stained Poplar Kitchen Cabinets
The natural colors of Poplar offer a beautiful surface that can be stained to create an endless variety of effects. However, poplar wood doesn't hold stains well compared to other types, such as white oak or pine.
Since stains don't take well on Poplar, this can cause uneven staining, random blotchiness, and bull surface if you aren't careful when applying stains to your kitchen cabinets. So, it's essential for you to apply the stain where there are no high spots or shadows first.
Sanding down any rough areas with 220 grit paper (or higher) before brushing lacquer over the surface will help bring out all those intricacies in the wood and will protect the wood from damage occurring during the cabinetry construction.
Poplar is a paint-grade wood with lower hardness values than most hardwoods, so it takes paint well because paint doesn't soak into the wood, but stains do. If you want your poplar project to turn out well, it's best not to use lighter poplar wood, such as white poplar, because it is cleaner and softer.
The lighter shades of poplar are more difficult to stain and require much attention during the application, while darker colors don't show as many blotchy surfaces with wood stains since they have higher hardness.
Is Poplar Good For Kitchen Cabinets?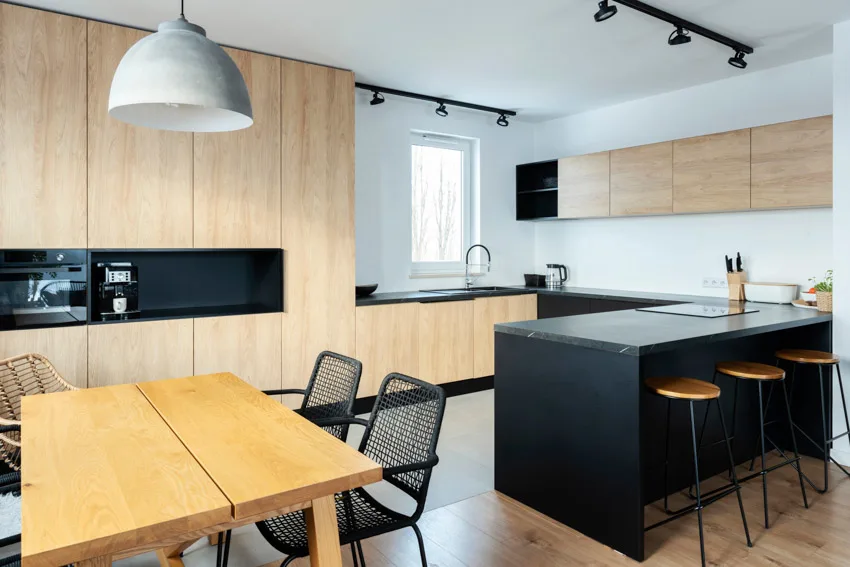 As a homeowner, you want to ensure your kitchen is as stylish and functional as possible. A critical aspect of the kitchen is the cabinets. When choosing cabinets, you may wonder if poplar is a good option and whether poplar cabinets will stand up to the wear and tear of daily use.
Choosing suitable materials for the cabinets is one of the most important decisions when planning a kitchen renovation. There are factors to consider in opting for the wood to use, including durability, cost, and aesthetics.
Poplar wood is a common choice for kitchen cabinets due to its availability, affordability, workability, and attractive grain pattern. However, poplar is a softwood susceptible to water and heat damage.
As a result, it is vital to take care when cleaning poplar kitchen cabinets and to avoid using harsh chemicals or abrasive scrub pads. With proper care, poplar cabinets can provide the kitchen with years of beauty and function. Poplar wood is fine for painted kitchen cabinets that don't receive much wear.
This soft nature makes it more prone to tears than hardwoods like oak or maple. To avoid tearing, drilling and other woodworking tasks should be done at a slow feed speed. For sanding, it is important to start off on 80 grit before moving up through 150, then 300 finally 400, which will give you beautiful results.
Poplar Vs. Birch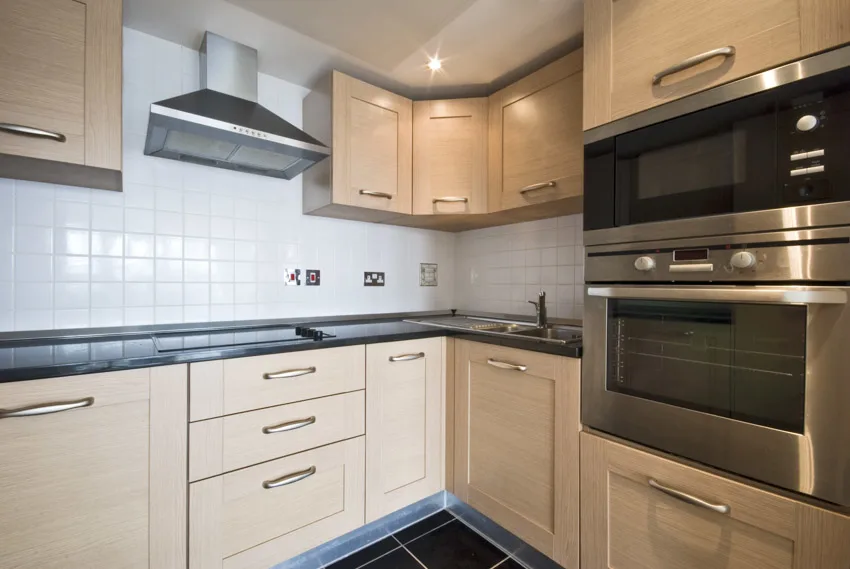 The two most inexpensive hardwoods are poplar and birch. Both kinds of wood come from quicker-growing species, making them sustainable choices for kitchen cabinetry in addition to being affordable options when compared with other types of wood.
Birch is widely used due to its affordability and accessibility. While Poplar is less dense and used for most utility woodwork and is the more inexpensive choice for cabinetry, Birch is better suited for flooring projects.
Birch has straight or slightly wavy grain with tiny pores, making it smooth in texture. The birch sapwood is almost white, and its heartwood has a light reddish-brown tone. Poplar, on the other hand, has a pale yellowish wood, sometimes with streaks of green and gray. Both poplar and birch kitchen cabinets have a fine grain and take paints and treatments well.
Poplar trees have a shorter cultivation time than Birch; this means that Poplar is a less dense wood than Birch. Poplar's lower density and lack of knots also make it a popular option for plywood, and woodworkers often use it for decorative elements making it a trendy choice.
Poplar Vs. Maple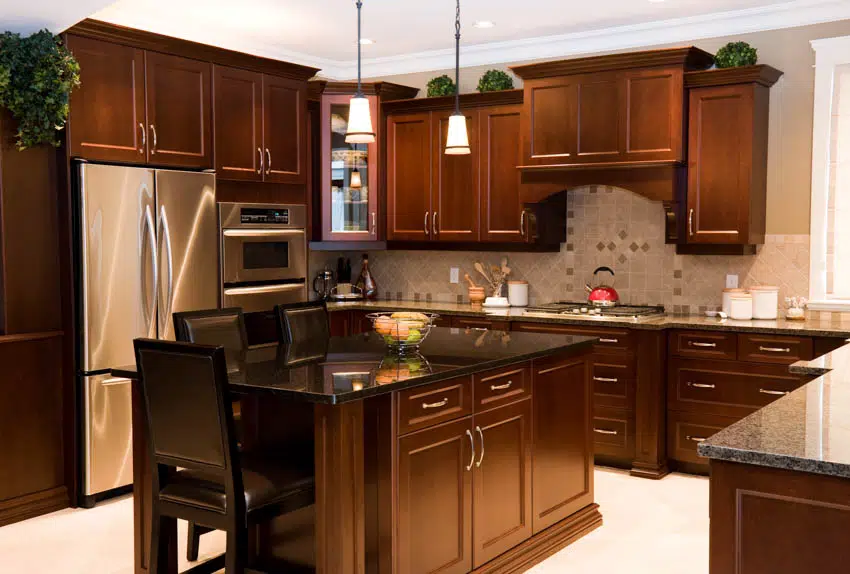 Poplar and maple are both hardwoods, but the difference between the two hardwoods is in their strength. Maple wood is much stronger and performs better under stress than poplar wood.
Maple can withstand heavy loads, while poplar dents easier, breaks under load, and compresses more easily. Poplar wood has slightly better flexibility and tends to be easier to work with, thus, making it notable for its use in cabinetry.
Soft maple mills a bit harder but takes paint much better and gets a smoother finish. Maple also is more dimensionally stable than poplar. The integrity dent resistance of maple is superior then poplar.
However, maple joints in face frames and doors tend to develop hairline cracks more frequently than in poplar. This is due to the higher density of maple than poplar, which makes it less stable with regard to seasonal changes in temperature and humidity. The joints between pieces of poplar are less likely to open or loosen over time.
Poplar and maple kitchen cabinets absorb stain finish differently. It is difficult to achieve an even finish using stain on poplar; most of the time, the result is a blotchy finish.
On the other hand, maple stains easily, and depending on the type of maple, the grain patterns can vary from almost invisible to prominent—hard maple sands to a smoother finish than poplar.
See more related content in our article about walnut kitchen cabinets on this page.