In this guide we discuss chalk paint kitchen cabinets including steps for painting & sealing, best type of chalk paint to use and design tips.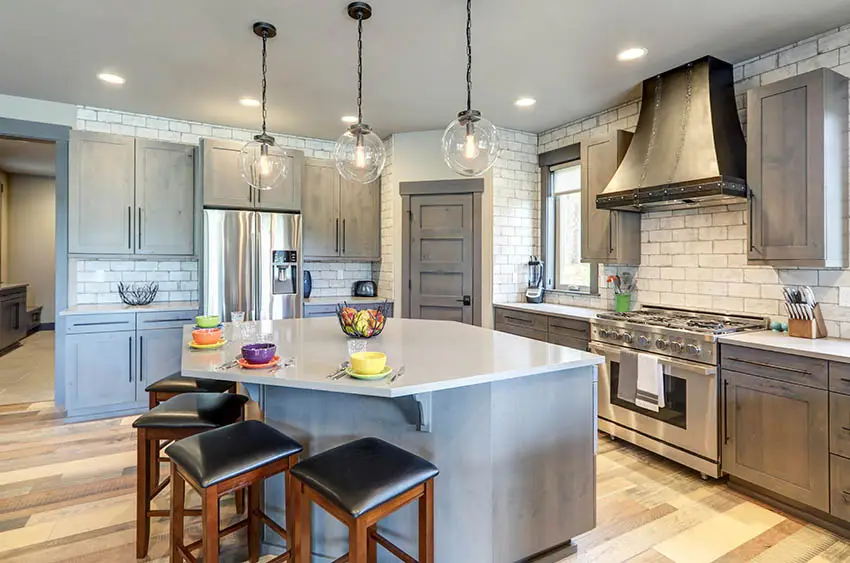 Chalk paint is one of the pinterest trends of the decade and it is time to jump in board. Chalk paint gives two of the most sought after features when it comes to paint: beauty and functionality.
Chalk paint gives beautiful matte finish that can make cabinets absolutely pop, as well as a variety of available colors pairing with pretty much any style and design kitchen you can think of.
As for function, chalk paint gives you the opportunity to label your cabinets. Now you know what is in each one no matter how many times you rearrange.
Not only that, but you can also draw any sorts of designs or symbols on the cabinets to add interest to the kitchen cabinets. Another reason people choose chalk paint is for its ability to looks distressed and aged.
Painting Kitchen Cabinets with Chalk Paint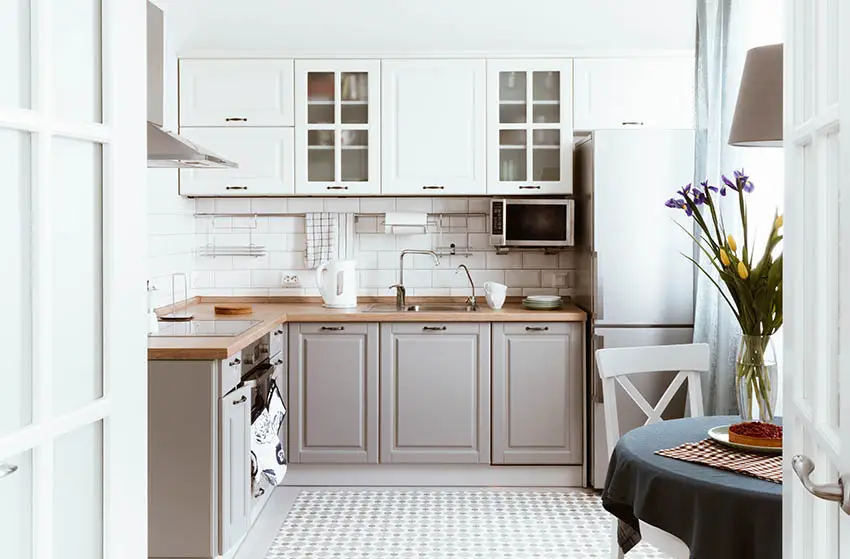 Painting kitchen cabinets while using chalk paint can be a daunting task, but it does not need to be. One great thing about chalk paint is that it does not need you to sand the surface before applying the paint. This saves one huge step, making for a simple project. Follow the steps below for a great turnout.
1: Remove doors and hardware (and any items you want to keep safe): This makes it easier to get into every inch of the cabinets, as well as making it easier to paint them while sitting at a table or on the floor versus needing a ladder to get do some, and dealing with awkward angles.
2: Degrease and wipe down cabinets: It is important to make sure you start with a clean surface. Since you will not need to sand the cabinets you have to make sure any grease or oils are off the cabinets as the can reject the paint, or get stuck under the paint. You also can sand down the cabinets if you desire.
3: Start Painting: It is best to start on the inside of the cabinets that you do not use as much, this way you get the hang of the painting as well as find anything that may cause on error in the least noticeable spots. Depending on the type of paint you got you may need to add two or three coats of paint.
4: Distress and Seal: If so desired you can take some sandpaper and further distress the kitchen cabinets for a more aged appearance. You could also choose to seal the paint for better wear. Select a sealer based on the paint and cabinet materials suggestions. After that , cover the entire surface with sealer and let dry.
5: Put back together and enjoy: The final step will be to reattach the cabinet doors and any items you removed from the shelves for safety.
Additionally if you have any intentions to change out the hardware, now is the time. After that is all said and done the cabinets will be all yours to enjoy for years to come. See more ways to update kitchen cabinets here.
Is Chalk Paint Good for Kitchen Cabinets?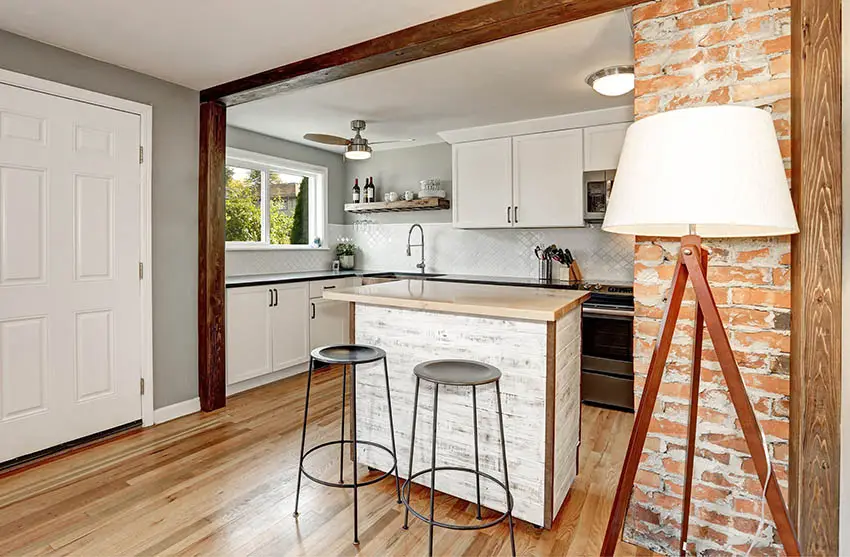 Chalk paint is a good choice for kitchen cabinets. This type of paint adheres to surfaces extremely well, and does not chip, both of which are super helpful when painting kitchen cabinets. Chalk paint is also good for kitchen cabinets because of its textured matte finish.
Additionally most brands of chalk paint are Low VOC and non toxic, which is very important in the kitchen setting.
Best Chalk Paint for Kitchen Cabinets
The best chalk paint on the market is the Annie Sloan chalk paint. Annie Sloan is the developer of chalk paint and continues to better her recipe. It cannot get much better than the original, which is why Annie Sloan Chalk Paint is the best of the best.
Annie Sloan chalk paint comes in a plethora of colors as well as give different inspirations, and workshops. This product is pretty elite and can only be found in select stores and the products have to had a stamp of qualification to prove they are authentic.
While Annie Sloan is the top of the food chain when it comes to chalk paint, there are other comparable and not so elite products. Sometimes a project needs a quick trip to the home improvement store versus the perfectly curated supply list.
As a good comparison Rust Oleum paint is about half the cost of Annie Sloan paint and can be found in local home improvement stores. Rust Oleum brand is a lower quality brand though, as it is a little less matte and has a limited paint color selection at the moment.
How to Apply Chalk Paint to Cabinets Video
How to Seal Chalk Paint Kitchen Cabinets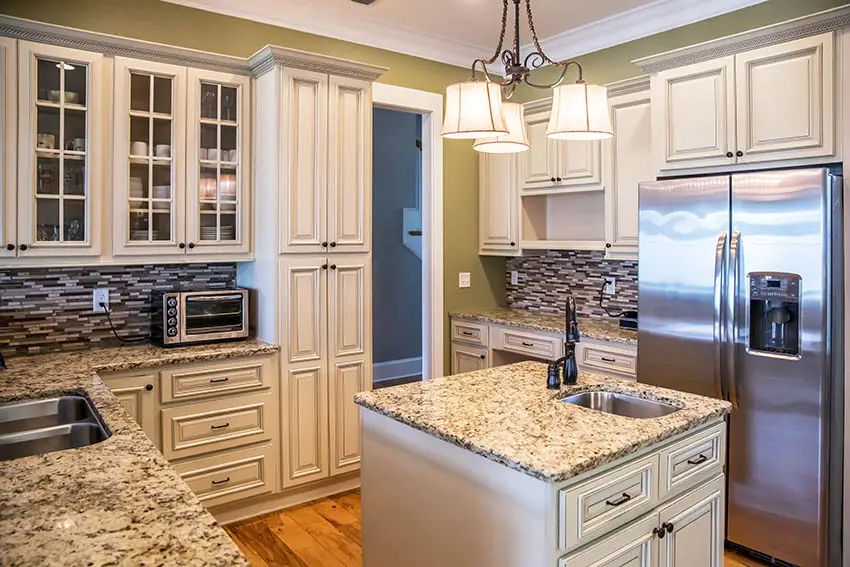 As was briefly mentioned in the how to section was that chalk paint cabinetry can be sealed for added protection. This is recommended as there is plenty of stuff jumping around in a kitchen setting and ways that the cabinets could be susceptible to scratching or scuffing.
Sealing the chalk paint with a wax coat is a great way to protect the cabinets from any of these dangers. There are specific chalk paint brand waxes that are ideal for sealing with wax over chalk paint.
This coat is to be applied after the paint has been dried (and purposely distressed if so desired). After the paint has dried, give it a quick dusting and apply the clear wax to anywhere that was painted.
This can take up to three coats of wax for the best finish, each coat should likely dry for about a day (check specific product recommendations before use).
Once the final coat has dried you can consider buffing the wax with a cloth, this is not a required step, but can add a clearer finish. Keep in mind that while the wax is dry to the touch it does take up to two week to completely cure (harden).
The cabinet doors can still be installed at this point and the cabinets can be used, but it is best to be careful with them for a few weeks.
For more related content visit our page on how to paint kitchen cabinets to look antique.