Welcome to our Silgranit sink pros and cons buying guide including what it is, design styles, colors, price and maintenance tips.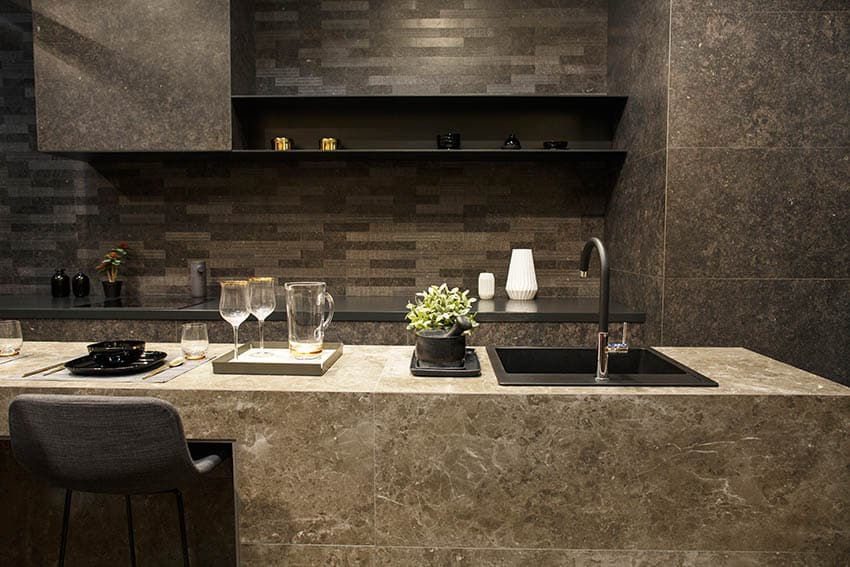 One of the most used features of a home is a sink. Whether it be in the kitchen, the laundry area or the bathroom, the sink is subjected to everyday activities and constantly exposed to moisture, bacteria and contact with different objects. Because of such, it is important to choose a reliable material which can stand in the long run.
There are numerous options for sink materials in the markets like the well loved stainless steel sink, the charming porcelain sink & the more modern composite sinks. The latter continue to rise in popularity nowadays because of the practical benefits that they offer.
Of all the different brands of composite granite sinks in the market, Silgranit is one of the best you can find. In this article, we take a look at one of the most reliable composite sinks in the market — the Blanco Silgranit sink. Read on to know the pros and cons of choosing this sink.
What Is a Silgranit Sink?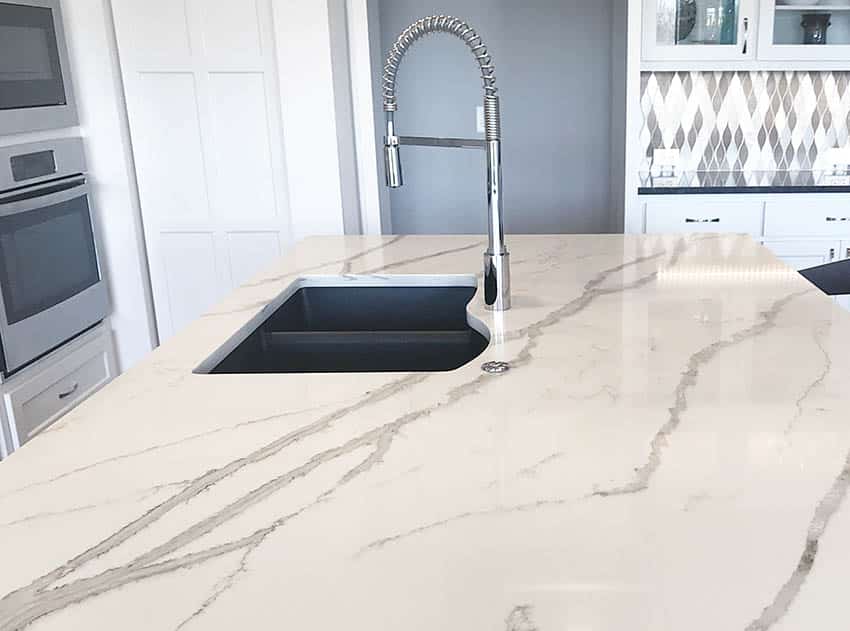 A Silgranit sink is a type of sink made by Blanco — the largest manufacturer of sinks in Germany and one of the top manufacturers of granite, granite like and composite sinks in the world. Silgranit is a composite material that is made up of 80% natural granite — one of the toughest minerals on earth.
Silgranit sinks are produced by binding finely ground granite with a high grade acrylic that is also made in house by Blanco. Pigments are then added to the mixture to ensure the color of the sink through and through. The product e is cast in single pouring to give it strength
What makes Silgranit sinks incredibly durable and tough is their material composition and their strict and precise production process.
Blanco Silgranit Sinks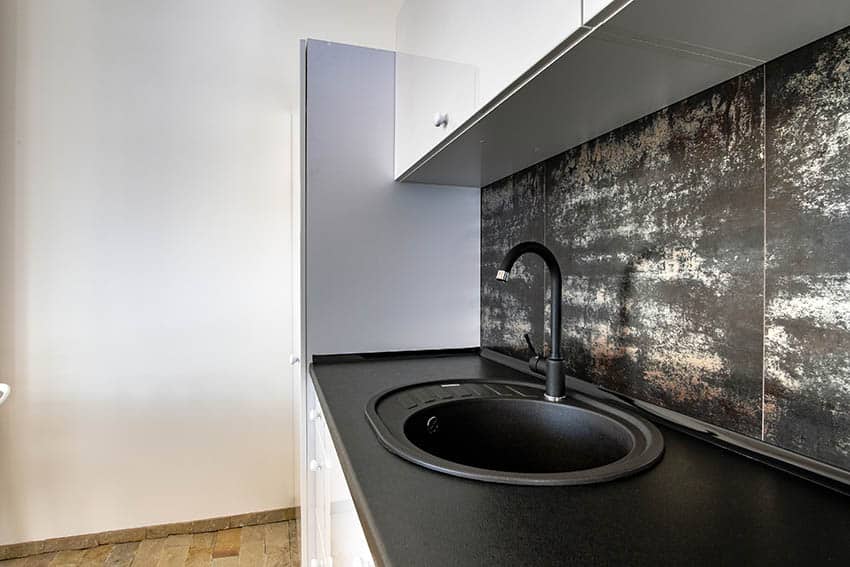 Blanco holds the exclusive patents for Silgranit sinks. They have been in business for over 30 years and are the only producer of Silgranit sinks , making it the "only one of its kind in the world".
Blanco Silgranit sinks come in different styles,types, sizes and colors. They are produced in 9 different nature inspired colors and are offered in eight different collections which include modern and updated farmhouse style sinks.
Silgranit Sink Pros
Here are some of the best benefits that come with a Blanco Silgranit sink:
● Durable and can withstand daily wear and tear. Silgranit is an extremely strong and naturally tough product. It is naturally resistant to most of the hazards you may find in the kitchen and will not get damaged easily. When it comes to its lifespan, expect it to last for years, provided that it is properly maintained.
● Does not chip and is scratch resistant – Blanco Silgranit sinks are literally as hard as a rock because even though it is a composite material, it is made of 80% natural granite.
Silgranit sinks are naturally resistant to shipping and scratching ao you do not have to worry about sudden impacts caused by falling objects. If you drop a metal kitchen utensil on it, it will not leave a mark. You can chop ingredients on its surface and it will not get damaged from it.
● Resistant to stains and will not rust – Blanco Silgranit sinks are also stain-resistant. They hold up well to acidic substances and other types of liquids. Silgranit also does not contain any material which could rust.
● Heat Resistant – Silgranit sinks heat resistant and can exceed common baking and boiling temperatures. They can tolerate up to 280°C or 536°F and exposure to hot pans and pots will not impact their durability nor damage their surface. You can directly put a hot baking dish on it without worrying about cracking issues. In the same way, if boiling water hits its surface, there will be no permanent water spots or fading.
● Easy to Clean and maintain – Silgranit sinks are much easier to maintain compared to other materials. Keeping it clean is easy because they do not require any special chemicals or non abrasive cleaners. Daily cleaning can be done using a soft cloth and just by wiping.
It is also easier to maintain a Sigranit sink compared to natural granite sinks. With Silgranit, the granite powder is sealed with resins, so there is no threat of liquids seeping into its surface.
● Available in a variety of styles, colors and finishes – Silgranit sinks are available in a wide variety of sizes, finishes and styles. BLANCO produces over 30 styles of these sinks in 8 color options like black, white, gray and browns.
Due to the numerous options available, it is easy to pick a sink which will fit your kitchen.In addition to their wide product range, the colors of Silgranit sinks are also more consistent compared to natural granite in which the slabs may have variations. Silganit sinks are cast in single pouring so their color is uniform throughout the product.
● Antibacterial and hygienic – Silgranit sinks have a patented Hygienic+Plus surface protection formula — a defensive shield that is designed to protect and reduce bacteria growth by up to 98%. This makes it completely hygienic and perfectly safe for contact with food.
● Will not fade or discolor over time – Because of the through and through color of Silgranit sinks, they do not fade. Everyday wear and tear will not cause any changes in its color. Even if it is placed in direct sunlight, it will not discolor, which also makes it suitable for outdoor use.
● Lightweight option – Silgranit sinks are lighter compared to standard cast iron and natural granite sinks. Handling this material is much easier and makes it a suitable option for undermount sinks. Since they are lightweight, Silgranit sinks are also a viable choice for DIY installation.
● Has the character and beauty of natural stone or granite – If you are looking for a sink that looks like the real thing, but want to save on cost, Silgranit sinks are one of the best choices in the market.
Although Silgranit sinks make use of powdered granite, the natural beauty that comes with this stone is retained. So it gives you an aesthetically pleasing wink option that has the feel of natural stone, minus the vulnerabilities that come with it.
● Composite granite is cheaper than real granite – Although there are numerous options of sinks which are cheaper than Silgranit, in general, it is still much more affordable than natural granite.
Authentic granite sinks typically cost around $1000 to as much as $5000, depending on a number of factors. Silgranit sinks cost less at around $350 to $500 for the entry level design and provide high quality and more practical benefits compared to other sink options.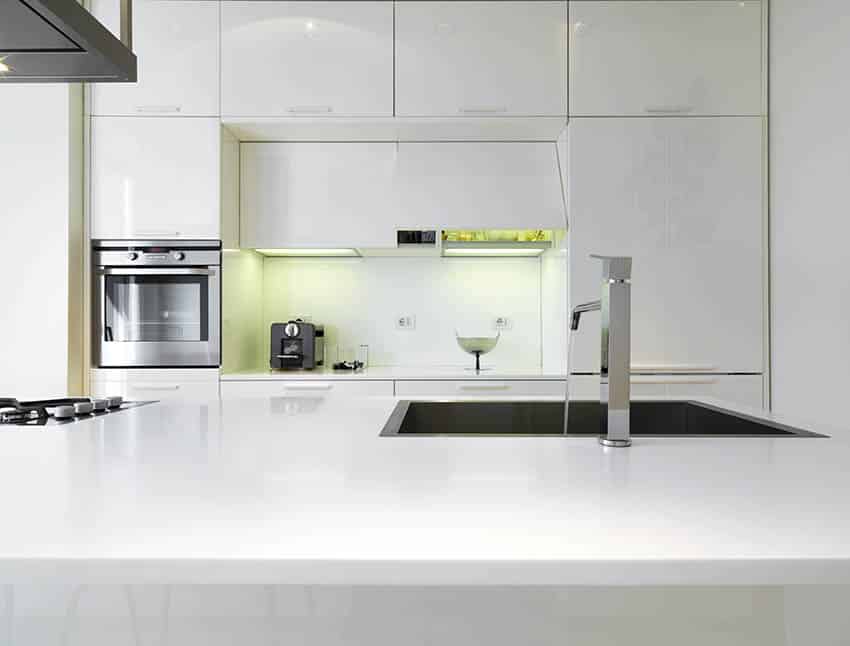 Modern kitchen island with sink by Blanco Silgranit.
Silgranit Sink Cons
Here are some of the drawbacks of having a Blanco Silgranit sink:
● In general, Silgranit sinks are more expensive than other types of sinks – Although cheaper than natural granite sinks, expect to pay more for a Silgranit sink.
As we have mentioned, a basic Silgranit sink can cost around $350 to $500 if you install it yourself — other sink options, like a standard stainless steel sink can be purchased for as low as $50 in local hardware stores and Home Depots. See more types of kitchen sinks here.
● Limescale deposits can be quite difficult to remove on a Silgranit sink – A Silgranit sink's surface can tolerate and repel most surface stains but it is prone to limescale deposits. Limescale deposits can reduce the appeal and beauty of the sink in the long run, so they have to be addressed immediately to prevent absorption of liquids.
● Silgranit can be damaged by certain harsh chemicals – Silgranit sinks are resistant to staining from most substances but it is important to follow all the caring instructions recommended by its manufacturer to ensure its top quality.
Several harsh chemicals can potentially damage the sink like abrasives, chemical laden cleaners and drain blocking chemicals.
Blanco Silgranit Sink Colors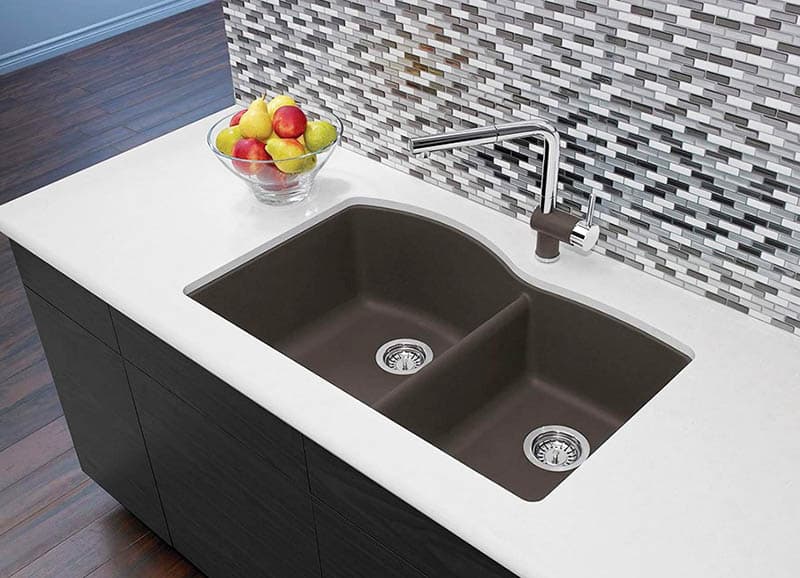 See this Blanco Silgranit sink in cafe brown at Amazon [sponsored link]
Silgranit sinks are manufactured in nine different color options, mostly neutrals, which work with a wide range of interior design styles and trends. These colors are easy to mix and match in a space and can perfectly blend with a lot of natural and engineered stone countertops.
Unlike traditional and authentic granite, Silgranit sinks have a more consistent color all throughout the product. With their uniform color, the look is more seamless.
Here are the different color choices of the nature inspired palette of Blanco Silgranit sinks :
● Biscuit – soft, creamy off white
● White – crisp, bright matte white with speckles
● Coal Black – Flat black white in smooth , matte finish
● Concrete Gray – Raw concrete with warm gray speckles
● Cinder – Dark gray in matte finish
● Anthracite – Deep black with a subtle sparkle of white flecks
● Metallic Grey – Mid tone cool gray with silver sparkles
● Truffle – Light taupe in matte finish
● Cafe Brown – Warm deep brown
Blanco Silgranit Sink Prices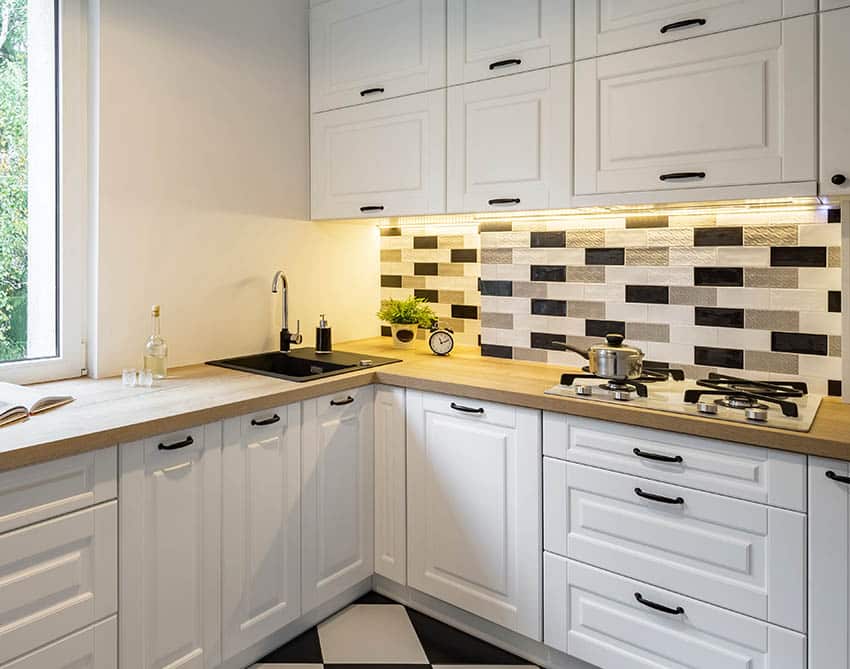 The price of a Silgranit sink varies depending on its size and style, but on the average, an entry level sink costs around $300. The cost can run as much as $1200 for the higher models.
Silgranit Sink Styles
Blanco offers Silgranit sinks in various styles and sizes which can complement any interior design motif — be it traditional, contemporary, modern or transitional design.Their product line consists of eight collections, namely, Vintera, Ikon, Precis, Diamond, Liven, Performa, ROndo and Valea.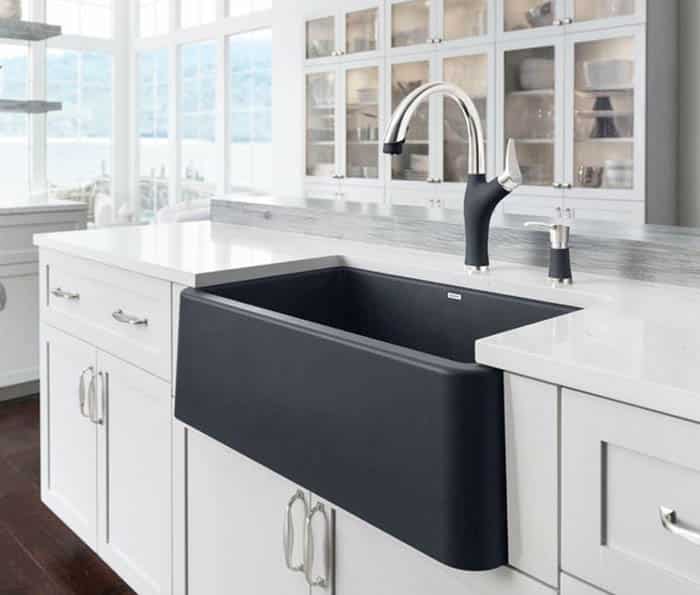 See this Blanco Silgranite modern farmhouse sink at Amazon [sponsored link]
● Silgranit Farmhouse Sink – Farmhouse style sinks are popular in most kitchen designs because of their classic aesthetic and simplistic charm. Blanco offers their own updated version of the farmhouse style sink which combines traditional design with modern materials. Their farmhouse sinks are part of the VINTERA and IKON collections.
Vintera sinks come in both spacious single bowls and double bowls with low divide designs. The Ikon sinks are similarly available in single and double bowl designs, but have three size variations. Red more about a single vs double kitchen sink here.
● Blanco Silgranit Undermount Sink – Silgranit sinks are one of the best options you can try if you want an undermount sink. Because of their lightweight, installation is easy. Silgranit undermount sinks are part of the Precis, Performa and Valea collections.
● Blanco Silgranit Double Bowl Undermount Sink – Numerous models of SIlgranit sinks have double bowls which make working in the kitchen more efficient. They are also offered in a low divide option which gives more convenience when using the sink.
● Blanco Liven Silgranit Laundry Sink – One of the most unique models in the Blanco Silgranit product line is the Liven laundry sink. This is a 12 inch deep dual mount composite sink that offers durability, strength and practicality. WIth its functional design aesthetics and highly elegant design, you can easily make any laundry room more efficient and modern.
Silgranit Sink Cleaning
One of the best advantages that come with a Silgranit sink is its hassle free maintenance. Overall, Silgranit sinks are easy to clean and will require very minimal effort.
The basic materials that you need for daily cleaning include a soft microfiber cloth, a mild dish detergent or washing gel and some water.
● Routine Cleaning – Routine cleaning to remove any food debris does ot require the use of harsh chemicals, but instead all you need isa non abrasive cleaner like a mild dish detergent, some water and a soft cloth or sponge. Just wipe your sink with the cloth and dish detergent then rinse it with water.
Blanco also makes their own cleaner, Blancoclean Composite Cleanser, which is recommended for use in light colored sinks.
You can also use baking soda for regular maintenance of dark colored sinks. Sprinkle some baking soda on a sponge or cloth and scrub the sink lightly, rinse well with water and wipe the sink dry.
Also make sure to wipe your sink dry with a soft cloth after every use to avoid the buildup of water spots.
● Simple Surface Stains – You can also use a mixture of mild dish detergent and warm water to remove surface stains. Simply wipe it on the sink surface, rinse well and use a cloth to wipe dry. This will also help restore the luster of your sink.
● Deep Cleaning – Basci deep cleaning is recommended every couple of months . First, remove any debris or deposits.
Close the drain of your sink, then put some soft laundry detergent powder or washing gel in your sink. Fill the sink with hot water and leave the mixture for at least two hours , but overnight is better.
Drain the solution and rinse your basin with clean water and wipe dry with a clean microfiber cloth.
● Things to Avoid – The use of several chemicals in cleaning a Silgranit sink can void its warranty, so make sure to follow the labels and instructions that come with it.
The warranty only covers cracking, warping and bubbling. Avoid using abrasive cleaners like steel wool, drain blocking chemicals and chemical laden cleaners to prevent any accidental damage to your sink. Aggressive cleaners and commercial alkalis like ammonia are also not recommended for use.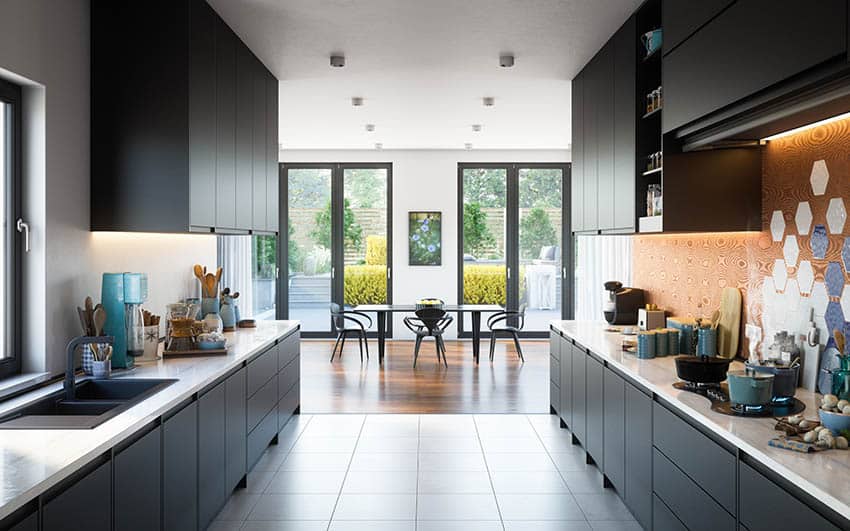 How To Restore a Silgranit Sink
● Stubborn Stains – Light colored Silgranit sinks are more prone to damage and in the event that your sink gets stained, you can restore it using a mixture of equal parts chlorine bleach and water.
Simply wipe down your sink with the mixture using a soft dishcloth or a sponge. Do not use bleach directly onto your sink as this will damage its protective coating.
You can also use Blancoclean Composite Cleanser to eliminate any stubborn stains.
● Limescale and Calcium Deposits – Although Silrganit sinks can repel surface stains, hard water can leave behind a white residue on the sink. These limescale deposits can absorb liquids and can reduce the luster and appeal of your sink in the long run, so make sure to address them early.
To remove limescale build up, you'll need a commercial descaling agent like CLR (Calcium Lime Rust) or Lime Away. These products are used to dissolve stains like lime, calcium and iron oxide.
Apply the descaling agent to the areas with limescale then let it soak for at least 2 hours. Rinse the sink with hot water, wipe using a damp sponge and make sure to dry it thoroughly with a soft cloth. Be sure to follow the instructions when using these cleaning agents to avoid any damage.
Alternatively, you can also use an even mixture of white vinegar and warm water. Apply the mixture to the limescale build up and rinse the sink thoroughly with some water. Wipe dry with soft, clean cloth.
● Restoring the Luster of your Silgranit sink – If your Silgranit sink isn't looking as shiny as it did, apply some mineral oil on it using a soft clean cloth. Wipe it down gently until it looks lustrous again.
● Soap Scum – Some cream cleaners can leave a white film on a dark colored Silgranit sink. If you also do not rinse your sink thoroughly, soap scum can built up, but this can easily be removed using Mr. Clean Magic Eraser.
Apply this to your sink and then rinse it thoroughly with some mild dish detergent and water. Make sure to dry with a soft clean cloth. If you want to bring back its dark sheen, you can also apply some mineral oil after it dries.
Blanco Silgranit Sink Scratches
Silgranit sinks are extremely durable and resistant to scratches. Sometimes, metal utensils or pots can leave a temporary mark on the sink's surface and this can be scrubbed off easily.
For scuff marks, use a rough sponge and sprinkle some baking soda and warm water in your sink. Scrub off the marks gently with the rough sponge and these will be instantly removed.
Are Silgranit Sinks Good
Given the numerous benefits and impressive qualities of a Silgranit sink, they make worthy investments for your home. They are not only good, in fact, they may be better than other materials on the market.
Silgranit by Blanco is engineered not only to be aesthetically attractive, but also to be very durable and naturally tough — characteristics which are very much needed in a reliable sink which can withstand the daily wear and tear of heavy kitchen use.
For more similar content see our page on the types of kitchen faucets here.