In this gallery of timber frame kitchen ideas we share what they are, the types of cabinets used, design elements, and tips when building a wood framed kitchen.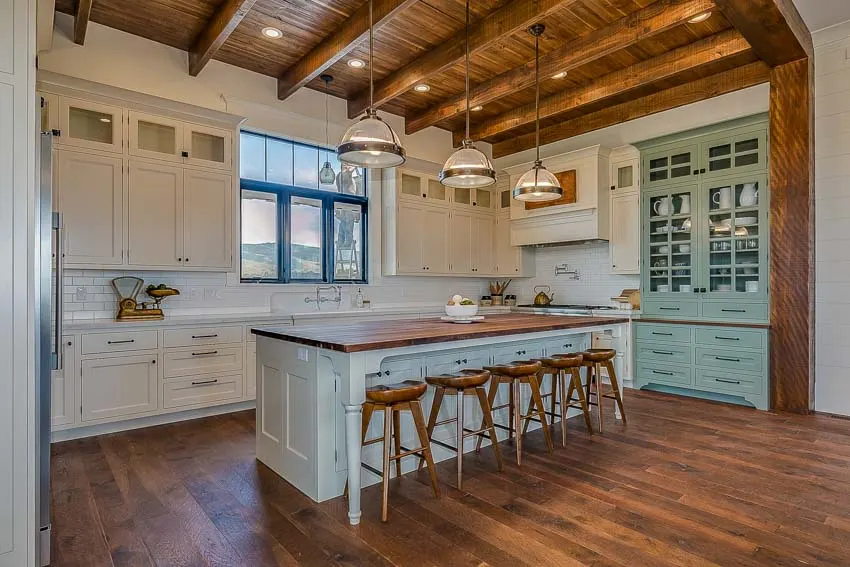 The kitchen is an important part of the home that some may even regard as the very heart of the structure. It's a space where you spend time preparing food, catching up with loved ones over a cup of coffee, and even just spending time with friends over food and wine.
There are different considerations when choosing what type of kitchen to have and what design you want to use for your kitchen. One of the types of kitchen styles to try out is the timber frame kitchen.
What Is a Timber Frame Kitchen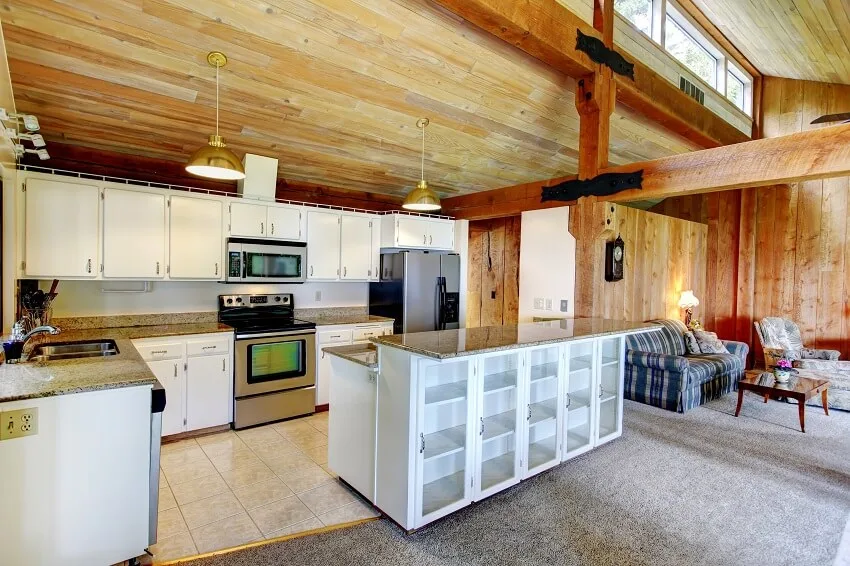 A timber frame kitchen is a kitchen design that features visible wooden beams and posts as the primary structural support system. The use of timber framing in the kitchen adds a rustic and natural feel to the space, making it warm and inviting.
This style has been around for centuries and is still popular today, especially in homes with a traditional or country-style aesthetic.
Before you decide on a timber frame kitchen, make sure you know what you're looking at first. "Timber frame" is a construction characterized by open and wide spaces without walls framing the room.
This open-space style creates an airy ambiance with many designs you can incorporate, depending on your preference and the entire home's general feel.
You can go from traditional and rustic to elegantly trendy and contemporary kitchen designs. It's all really up to you.
There are different designs and structures you can integrate into your timber frame kitchen. You can choose a wholly conventional framing, pure timber frame, or even a hybrid one.
Timber Post and Beam Design Elements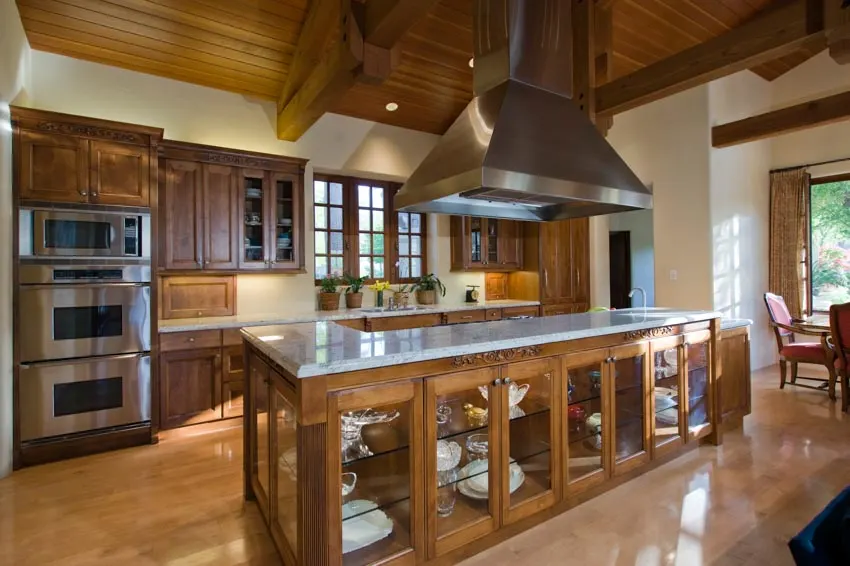 And some of the elements you can include with your timber frame kitchen are the following:
• Prep sink: Allows the possibility of multiple cooks to conveniently and effectively move in the workspace.
• Built-in table: Where you can entertain guests without getting in the way of your cooking.
When designing your kitchen, you would need to consider all of its elements and plan ahead of time. Before your mind goes overboard with styles, furniture, and appliances, start with the basics.
For a timber frame kitchen, here are the four factors you should prioritize.
• Shape and size of the kitchen: Also includes kitchen dimensions and kitchen layouts.
• Flooring: Choose stain-proof and waterproof material as much as possible.
• Countertops: Only very few options to choose from, including quartz and laminate.
• Cabinets and Storage: Make sure to consider your budget since it can be expensive.
Timber Framing Kitchen Cabinets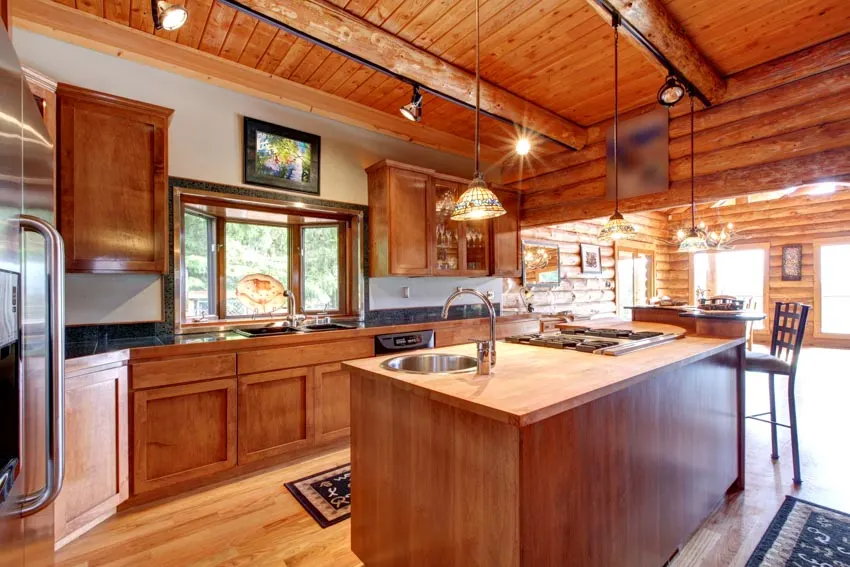 Select kitchen cabinet styles and storage options can be expensive, which is why it is necessary to plan ahead before pointing a finger at a style you think is beautiful.
Timber frame kitchen cabinets are typically made from solid wood, often with a rustic or natural finishes that showcase the natural beauty of the wood grain. Some popular types of wood used for timber frame cabinets are:
Oak: A durable and versatile hardwood with a straight wood grain that can take stain well or looks great with a clear finish.
Hickory: Known for its strength and unique grain patterns, hickory is a popular choice for creating a rustic knotty look in timber frame cabinetry.
Cherry: A warm and richly colored hardwood that adds elegance to any kitchen design.
Maple: A hard, dense wood with a fine grain that is often used in contemporary or transitional style kitchens.
Pine: A less expensive option that is a softwood with a knotty appearance.
In addition to solid wood, some timber frame cabinets may also feature accents like wrought iron hardware or decorative metal panels to enhance their rustic appeal.
There are a variety of styles and designs you can choose and match with your budget and the vibe of your kitchen and home. Here are some of the options to choose from:
• Traditional: Has more details that can include bead-board and even raised panels with doors that are set flush in frames.
• Country: Similar to traditional in details that offer timeless and humble ambiance, which may be enhanced further with the application of milk paint and other distressing techniques.
• Contemporary: Showcases simplistic look with minimal ornaments and flat surfaces (Usually use man-made materials like concrete, glass, manufactured wood, metal, and plastic).

• Rustic: Easily mimics the country style that uses a lot of wood in its hardware and has a matte or rugged surface (with details that come in the form of imperfections and knots)
• Open Shelving: Unique and modern, this storage system can work even with limited space available in the kitchen (You can store spices and utensils in these floating shelves for easier and faster reach).

• Glass-front: Serves with its functional and aesthetic appeal, the glass can also display cookbooks, vases, and even bowls.
• Craftsman: Popular in the late 1800s, it features high-quality hardware and minimal ornamentation to respond to the trend of mass-produced overly-decorative furniture (Can be made from heavy wood: maple, cherry, hickory, and oak).
Timber Style Frame Kitchen Designs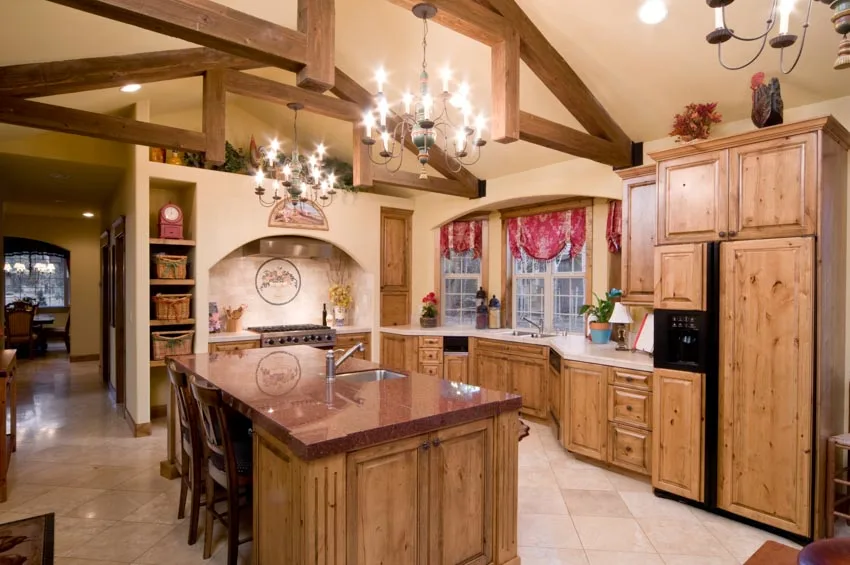 If you are hunting for designs you can use for your timber frame kitchen, there is a variety you can check out.
More than structuring the kitchen to be functional, integrating your personality into the kitchen's design is a must. Style your timber frame kitchen one by one but make sure you have a cohesive style that also matches the feel of your entire home.
For the kitchen's ceilings, it is important to consider the view, lighting, vibe, and seating.
These elements may also influence your decision on whether to have a vaulted or non-vaulted ceiling. If you believe your kitchen needs more natural light inside the room, considering certain types of ceiling designs are recommended to open it up.
A flat ceiling on the other hand may not add more lighting to the room but makes the room cozier.
• Flat ceilings with fewer timber accents.
• Cathedral ceiling with glass walls framed by gleaming timbers.
• Vaulted ceilings with timber trusses.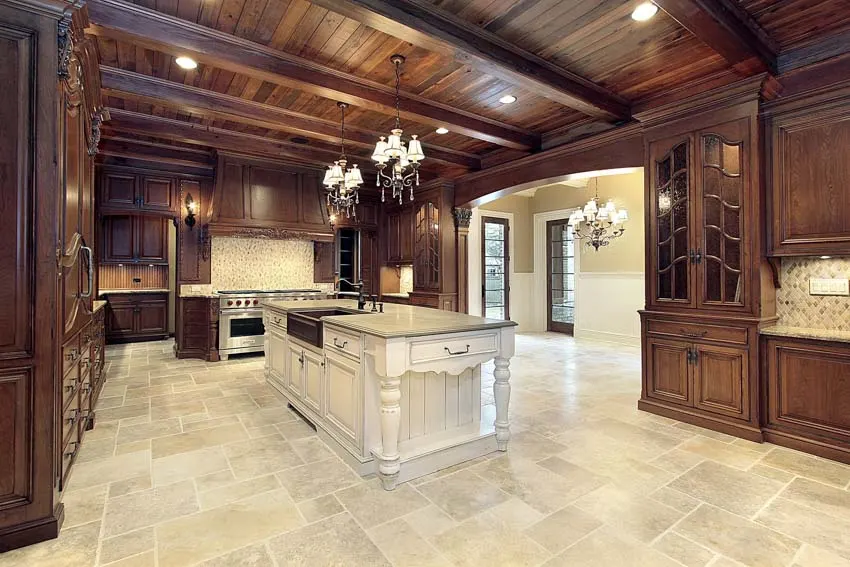 When choosing timber frame kitchens and designing them, here are some considerations related to timber:
• The volume of timber you want to use for the wood kitchen ceiling.
• Visibility of the timber you use
• Feature to use timber framing (e.g. kitchen island)
• Timber as the kitchen's focal point or just an accent
Timber is definitely a strong and bold design to consider, especially when it comes to the kitchen. And when you incorporate timber framing to your kitchen's cabinets, a vivid and subtle appeal gives the entire kitchen this unique and inviting feel.
There are different ways you can incorporate timber framing in your kitchen. And yes, it can also be used in different styles, including the following selections:
• Modern-style timber kitchen
• Classic timber home's kitchen
• Rustic timber-framed kitchen
• Midwest timber home
• Mountain timber framer retreat kitchen
Timber Type Framing Outdoor Kitchen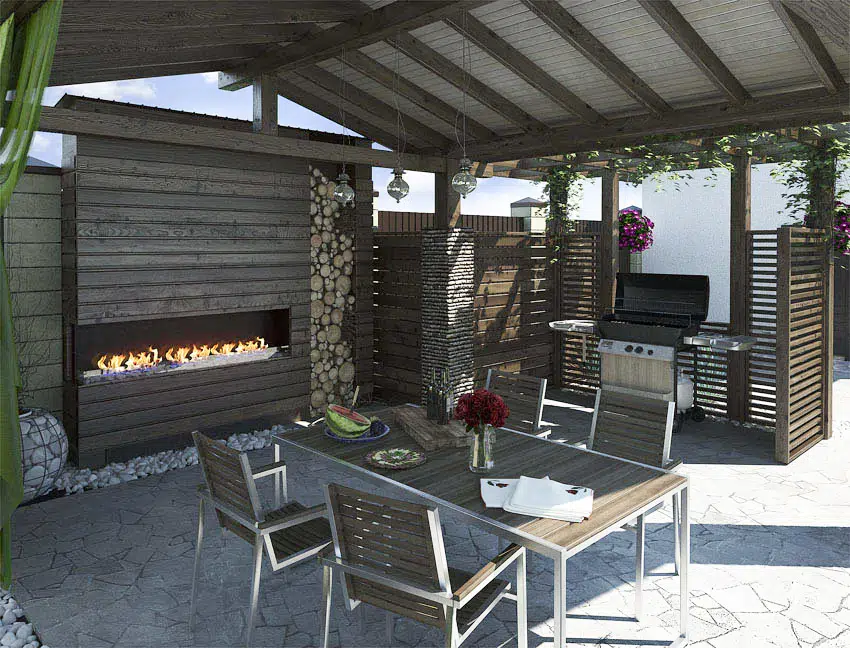 A timber frame outdoor kitchen is another option you can look into. Having an outdoor kitchen adds to the home's amenities and an area for entertaining and gathering.
There are two types of timber frame outdoor kitchens you can build:
1. Open/No walls outdoor kitchen: complete with an open fire pit, grill, or smoker and camp chairs for resting and socialization area
2. Completely covered kitchen: can be like a normal kitchen with a stove, sink, and refrigerator, as well as a full range of grilling options you can use
In choosing the best option between these two types of timber frame outdoor kitchens, consider the vibe and purpose of the outdoor kitchen you want to have.
If you want an area where you can chat up with friends, grill some meat, and feel like in a camp, an open timber outdoor kitchen is the best option.
If you're shooting for a more private and cozier space for cooking but with a grilling option, a covered outdoor kitchen is a good option.
See more related content in our article about the different outdoor kitchen must haves on this page.