Here's our guide to mixing countertops in the kitchen with the best materials to use, and tips on how to combine different countertops colors in your kitchen design.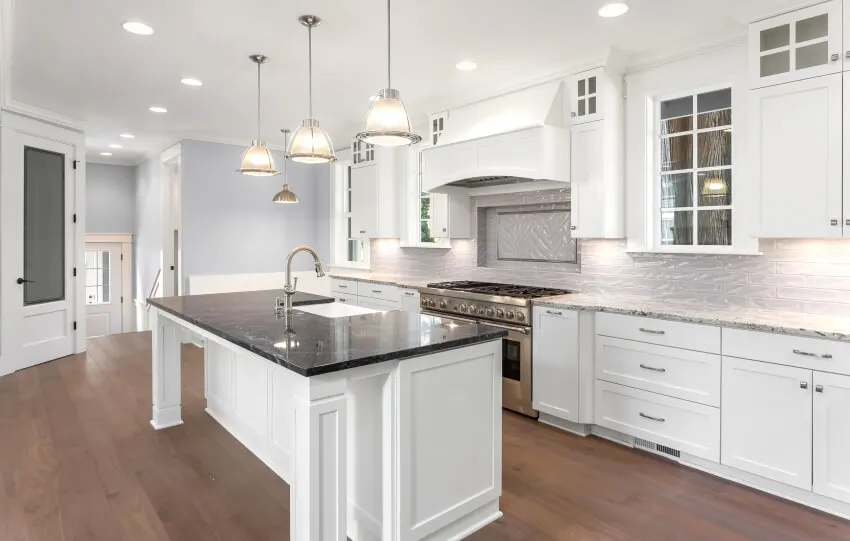 A kitchen is a place to nurture your passion and creativity in cooking and meal preparation. And this goes the same way when it comes to designing and styling your kitchen.
If you want your creativity to shine, you can't be limited by normal standards. And one thing you can do to get out of the box is to mix countertops!
Can You Mix Countertops In The Kitchen?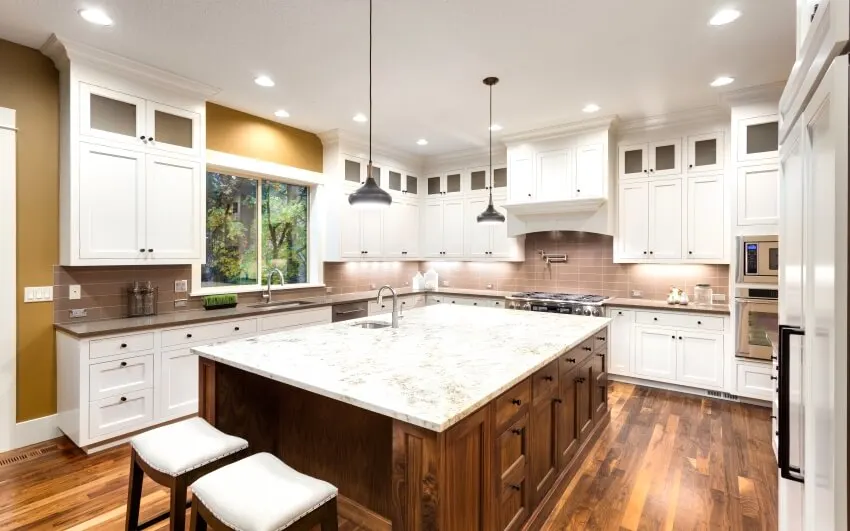 Mixing countertops is an interesting idea to consider but some may think it's too complicated to do, especially since one countertop alone can already be too much work.
However, if you have the time, energy, and creativity to spare, mixing countertops is a wonderful challenge you can do for your kitchen. Why is it worth it to put yourself into this challenge?
Unique, Personalized, And Custom-Feel Kitchen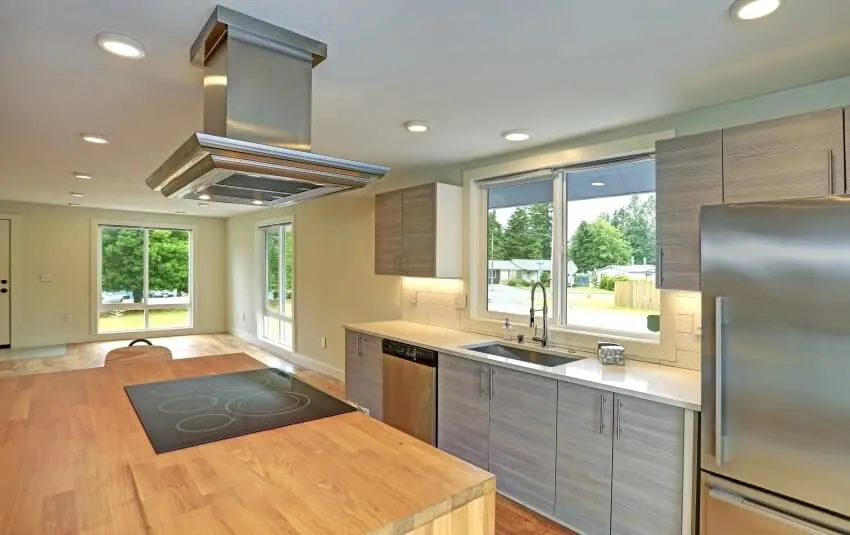 If there's one thing you can do to personalize your kitchen, mixing countertops will do the job for you. You get to choose the materials of the countertops you will combine together, making the entire area feel more special.
This is the opportunity to incorporate your own personality and style into your kitchen's design. Your kitchen will then be more personalized and have this unique element that other kitchens won't have.
Personalizing your kitchen is a good idea for homes with families spending most nights in this common area for bonding and holiday gatherings. Making the area more welcoming and feeling warm is only to be expected.
Add Visual Aesthetic
A mixed countertop is a guaranteed visual aesthetic addition, elevating the level of your kitchen's style from something usual to a quirky and unique one. The contrast in materials helps provide a blend that will look striking and definitely stand out.
Kitchen Countertop As Accent And Focal Point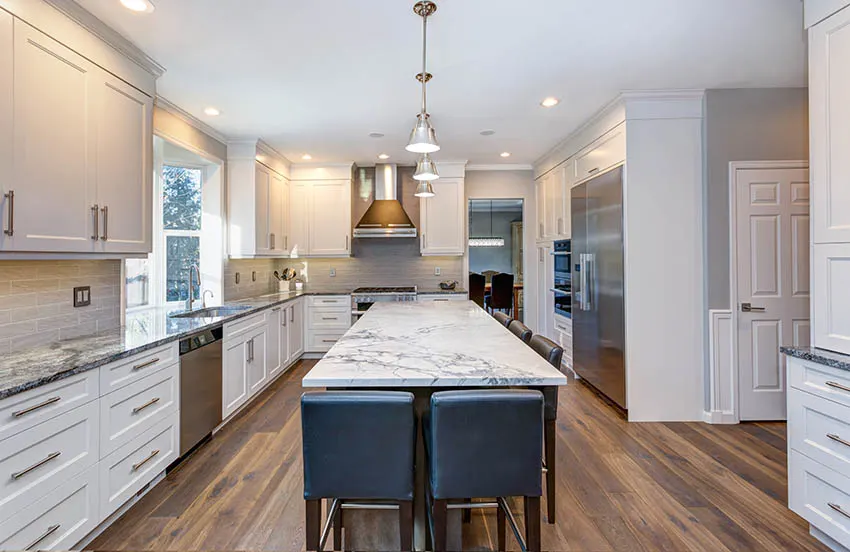 Your countertop can serve as an accent or even a focal point in your kitchen once you mix countertops together. Since mixed countertops are definitely going to stand out anyway, you can use them to your advantage.
Make your stunning mixed countertops the main attraction for your kitchen. You can use a popping color in your countertops to make this even more dramatic.
Increase Functionality Of Countertops
Mixing countertops is not just about aesthetics. It can also be about practicality and functionality. And the kitchen is a functional area, which is how it is a priority and you would have to make practical choices too.
Mix countertops and increase their functionality in the kitchen by being smart in choosing the countertops you mix together. Choose a more durable and heat-resistant countertop near the stove and a more sustainable material on the countertop where you prepare meals.
What Countertop Materials Are Best For Mixing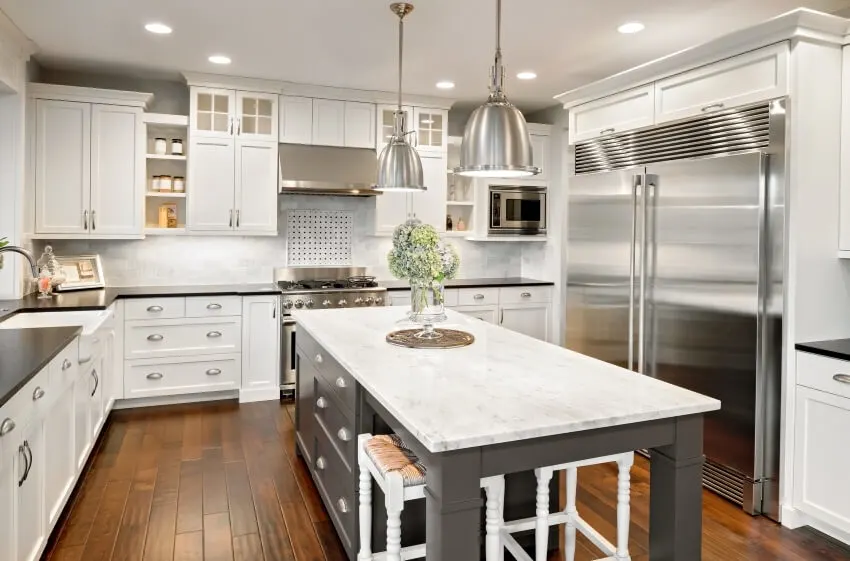 When it comes to mixing materials for your countertop, it will all be up to you. You can get as creative as you are and while there are common combinations you can imitate, you can also choose an unusual combination so that your countertop and kitchen will stand out.
If you want to go with something common, here are some of the popular countertop combinations to go with:
• Granite and Quartz
• Marble and Butcher Block
• Wood and Granite
• Marble and Soapstone
• Butcher Block and Quartz
• Concrete and Butcher Block
It is important to choose two materials that can easily coordinate with each other but can stand on their own and look contrasting from each other too. Consider their practical functions too, as well as the cleaning and maintenance you would need to do for each countertop.
Mixing Granite And Quartz Countertops In Kitchen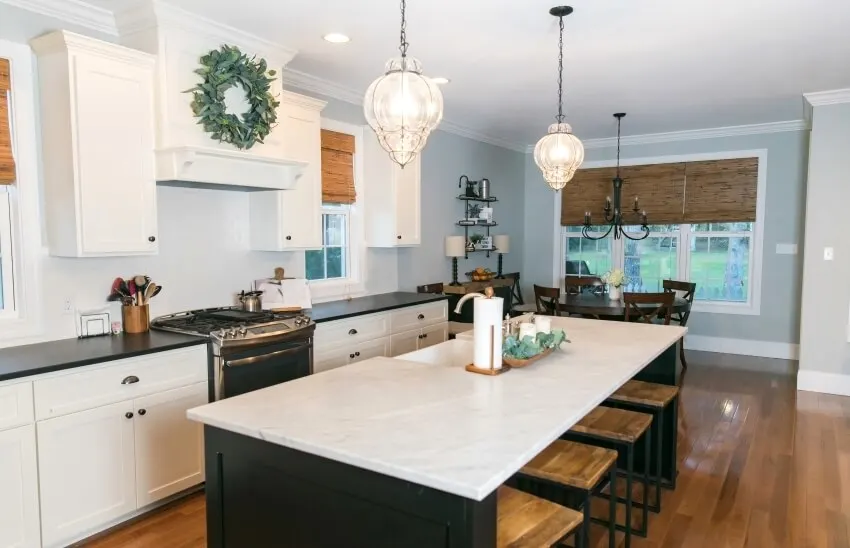 Granite and quartz are two materials that are popular to combine with each other. It is an excellent option for homeowners who like smooth and sleek aesthetics for their kitchens.
Granite acts as the main material for the kitchen countertop with solid quartz balancing the look and feel of the room.
Here are some granite and quartz countertop combinations to consider:
• Ice Quartz and Galaxy Black Granite
• Champagne Pearl Quartz and White Ice Granite
Mixing Wood And Granite Countertops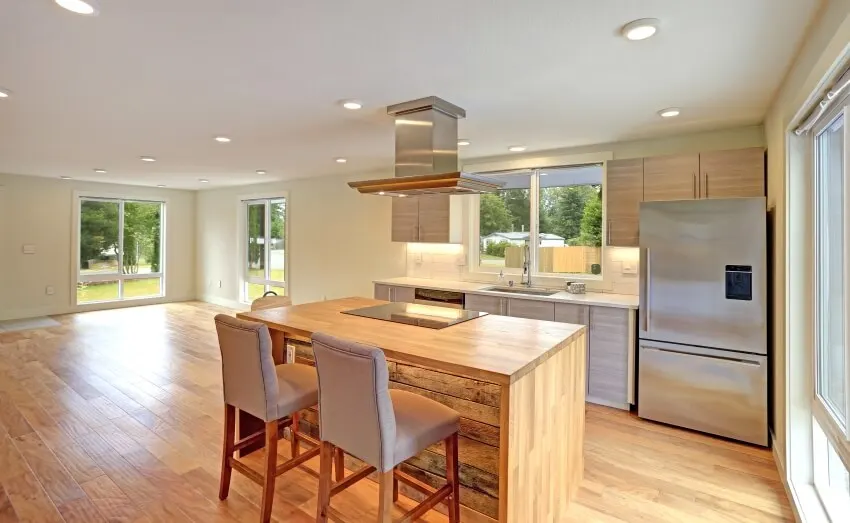 When you mix wood and granite countertops, you mix two different types of materials. While a quirkier option, it is also a more difficult combo since the materials have two different characteristics.
While wood is porous and requires more rigorous maintenance, granite is non-porous and more durable that does not require too much attention in terms of maintenance.
If you choose this combo though, make sure that the wooden countertop is far from the stove since it easily gets damaged and scorched. Balance these weaknesses by mixing the wooden countertop with a granite countertop that is durable and non-porous.
Keep all meal preparation and cooking on the stone countertop and assign the wooden countertop as the eating area.
Some of the popular wood and granite countertop combinations are the following:
• Honed Granite and Reclaimed Wood
• Granite and Walnut Butcher Block
• Granite and Walnut Chopping Block
Mixing Butcher Block And Quartz Countertops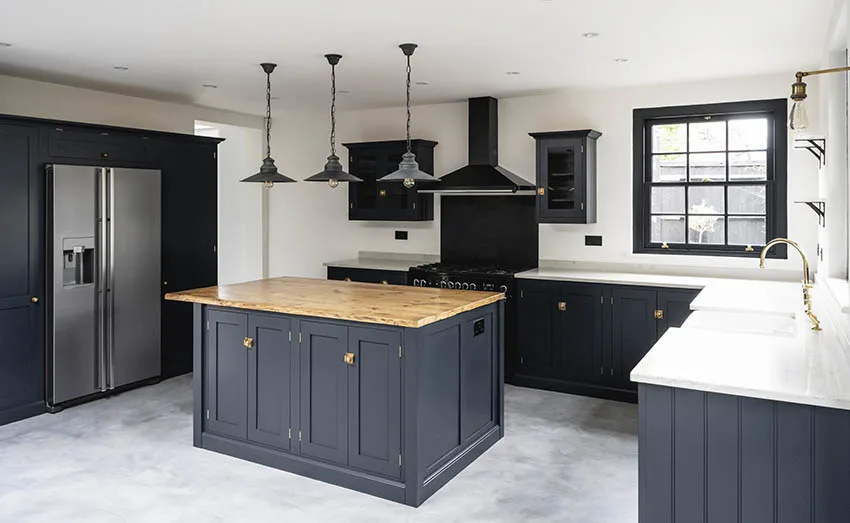 You can also mix butcher block and quartz countertops together. Similar to the combo of wood and granite, this combination features different characteristics that you can make the most of. Install the butcher block countertop as the eating area while the quartz countertop for cooking and meal preparation.
This assignment is based on the durability of these very different materials. The good thing is that they look wonderful together, showcasing a homey and welcoming ambiance.
Here are some butcher block and quartz countertop combinations to consider:
• Iroko Butcher Block and Light-colored Quartz
• Maple Butcher Block and Engineered Quartz
Two Different Countertops In Kitchen Tips
If you're now set on combining two different countertops, you can't just stick together two materials without any thought and consider it as quirky.
While it may definitely be quirky, it is still important to consider the types of countertops you are planning to combine together. Make sure you can efficiently pair the two different countertops with complementing features and aesthetics.
1. Take Note On The Blending And Harmony Of Patterns
Pay attention to the patterns of each countertop and make sure that they won't clash with each other. Two countertops with bold patterns won't be good together since they can be visually overwhelming.
Stick with one countertop that has a catchy pattern while the other must only have a minimal pattern or with a solid-colored surface instead. This guarantees that the countertops have designs that won't be too crazy and messy to look at.
2. Make Sure There's A Balance In Color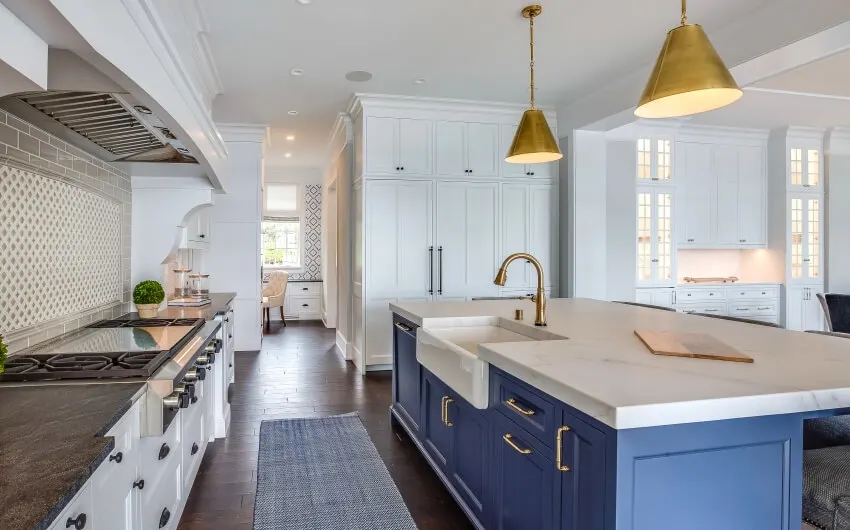 Color is an important element in styling and designing and this also goes the same when you decide to mix countertops together. The usual balance comes in the form of opposite tones, light and dark hues.
And even if you choose to have a monochromatic countertop, you can always use the same color in the two countertops but just make a distinction through different tones.
With the existence of primary, contrasting, neutrals, and pastels, there is a wide array of colors to choose from. If you're going for the light-dark style though, one thing you can do is to set a white countertop for the cool section of the kitchen (meal preparation) and a black countertop for the hot section (cooking).
3. Make An Accent Out Of The Countertops
Since mixed countertops are trendy and new, you can make an accent out of them! Pick the accent color you want to have and incorporate it into your mixed countertops and their patterns.
Whether you choose an unusual pattern or a bold color, having an accent countertop is definitely eye-catchy and stands out. You can use some of the available kitchen cabinet design programs to try out different color combinations to see which styles you like.

4. Combine Industrial And Natural Styles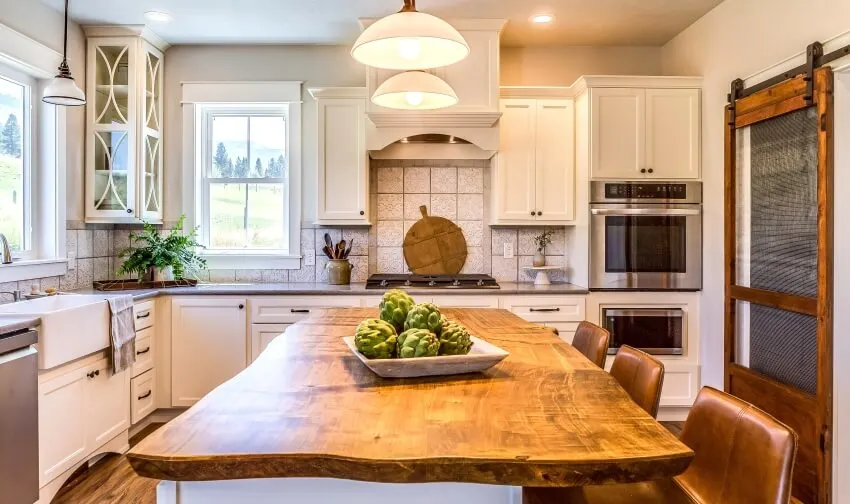 Contrast is an excellent strategy for mixing countertops. And besides light and dark tones in color, you can also pair opposing themes. You can mix a natural-style countertop and pair it with an industrial-style countertop.
While a natural-style countertop offers a vibe of warmth and freshness, an industrial-style countertop showcases a sleek and trendy appeal. While an industrial-style countertop offers this cool and clean design, a natural-style countertop offers a wide variety of dramatic patterns that can easily spice up this combo.
An example of this combo is a stainless steel countertop combined with a marble kitchen countertop. The former features easy cleaning and zero maintenance with a reflective surface that can brighten your kitchen.
The latter on the other hand offers a fancy and elegant addition to your kitchen, with many stunning patterns and colors to choose from.
5. Creatively Mix Materials
The main requirement in going for a mixed countertop is creativity. You have to creatively mix materials, not just in terms of aesthetics but also in terms of functions.
You can choose two similar countertops, like a granite countertop combined with a travertine countertop.
Or you can go the other way and choose polar opposites like a stainless steel countertop combined with a maple butcher block countertop. Your creativity is your limit!
6. Get A Stable Value By Balancing Prices
When you choose to combine two different countertops, try to consider their prices and balance them out. Match an expensive natural stone countertop with another countertop made from a cheaper material. This can balance the overall value of the mixed countertops.
Visit our guide to two tier kitchen islands for more related content.