Here's our guide to two tier kitchen islands including a variety of styles, layouts and raised breakfast bar design ideas.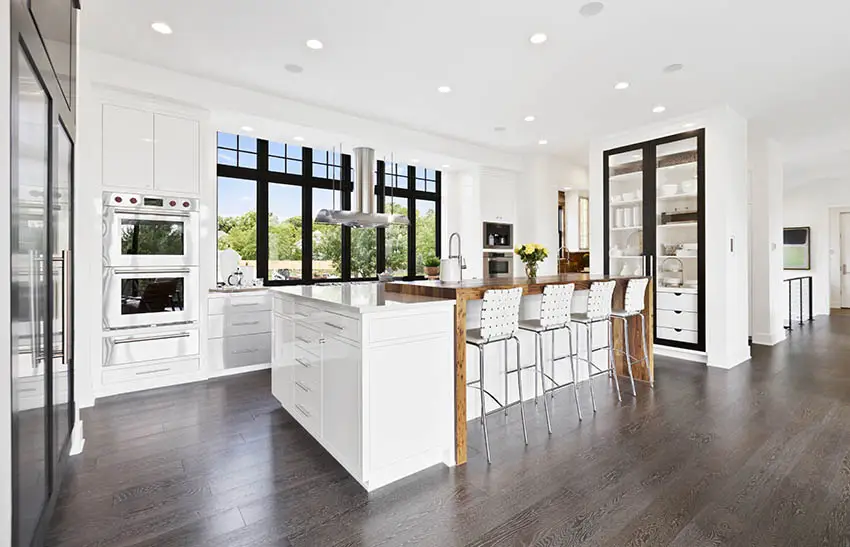 A two tier kitchen island can be a useful addition to a busy household to provide extra seating for eat-in dining and entertaining. There is an abundance of ways to implement this popular design style in to your kitchen design.
What is a Two-Tier Kitchen Island?
A two-tier kitchen island is composed of the normal kitchen island, with an add-on bar height counter usually placed on the island's outer edge.
In other cases, a lower, standard table height surface can also be attached instead of a bar height surface.
This type of kitchen island is usually used in open-plan spaces, where you want to visually separate the kitchen from other areas of the house, while still maximizing the floor space.
Are Two-Tier Kitchen Islands Out of Style?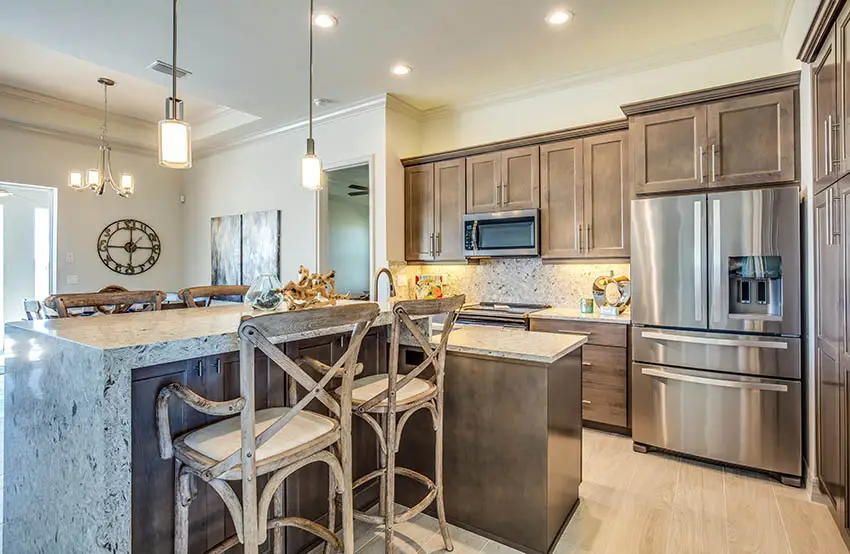 Popularity-wise, two-tier kitchen islands are not as popular as they used to be, especially those with a bar counter add-on. But as with any feature of the house, it is also important to view it from the user-case perspective, focusing on its functions and how it would suit your lifestyle, rather than the trends.
Recent trends have favored a more "open" and "light" feeling in the designs, hence the preference for fewer partitions, which is also the reason why a two-tier kitchen island with a bar counter on the other side lost its popularity.
Since the bar counter is higher, it can feel bulky, and can somehow seem like a partition between spaces. But looking at a functional perspective, it can be the right choice for you.
For example, if your family members are on the tall side, and a counter stool is a bit uncomfortable, or if you prefer guests not to see the mess behind your working counter, then a counter height-bar height kitchen island duo might be for you.
Designing the kitchen space should always be based on your own needs and preferences, rather than relying on trends. This is especially true if you use your kitchen extensively – a well-designed kitchen function according to the user's needs.
If you're considering adding a two-tier kitchen island, evaluate your need for it by seeing how it can benefit your work process or the overall kitchen function.
Two Tier Kitchen Island Designs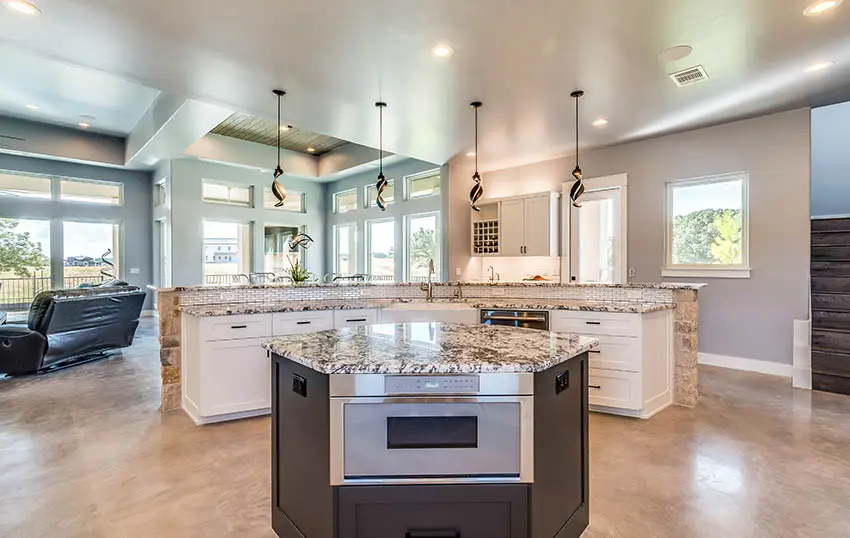 This kitchen has an interesting design with two islands. The smaller island features granite countertops with a built-in oven. While the larger island offers a two tier breakfast bar with an abundance of under counter storage, large farmhouse sink, stainless steel dishwasher and contemporary pendant lighting. See more double kitchen island designs here.
2 Tier Kitchen Island with Seating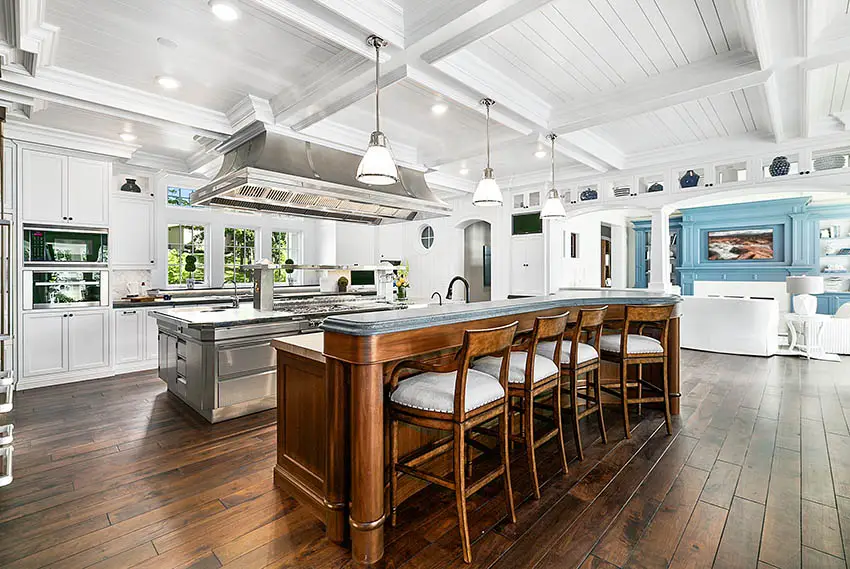 Most two-tier kitchens will integrate seating into the design. You can add either a bar-height countertop or a dining height surface, the former being the most common type.
Generally, the second-tier surface is really used for additional dining and seating space to maximized the space.
There are some rare cases where the second-tier is not used together with complimentary seating, but in most cases, seating is an inclusive feature for any two-tier kitchen island design.
Modern Two Tier Kitchen Island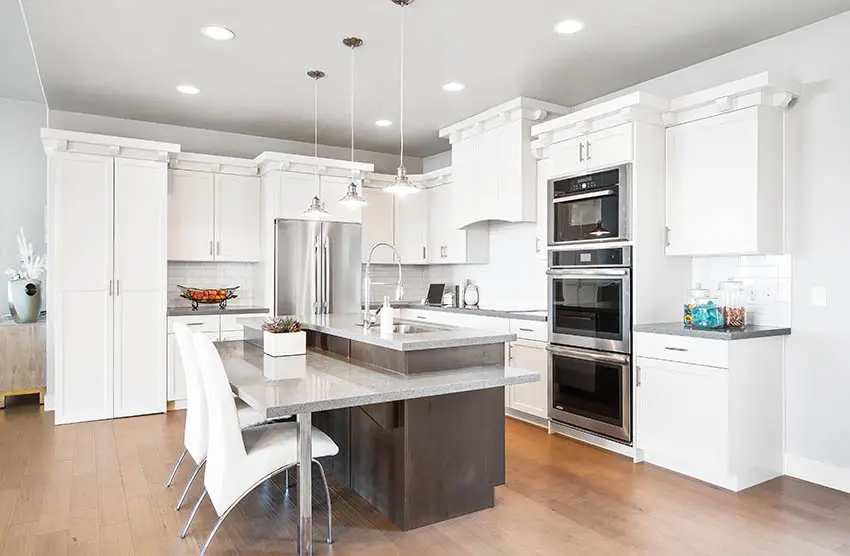 While two-tier kitchen islands are more common in older kitchen designs, you can also have this type of kitchen island in any modern space, just by using modern silhouettes and materials.
Unlike classic style two-tier kitchen islands, modern iterations usually have fewer curves and decorative moldings.
Recently, using a solid wood waterfall countertop for the bar-level counter has been popular, especially for the rustic and industrial style kitchen designs.
Raised Island with Built-in Table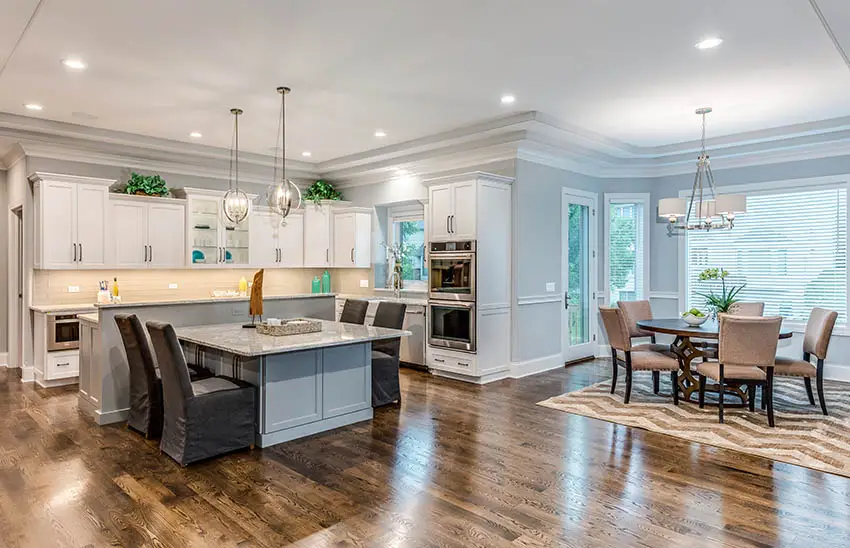 Modern spaces usually have less floor area to work with, so kitchen islands with a built-in table have been seeing a practical use-case scenario. By attaching the dining table to the kitchen island counter, you're able to maximize your floor space.
However, for bigger spaces, a dining-height add-on to the island counter usually serves as a casual dining space. It's a good breakfast table, especially if you're not a fan of sitting on bar stools for breakfast, or you have small kids in the house.
Kitchen Island with Raised Bar
Two-tier kitchen islands with a raised bar counter are the most common and are usually built with the idea of entertaining in the forefront.
This allows you to perform your tasks in the kitchen while friends and family hang out at the bar. The higher counter level would also mean that the mess you have going on in the main island counter won't reach the higher countertop surface.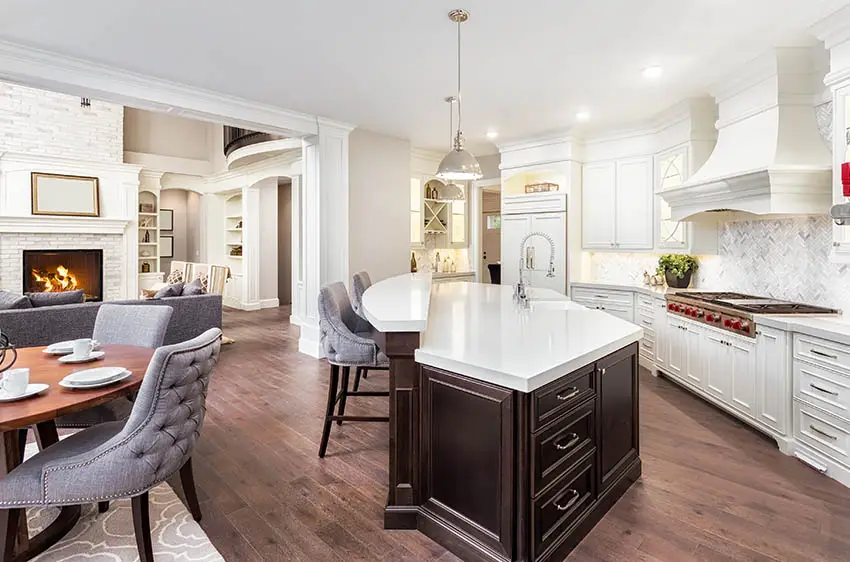 This is a classic-style kitchen with a raised bar countertop two-tier kitchen island. In this design, the two-tier island functions as a space divider, separating the kitchen from the living and dining areas. The semi-rounded bar height surface also has integrated seating to maximize the space.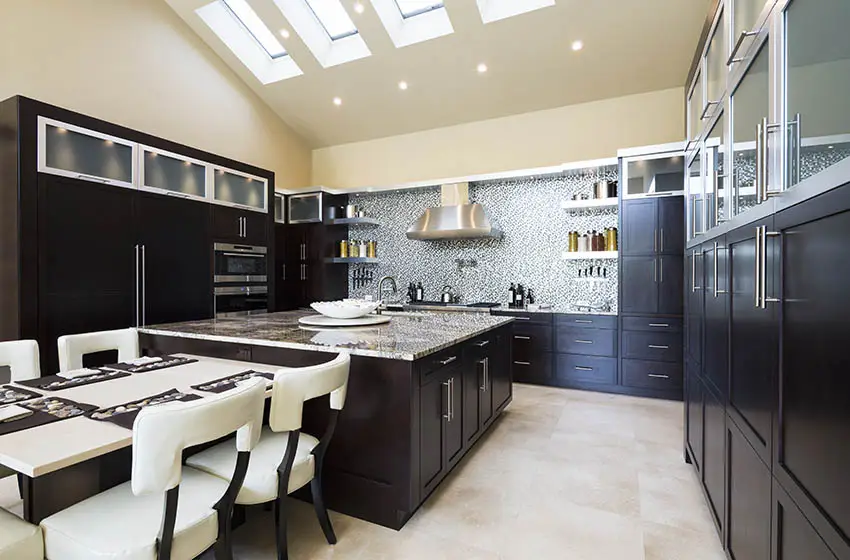 This modern kitchen design uses a massive two-tier kitchen island design that has a built-in dining table on the outer edge of the counter. The 5-seater dining table uses a stone top, so when you don't need it as a dining space, you can also use it as an extra working countertop. See more large kitchen islands with seating on this page.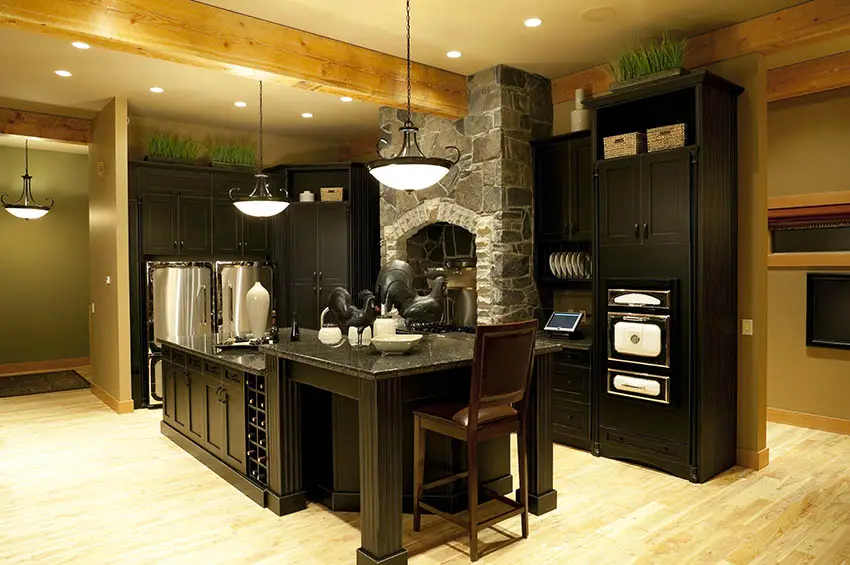 This is another classic-style kitchen that uses a two-tier kitchen island with a raised bar counter on the end. For this design, you will notice that there is wine storage integrated into the kitchen island, so the raised bar counter is most likely design to be a space used for tasting or drinking wine.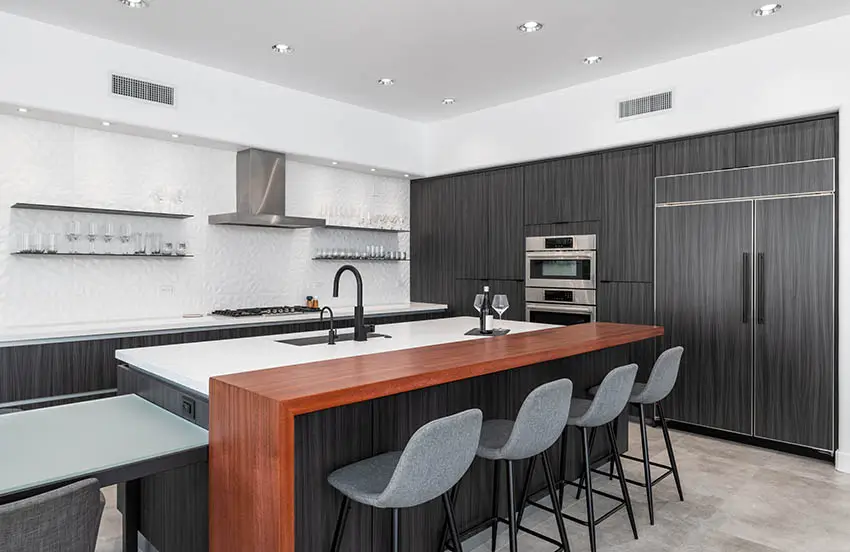 This modern kitchen island adds on a waterfall solid wood countertop on its bar height surface, helping add warm color and texture to the mostly cool-toned palette of the kitchen.
The advantage of using wood for your bar height counter is that it is easier to add, remove, and reuse.
If you're planning to belatedly add a second tier to your kitchen island but is worried you might want to have it removed later on, using solid wood or laminated wood add-on to the existing kitchen island would be easier and more cost-effective.
Converting 2 tier Kitchen Island to Single Level
If your existing two-tier kitchen island counter is not working for you anymore, then you may consider having it removed so that you have one single-level kitchen island.
Depending on the design of your kitchen island, this may or may not be an easy fix. If the bar or dining surface is an add-on module, it will be easier to remove, but some designs have built it in one piece, so those cases might be more complicated to fix, but not impossible.
Just note that if you want to convert the higher or lower level countertop to add into the standard countertop level, you might have to replace the whole countertop so that it can be a one-piece unit, or if you don't mind a filled gap in your countertop, you might be able to reuse it.
For more related ideas visit our gallery of kitchen island designs here.