Welcome to our picket fence designs gallery showcasing this iconic architectural and landscaping feature that embodies the charm of a traditional American home. Giving a sight of beautiful landscaping and allowing sunlight to peek through a series of equally spaced upright boards, picket fences are a practical and functional addition to any home.
Below, you'll see the different types of picket fences and get ideas and inspiration for adding one of these beautiful fences to your home.
What Are Fence Pickets?
Fence pickets are a series of evenly spaced vertical boards called "pickets" which are attached together by horizontal rails and connected to end posts. It is also characterized by a tapered top and usually ends at a point.
Traditionally, picket fences are made of wood and painted white to match colonial houses. (This article is part of our Fence Designs Ultimate Guide – check there for other popular styles & fence ideas)
Originating in the United States in the colonial era, picket fences were used to define boundaries and keep small animals, such as chickens, in the yard or keep wild animals, like rabbits, out of gardens. Over time, its design evolved and developed into more ornamental styles.
Types of Picket Fences
There are many options for materials that can be used to build picket fences. Each type comes in different styles, shapes,s and sizes, which contribute different characters to the overall look of your home and backyard.
Below are some of the most popular types of picket fences, including an overview of their characteristics, positive features, negative drawbacks, and cost.

White Pickets
White picket fence designs are considered to be a charming addition to the Classic American home. Originating from the United States in the early colonial days, it became a popular addition to houses, symbolizing the ideal middle class suburban life.
Utilitarian and aesthetically pleasing, white picket fences are famous for sprucing up gardens and yards. It is a popular fence style because its simple white color serves as a background for displaying the beauty of a landscape. It is also a common feature for cottage inspired gardens. See more garden fence ideas here.
White pickets may either be constructed from scratch or bought prefabricated. Aside from the traditional wooden type, the present market has also resorted to alternative materials like vinyl and PVC. Allowing ease of installation, these fences are now available in panels or kits.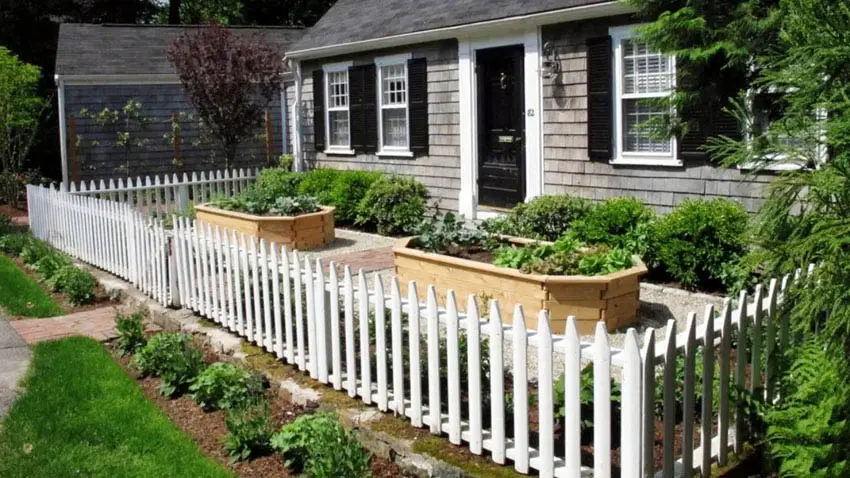 Wooden white picket fences are a signature feature of traditional Cape Cod style American houses, and it functions well in delineating semi private and public spaces.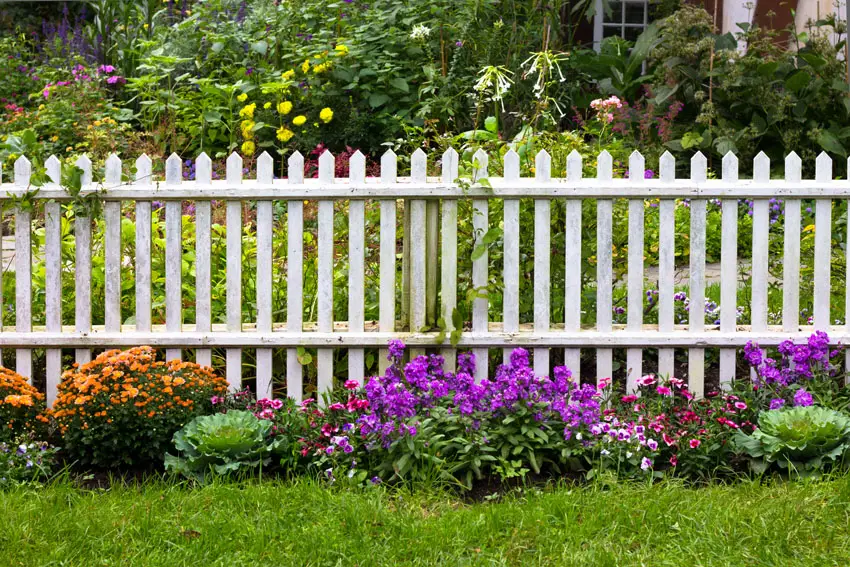 White pickets are a simple way to add contrast to gardens with colorful perennials and flowers.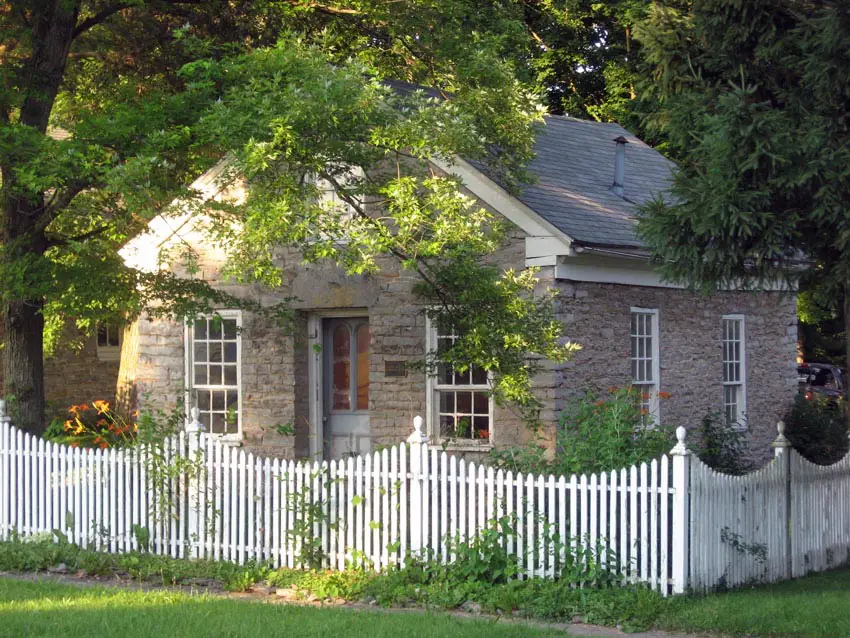 White fences may be constructed in a different design other than the usual tapered style. Scalloped style pickets and decorative finials for the fence posts add an accent to this stone cottage.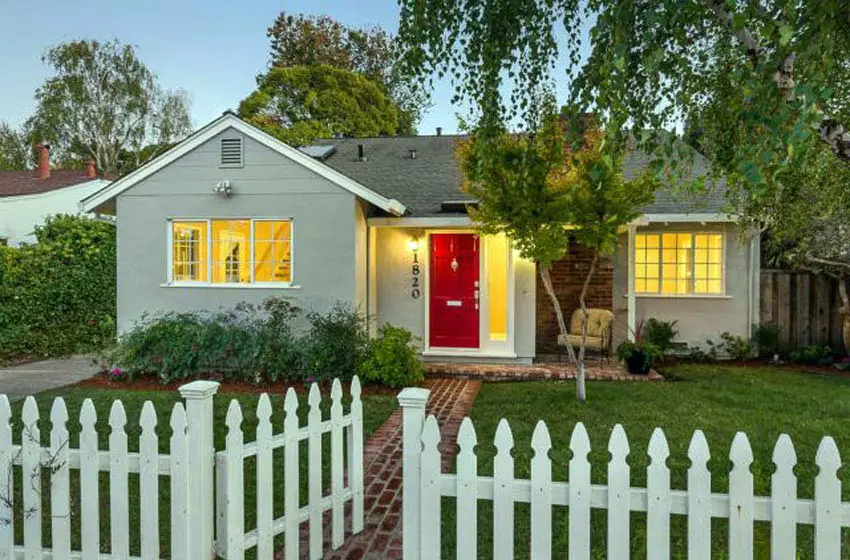 The addition of a gate to white pickets is both a utilitarian and ornamental feature. Here, you can see that the combination of a brick pathway and white fencing brings a contrast in texture and color, giving this bungalow an inviting feel.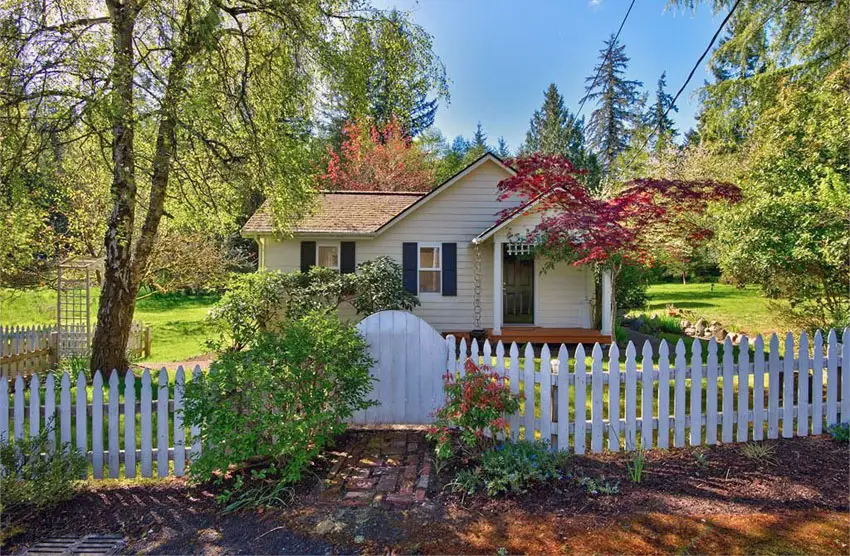 A white Gothic style fencing and a concave stockade gate is old fashioned landscaping elements that add a timeless flair to dainty cottage houses.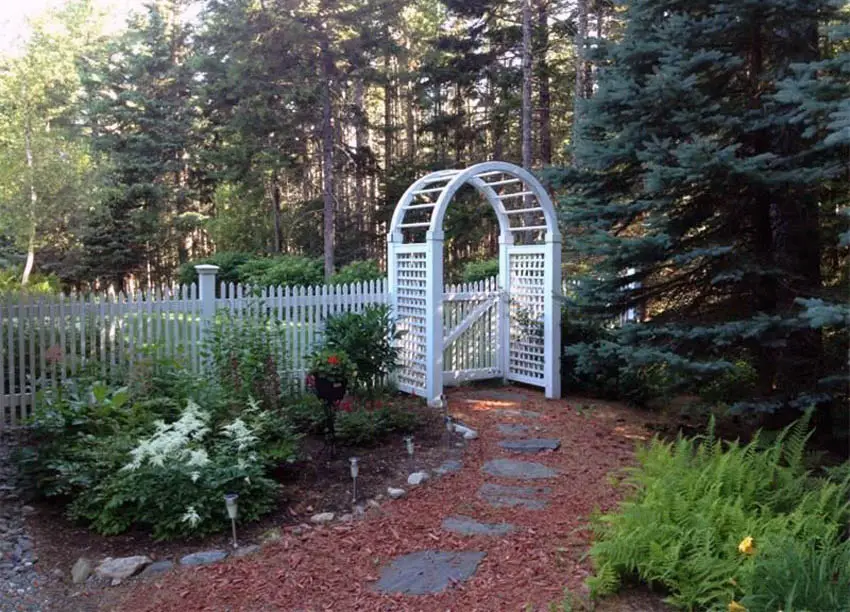 A more complex design for a fencing, this style combines pointed pickets of different heights with an arch and a latticed gate, which works perfectly for this colonial-style garden.
Wooden Pickets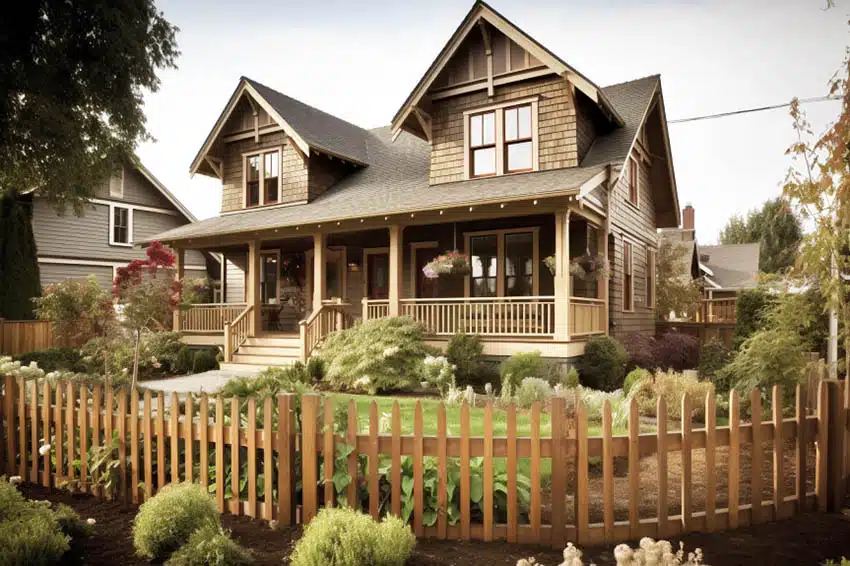 Wood is the most popular and standard material for picket fence designs. It is well loved by homeowners because of its natural aesthetics, durability, and availability in the market.
When it comes to design, it offers a lot of choices as wood is manageable for customization and can be cut into different shapes. It can be applied with different finishes, such as paints or wood stains. Stained finishes are preferred by many because it doesn't peel when exposed to natural weather changes.
Some advantages of using wood for fence pickets are that it is durable and can last for years it properly treated. However, one of its drawbacks is that it requires regular maintenance and treatment because it is prone to pests, decomposition, molds and other outdoor elements.
Wood fence pickets are also considered to be inexpensive, typically costing around $5 to $10 per linear foot depending on the size and style.
On the average, 4 foot wooden pickets cost $9 per linear foot, while $6 foot tall wooden pickets are priced at $15 per linear foot. Treated wood costs more as they are subjected to special finishes which make them more longer lasting.
The type of wood used for pickets also affect the durability of your fence. When choosing the right material, go with species of wood that are resilient and are tested to withstand weather changes. Common types of wood used for pickets are cedar wood, pine and redwood. Lumber size for wooden pickets are usually 2" x 4".
Cedar Pickets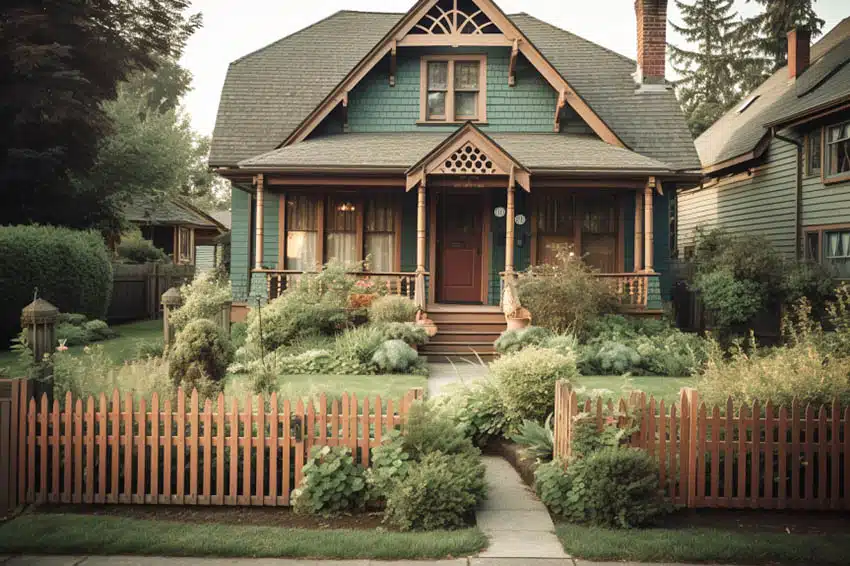 Cedar is a type of wood which is a type of soft wood with colors ranging from white, yellow to red. Cedar trees grow in areas that have a damp weather subjecting them to high exposure to damaging elements like molds, fungus, insects and moisture. Due to this, they have developed self protective qualities in order to adapt well to the surrounding environment.
Cedar is a top choice for wooden picket fences because it is resilient when wet. Benefits of using cedar wood as pickets include high insulation properties and noise absorption because they are porous.
It is also stable, does not expand nor warp and is resistant to splitting and cracking. When it comes to aging, cedar wood ages more beautifully compared to other wood species. It also exudes natural elegance through its vibrant color and rich grain pattern.
The most common species used for fence making is the Western Red Cedar, which is a soft, aromatic and reddish brown wood. Though an expensive high grade quality wood, it is guaranteed by most suppliers to last for 30 years as it has very minimal shrinkage.
Other varieties include the Atlantic White Cedar, Northern White Cedar and Eastern Red Cedar, which are classified as being light, porous cedar wood species. Also useful for fences because they are not prone to break when exposed to humidity and temperature.
Cost wise, cedar wood is a practical investment. Six foot cedar wood pickets usually cost $15 to $30 linear foot for DIY projects. This cost doubles when you decide to hire a professional to install it for you. It is also available in planks at $8 per piece for the treated variety.
It is recommended that cedar wood picket fences undergo regular maintenance for an increased life span. Also, it is best stained with water sealer instead of paint as it allows natural oils to develop making it insect and decay resistant.
Pine Pickets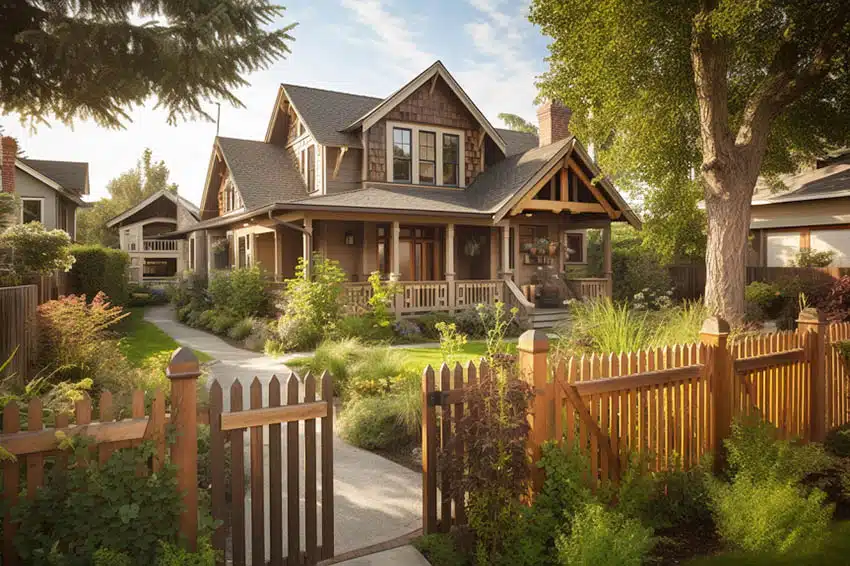 Pine is another type of soft wood that has a yellowish or whitish color with brown knots. It is lightweight and inexpensive, which makes it another popular choice for wooden fence pickets.
Some advantages of using Pine for pickets include resistance to shrinking and swelling. It also takes paint well and can be finished according to one's taste. As it ages, Pine wood also develops a rustic patina which ads to its natural beauty.
Pressure treated Pine is also guaranteed to last for years making it a wise low cost investment. On the other hand, its downside is that it is prone to scratches and dents because of its softness.
Pressure treated pine is cheaper than Cedar wood costing around $10 to $25 per linear foot, including the installation.
Redwood Pickets
Redwood is a type of wood that is usually harvested in the west coast part of the United States. With properties that are is similar to Cedar wood, Redwood is characterized by its darker reddish brown natural stain and tight grain pattern.
Redwood also contains natural oils, which make it resistant to moisture and humidity, repellent to insects, and less prone to decay and rotting. It also doesn't warp, expand, crack or split unlike other wood species. These natural intrinsic properties make it last longer as a fence material.
It doesn't require much maintenance but can periodically be treated through resealing to increase its durability. Due to the higher levels of natural oil present in Redwood, it can be a bit hard to paint. Instead, it can be finished with a clear stain so it doesn't turn gray over the years.
Considered to be the most expensive type of wood fencing material, it usually costs $17.50 to $20 per square foot. Its superb aesthetics and qualities make it a wise investment and best choice for wooden picket fences.
Pressure Treated Pickets
Pressure treated wood undergoes a process that forces chemicals and other preservatives into the wood to protect it from insects, termites, and decay. Wood is subjected to treatment in a tank and is first depressurized and then filled with preservatives under high pressure.
Considered to be a "wood for all seasons" because it can withstand extreme temperature changes and comes with a lifetime warranty from other damages.
This type of wood can be buried in the ground without having to worry about rotting and exposure to moisture. It can also be painted or stained after 3 to 6 months of drying. Pressure treated wood can remain rot free for almost 40 years.
A 4" x 4" pressure treated lumber typically costs $9 to $20 per piece with lengths ranging from 8 feet to 16 feet. For smaller pieces that are approved for above ground installations, a 2" x 6" lumber is usually $6 per piece for an 8 feet long size to $11 per piece for a 16 feet long size.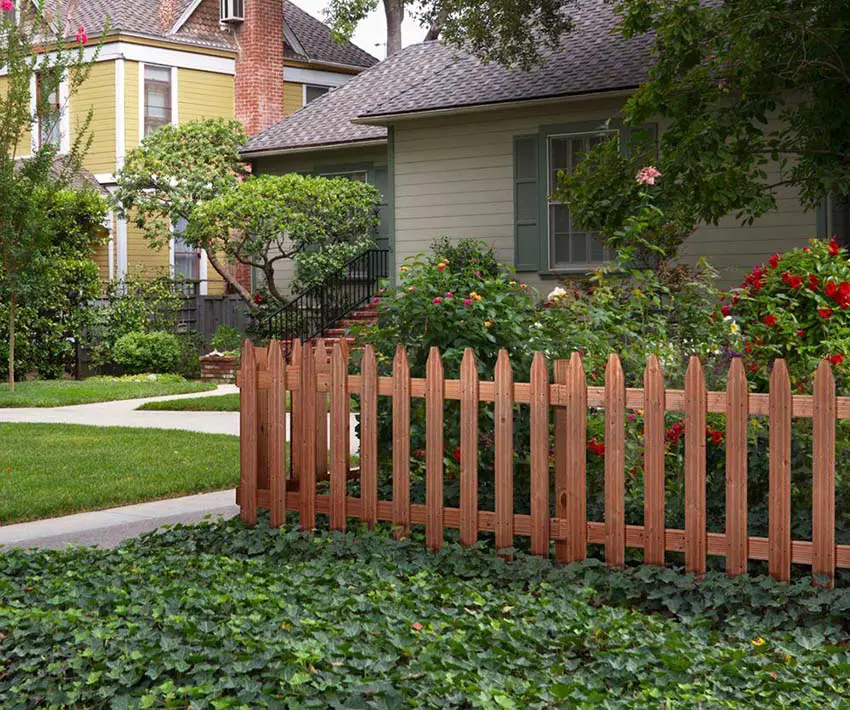 The picture above shows a pressure treated wood picket fence. The cedar stain finish of this fence adds a Country charm to this American style home while serving as backdrop for the lush ground cover and vines.
Vinyl Pickets
Vinyl is a modern alternative to conventional fencing materials like wood or metal. It is a lightweight material yet fairly durable and strong. Vinyl picket fences come in a variety of colors and styles which make it flexible in terms of design.
Though white is the most common color for vinyl picket fences, it is available in brown, beige or more upscale options such as faux granite, stone or textured finish. It can also be embellished with additional decorative touches such as post finials. Vinyl picket fences can be used for traditional applications but may be upgraded to suit more modern styles.
Because it is primarily made of plastic, vinyl pickets are not prone to decay. It is resistant to rotting and requires low maintenance, as it can be cleaned with just water and soap. Usually warranted by suppliers to last for 10 to 15 years without needing periodic treatments such as termite proofing and repainting.
Disadvantages, on the other hand, include vulnerability to extremely cold climates and snow. It also cannot stand up to heat and is not secure as other fence types. Although beautiful in its own way, it still doesn't have the same visual appeal that wood has.
Cost wise, vinyl pickets are more expensive but prove to be a wise investment because it pays off in the long run. Typical material costs range from $15 to $20 per linear foot, $40 for privacy fences. Cost for installation range from $10 to $25 per foot or $35 to $50 per hour, depending on the location of the project.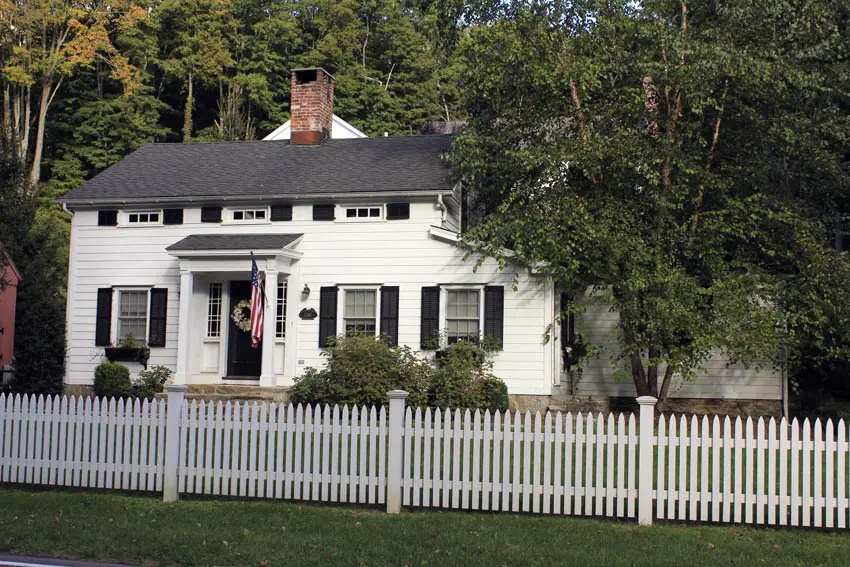 White fencing complements the traditional look of this shingle-styled Mid Century American home. It is a perfect way to enclose the yard without blocking the view and beauty of your home.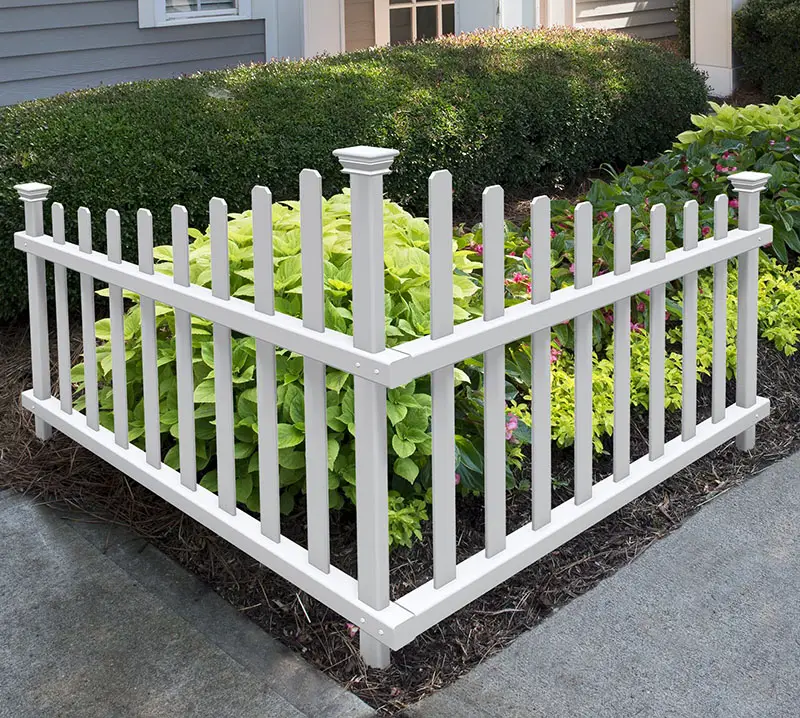 This white vinyl corner fencing panel works as an accent feature for a garden while providing protection for plants. This type of fence can be easily installed by simply setting it into the ground. Ready made panels like this are available for purchase online.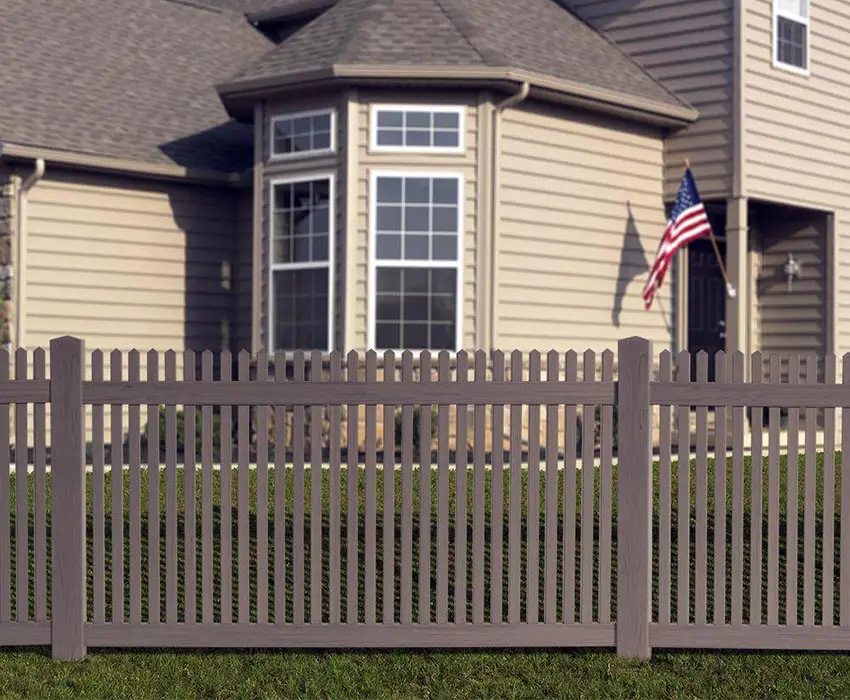 Vinyl fence panel – Home Depot
This vinyl picket fence panel simulates the appearance and finish of cedar wood. A great alternative to conventional materials, it contributes the same charm and beauty that solid wood boards have.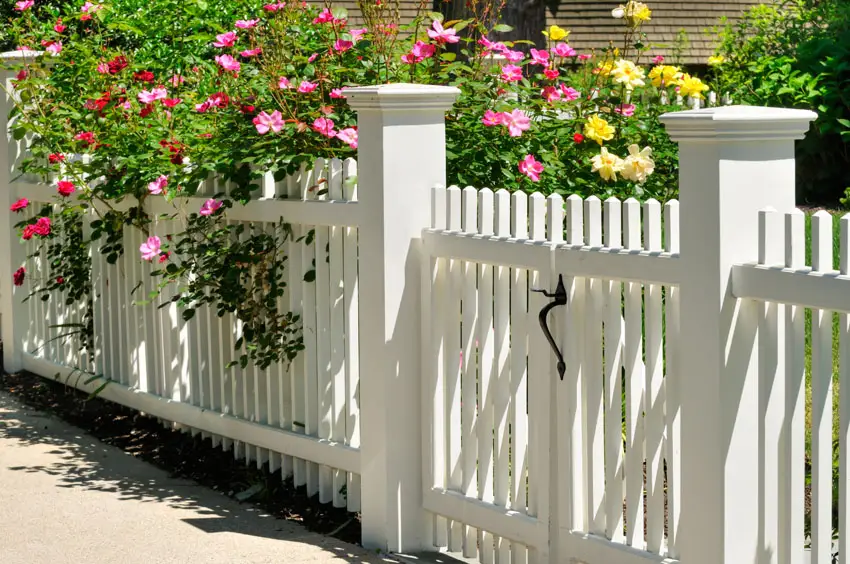 Combined with pink and yellow flowers, white pickets act as a romantic border for this yard while providing passersby a glimpse of the graceful garden.
Picket Panels
Picket fence panels are pre assembled panels which are often made up of wood, metal, vinyl or PVC. Manufactured as sections, it is sold per set and comes with all parts necessary for installation. The kits usually contain 1 panel, 1 post, a cap, and anchor.
Relatively easy to install as it requires no digging, panels are perfect for homeowners who would like to try building DIY fencing on their own.
Metal or aluminum picket fencepanels come in sections of 6 to 8 feet with a typical height of 4 feet. Most of these panels come with a 10 year warranty and cost around $50 to $100 per piece.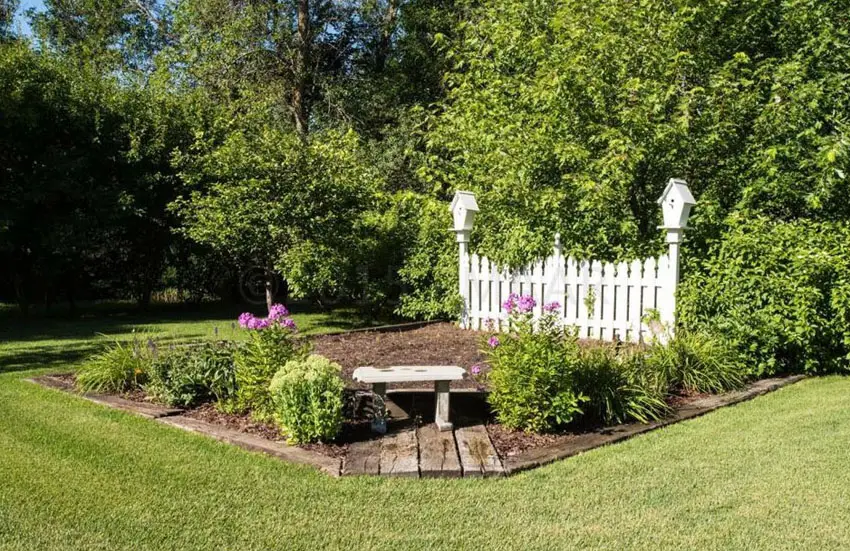 A single fence panel works as a focal point for this Rustic garden. French Gothic pickets and the addition of birdhouses on top of each end post create the much needed sophistication for this roughly styled landscape.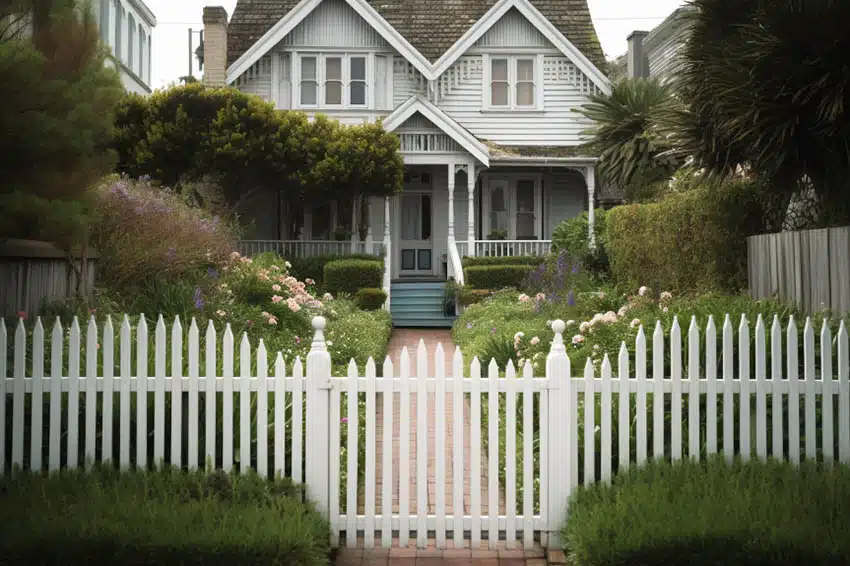 A mirrored picket fence features a symmetrical design that frames the home and front yard.
Symmetrical closed-space-pickets have, as the name implies, symmetrical sides. If you took the picket's paper pattern and folded it in half, both sides would be the same. – Kevin Geist, How to Build Wooden Gates and Picket Fences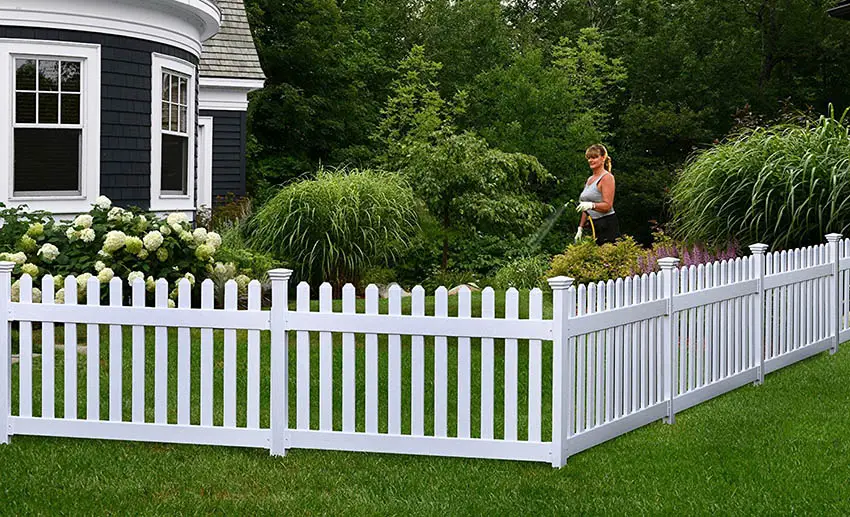 White vinyl fencing panels – See this on Amazon [sponsored link]
White vinyl picket fence panels are not only durable but also easy to maintain and install. This type of panel requires no digging and be easily set up and joined together.
Wood picket fence panels may be purchased from local suppliers and usually come in sections. As soon as your panels are delivered to your doorstep, there's no need to worry about installation because it reduces the amount of effort and project duration to half.
Composite Pickets
Composite fence panels are a modern alternative to wood and vinyl. These factory engineered panels are made up of a blend of wood and plastic but have the same resilient and durable properties of vinyl.
Considered low maintenance, composite fence panels don't require painting or other treatments. It also requires little effort to install because it is ready made. One of its downsides is that sometimes it expands and contracts in extreme heat.
Some homeowners also choose composite material because it follows environmental standards and is considered to be a "green" product.
When it comes to picket fence designs, these panels are available in a variety of colors, but the most common variant simulates the appearance of wood. A composite fence panel typically costs $16 per linear foot for the basic design and $25 for the more ornamental kind.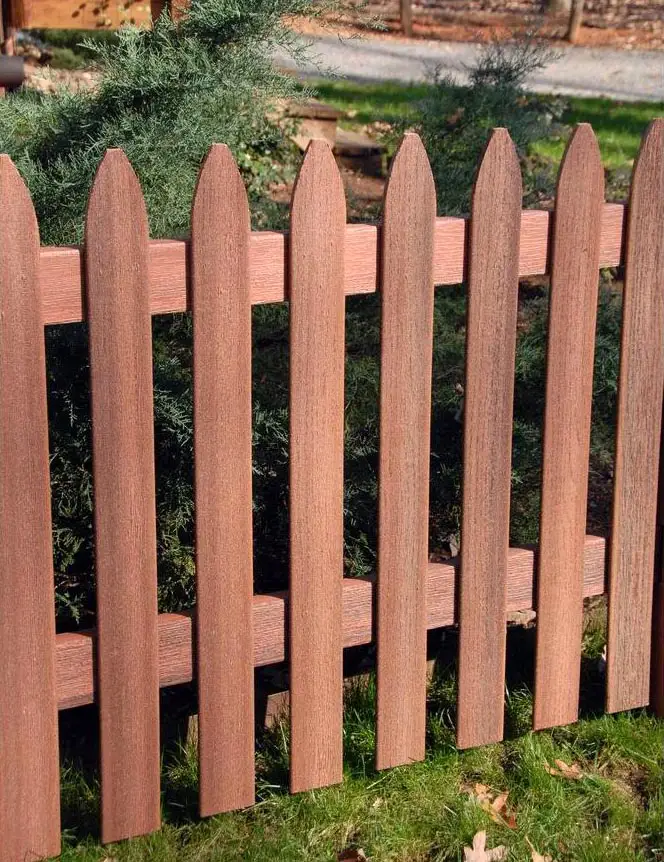 Composite fencing – Source
Composite picket fence panels are available in different styles and colors. This Gothic inspired composite fencing panel simulates the appearance of Cedar so well that you can't even tell that it is not made up of the real thing.
French Gothic Pickets
French Gothic fences are a design style which is characterized by a pointed arch. These styles were prevalent in France during the 1100's to 1500's. These fences are used to define spaces and dress up traditional homes and gardens.
Usually made up of pressure treated wood, vinyl or sold as composite fence panels, its positive and negative features and cost depend on the type of material used.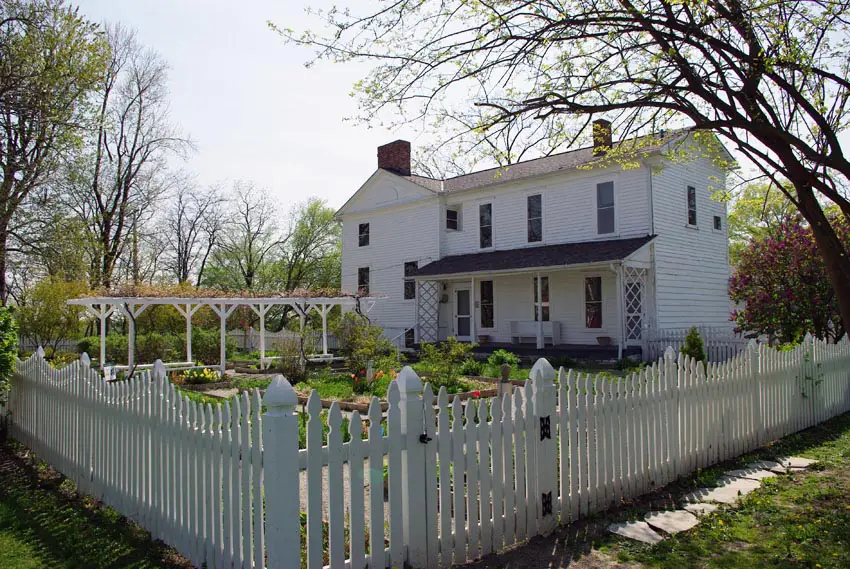 French Gothic scalloped picket fences installed along the perimeter of this American style cottage clearly defines the boundary of this space while complementing the traditional flair of the surrounding landscape.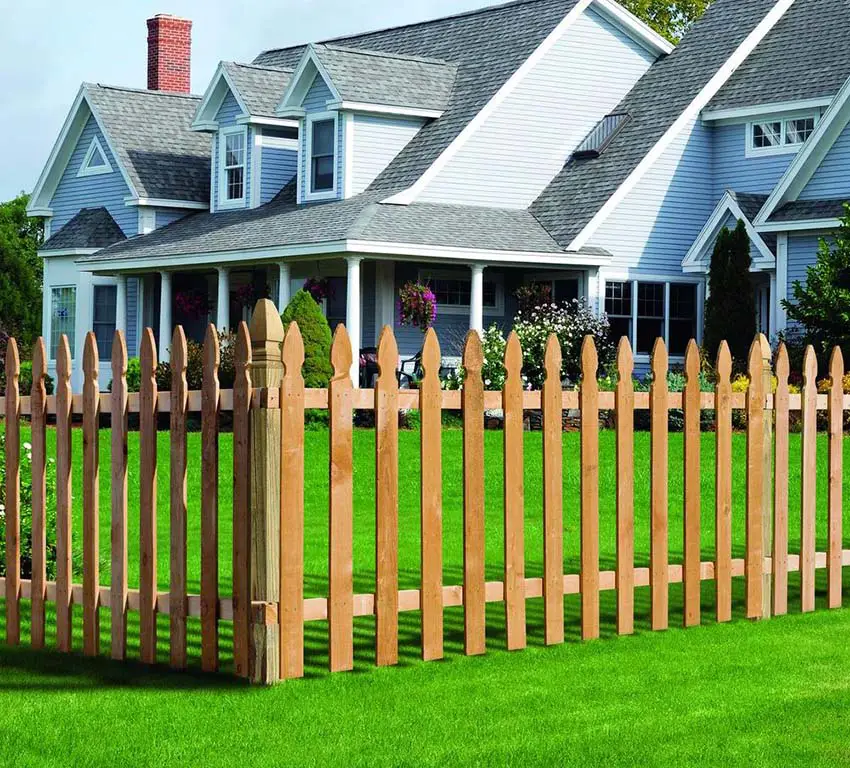 Cedar wood panels – Source
To stick with a rustic country appeal, French Gothic Cedar picket fences may be finished with a clear varnish and left in its natural color. The reddish color of the wood is a subtle contrast to the charming New American style home.
Set up against a background of bright yellow sunflowers; this French Gothic white picket fence works both as a decorative accent and a border for the surrounding garden.
Metal Pickets
Metal picket fences are usually made up of wrought iron and is considered to be one of the most expensive options in the market. Heavy duty and durable, it is not prone to damage by insects, warping, and rotting. It is also effective in terms of security.
Maintenance wise, it requires to be refinished and resanded at least twice a year. Even though it is not considered to be as visually appealing as wooden picket fences, it is perfect for adding contrast in traditional homes with a Classic, Victorian, English, French or Vintage setting.
One drawback of using metal picket fences is that it is prone to dents and rust during rainy seasons. Costing around 25% higher than other materials, wrought iron picket fences cost around $100 to $300 per linear foot in general. Materials alone can cost $20 to $100 per linear foot. For labor, consider an additional amount of $300, depending on the size of the project.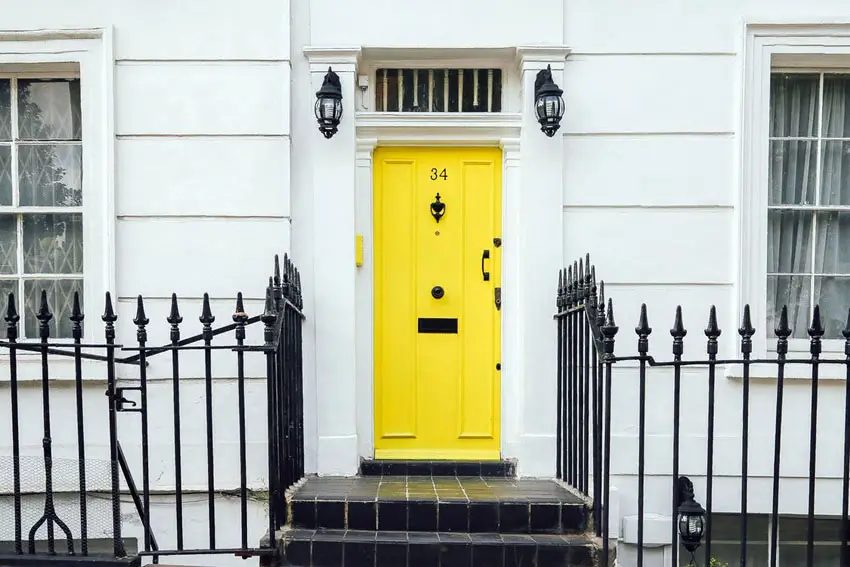 This wrought iron picket fence with decorative Boston finials, which stand in stark contrast with the yellow main door, combines both Modern and Classic styles together.
Aluminum Pickets
Aluminum is a type of metal which closely resembles iron. Aluminum picket fences are usually powder coated in different colors or textures and are highly desirable for both traditional and modern applications.
Powder coating is a special painting process that cures the paint into the metal making it more durable. Unlike wrought iron, aluminum does not rust, more sturdy and is nearly indestructible.
It is an expensive form of metal, costing around $22 to $35 per linear foot. A simple 4 foot picket fence project can amount to $2000 to $5000. However, it is proven to be a wise investment because it comes with a lifetime warranty.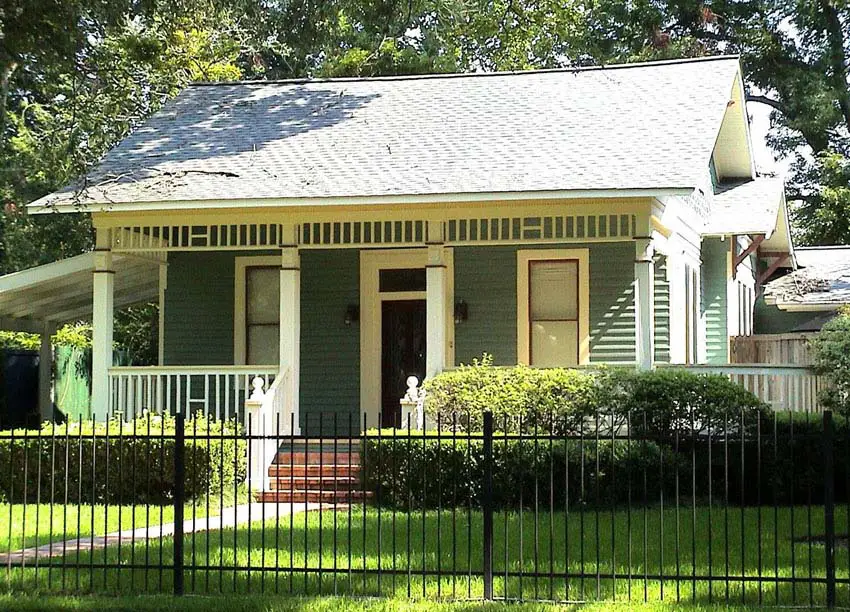 Aluminum fencing isusually simple and streamlined but never fails to add character to a landscape.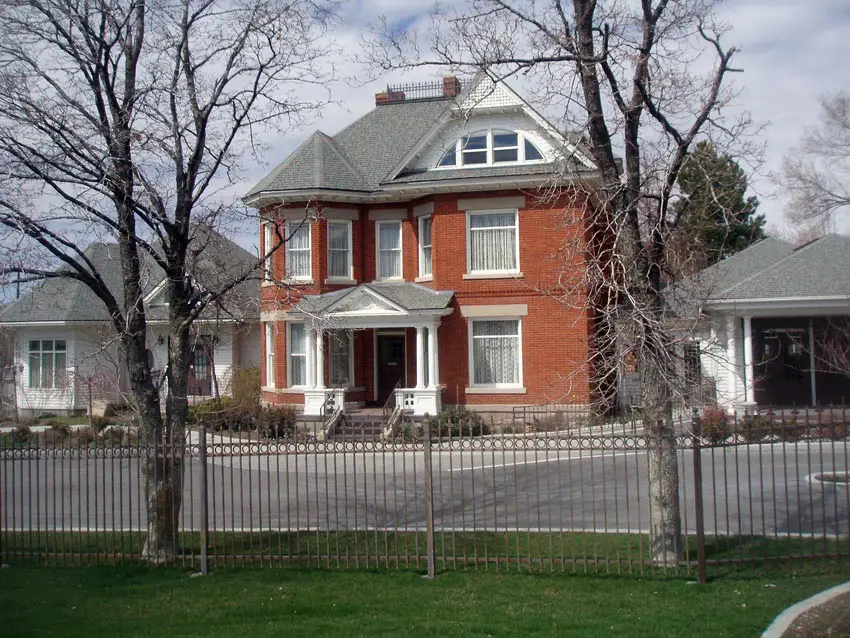 Aluminum pickets may be more ornamental in form just like this design shown above which has spear Fleur de lis finials and round ornaments in between the top rails.
DIY Pickets
"DIY" or "Do it Yourself" picket fences are ideal for homeowners who want to make their spaces more personalized. As these fences can be customized according to one's personal taste, there is actually no limit to the materials which can be used, whether they may be new or recycled.
With upcycling as current trend, this is a good way to put old materials into good use. It is considered to be a low cost and fast solution to enclosing a yard or space.
Here are some of the types of DIY picket fences: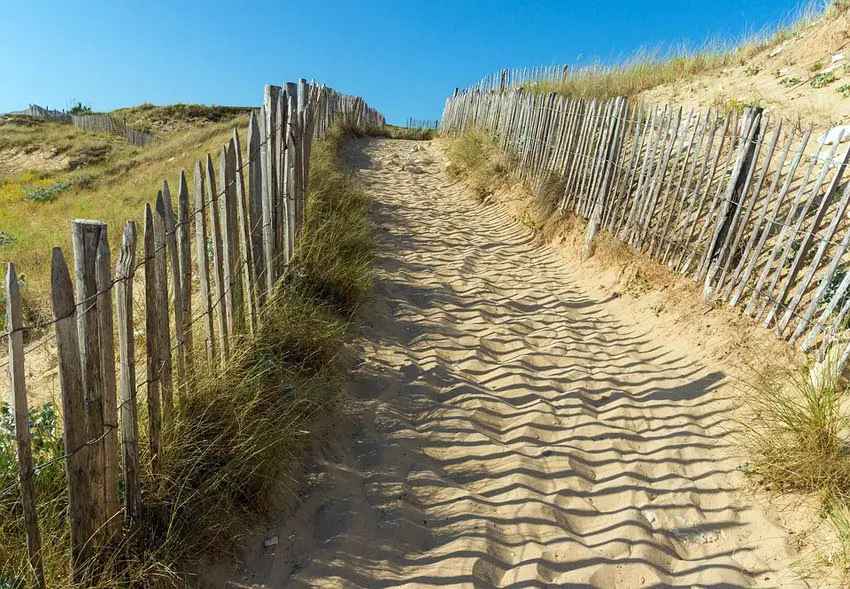 Rough uneven wooden stakes joined by metal wires are a simplified version of picket fences that work perfectly for the rustic countryside outdoors.
Rustic Pickets
Most DIY picket fences make use of reclaimed wood or salvaged tree trunks, which are cut into individual pickets and joined by wires. To contribute to that countryside and handmade appeal, it is often left unpainted and with a rough texture.
Cleft picket fences are also ideal for adding a rustic charm to a yard or house. Clefting is the original method used to create fences during the old times. Rustic picket fences can also be made up of stones or mixed materials.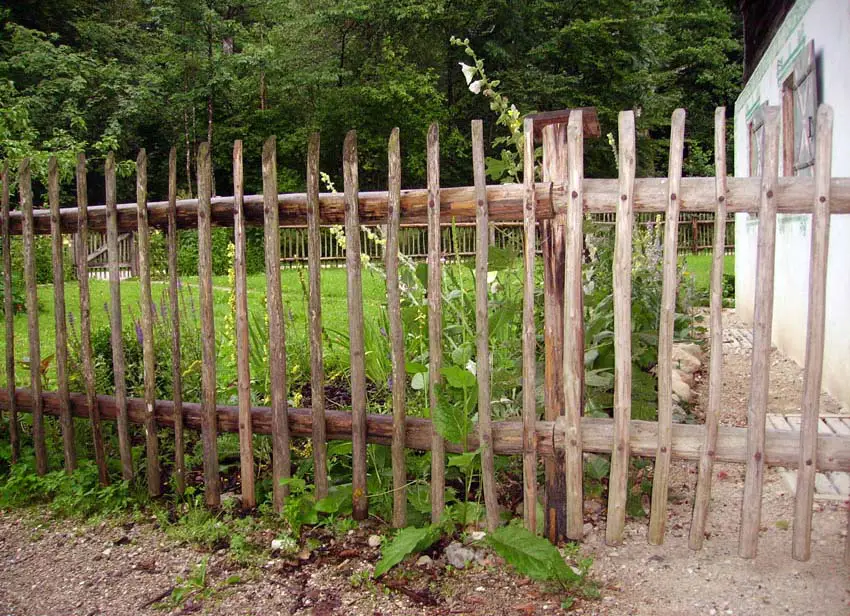 This "Do it Yourself" picket fence is made up of tree branches that are cut evenly and left to weather naturally. This is also easy to fabricate as it just requires simple connections using nails.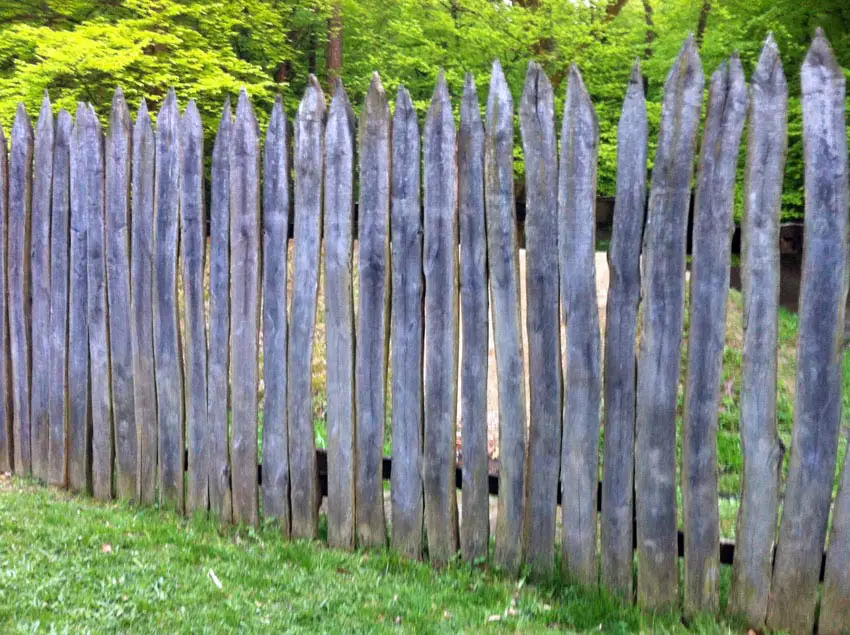 This unevenly spaced wooden stockade fence has aged gracefully, resulting in the presence of a natural patina which contributes to its Rustic charm.
Pallet Pickets
Reusing pallets are making its way into the modern industry. It is one way to repurpose something which is considered to be an ugly cheap piece of wood. Pallets are flat wood boards which is made up of vertical members with no bottom deck board.
These are used to support goods or heavy materials during transport. They are easy to find or, if not free, can be availed at a low cost. Most warehouses just dispose of them after use so it will save you a lot of money.
When constructing a DIY pallet picket fence designs, make sure that they are of the same size and color. And if possible, look for those which are used to support dry goods because they are less exposed to chemicals.
Pine wood pallets are ideal for constructing pickets as they are lightweight, soft, and easy to cut. It may either be constructed as a basic picket fence composed of T posts with a whole pallet slipped over them, or a more advanced way which requires disassembly by cutting slabs off at the back of the pallet.
Pine wood may be finished with weatherproof paint to add protection during climate changes and it must also be treated with termite proofing.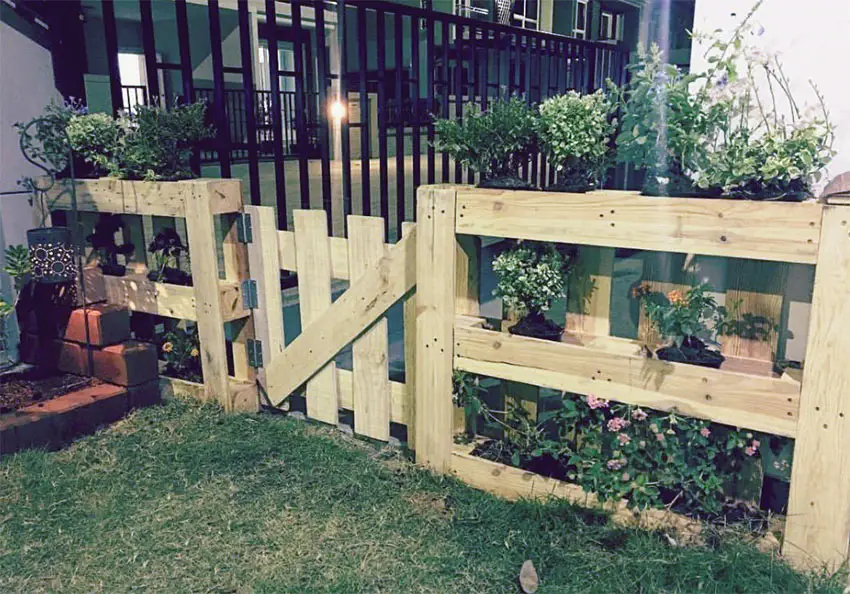 Pallet picket fences act as borders and can be decorative by incorporating planters within its design. Creating a DIY fence planter is a great way to spruce up inexpensive pallets with flowering plants.
How to Install Picket Style Fences
You can build your own picket fence designs the fast and easy way without having to hire a professional to do the job for you. On the average this project can take two to three days.
It is mainly comprised of 2 stages, first is setting the fence posts with concrete in a hole then the next is mainly attaching the pickets and rails together. You may either use pre assembled panels or join individual pickets.
Before starting on this project, here are some terminologies that you need to be familiar with. Fence posts are metal or wooden posts set to the ground which serve as the main support for a fence. Pickets are the vertical members and rails are the horizontal panels.
For this specific "how to" instructions, we will be building a 4 foot tall wooden picket fence. However, the same instructions can be used to build taller fences, just take into consideration the change in height and spacing.
Here are some of the steps in installing a picket fence:
Materials Needed:
4" x 4" x 8' wooden posts (may be Cedar, Redwood or pressure treated Pine)

1" x 4" wood pickets

2" x 4" x 8' pressure treated wood

stakes

galvanized screws

galvanized box nails

gravel

quick drying ready mix concrete

masking tape

mason's string

paint or stain
Tools:
measuring tape

calculator

level

hammer

drill

line

level

circular saw

post hole digger or power auger

plumb bob
Steps for Installing a Picket Fence:
Plan the layout. Just like any project, the first step is to determine the purpose of your fencing, this will help you decide on its height. Standard picket fence designs are usually 4 feet in height but this may be increased depending on your needs.
Another factor that must be considered before starting on your project is the design of your pickets. Select a style that is coherent with the overall look of your house and the surrounding landscape. Once you decide on both, you may now proceed with your layout.
Measure the area where you want to build your picket fence. Using a measuring tape, get the total length of the perimeter of your yard for the span of your fence. Ideally, fence posts must be 6 to 8 feet apart. As an example,a fence that has a total length of 120 inches will be needing 15 to 20 posts.
You may set stakes in the area you measured just to mark the position of your fence posts. Be sure to place the marks for your end posts about 1 to 2 feet beyond where you want it to terminate. Then use a mason's string to connect the stakes as this will serve as your guide for the path of the picket fence.
Set the first post. Use a power auger or post hole digger to to dig a 8' x 8' hole that is 2 feet deep. Fill the hole with gravel for the base, then insert the 4" x 4" x 8' wooden post into it.
Add dry ready mix concrete into the hole and make sure that the post is leveled standing straight. Tamp down to make sure everything is compressed tightly. Allow to cure and dry for 48 to 72 hours.
Set all remaining posts. Once the first post is set, locate the position of the next post by following your guide string. At the end of its total span, set your next end post and dig a hole for it making sure that it is parallel to your first post.
Once the two outside end posts are set, you may transfer your guide strings from the stakes.Interior posts may now be set at 6 to 8 feet apart. Measure the string for this interval and mark it using masking tape. Transfer the marks to the ground so that you have an exact location on where to dig for your interior posts. Dig the holes and set your remaining posts.
Install the rails. Once all fence posts are set, you can now proceed with installing the horizontal rails which will support your pickets. Use 2" x 4" x 8' wood for this. From the base of your fence post, measure 12 inches up for the bottom rail and 36" up for the top rail.
Mark your fence posts for these measurements and take note that the marks are for the top edge of the rails. Fix rails onto the back of the fence posts using galvanized screws with each end butted against each other.
Install the pickets. You may use either prefabricated pickets or make your own from scratch. Lay out each board at 2 to 3 inches apart.
To ensure that these are evenly spaced, use a leveled 2" x 4" piece of wood that is laid at the height of 2 inches from the ground as your base. Maintain consistent spacing throughout. Attach each picket in front of the rails using a nail gun.
Add finishing touches. Once you have finished joining the fence posts, rails and pickets together, your fencing is now ready for finishing. Use either wood stain or paint to add color to your fence.
For a more natural look, go with a clear varnish or paint it with any color you want. You may also seal your wood to make sure that it lasts longer.
Add decorative elements such as finials on top of each fence post. These caps may be bought as ready made woodwork. You may also design your picket fence according to your heart's desire. Hang lanterns, jars, or clay pots as interesting features for your border. For a more organic look, incorporate hanging plants and flowers.
Small Pickets
Small picket fence designs are ideal for creating borders for a garden or landscape. Commonly made up wood, these type of fences can also be used to deter small animals from destroying your plants.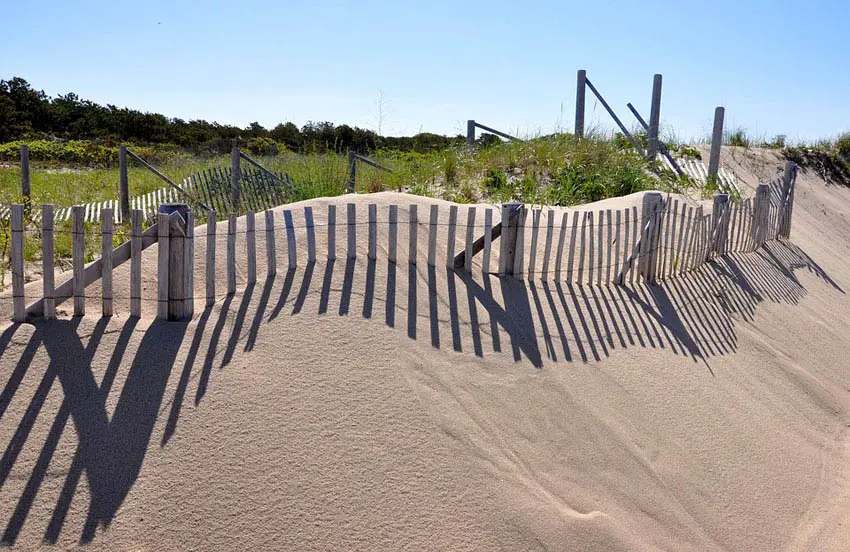 Small perimeter fences made up of wood joined together by metal wires blend beautifully with this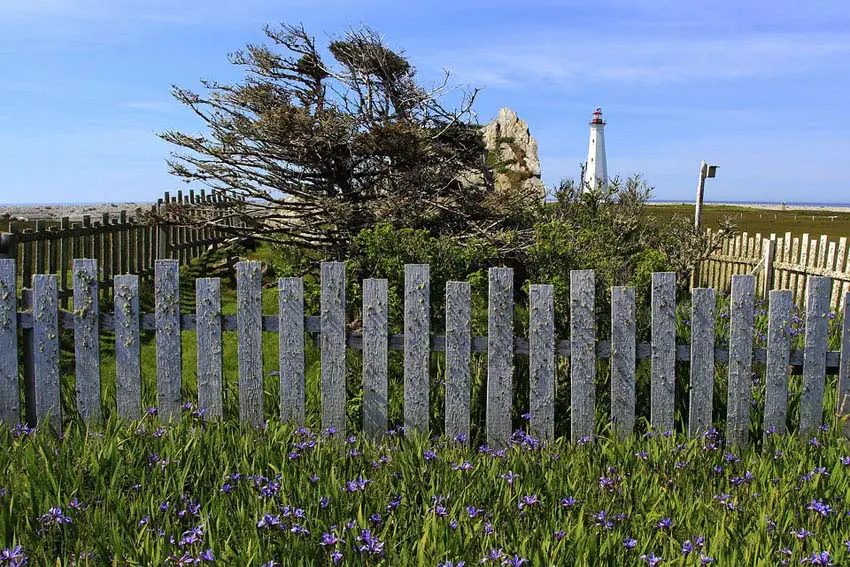 Uneven wooden picket fences are ideal for enclosing gardens. It also acts as a place where vines can climb up as they grow. The muted gray color of this plant screen serves as a background for the dainty violets.
4 Foot Pickets
The typical height for picket fences is 4 feet. This size is ideal for separating semi private and public spaces without obstructing the view. It is also ideal for keeping pets and children within the boundaries of your home or simply protect plants.
Used to add curb appeal, 4 foot picket fences are stunning decorative features for traditional homes and gardens.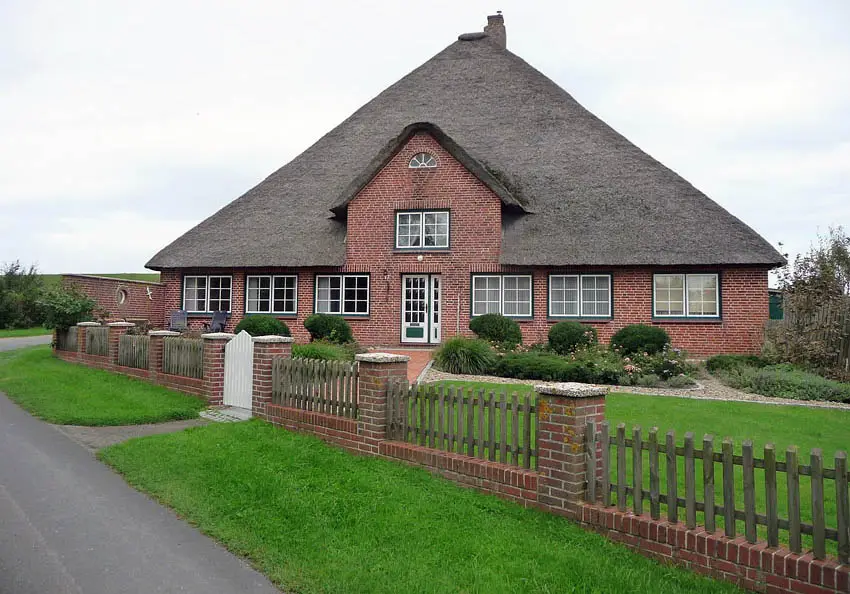 This wood and brick picket fence has an "Old World" feel which is coherent with the design of the traditional ranch house it encloses.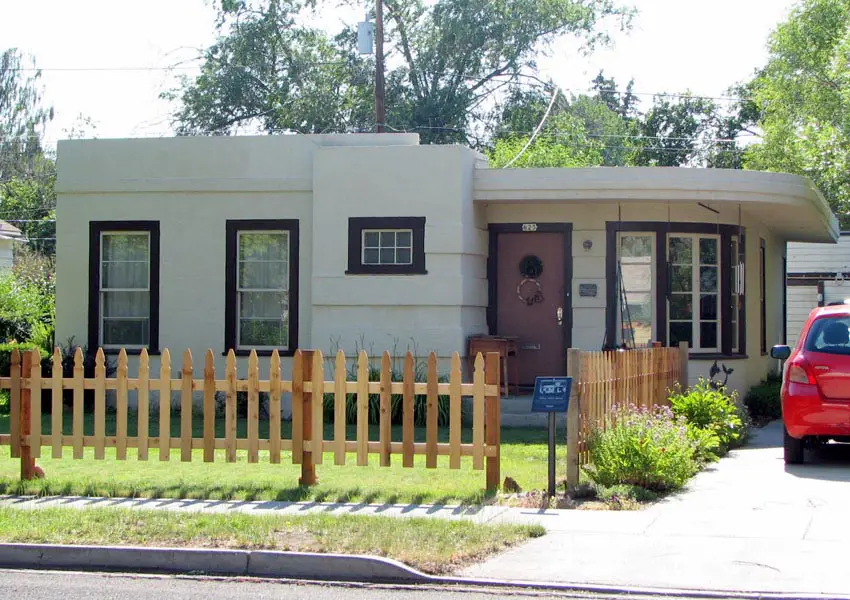 Small French Gothic inspired picket fences may be traditional looking but can work even for the more modern style of houses.
Privacy Fence With Pickets
Privacy picket fences are usually 6 feet tall. As its name suggests, it is used to give privacy from neighbors and to block the line of sight so that passersby or strangers do not get a full view of what's inside your yard. Both ornamental and functional in nature, privacy picket fences are also useful when it comes to providing security. It can also be used to contain pets and children in a yard.
8 Foot Pickets
8 foot picket fence designs are also ideal in terms of providing privacy. Aside from separating your home from the backyard, it is effective in terms of security.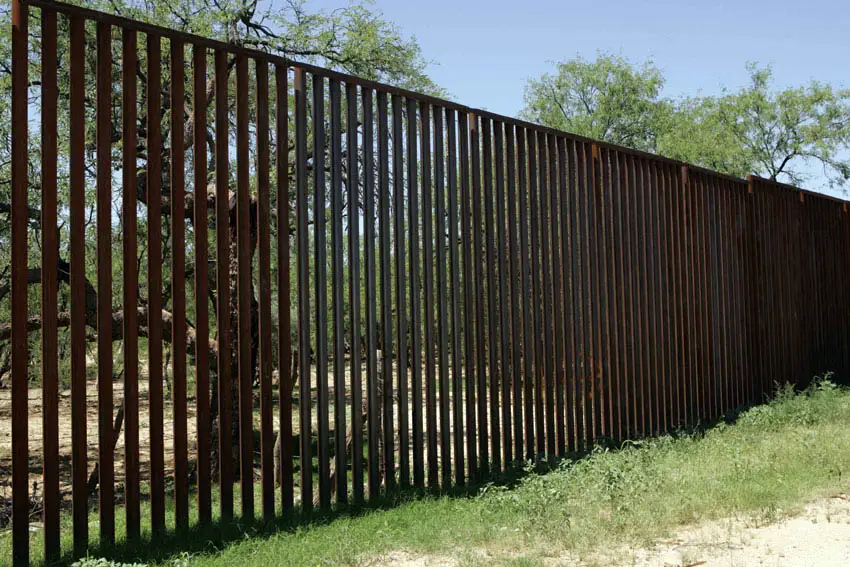 Tall picket fences are ideal for providing semi privacy and security against wild animals or strangers.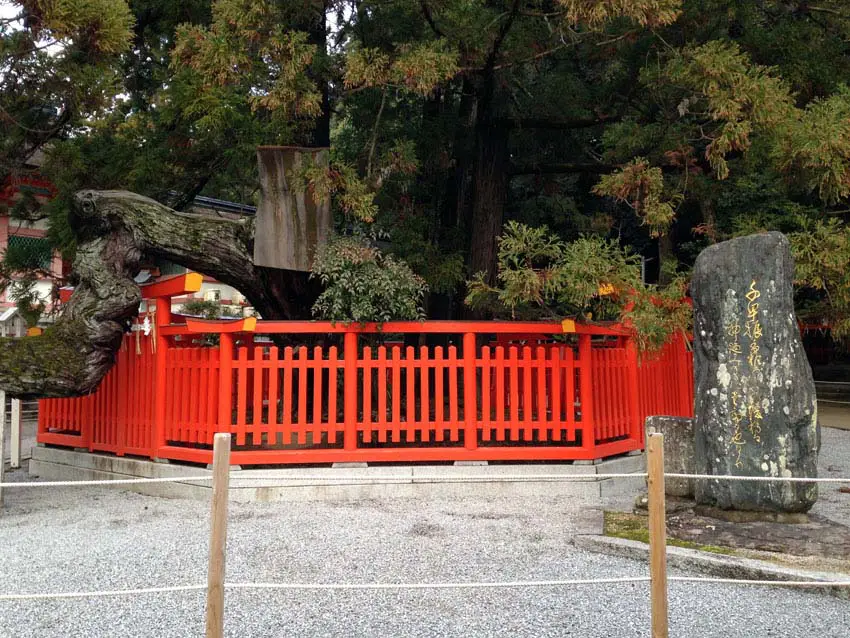 This Japanese style picket fence comes with a Torii inspired gate and exhibits an oriental charm. The bright color of red also gives life to the serenity of the tree it protects.
Picket Styles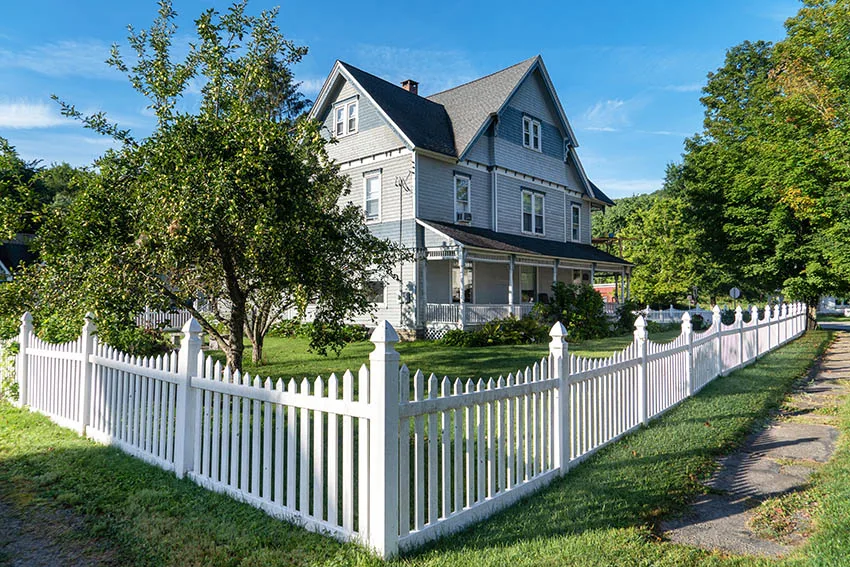 Fence styles ranged from the flat simple kind such as the blank style, rounded-edged, sharp-edged type which is called pointed pickets to the more ornamental types like the Windsor , Osbourne, Torrens, and Malvern Pickets.
Finials were added on top of the pickets as an additional decorative element. Some of the types of post types are the Round, Windsor, Acorn, Pyramid Cap, Molded Cedar, Star Top, Pyramid, Albert and French Gothic.
Styles did not only vary according to details but also its finish. Each style evokes a different sense of character. Rustic homes usually went with wooden fences which are naturally weathered to display that "used" and rugged feel.
Wrought iron picket fences were used for Gothic and Victorian inspired houses. White painted fencing was used as statements for colonial houses and cottage gardens.
Although traditionally made up of wood, picket fence designs are now available in a wide array of materials such as vinyl, PVC, metal, wrought iron and aluminum.
Modern alternatives such as composite panels and pre cut fence panels provide homeowners ease of installation and added benefits. Additional decorative elements may also be incorporated into each design to make them more visually appealing.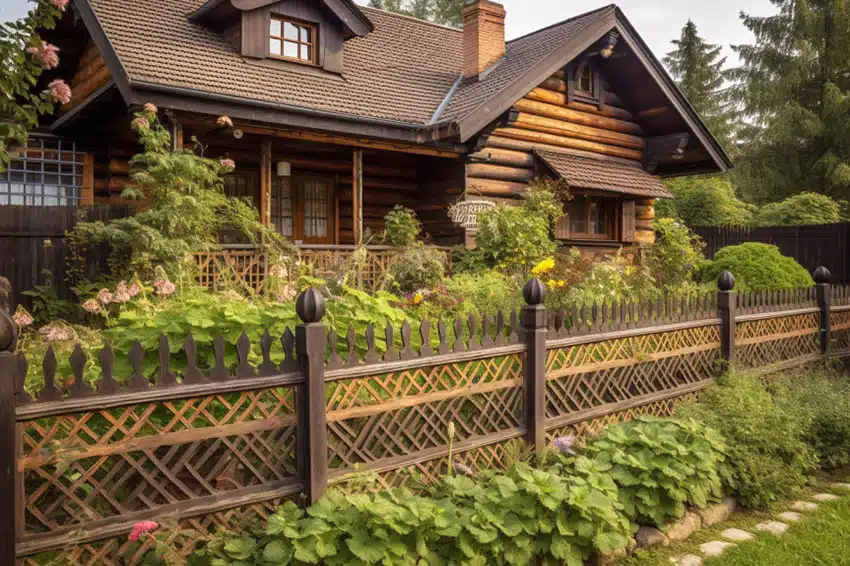 Purpose of a Picket Fence
Although it works as a decorative feature for most houses, picket fences are utilitarian in nature. They are used to delineate spaces and indicate boundaries between your lot, a neighbor's yard or the sidewalk. It is a great way to showcase a garden or landscape without blocking the views.
Picket fences are also ideal for keeping pets and children inside your yard. It also functions as a protection for plants and other vegetation.
Some advantages of having these barriers for your home include an additional sense of security and substantial privacy from passersby, strangers, or neighbors. It also enhances the beauty of any home or garden.
However, one downside of picket fences is that it is not advisable for homeowners who seek full privacy because of the spaces between each board.
What is the standard size of picket fences?
Typically 3 to 4 feet tall or 36 inches to 48 inches (91 to 122 centimeters), picket fences are shorter than other fence types. However, its height may be modified according to one's needs. If used as privacy panels, picket fence height may be increased up to 4 to 6 feet.
This will also depend on limits set by city zoning laws so make sure to check them first if intending to build one as a perimeter border for your frontyard or backyard. The standard spacing of pickets is usually 6 to 8 inches apart.

Cost of Pickets
The cost of picket fences depends on several factors such as the type of material to be used, the height of the pickets, the complexity of design (whether it is plain, scalloped or more ornamental) and additional features like a gate.
The type of project also plays a significant role in determining the total as additional labor costs will be added if you choose to hire a professional to do the work. "Do it Yourself" projects, on the other hand, can save you a fair amount of money.
The most expensive material for building fences is wrought iron, while the cheapest is wood. Composite or pre fabricated panels are in the middle price range and can save time and effort while cutting labor costs.
These materials are available in most local home improvement stores. Wood may be bought from special lumber suppliers while metal picket fences can be purchased from fabricators. Pre-assembled panels and picket fence kits are available in home depot stores or may be purchased online.
Depending on the following factors mentioned above, here are some of the average costs incurred in building picket fence designs:
Wood. For "Do it Yourself projects", the typical cost for a 3 to 4 feet tall wooden pickets is $3 to $40 or more per linear foot. For a 100-foot-long wood picket fence, the average cost is $400 to $1800 for the whole project with DIY installation. A 300-foot-long wood picket fence, on the other hand, can amount to $1000 to $5000 for the whole project with DIY installation.
For projects that require professional labor, a wooden picket fence can cost around $10 to $75 per linear foot. For a 100-foot-long wood picket fence, the average cost is $1000 to $8000 for the whole project with professional installation.
A 300-foot-long wood picket fence, on the other hand, can amount to $300 to $24,000 for the whole project with professional installation. These estimated costs vary depending on the local labor rates in your area.
Vinyl. For "Do it Yourself projects", the typical cost for a 3 to 4 feet tall vinyl pickets are $10 to $20 or more per linear foot. For a 100-foot-long vinyl picket fence, the average cost is $1000 to $2500 for the whole project with DIY installation. A 300-foot-long vinyl picket fence, on the other hand, can amount to $2800 to $6200 for the whole project with DIY installation.
With professional installation, the typical cost for a 3 to 4 feet tall vinyl pickets is $15 to $25 or more per linear foot. For a 100-foot-long vinyl picket fence, the average cost is $1600 to $3000 for the whole project. While a 300-foot-long vinyl picket fence can amount to $4600 to $8000 for the whole project. Again these costs may vary depending on the local labor rates in your area.
Wrought Iron picket fences usually cost $30 to $40 per linear foot. If you opt to put a gate in your structure, expect an additional $200 to $1000, depending on the design.
Decor For Fences Made of Pickets
There are a lot of possibilities that can be explored when it comes to dressing up picket fences. Both new and old materials can be utilized to enhance their look. You also do not have to spend much in order to upgrade your design because you can make decors from salvaged materials, and they are practically free.
The spacing between the vertical slats in picket fence designs allows room for hanging decor such as lights, bottles, jars or other ornaments. You can also enhance the beauty of your landscaping by adding flowers, bushes or vines. Incorporating it within a landscape gives it a more natural and organic feel.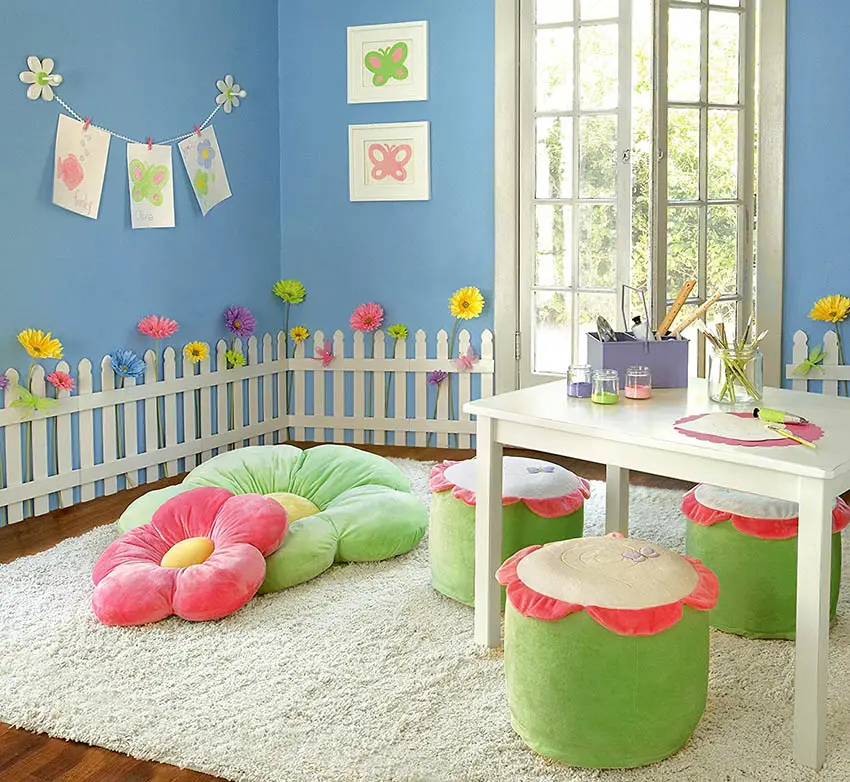 Indoor white fencing and decor – see this at Amazon [sponsored link]
Decorative wall decors such as this laminated wood picket fence are ideal for interior applications as they add charm to girl's bedrooms.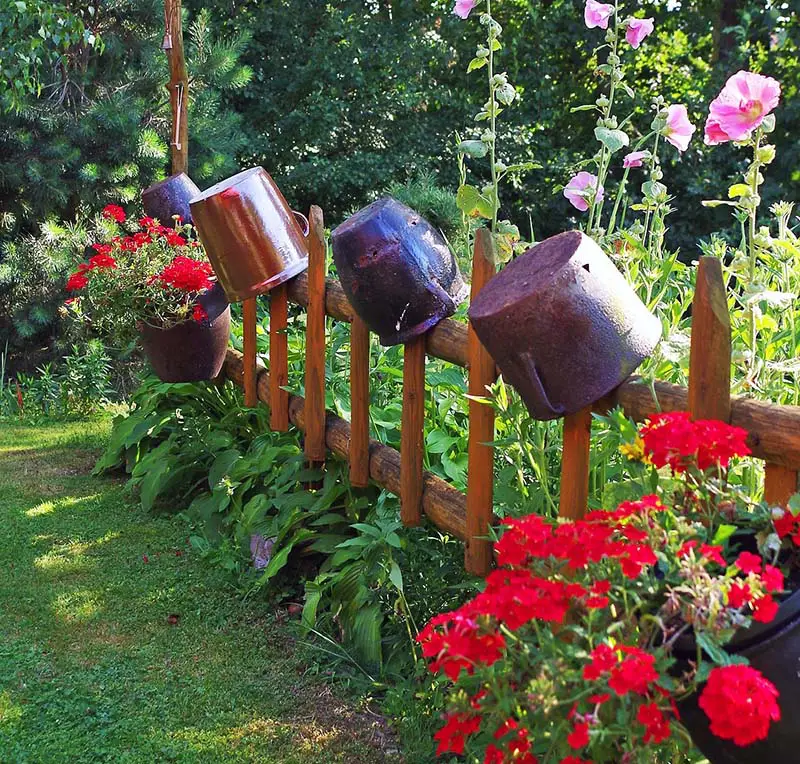 Shabby yet charming while evoking a country feel, used clay pots hung over rustic stakes are a creative way to decorate your garden.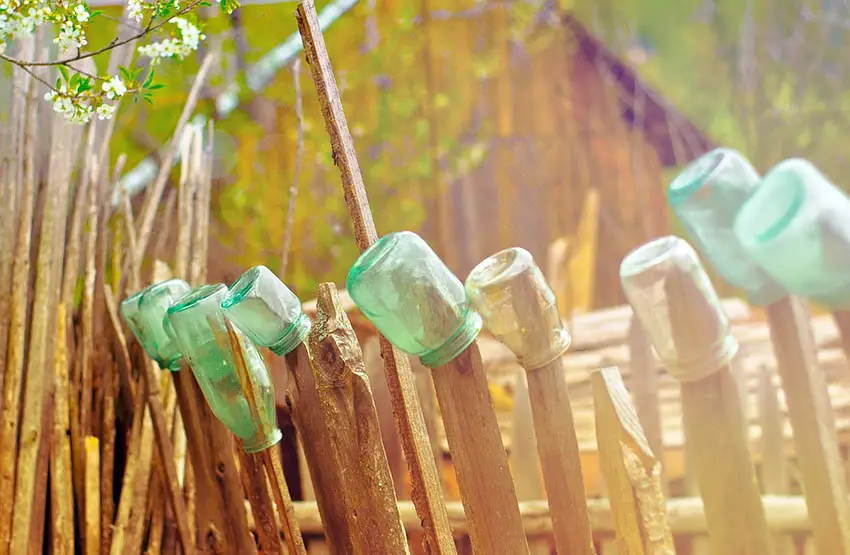 Hanging colorful used bottles and jars on top of picket fences not only protects you from sharp edges but it also gives off a "farmhouse" vibe.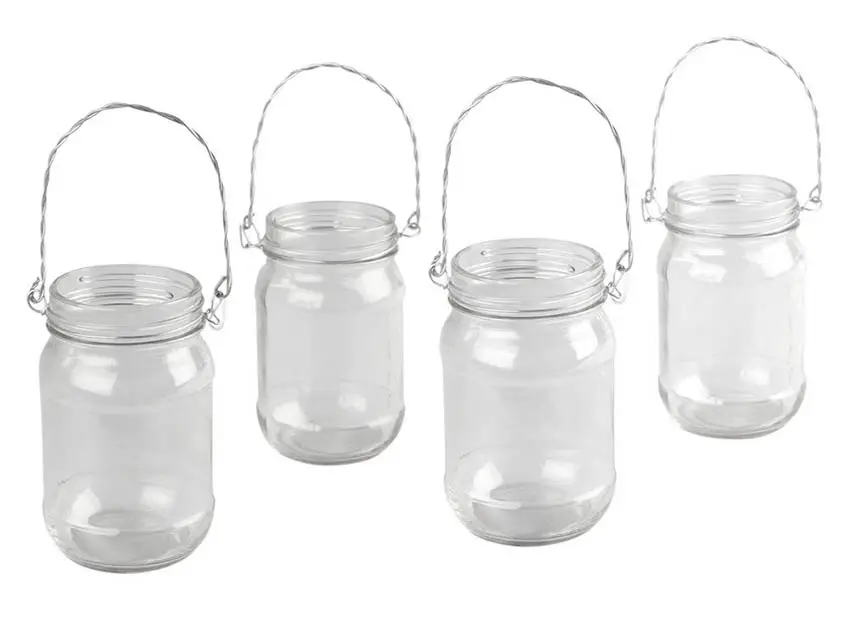 Hanging mason jar for fence decor – Source [sponsored link]
Hanging mason jars on picket fences is both decorative and functional as it can be used to hang lights, tea candles, plants or small bouquets. These are perfect for adding a touch of Rustic charm or Bohemian flair to your backyard landscaping.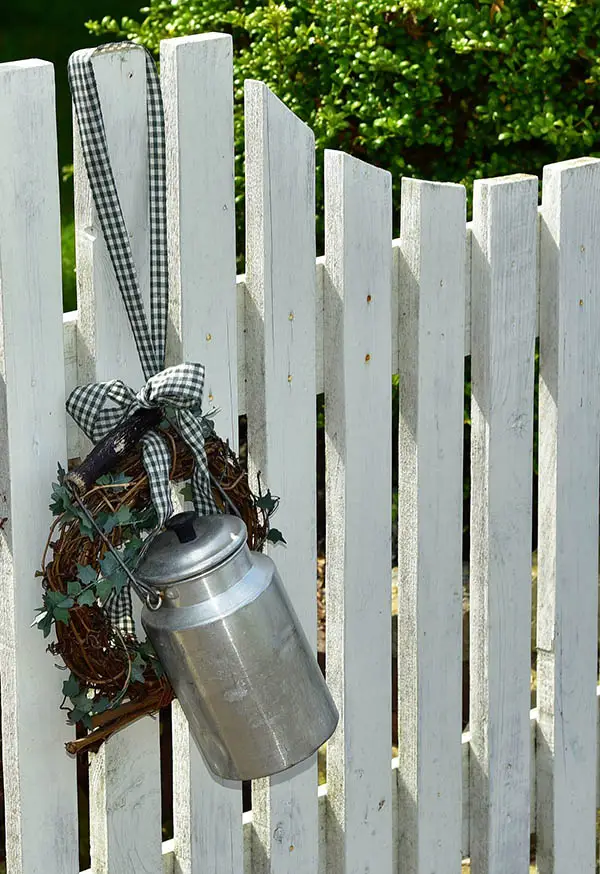 Used gallon milk cans adorned with beautiful wooden wreaths and vines also work as decor pieces for white borders.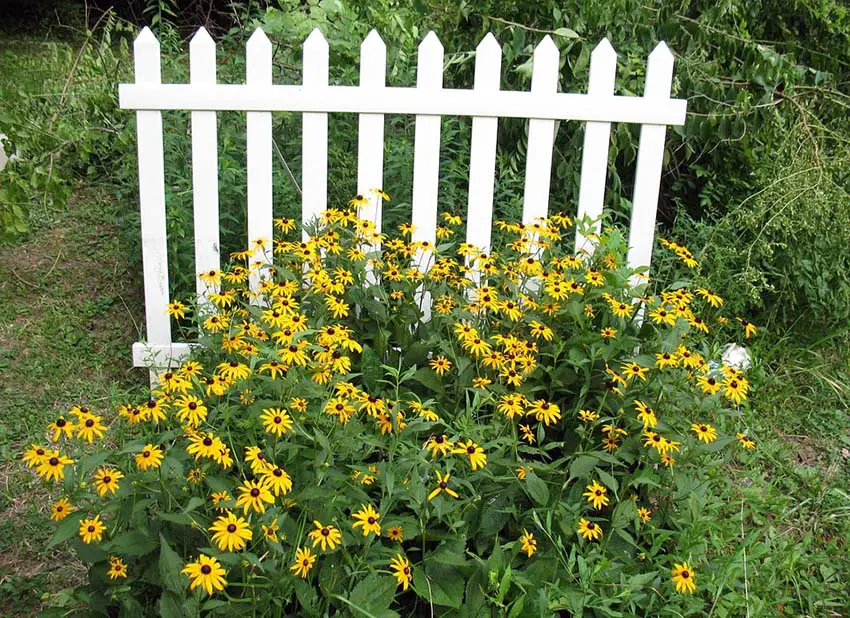 Picket fence designs seem to go hand in hand with beautiful flower gardens. The one in this picture is made using a single picket fence panel which frames yellow daisies.
We hope you enjoyed out picket fence designs article. Make sure to check out our other fence ideas for even more ways to create your own perfect backyard, garden and outdoor living spaces.
[expand title="Show Image Sources" swaptitle="Hide Image Sources"]
#1 StevenDepolo
from Flickr (Creative Commons License)
#2 bonniejeffs from Flickr (Creative Commons License)
#3 bonniejeffs from Flickr (Creative Commons License)
#4 bonniejeffs
from Flickr (Creative Commons License)
#5 bonniejeffs
from Flickr (Creative Commons License)[/expand]
Related Backyard Design Galleries You May Like:
65 Patio Ideas – 50 Deck Ideas – Brick Patio Ideas – Walkway Designs