Welcome to our artificial grass ultimate guide including benefits, cost, installation tips, pictures & design ideas.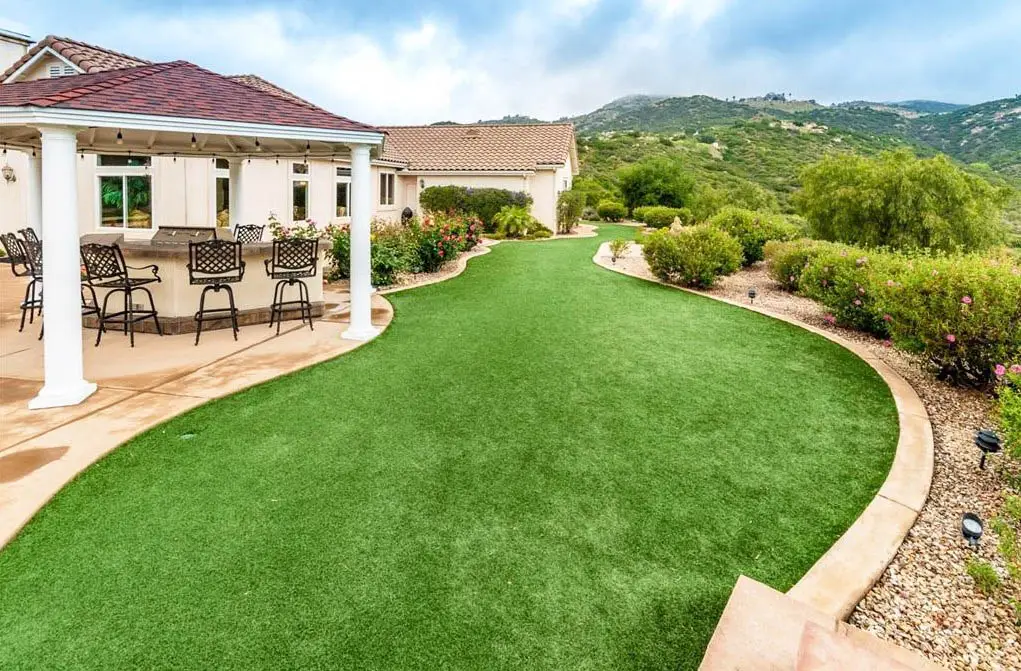 Artificial grass has come a long way since its first appearance on TV soccer matches in the 60s. This product, now increasing in popularity has made it into residential gardens and lawns and occasionally indoors! As we're seeing more and more of this material featuring in our exteriors (and interiors), it seems the perfect time to find out more about it.
What is Artificial Grass?
As the name suggests, artificial grass is a synthetic alternative to natural grass. Each blade of grass measures between 1″ and 1 3/4″ or 25-45mm and is made of a polyethylene material – one of the more common forms of plastic.
How does it work? The individual blades of grass require support to remain erect, and to remain in the ground. This is where a layer of sand or thatch comes in, with both options producing high quality artificial turf results.
Artificial turf with thatch is supported by a frizzy fiber integrated into its lining, which not only strengthens the individual blades but makes the grass look fuller. This layer is made from polypropylene, polyethylene or nylon and encourages blade recovery.
Artificial grass without thatch can be supported with about a 0.8 inch deep layer of sand. This weighs down the grass, keeping it in place and fills the spaces between the blades keeping them erect. Sand supported grass is encouraged as a longer term investment, and is arguably more durable than thatch.
Benefits of Artificial Grass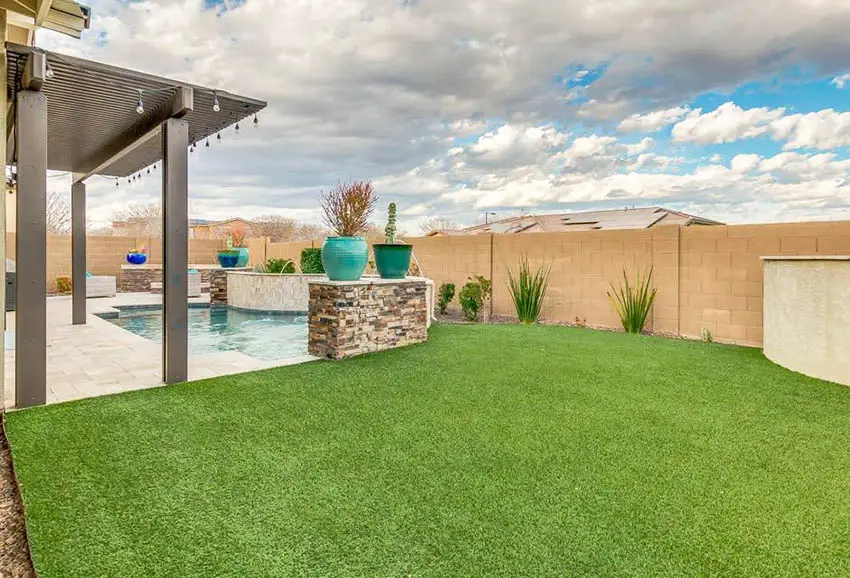 So what are the benefits of artificial grass? There must be something that keeps drawing people back to this look, and after doing a little digging you soon find there's many attractive benefits of installing an artificial lawn.
It's low maintenance – Artificial grass doesn't require any watering, fertilizing or mowing and therefore requires little maintenance to keep it looking its best. Perfect if you struggle with gardening, or it's not really your thing.
Looks good all year round – Unlike natural grass which can often become parched during summer, artificial turf is composed of UV stabilisers which prevent any of its rich green colour from fading. The surface is also resistant to wind, hail, snow – you name it. Regardless of the weather conditions, the artificial lawn will remain looking crisp and fresh throughout the seasons.
Environmentally friendly – Without any growth in your lawn, you'll no longer be needing your lawn mower – a gas guzzling machine that represents 5% of the air pollution in the US. Without the carcinogenic fumes emitted whilst mowing, you'll be helping to protect the planet whilst protecting your own lungs too.
Water conservation – You'll also no longer be using water to hydrate your lawn. According to the Environmental Protection Agency, one third of public water is used to water grass…with nearly 9 billion gallons of water consumed by lawns in the US each day. Less water usage will not only help the environment, but your energy bills too.
Popular Types of Artificial Grass
Here are some of the most popular types of artificial grass to use based on your needs.
Artificial Grass for Dogs & Cats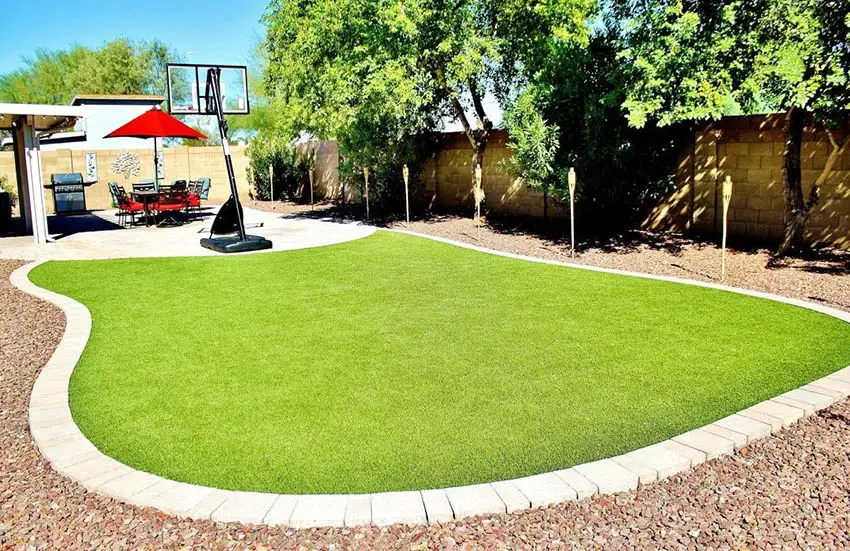 If you're lucky enough to own a pooch or a feline you'll know how unlucky your lawn can feel after it's been battered and bruised by those pesky paws! Unlike natural grass, an artificial lawn cannot be dug up and disheveled.
There are many manufacturers who produce high quality artificial grass, specifically for households with pets. It's important that you know the different product options available so you understand how to best maintain your lawn with your pet(s) in town.
One of the biggest concerns regarding the artificial lawn, and having a dog (or cat!) is a build-up of urine on the surface. There's a few things you can do to ensure that this doesn't become a long term problem:
Ensure the lawn is installed correctly – the sub base must be permeable to allow the through flow of water (or urine!) into the lower layers to drain away. When installing the lawn, speak with the fitter to ensure they're aware of your concerns of urine build up.
Maintain your lawn – this doesn't need to be anything too time-consuming, although it will depend on how many pets you have that use the lawn to urinate on.
A hose down of the lawn once a month should remove traces of urine, and help with minimizing any ammonia smells. A professional cleaning product is advised alongside this, especially during summer when the smells can become stronger.
Consider pet hair – if your pet malts, then any hair which doesn't get blown away could sit on the lawn surface and inhibit the free draining of water and/or urine. Make sure you hoover the lawn or even use a leaf blower to get rid of any stray hairs.
If you're already struggling with the smell of pet urine in your lawn, there are many suggestions online of things you can do to neutralize the odors.
However, be wary as some of the products used can then end up making your lawn smell of cleaning agent. Zoflora disinfectant, diluted white wine vinegar and Jeyes Fluid Outdoor disinfectant are just a few ideas. Simple Green has also created a product which is highly recommended.
Artificial Grass Carpet & Tiles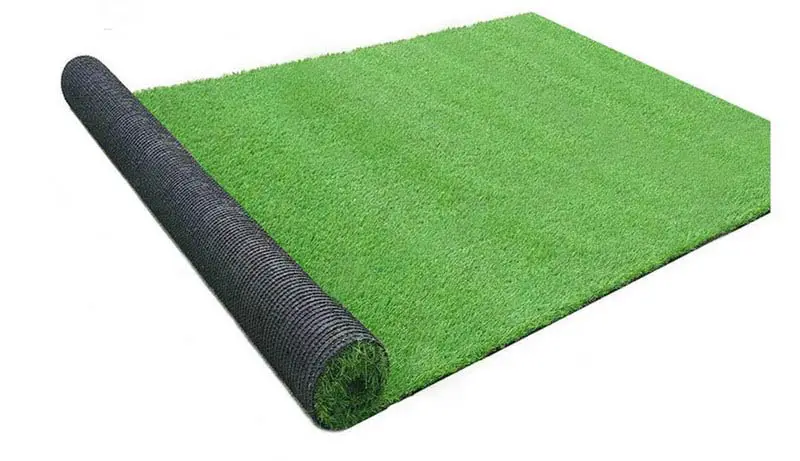 See this artificial grass carpet at Amazon
Whether it's installed indoors or out, think of your lawn as a carpet. You could decide to purchase a roll of lawn, or a smaller section to enhance an area of your home. The smaller areas of carpet are perfect to use for terraces and balconies if you want to add a feel of nature. Artificial grass tiles could be ideal for this purpose too…
If you're working with a smaller area, artificial grass tiles offer a practical solution. They're certainly easier to install than larger rolls of turf, and good for patios. They can be moved around if required too.
This option isn't as suitable for larger areas, simply because of the multiple seams which result from the interlocking tiles. The edges of the turf can also be susceptible to curling, so correct installation and maintenance is important.
Natural Turf vs Artificial Grass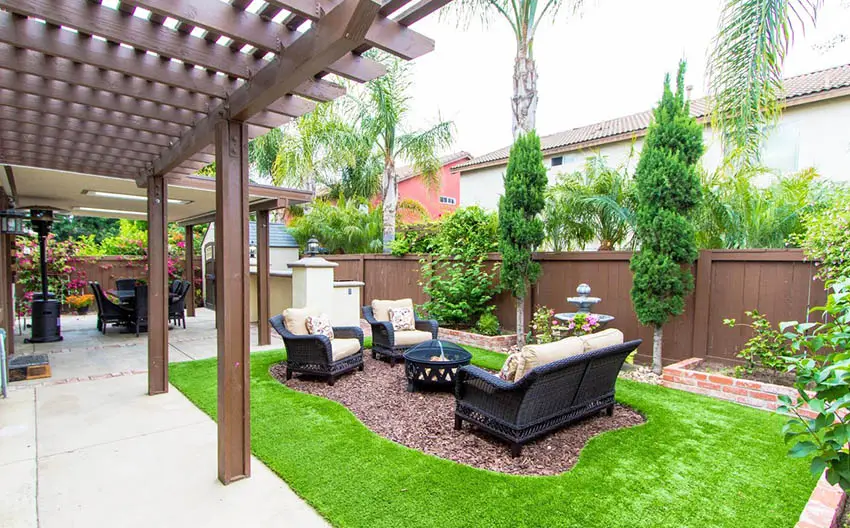 If you've read down to this point, you should now have a better idea of the benefits of artificial grass – but before you 'turf the turf' consider the benefits natural grass has.
Natural grass is better for the environment – Yes, your artificial lawn helps the planet but there's nothing that helps the planet better than nature itself! If you take an average sized healthy lawn, this can capture as high as 300 pounds of carbon a year.
Not to mention the wildlife. Plants and insects thrive within your lawn, and choosing the real thing will help to support the local ecology.
Natural turf can improve your mental health and well being – Research abounds on the connections between nature and mental health, and green spaces play a role in this. Evidence is growing on the links between horticulture and natural grass on improving human wellness.
Lack of silver biocides – Varieties of artificial grass produced specifically for dogs, contain silver ions which help to remove bacteria. The issue with these toxic ions is that once they drain into the water systems they come into contact with wildlife – having a devastating impact. Food for thought…
Artificial Grass Cost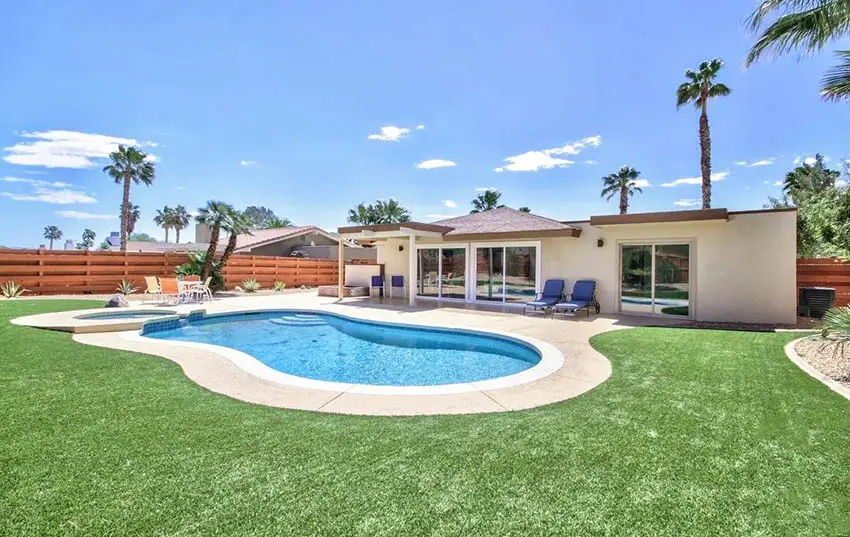 What is the cost of artificial grass? If you're on a tight budget, there are still options for you to install an artificial lawn as a DIY project. However you should be aware that the quality of a budget lawn will be impacted, along with the appearance. Costs start from $12.50 per square foot.
For a mid-size lawn of 1200 square feet you'll be looking to spend in the region of $15,000. That may seem like a lot in comparison to natural grass, however artificial turf can last for 15 to 25 years. Natural sod typically runs around $1.35 a square foot but has an average annual maintenance cost of $1000.
If you're willing to splash the cash for the most luxurious custom synthetic lawn design, you'll be looking at upping the budget to $20 per square foot.
It's worth getting samples of the lawn you're interested in before you buy. Just like when you order a carpet swatch, you're going to want to check the texture and feel of your lawn before you commit.
Artificial Grass Installation Cost
How much will it cost to install? You can of course choose to install your artificial lawn yourself, however not everyone has the confidence or skill to do so. To hire a professional you'll be looking at spending between $7 to $8 per square foot for installation.
Costs will vary though depending on the shape of your lawn and its size. The labor cost to install a larger lawn can result in lower costs of around $6 per square foot, whilst lawns of a smaller size often work out to be more expensive.
Artificial Grass Installation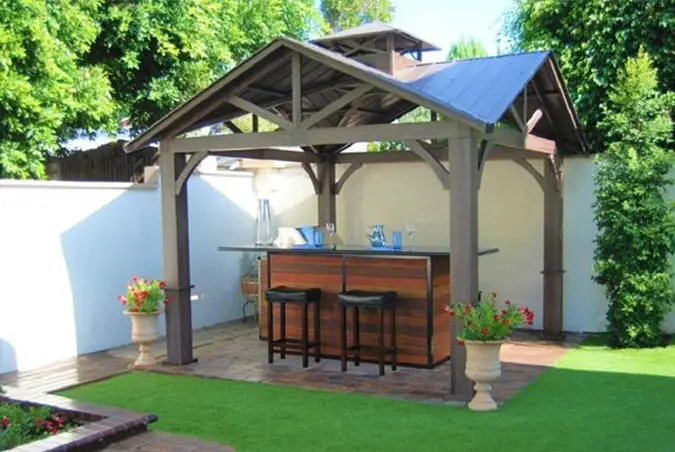 What if I want to install it myself? If you are keen to have a go at installing your lawn by yourself, it goes without saying that you'll need to do your research. To give you a rough idea of what to expect, here's a few key steps you'll need to take.
How to Lay Artificial Grass
Plan – the first and arguably one of the most important things you need to do is measure your backyard to determine how much artificial lawn, jointing materials and membrane is required. This stage will help you to minimize any wastage and save money.
Remove your lawn – cut squares into the grass measuring approximately two inches deep and ten inches wide. This will help you to remove the lawn in manageable steps and ensure you can focus on pulling up any roots underneath each square. If you water the lawn prior to this process, this should help with lawn removal.
Laying your base – If you're looking at installing your artificial lawn over soil, a layer of granite or limestone chippings will help to ensure your sub base is free draining.
For the laying course; the layer of aggregate directly under the lawn, granite or limestone dust should be installed. On top of this, a geotextile membrane can be installed if desired, which will help to prevent the growth of weeds under the lawn.
Lay your lawn – Something to be aware of here is that if you're laying two separate pieces from a roll or tiles, ensure that the grass pile is in the same direction.
Trim and join – Trim off any excesses to ensure your lawn fits neatly within the space. Join any individual carpet seams together.
Add sand fill – Brush over the laid lawn with in filler sand. Brushing with silica sand helps to ensure the individual grass blades remain erect and will help keep the grass in place.
How to Clean Artificial Grass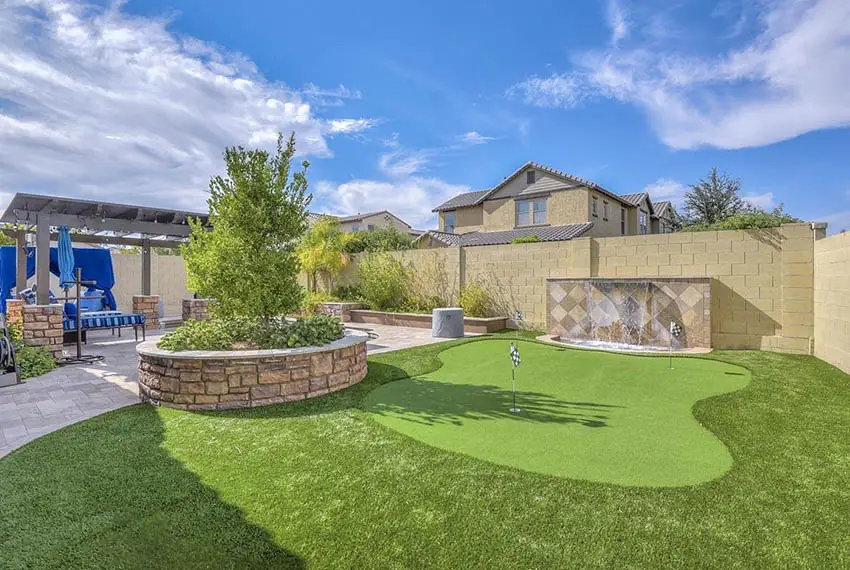 Whilst it definitely requires less maintenance than the natural lawn, your artificial lawn will still need to be looked after to ensure its long levity. There are numerous brands of detergent on the market suitable to clean your artificial lawn.
Alongside this, a few practical things you can do include:
Once a week
Give your lawn a wash down to remove dust and any particle build up
Use a rake/ a leaf blower to get rid of anything lying on the surface
Once a month
Brush the grass using a stiff brush to remove dust and dirt
Broom against the natural grain of the grass to encourage the blades to remain erect
If you have a pet who uses the lawn to relieve itself, you should naturally remove any solid waste immediately, and spray it down to wash away any urine. Lawn neutralizers as mentioned earlier in this article can help to counteract any lingering smells.
Artificial Grass Designs
Here we share an assortment of artificial grass designs for inspiration.
This design showcases a custom outdoor bench fire pit with concrete patio and artificial grass.
Artificial Grass Backyard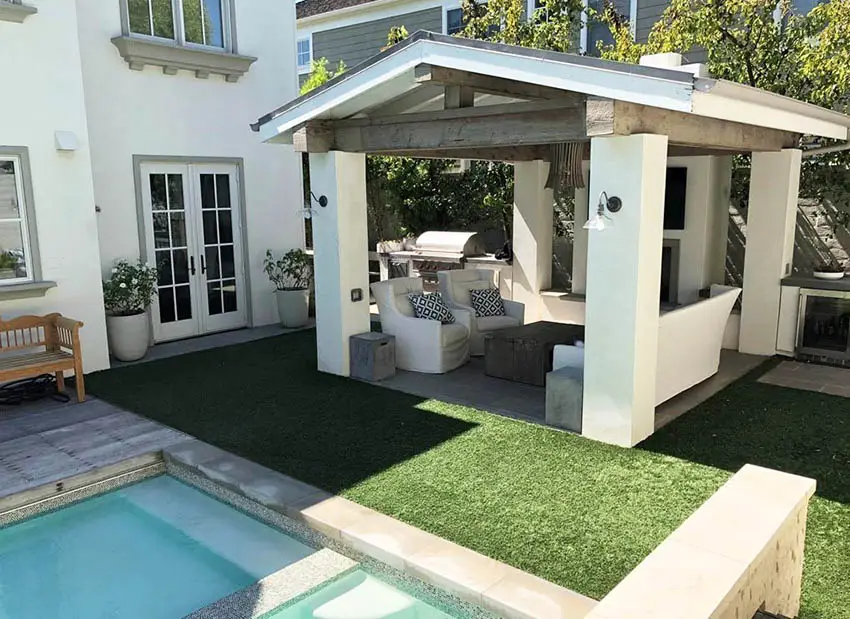 For the design above artificial grass is used to border the backyard pavilion and swimming pool.
An artificial grass backyard is extremely beneficial in drought prone areas and to help limit maintenance costs over time. It is estimated that the installation of artificial grass will pay for its self in 3 to 4 years with money saved from having less landscaping and maintenance costs.
Artificial Grass Walls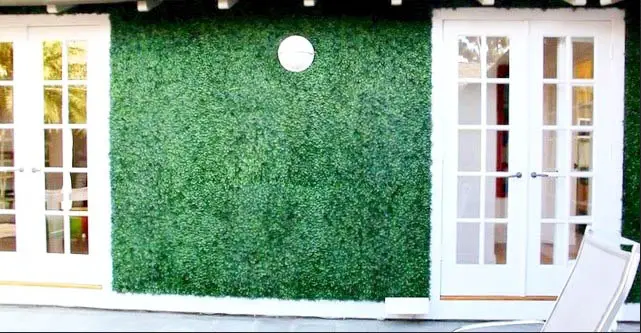 The thought of having an artificial grass wall might seem slightly strange, but they're great for adding a statement into an interior. Most commonly seen in hotels and commercial buildings, the artificial grass wall is a perfect way to bring in a feel of nature – without the maintenance of its natural alternative.
Artificial Grass Patio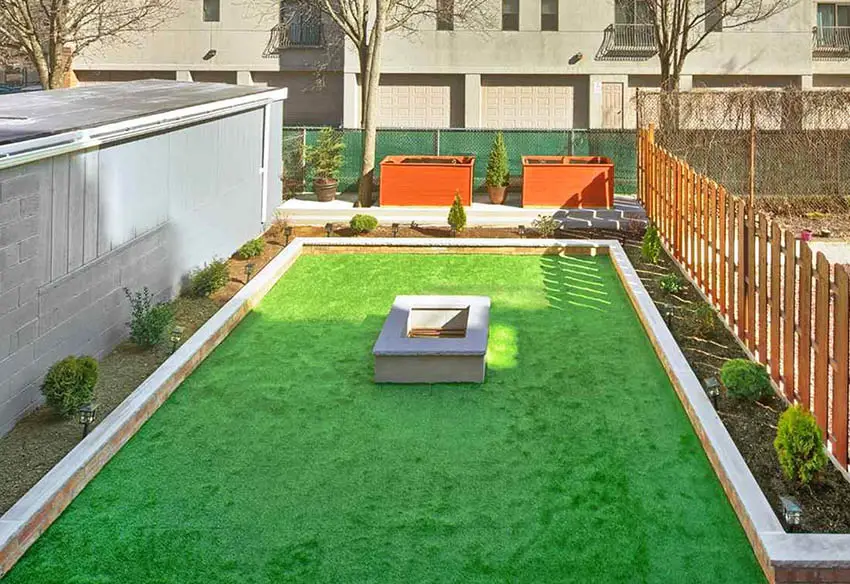 Whilst an artificial lawn is commonly used to replace an existing natural lawn, its use isn't limited to this. Artificial grass can also be installed on top of concrete paving, and patio slabs. So, if you're concerned that your existing backyard with its outdated paving is beyond help – installing an artificial lawn on top of this existing material is a feasible solution.
Artificial Grass Putting Green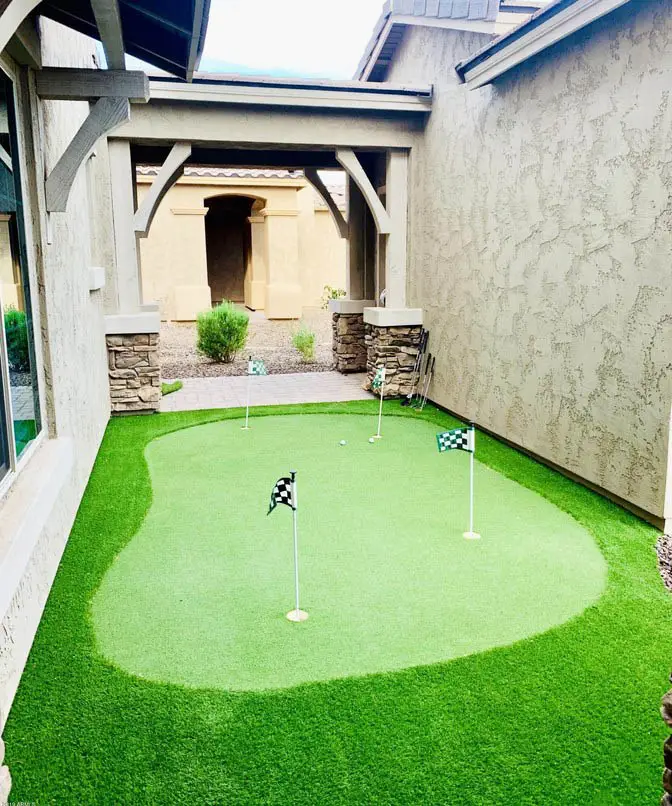 Yes, you read that correctly! These can be installed in real life out on the golf pitch, and smaller versions can even be installed in your backyard. Your custom made order can include various undulations and elevations like you would see on the real thing.
The cost of backyard putting green turf typically run from $18 to $40 per square foot. This cost includes materials and installation. Smaller greens will typically cost a little more per square foot since it will need to be worth the contractor's time to do the job.
As a general rule of thumb, you will need at least 500 square feet of space for a proper backyard putting green with the average backyard design coming in at around 1500 square feet.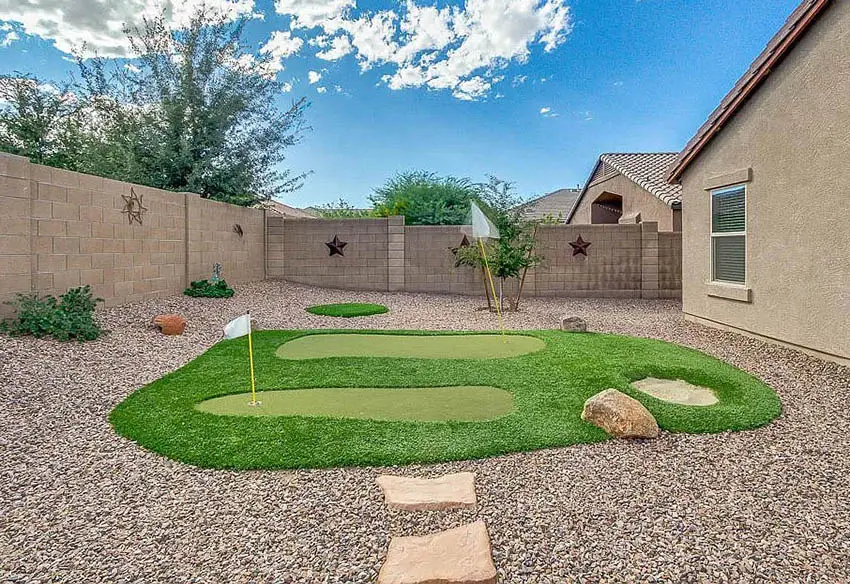 This gravel backyard area offers a small putting green with step-stone path.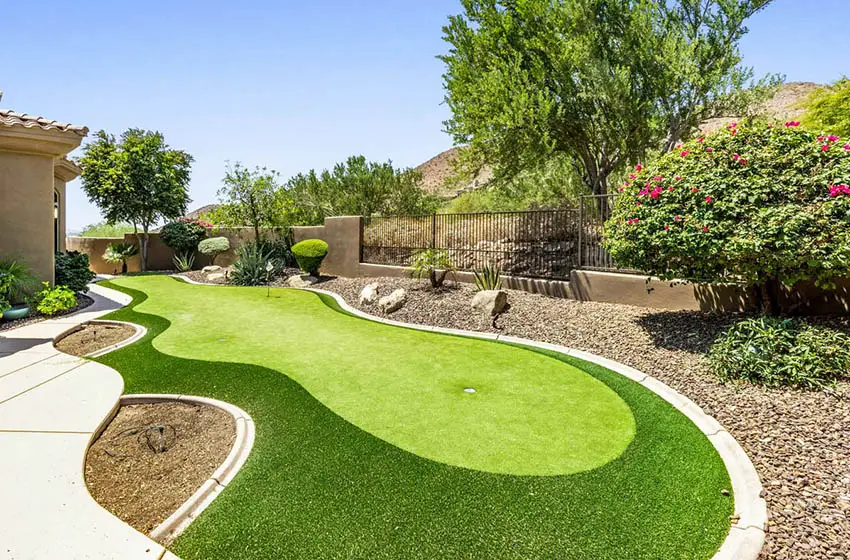 Custom curved putting green with concrete and large gravel border. See more types of gravel to use here.
Artificial Grass for Playground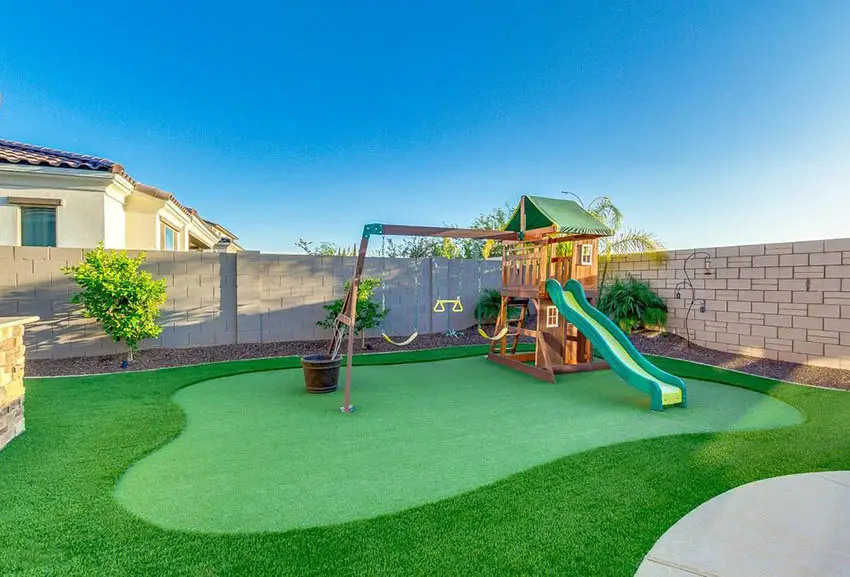 Using artificial grass as the surface area for a playground has the added benefit of keeping kids from getting too muddy while playing. In addition, by adding a padded underlay the area can be cushioned against children tripping and falling while playing in the backyard.
Artificial Grass Around Pool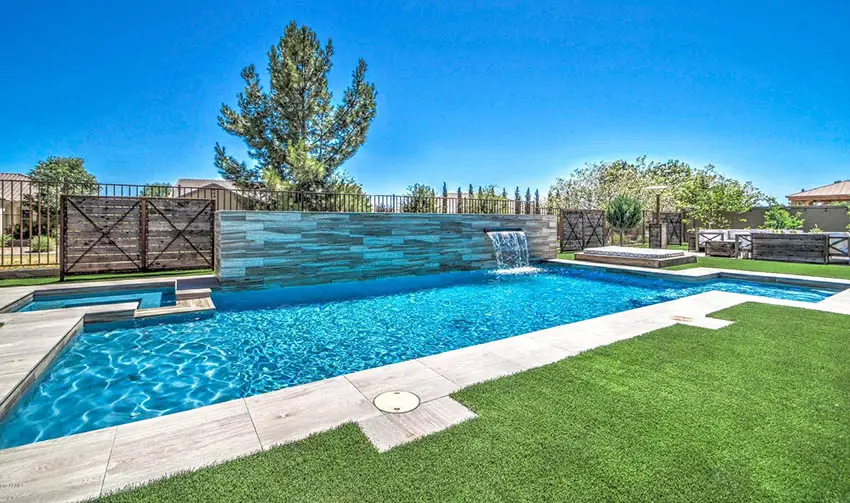 Using artificial turf around he pool area can make the area much more enjoyable. The grass can help create a better non-slip surface than concrete and it does not become as hot in the sun.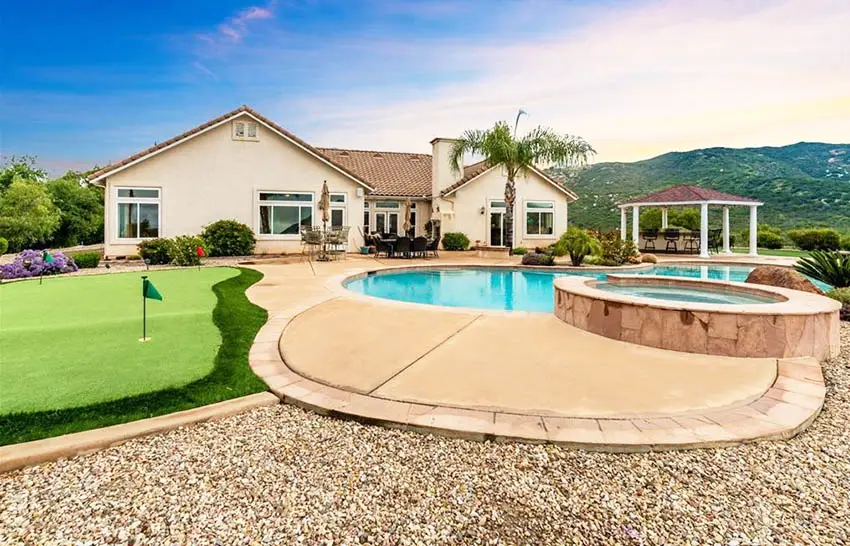 This backyard design features a golf putting green next to the swimming pool.
Artificial Grass on Decking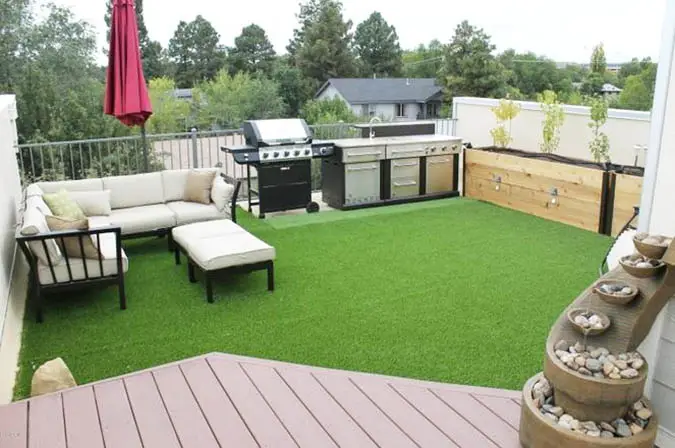 Laying artificial turf directly on top of a deck can make a much more comfortable surface for bare feet. An underlay should always be used to help cushion the surface.
Artificial Grass for Balcony
Artificial grass works well on the balcony since it's low maintenance and can take a lot of wear and tear.
Here are some quick DIY steps to laying artificial grass on a balcony.
First, to install it on a concrete balcony you should thoroughly clean the area of application. Cleaning will also allow you to determine how well water drains from the space. This will help you determine where any puddling occurs for adding drainage.
Second, if the area is susceptible to rainfall or you want to be able to spray it down to clean, you will want to install drainage holes and fill them with 3/8″ shingle. This way any excess water will run out instead of puddling on the surface.
Try avoiding using recycled foam underlays as they can absorb water and expand as well as prevent the area from drying out. A 3/8 underlay with low water absorption is recommended.
Third, you'll want to cut to size and lay down an artificial grass foam underlay. This will act as a shock pad which will provide a more comfortable surface, rather than stepping on hard concrete. An added benefit of using an underlay is it helps prevent ridges and depressions in your artificial grass from forming which look bad.
Forth, you will want to cut your artificial grass to fit the balcony area. Take extra precaution while cutting as you only get one chance to get it right. Secure all joints (if any) together using artificial grass tape to prevent separation.
Fifth, secure the perimeter of the artificial grass balcony by attaching glue to the foam and the concrete surface.
Concrete Steps with Fire Pit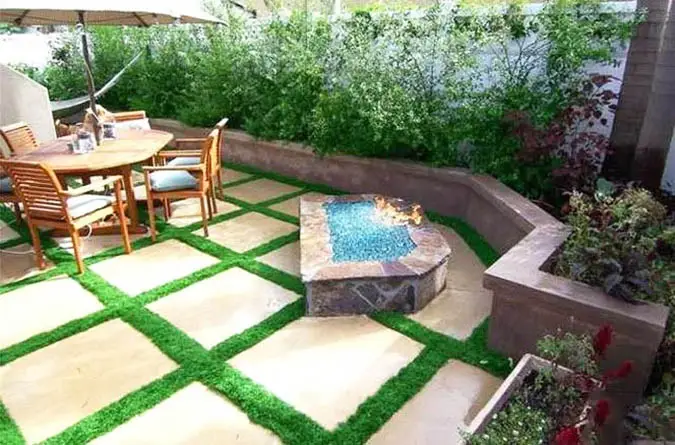 Placing fake grass in between large concrete steps can help cut down on weeds and provide a relaxing place to gather around the fire pit.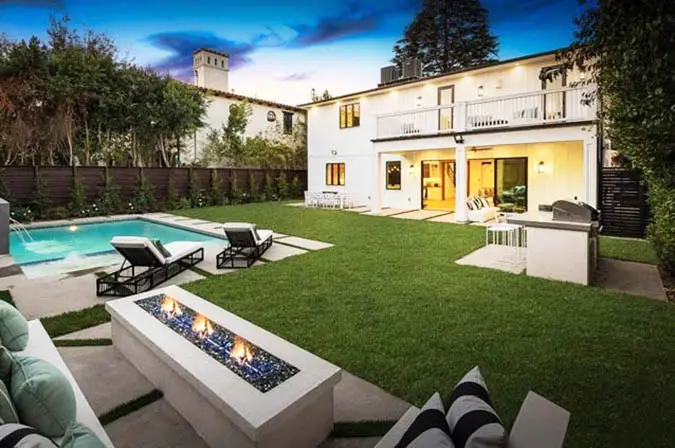 This is another example of a backyard fire pit with concrete sitting are and artificial grass around the pool and outdoor kitchen.
Outdoor Sitting Area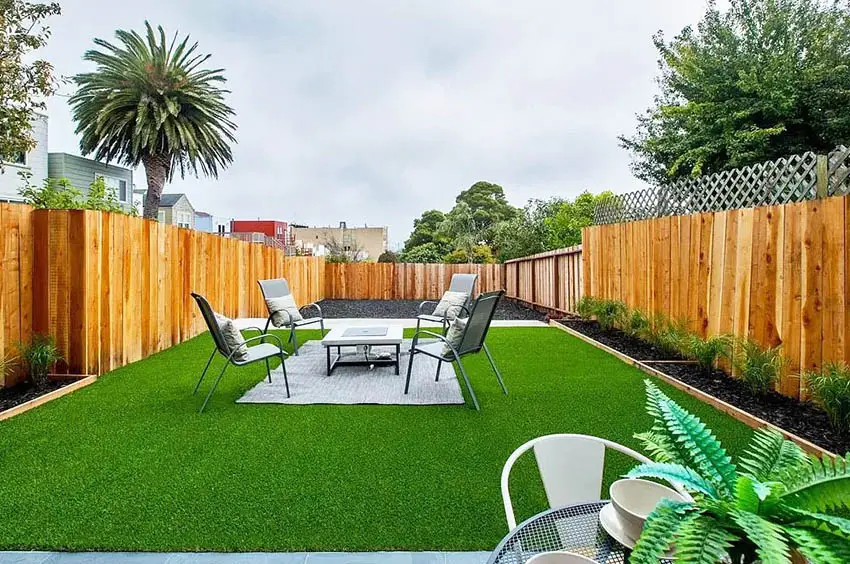 This large backyard patio is almost completely covered in grass with a rug framing an outdoor siting area.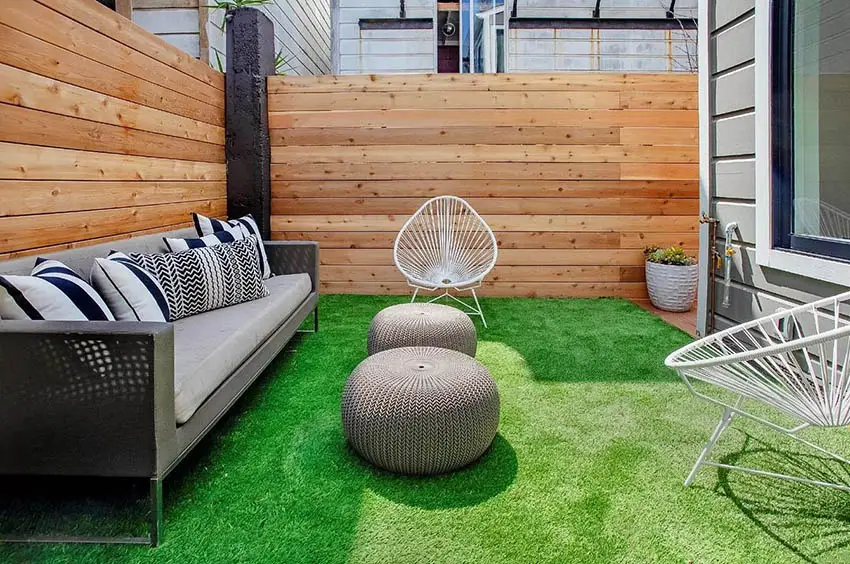 Backyard with fenced in patio with grass and outdoor furniture.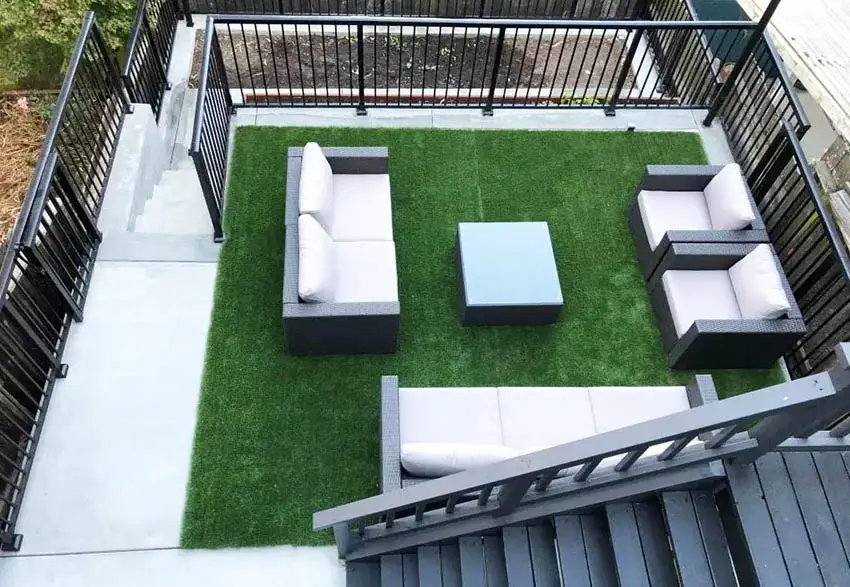 Large outdoor sitting area with synthetic wicker furniture.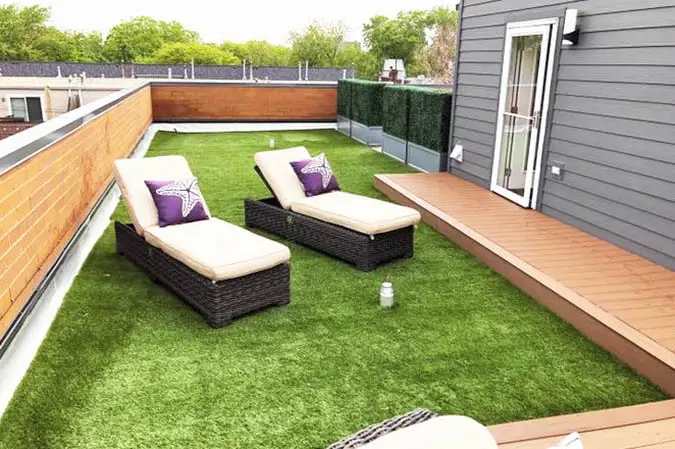 Rooftop deck with outdoor lounge area.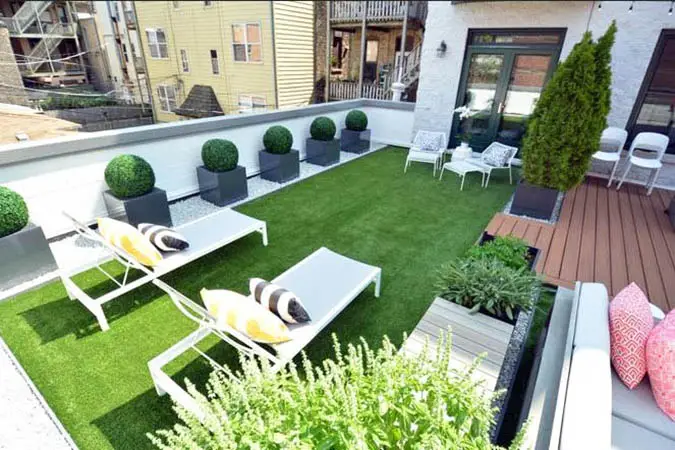 Beautifully landscaped rooftop patio with artificial grass and lounge chairs.
Where to Buy Artificial Grass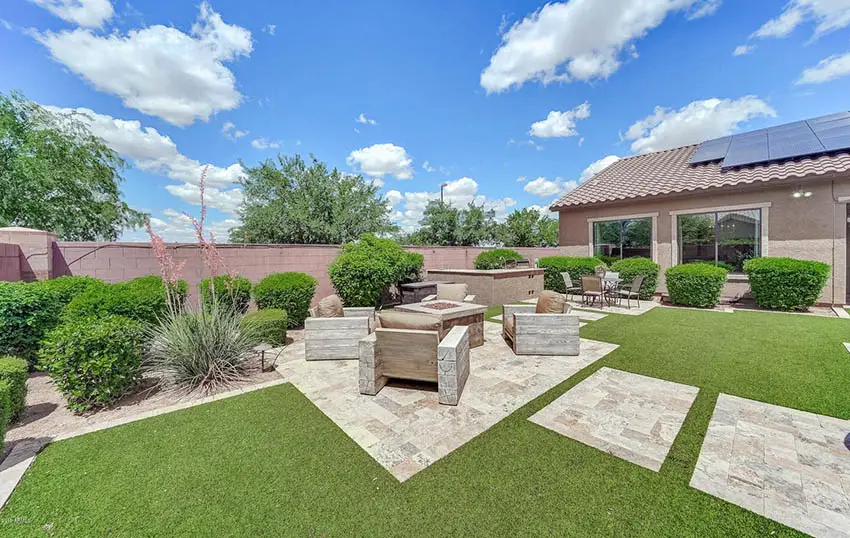 You'll find that most local landscaping supply and hardware stores sell artificial grass and there's many suppliers online too. Online sites like Amazon, Walmart, Home Depot, Lowes and Costco have a selection of products to choose from.
The artificial lawn has become an important part of 21st century living so once you begin your research you'll find numerous places to purchase.