These dog-friendly backyard ideas on a budget share the best options including fencing, plants, landscaping, agility courses, and DIY toys.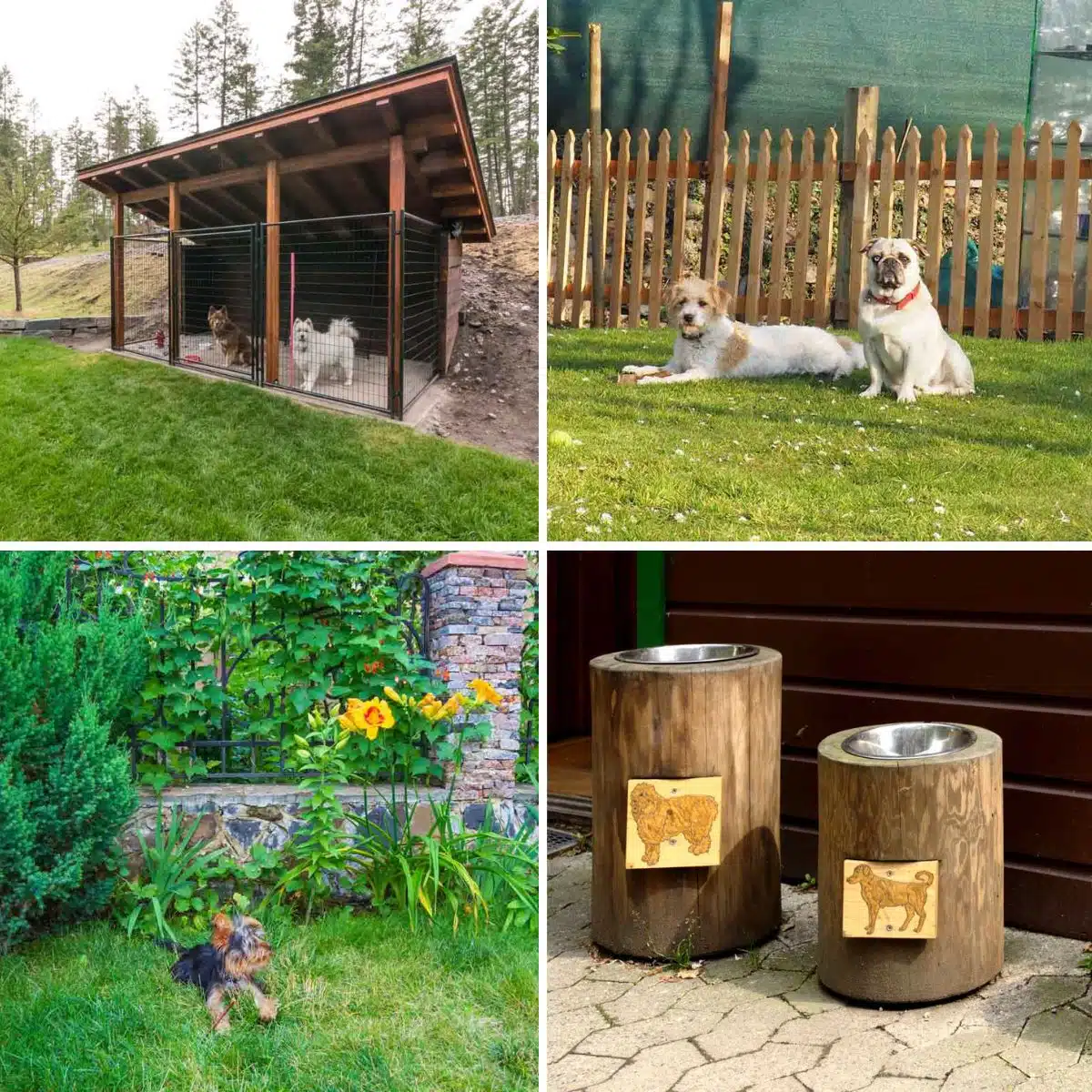 One of the best ways for every pet owner to transform his or her yard is by keeping pets in mind in the design and functionality. Pets have become a massive part of our lives, and every loving pet owner would agree that the backyard has a huge potential to transform every dog's quality of life.
Although it may come off as an expensive endeavor, to begin with, that may not always be the case. There are a lot of budget-friendly options available. All it takes is some thought, effort, and creativity.
Dog parks are pretty famous for a good reason. You can go the extra mile by turning your backyard into a dog friendly one and creating a safe and happy haven of activity and fun for your dogs. Here are some of the best ideas to begin with that project.
Dog Proof Fencing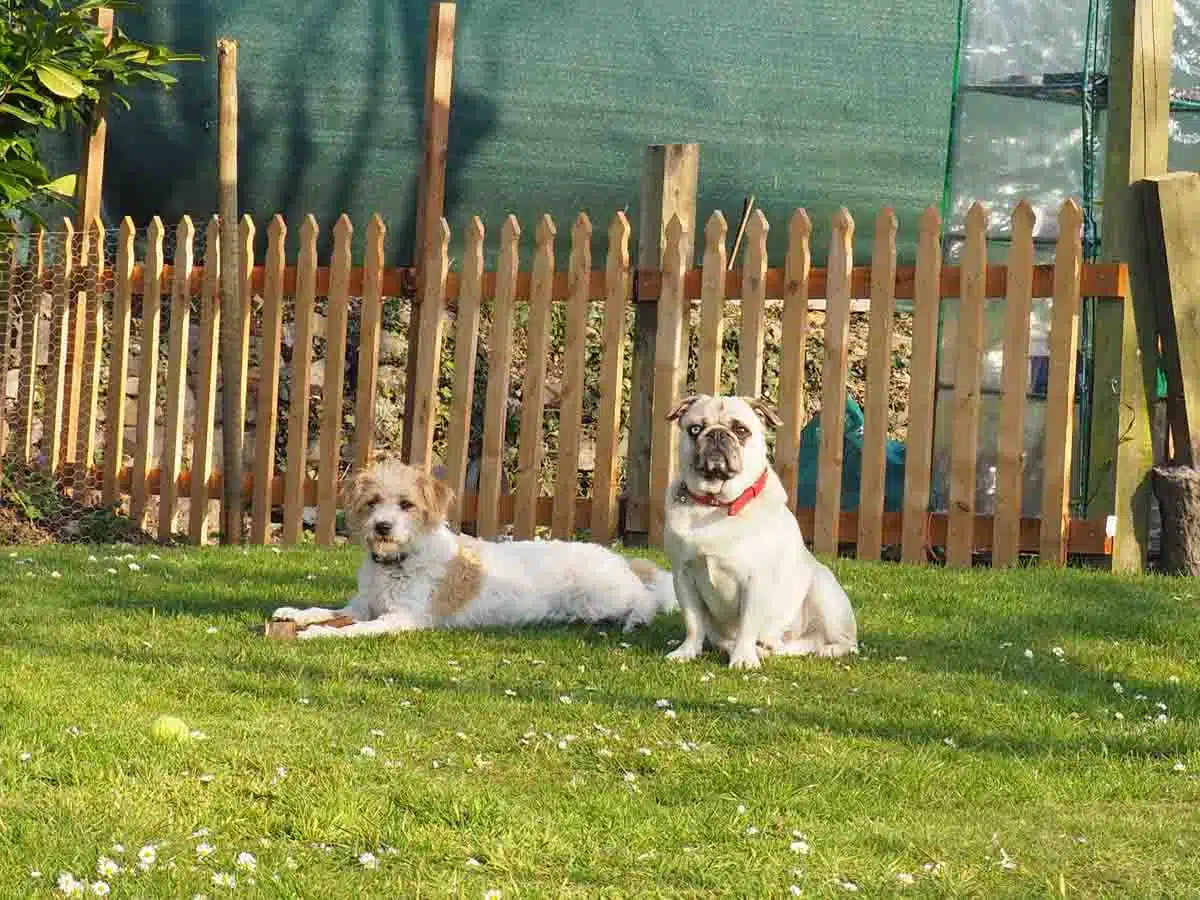 Backyards are notorious for pet breakouts. Dogs with high energy and curiosity levels can be quite prone to sneaking out of the backyard at some point. If you don't have fencing that will secure them inside to keep them safe, untoward incidents may happen.
They might get lost or, worse, might come across vehicular accidents. One way to ensure this doesn't happen is by developing safe fencing options to keep your dogs in. Some of our best choices would include split rail fencing, chain link fencing, and picket fencing.
Chain link fencing: Chain link fences are commonplace, affordable, and can do the job perfectly well in keeping your dogs inside the backyard. Although it may not always be the most aesthetically pleasing option, a chain link fence serves its purpose.
Wait until your dog is familiar with and comfortable in its new home before allowing it to go outside. Use this time to dog-proof your yard. Make sure there are no holes or gaps in the fences that your dog would be able toget through. – 101 Essential Tips: Dog Care, David Tombesi-Walton, Sylvia Tombesi-Walton
On top of that, chain link material is highly durable and can be sourced from your local stores. They're made out of interwoven metal wires that can ensure that no pet breakouts happen. You just need to support it with sturdy metal or wooden posts.
Picket fencing: Picket fences can be made out of wood or vinyl. They're great when it comes to curbside appeal, and they're also great when it comes to keeping your dogs safe and kept inside the backyard.
Pickets are made out of vertical boards and typically have narrow gaps between them, making them perfect for medium-sized dogs. This is also a type of fencing that you can go ahead and do yourself.
Split rail fencing: Split rail fencing is an economical choice, and it also offers up rustic aesthetics. This is the perfect fencing option if you want more warmth in your backyard. It is usually made out of horizontal rails held up against wooden posts. They're not as sturdy as chain link or picket fencing, but they will do just fine for big dogs. A split rail fence isn't recommended for medium to smaller-sized dogs as they may have gaps that persistent dogs can squeeze through.
Plants and Landscaping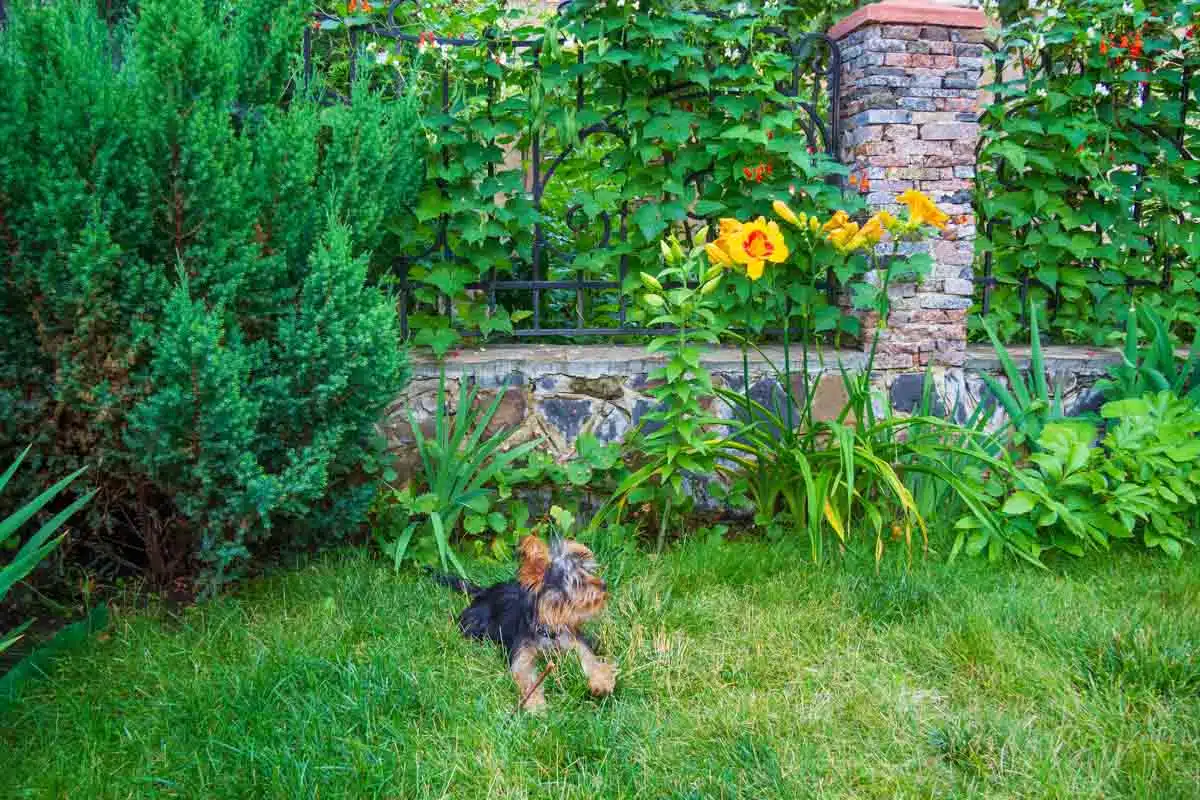 Apart from creating a safe and secure space, it's also lovely to include well-selected plants and landscaping elements that look great and are non-toxic to your pets. Dogs are naturally curious beings, exploring using their noses and mouths.
Ingesting plants and landscaping materials that can be potentially toxic for them can hurt your dogs. Luckily, you can ensure their safety by considering these non-toxic options:
Artificial grass: Maintaining a lush green lawn that your dogs can roll around in is particularly hard and time consuming to maintain. Lawns are great for providing texture that can engage your dogs' sensory abilities. It's also great for potty training.
However, maintaining a green lawn also means that you would have to resort to the use of pesticides and other toxicants that might be harmful for your dogs. A great replacement for this is the use of artificial grass. It comes in various styles, is pretty affordable, and is always available everywhere. You can also easily hose an artificial turf down for maintenance.
Pea gravel: A great aggregate to use for backyard landscaping that's also friendly for dogs in the backyard is pea gravel. You can easily source it from any hardware store, and its texture is great for your dogs' paws.
Pea types of gravel are also great for hardscaping, in the event that you don't want the extra upkeep required from grass lawns.
An alternative to gravel is to create a sand box. This gives your pup a digging area where they can play. However, some dogs may try to eat the sand and it will need to be maintained and refreshed to prevent bacteria and animal waste from accumulating.
Dog-safe plants: Plants and flowers are great to have in the backyard but in order for you to ensure that it's safe for your dogs, you need to pick out your choices wisely. Some plants may not be dog-friendly as they may be toxic when smelled or ingested.
Some of the best and safest choices to go with are sunflowers, marigolds, and petunias. They're perennial so they bear flowers all year long, and they don't require a lot to maintain either.
Adding trees to your garden can help your dog find shade on hot days and provide a place to rest. When choosing a tree, it should be dog-safe and non-toxic. If you'd like something in your garden that doesn't lose its leaves, select an evergreen variety such as a spruce, fir, or cedar tree.
For the deciduous variety, you can get plenty of shade with elm, oak, maple or tulip trees to name a few different options. You can also consider placing the dog house under the tree canopy to create a cool spot.
Dog Agility Course in the Backyard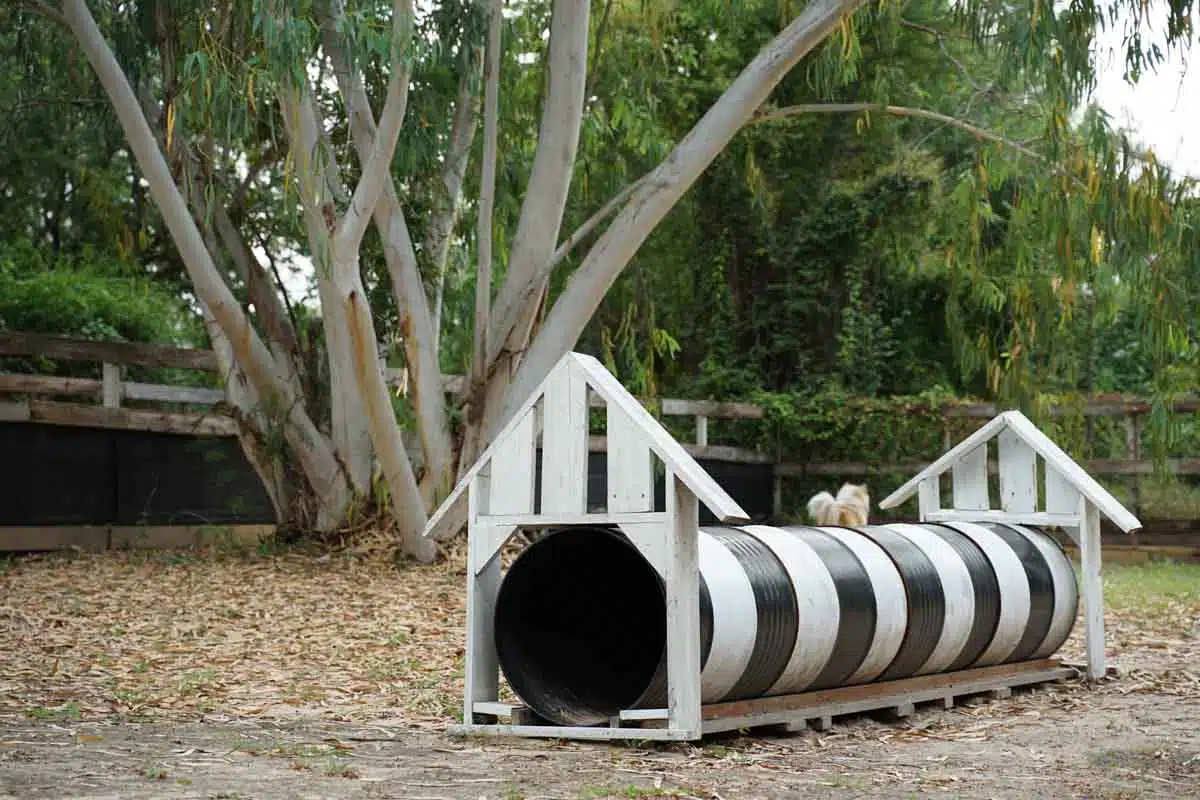 Another great addition you can have in your backyard is an agility course for your dogs. Dogs are naturally active and curious animals. This is why they must be taken out for walks every so often, or they will become depressed or hyperactive.
A well-thought-out agility course right in your backyard can help solve that need. This is among the outdoor structures that can give your dogs the mental and physical stimulation they need to be in their best shape.
Agility courses are also great for owner-to-dog bonding. It's a great way to teach obedience and resourcefulness. Here are some of the best budget-friendly materials to develop your agility course in the backyard.
Tires: Tires make for great materials to use a dog's agility course in the backyard. You can use them as jumping hoops, and other similar contraptions in an obstacle course.
Before you throw your old tires out, think about all of the ways that they can be repurposed. With a nothing more but the most basic of handcrafting skills, you can come up with great obstacles to develop muscle and mental development for your dogs in no time.
PVC Pipes: Another great material to use in a backyard agility course for your dogs is PVP piping. PVC pipes are cheap and they can easily be sourced from your local hardware stores. Cut them up and sand them down, paint them, even. There are so many different things you can do with nothing but the most basic of pips along with connectors and T-joints.
Wooden pallets: Wooden pallets are fantastic materials that are available virtually anywhere. They make great additions to your dog's agility course in the backyard.
Although they are often discarded after their original or primary use, you can repurpose them into hurdles and other customizable challenges for your dogs to hone their skills and abilities. They also promote confidence in your dogs and help muscle growth.
You can source your wooden pallets from recycling centers, other hardware stores, and local businesses. Keep an eye out for those free from possibly toxic chemicals and those riddled with splinters that may ultimately injure your dogs.
Make sure that you remove any protruding nails and that you sand down any splinters as well. Staples may also be an occasional hazard, so watch out for those.
DIY Dog Toys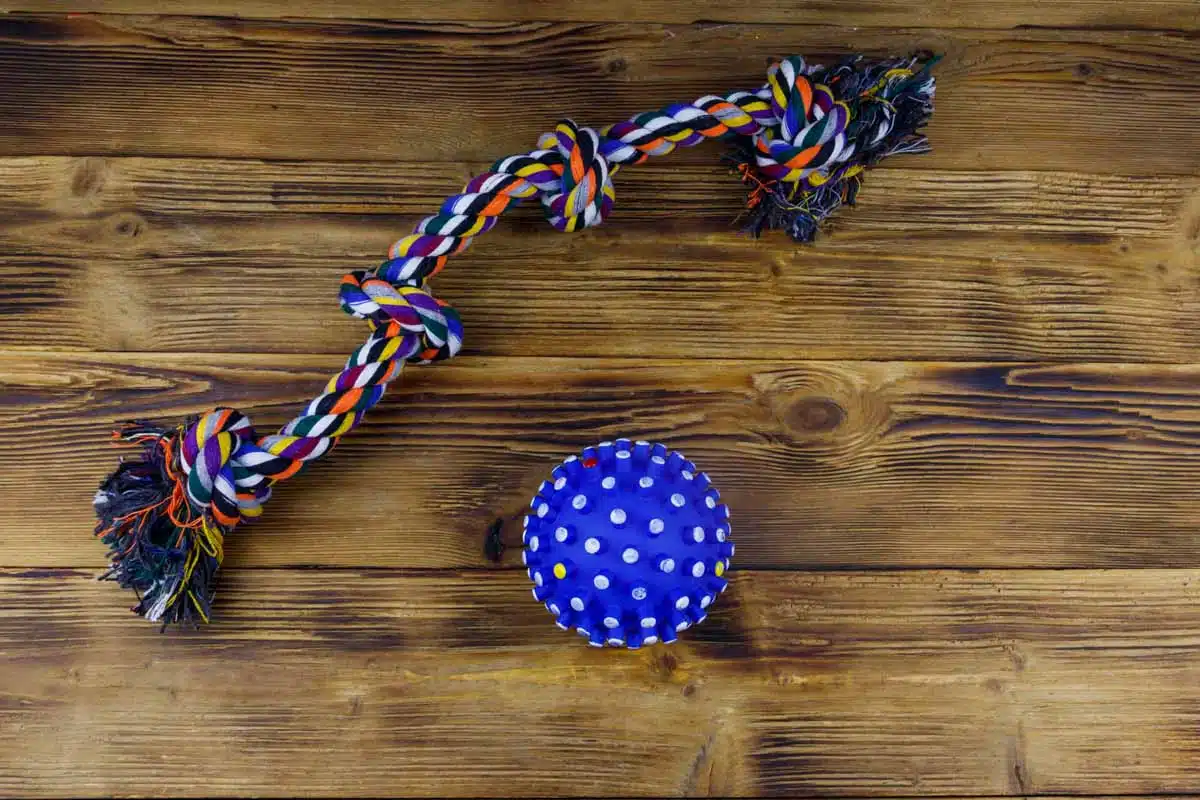 Dog toys are also some additions you can have for your dog-friendly backyard. You can craft dog toys yourself, providing your furry friends with endless stimulation and fun. Here are some materials you can use to help keep your pups happy:
T-shirt rope: Collect your old t-shirts and transform them into durable ropes your dogs can chew on or play with. All you need to do is cut the shirts into long strips and knot them up or braid them together to transform them into sturdy ropes.
A DIY chew toy is great for satisfying your dog's instinct to chew on something, or if you have more than one dog, it can be an excellent tug-of-war activity.
Sock ball: Mismatched socks are everywhere, and you can repurpose them into sock balls that your dogs can play within your backyard. Ball up your mismatched socks and ensure they're secured into a knot. You can use this for rounds and rounds of playing fetch with your dogs.
Water bottle toy: Plastic water bottles can be placed inside a pouch that you can knot on both ends. Those will ensure that the water bottle is kept secure at all times.
It's a crinkly and stimulating toy to introduce to your dog-friendly backyard, and it's bound to capture your dogs' attention at the end of the day. The sound the water bottle makes as it crinkles is excellent for piquing your dogs' curiosity and giving them something textured to chew on.
Dog Shelter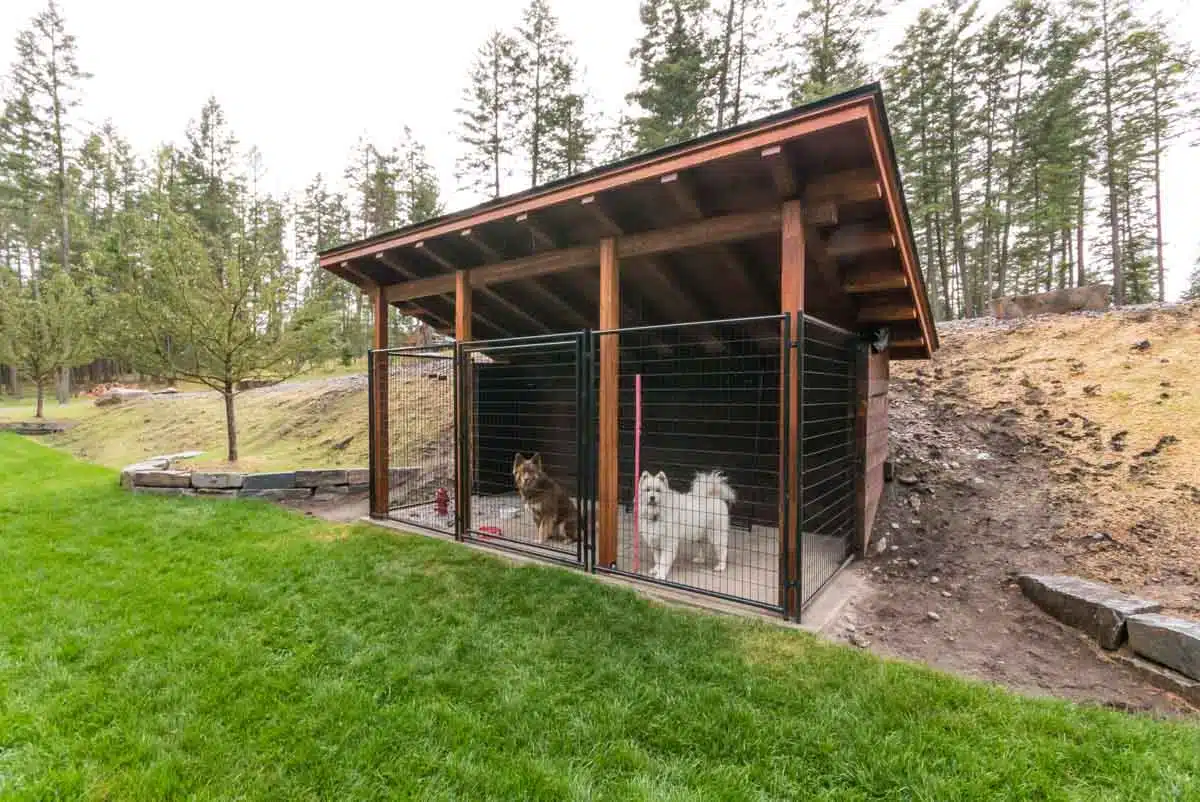 What's a dog's backyard without a dog shelter? Of course, while you're at it, you must ensure your dogs are protected from the elements. This is one of the most important things you need to add to your backyard if you want to keep your dogs in mind the whole time.
The weather can be detrimental to your dog's health. Sweltering summer days can leave them dehydrated or, worse, have them end up with heatstroke. Cold winter nights can give them hypothermia.
Rain may also be an issue. Thankfully, this is something that you can solve by installing a weatherproof dog house in your backyard. Here are some of the most budget-friendly materials for you to consider:
Reclaimed wood: Reclaimed wood is another eco friendly and easily sourced material you can get for your dog friendly obstacle course or agility course in the backyard. They can be anything to everything from leftover construction materials, to wooden pallets, to random pieces of lumber in general.
With basic carpentry tools, you can come up with a nice basic shelter for your dogs. Make sure that you sand them down and get rid of any wayward nails to make them safe for your dogs.
Storage container: You can also go ahead and make use of old storage containers as dog shelters in your backyard. Take note though that you need to prep them up properly in order to make them weatherproof and livable enough for your dogs.
Ensure that you cut out openings and vents for the hot days, and include insulation so that they stay warm and toasty during the cold days.
Dog Feeding Station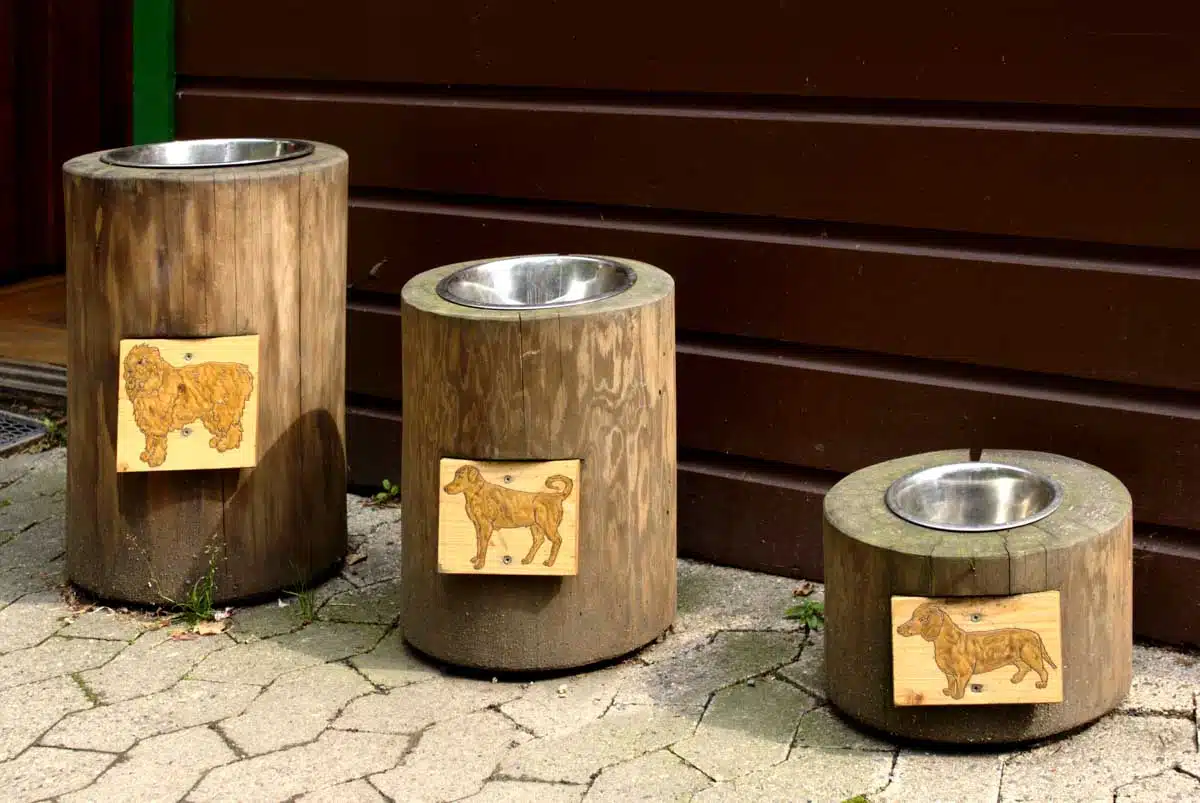 Another great addition to have in a dog friendly backyard is a dog feeding station that's customized for your dog's size and height. Mealtime is a bonding experience you can have with your dogs and you can build upon that more by getting a dog feeding station installed for them in the backyard.
A well built one will ensure that you aren't only improving your dog's posture, you can also make it more comfortable for older dogs that may be experiencing joint pains and the like.
A customized dog bowl holder: You can customize your dog feeding station through a dog bowl holder that's made just for them. You can cut this out of reclaimed plywood (or even new ones), and adjust them based on your dog's height and size.
Elevated feeding platform: Another great idea for a feeding station in the backyard is an elevated one. Elevated feeding platforms are great for dogs who are a bit on the heavy side, neck-wise. It's also great for puppies and for teaching them to value mealtimes.
Multi-level feeding station: This feeding solution is excellent for dog owners with various-sized dogs in their backyards. You get to allot specific feeding areas for specific dogs. Another great bonus is that you can use the bottom area as a container to store your dog's food and treats in.
There are many more ideas for creating a fun and dog-friendly backyard for your dogs and the rest of the family. However, you'll be off to a good start with these basics.
See more related content in our article about the different invisible fence alternatives for dogs on this page.