Get ideas for a dog friendly backyard with no grass including the use of pavers, synthetic turf, mulch and wood chips, plants, and agility courses.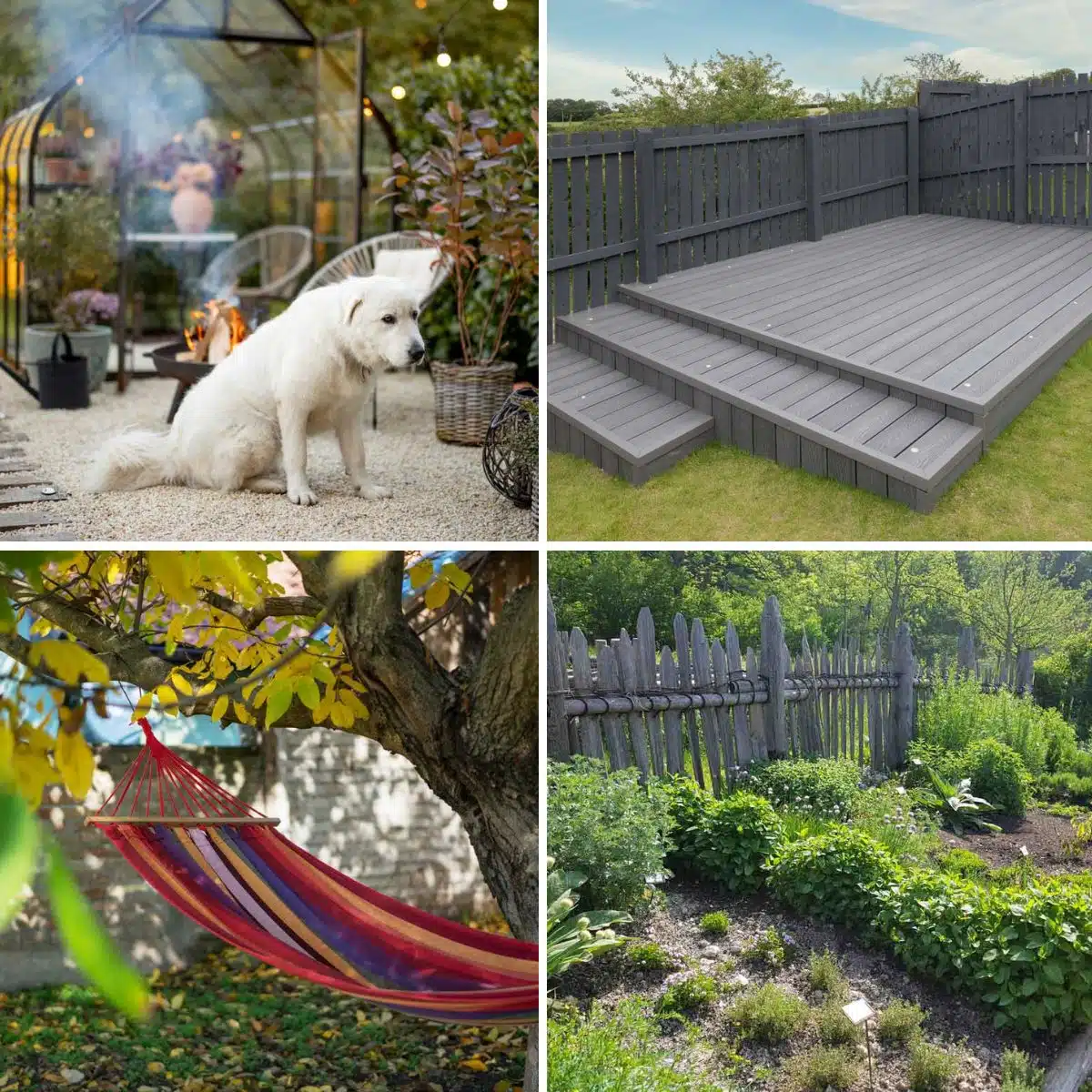 It is truly possible that you can create your very own paradise right in your backyard for your faithful four-legged friend. Unveil some innovative landscaping ideas that'll make it wag its tail in delight – plus show off some of your awesome creativity. Those lush lawns of yours could easily be swapped out with a special paradise just made for doggies.
Dog lovers everywhere will leap for joy at the array of pathways, from the pebbled walkways designed for furry paws to the cushiony astro turf perfect for a game of fetch.
Let's discover what it takes to delicately combine designated digging zones with calming splash pockets and eccentric pet toys – all while fostering an amicable backyard arena that keeps everybody happy.
Ideas to Try – Creating a Dog-Friendly Backyard Without Grass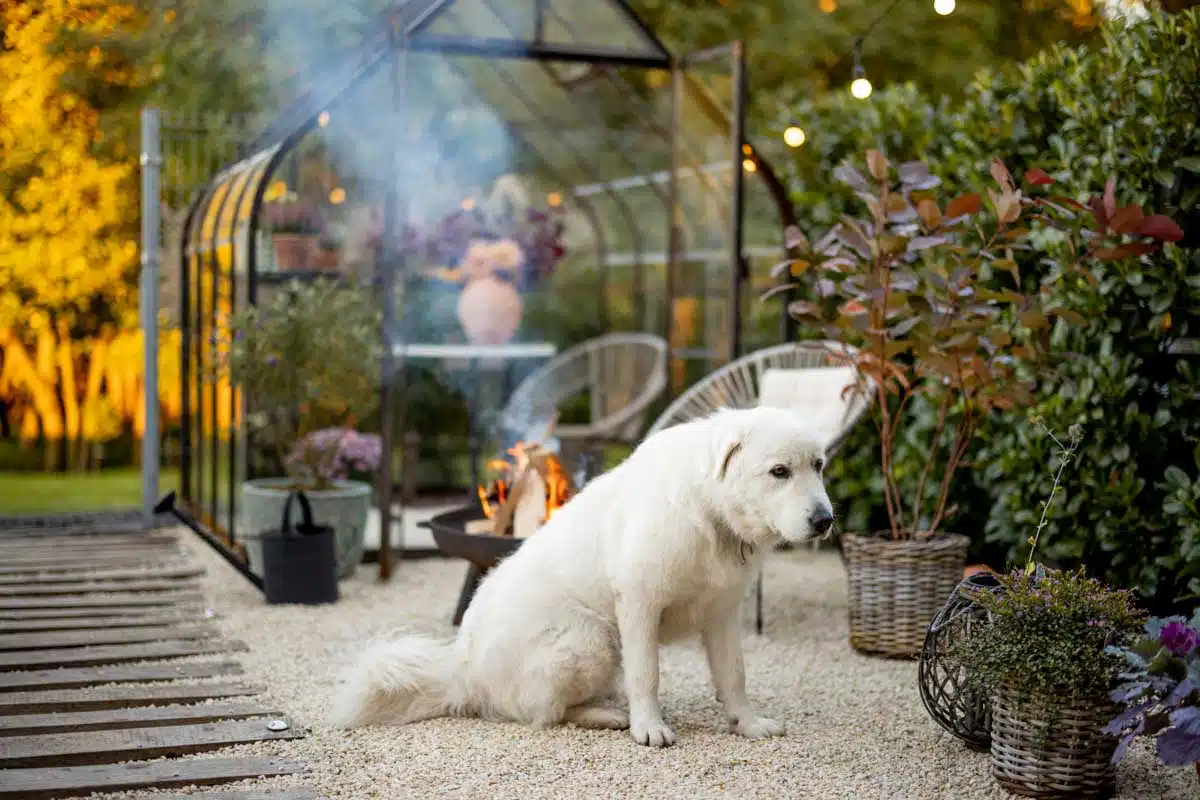 Here we share different ideas on how to create a dog-friendly backyard with grass fee material including simple DIY ground cover projects.

Paving the Way for Play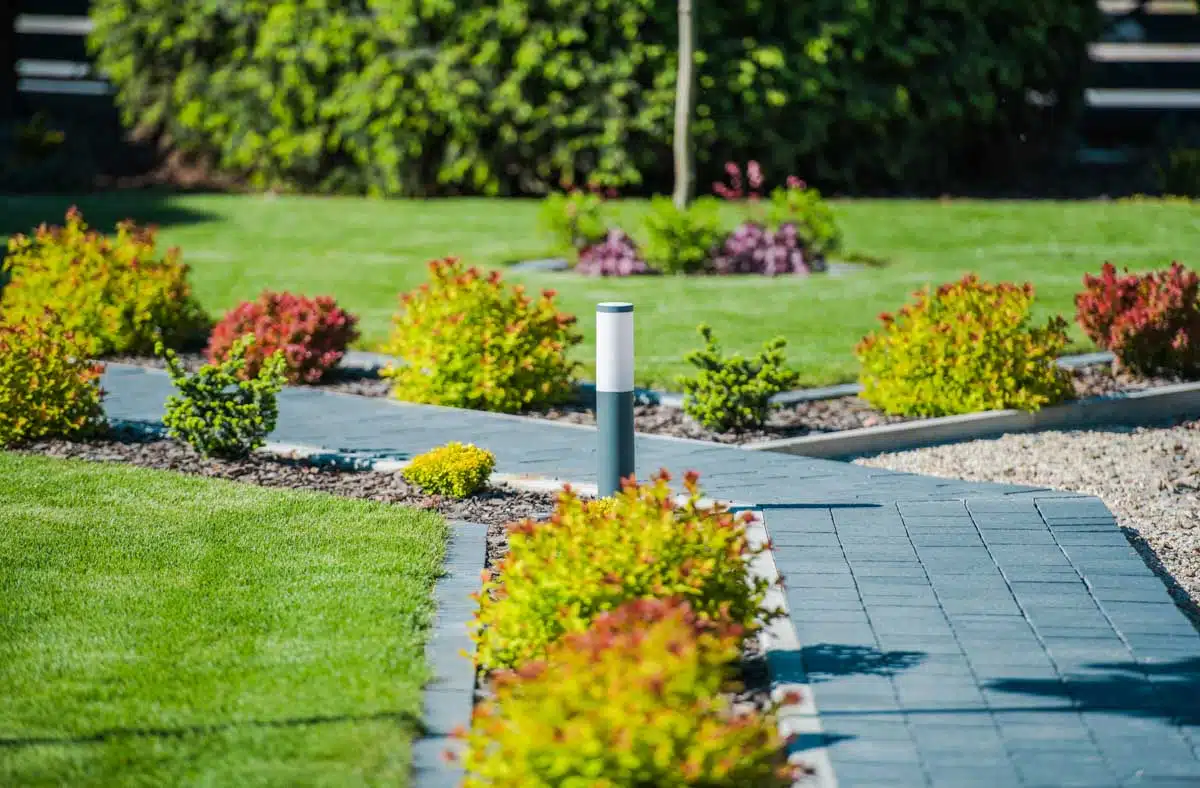 Ready to design a backyard paradise free of grass? Paving with concrete, flagstone, or brick is the way to go if you want something durable and easy to maintain – perfect for playing fetch with your furry bestie. Not only that, but these types of pavers look awesome too. You can get paving today and create an oasis that'll last all year round.
These robust materials form a solid base that your pup can happily run and play on without concern. Plus, you can carve off designated areas for specific purposes like a recreation area with his favorite toys and puzzles or a chillout spot with outdoor furniture where both of you can kick back.
To make your pup's outdoor area pop, incorporate stepping stones or a meandering path for them to discover. This adds an extra layer of excitement as they make their way around on their own mini-adventure journey.
Synthetic Turf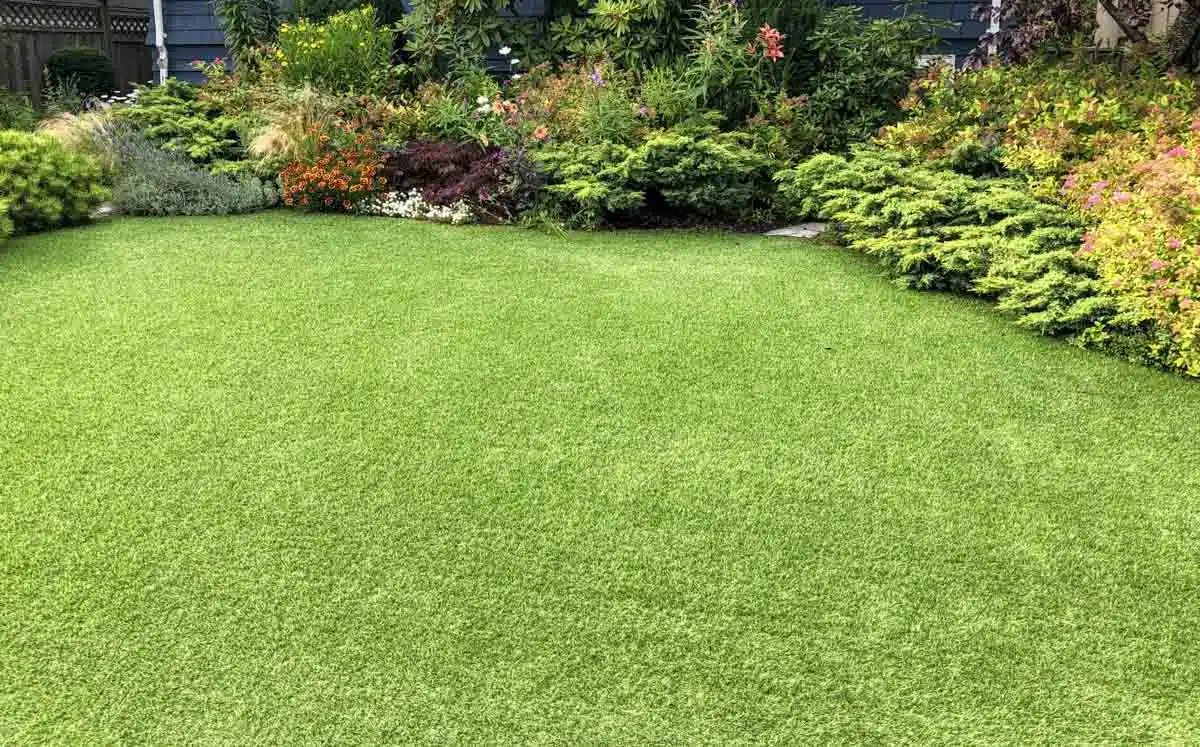 If you don't want the hassle of maintaining real grass, synthetic turf is a great alternative that gives off those luxuriant vibes. Perfect for pet owners, this high-quality artificial turf for dogs provides a safe play surface that looks just like natural grass but without any of the hard work – no more spending hours watering and mowing.
Synthetic turf provides your pup with the perfect playspace — non-toxic, easy to clean, and no more nasty puddles or stale smells. Artificial grass has amazing drainage capabilities to guarantee level ground for maximum comfort while rolling around. So let loose without a care in the world; synthetic turf guarantees a pristine playground for your pooch.
Finding the right synthetic turf for your furry best friend can be a tricky business. But with pet-specific products on the market, you can take comfort in knowing that those soft blades of grass will comfortably cushion their little paws while providing loads of non-stop outdoor fun. It'll stay lush and lovely so the dog area is fun, low budget and has easy maintenance.

Mulch and Wood Chips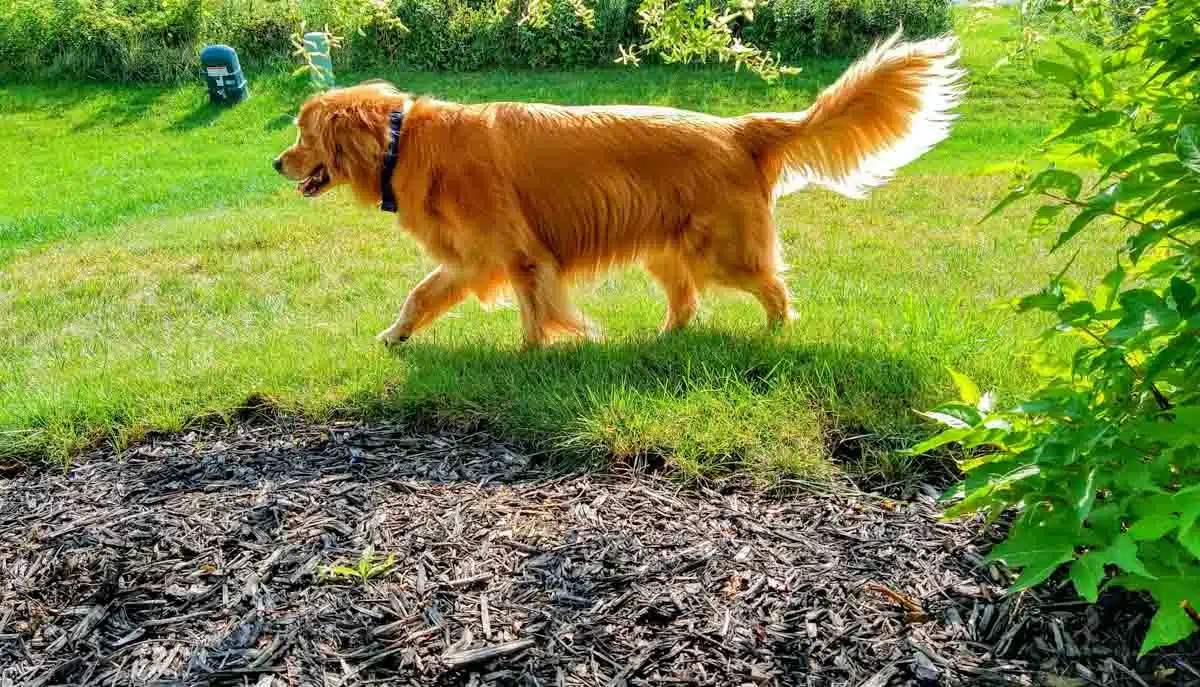 If you're looking for an alternative to grass that your pup can also enjoy, then mulch or wood chips may be an ideal choice. Not only do they give your backyard a cozy, natural look but these materials offer a slew of benefits for your dog too.
The lush layer of mulch and wood chip makes for an ultra-plush, cushioned surface that is a delight to your pup's paws. Not only is it comfortable enough to let them spontaneously roam, investigate or play like there's no tomorrow – but keeps them safe from any harm with its gentle embrace. It's the perfect environment for your furry friend to experience their natural behaviors without risking any discomfort or potential injuries.
If you're trying to safeguard your pup from potentially painful or hazardous materials, be sure to choose pet-friendly mulches like cedar or cypress. Keep an eye out when inspecting the mulch for any nasty debris that could pose a danger – sharp rocks and other hidden objects are no fun. Your four-legged best friend will thank you later for being so careful.
To give your doggo the ideal outdoor experience, keep a tidy mulch or wood chip area. This will create a warm welcome for your canine buddy.
Pet Friendly Plants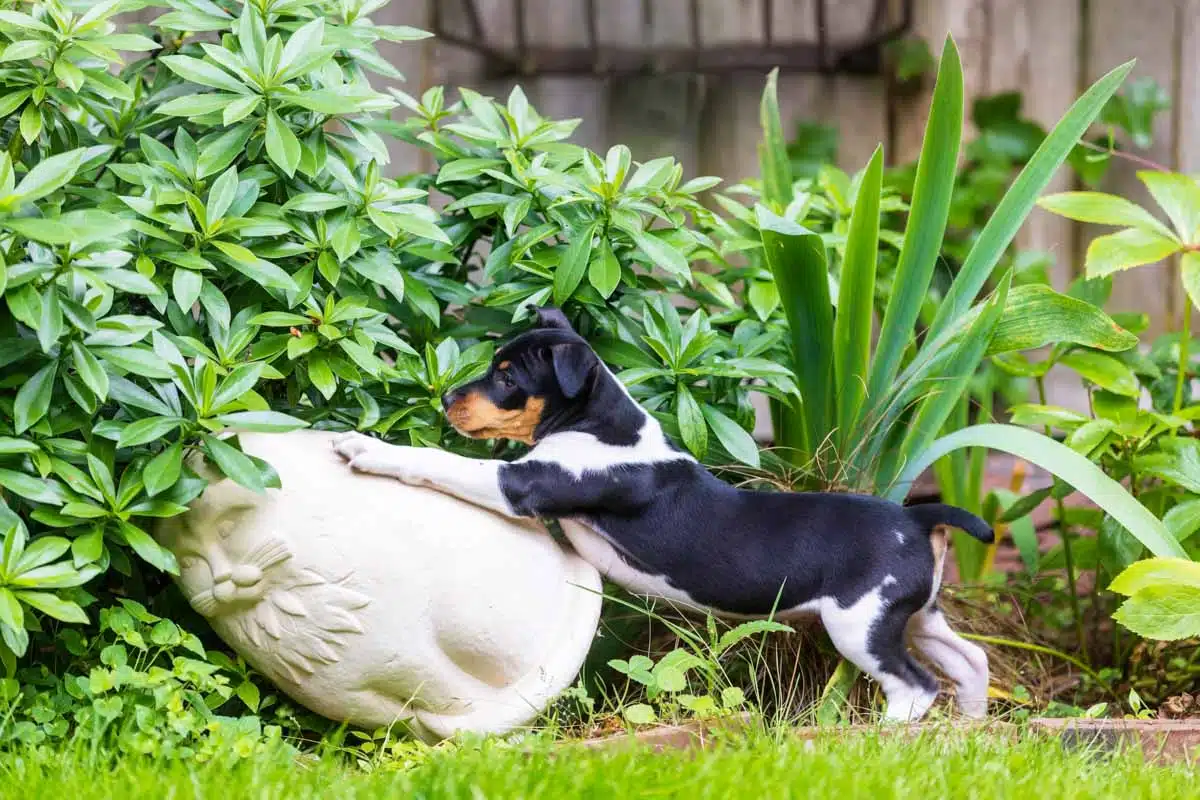 It's easy to create a paradise for your pup in the backyard by sprucing it up with pet-friendly plants and trees. But getting that gorgeous green look while keeping your furry friend safe calls for careful consideration when it comes to choosing the right plants. Pulling off this delicate balance is essential for creating an oasis of harmony in your yard.
Swap those less dog-friendly plants with some standouts like lavender, rosemary, sunflowers, and petunias. These newbies can be great for adding a splash of color to your yard while also keeping certain pests away – their two-in-one superpowers.
Make sure you plant these beauties carefully, i.e., strategic areas that are not where spending most of the time or ones that Fido might end up munching on accidentally.

If your dog is a digger consider durable plants that can withstand abuse, such as Zoysia grass, shrub roses, bermuda grass, and nepeta. For an extra bonus look for plants that can handle dog urine for best results like the sword fern, Hardy geranium, perennial ryegrass, and creeping juniper.

Agility Course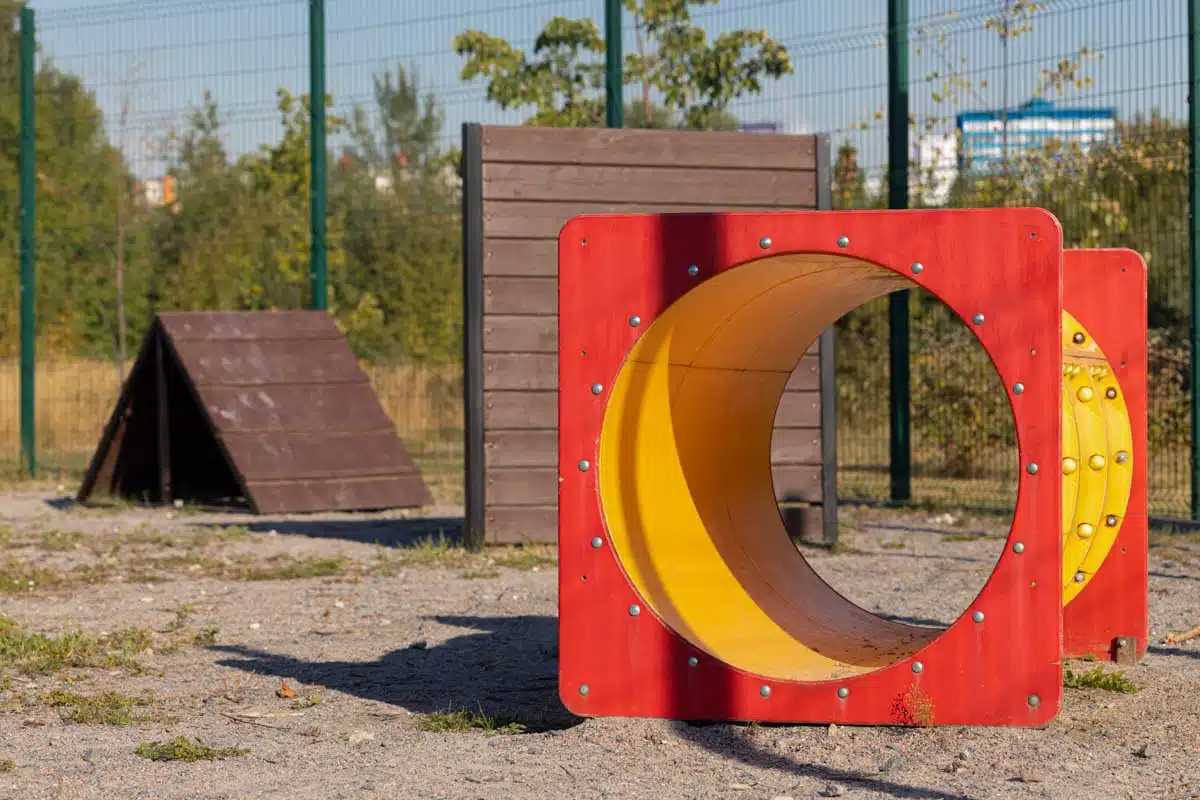 If you've got a pup that thrives to be challenged and never turns down an adventure, setting up an agility course in your backyard is just the thing for them. Your furry friend will love tackling these various obstacles designed specifically with their reflexes, quickness, and control in mind.
This way, they can stay physically active while also exercising their mental muscles. Perfect for pooches who like to keep on the move – it's a win-win all around.
Building a custom obstacle course for your furry friend? Get creative with tunnels, jumps, ramps, and weave poles – they'll love it. Then, jazz up the texture by laying down some rubber mats, planks of wood, or even cement. Your pup will appreciate the sensory variety and we guarantee lots of fuzzy fun.
Training your pup to ace the course is not only great for their physical health but will also help solidify your bond. So, don't forget – regular agility sessions in your backyard are an absolute must.
Doggy Pool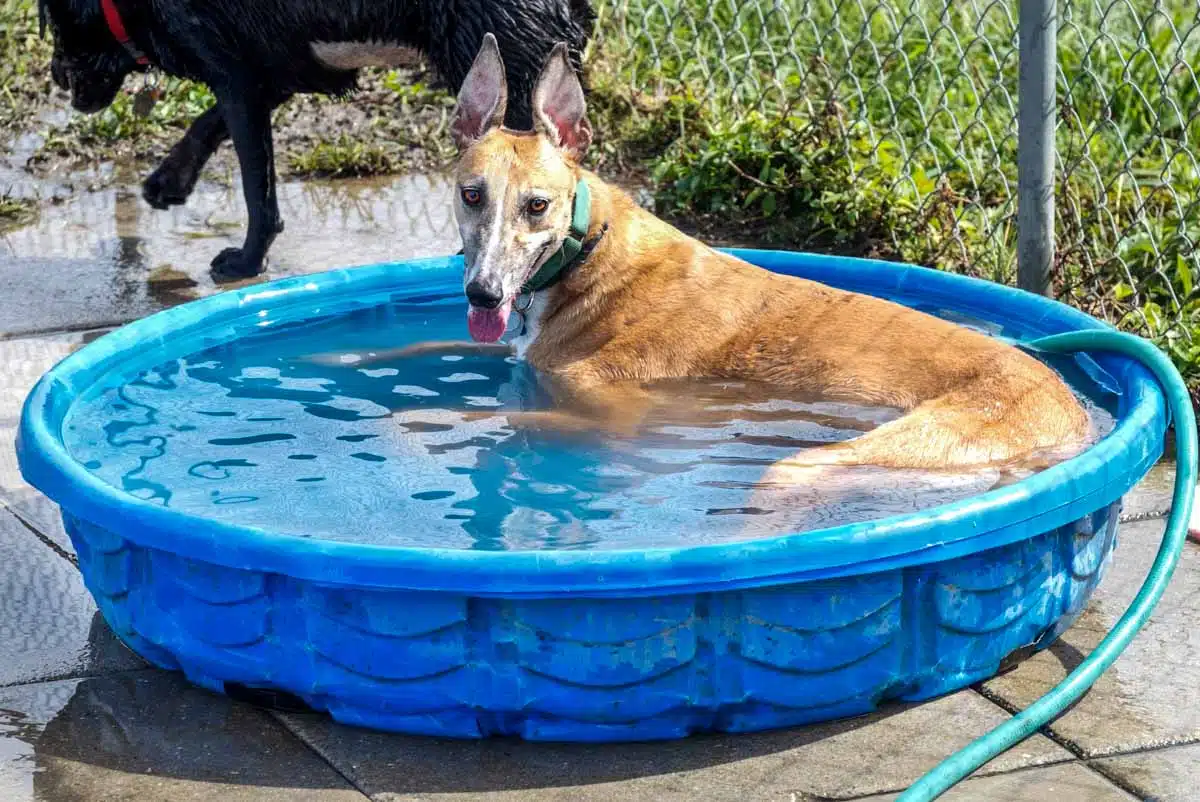 With a canine pool in your backyard, you and your water-loving pup can make a splash. Offering up durable but shallow depths allows Rover to quench his thirst for wet playtime and stay cool during those hot summer days – it's paw-fect!
Make sure you design that pool accordingly for your furry friends; equip it with wriggle-proof edges and a surface your dogs can securely grip. Keep an eye on them whenever they're beside the water – note how well they swim and whether or not they feel comfortable in there. Don't let any unfortunate accidents happen.
Take it upon yourself to keep that pup pool regularly hoppin' and squeaky clean. A little elbow grease goes a long way toward nipping bacteria and algae in the bud, ensuring your pal can enjoy blissful summer days of joyfully chasing those bubbles and furry ducks. For the dog who loves nothing more than a good soak, this could become one of their favorite spots.
Shade and Shelter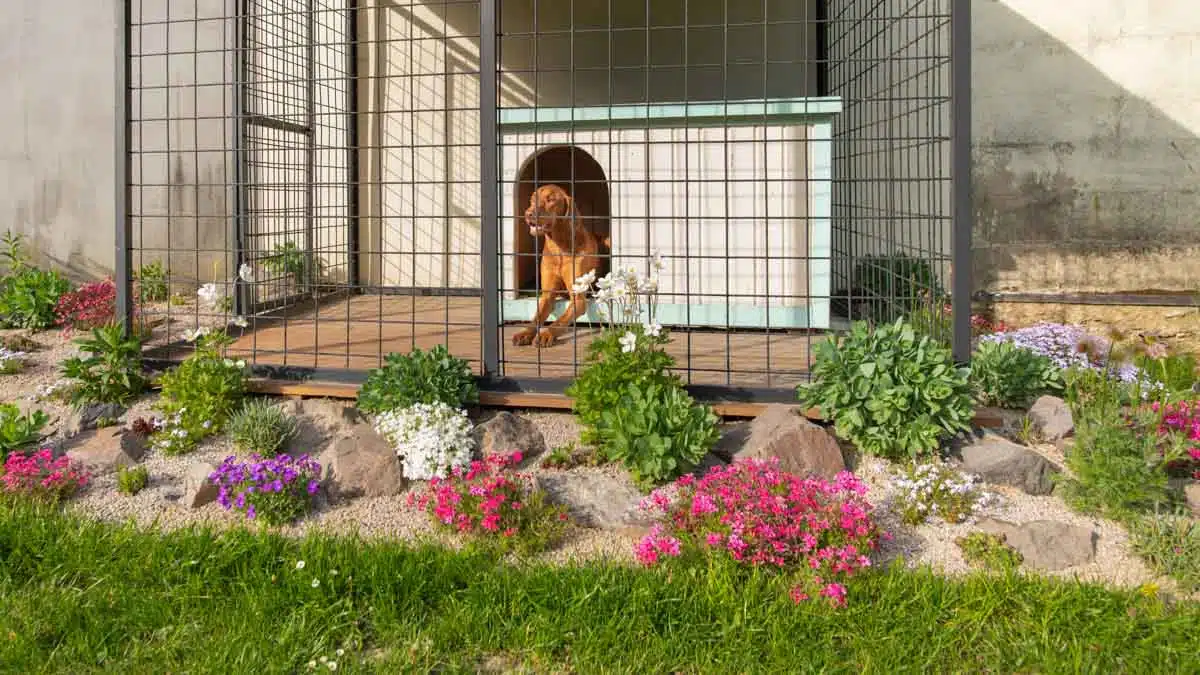 It's essential that you create a shady spot in your pet-friendly backyard; otherwise, your dog will be scorched by the blazing sun. Setting up a canopy, pergola, or shade sail is the perfect way to offer Rover an area where he can cool down and take solace in. Just be sure to pick materials like protective fabrics or UV-resistant options that the dog and entire family can enjoy.

These structures not only cast a welcome veil of shade, but they also add charm to your outside area. Letting your pup snooze near some shaded bedding or even in a luxe doghouse could be just the ticket for where he can relax and stay protected from nasty weather. This also provides a place for a water and food bowl out of the sun.

Make sure you get adequate airflow going through your doggie's abode; preventing it from becoming a hotbox is essential to making the space pleasant and secure for them.
Providing shade and cover goes a long way in helping create an inviting retreat that has all the characteristics of being outdoors without any of those pesky overexposure issues like sweltering heat or searing sunlight.
Another addition worth considering is a birdhouse or bird feeder that will provide activity to keep your dog interested. But, be aware that inviting too many birds may invite extra barking which may be a nuisance.
Digging Pit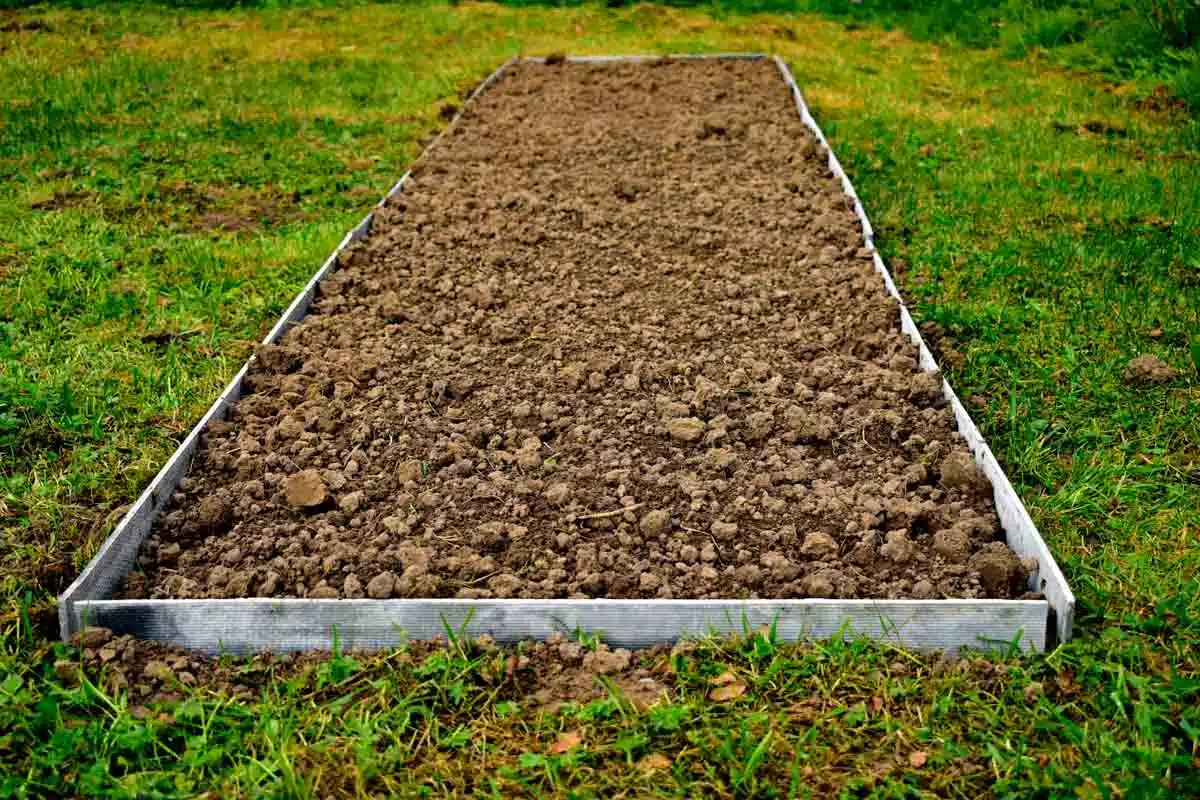 You may try creating a digging pit of soft soil or sand – then watch as they gleefully savor their newfound playtime paradise. Not only will your dog's new playground keep your precious backyard intact – but you can sit back and enjoy watching them rock out in their own little corner of contentment.
For them, digging is instinctive. Generally, however, dogs dig for a variety of reasons, including boredom, frustration, lack of exercise, and a real need to stay cool on a hot day. The Everything Essential Dog Training and Tricks Book, Gerilyn J. Bielakiewicz
Give your pup an incentive to hit the dirt and dig to his heart's content by planting tasty treats or toys in a dedicated pit. Leave no doubt – this is their go-to spot for getting their grub on. This will quell any cravings he may have had about digging up other parts of the yard, ensuring he stays away from those areas.
Interactive Toys and Games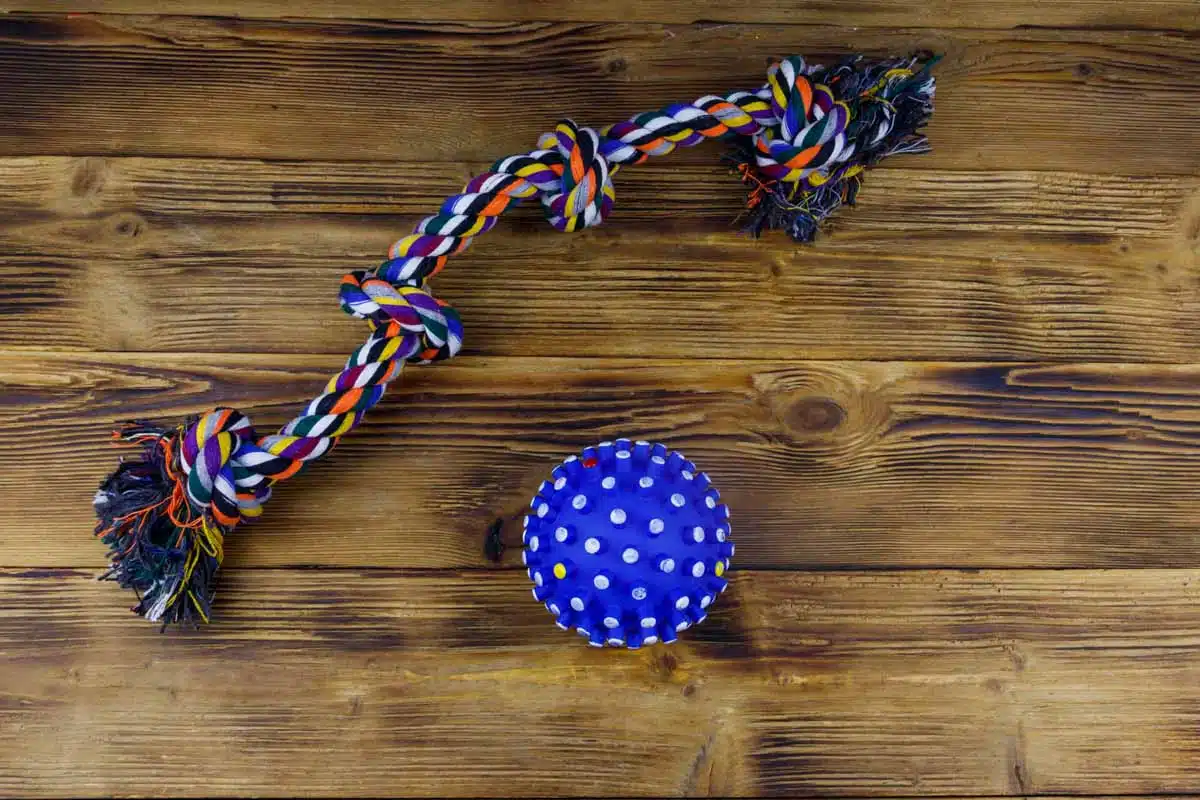 Give your pup something to do in the backyard without grass – set up a secure tetherball or one of those awesome hanging rope toys. This will sure keep them super entertained. Plus, you'll get some tranquility while they're having a blast.
Kickstart your fur baby's brain with fun scent trails and puzzles. Aromatic treats or mystic hideaways provide an oasis for furry friends to search for delicious rewards.
This allows them to broaden their imagination and stay far away from boredom, so they don't succumb to any unwelcome destructive behaviors.
Sandboxes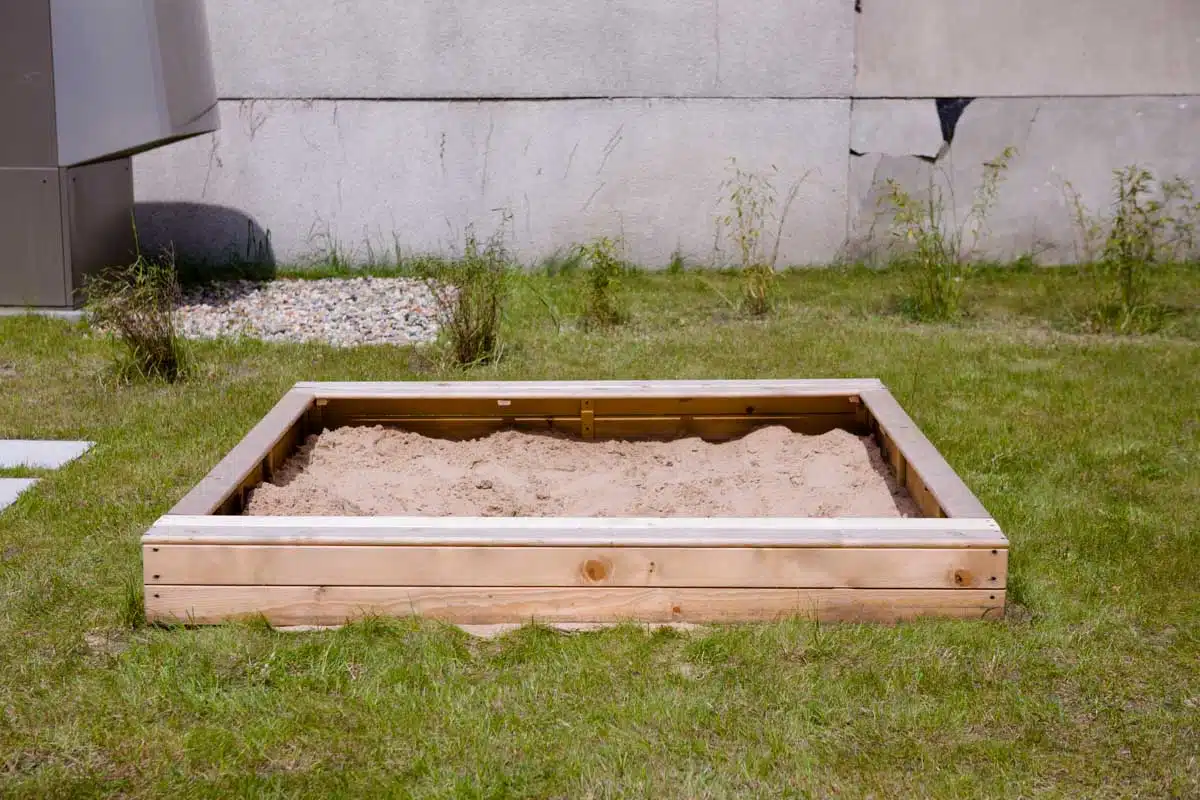 You can give your dogs their very own outdoor playpen. A sandbox, filled with soft sand and hidden goodies for them to uncover – it's the perfect spot for a pup to dig around and have fun. Let them bury their treasures as they discover them; let them do what dogs do best.
Your dogs and their friends love to run their paws through the sand for hours on end. Keep that sandbox caged up tight, otherwise, you'll have grains of sand sneaking out all over the place.
Elevated Platforms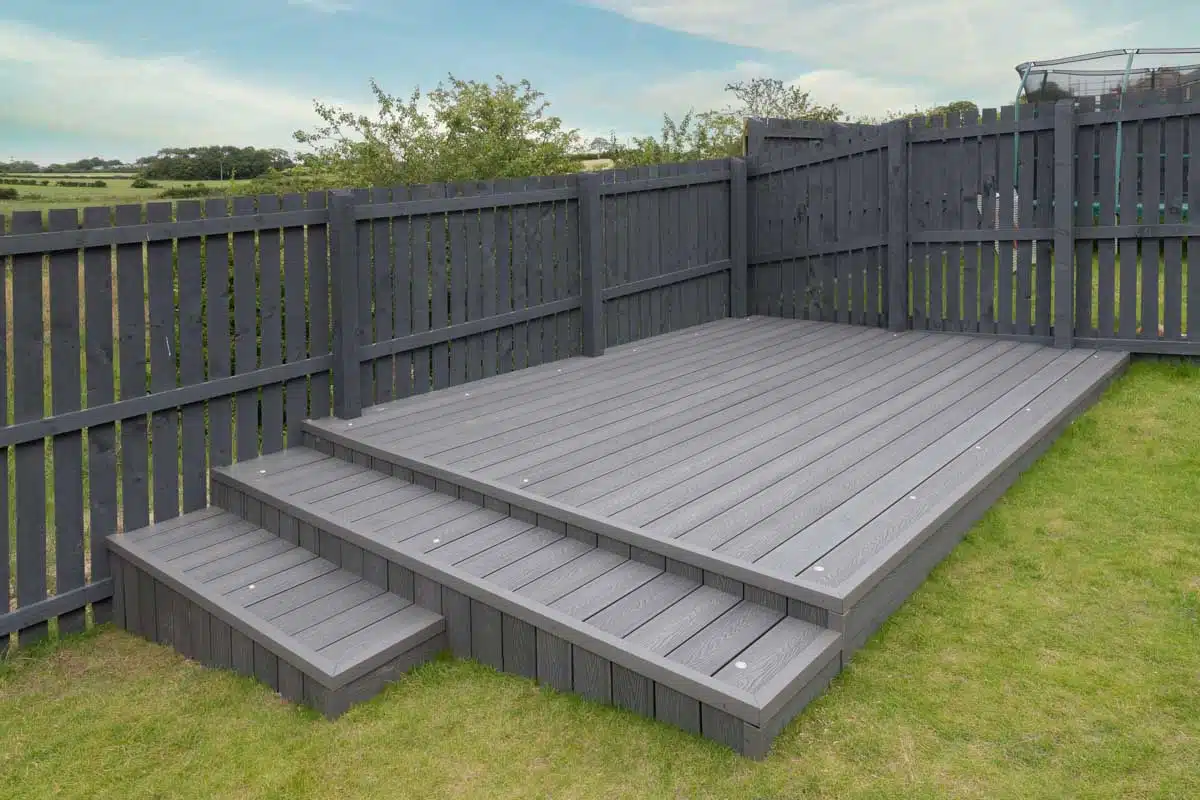 You can put some high-up platforms or decks in your backyard. Not only will it give your pooch a comfy spot to stretch out and get some fresh air but it'll also keep them away from creepy crawlies and soggy grass.
Make sure they're solid as a rock – you don't want any slip-ups when it comes to safety. Your pup will be positively perched for their next great outdoor adventure.
Herb or Vegetable Garden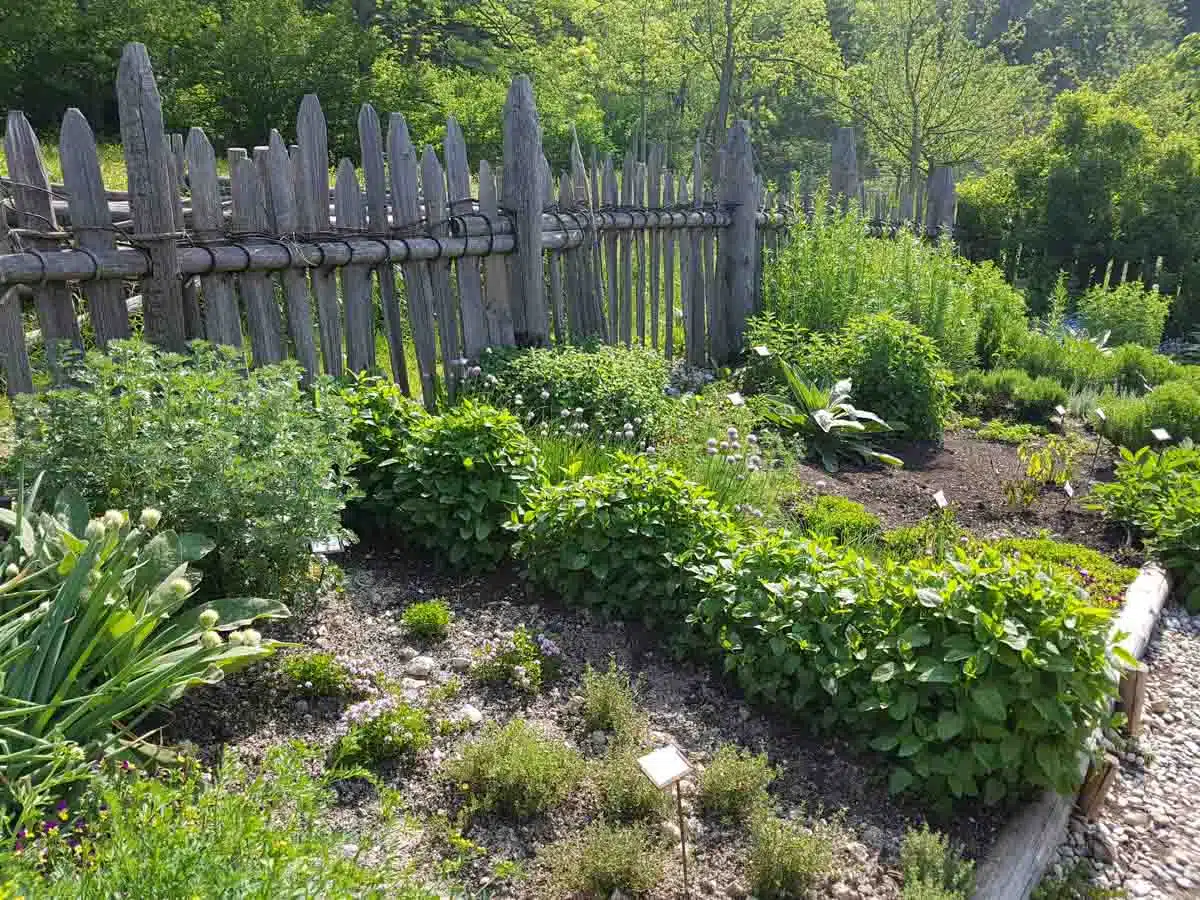 Planting a doggy-friendly garden might be just the thing – parsley, basil, and mint are all great herbs that our furry friends won't mind. Or, if vegetables are more your pup's style – fear not; carrots, sweet potatoes, and green beans will do the trick.
Having a garden is an absolute delight. Not only will your yard bask in its beauty, but you'll have fresh, nutritious treats ready for your furry friend as well. Be sure to fence off the garden area, though – otherwise, they may just indulge their enthusiasm for digging a little too much.
Water Features for Dogs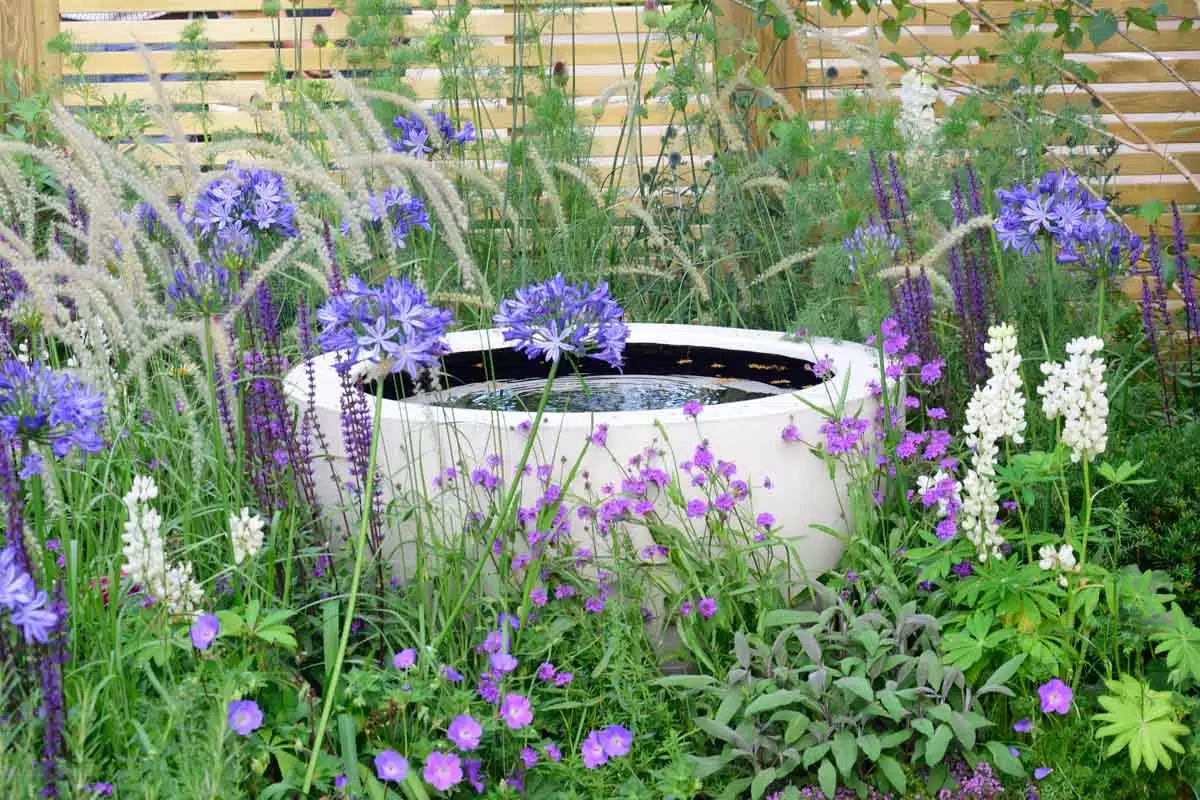 Truly, you may turn your backyard into a pup paradise with an awesome water feature tailored just for them – think about wading types of fountain or even a mini pond.
Dogs love to frolic in the water, and giving them access to their own aquatic fun zone is all kinds of cool. Ensure they can dip their paws safely; create easy entry/exit points and add gentle slopes.
Outside Dog Shower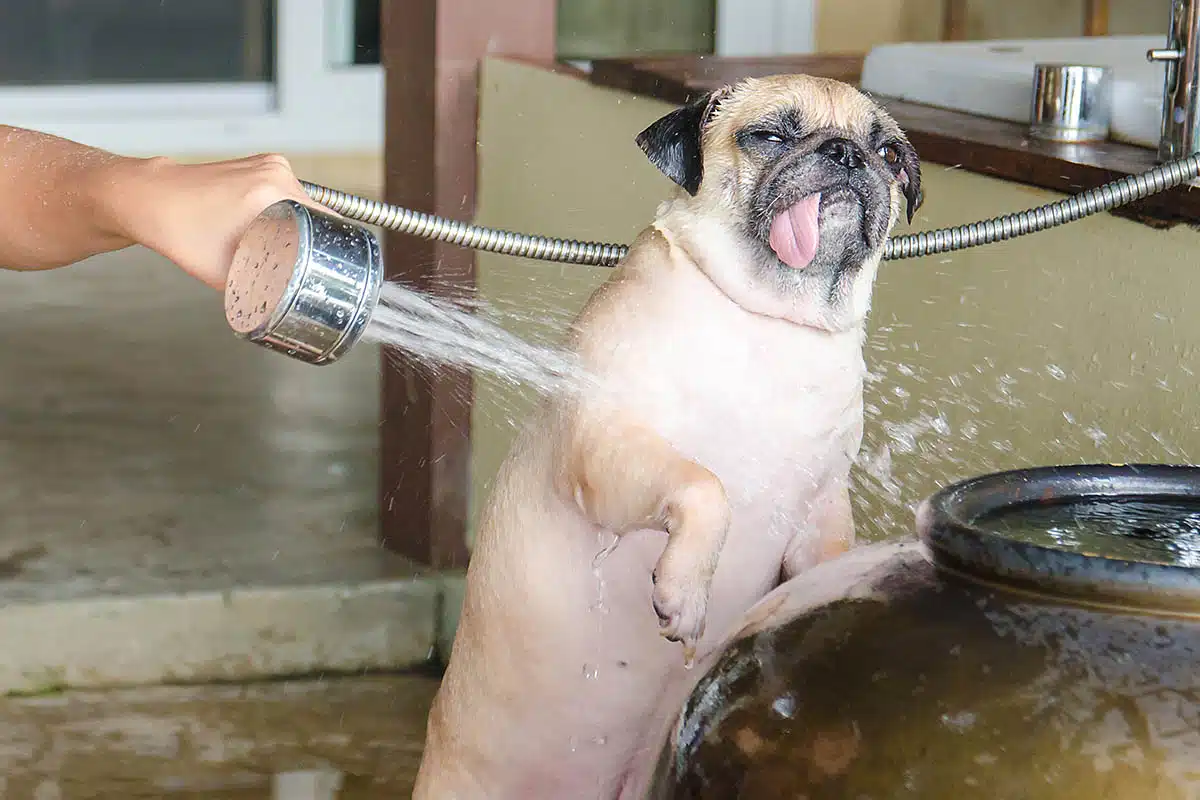 An outdoor dog shower is perfect for active dogs who frequently get dirty during outdoor play. They often have a small enclosure with a sprayer positioned at a height to avoid bending over too much. The enclosure can have a basin and panels to frame the space and even an outdoor shower curtain, depending on your preference.
There must be firm flooring with adequate drainage around the shower area. One can use a concrete patio, rubber mats, pea gravel, pavers, or other types of stepping stones laid out to avoid stepping in mud.
Outdoor Resting Areas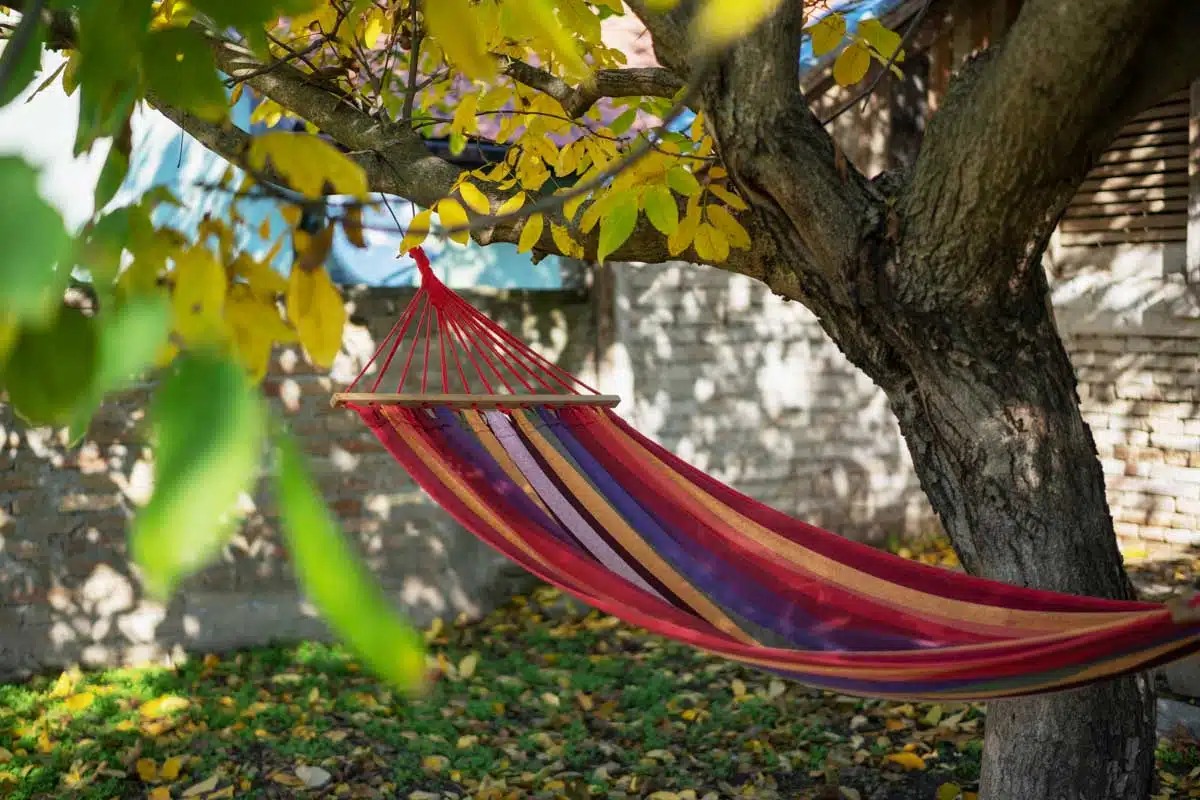 You can also set up snuggly hammocks or elevated beds for your dogs to bask in the sun and watch the clouds roll by. Lay down comfy blankets and cushions to make them really feel at home, ensuring they're cozy as a bug – even if it rains cats and dogs outside.
Dog Run
A dog run is a fenced area that is specifically designed to promote exercise. Grass is often used for the ground cover; however, wood mulch, rubber tiles, or pea gravel can also be used effectively.
The size of the dog run will depend on the breed and the number of animals, with larger dogs needing more space. The standard size is about 4 feet wide by 10 feet long with a height of 6 feet.
See more related content in our article about the pros and cons of dog doors on this page.