Here we share our pros and cons of metal raised garden beds including what they are, advantages and disadvantages, and the different types of metal raised garden beds.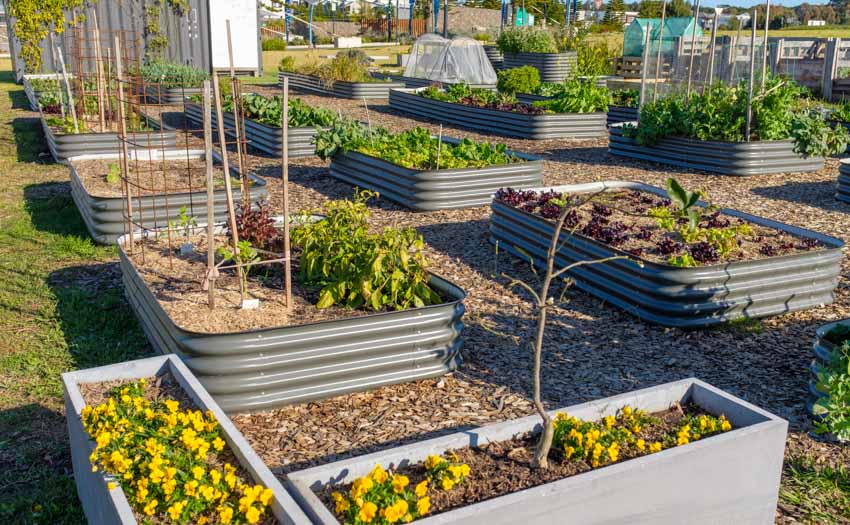 Gardeners choose metal raised garden beds because they are easier to set up and more visually pleasing. Metal raised beds are not a novel concept, but they are still a passionately-discussed subject among gardeners.
Using a raised bed is merely a technique of arranging your soil for the simplest gardening imaginable. Gardeners frequently manage their raised beds by easily putting materials on top rather than replanting up the soil season to season to add fertilizer and minerals.
Metal raised garden beds are widely used as they are extremely durable and long-lasting. However, they also have their pros and cons. Let us go through them in this article.
What Are Metal Raised Garden Beds?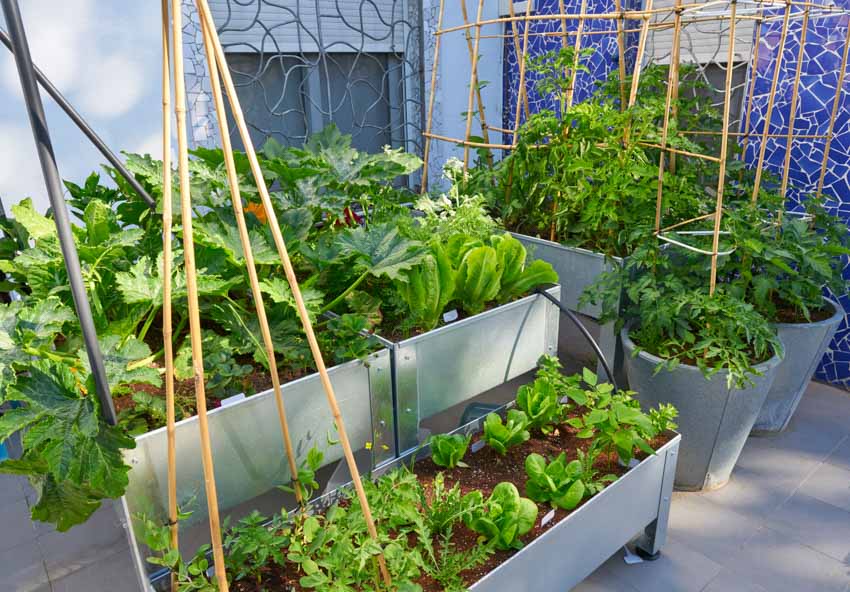 Metal raised garden beds can also be referred to as metal planter boxes or garden boxes. They are metal-made containers or boxes packed with soil and used to cultivate plants.
They are often narrow (4 feet or less) so that you can access the central portion from either side, yet they can be any length you prefer.
Metal raised garden beds can differ in terms of depths, and the depth you pick is determined by what you want to cultivate. For instance, deep-rooted plants, such as tiny fruit trees and chilies, require more soil than shallow-rooted plants like lettuce and celery.
Metal raised garden beds could also be lifted on legs, eliminating the need to squat down when looking after and caring for your plants.
These types of garden beds are often constructed from galvanized steel. These can come in come in sheets or corrugated panels. Galvanized steel is sturdy, long lasting and will hold up in different environments.
Metal Raised Garden Bed Pros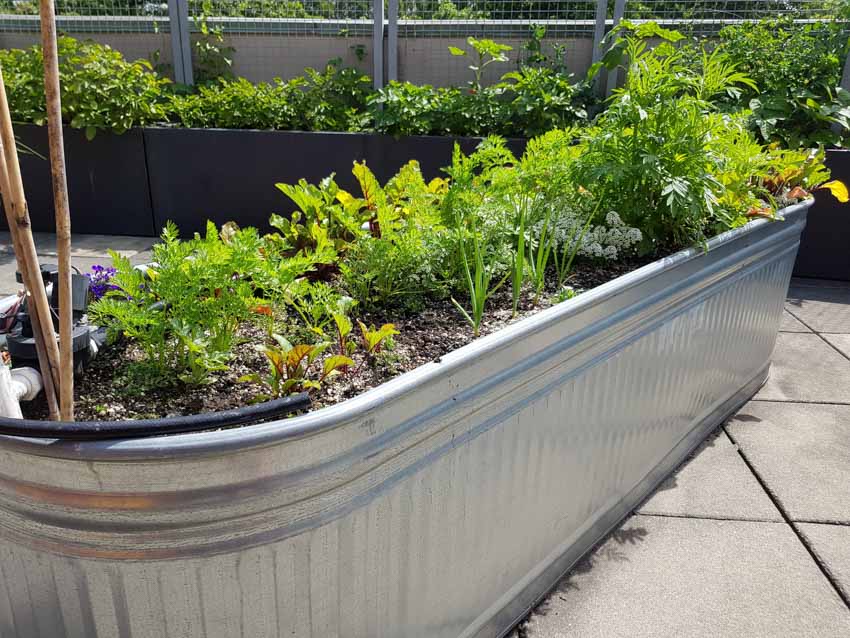 Here are the pros of metal raised garden beds.
Metal Raised Garden Beds are Very Easy to Set Up: Metal raised garden beds are the easiest to construct of all raised bed designs.
You will simply need to connect the pieces together and arrange them into a rectangle form. This can also be useful when growing greenhouse plants for space-saving purposes.
Better Soil Quality: Since you can easily control the type of soil you use in a raised garden bed it is of higher quality than soil in the ground. With a raised garden bed you can add the soil that is best for the plant type you want to grow.
Better Pest Control: Compared to an inground planter, a raised variant can prevent an assortment of burrowing pests from entering your garden.
Pests such as moles, voles, gophers can all find their way in from underneath into a normal garden. With raised garden beds you can control the bottom of the structure to prevent many of these pests from entering.
Have Fewer Weeds: By lining the bottom of your planter box with fabric you can help prevent a variety of weeds and grasses from growing.
They are Very Durable: Metal garden beds are more durable than wooden beds, which can decay over time as a result of persistent contact with moisture.
Galvanized steel is the most ideal type of metal to use for these metal garden beds since it does not corrode as much as other metal types when exposed to moisture.
Some specialized metal raised garden beds have additional properties that protect the bed from corrosion and rusting, making them excellent for any outdoor purpose.
Such metal raised garden beds may last up to 20 years before needing to be replaced and necessitate very minimal upkeep. These specialized metal raised beds will not corrode for many years.
One-of-a-Kind Industrial Design: Metal raised beds often exude an industrial aesthetic, which is not usually present in the typical gardens that you always see.
This distinct appearance is something gardeners consider whenever selecting metal garden beds for their beloved plants. It is also among the beautiful flower box ideas that can make any garden look better.
Metal Raised Garden Bed Cons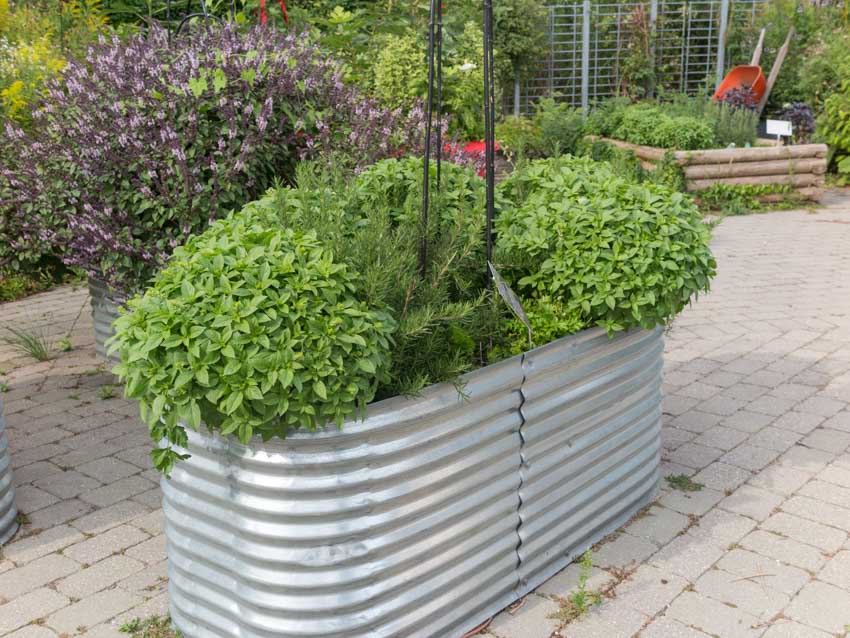 Although metal raised garden beds have their useful advantages, they fall short on some factors. Here are the cons of metal raised garden beds:
Metal Raised Garden Beds are More Costly than Other Garden Bed Materials: Raised garden beds are usually costly, but you would need to spend even more money with a metal garden bed type as it is the most costly type among raised beds.
Metal Raised Garden Beds Quickly Heat Up: The majority of metals heat up quickly, causing significant harm to your plants. Hence, galvanized metal is the best choice because it is a reflective type of metal that does not accumulate considerable heat. To avert damaging your plants, use the correct type of metal.
Furthermore, raised garden beds are permanently stationary, so they cannot be moved around like a potted plant out from the excessive sunlight. When utilizing metal raised beds, avoid growing heat-sensitive plants since they will most probably perish in the heat that the metal produces.
Metal Raised Garden Beds Could Injure You: Metals are normally sharp, and utilizing them for your raised bed might cause you pain or injury. Inspect your garden bed on a regular basis to keep an eye out for and repair any sharp edges that may be protruding.
Types Of Metal Raised Garden Beds

There are various types of metal raised garden beds. Some of them can be quite useful for your gardening tasks as they give more benefits than the other types. For example, there are some metal types that do not rust over time. Here are the different types of metal raised garden beds:
Corrugated Metal Raised Garden Beds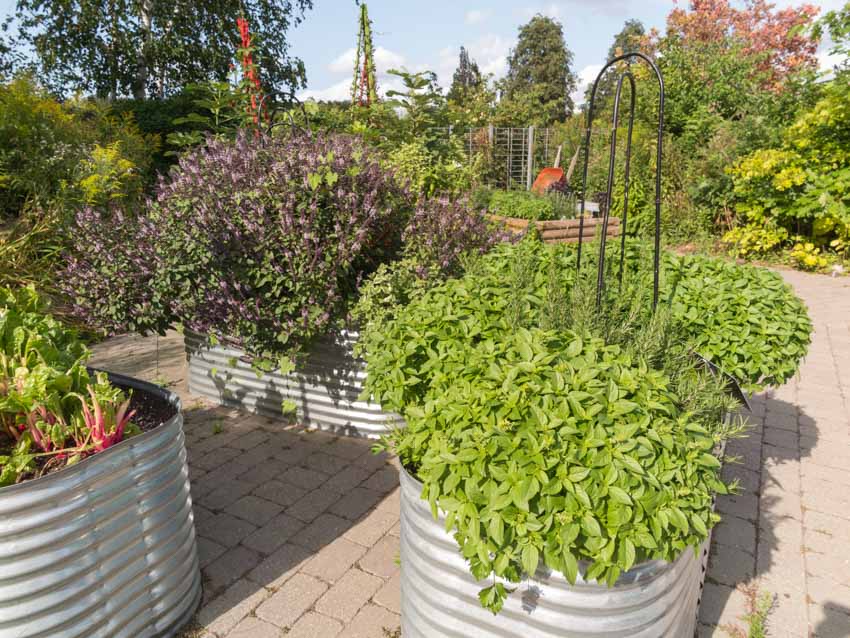 Corrugated metal raised garden bed is a visually appealing and easy-to-assemble garden bed that is suitable for growing vegetables, spices, and spring flowers.
The raised garden bed is composed of pre-painted, corrugated steel, and is simple to place anywhere in the yard. After the garden bed is in position, just fill it with dirt and start planting.
The corrugated metal raised garden bed can be deconstructed and kept for the winter at the end of the growth period. Because of the creative design, you can merge many raised garden beds to create a broad range of unique designs to fit your yard.
Corrugated steel raised beds are wonderful gardening containers. Plants grow properly in these beds and will end up saving you from bending over too much.
Indeed, the zinc and cadmium present in corrugated steel may leak as a result of long-term moisture exposure and fluctuating acidity levels in the soil. It will, however, only leak in tiny amounts, making it essentially harmless.
Galvanized Metal Raised Garden Bed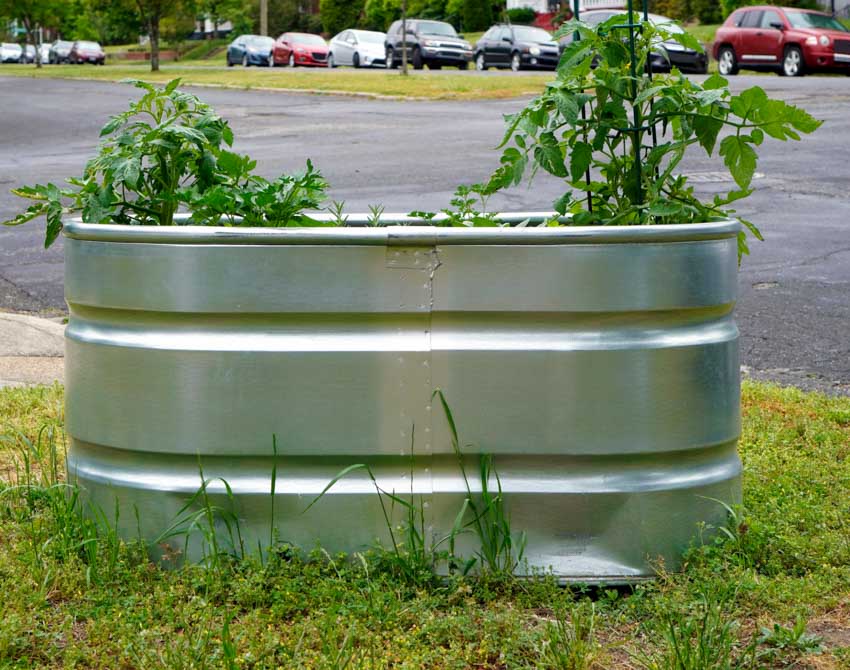 There is a growing demand for galvanized steel as a component for raised garden beds, with manufacturers particularly creating galvanized raised bed packages that are easy to install, safe to utilize, and claimed to endure longer than any form of wood.
Even with all the pros and cons of metal raised garden beds made of expensive galvanized steel, they provide the greatest long-term, low-maintenance alternative for residential gardeners. Galvanized steel is a zinc-coated metal that is corrosion-resistant, rendering it perfect for outdoor purposes.
It can take many years for it to rust, with galvanized beds lasting for at least 2 decades without having to be replaced and with minor upkeep. Galvanized steel is incredibly robust and will not rot or decay over time.
Metal Raised Garden Bed Kit
There are numerous metal raised garden bed kits you can buy online or in your local shops that sell gardening tools. Most of the to-be-assembled metal raised garden bed kits normally include thickened and reinforced framework, sturdy connecting bars, connecting angles, and ground feet to keep the raised garden bed stable.
Tall Metal Raised Garden Beds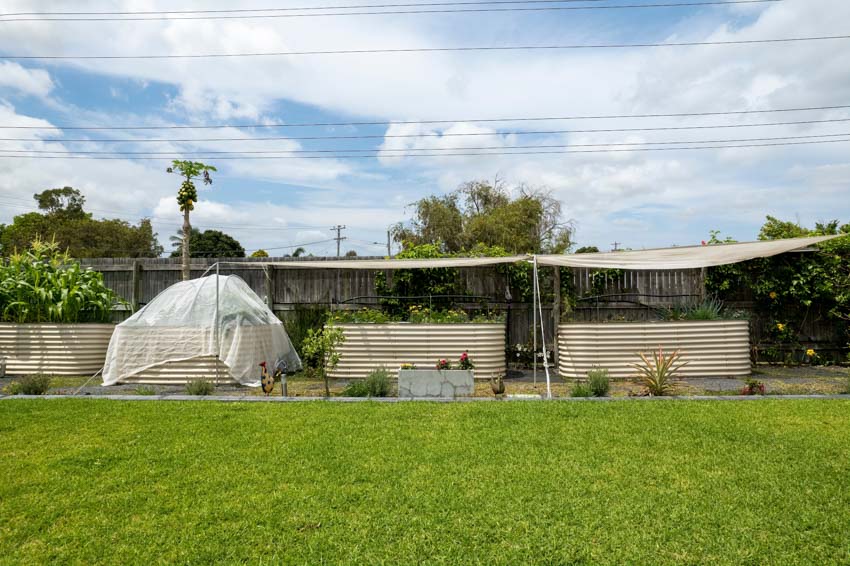 There are various pros and cons of metal raised garden beds that are taller than other types. They are often built of rolled galvanized steel with zinc treatment, assuring durability and lifespan in all environmental situations. They are often powder-coated with a food-safe, non-toxic painting for a striking, long-lasting appearance.
In comparison to ordinary metal raised garden beds that are only 12″ or less in height, tall garden beds are normally 30″ or more in height, and they offer greater pest defense and season expansion. They also promote greater soil health, drainage, and root development.
Round Metal Raised Garden Beds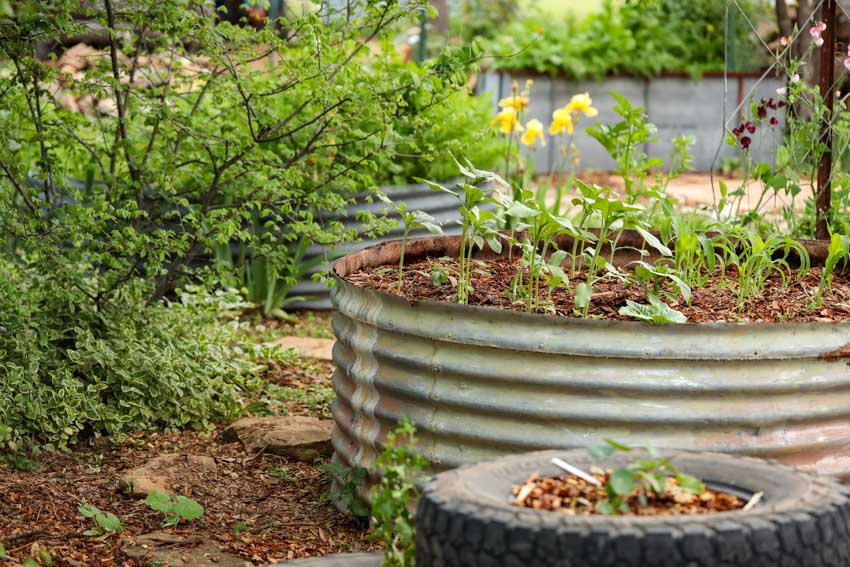 Custom crops can be grown in round metal raised garden beds. With their round shape and ideal depth, you have sufficient planting depth for all your best-loved crops, plant herbs, veggies, or flowers. Furthermore, because these round metal raised garden beds are tall enough, planting will need less bending.
Soil also warms up faster in round metal raised garden beds after a cold winter, extending your growing season. Their elevation makes it more difficult for pests to get inside and around your plants.
Due to its round shape, it can easily be placed in your small-sized outdoor area, along with other backyard essentials, as it is known to be a space saver.
DIY Metal Raised Garden Beds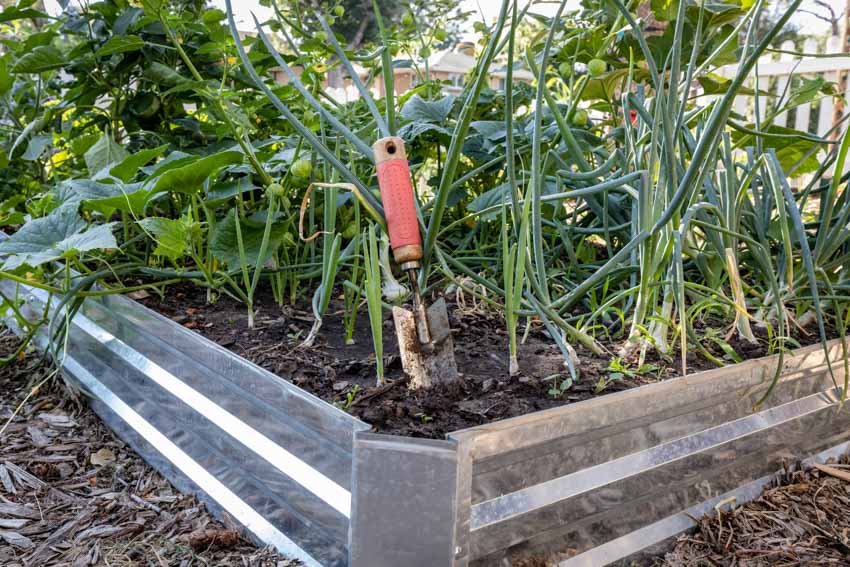 Here are some steps on how to make your own basic metal raised garden bed:
• Create the end frames: Lock the pieces together on a level surface, with the best-looking sides facing up. Screw the pieces together.
• Create the side frames: Toe screws, or screws that are driven at an angle, are used to secure the side framework pieces. Drill a shallow countersink-hole-sized to fit the screw head if any of the screw heads do not descend into the metal or wood surface.
• Construct the box for the raised garden beds: Screw the frames together by putting screws through the cleats on the inner corners. Make sure the frames' "display" sides are facing outward.
• Trim the metal: Initially, put on some gloves—those metal edges can be razor-sharp! The panels should next be trimmed to length with metal cutters.
• Put the metal in place: Fasten the metal panels to the frames with screws, 8 to 10 inches apart along the upper and bottom sides. Drill a screw every second column along the side margins.
• Incorporate plywood support to the metal raised garden beds: Screw plywood over light-gauge galvanized or corrugated metal to reinforce it.
Are Metal Raised Garden Beds Good?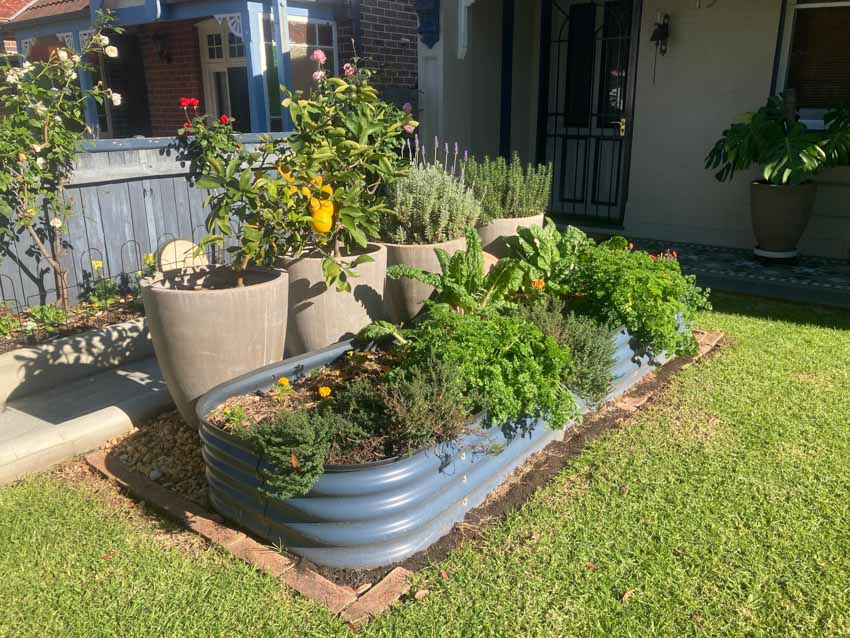 Yes! Metal raised garden beds, particularly the galvanized ones, are quickly becoming among the most highly recommended garden beds available. They are very durable, long-lasting, and impervious to breakage.
Even with all the pros and cons of metal raised garden beds, they will not decay like wood and will survive for decades. Aside from that, they look special and can deliver an agricultural or industrial ambiance.
See more related content in our article about wooden garden edging on this page.