In this porch paint ideas guide, you'll see the most popular paint colors for exterior walls, floors, wood flooring, and ceilings.

More than just a transitional space, the porch is a perfect spot to perk up in the morning, enjoy a book in the afternoon, or entertain guests any time of the day or night.
And when it's time to sell, the porch is where potential clients get their first impression of your property. With such a versatile use, a front porch should be inviting, charming, and well put together to enjoy the full potential of your home's front runner.
One of the most important design decisions to make is the color of your home's exterior. There are many color combinations to fit your preferences, and we've gathered some color swatches to help you decide on what color to use on your porch.
Popular Porch Paint Colors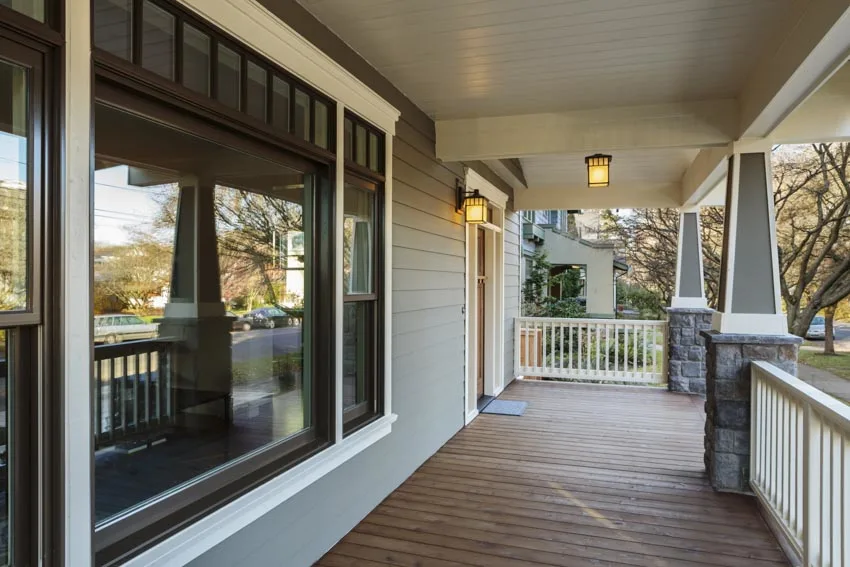 1. Chill with Coastal Hues: You don't need to have a beach house to enjoy the colors of the coast. Mainly made with blues and greens, this color scheme is the perfect welcoming and relaxing tone.
Any hue of teal, mint, or light blue paint colorwork with a coastal-inspired porch, and the cool thing is that the coastal theme is timeless and looks with any architectural feature you have.

Perfect Periwinkle (SW 9065) Notable Hue (SW 6521)
2. Fresh Spring: When creating a transitional space from the outdoors and indoors, organic hues of botanicals and flowers in bloom are the perfect inspirations for your porch's paint.
Choose warm greens, peachy pinks, and buttercup yellows. Paint colors can breathe new life into your front entry area.

Pizazz Peach (SW 6888) Thermal Spring (SW 6769) Gleeful (SW 6708)
3. Mediterranean Vibe: The Mediterranean-inspired porch colors match the paint when your design showcases arches, porticos, and stonework.
This scheme pulls together earth tones and hints of the sea and sky hues. The most popular Mediterranean color tones are terra cotta, ochre, chestnut, azure, burnt umber, and seafoam.

Gracious Rose (SW 6317) Sun Bleach Ochre (SW 9011) Manitou Blue (SW 6501)
4. Soft Pastels: Pastel colors are excellent base colors for most types of porches, especially if you want to add color but maintain a relaxing vibe to your space.
Pastels are the toned-down versions of your primary and secondary colors where white is added to these original colors. You can add white furniture and accents to add contrast to your stronger pastel hues, such as lavender and peach tones. Rachel Pink (SW 0026)
5. Classic South White Colors: Probably the most common color paint for porch, the warm white of the antebellum architecture keeps the neutral hues.
If you have a traditional exterior, white is a suitable choice, and amp it up a little with bolder neutrals for the accents such as black or blue-green. Heron Plume (SW 6070) Origami White (SW7636)
Paint Colors For Front Porch Floors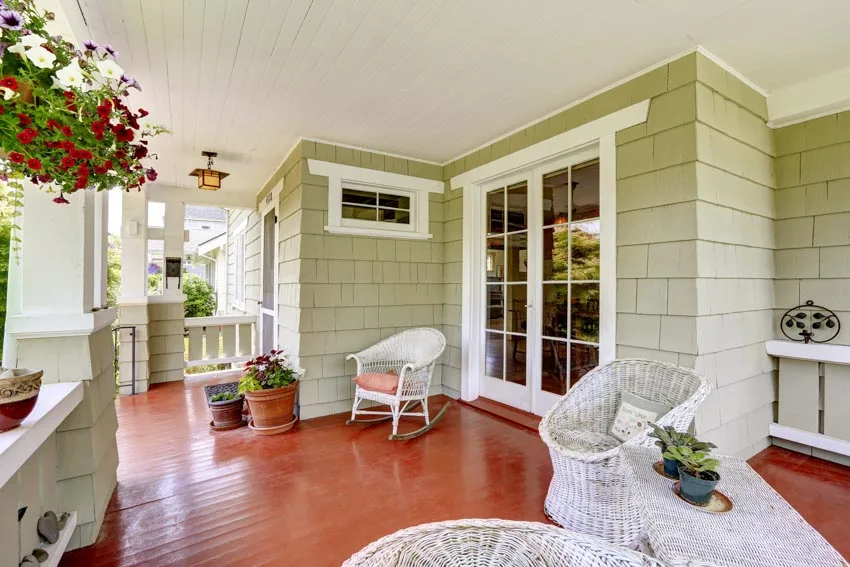 The paint you choose for your front porch floors should match perfectly with your surrounding elements, such as the color of your porch wall, window, and door frames, as well as the surrounding garden or landscape.
Another determining factor in choosing among the plethora of paint colors is the floor material, as some colors may look odd or better with particular color shades.
As a front porch floor color serves as a grounding point and covers a large portion of the area, expect your visitors to be one of the first elements they notice upon stepping into your property. 1. Basil (SW 6194) – Earthy Green: When you want to shy away from the classic neutrals while adding organic colors, these earthy greens are excellent paint color choices.
The Basil color works well with neutrals and other shades of greens or blues. Try Opaline (SW 6189) or a warmer version Dirty Martini (SW 9119) for your walls. You can have accents with a brownish color like Hopsack (SW 6109). 2. Naturally Red (HC 126) – Concrete Stain Color: Choose concrete stain colors when it comes to your stone floorings that can withstand high traffic areas and are suitable for your material.
The Sherwin Williams' Naturally Red (HC 126) lends the terra cotta colors to your front enterior. You can use Shell White (SW 8917) or Creamy (SW 7012) for your porch walls and Cityscape (SW 7067) as accent or frame colors.
Note: It is important to note that concrete stain permanently colors the flooring material for your concrete floors. If you want only to paint the surface, use concrete paint instead. Use 100% acrylic masonry paint for your concrete paint.

3. Dried Lavender SW 9072 – Pastel Hue: Eggplant hues are now popping up as a fresh alternative to your grays, and the Dried Lavender (SW 9072) gives you both blue and gray undertones.
This paint color can be paired for both neutral hues as well as bolder primaries such as yellow and orange allowing these accent tones to show through. Aged White (SW 9180) and Rarified Air (SW 6525) with accent color Armadillo (SW 9160) is a cohesive color scheme choice for your walls.

4. Rose Tan (SW 0069). Among the porch paint ideas that work both for a Mediterranean-inspired theme or a pastel base color is Rose Tan (SW 0069), which features an earthy orange and pink hue.
The soft color works well with white and even black primary colors. Combine Egret White (SW 7570) as your wall color and Sticks and Stones (SW 7503) as your accent color. 5. Bohemian (SW 6988). When you're looking into a darker tone or an almost black color for your flooring, the Bohemian Black (SW 6988) is your perfect pick.
Take note, though, that black floor color does show scratches easily, so you need quality paint that's suitable for high-traffic areas. Match with Extra White (SW 7006) or Snowbound (SW 7004) for your walling.
Best Paint Color For Wooden Porch Floor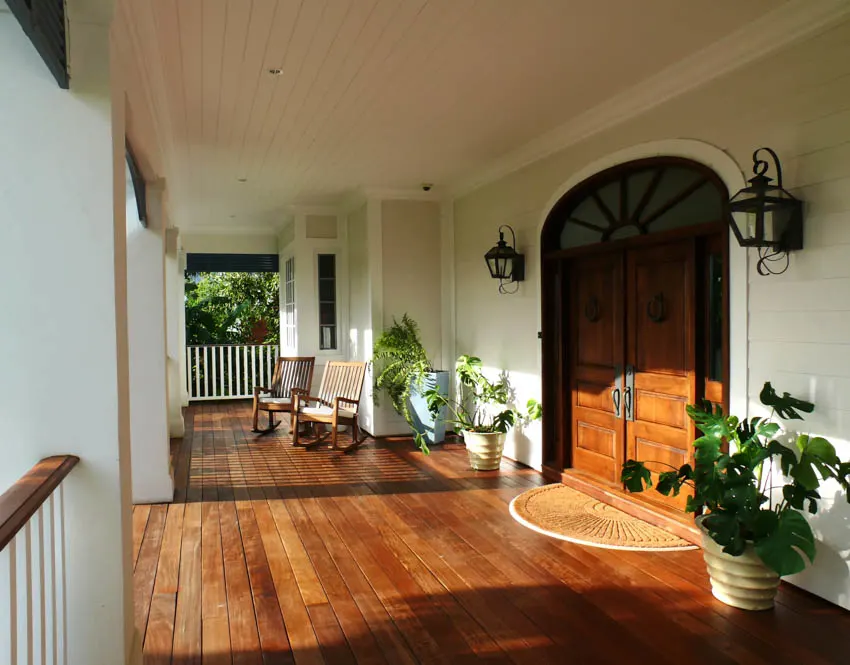 Soft summer evenings, oceanfront views, and small-town America come to mind when you think of wood porches. While the neighbor who replaced her porch with vinyl-clad wood goes on vacation, you'll most likely find yourself scraping, sweating, and painting if your home has one.
Due to the fact that your porch is exposed to the elements all year, it needs to be repainted on a regular basis, and because it is the first thing visitors see, you should use materials and methods that allow your porch to have a few lazy afternoons and festive evenings between paintings.
1. Stain Colors (Permanent Color) – Sherwin-Williams SuperDeck Exterior Deck Stain
To help keep your outdoor space stay cool, use Sherwin-Williams SuperDeck Exterior Deck Stain; this is an oil-based stain for wood surfaces that has reflective technology.
Solar rays are reflected back into the atmosphere by special pigments, which lowers the temperature of your deck. It goes on smoothly, leaves no lap marks, and creates a great finished product when properly prepared and applied.
There is a wide range of stain colors for your Sherwin-Williams SuperDeck Exterior Deck Stain, but it has a larger color selection on tan and gray tones.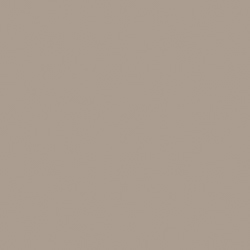 Belvedere Tan (SW 3002)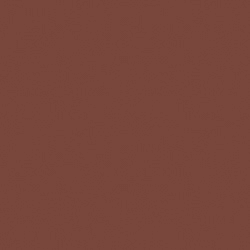 Sequoia (SW 3015) Juniper Blue (SW 3014) Woodsmoke Gray (SW 3010)

Shagbark (SW 3001)
2. Low Luster Coatings – Kilz Porch and Patio Paint
Made specifically for most types of patios and porches and working both with wood and concrete materials, the Kilz Porch and patios have a slight shiny film, and when it dries, it is mildew-resistant.
Colors: Silver Gray and Slate Gray
3. Painter's Select Floor Paint. With one coat, you are good to go, but you can as well add more coats of paint as you need. It is low VOC, particularly less than 100 grams per liter which means less harmful to the environment and occupants making a great choice when you've got a lot of plants around your porch.
Colors: White, Deep Base, Neutral Base, Tint Base.
4. Water-based Stain – DEFY Extreme Semi-Transparent Exterior Wood Stain
If you're looking for an eco-friendly wood stain, DEFY Extreme Semi-Transparent Exterior Wood Stain is a perfect option. It covers all the bases and has a simple application. The paint saves your money and time as there's no need to sand or strip off the wood surface again, unlike most wood stains.
Porch Ceiling Paint Ideas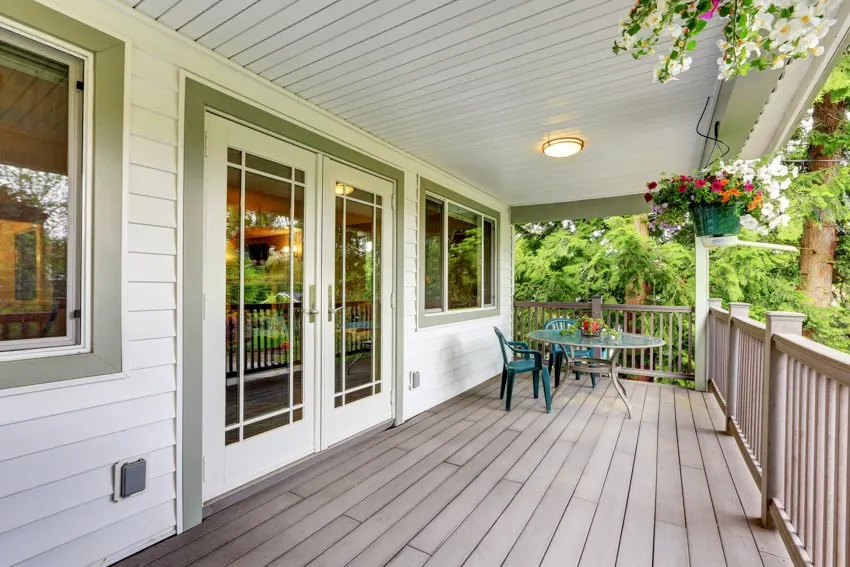 Like the porch flooring, the ceiling occupies significant visual coverage and is noticeable when guests immediately step up on your porch.
As a part of a major architectural element, it does receive reflections but is usually not directly illuminated but will need to be reflective of light to increase the brightness of the space, especially for deep porches. 1. Porch Ceiling (SW 9063) – Sky Hues
Suitably named for your porch ceiling, the Porch Ceiling (SW 9063) has a soft blue tint with gray undertones that perfectly match with a black-toned wall or floor porches.

2. Hazel (SW 6471) – Paint Colors
The Haint colorn is one of the more popular traditional colors for various porch ceiling design types, especially in the southern United States. Belief in the color's spiritual significance in warding away spirits was a belief from the Gullah culture of the low country.
In addition, painting haint color prevents insects from nesting in porch ceilings, though this is more likely due to the lime content of the paint that acts as a natural insecticide.
If you want to have this minty sky-blue hue in your home, Sherwin Williams' Hazel (SW 6471) is similar. Match it with Aesthetic White (SW 7035) for your walls or Green Trance (SW 6462), a lighter shade to your Hazel to create a monochromatic appeal. Tony Taupe (SW 7038) is a perfect match for your accent hues. 3. Frolic (SW 6703) Frolic – Chartreuse
While Sherwin Williams' has a paint named Chartreuse, it is manufactured specifically only for interior use. A close resemblance to the yellow-green hue with a more earthy tone than your neon version is the Frolic (SW 6703). It is one of the ideal porch paint ideas when you have pure white or beige architecture.
This adds color to the porch area through its reflections, preventing the white porch from looking outdated and stale. It's a happy color that you can match with Pure White (SW 7005) or Daybreak (SW 6700) for the walls and Cloudburst (SW 6487) as accents.

You can also use the color for decorative pillows, cushions and other items to add cohesion and pops of color. 4. Comical Coral (SW 6876) – Femme
Pink pastels stay popular for interiors, and if you don a pink ceiling in your interior, you'd also want a sense of continuity towards your porch ceiling.
The Comical Coral is a lovely color for a chic but sensible porch ceiling paint color as it's a warm, modern, and toned-down hue that works well with both contemporary and traditional elements.
Match the pinkish with yellow undertones with Snowbound (SW 7004) and Pure White (SW 7005). Use Coral Clay (SW 9005) for a noticeable accent color that coordinates well with your peachy ceiling color paint.

5. Intimate White (SW 6322) – White Classic
If you want to keep it simple and keep your entry space bright and clean look, choose Intimate White (SW 6322). This color is a warm white with peach and apricot underlying tones and is more of a pastel pink.
This is among the porch paint ideas that work well with neutrals and other shades of pastel colors. You can use Westhighland White (SW 7566) or Creamy (SW 7012) as wall colors and accent elements with Natural Tan (SW 7567). Neutrals like this inviting white are always good for pairing with brick or stone siding.
See more related content in our article about turning a porch into a room on this page.