A guide about awning vs. pergola, including the differences between an awning and a pergola, the better choice between the two, and more.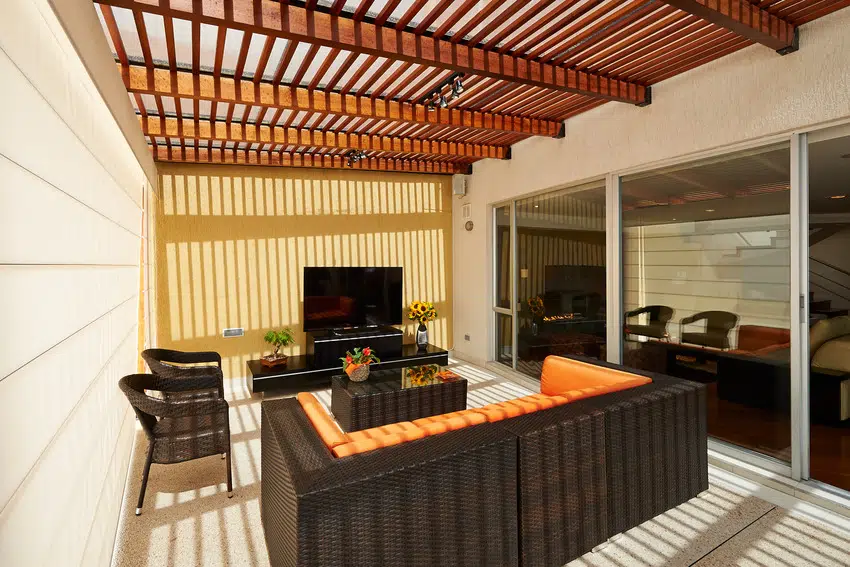 House decks and patios offer an outdoor oasis for peace and relaxation. However, the weather's unpredictability can disrupt your supposedly delightful day outdoors.
Luckily, there are several fixtures like an awning and a pergola that you can install to shelter and protect you from either extreme sun rays or bouts of rain, while still getting to enjoy your day outside.
But which one's better? This article offers a side-by-side comparison between awning and pergola. Read on to learn the best one suited for your preference and the ultimate choice for round-the-clock protection outdoors.
Differences Between an Awning and a Pergola
More than a perfect space for comfort and enjoyment, awnings and pergolas essentially provide shade and protection from any extreme weather disturbance. Choosing between the two goes beyond matters of color and design.
You must also consider each material's durability, comfort, and cost to eventually know the right outdoor feature for you.
Awning vs Pergola: Design
Both awnings and pergolas may provide similar functionalities, but they certainly differ with the available designs that they can offer.
Pergolas have been around for centuries as stylish fixtures in gardens or decks. Normally, a pergola has four pillars connected by beams and a criss-cross wood roof.
That way, the sunlight can still illuminate the structure while casting shadows from the lattice roof.
Traditionally made from solid wood, a pergola adds a rustic appeal to your backyard. Most homeowners use premium wood like cedar, pine, or teak as materials for their pergola.
Moreover, hanging planters or other types of roofing materials like vines, bamboo, and fabric further enhance the structure's style.
Pergolas have evolved by incorporating other materials and designs. The use of vinyl, fiberglass, or composite material, for instance, has given pergolas a modern finish.
Most importantly, they provide excellent protection from the changing weather. See more pergola ideas here.

Now, what about the awning?
An awning, unlike pergolas, is a fabric stretched on a metal frame and mounted on a wall. The fabric is usually made of vinyl, polyester, acrylic, or even cotton.
However, keep in mind that each material offers varying strength of shade and protection from sun exposure. Meanwhile, there is also a rich catalog of colors, patterns, and prints that you'll need to consider.
Still, it goes without saying that awnings are versatile. You can place them over balconies, windows, and decks, as well as manually or automatically roll them up when not in use.
Moreover, there are also available custom awnings to match your preference.
Awning vs Pergola: Durability and Maintenance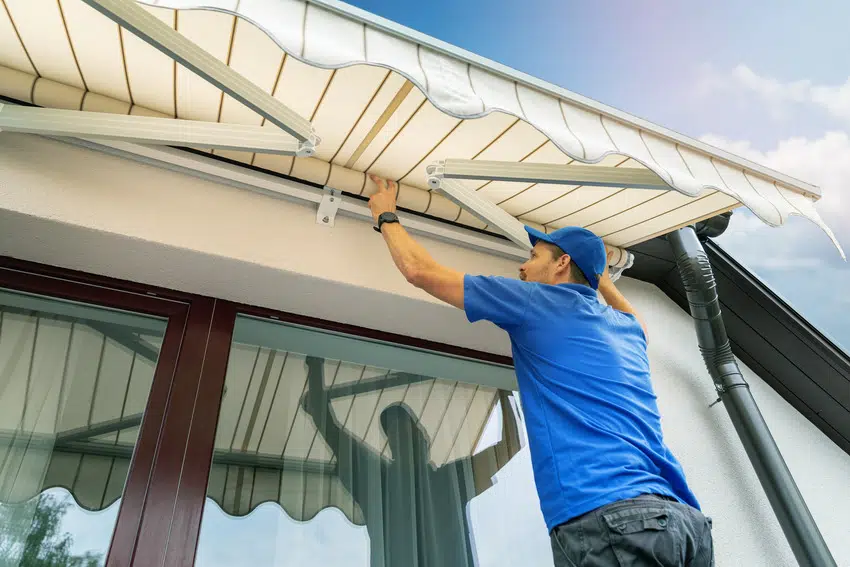 Due to its four pillars, a pergola has a more solid structure than an awning. When it comes to overall durability, however, you'll also need to factor in materials and the weather.
Standard awnings are usually made of water-repellent vinyl or acrylic. Both types of material are long-lasting, with a lifespan of at least 5 years and up to 15 years.
Moreover, vinyl is less likely to develop molds or strong odor during the wet season. Not to mention, they are also excellent at protecting you from extreme sun exposure.
Meanwhile, acrylic is a great choice for cold weather because of its heat retention properties. Additionally, it's also cheap and widely accessible.
For maintenance, the regular upkeep of an awning is minimal and effortless. Occasionally, you'll need to remove fallen twigs and leaves to prevent them from weighing down the structure.
A power wash and light scrubbing can also clean the dirt and other surface spots. That said, avoid applying harsh chemicals on the fabric such as bleach since it may strip off the awning's protective layer.
In addition, check for small tears around the metal frame. An exposed frame is more susceptible to rust when it gets wet.
Last but not the least, retract your awnings during a storm to prevent them from getting damaged.
Like awnings, the durability of a pergola largely depends on the material it's made of. For instance, a wooden pergola can last from 5 to 10 years, while a vinyl and aluminum pergola can survive from 15 years to a lifetime.
As a general rule, wood pergolas need staining or painting for an extra layer of protection from moisture and harmful UV rays. Make sure to re-stain the wood every two years.
Furthermore, notching the posts also provides protection against strong gusts of wind.
Aluminum pergolas are rust-resistant and need almost no maintenance, while vinyl and fiberglass pergolas only need occasional wiping.
When using materials like aluminum, mind how you secure or anchor them to the ground as they are lightweight. If you are planning on designing a pergola there are pergola design software programs that can help you create a layout and estimate material costs.

Awning vs Pergola: Comfort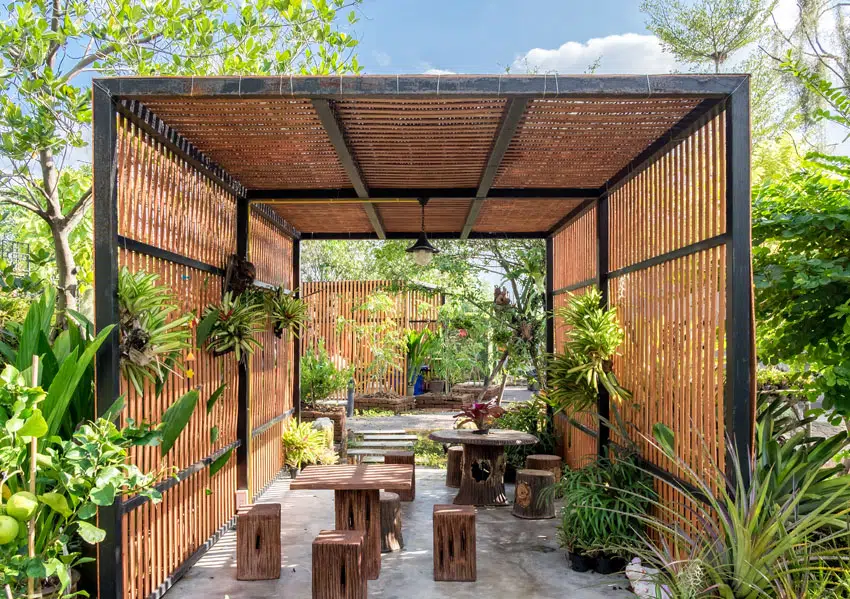 The primary concern in using an awning or pergola is the comfort they can provide.
Aside from providing a shaded outdoor space, awnings are energy-efficient. When placed above windows, they can block the sunlight and reduce the heat indoors, which can help you conserve energy, especially during the summer.
One of the convenient features of some awnings is they are adjustable, letting more people occupy the extra space available. Meanwhile, some can be set up vertically and function like window blinds.
In contrast, pergolas are permanent structures and, thus, have a fixed coverage. If you prefer to enjoy the sun minus the direct exposure, then you can opt for a pergola.
However, if you need more shade, then you can always go with a pergola canopy, for instance.
TIP: If you need more privacy, you can also hang curtains around the pergola.
Lastly, when it comes to temperature, an awning can reduce the temperature by 10 to 20℉, while you can expect a 5 to 15℉ reduction if you are under a pergola.
Awning vs Pergola: Cost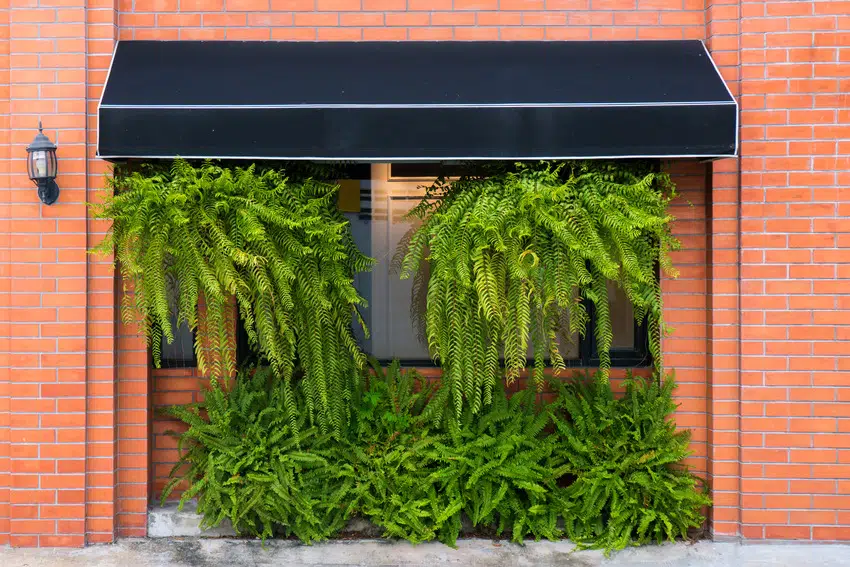 Pergolas are more expensive than awnings. As a matter of fact, you can expect to spend a little over $1,000 for a basic pergola structure.
Custom-built high-end pergolas, on the other hand, can cost up to $10,000, excluding customization for roofs, curtains, and other accessories that can result in a higher tab. Read more about the msot common pergola dimensions on this page.

Alternatively, awnings may cost you somewhere between $100 and $3,500. Portable awnings are the cheapest, while motorized high-end awnings are the most expensive.
In any case, the type of material, size, and design mechanisms are the factors to consider regarding the pricing of these outdoor features.
Which is Better Between an Awning and a Pergola?
In the end, deciding between an awning and a pergola is a matter of preference.
Are you satisfied with a flexible shade that gets the job done without any aesthetic factor? An awning might cater to your taste. Or do you want a sturdier structure that also enhances the visual appeal of your backyard? Then, a pergola might fit you better.
For other related content, read this article on modern pergola designs.