Here's our pergola dimensions guide with how to measure, standard dimensions for posts, rafters and ceiling.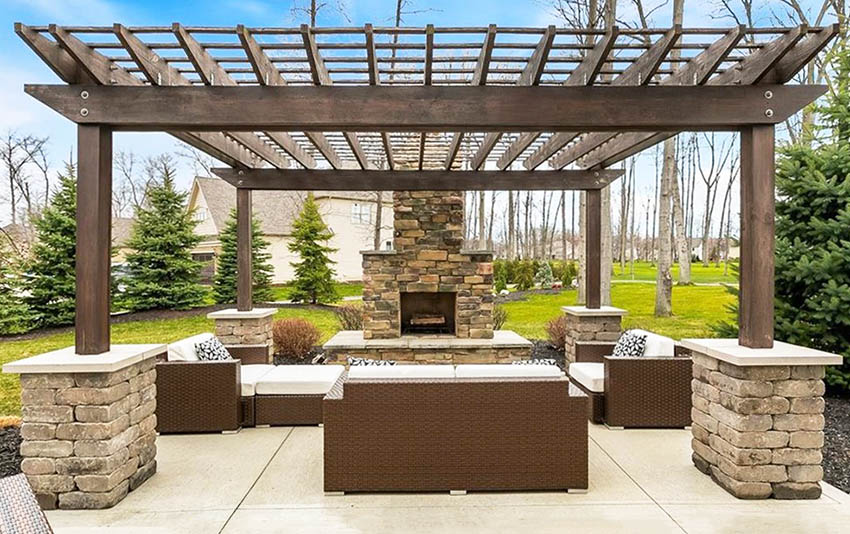 There are few key things that need to be planned for when preparing to build a pergola. Basically it is like building a room outside without any walls. This means you need to figure out the desired height, length and width. Not only that but you also need to take into account how much backyard space you have to ensure you're not crowding the space.
How to Measure for a Pergola Design
To measure for a pergola you need to know how much available space you have to place the pergola. Making sure it isn't too close or too far from the other structures in the yard, and where the routes are to get to and from the pergola.
With the material selected there could be a few size restraints, but based on the available space, and the desired size, match up the closest sizes available in the desired materials. If there is not anything even remotely close, there are custom options available.
For more help creating your layout check out one of the pergola design software programs to help visualize your ideas.
Standard Pergola Dimensions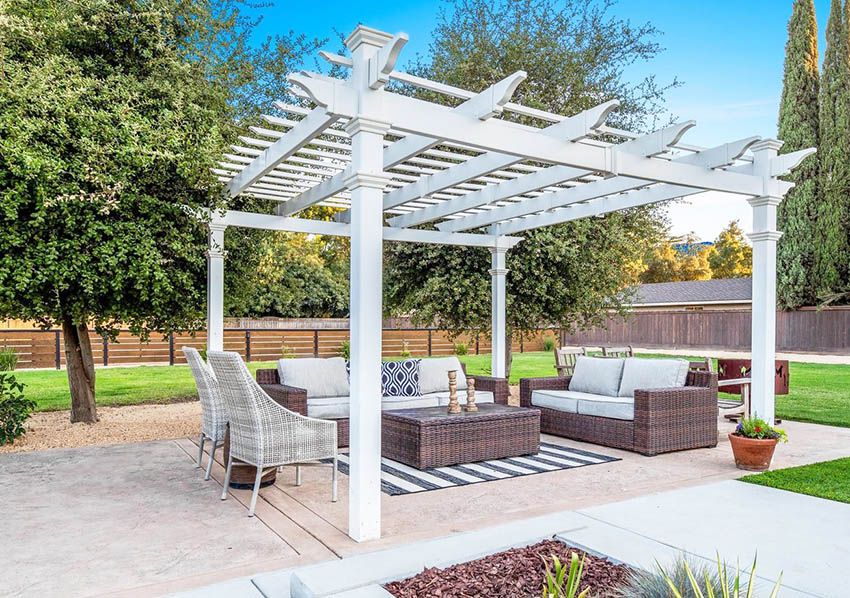 The standard size for a pergola, which is typically what you will find in any premade kits is a few different sizes. There are usually a few ways to put these together as well based on how you want the pergola to look in the long run. The standard size is about 13 feet by 19 feet in total. This size typically refers to the size of the rafters that go along the top of the pergola.
The posts are recommended to be about 1 foot and 6 inches in from the end of the rafters. This makes the post to post dimensions about 10 feet by 16 feet, which is about the size you will get to use. Anything larger than this standard size could result in needing more posts than the standard 4.
While this is a standard size, each manufacturer will likely have a few different kits in different sizes, so check below for other common sizes if this standard does not work for your space.
What Sizes Do Pergolas Come In?
Pergolas come in all sorts of shapes and sizes. Commonly pergolas can run anywhere from 8 feet by 8 feet, to 20 feet by 20 feet. That gives a large range of options, especially since they do not even need to be squares if that is not the desired aesthetic.
Additionally, just because these are the common sizes of a pergola does not mean you are unable to create something different. There are limitless custom options for specific spaces. Find what fits best for you.
What Size Should Pergola Rafters Be?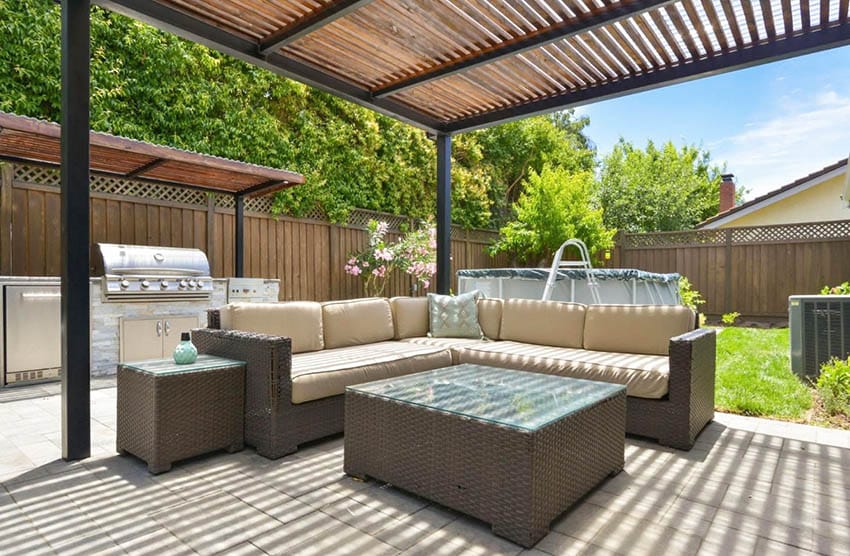 Modern pergola with outdoor sectional couch and coffee table.
The size of the pergolas rafter is what will give the amount of desired shade, and also weighs the pergola down, making the posts need to be able to hold the weight of the desired rafter size. That being said, the size can vary in length, thickness and even quantity. Even the material can change the sizes of the rafters.
Typically the rafters could be 2 inches by 6 inches, 2 inches by 8 inches, or 1.5 inches by 7.25 inches. The length of the rafters be as long as you desire the pergola itself to be. The longer the rafters, the more you need.
Pergola Post Size
The sizes of the posts are pretty important, as they are what hold the entire structure up. The size varies based on a few factors. The factors are: the height of the ceiling, the weight of the overall pergola, the placement of the posts, and the quantity of posts that are to be used.
A standard pergola will most often use 6 x 6 inch posts for support. A very small pergola may use 4 x 4 inch posts as long as it has less than 4 to 6 feet between posts. As a general rule of thumb the depth of hole you use for your posts should be approximately 1/4 of the height of your post. The diameter of the holes should be no less than 10 inches wide, with larger 6″ posts requiring 12″.
Some pergolas are attached to an existing structure, meaning there will be less posts, and a lot of the weight is taken off due to the attachment to the home or outbuilding. The posts do still need to be weight bearing.
The typical length (As described below) will be about 9 feet or 11 feet depending on the desired ceiling height (Which a little extra to help support the top and to be dug into the ground). The thickness of the posts are going to depend on the materials you are using, as some need to be thicker than others to hold the weight. They also can be larger if certain designs or carvings are going to be detailed on the posts. These can be weight bearing and still beautiful!
Pergola Ceiling Height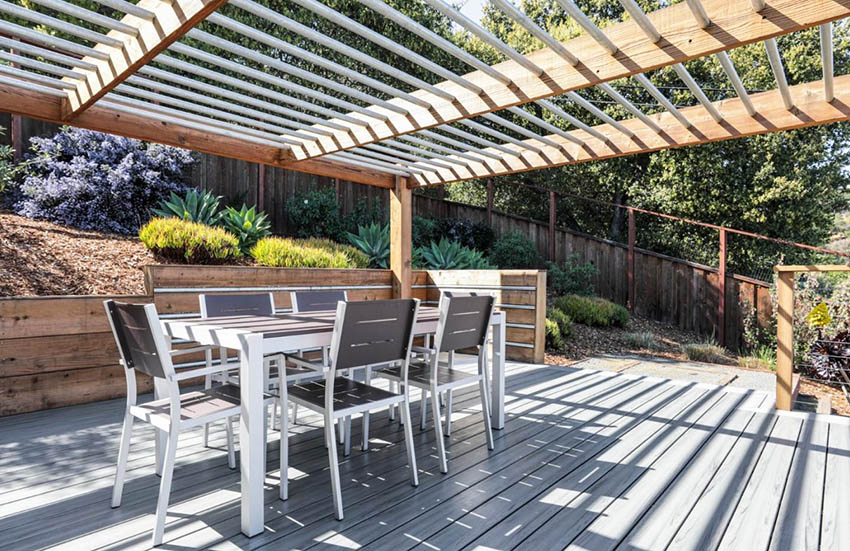 The height of pergolas typical are about 8 feet to 10 feet tall. This is pretty standard heights for any enclosed areas like rooms, garages, etc. While the ceiling itself will be at the 8 or 10 feet it is always important to remember that the structure on top also takes up space.
Typically since pergolas are outside structures, this does not pose any complications, but if being attached to another structure it is important to take into account if the top beams and rafters line up with the structure you are attaching it to.
Pergola Design Materials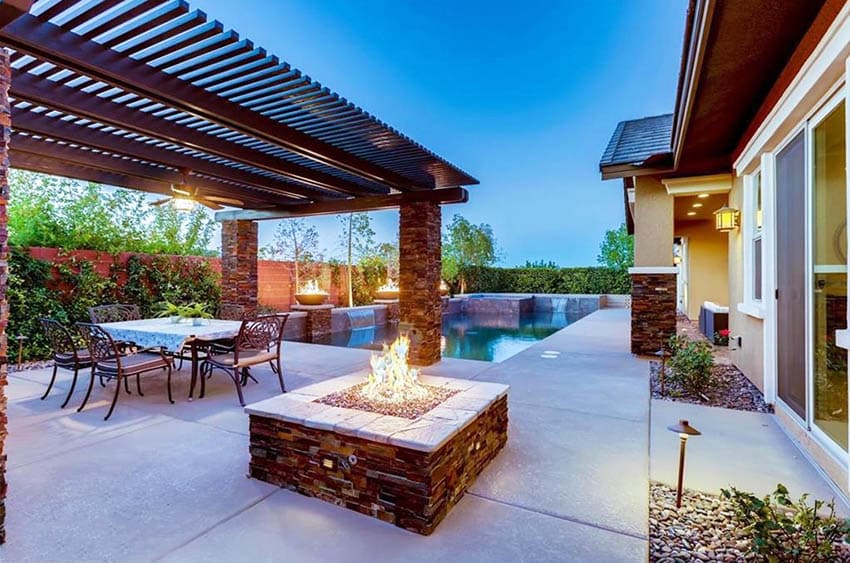 Modern metal pergola with fire pit.
Another important thing to plan for is the material that can be used and what you would like to use. Some materials are better for certain areas weather wise or terrain wise. Check into the local recommendations and requirements in your area. Once you know your options based on what you are allowed to use, then you can pick which you like best.
Some popular pergola materials you can use are as follows:
Aluminum – Aluminum is extremely strong, some say almost indestructible, with minimal maintenance.
cPVC – Cpvc is a flexible material that is also strong and durable. This material is often used in commercial situations.
Fiberglass – Fiberglass is low maintenance and quite durable. Fiberglass does not need as many support posts as it gets larger.
Vinyl – Vinyl is quite inexpensive while still retaining a high quality and appearance.
Wood – Just a standard treated pine wood can be used in a lot of situations, this gives a natural look and is usually pretty sturdy. Wood does deteriorate over time though.
Visit this gallery page to see more pergola ideas.