Here's our gallery of mid century modern home design including popular elements of this style and renovation ideas.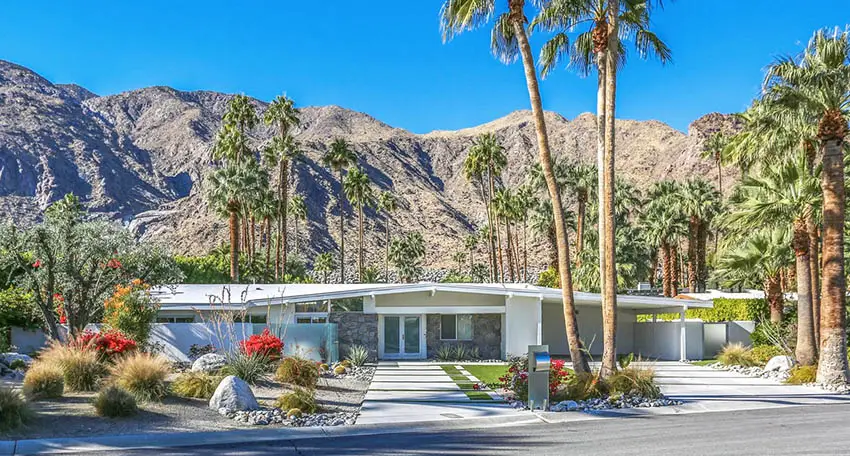 Mid-century modern style took birth after the second World War when the design professionals and enthusiasts propagated creativity in unknown forms. Spanning across the US, this design style gained momentum in the field of interiors, architecture, industrial and graphic design. The timeless form of this art even decades later is preached by diverse generations around the world. Highly characterized by its upper hand on functionality and the motto "Form follows Function", uncluttered and sleek, clean lines forming organic and geometric shapes with minimal ornamentation distinguishes this style from the others of the era.
This forever-chic design offers a fresh vibe and a look so authentic which allures the comfort to its users with a tinge of retro in its surroundings. There is a notable use of simple fabrications and moldings in the building exteriors and interiors. A mid-century home would highlight the juxtaposition of contrasting materials and dramatic use of its color palettes including subtle neutrals to heavy bolds. The ancient designers thrived to explore new materials after the war to mold them into iconic products and produce spectacular building features. During this era, the most noteworthy materials that changed the mid-century skyline included wood, metal, plastic, and glass. The unpretentious character of the design style that led many to follow and praise the style for the years to come.
How to Create a Mid Century Style Home
Are you an admirer of modern or minimalism but fear the restrictions imposed? This design style could be the one you are yearning for. Make your home effortless and transparent by placing the floor-to-ceiling windows and sliding doors for an inside-out feel. The simple and clean lines on the façade with overhanging eaves are indicative of an authentic mid-century approach. Its transparency could be observed through careful selection of materials and placing them as a contrast with one another. Do you feel the need to look through some examples to get a deeper understanding of this style? Let's have a look at these sold and available mid-century modern style homes in Palm Springs and around.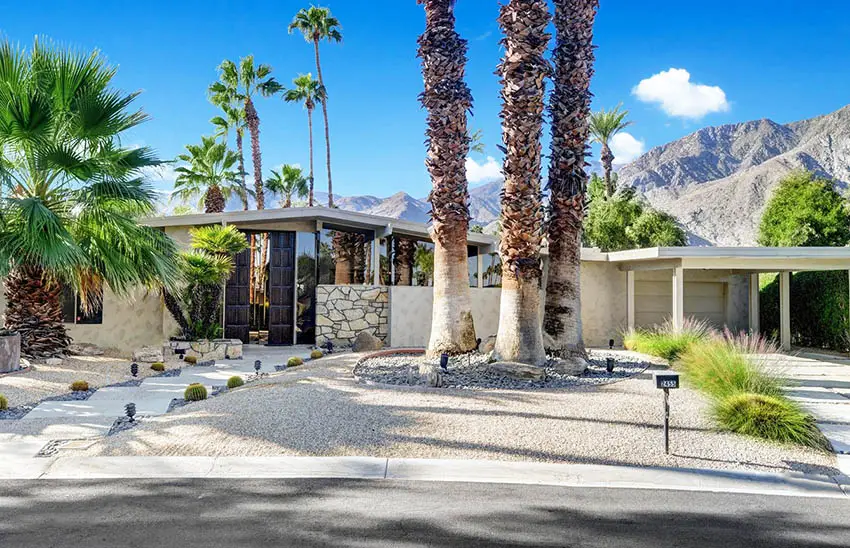 This single-family Mid-century modern house is located in Palm Springs
This 3,900 sqft mid-century modern home beautifully sits by San Jacinto mountains with a spectacular view of Indian Canyons golf course. The contrasting use of stone and glass on the house exteriors are commendably contextualizing with its surroundings. One of the striking features of abundant space found in Mid-century homes is to be noted here that are complemented with 12 feet high doors letting the natural lighting penetrate through. Built-in 1963, the architectural elements of the house tend to blend in with the landscape and never go out of style.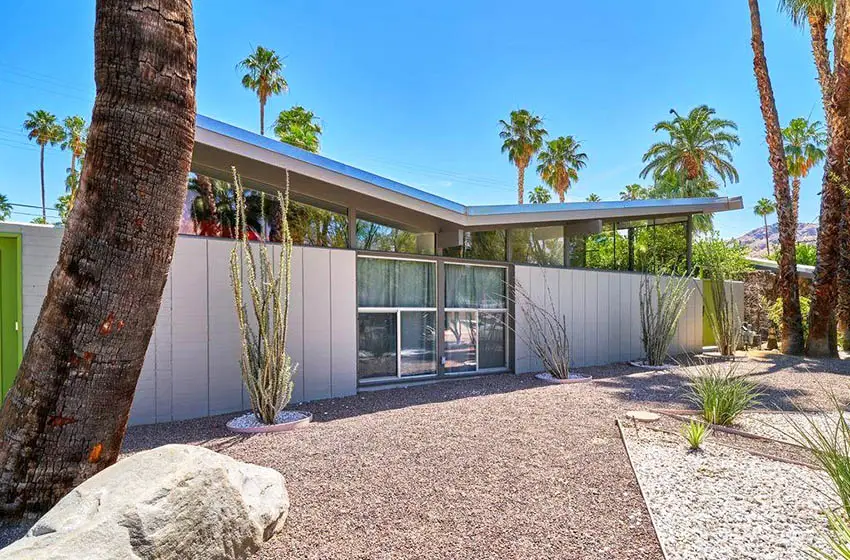 Iconic Riverside county house featuring Mid-century modern style
Priced and sold at 1 million dollars, this iconic 'butterfly roof' house is symbolic of mid-century style that fuses into an even finer example of the retro 60's. The 4-bedroom house offers open plan living features with exposed beams, clerestory windows and transparent glass walls filling up the interiors with immense natural lighting. The gradual sloping roof slides onto a private backyard on one of the ends with awe-inspiring views of the mountains. This timeless house is an inspiration and a dream for the generations to come.
Mid Century Modern Home Interiors
The design style dates back its roots to the 50's and 60's when art and creativity were at the peak. The architecture and furnishings were created to highlight the era's technology, lifestyles, and beliefs. The idea of originality was coined by avoiding the superficial and commemorating the truest form of art or a product. Due to this ideology of keeping the things in their true essence, people around the world still respect this form of art and implement it in their products, home interiors and exteriors.
Mid-century modern interiors bring out the lightness and an integral plea in the space. They respect the ingenuity of building materials by leaving the brick walls untouched and wooden beams exposed. Spaces are embellished with earthy color palettes like burnt orange, rust, greens, and wooden tans. This style relief the users with unnecessary restrictions regarding using the ultra-straight lines or edged corners. The features are said to have a contemporary touch with their iconic style similarity in modern walls, custom-designed egg chairs and tremendous use of exposed metal. Some of the highlights from the mid-century modern interior spaces are as follows-
Simple and functional
Exposed materials
Sculpture centers
Organic shapes and patterns
Tufted upholstery
Textures and graphics
Contrasting bold and pop colors
Simple fabrications
Abstract forms
Open Floor Plans
Authentic fireplace
Earthy color palette
Light and transparent
These instances from the interiors of mid-century modern homes by San Jacinto Mountains in Palm Springs, CA can give an insight of how beautifully the era is narrated through little details.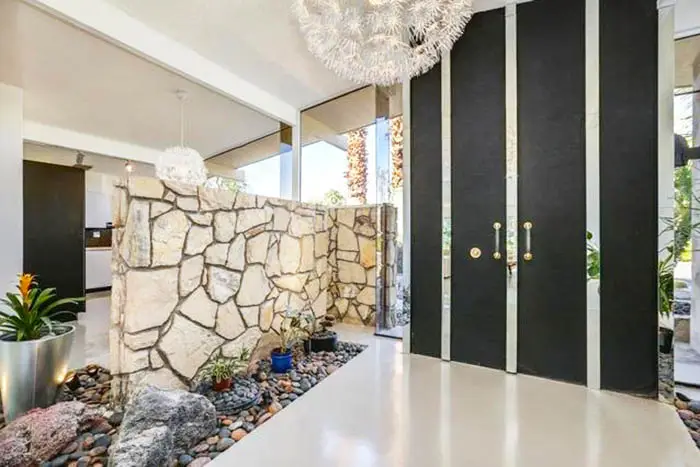 Pebbles and Indoor plants make this space feel Inside-out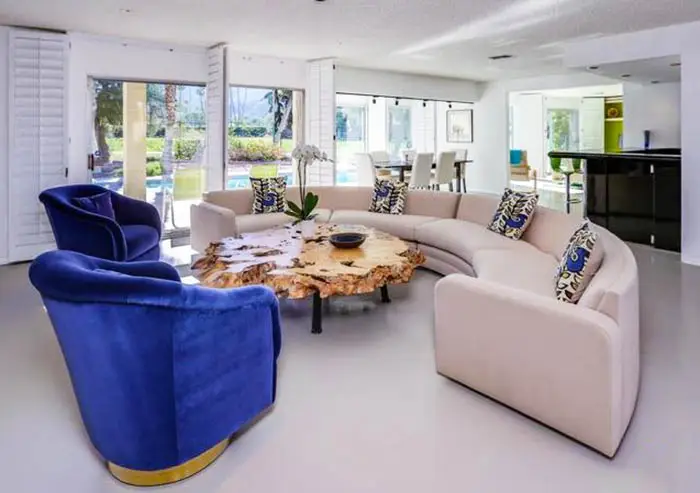 Mid-century modern inspired curvilinear couch and barrel chairs. See more types of furniture styles here.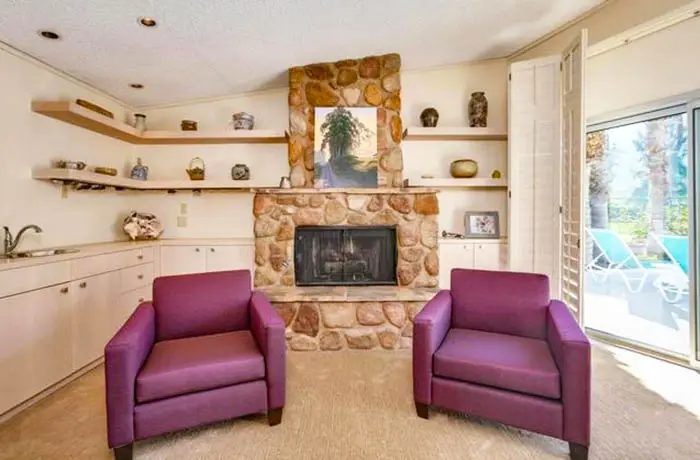 Contrasting materials and stone-exposed fireplace reflect the era's creativity spirit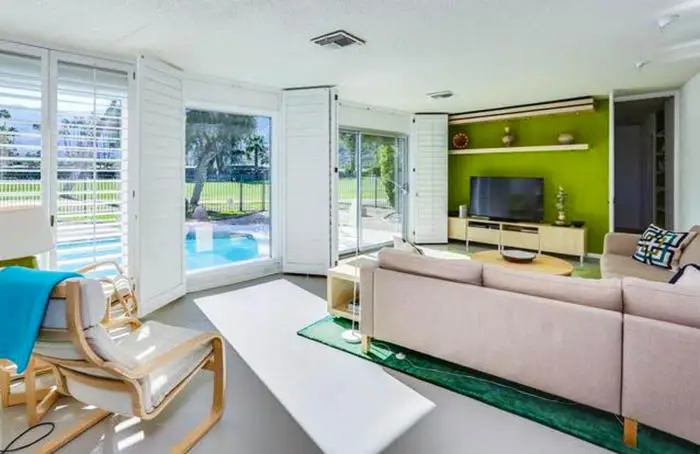 Natural light penetrates through floor-to-ceiling glass doors on to the living room with colorful accent wall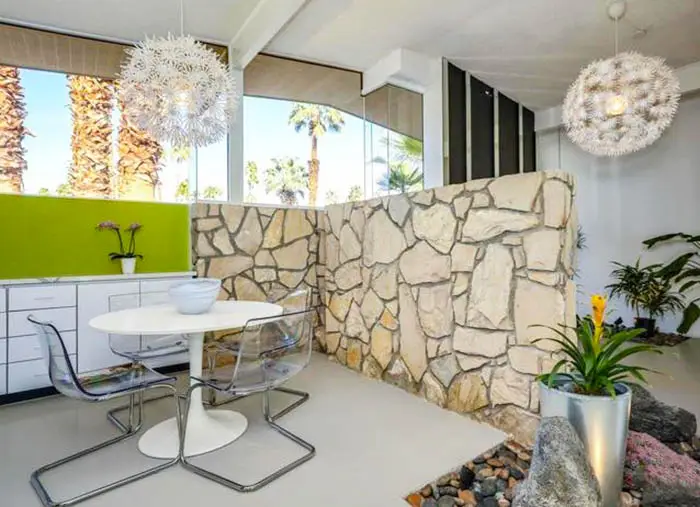 The continuity of the exposed stone in the interiors offers a seamless look
This mid-century home highlights some of the dominant features of the era. Exposed stone is a limelight that attracts the eye on the exteriors and its majestic seamlessness continues to the interior spaces reflecting connectivity in the house. The house showcases a curvilinear couch with a striking center table that makes it an essential noteworthy feature of the style. Minimal cluttering, bold greens, plenty of natural light and abundant space uplift the residents' moods and dives them into an awe-inspired feel.
The iconic 'butterfly roof' mid-century modern house has made it to the local design news and aspires to be a strong standing example of striking design history. The interiors are equally admirable, and its eye-catchy look has sold-out the house already.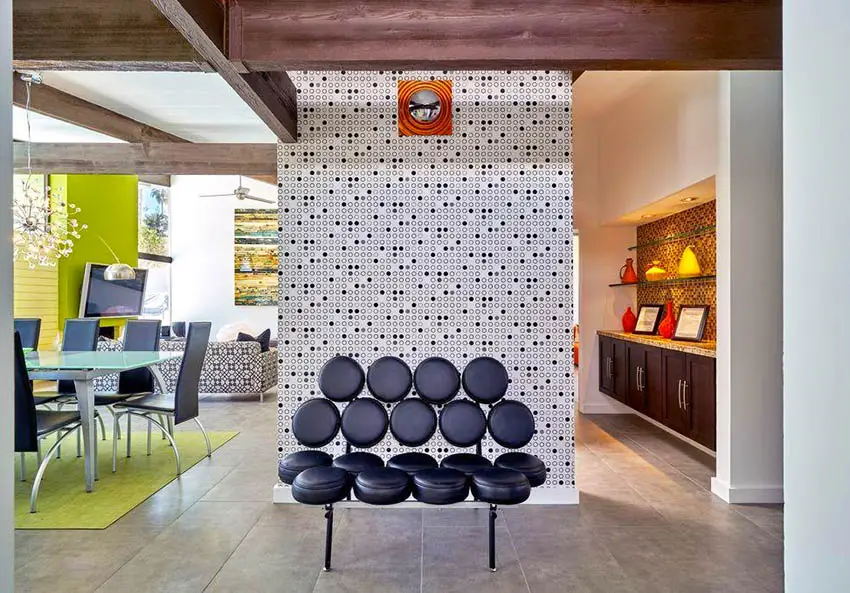 Geometric shapes and patterns are a focal point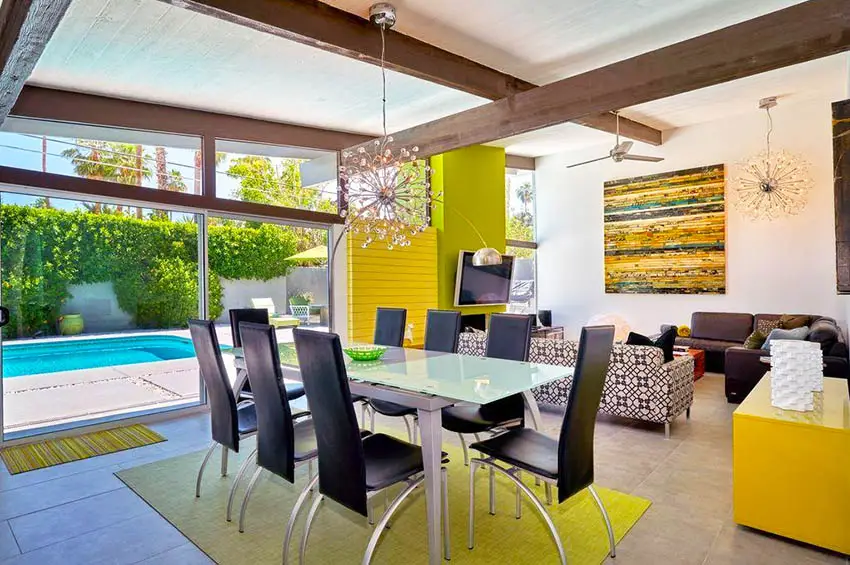 Pop colors and exposed wooden beams in the living area highlight the mid-century concepts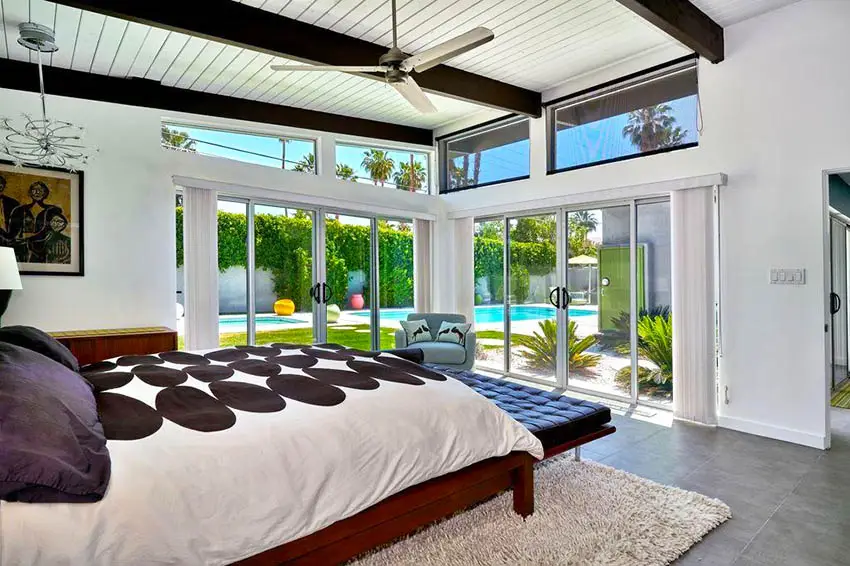 Breathtaking swimming pool views from this spacious bedroom with open beam ceiling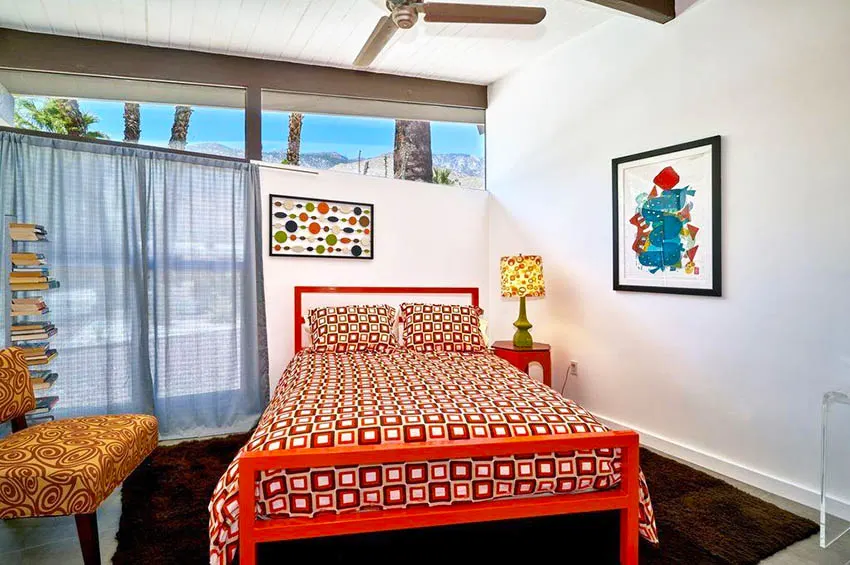 Bedrooms with clerestory windows provide diffused natural lighting in the interiors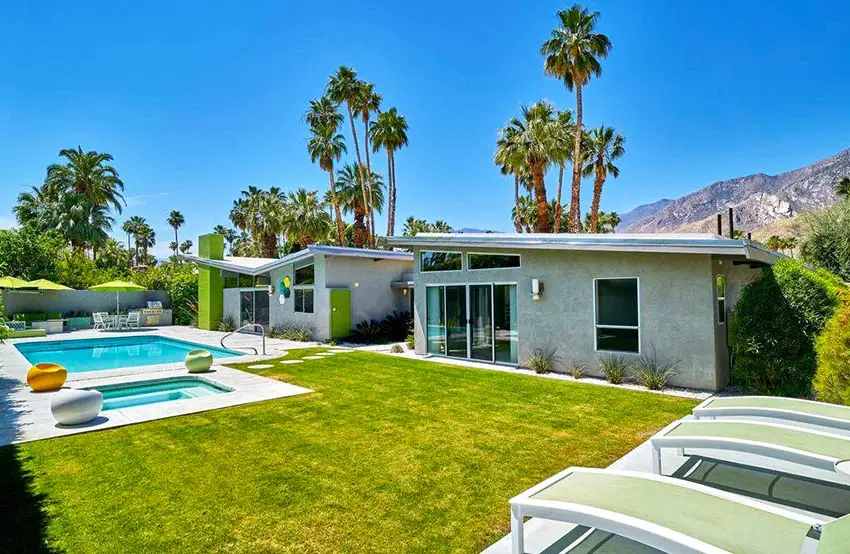 Mid century style backyard with expansive lawn and swimming pool offer quality of living for residents
Complementing the iconic 'butterfly roof', this house features some authentic mid-century elements that have drawn multiple clients towards it. The artistic use of geometric and organic shapes from furniture, to wall coverings and even bed furnishings, are seemed to be highly influenced by this style. The exposed wooden beams run horizontal and vertical throughout the house supporting the majestic roof. Most attractive is the pop color palette that attracts the eye to its core. Multiple contrasting shades are found in different spaces including the serene greens, burnt sage and enticing red. Categorized as an 'Eichler Home', this house sets a true example of mid-century modern to be proudly standing since 1958.
Mid Century Modern Home Renovation
Everyone dreams of a house covered with tall glass and cantilevered floors; possibly a massive fireplace in the center of their double-height ceiling design living room and an open floor plan that makes the space look huge. After World War 2, people experimented with all sorts of materials and techniques to explore and come up with the latest unknown technologies, however, the most creative challenges come up with their pros and cons. The houses built in the 50s and 60s required innumerable renovations in the 80's and 90's. Highly inspired by the "looks" of a mid-century modern house, people tend to fall in the pit by not understanding the true aesthetic and avoiding to pay attention to the details in materials, colors and textures.
Do you own a mid-century modern house that constantly requires fixing the roof, plumbing, electrical, HVAC and sewer lines? Yes! The struggle is real. Due to enormous amounts of glass used on the façade, the building fails in insulation. However, alternatives like thick tempered glass could be used to lower down the electricity bills. The smart use of building materials is necessary to get a mid-century makeover for example, opting for brick and metals like brass is a smart move with "walnut type" wood finish that gives the interiors an elegant and rich look.
"Fireplaces" seem like the most important and authentic feature however the ancient, smoky fireplaces are a big cause of indoor pollution. Replacing these with an all-electric fireplace is a more modern and secure option to choose. Upgrading the traditional elements with more tech-friendly products would result in a futuristic house with roots deep down in rich culture and history.
You could add connected switches, fancy mid-century lights, curtains, and shades to get rid of the old school products. Sometimes it can be challenging to get the same piece of furniture or light that was previously used; you can calm down your anxiety by conversing with local artisans to produce a similar one.
Mid-century modern house calls out the interiors to be an extension of the exteriors. It is worth incorporating your outdoors when renovating the house by adding sliding doors, placing furniture or a barbecue stand. Update the floors with slate, flagstone, and wood (depending on the climate) and observe the outdoor space shining out.
One such example is a single-family, 1,300 sqft renovated mid-century house that beautifully incorporates the indoors with outdoors. Located in Palm Springs, this house offers a perfect space to relax with spectacular views of the mountains.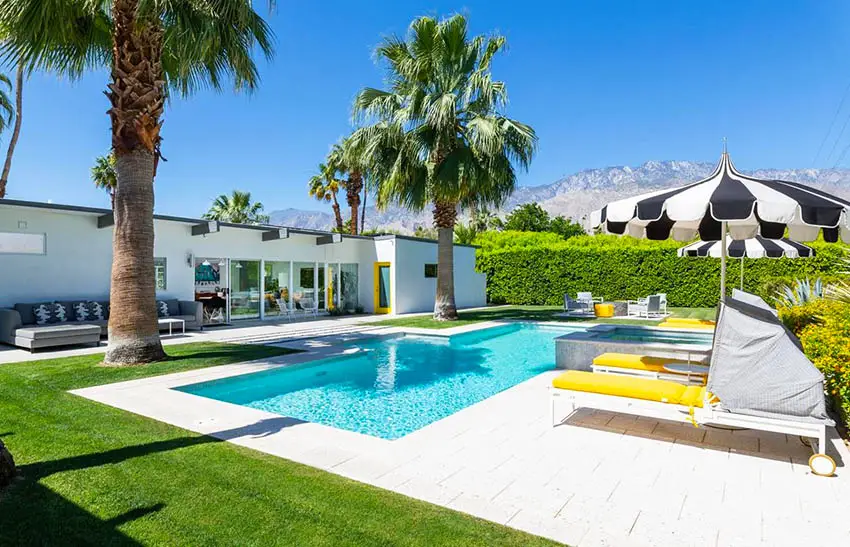 Large pool with a raised spa and stunning view of the mountains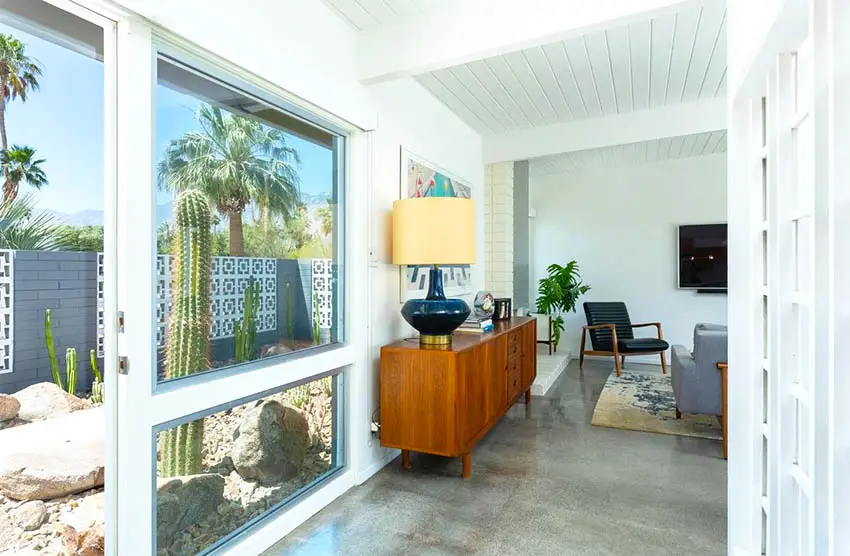 Renovated polished concrete floor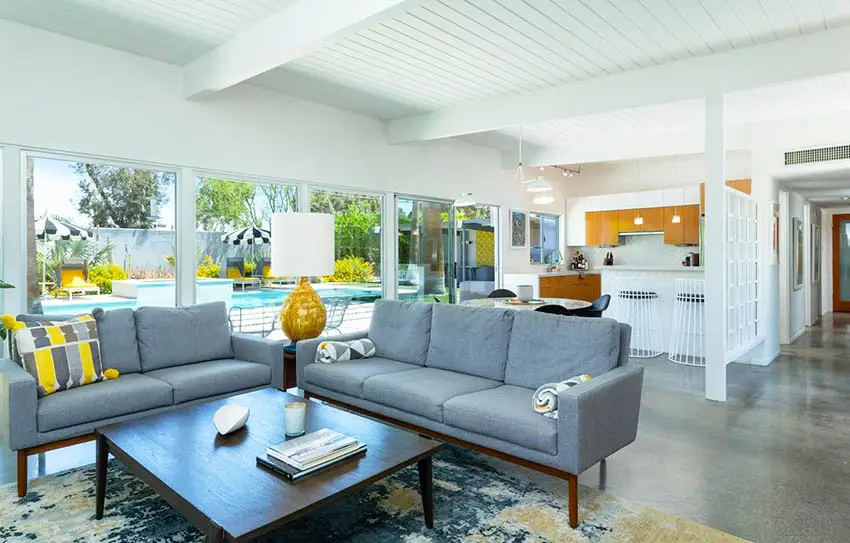 Typical mid-century modern interiors with renovated floor, exposed beam, wider windows and natural lighting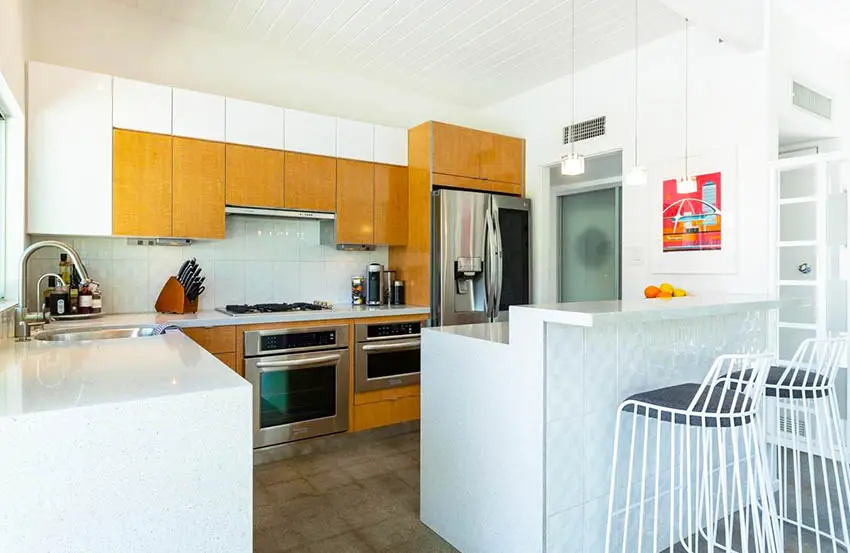 Renovated kitchen with custom wooden cabinets and mid-century exposed metal chairs
All the ancient windows are replaced with double-pane energy saving glass panels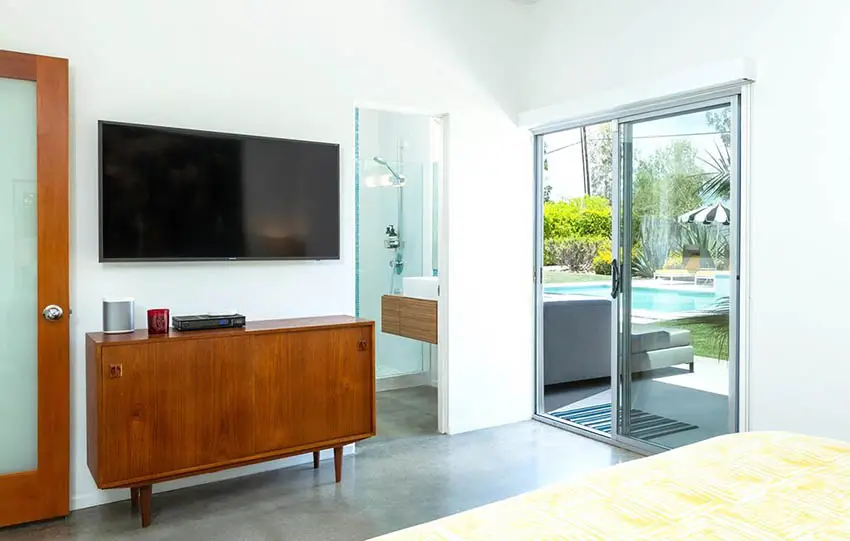 Sliding doors opening towards the outdoors to connect the two spaces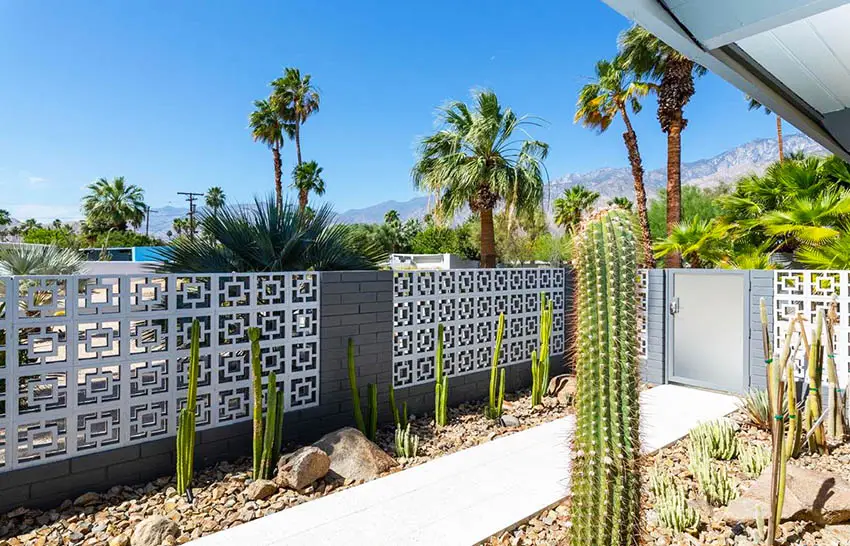 Geometric design fence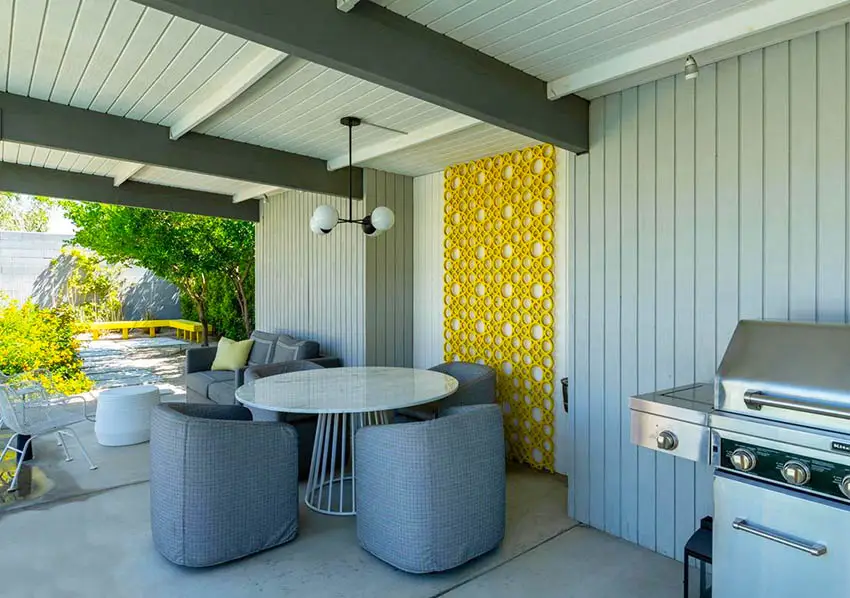 Mid century modern outdoor geometric design accent wall
The house has been beautifully renovated keeping in mind the look and feel of original William Krisel design with a slight update in technology and services. The AC has been replaced with a newer version and materials that are more sustainable have been introduced. Mid-century modern design has an everlasting charm that may never fade away for centuries and will continually grow to advance and become a better product of its own every passing generation.