Welcome to our gallery of the types of furniture styles, including helpful tips for getting the perfect interior design.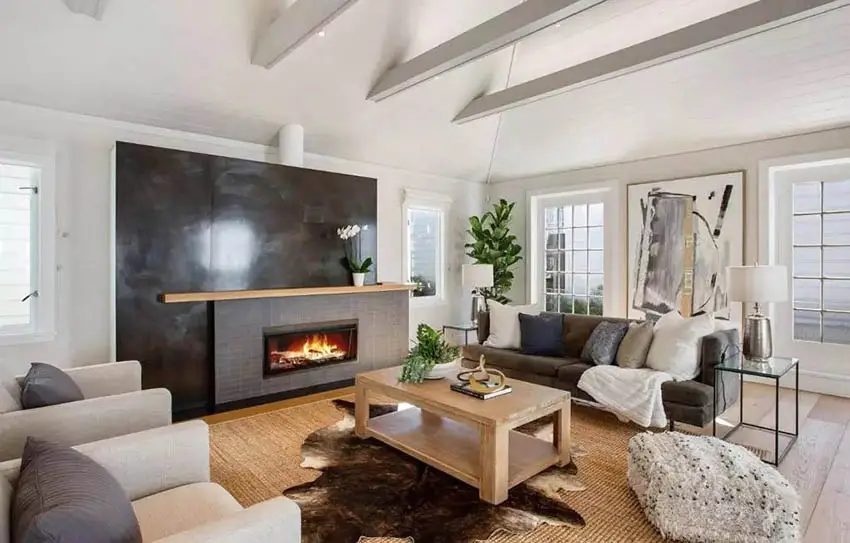 After you have found your perfect home, there is one more important element that you need to consider: What types of furniture styles are you going to decorate with?
Your choice of furniture design isn't just a utilitarian question. Sure, you need a bed in a bedroom, a dining table in the dining room and so on, but the types of different furniture styles available also work to create a certain atmosphere. So the right type needs to match your idea of how you want a room to look and feel.
There are three major classifications of furniture style: contemporary, modern and traditional and in this post, we are going to take a closer look at all three.
Contemporary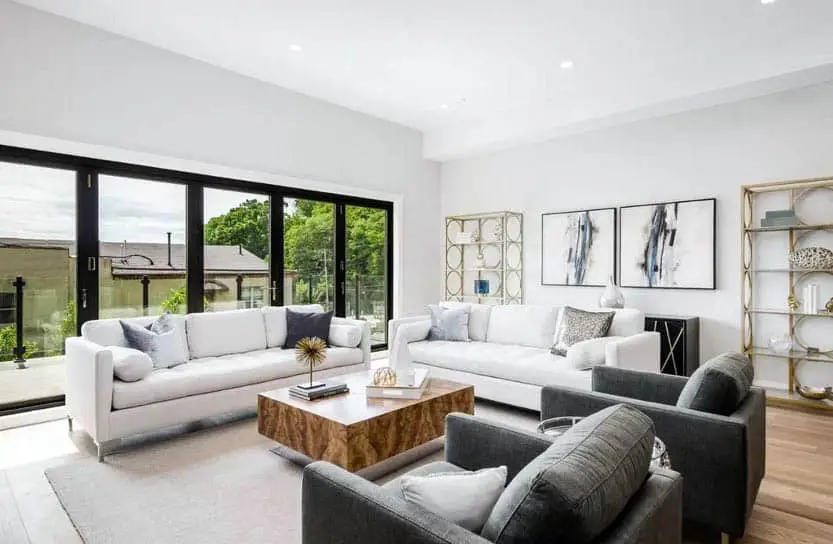 Contemporary is characterized by solid colors, sleek lines, neutral colors and various materials such as metal and glass. Contemporary is modern, clutter-free, sleek, sophisticated, airy and light.
This style loves big open spaces and light colors that makes even smaller spaces look bigger. There is space to move around and has that airy feel. Neutral colors cover most of the space, and colors are incorporated into small details such as lighting, pillows, art and flowers.
Light is also a big element in contemporary style where there is plenty of natural light as well as artificial ones in the form of lamps and lighting fixtures.
Coastal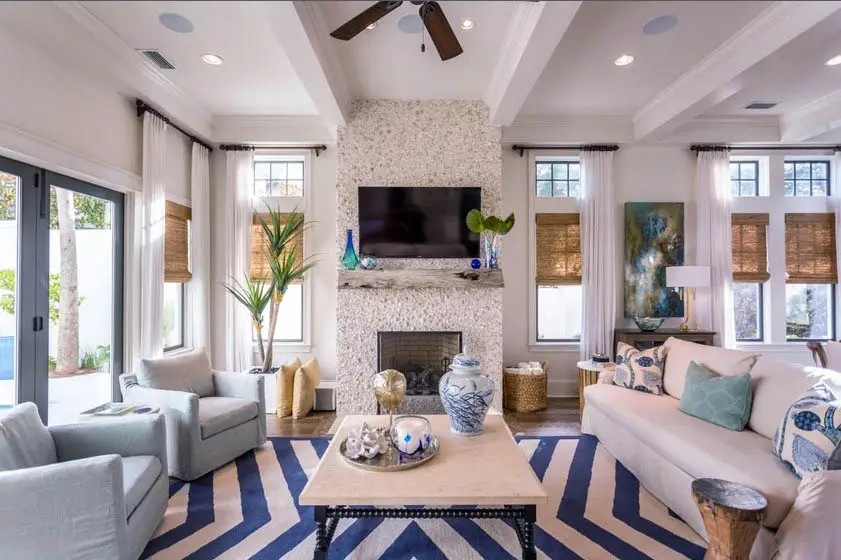 The coastal design is inspired by the ocean. The beach is a huge element in this design, which gives that breezy, casual, and holiday-feel to the space. Minimalist details incorporates cool colors like blue, green, white and purple.
There are also different textures that compliment the look like shells, sand, wood, ropes, wicker and glass. The nautical look of blue and white are very popular wand the overall feeling of the coastal design is relaxed, calm and lazy.
Transitional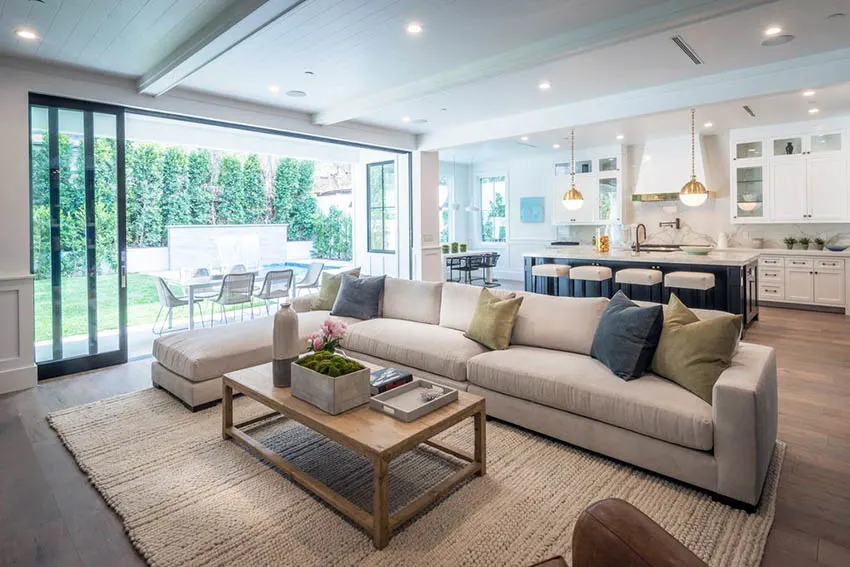 The transitional style combines traditional and contemporary design together to create a cohesive blend of classic and sophistication.
Using simple color schemes, straight lines, soft upholstery and the latest materials, transitional furniture design feels refined and comfortable at the same time.
You can often find geometric shapes reminiscent of modern elements, combined with neutral color upholstery, gilded frames, dark wood and glass accents.
Shabby Chic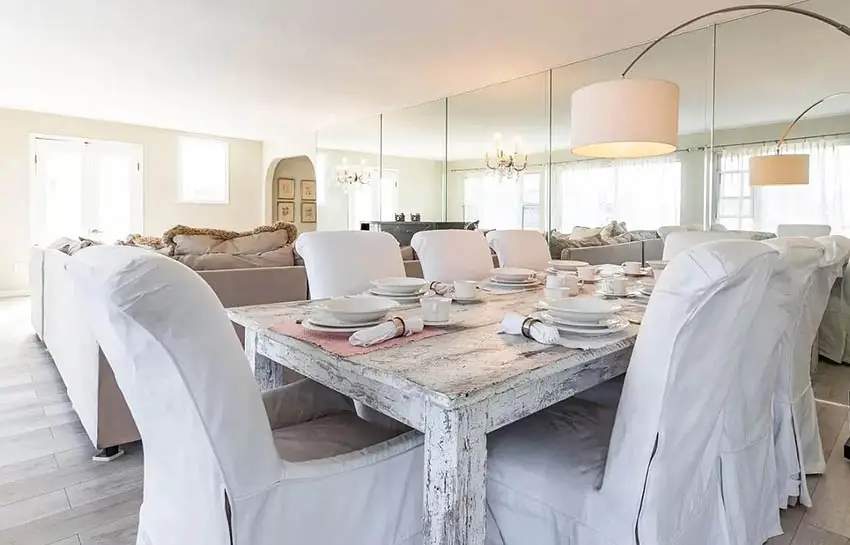 This furniture style arose in England in the early 1980s. The idea behind the Shabby Chic movement is to have a lot of vintage furniture that is made more contemporary with the used of arty paint effects.
This type also favors a neutral color pallet combined with Rustic furniture style effects.
Scandinavian Contemporary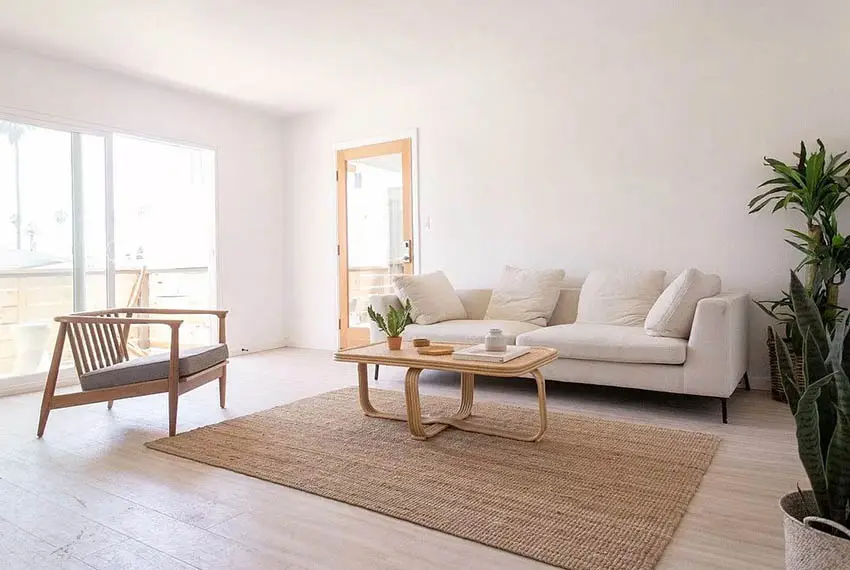 This furniture style originated in Scandinavia and rose in popularity during the early part of the 20th century. Scandinavian Contemporary furniture design follows three tenets: functionality, minimalism, and simplicity. They are typically utilitarian in design and often made with natural wood.
Modern
These are more recent styles, developed without any real adherence to a certain time period. They tend to blur the lines between artistic and functional and often combine elements from several traditional types.
Modern furniture was developed during the modernist movement of the 1900s. It uses a monochromatic color palette and is often made of "modern" material such as steel, vinyl, plastic, and leather.
The modern furniture elements are sleek and simple with clean lines and basic forms. Tables are often simple like wood or metal, but are often decorated with glass for a polished look.
Minimalist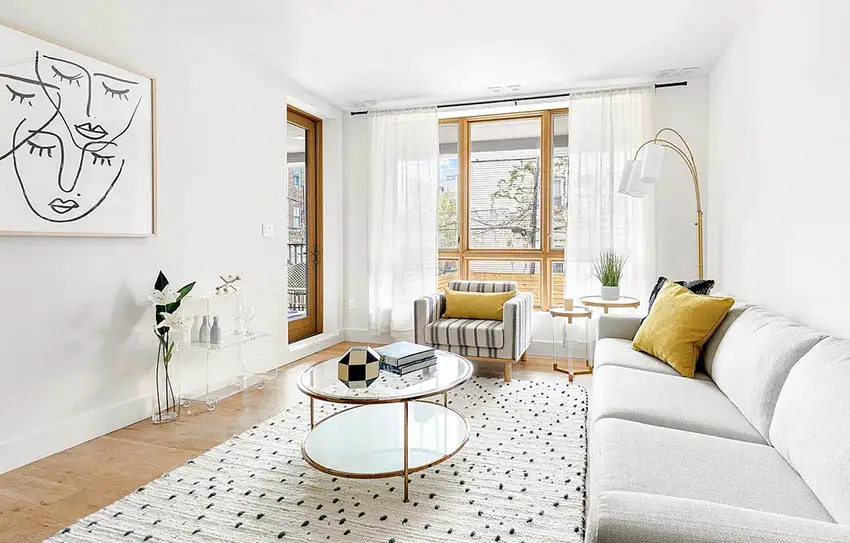 The Minimalist furniture style is a combination of traits taken from Scandinavian Contemporary and Arts and Craft furniture designs and combines it with the aesthetics of modern.
The results are a simple yet colorful interior that is fond of utilitarian pieces with round shapes and no edges. No gaudy or fancy ornamentation here.
Industrial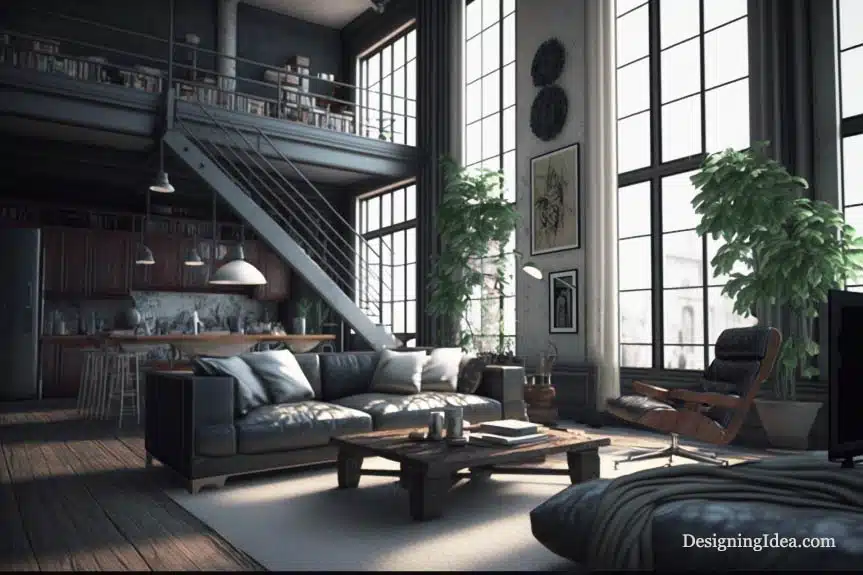 Industrial-style furniture may not be a common option, but we believe it can give your home a unique and eye-catching ambiance. This modern furniture design is inspired by the warehouses as well as factories of the industrial revolution.
Hence, the main focus of industrial details are on simplistic design, usage of raw materials, and pure functionality.
Customarily, pieces are composed of metal, repurposed wood, or concrete. Their details are usually striking, and the lines are unadorned. If you wish to make your interiors look more masculine, choosing this may be an ideal option.
The best examples are coffee tables made of reclaimed wood, steel chairs, and metal bookcases. These furniture items are often accentuated with other industrial items like vintage lighting fixtures with pulleys or exposed track lights.
The colors customarily used on industrial types of furniture are gray, black, or brown, as they elicit a sense of durability and an industrial vibe.
Any furniture items that are created out of repurposed or salvaged materials can be considered industrial related. Another distinctive detail that is quite noticeable with industrial styling is its exposed bolts, screws, and other pieces of hardware.
Moreover, some key features include the use exposed hardware, distressed finishes, and practical design details such as wheels.
Retro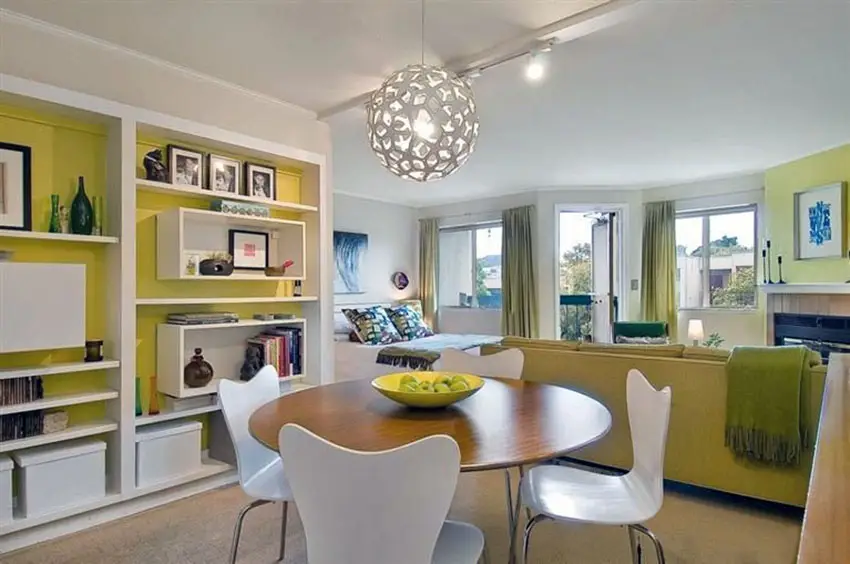 The Retro furniture style is a modern design that has elements that seek to imitate the fashion trends of the past. Retro furniture tends to incorporate colorful design elements from pop culture to create a whimsical feel.
Mid-Century Modern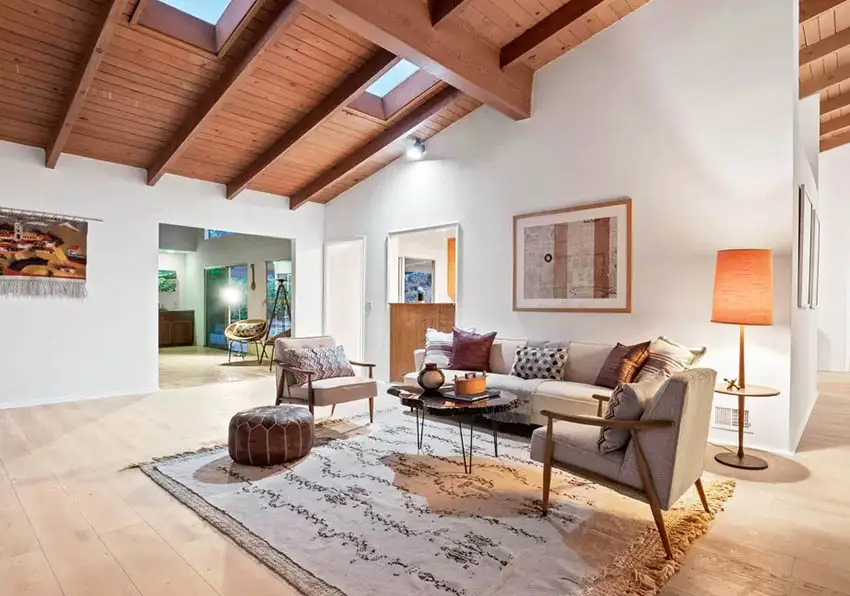 The mid-century design style was a movement that originated in the United states roughly between the years from 1945 to 1965.
Mid-century modern covers furniture, architecture, and graphic design. It features the use of many different types of materials combined with clean lines and subtle curves.
Relaxed Modern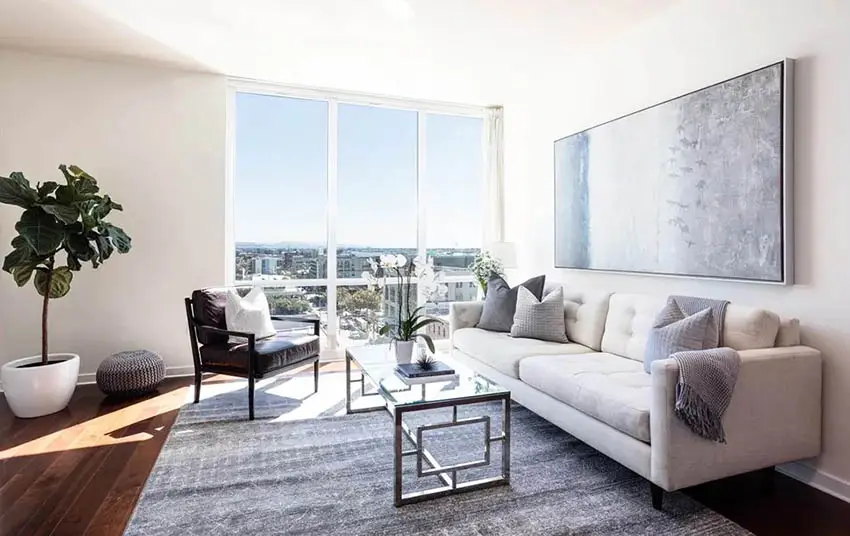 Furniture in this style embraces the minimalist aesthetic and seek to create a relaxed yet sophisticated feel. It likes to feature sleek silhouettes combined with soft elements like plush fabric. It incorporates a lot of metals in its design features.
Traditional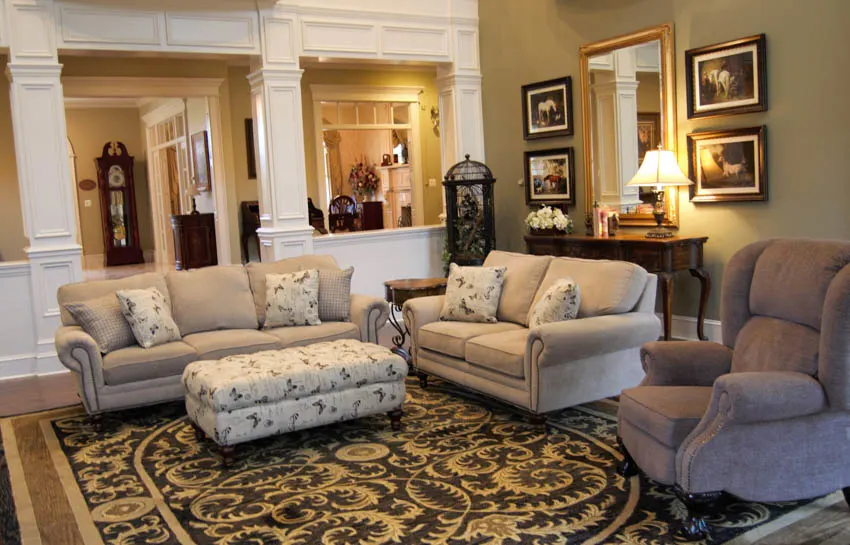 Traditional furniture styles are influenced by historical and classical furniture. These are styles that became popular centuries ago and have remained so to this day. Traditional furniture has traits of the Queen Anne, Sheraton, and Chippendale furniture. It features straight lines, tapered legs, and lots of graceful ornamentation.
The furnishings from the traditional design are mostly revivals from the 18th century English, 19th century neo-classic, French country and British Colonial. These furnishings give that classic feeling of a space that never goes out of style. It's all about comfort, warmth, familiarity, and predictable order.
Balance is achieved by combining small and large furnishings that serve multiple purpose in a space. Warm colors are often used for traditional design, such as cream, gold, gray, and brown. There are florals, stripes, and plaids that add texture and interest.
American Colonial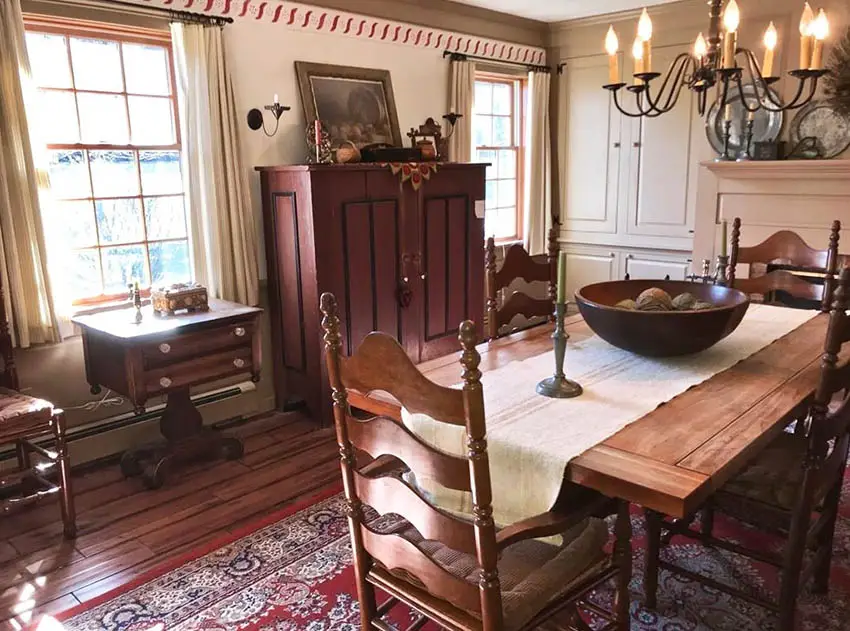 This furniture combines a lot of elements from traditional decor that have been popular throughout early US history. So it has traits from the Jacobean, William and Mary, Queen Anne, Pennsylvania Dutch, and Chippendale furniture.
Antique
Furniture that is classified as being in the Antique style is usually about a century old. Most antique furniture is wood and uses ornate and unique details.
Vintage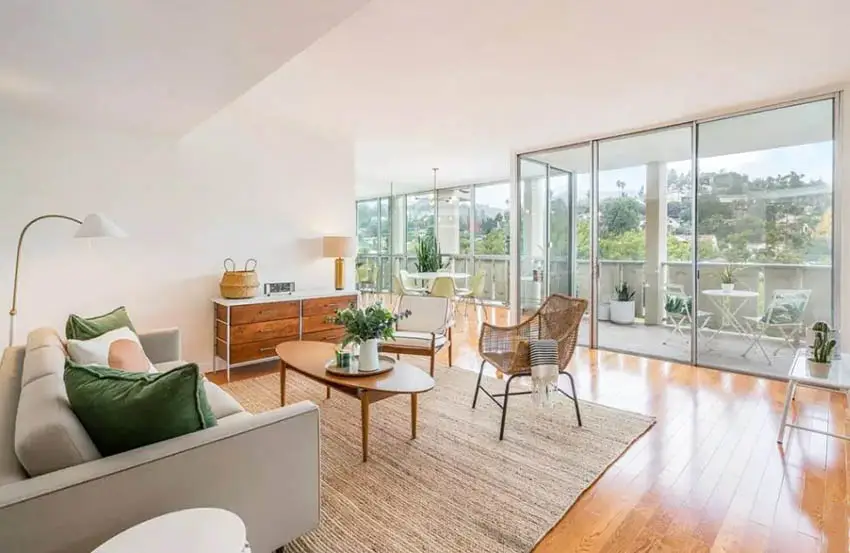 Vintage is similar to antique in the sense that they are "old". Vintage furniture, however, is younger than Antique. If it is 50 to 100 years old, it's classified as Vintage. Older than that, it's Antique.
The vintage style stays true to its name. The pieces used are from a particular era. Vintage pieces are the treasures of flea markets, garage sales, estate sales, salvage shops and antique stores. However, vintage pieces need care and one should know how to maintain these one of a kind pieces.
The vintage look is not limited to old pieces of furniture or décor. Designers often add new accessories as well such as lighting fixtures, carpets, or art to achieve the overall desired look. Vintage often times invokes an experience of nostalgia from both admirers and owners.
Vintage furniture is sturdily made but is also characterized by an artistic flair. The vintage style usually puts purpose into account.
Pieces are not only selected for their look, but also for their purpose. Most vintage products are furbished to provide another purpose. Old cabinets can be refurbished into side tables. Old doors can be made into dining tables.
The vintage look uses low-key primary colors such as beige, gray and cream. It's often described as elegant and romantic. However, not all vintage looks are historical. Some furnishings can be artificially aged to appear older and used.
Rustic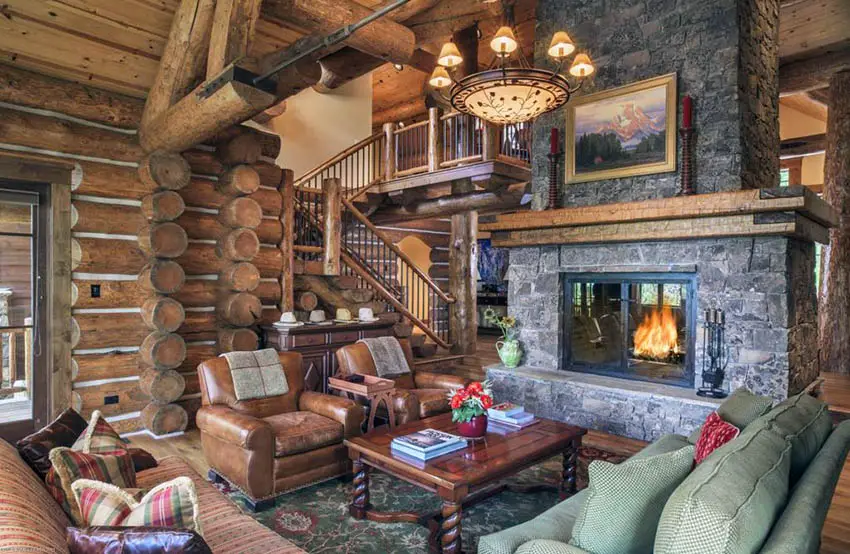 The Rustic furniture style is characterized by its use of natural materials. By using wood, hide, linen, and cotton, Rustic furniture seeks to bring a sense of warmth and coziness to a room. See more rustic living room designs here.
Jacobean
The Jacobean furniture style originated during the English Early Renaissance that occurred from around 1600-1690.
It's characterized by the use of straight lines and dark finishes. A common design feature of Jacobean furniture is the use of ornate carvings as decorative touches.
William and Mary
William and Mary forms rose in popularity during the period of 1690 to 1735. Two design features that are common in furniture done in the William and Mary details are that they have trumpet turned legs that often end in Spanish ball feet.
It is heavily influenced by both Dutch and Chinese furniture designs. Perhaps the most striking example of these influences is the fact that they often feature Oriental lacquer work.
Queen Anne
Queen Anne style furniture was popular in the 18th century, when William III and Queen Anne reigned in England. Queen Ann furniture is known for having cabriole legs with either pad or drake feet.
Fiddle-backed chairs were popular during this period, so were bat-wing drawer pulls and these two types have remained characteristics of the Queen Anne period even today.

Louis XVI
This furniture style rose in popularity during the period of 1760-1789, during the reign of Louis XVI and just before the French Revolution did away with the monarchy.
Despite being named for the French king, it was actually designed for the queen, Marie Antoinette.
It's characterized by straight lines with Greco-Roman influences. It use a lot of classical motifs such and fluting. It also features richly carved detailing.
French
The French have always been known to be masters of style, and this does not exclude interior design. Their interior design is filled with gold, bronze, antiques, textured fabrics, and tasteful art.
Popular materials used in French style furniture are walnut, mahogany, oak, rosewood, maple, copper, brass, mother of pearl and cast iron. Furniture can be sophisticated, bold and even richly adorned with gilded features.
Over the years, French interior design has grown with influences from other periods and elements such as country, eclectic, and contemporary. The French love classic designs that never go out of style.
They also love to display their antiques and heirlooms. Colors are everywhere from flowers to drapes and to furniture. Different textures can be found throughout the space.
French Country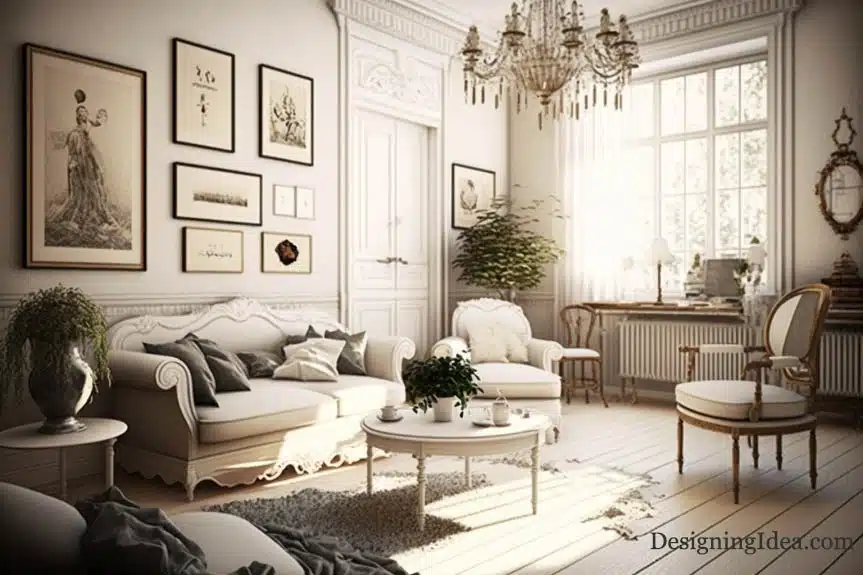 As the name implies, the French Country furniture style draws its inspiration from the beauty and elegance of the French countryside.
Indeed, it antique, rustic, yet refined elements that help in achieving a warm and welcoming indoor atmosphere. French Country pieces are traditionally made out of natural materials like wood or stone.
When it comes to the design elements of this furniture, subtle carvings, curved lines, and neutral colors such as beige, cream, or white are usually applied. Typically, the design elements add a touch of rustic or organic.
Some French Country-style furniture pieces even include floral patterns and rattan accents to further highlight their naturalistic visuals.
The Cabriole sofa is a traditional product of French country furniture in the French provincial design aesthetic. Cabriole sofas have gorgeous curves as well as complex detailing that make them a focal point in any room. Products like a couch or armchair are regularly upholstered in floral or pastel-colored textiles.
Moreover, the French armoire is another popular piece of French country furniture. It is a big cabinet with ornamental carvings and elaborate hardware that was initially used to store linens and clothing.
Many practical spaces can be made in your home using French country ideas. To achieve this, you can choose furniture rough-hewn from stone and wood to create a more rustic appearance.
Furniture with exquisite metalwork and marble or glass elements will have a more upscale appearance, flaunting that French Country-style aesthetic.
Pennsylvania Dutch
Pennsylvania Dutch influence rose in popularity during the early 18th and 19th century in America. The Pennsylvania Dutch were early immigrants to America from Germany, so it has marked Germanic influences.
The Pennsylvanian Dutch were very religious and counted austerity and simple living as virtues. So it's not surprising that traits they popularized is very utilitarian with simple, straight lines. Despite being a utilitarian design, Pennsylvanian Dutch furniture is also very colorful and adorned with folk artwork and painting.
Chippendale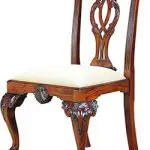 This style role in popularity in 1750-1790 when the furniture made by a London cabinet-maker called Thomas Chippendale began to catch the eye of the rich and aristocratic.
Chippendale furniture incorporates elements from the Queen Anne era and has Gothic, Chinese, and French influences.
Designs that are distinctly "Chippendale" are the use of ball and claw feet, cabriole legs, and the addition of a broken pediment scroll on top.
Sheraton
Around the same time that Hepplewhite furniture was popular, another English furniture designer was rising in prominence. From around 1780-1820, some of the most popular furniture pieces were those designed by George Sheraton.
Sheraton loved simplicity and straight lines and this can be seen in the Sheraton furniture style. He also used contrasting veneers but tapered legs are only an occasional design feature.
Hepplewhite
This furniture first became popular in the United States back in 1765-1800. This furniture style took its name from the London-based designer George Hepplewhite.
Hepplewhite furniture has Neoclassical influences and a very delicate appearance. It uses a lot of tapered legs, inlay, and contrasting veneers.
Federal
Federal furniture arose at the same time as Hepplewhite and Sheraton furniture and is considered a combination of both.
The Federal furniture style uses a lot of graceful, straight lines. Like the one it emulates, it uses contrasting veneers as a decorative touch. It also uses a lot of neoclassical motifs.
American Empire
This furniture was popular in 19th century US. It was supposed to be inspired by the French. The American Empire furniture is known for its use of classical ornamentation and course carvings. Furniture in this style characteristically has a dark finish.
Asian
As the term describes, Asian types of furniture styles gathers inspiration from the various countries in Asia. The continent is vast, and the culture is rich, so there are so many ways to incorporate Asian design into your space.
Asian design has wooden elements like bamboo and rattan, rich colors like reds and yellows, calm colors like white and green, cultural characters like dragons, and religious influences like the Buddha and Hindu gods.
Japanese minimalist design showcases serenity and tranquility. The furniture is clean and simple. There are less decorations so the space looks bigger. The walls are in neutral colors of white, gray or brown. Splashes of color can be found among pillows, vases, or art.
Victorian
This furniture style was developed during the English Victorian period, thus it is named for Queen Victoria.
The Victorian period was the beginning of the industrial revolution so Victorian furniture also has the distinction of being the first furniture period that was able to take advantage of manufacturing.
It features solid wood furniture, heavy proportions and a dark finish. It has a Romantic influences like elaborate ornamentation.
English Country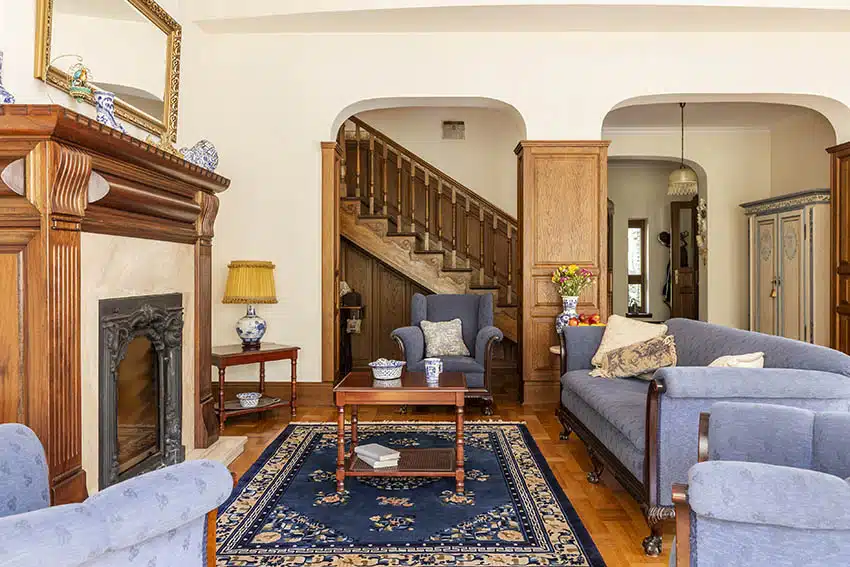 This furniture style is influenced by the rural and romantic appearance of the English countryside. The English Country-style furniture is all about evoking a sense of relaxation and warmth, ensuring that each furniture piece is elegant, comfortable, and functional.
The primary focus is on craftsmanship and long-lasting quality. Hence, furniture products are frequently made from hardwoods like mahogany and oak. Plus, the details for English Country usually feature very complex carvings and rich finishes.
Moreover, some of the items, especially the English Country armchairs and sofas, are upholstered in elegant fabrics like linen or velvet.
Arts and Craft
This furniture style arose during the Arts and Craft movement of 1880-1910. This movement looked to recapture the art and craftsmanship of good that were produced before the Industrial Revolution and the rise of manufacturing. The Arts and Craft movement is characteristically utilitarian and simple in design.
Arts and Craft focuses on use of natural materials, and are often hand crafted to provide long -lasting quality and a timeless appearance. The furniture is crafted with thin straight lines or rectilinear shapes, and offers more ornamentation than the similar Craftsman furniture.
Art Deco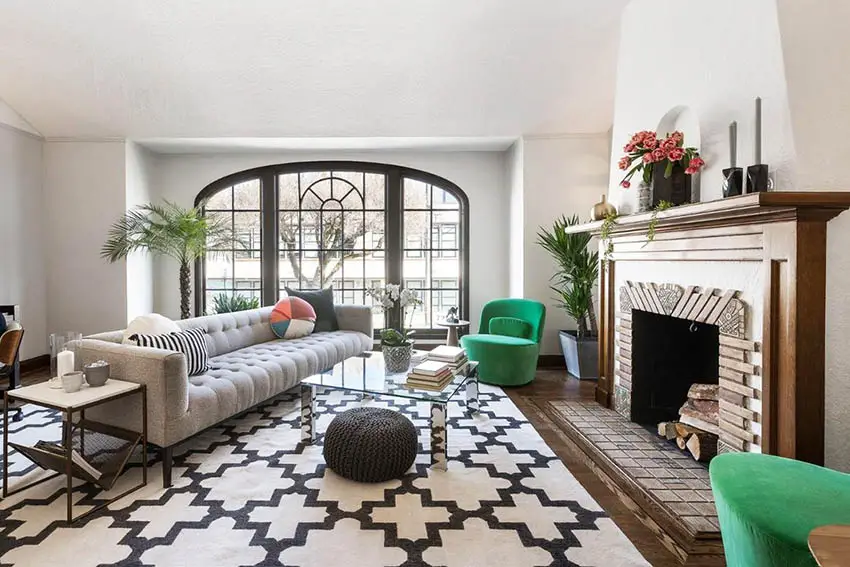 Art deco is characterized by streamlined and geometric shapes. This style became popular in the 1920s and 1930s. The term art deco originates from the French phrase "art decoratifs", which explains where it first appeared before World War I.
Art deco is the picture of luxury and modernity. It is a combination of different and contradictory design ideas. Coming shortly after the Arts and Craft movement came to an end, Art Deco eschewed the utilitarian simplicity of the previous movement.
Art Deco furniture uses bold and vibrant colors and geometric shapes. Art deco pieces include cubism, stainless steel, plastic, and mirrors.
With a focus on sophistication it loves to incorporate "unusual" materials such as metals, exotic woods, and inlays made of ivory. Art deco is not only found in interior design, but also in painting, sculpture, jewelry, furniture, and art.
Bohemian
Bohemian furniture style is intended for homeowners who want their homes to be packed with energy, creativity, and interesting things for everybody to see. It defies modern perceptions by embracing imaginative, easygoing, and eccentric décor.
Bohemian furnishings and rooms share some common features in that they are constantly diversified and share comparable aspects, despite the fact that no two rooms are ever totally the same.
If you enjoy adding eclectic, creative, and ornamented furniture pieces to your interiors, Bohemian may be the best option for you. It is quite an adventurous choice and often combines several eclectic design elements usually seen in vintage shops, street markers, or thrift shops.
Furthermore, Bohemian furniture pieces normally use eye-catching patterns and rich textures. It also focuses on design uniqueness and luxurious comfort level. Although there are no strict guidelines for Bohemian furniture, warm earth colors, as well as shimmery and jewel tones, are popular.
For base colors, you can consider deep greens, browns, and grays, and then accent with vibrant purple, scorching orange, and turquoise. The use of color combinations and layering distinguishes this style.
You may also put blankets on top of every furniture piece and experiment with hanging tapestries and big rugs on the walls beside your pictures and art. If this all appears a little overwhelming, remember that while rich color is essential to the Bohemian look, white can also be used as a backdrop for darker tones.
However, if you plan to choose this idea, make sure that it complements your existing decor. Remember that the Bohemian design uses a wide variety of eras, materials, designs, and decorative elements. Thus, they might not be an ideal option for minimalist home designs.
Nautical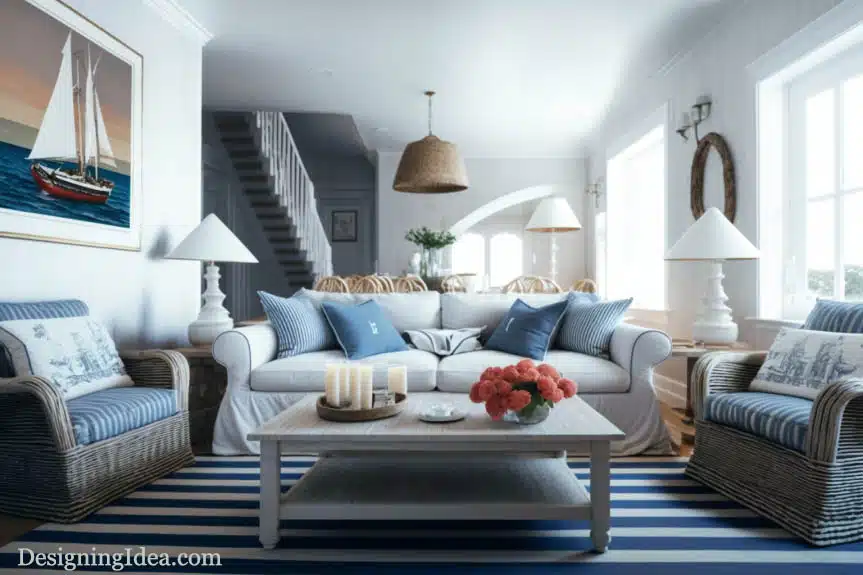 Beachfront houses, coastal or sea-inspired interior spaces, or blue-themed rooms are the perfect places for nautical-style furniture pieces. Normally, nautical furniture items use natural materials such as rattan, wicker, wood, and rope. Plus, it uses ocean-themed colors like blue, beige, and white.
Aside from that, nautical items primarily elicit a sense of pure comfort, relaxation, and peace. They also typically include decorative details that are inspired by the sea and its elements such as anchors, ships, or seashells.
Any design style necessitates the selection of an appropriate color palette. As previously stated, nautical is associated with the sea, and the colors are also derived from its native. A color palette with a cool tone would be the best option.
Although white provides an even tone to the space, blue brings a pop factor. Blue not only contributes to the coolness of the space, but it also becomes the interior design's central focus. To keep blue from becoming too dominant, use it in upholstered furniture.
Cottage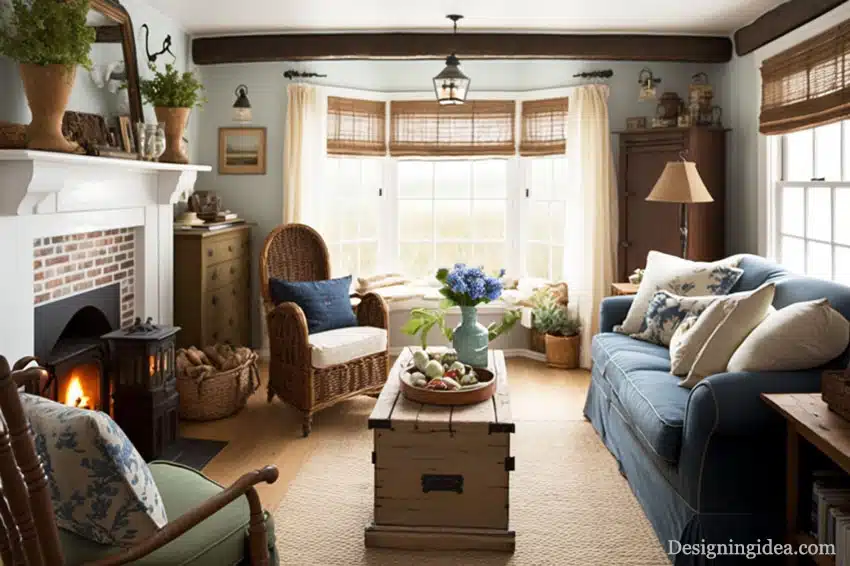 Cottage-style furniture is inspired by the traditional houses of rural America and England, thus it mainly focuses on establishing a very inviting and cozy ambiance.
Somewhat related to a rustic feel, it combines modern and vintage styles, making it a versatile option that can complement a variety of interior designs.
However, cottage pieces are more frequently used in traditional and farmhouse home designs.The overall result is a very inviting and cozy atmosphere with inspiration coming from country living.
This furniture normally uses natural materials like wood, and cotton and linen for upholstery. For instance, cottage sofas and armchairs are typically overstuffed, and the elements that are frequently near them are woven baskets or quilts.
Moreover, the colors that are used are subtle and pale, but they are combined with minor patterns and slightly rich textures to add a sense of richness and complexity. You can find floral prints and plaids in abundance in a light color scheme.
Cottage furniture is normally available in four categories – French cottage, English cottage, coastal cottage, and rustic cottage. French cottage furniture normally uses light yellows, purples, and reds.
English cottage uses pinks and floral greens on their furniture pieces. However, coastal cottage furniture pieces use subtle blues and beige, whereas rustic cottage furniture uses dark greens, warm wood tones, and gold accents.
Hollywood Regency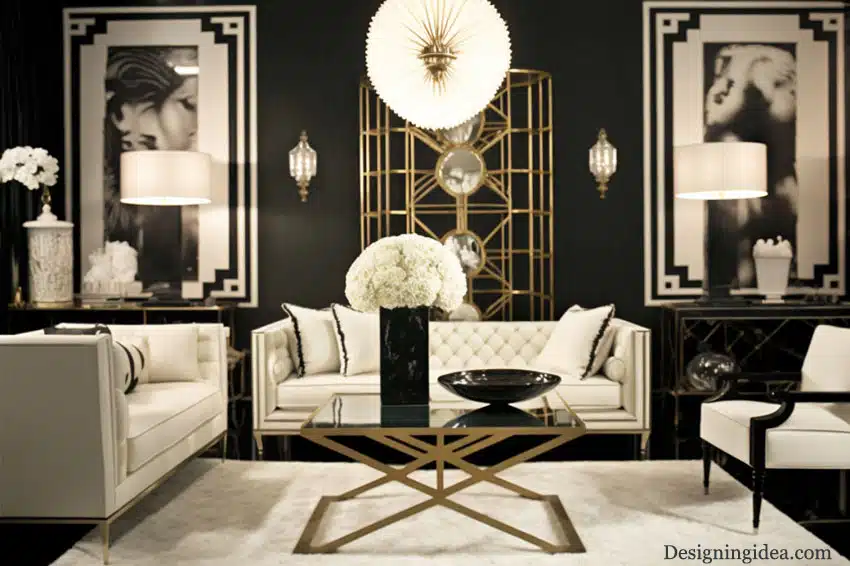 Hollywood Regency is another classic furniture style that became popular in the late 1930s. It was popularized by the movie industry that started in Hollywood.
Hollywood Regency-style furniture is defined by its glamorous and elegant aesthetic that features typically bold colors, glossy finishes, and luxurious materials like brass, crystal, and velvet.
Regency furniture is more significant as a change from the old than as a style which will ever receive great popular favor. – Furniture Its Selection and Use ; Report of the Subcommittee on Furniture: Its Selection and Use of the National Committee on Wood Utilization. (Eighteenth Report of Committee's Series), Clark Bertel Kelsey, National Committee on Wood Utilization (U.S.)
Moreover, this furniture highlights geometric shapes, sleek lines, and random design elements that are often made eye-catching using mirrored or metallic details. You may easily include this for bedroom furniture by adding a mirrored dresser, nightstand, hutch or desk.
Hollywood Regency pieces are consistently present in high-end home designs that elicit luxury.
To further enhance the beauty of Hollywood Regency furniture pieces, they are often paired with decorative elements such as vases, lamps, or sculptures. In addition, animal prints are also commonly found.
Hollywood Regency, also known as Regency Moderne, was a unique furniture design that ultimately served its time as the International Style and Mid-Century Modernism took over as the dominant designs. It even paralleled the prominence of Art Deco.
Nonetheless, Hollywood Regency furniture will always attract maximalists and will never be out of fashion.
Gothic
Gothic-style furniture became well-known in medieval Europe and is often recognized for its dramatic and well-decorated aesthetic.
Gothic furniture pieces are usually made out of dark-colored wood like oak, cherry, or mahogany, and they are often ornamented with complex carvings, arches, and religious themes like gargoyles and crosses.
Furthermore, Gothic furniture is frequently heavy and durable. They are typically seen in ancient-home designs and use tarnished metallic hardware. Intentionally faded brass or iron knobs and drawer pulls are also usually evident in furniture pieces in the Gothic genre.
Additionally, Gothic furniture items emphasize attractive details such as wrought iron or carved wood. Their colors are also frequently dreary and dark as these furniture pieces are typically dark purple, black, deep red, dark gray, and other dark colors that add a touch of intensity and drama.
Usually, other details that define Gothic furniture could be jewel-like colors and rich fabrics such as velvet and brocade.
Colonial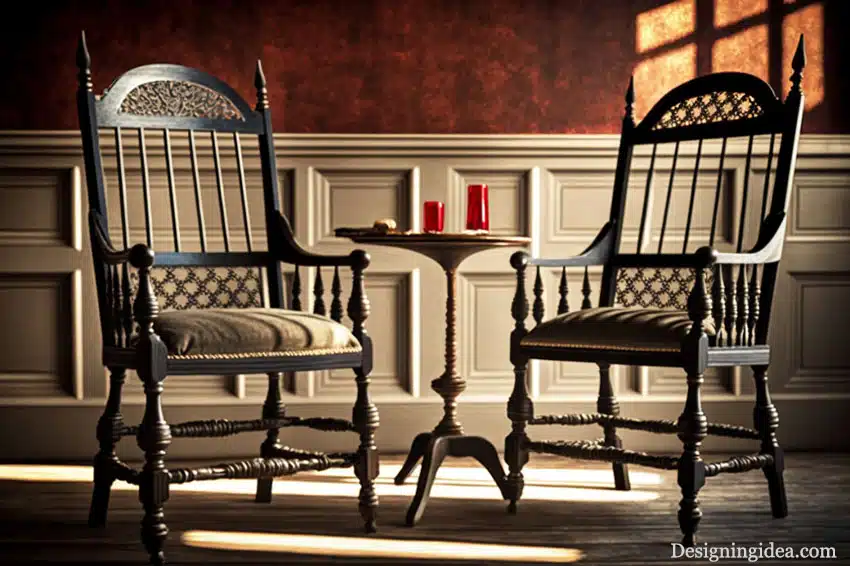 Colonial-style furniture draws its inspiration from the home decor of the 18th and 19th centuries, popularized by the American colonies. Normally, this furniture is made out of maple or oak, and they only use clean, unadorned lines along with functional layouts.
Furthermore, Colonial furniture is well-known for its solid and durable construction, and all of the pieces made are normally capable of withstanding daily wear and tear.
The colors used for Colonial furniture are normally earthy and muted such as brown, green, beige, and pale yellow.
Colonial-style furniture items are suitable for minimalist and modern interior designs as they use minimal and sleek lines as well as eye-pleasing neutral colors. However, since this furniture also uses natural materials, it can also be applied to rustic home decor.
Mission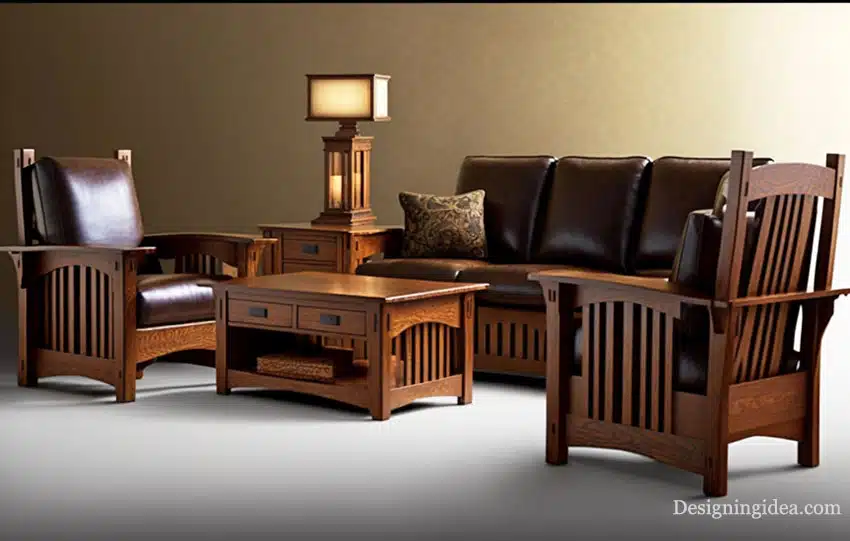 Mission-style furniture originated in the 19th century and became well-known during the 20th century. It is influenced by the famous Arts and Crafts movement.
It is recognized for its minimalist yet functional pieces, and most of the pieces use a combination of two popular natural materials – wood and leather. Genuine and professional craftsmanship is what Mission-style furniture is all about.
Indeed, the main focus of mission furniture is to evoke a sense of inherent durability and simplicity. Hardwoods such as oak and mahogany are often used to manufacture mission furniture pieces.
The sofas and armchairs are usually upholstered in leather and paired with woven fabrics to achieve a purely rustic interior design.
Aside from that, the colors you will typically see in Mission specific items would be green, brown, tan, or any color that elicits the beauty of nature. Slatted accents, geometric patterns, and raw joinery are unique details you can observe in Mission decoration.
Amish
Amish-style furniture, as the name indicates, is originally handcrafted by the Amish people, a Christian subculture that came from the 16th-century Protestant Reformation.
These people were dedicated to designing a furniture piece defined by its very durable construction quality, family and community values, and pure attention to detail.
This furniture style is also characterized by the natural materials it uses, which usually include wool and hardwood.
Amish furniture pieces like handcrafted quilts and wooden beds are often accentuated with other native design elements such as pottery and handmade baskets. This combination helps produce a timeless and vintage appeal.
Moreover, the colors traditionally present are warm and subtle, thus Amish furniture uses earth colors like beige, green, and brown.
Mediterranean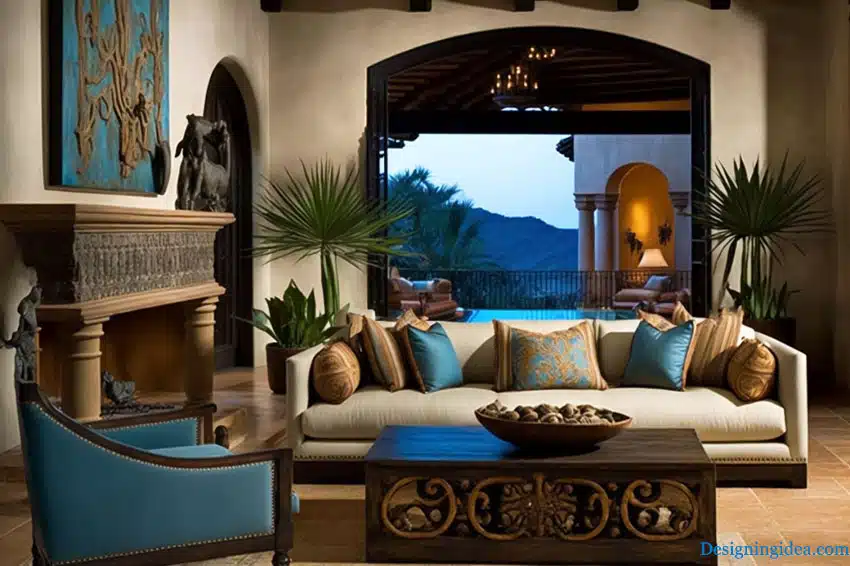 As the name tries to imply, Mediterranean-style furniture pieces are inspired by the classic house designs of Mediterranean countries, notably Spain, Greece, and Italy.
The colors of Mediterranean-style furniture are typically sun-drenched, warm, and eye-pleasing. It also uses naturally derived materials, including stone and wood, and the textures and patterns present are very complex and detailed.
The main goal of Mediterranean design is pure relaxation, comfort, and warmth. However, suppose you are aiming to incorporate Mediterranean furniture in your interiors. In that case, you must use more natural materials and earthy colors like ochre, deep blue, or terracotta in your home decor.
Furniture items such as wrought-iron bed frames, solid wood top chests, hardwood tables, as well as porcelain vases are often the combination that is used to achieve a Mediterranean interior design.
Moreover, most Mediterranean designs emphasize mosaic patterns, artistic woodworking design elements, and rich textures.
Furniture Materials
Every piece of furniture can be made out of different materials such as:
● Wood. This natural material is undoubtedly the most common furniture material since it is among the most durable. The most popular wood types used for building furniture include oak, maple, cherry, walnut, pine, mahogany, and many more.
● Metal. Metal is also a commonly used furniture material, and it is applied in a vast array of installation techniques.
Aluminum, steel, and iron are some of the most well-known metal types, and they are often used for building frames and legs for various other furniture styles and pieces.
● Glass. This multifunctional material is normally used as a surface for tabletops, and shelves, and often, they are used as decorative elements to beautify furniture pieces. Tempered glass is usually ideal for making furniture such as table tops as it is very durable.
● Rattan or Wicker. This natural material is normally used for building outdoor furniture pieces like outdoor dining tables or chairs as they are usually water-resistant.
● Plastic. Plastic is an affordable, water-resistant, and long-lasting furniture material used to build several pieces such as tables, chairs, or couches. They are very lightweight and easy to maintain.
● Leather. This material is frequently used for making upholstery on various furniture items such as armchairs or sofas.
● Fabric. Like leather, the fabric is also used to create upholstery to protect sofas, armchairs, or ottomans. Linen, cotton, and polyester are some of the most common fabrics used for furniture-making.
Furniture Details
Here's an overview of the physical details you can see in different types of furniture:
● Carvings. These decorative elements are usually added to wooden furniture to achieve a more ornate and artistic appearance.
These carvings are normally seen on the arms, backrests, or legs of chairs and couches, but they can also be added to other furniture pieces such as tables and cabinets.
● Veneers or Inlays. These furniture details are normally seen on tabletops as well as cabinet doors. Veneers are thin wooden layers usually installed on the surfaces of various furniture items, whereas inlays are composed of contrasting wood pieces to achieve an appealing pattern.
● Tapered or Turned Legs. These details are prevalent in dining chairs and tables. Tapered legs imply that the top part of the wooden leg is wide and the bottom part is narrow, whereas turned legs imply that the wooden legs are curved or angled.
● Geometric Patterns or Shapes. These striking furniture details are often used to achieve a more abstract and modern appearance. These shapes normally include circles, triangles, squares, or hexagons to add complexity to a furniture piece.
● Straight or Curved Lines. Such furniture details normally define the shape and style of a specific piece of furniture. Straight lines usually evoke a sense of modernism and minimalism, whereas curved lines give a more natural and vintage appeal.
Furniture Colors
● Neutral Colors. Colors such as white, beige, gray, and black are some of the most common colors of different furniture pieces. Neutral colors are very versatile, and they can complement practically any home decor. These furniture colors are normally used in modern and minimalist home designs.
● Earth Colors. Green, brown, and yellow furniture is usually seen in farmhouse-style or rustic home decor. These colors establish a welcoming and cozy feel, bringing the beauty of nature indoors.
● Pastel Colors. Feminine, minimalist, and vintage home designs are some of the most popular furniture styles that use pastel colors like pale blue, pale green, pale pink, or pale purple. Pastel colors create a very soothing ambiance.
● Bold Colors. Colors such as royal blue, green, bright red, and purple are some of the furniture colors you can use to achieve a more playful, adventurous, and energetic interior design.
Choosing bold-colored types would be a smart idea if you wish to add a pop of color to your room.
Furniture Finishes
● Painted. Quite obviously, painted furniture pieces involve applying a layer of a particular type of paint on the furniture surface. Painted furniture pieces can vary in terms of colors, from neutral and earth to pastel and bold.
● Stained. Stains are usually applied to enhance the natural grains of a wooden piece of furniture. Their hues normally range from light and natural to rich and dark.
● Distressed. This finishing technique is customarily used on furniture pieces placed within a rustic or farmhouse-style interior design. Distressed furniture means its surface is aged, sanded, or scraped to achieve a more weathered yet vintage appearance.
● Matte. This well-known type of furniture finish establishes a non-reflective surface but offers a velvety texture. Matte-finished furniture pieces are usually used by interior designers in modern and minimalist home designs.
● Glossy. In contrast to a matte finish, glossy-finished furniture pieces have a very shiny and reflective surface intended to add glamor and elegance to your interiors.
Choosing an Interior Design Furniture Style
Interior design makes a space more organized, safer, beautiful, and effective for its purpose. Contrary to popular belief, interior design is not only putting furniture together in a space. Interior design is both an art and a science.
The combination of colors in space sets its mood. The color wheel determines which colors best combine to achieve a certain feeling in a space.
Determining the appropriate furniture will make the space look more spacious no matter the size. It also solves storage problems with small spaces by integrating furniture with multiple purposes.
The decor of a space put together by a designer personalizes it and makes it comfortable for the owner. It gives the space a sense of belonging, comfort, and security.
Numerous interior designs are available, and each speaks differently to people. Choosing a design helps you and your designer choose what you want in your space.
The types of furniture styles that you choose depends on your personal taste. the products you select must match your idea of what you want the room to feel like.
If purchasing online, it advisable to carefully check dimensions so you know if the product will fit your space. Check reviews to see potential problems with fabrics, materials and durability.
If possible go to a local store to experience the item first hand and get a feel for how it looks and potential options available.Many times this will allow you to get additional ideas about accessories and other decor products that will coordinate well with your interior.
Ask questions about the company warranty and return policy to ensure you have the ability for customers to return it, if it doesn't work out. In addition, get a price quote for shipping costs and other information about the products you are interesting in buying.
You want your room to feel like a place where you can happily and comfortably spend a lot of time in and the furniture style you choose can enhance that feeling.
What are your favorite types of furniture styles? Let our readers know in the comments section. For more related designs check out our types of chairs gallery.