Here we share our regency style furniture gallery including what it is, its design characteristics, and the different types of regency furniture homeowners can consider.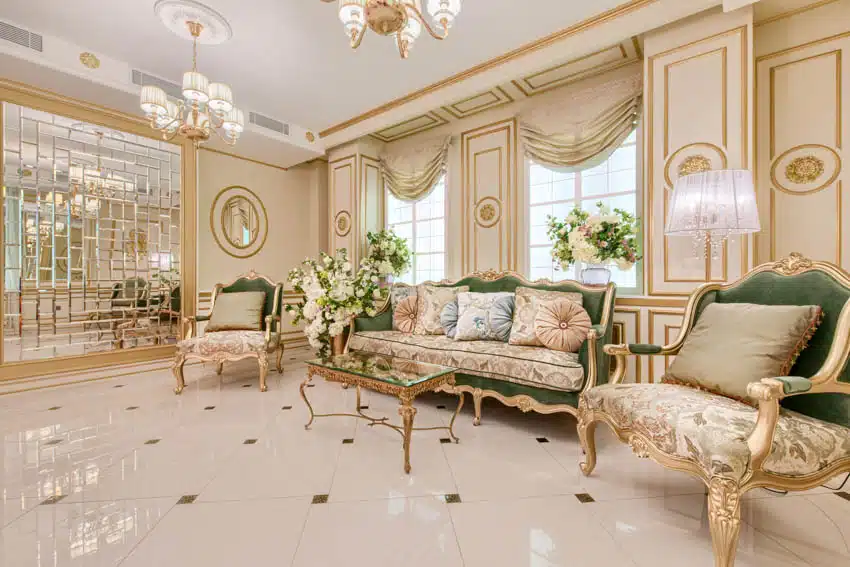 Regency-style furniture is another classic style of furniture that is still popular around the world. The Regency age is typically regarded as encompassing around 40 years, during the years 1795 to 1837, and involves the administration of Great Britain's Prince Regent.
Indeed, the Regency era in Great Britain was characterized by rich historical refinement and accomplishment, and it is recognized as modifying and molding the country's societal architecture.
One such effect was noticeable in the development and construction of Regency furniture, which combined the Prince Regent's objectives and ideas with international designs from the ancient Egyptian, Greek, and Roman cultures.
Regency-style furniture has always been a sophisticated option even for today's houses. Hence, it is crucial for homeowners to understand this fashionable and unique type of furniture style and realize why it is so gorgeously fascinating.
You might appreciate this style of furniture whether you are searching for old-fashioned furniture or freshly designed vintage-inspired heritage furnishings.
What Is Regency Style Furniture?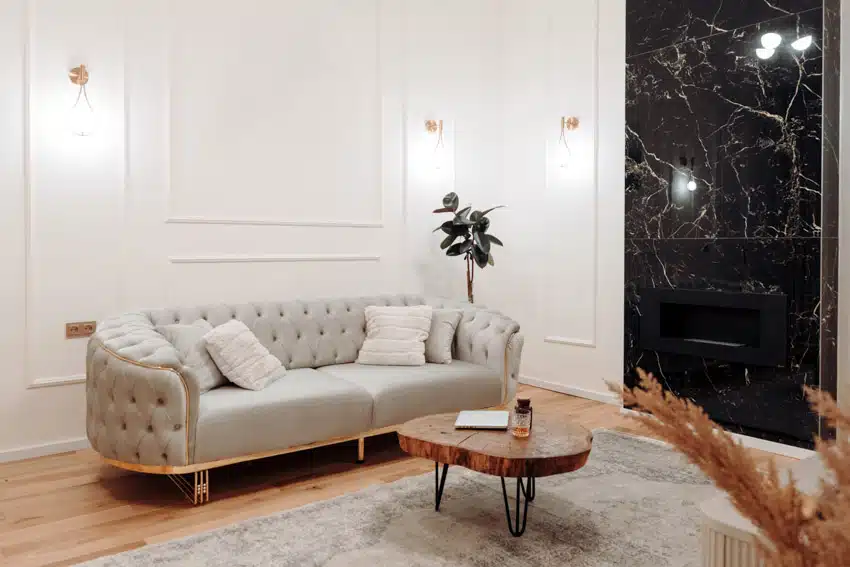 Regency style furniture originated and became popular during King George IV's reign in England (1820-1830). This style was inspired from the styles being used in France and was heavily influenced by ancient Greek and Roman art and architecture.
Regency furniture is recognized for its refined appearance, featuring clean lines with graceful curves and geometric shapes. Regency-style furniture incorporates a combination of wood as well as metal elements. It commonly utilizes high-quality materials like mahogany, rosewood, and ebony, with brass accents to add a luxurious touch.
Mahogany was the prevailing wood for this furniture style, along with exotic woods such as ebony appearing in many high-end furnishings. Furthermore, zebrawood and rosewood veneers contributed aesthetically appealing finishes and details to the Regency style's clean lines.
Nevertheless, the inclusion of metal elements gave Regency-style furniture its luxurious artistry. Furniture manufacturers predominantly employed brass, with the addition of bronze or ormolu, and faux gold occasionally.
Brass accents, corner and leg embellishments, knobs, and hinges were prevalent as well. Numerous pieces had brass rosettes or lions' heads to secure rings on cabinet cabinets and drawers, and the bottoms of furniture legs were frequently animal feet made out of brass. Brass grills in lattice or scrollwork patterns might also conceal and shield glass insets on cabinet doors.
Although all of these societal and historical elements influenced Regency-style furniture, the style ultimately relied on embellishments for its beauty instead of the rich carvings and curving lines seen in older periods of furniture design.
However, some of the newly made Regency-style furniture's woodworking details became more minimalist; with neat lines and surfaces, narrow legs, and straight angles. This helps to showcase the ornamentation in so many ways by giving a simple backdrop to reduce confusion.
Moreover, the size of this style of furniture altered during a specific period. Cabinets and storage units decreased in height to allow designers to decorate the surfaces with artwork, instead of the lofty types of shelves of the past. Regency-style furniture's lower height also provided for a greater display area for collectibles and valuables.
Several Regency-style furniture designers in the past endeavored to reproduce authentic furniture pieces that can be displayed in galleries, cellars, museums, and artwork. The emergence of Egyptian antiquities spurred a desire to incorporate such characteristics into the Regency style.
Many pieces were embellished with thematic patterns of ancient gods, sphinxes, animals, and mythical creatures. Furthermore, the use of bamboo, wood-carved to imitate bamboo, and glossy finishes were inspired by a resurgence of Eastern inspiration from Japan and China.
Regency Style Furniture Characteristics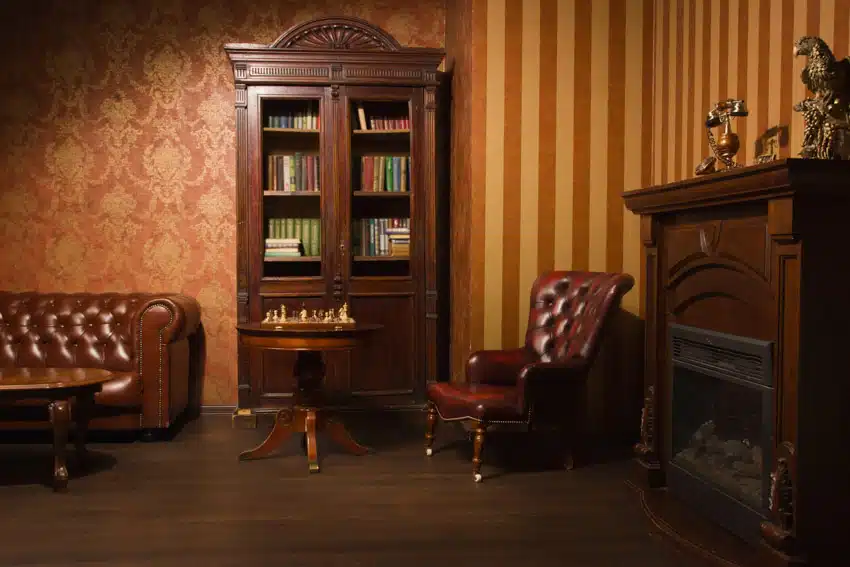 Here are the characteristics of Regency-style furniture:
• The most common woods are those that are dark and heavy: mahogany, rosewood, and zebrawood are some of the main examples
• Furniture legs that are concave-shaped, column-shaped, or X-shaped
• Attached ornaments are frequently female and lion masks
• Sophisticated brass inlays and gilded metal accents or supports
• Metal-covered paw-shaped feet on table or chair legs
• Rosettes (beautifully crafted flower patterns) and laurel wreaths that are carved
• Knob-like handles in brass, gold, or bronze on cabinet doors and drawers
Regency furniture is grand and majestic, with a refined and symmetrical appearance that is neither flamboyant nor overdone. It is usually not embellished with intricate carvings.
Fine and exotic woods, dramatic and ornamental veneers, as well as gilded hardware or metal accents, serve as the adornment instead.
In addition, Regency-style furniture, particularly Regency tables, generally have simplistic concave contours in the legs as well as flat surfaces and facades. Column-style furniture legs, as well as x-shaped legs, are predominant in addition to curved and concave legs.
Unlike Baroque-style and Rococo-style furniture, which are heavily embellished, Regency-style furniture is often less ornamented.
Typical embellishments include integrated brass-clawed feet, brass drop-pull handles featuring lion or cherub figures, and metal (brass) or wood stretcher finials. Dark wood characterizes the preponderance of Regency-style furniture.
As previously stated, mahogany, zebrawood, and rosewood are all widely used materials for Regency types of chairs, cabinets, tables, and wardrobes.
Dining room chairs became among the numerous popular items of furniture throughout the Regency era. Due to distinctive design aspects, this continues to be a popular style of dining chair among furniture enthusiasts today.
Here are some of those unique chair characteristics:
• Front and back legs that are concave- or saber-shaped
• Arms that are positioned high on the rear uprights
• Chair backs with wide and flat top rails
• Lines that are straight, curved, or rounded
• Uprights and legs with lion heads or feet
Regency Furniture Styles
Here we share the different sub-category regency furniture styles.
Hollywood Regency Style Furniture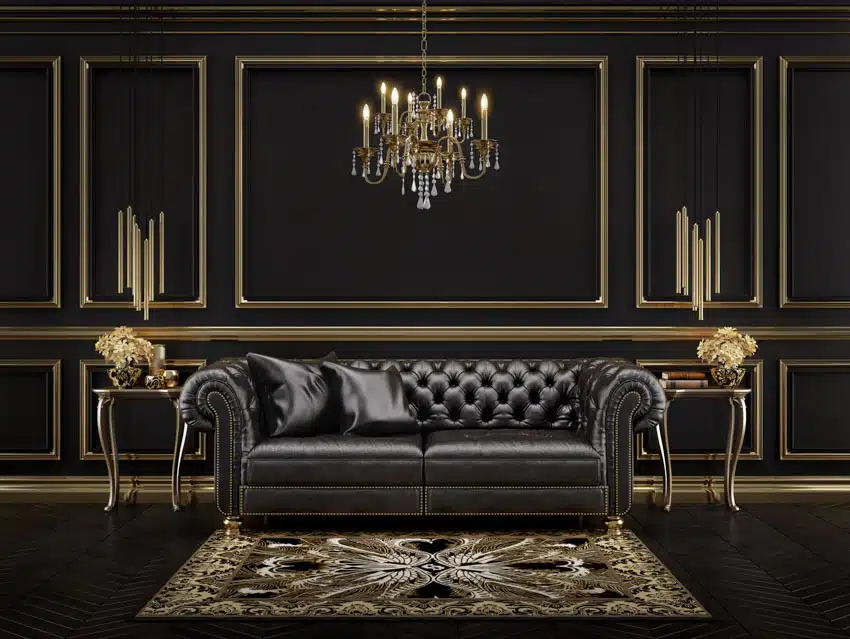 The Hollywood Regency interior design style evolved in California in the 1930s. This is a creation of the Golden Age of cinema, which is primarily influenced by the silver screen's dazzling sparkle and grandeur.
Additionally, the Hollywood Regency style originated during the 1920s to 1950s Hollywood Golden Age, when cinema production staff created luxurious and magical interiors for the silver screen that appeared amazing on camera thanks to their meticulous attention to detail, color, richness, arrangement, and finishes.
Hollywood Regency, also known as Regency Moderne, was a modernized version of the architecture of the 19th-century Regency Period.
Although Hollywood Regency corresponded with the development of Art Deco, it managed to remain a unique furniture design, which ended up running its journey as the International Style and Mid-century Modernism and became the dominant aesthetic. However, the Hollywood Regency style will always attract maximalists and will remain timeless.
Individuals who do not completely appreciate Hollywood Regency-style furniture can still give a touch of sophistication to any space by selecting an appropriate piece of mirrored furniture or another signature of the architectural style.
Reflective and metallic finishes are commonly found on Hollywood Regency types of wallpaper, furniture, specialized wall treatments, and decorative elements.
Even so, the Hollywood Regency style is frequently distinguished by the usage of small-sized furniture with slimmer forms. It also makes use of glossy and ultra-lustrous surfaces on everything from furniture to ceilings to walls.
Even though the shapes and sleek lines of this furniture style are very mid-century, the subtleties, including the pattern and color, are quite an art deco. Though Art Deco furniture has a strong passion for grandeur, it lacks the playful versatility of this style.
In comparison to the Hollywood Regency furniture style, mid-century modern is significantly more manly and less ornate. There are also many natural wooden finishes that are uncommon in Hollywood Regency-style furniture.
The main design principle of Hollywood Regency-style furniture is to add glamor. If you are interested in this furniture style, you should want lush, elegant texture, elaborate embellishments, and classy accents.
The goal of the Hollywood Regency style is to convey rich grandeur in a way that is not pompous or overly dramatic. Hollywood Regency-style furniture contains highly layered textures, high-contrast patterns, metallic accents, and brilliant colors, with this design leaning toward acceptable maximalism.
English Regency Style Furniture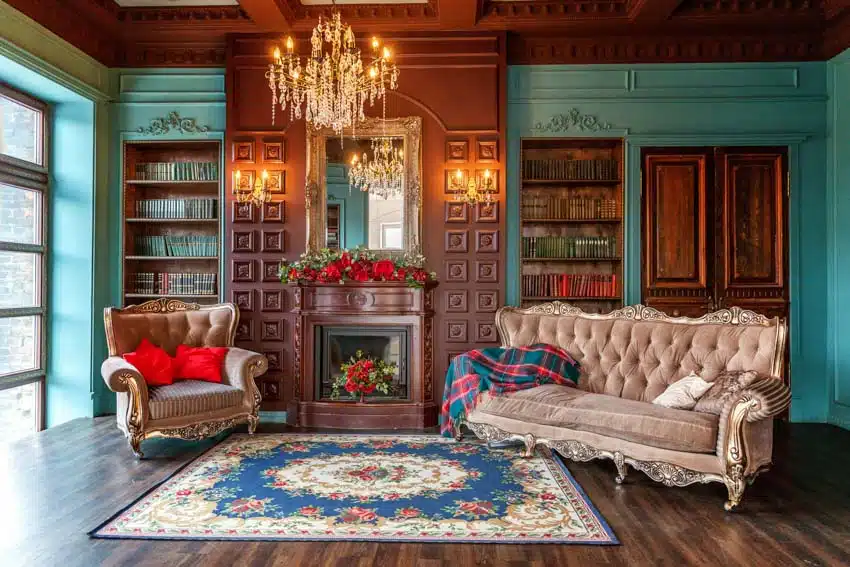 A hundred years just after the French Regency era, the English Regency era commenced across the waters in England. George IV reigned as Prince Regent in lieu of his father, George III, who was unable to reign due to an illness.
Although that was the time when the English Regency is thought to have begun, it was a long-lasting age. The English Regency lasted until around 1837.
The Hollywood Regency is a revival of features drawn from the early 19th-century architectural styles of England, the United States and, to a lesser degree, France. – Glitter Stucco & Dumpster Diving: Reflections on Building Production in the Vernacular City, John Chase, Warren Montag
By that year, countless wonderful pieces of furniture and architectural styles were made at the end of the Georgian era. These pieces exemplified the elegantly proportioned designs that were synonymous with English Regency-style furniture.
Although ancient English Regency-style furniture might be costly to purchase, many contemporary furniture producers create stunning pieces that live up to those originals.
These pieces of furniture are frequently scaled down in size to fit the smaller scale of today's residences, as opposed to the massive rooms in the grand estates and palaces where King George IV resided.
Sleek lines and sharp, precise edges are common features of English Regency-style furniture. Dark woods, particularly mahogany, were popular in this furniture style to achieve a striking effect. Veneers, accentuated with gold and other metals, were very widely known for simulating the impression of grandeur.
Acanthus leaves, rosettes, lyres, and laurel wreaths were examples of popular ornaments during the English Regency Style. Lions as well as lion masks might also be included.
Furniture and cabinet makers at that time emphasized symmetrical and minimalist designs, moving away from the more decorative motifs that are normally found in French Regency.
French Regency Style Furniture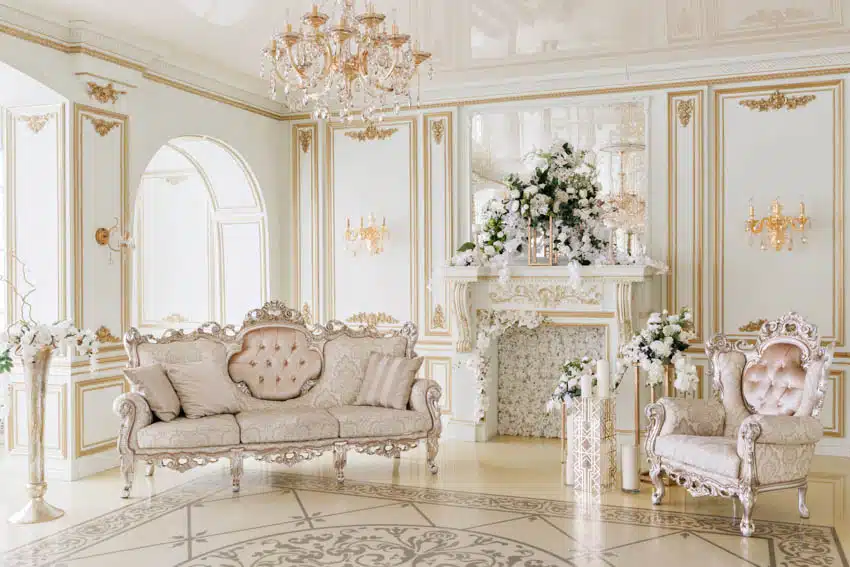 The French Regency period began at the beginning of the 18th century when King Louis XV was quite inexperienced to reign and Prince Regent (Philippe d'Orléans) replaced him. This period's exquisite furniture and decorative objects were created in a transitional design.
It demonstrates the varying preferences between the earlier Baroque styling used during King Louis XIV's rule as well as the emerging Rococo style that became prominent during King Louis XV's rule.
The curved lines and decorative feminine elements that would later grow into a full-fledged Rococo style first appeared in French Regency-style furniture. Rococo-style furniture was elegant, with elaborate carvings and voluptuous designs.
Flowery, sparkly, and aqueous carvings, featuring spinning shells, were often used as decorations. The layouts of French Regency-style furniture were frequently asymmetric, which represented an intriguing new discovery at that time.
French Regency-style furniture is typically built of woods such as oak, mahogany, oak, and rosewood, and it frequently features gorgeous surface overlays and fine woodworking. Curved lines and corners, as well as sinuous lines such as bombe forms and serpentine spots, are typical of this design.
In addition, the seats in this furniture style are typically more comfy and grandiose in general. They include curved backs in lieu of the straight and inflexible features found in most chairs.
Cane chairs became popular around this period as well. The French Regency era favored luxurious, sophisticated table conversations for both entertainment and socialization.
Furthermore, French Regency-style furniture has distinct motifs such as seashells, mythical creatures, and masques. There are also several ostentatious scrolls, such as C-shaped scrolls as well as S-shaped scrolls, in addition to leafy scrolls classified as foliated scrolls.
Curvy cabriole furniture legs and horseshoe feet are further prevalent characteristics. The wood might be richly flecked with marble or grandly gilded in gold, bronze, and other precious metals with ormolu embellishments.
Palm Beach Regency Style Furniture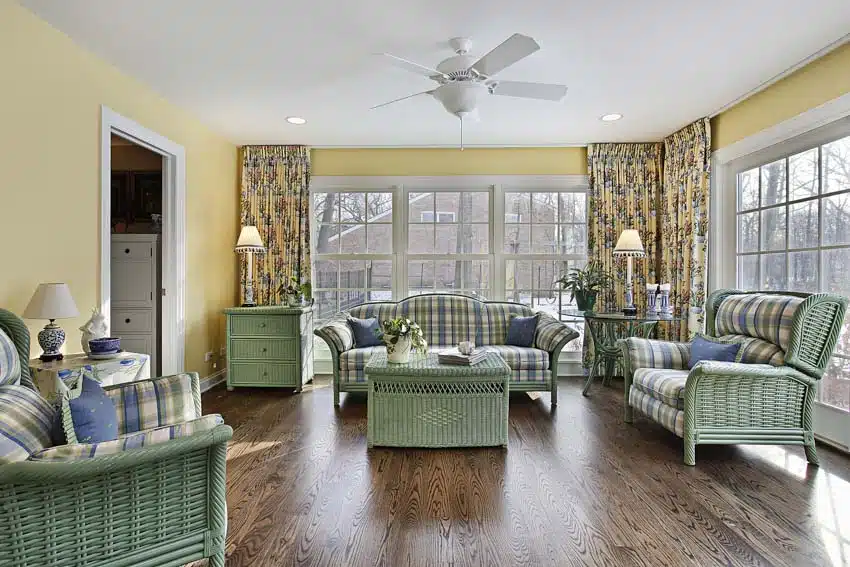 The Palm Beach Regency-style furniture has its origins in Clarence Mack's building designs from the 1950s and 1960s. Nonetheless, with its recent comeback, the style has demonstrated some adjustments.
Palm Beach Regency-style furniture is ageless, and you do not need to actually reside on the Palm Beaches to incorporate it into your design. Every now and then, the trend of appealing old-world attractiveness reappears with a modern spin.
This classic furniture design takes pride in furniture pieces that have a distinct style, which combines the beauty as well as features of Hollywood Regency flair and Old Florida charm.
These home designs and furniture styles' trademark elements combine to provide a home that is both luxurious and easygoing, sophisticated but new.
Aside from that, Palm Beach Regency-style furniture is typically made of wicker and rattan, featuring airy and light neutral tones and flashes of color in brilliant colors such as olive green, pinkish tones, turquoise, blue, and subtle yellow.
The beauty of this furniture style is that it can be used in any home style, whether it is modern, contemporary, traditional, farmhouse, and many more.
The aesthetic of furniture made in the Palm Beach Regency style can be further improved. It is through the use of neutrals as your color base and the addition of décor components and specific types of fabrics, elements, and small touches.
With this technique, you can give your home a magnificent distinctive aesthetic that purely displays the appeal of Palm Beach Regency-style furniture.
See more related content in our article about Frank Lloyd furniture style on this page.