Here we share our bathtub faucet types guide including the different styles available, their materials, mounting, handles, spout designs, finishes and useful features.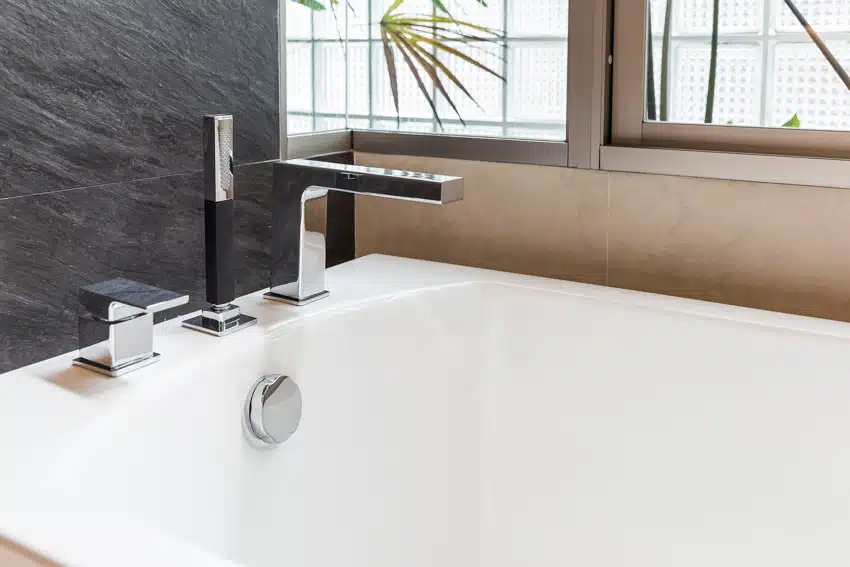 You might somehow agree that bathtub faucets may oftentimes appear irrelevant in the overall picture of a bathroom design. But in reality, they can have an essential effect on both design and functionality. There are numerous alternatives available, ranging from streamlined and modern to traditional and decorative.
Indeed, bathtub faucets are an absolute necessity in any bathroom, but selecting the right type may be challenging, right? Bathtub faucets are basically in charge of supplying the flow of water to fill the bathtub. And yes, they play a huge role in the bathtub's operation such as the kind of spray used or the stream of water.
When picking a bathtub faucet, here is a short tip: you must ensure that it meets your needs and tastes. It is a bit pointless to get an expensive model if you do not even enjoy using it or find it difficult to manage the flow of water whenever you are taking a bath or shower.
Therefore, it is critical to understand the various types of bathtub faucets offered in the market and their unique qualities. Let us go through the different bathtub faucet types and assist you in deciding which one works best for your bathroom.
Wall Mount Bathtub Faucet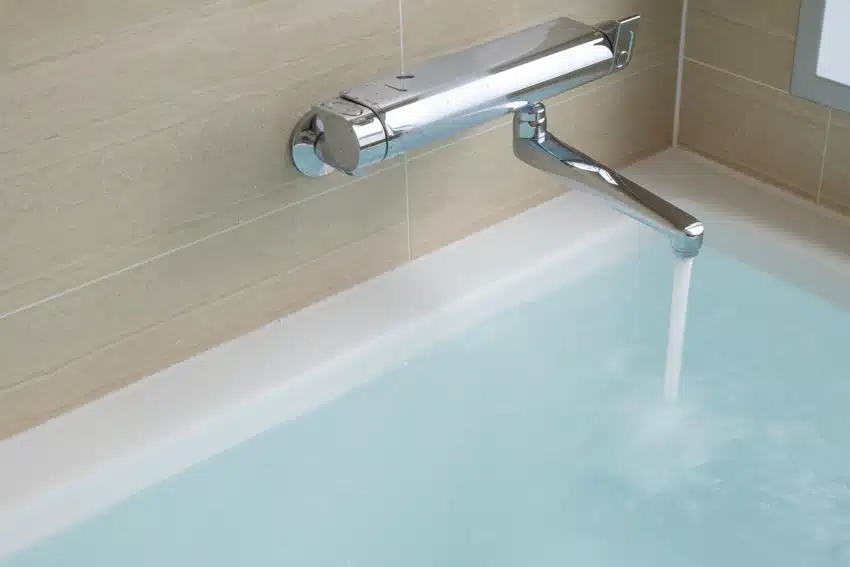 A wall-mount bathtub faucet is the most popular and reasonably priced bathroom faucet since it is very easy to use. Plus, most wall-mount bathtub faucets are inexpensive. This sort of faucet may be positioned anywhere in the bathroom, either on the wall or near the counter, depending on the style you want for your bathtub area.
Many interior designers adore this bathtub faucet as it is also a space-saving faucet – it may be mounted near the wall. The spout and handles are normally situated on the wall above the bathtub, and a separate valve is often used to regulate the water flow as well as the temperature.
We have seen that the majority of bathrooms with freestanding or clawfoot bathtubs have these types of bathtub faucets. The drawback of a wall-mount bathtub faucet, on the other hand, is that it takes a little longer to install since there are many elements involved in the mounting process.
However, that doesn't mean that it is not a bad option. In fact, if you are going to browse high-end types of bathtubs, whether in actual or online home improvement depots, most of these use wall-mount bathtub faucets as they give a very elegant and luxurious impact.
Tub Wall Mount Faucets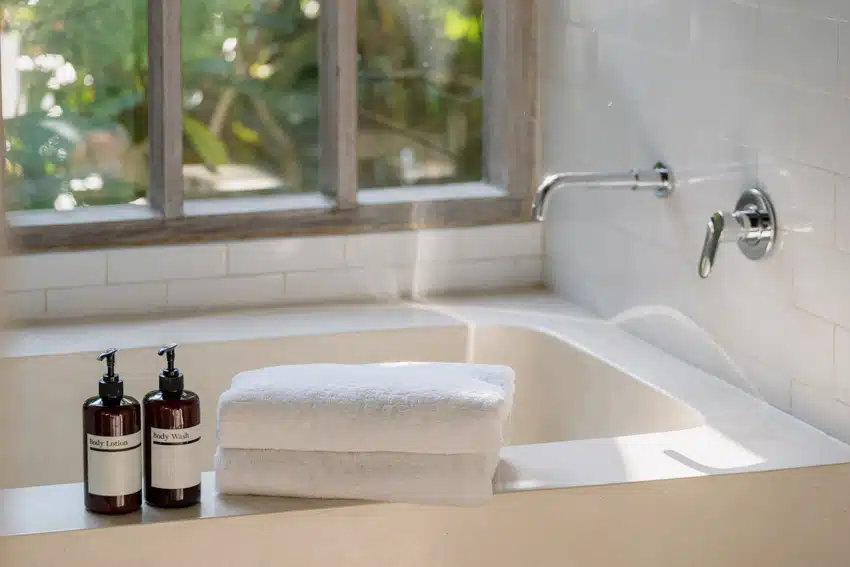 Tub wall mount faucets are installed on the wall above your bathtub instead of on the bathtub's edge or the floor adjacent to it. They usually come in a number of styles and designs and can be incorporated into a multitude of bathroom décor trends.
Moreover, tub wall mount faucets are often more difficult to install than other kinds of bathtub faucets since they necessitate a separate valve to be fitted in the wall as well as electrical and plumbing lines.
However, one of the primary advantages of tub wall mount faucets is that they offer a stylish and contemporary look to a bathroom while also complementing other bathroom fixtures.
Freestanding Bathtub Faucet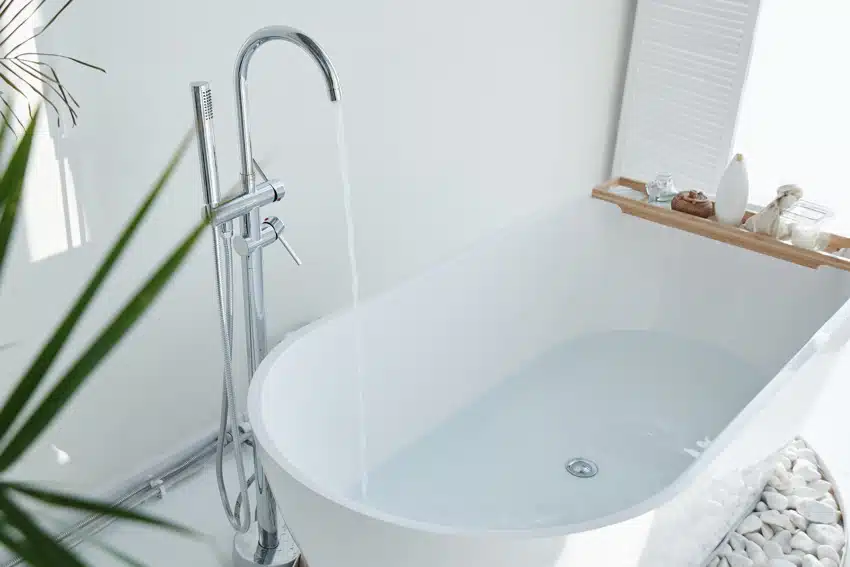 Freestanding bathtub faucets, as their name suggests, are made specifically for use with freestanding bathtubs. These bathtub faucets are designed to look as though they are mounted on the wall, yet nothing is really affixed to the base of the faucets. Its mechanism is comparable to that of wall-mounted units in that it uses both hot and cold water valves and processors.
Furthermore, most freestanding bathtub faucets are situated on the bathroom ground, which implies that the faucet and valve are positioned on the floor adjacent to the bathtub.
This faucet often has a wide spout that extends over the rim of the bathtub and one or two handles for controlling the water stream and temperature.
If you opt for a freestanding bathtub faucet, you will have a lot of options – they all add a special touch of luxury. If you are going to search online or in actuality, you are sure to find a freestanding bathtub faucet that either exudes the style of antiquity or something contemporary and high-end.
Deck Mount Bathtub Faucet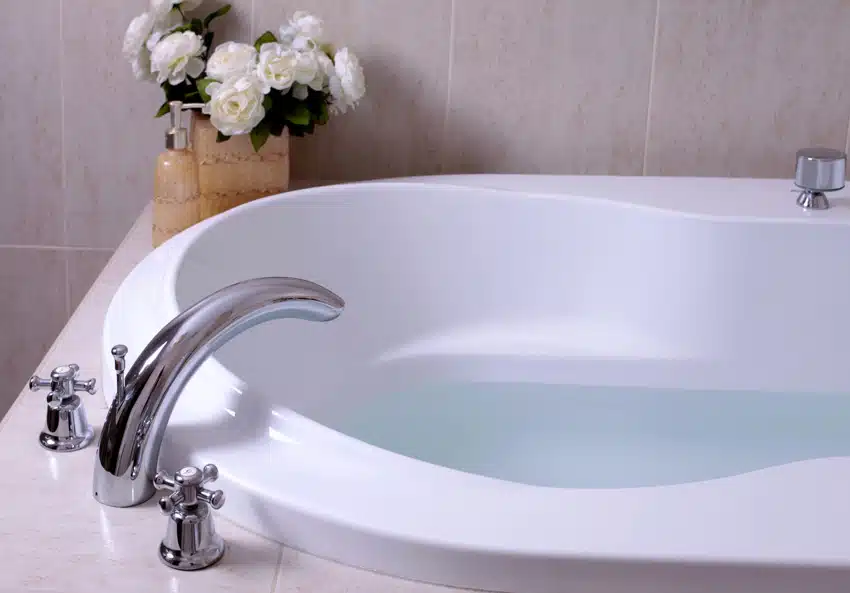 Deck-mount bathtub faucets are among the most common bathtub faucets in homes, and they are offered in a wide range of styles and configurations. Because it takes up more space than other bathroom faucets, the deck-mounted bathtub spout is primarily suited to be used along with a shower.
These types of bathroom faucets are basically installed on the bathtub's rim, often known as the "deck", hence the name. This faucet enables you to regulate the water flow and temperature straight from the faucet, eliminating the necessity for a separate valve. If you are not into slightly complicated faucet setups like the wall-mounted ones, this option might be the most ideal.
In addition, deck-mount faucets allow you to position your bathtub where you prefer it and are more suitable with the vast majority of bathtub types. You can easily install them as you can just drill holes for the faucet spread, but keep in mind that they can be more expensive than other types of faucets.
Roman Bathtub Faucet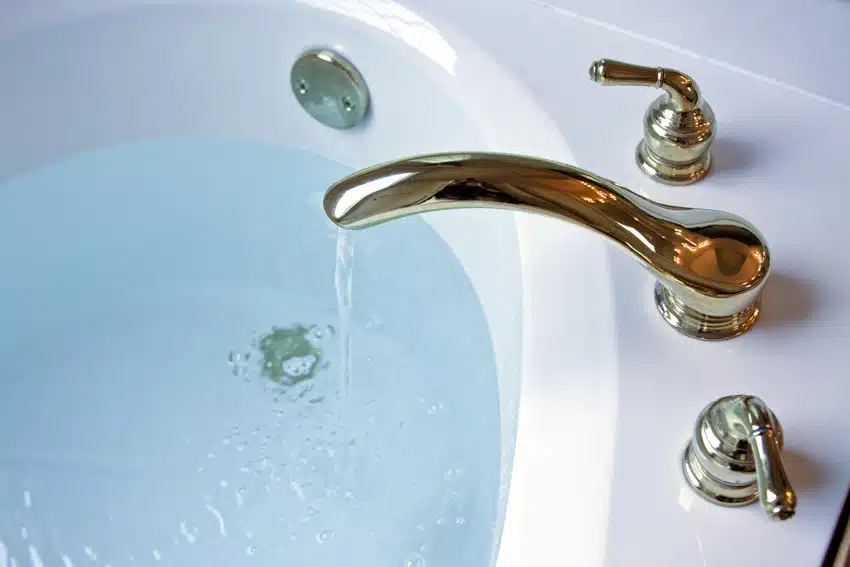 A Roman bathtub faucet, as the name tries to suggest, is designed to evoke the elegance of a Roman bath. It works optimally in bathrooms with a contemporary interior design. It often includes a pull-down sprayer head as well as sculpted contours that contribute to its attractive appearance.
As you do your homework, you'll see that it is available in different elegant finishes such as oil-rubbed bronze, chrome, brushed nickel, polished brass, and antique copper.
The Roman bathtub faucet finishes mentioned above can effortlessly match your current fixtures including the sink, toilet, and other components. Depending on your preferences and budget, these bathtub faucets are usually available in curved, rectangular, or oval shapes.
In addition, the spout of a Roman bathtub faucet is often ornamental, with curves and exquisite features. Certain Roman bathtub faucets may even feature an ornate column or other decorations to complement their classical design. Interior designers love using these faucets in bathrooms that exude vintage vibes to further enhance the decor.
Here's some unique info – a Roman bathtub faucet's valves are frequently made of ceramic, which is a strong and long-lasting material that can tolerate prolonged contact with water. They also usually contain a diverter, which allows you to adjust the direction of the flow of water from the spout to the showerhead.
Single Spout Bathtub Faucet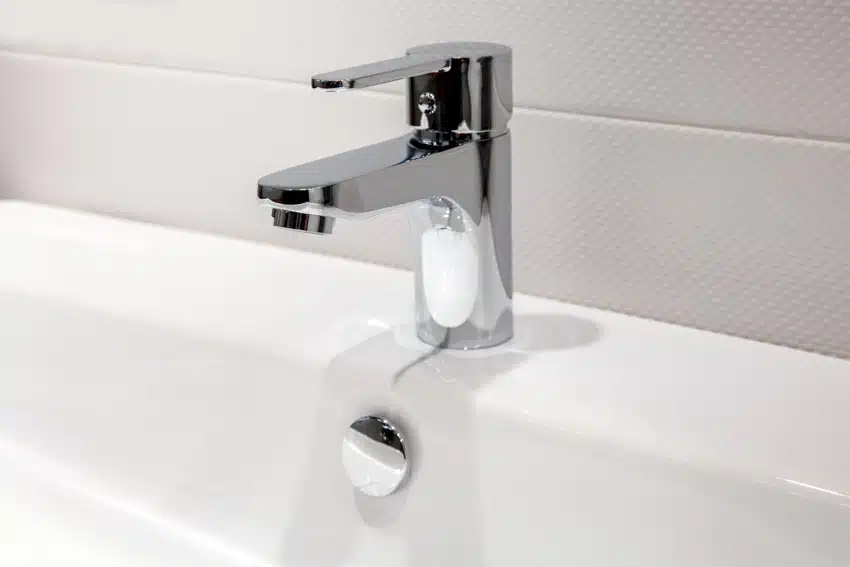 Single-spout bathtub faucets include a single spout for water supply as well as a single handle for adjusting water rate and temperature.
The single handle, which is often situated on the upper end of the faucet, can be turned to control the water. They are less ornamental, but they are regarded as more contemporary or modern than standard two-handle bathtub faucets.
These bathtub faucets typically use a pop-up drain and are ideal when upgrading all of your bathroom fittings to meet a single standard style all across the entire bathroom.
Single-spout bathtub faucets are also available in an assortment of materials including chrome, brushed nickel, and stainless steel, along with a variety of finishes including matte or glossy.
Additionally, single-spout bathtub faucets can be streamlined and minimalist, complementing modern bathroom designs. And yes, they also provide the benefit of being extremely convenient to use as the temperature and the water flow can be controlled using only one hand. This would be a great option if you prefer simplicity over complexity.
Single Spout Bathtub Faucet With Diverter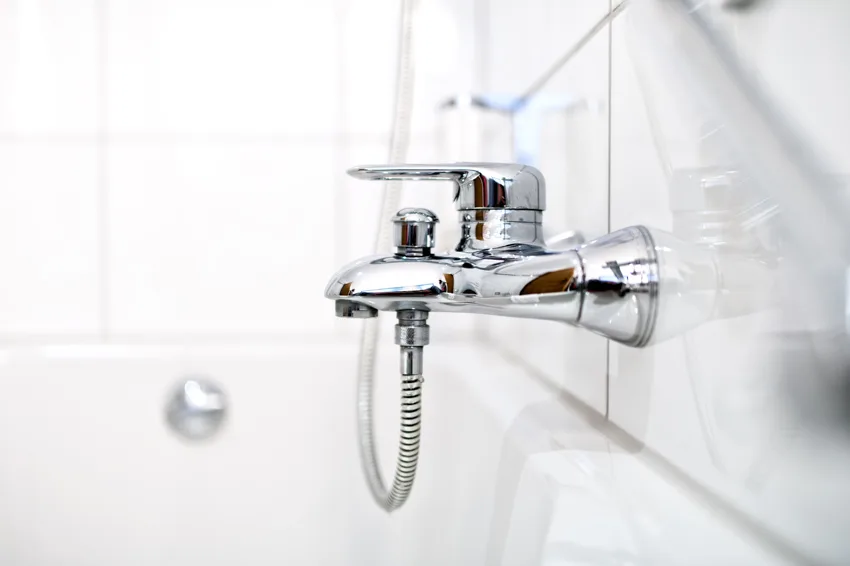 A single-spout bathtub faucet with a diverter mechanism that enables you to redirect water flow from the bathtub spout to a showerhead or other attachment.
This function also allows you to take a shower in your bathtub without installing a different showerhead, which helps add to its versatility.
The diverter mechanism valve, which is normally situated on the faucet or in the wall just above the tap, is controlled by a button or lever. By pressing or pulling the trigger, you can effortlessly transfer the flow of water from the spout to the showerhead.
Floor Mount Bathtub Faucet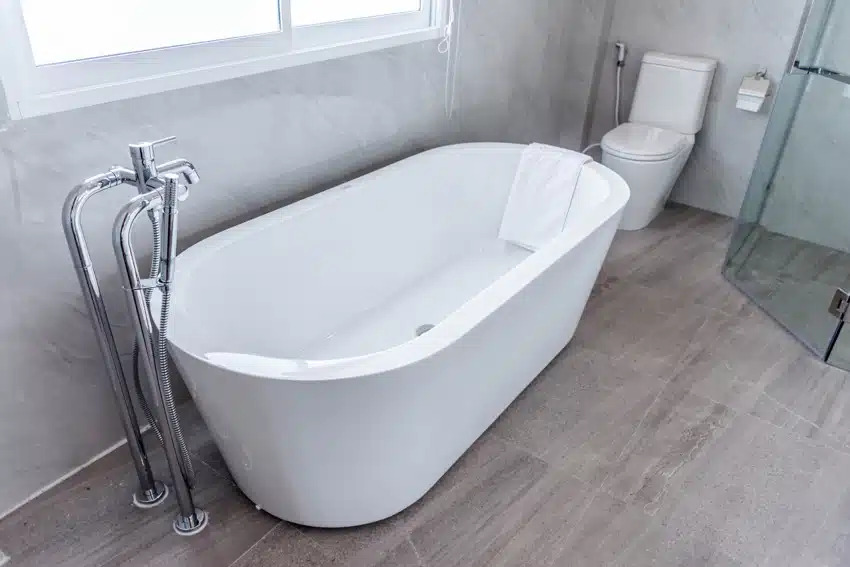 Floor-mount bathroom faucets are among the most popular styles of bathtub faucets – they can be seen in a number of classic hotel bathrooms. They can be mounted on the ground or the wall surface, but it will depend on how they were constructed and their layout.
They typically have cold and hot water valves that enable them to be blended, which can help you precisely achieve that comfortable water temperature.
These bathtub faucets have a unique look and are usually priced similarly to wall-mount bathtub faucets. Aside from that, floor-mount bathtub faucets are typically elegant and have a more antique or classical design, with many varieties resembling antique sculptures. They can be fashioned from a range of materials including bronze, brass, chrome, and stainless steel.
However, take note that a floor-mount bathtub faucet is not always recommended to be installed by an inexperienced DIYer because it necessitates drilling holes into the ground and laying complex pipework for a water supply. Most designers suggest getting it installed by a professional.
Single Handle Bathtub Faucet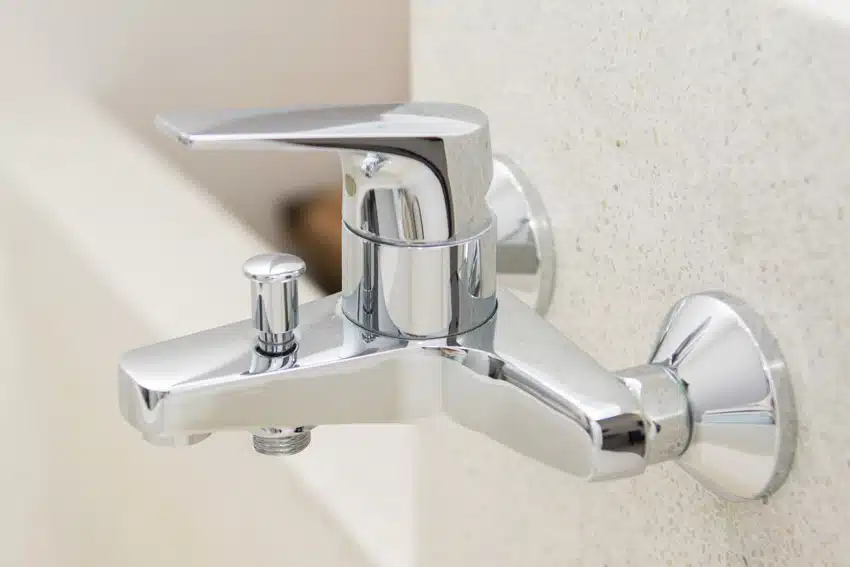 As the name implies, a single-handle bathtub faucet features only one handle for controlling and regulating the water temperature and flow. The handle is often positioned on the upper end of the tap and can be moved left or right to control it.
Bathtub faucets with a single handle are extremely simple to operate and practical because they can be operated with just one hand. This option is quite ideal for homeowners with restricted handling abilities such as people with injured hand or arm disabilities.
2 Handle Bathtub Faucet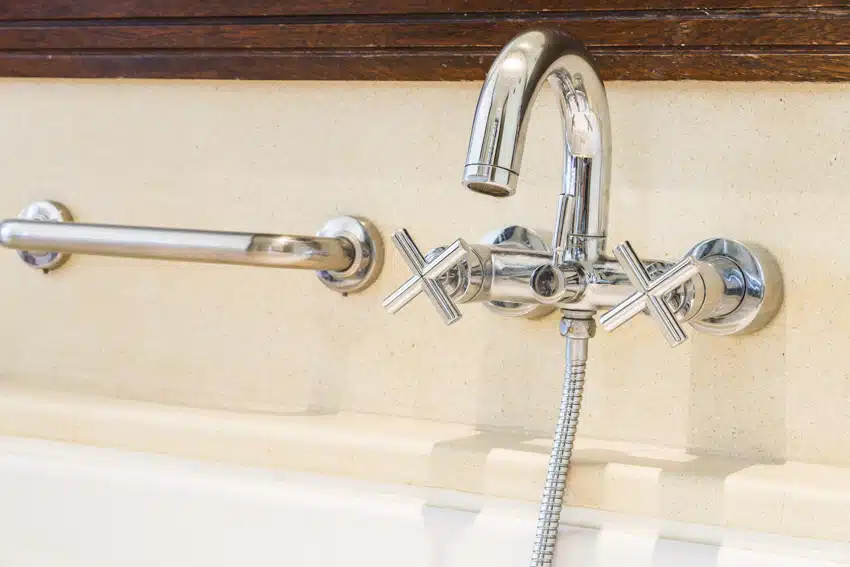 A 2-handle bathtub faucet comes with two independent handles for adjusting the stream, heat, and coldness of the water.
The supply of hot water is controlled by one handle, while the supply of cold water is controlled by the other. Compared to a single-handle bathtub faucet, we believe that this one is a lot more multifunctional.
One of the major benefits of a 2-handle bathtub faucet is that it enables more accurate temperature regulation. You can separately modify the stream of cold and hot water, which might be beneficial in obtaining a more appropriate water temperature that best suits your needs and preferences.
Indeed, 2-handle bathtub faucets can complement a vintage or traditional bathroom layout, although they also have the potential to deliver a touch of sophistication and refinement to more modern-style bathrooms since there are lots of models that exude minimalism.
3 Handle Bathtub Faucet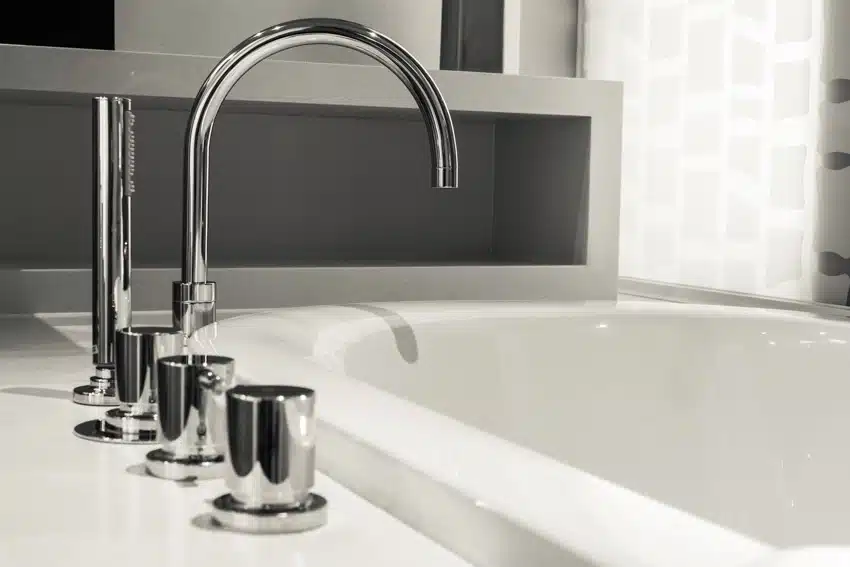 This one is even more multifunctional than a 2-handle faucet. Yes, a three-handle bathtub faucet features a multifunctional design with three distinct handles for managing the water. One handle regulates the flow of cold water, another regulates the flow of hot water, and a third regulates the flow pressure.
This bathtub faucet can help you achieve a more appropriate water temperature as well as the desired water flow pressure. Designers suggest using this in large-sized bathrooms with large bathtubs.
The three handles, which are usually positioned on the faucet head, may also be used to combine cold and hot water to the necessary temperature before it pours out of the water spout.
It is important to keep in mind, nevertheless, that installing a 3-handle bathtub faucet may necessitate more plumbing work. Hence, it would be ideal to get it installed by a professional plumber.
Waterfall Bathtub Faucet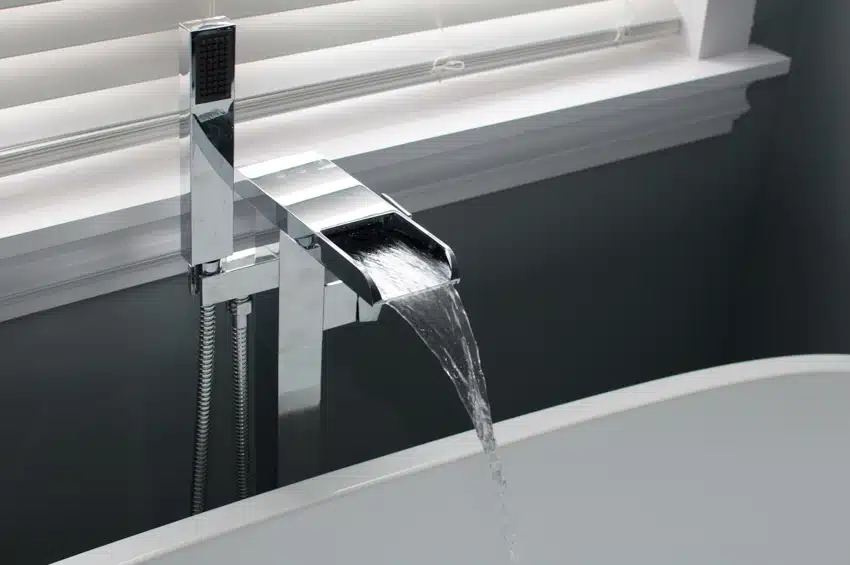 A waterfall bathtub faucet is inspired by nature since it is intended to produce a waterfall-like stream of water, thus the name. It usually has a broad, flat spout, and the water pours in a sheet-like pattern over the rim of the spout instead of a continuous flow. You may have seen it in more luxurious bathrooms, and nowadays, you can purchase it at a lower cost.
Sometimes, a waterfall bathtub faucet employs high-tech detectors that recognize motion within and surrounding the sensor zone without requiring you to touch any element of the faucet.
Certain waterfall faucets even include lights that highlight the water flow, producing an eye-catching impression. Waterfall faucets are available in both modern and traditional forms. Expert designers recommend using this in premium bathtubs to further highlight their high-end look.
1 Hole Bathtub Faucet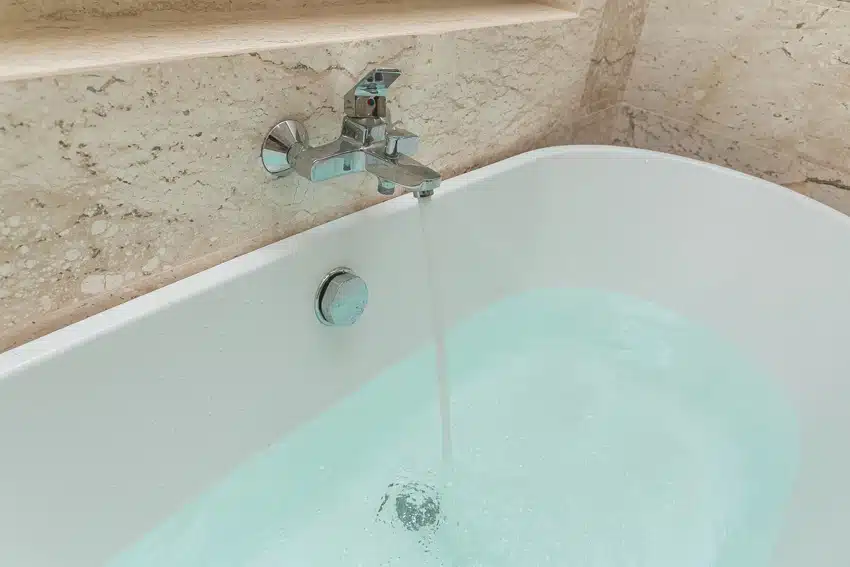 A 1-hole bathtub faucet needs just one hole to be driven into the bathtub to support the faucet. This implies that the faucet, handles, spout, and diverter are all attached to a single system and operated by a single controller.
This faucet is common due to its minimalist and modern appearance along with its simplicity of installation and function. They are also easier to keep clean, which is also a plus for homeowners who prefer minimal maintenance.
Experts also agree that 1-hole bathtub faucets are very flexible as you can install them in different bathtub types such as alcove, freestanding, and corner bathtubs.
3 Hole Bathtub Faucet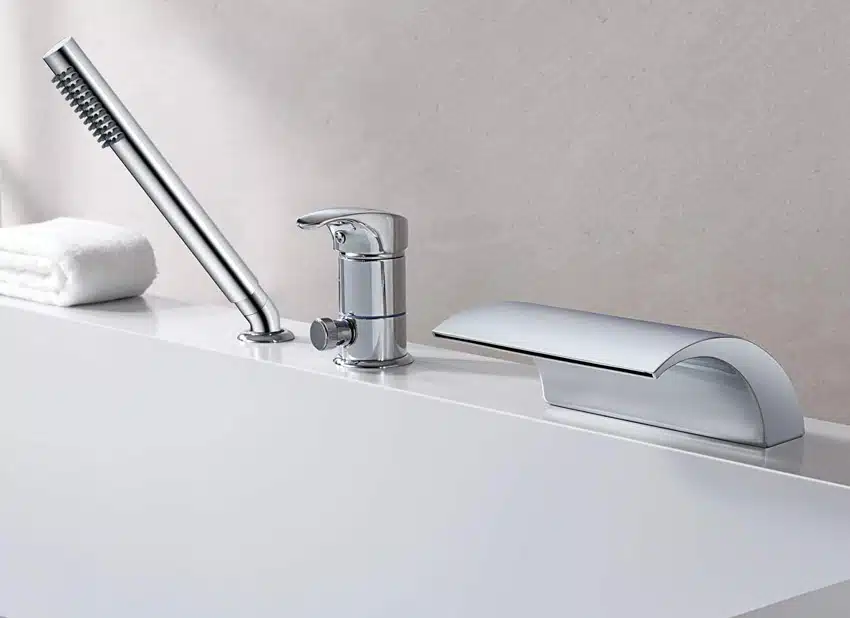 See this 3-hole bathtub faucet set at Amazon [sponsored link]
A 3-hole bathtub faucet has a spout and separate handles for hot and cold water supply. To install the faucet, three separate holes must be driven into the bathtub.
They are pretty versatile because you can freely choose the handles, spout, and other parts that complement your bathroom design individually.
If you want to use a hand shower while you are in your bathtub, you can take advantage of the extra hole and use it for installing a hand shower. In addition, a 3-hole bathtub faucet allows you to adjust the warmth of the water more precisely, although it is more susceptible to leaking than a one-hole faucet.
Wide Spread Bathtub Faucet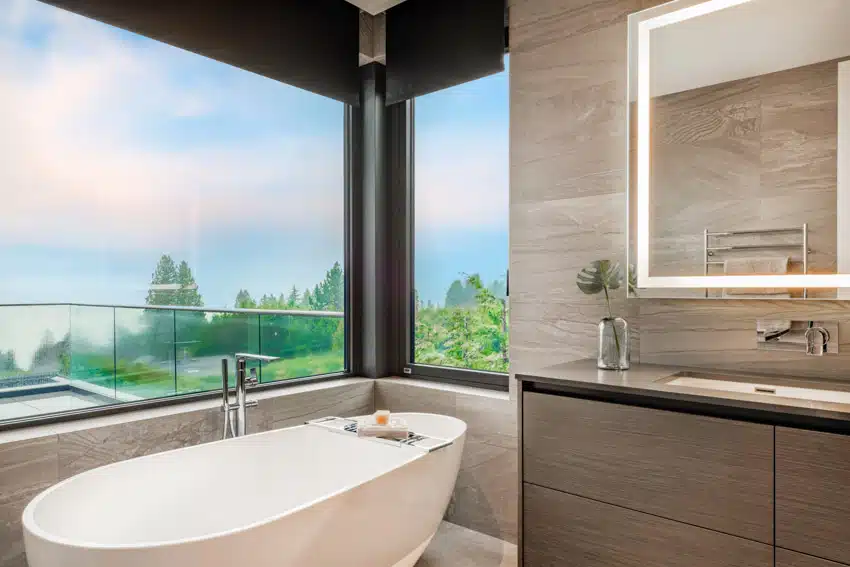 Widespread bathtub faucets are normally made up of three parts: two handles and a spout. The main distinction is that they are linked and separated by a plate. This enables you to quickly manage the water's temperature and flow rate, which adds practicality.
There are multiple models of widespread three-piece faucet designs to pick from, but they are, of course, reasonably priced.
If you want to maximize the space in your bathroom, you should remember that this configuration also includes greater space between the fixtures, giving you more room for shower spraying and soap distribution.
Mini Spread Bathtub Faucet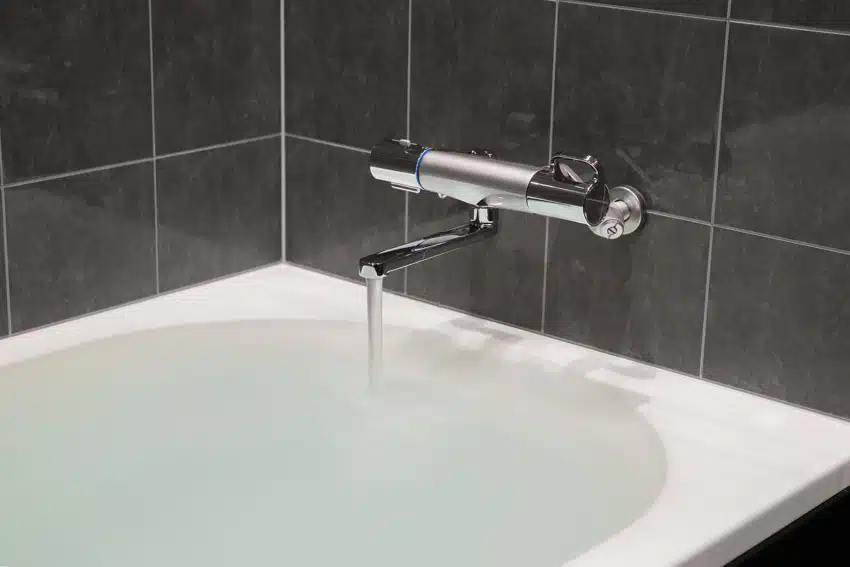 Mini spread faucets are basically smaller versions of widespread faucets. They use a three-hole arrangement that allows for better control, but the hardware design has been streamlined and compacted.
We have analyzed that the distance between the handles and the spout on a mini spread bathtub faucet is shorter. Although it may look like a wide spread faucet, the handles and spout are actually nearer next to each other.
If you have a compact-sized bathroom, keep in mind that this bathtub faucet evokes minimalism, which might serve as a good option.
Bathtub Faucet With Sprayer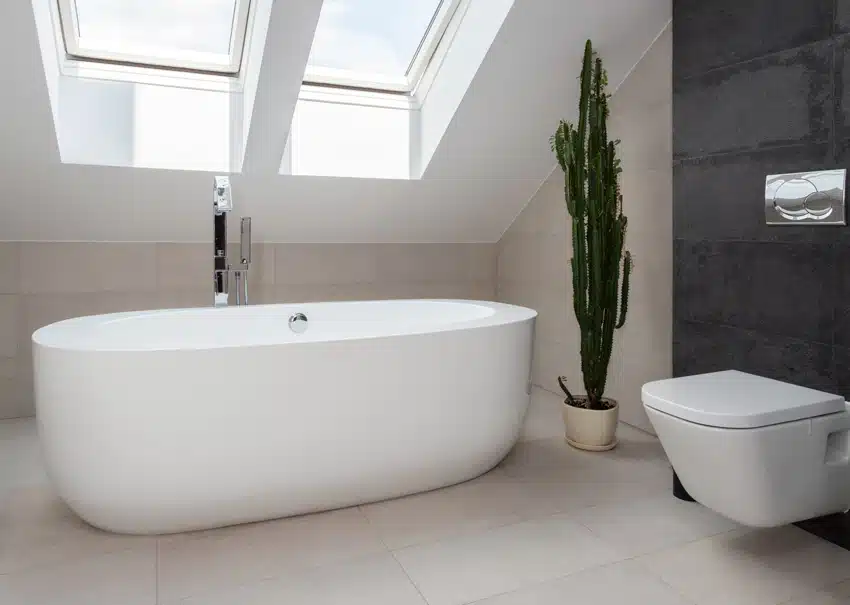 A bathtub faucet with a sprayer is a form of bathtub faucet that includes an extra sprayer connected to it, which can be a handheld or a stationary spraying unit.
The sprayer offers you greater bathing options such as a more forceful flow for rinsing or a delicate spray for added relaxation. If you are not satisfied with merely immersing yourself in a bathtub, you can consider going for a bathtub faucet that comes with a sprayer.
Bathtub And Shower Faucet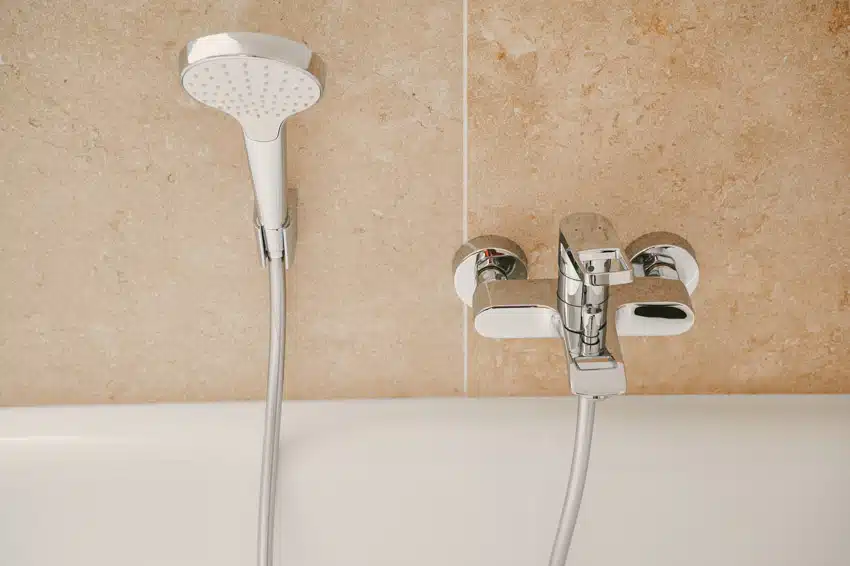 Showering and bathing at the same time can be quite relaxing, and this is what you can experience with this bathtub faucet type. It usually includes a diverter mechanism valve that enables you to choose between a bath spout or a shower head.
For added convenience, certain expert contractors who install this type of bathtub faucet include a portable shower head that may be connected to a hose.
Clawfoot Bathtub Faucet
A clawfoot bathtub faucet is primarily designed to be used in clawfoot bathtubs. The name comes from the appearance that these bathtubs have four feet that simulate claws. These faucets are normally deck-mounted and positioned on the edge of the bathtub.
They come in a range of designs such as vintage, classic, and modern. These faucets can be the focal point of a bathroom, and this is why interior designers normally install them in bathrooms with drab decor.
Vintage Bathtub Faucets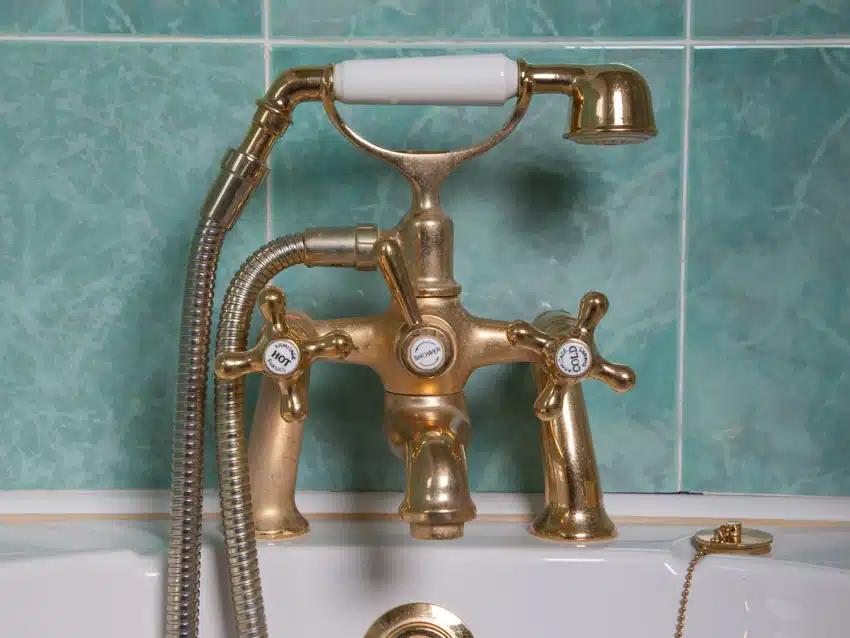 Vintage bathtub faucets are set up to look and function similarly to ancient and more classic faucets. They are customarily intricate or complex in design and can be structured in bronze, brass, or porcelain.
They are well-known among homeowners who want to give their bathroom, particularly their bathtub, a vintage look. If you are into antiquated bathroom design, you can opt for this bathtub faucet.
Bathtub Faucet Materials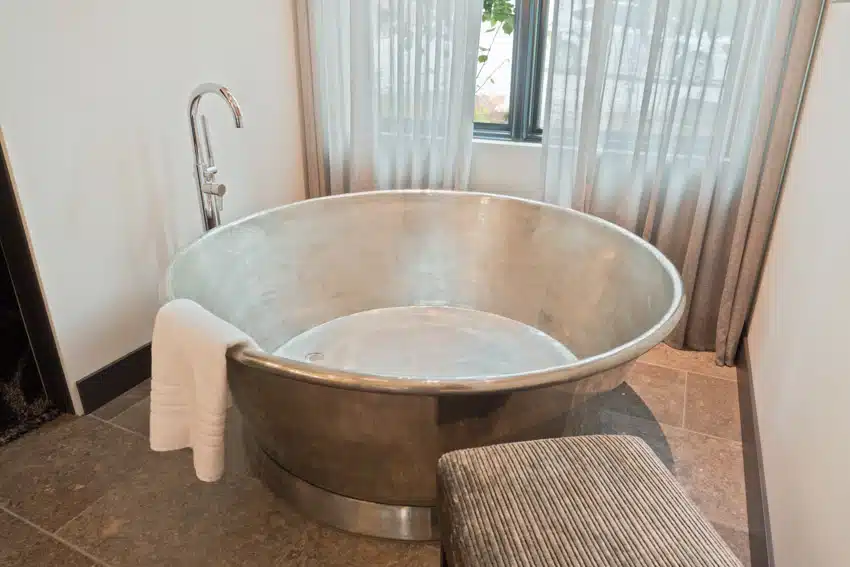 Here we share the different materials used for bathtub faucets to help you find one to match your room style.
Brass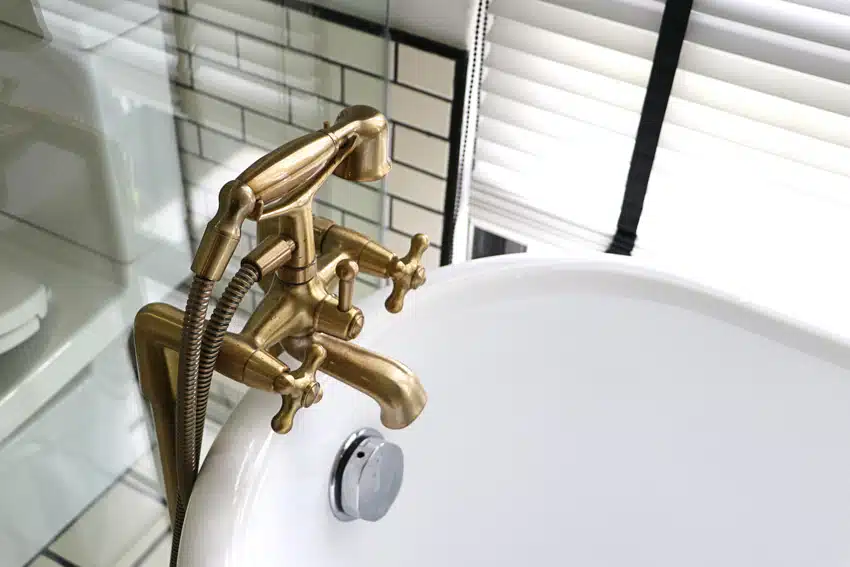 Brass is widely regarded as the most long-lasting and durable bathtub faucet material available. Maintenance won't be a major problem as it is particularly corrosion-resistant and does not need to be polished regularly.
Most brass faucets are gold-plated at first, but this will fade off over time. Nonetheless, the excellent thing is that you can get it re-plated at a decent cost!
Keep in mind that brass can be polished, rubbed, or weathered, to name a few options. The polished finish provides a dazzling, reflective surface for the bathtub faucet, whereas the rubbed finish provides a more subdued, matte effect.
A dark patina is applied to the surface of the brass to produce a weathered finish. Truly, with this sought-after faucet material, you can pick what finish best suits your current bathroom decor.
However, one of the major downsides of brass is that it might discolor over time; nevertheless, you can easily brush and shine it to regain its luster.
Bronze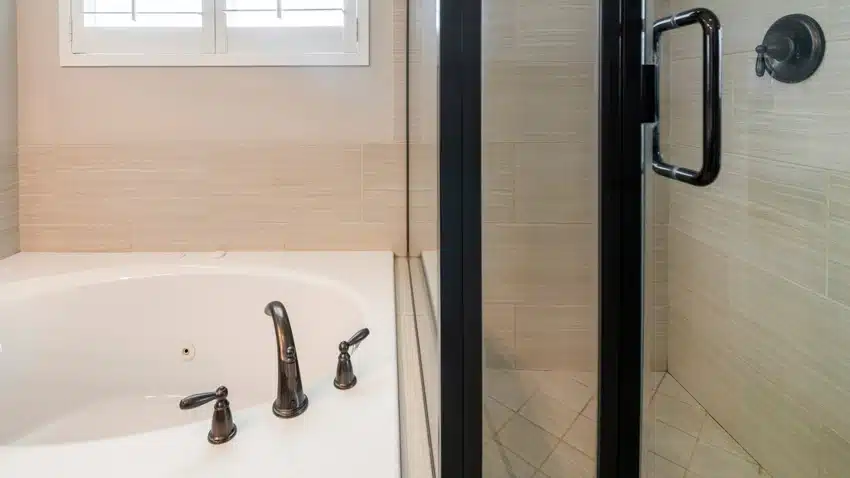 Bronze is an alloy composed of tin and copper. It is also a marketable material for bathtub faucets due to its strength, durability, and corrosion resistance. It traditionally features a rich, deep color and can be treated in a number of ways including antique or polished.
Antique bronze is a treatment recommended by experts since it can be used to provide bronze faucets with a more ancient appearance, which complements rustic bathroom decors.
The polished finish, however, creates a glossy, reflective surface on the faucet. Bronze, the same as brass, can acquire a patina over a period, which can be attractive for some homeowners who desire a weathered ambiance.
Oil Rubbed Bronze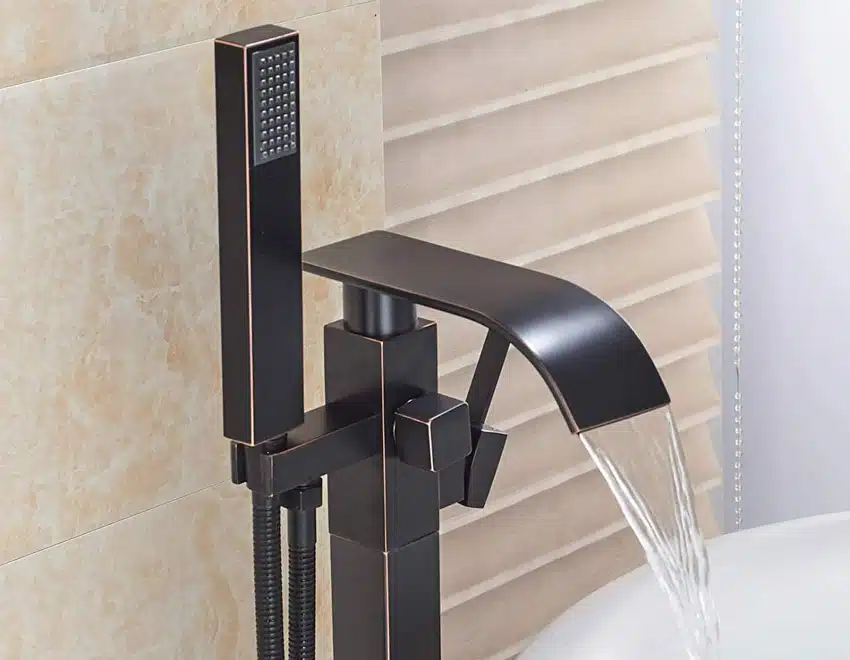 See this oil-rubbed bronze bathtub faucet with sprayer at Amazon [sponsored link]
Oil-rubbed bronze is another incredible form of finish for bronze or other metal-made bathtub faucets. It delivers the bathtub faucet a deep and anachronistic appearance and is frequently used to provide a vintage or stately look.
Simply put, the finish is created by spraying an oil-based compound on the bronze's surface, which darkens it and provides it with a worn appearance.
However, it has a lower sheen than other finishes, which might not be a plus if you want to use it as a focal point, although this quality makes it simple to keep clean and maintain.
Unfortunately, the main drawback of oil-rubbed bronze is that it can be damaged by water stains if not carefully maintained. Thus, if you wish to use oil-rubbed bronze, ensure that you are providing it with meticulous upkeep.
Stainless Steel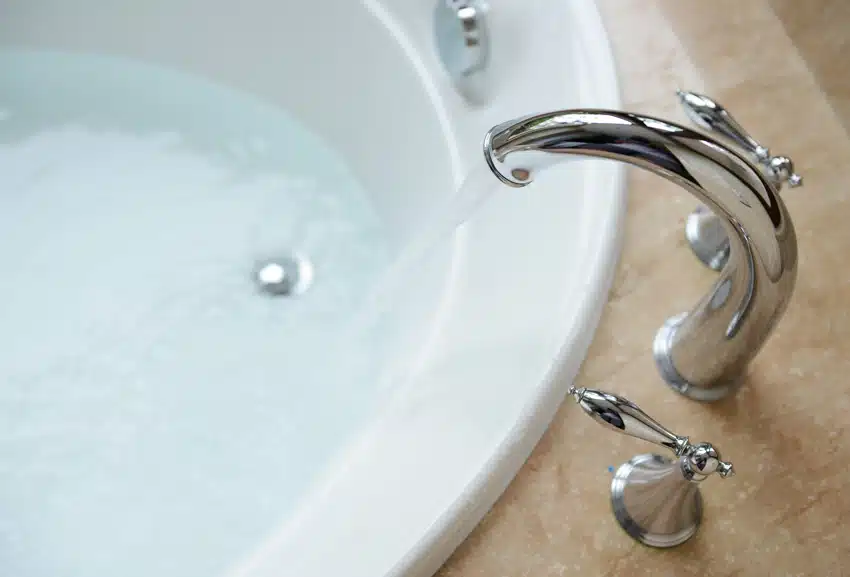 Because it is durable, water-resistant, and impervious to rust and corrosion, stainless steel is yet another widely used material recommended by experts for bathtub faucets.
It is primarily composed of iron, chromium, and nickel. Many homeowners adore this material since it boasts a sleek and contemporary look. Thus, it is frequently employed in modern and minimalist bathroom designs.
A stainless steel bathtub faucet material is customarily polished and glossy, but it can also be brushed for a matte appearance.
Stainless steel is uncomplicated to manage and sanitize, and another good about it is that it will not tarnish or discolor over time. Unfortunately, if not cleaned regularly, it would be susceptible to watermarks and smears, though it is not that big of a deal.
Chrome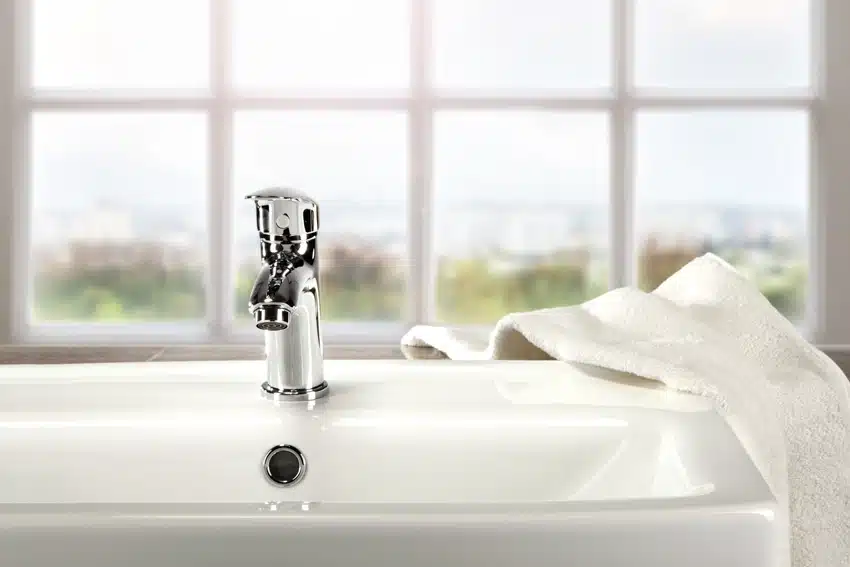 Chrome is another widely known metallic finish that can be completely applied to other metals like brass or steel.
This finish is well-known for its hardness and enhanced corrosion resistance. If you want to achieve luster in your bathtub, the gleaming finish can end up making the bathtub faucet appear stylish and eye-catching.
Furthermore, chrome is a widely known selection for bathroom fixtures due to its tried-and-true longevity and chemical resistance, not to mention its glossy and brilliant appearance.
Also, chrome finishes are generally inexpensive and may be applied to a wide range of faucet materials such as zinc alloy and stainless steel. Designers who help homeowners maximize their bathroom design budget often opt for this faucet finish.
Nickel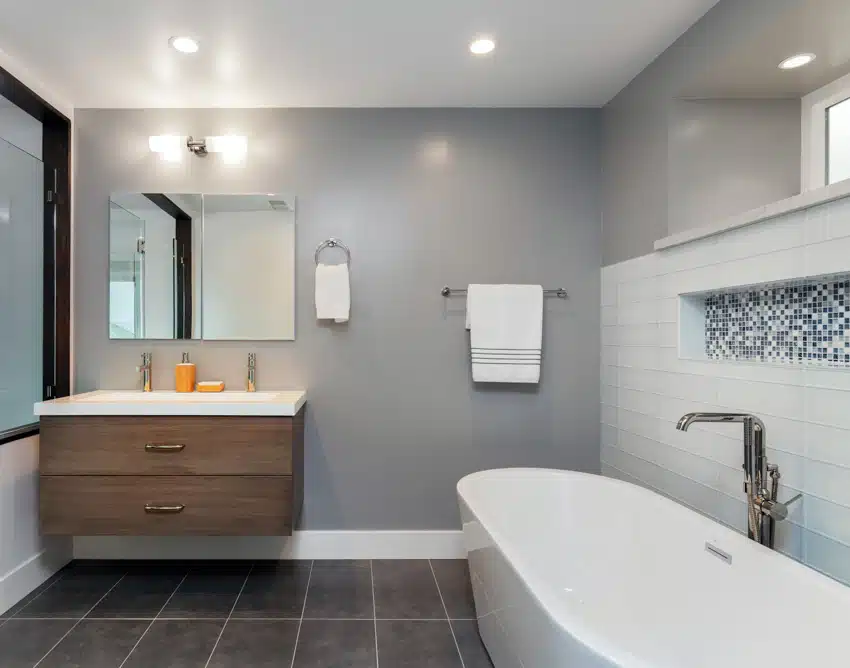 A nickel bathtub faucet is formed of a metal alloy of nickel and other metals like copper or zinc. Nickel is normally applied as a coating or polishing on the faucet's surface to give it a lustrous, silver-like look.
The nickel also acts as a barrier against corrosion and rust, which are often encountered in moist areas like bathrooms.
Matte Black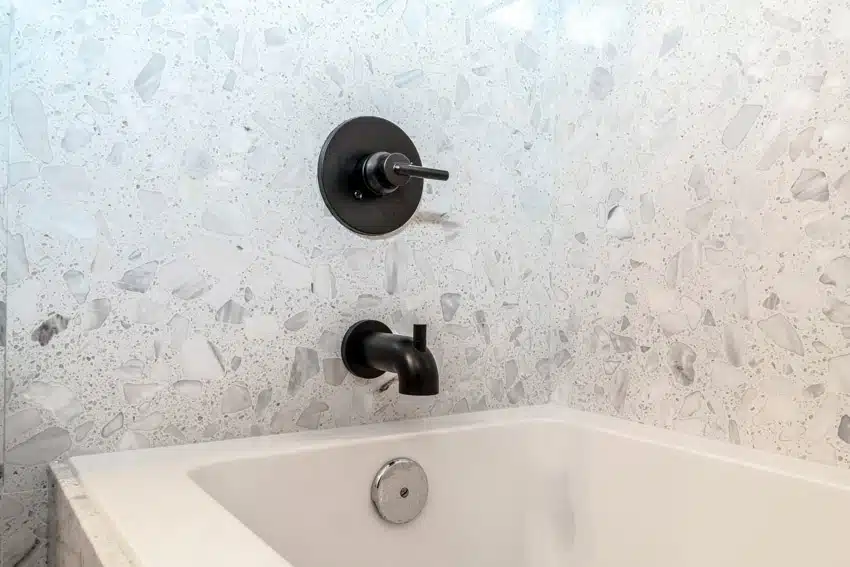 A matte black bathtub faucet features a matte black finish on its surface. This effect is obtained by using a specialized coating or treatment that is specially designed to produce a matte or non-glossy black look.
The matte finish is applied to the surface of the bathtub faucet to provide it with a modern and sleek appearance. This finish is preferred by homeowners who desire a more minimalist and sophisticated look for their bathroom design.
Due to their ability to conceal water stains and other flaws, these matte black bathroom fixtures are also a well-liked finishing option by interior designers for bathtubs.
Types Of Bathtub Faucet Handles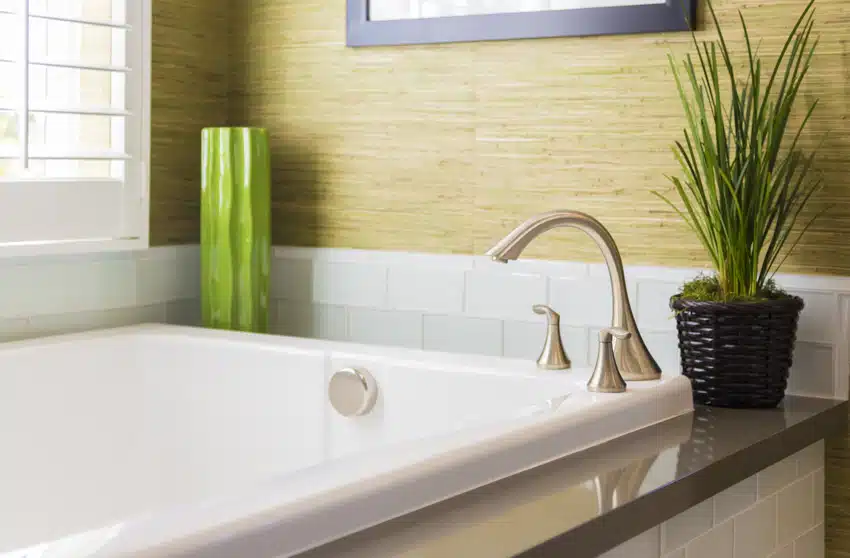 Knobs: A knob handle is the most basic type of faucet handle. It comes with a basic lever and spout. If you prefer a faucet that is uncomplicated to work with, this might be an ideal option.
We also suggest using plastic or acrylic knob handles since they oftentimes have a more creative design to make them extra appealing.
Knobs are customarily circular in shape and are often screwed to the faucet. The flow of water and temperature can be adjusted by rotating the knob. Many homeowners like to use knobs as they are basic and straightforward to operate, making them a widely known option for many bathroom types.
Levers: Levers are a sleek and stylish choice for bathtub faucet handles. They are usually connected to the faucet through a line, which is successively connected to the valve.
The water flow and temperature are adjusted by pushing or pulling the lever. Because they do not necessitate a strong grip to rotate, lever handles are frequently more ergonomic and easier to operate.
If your household has clumsy members and tends to break random things, a lever handle might come in handy since it is an inexpensive alternative that is simple to replace once it breaks down. They come in a range of designs and materials which include brushed nickel, chrome, and oil-rubbed bronze.
Another advantage of lever handles is that they may be used with a single finger or even the side of the hand only, making them more convenient to those with mobility issues such as the elderly or youngsters.
Faucet Spout Designs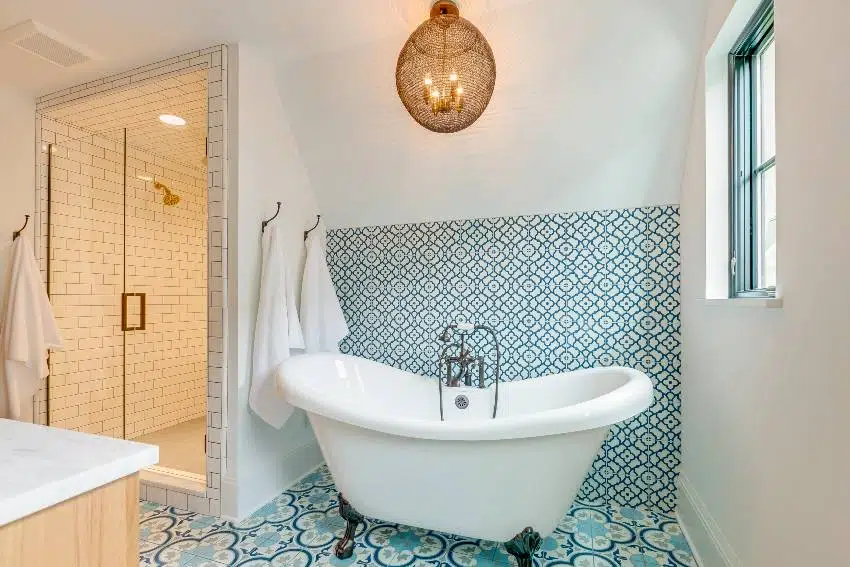 Gooseneck: The curved and extended design of a gooseneck faucet spout provides a greater flow rate in your bathtub and more space underneath the spout.
This style is common in modern and contemporary bathroom designs. However, if you have vintage bathroom decor, this classic spout design can further reinforce the interiors and the look of the bathtub.
Widespread: A widespread faucet spout features independent handles as well as a spout that is positioned on the wall or bathtub separately. This shape offers more positioning versatility and is a practical choice for larger bathtubs.
Wall-Mount: A wall-mount faucet spout is installed on the wall instead of in the bathtub itself. We suggest going for this design if you want to conserve space and maintain a clean and simple appearance.
Deck-Mount: Deck-mount faucet spouts are installed directly on the bathtub rim. This style is perfect for saving space and creating a simplistic layout.
Handheld: A hose connects a handheld shower to the spout and can be disconnected for hand-held applications. This design offers greater water flow versatility and can be an attractive substitute for individuals who desire the possibility of a handheld shower in addition to a standard spout.
Parts Of A Bathtub Faucet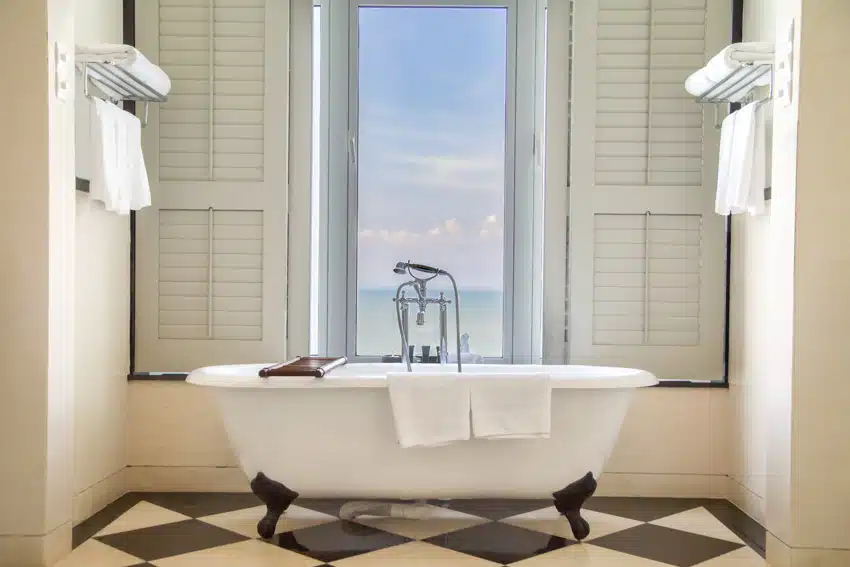 • Water Supply: The primary part is the water source. The water supply system delivers water to your faucets as well as shower head accessories, which mainly fill your bathtub.
• Handle: The handle controls the stream and water temperature that comes out of the spout. They might be knobs, levers, or just a single handle.
• Spout: The spout is the section of the faucet from which the water actually flows. It is available in a wide range of styles, including gooseneck, widespread, wall-mounted, deck-mounted, and handheld showers, as aforementioned.
• Planar Cross: A planar cross is a four-cross arrangement of pipes that controls water flow that is often exclusively mounted in a bathtub.
The planar cross-links to the diverter piping system in addition to your cold and hot water supplies as well as the rim of your drainage system, allowing water to stream straight out of your bathroom.
• Drain: The drain, particularly the drain pipe, enables water to escape your bathtub. It is distinguished by a round hole at the center of your bathtub.
• Valve: The water that flows through the faucet is controlled by the valve. It regulates the water flow via the spout and is normally positioned within the faucet and behind the handle.
• Diverter: A diverter is a component that regulates the water flow between the spout and any connected fittings like a handheld shower or bathtub spout.
• Cartridge: A cartridge is a sort of valve placed within your faucet that manages water flow and warmth whenever the handle is turned.
It is found in so many showers and enables greater temperature management. It is generally the first thing to examine when temperatures are not working properly in your bathtub faucet.
• Overflow Pipe: The overflow pipe, which is situated between your connections as well as the drain, collects all leftover water and directs it to your drain via a different line.
Bathtub Faucet Features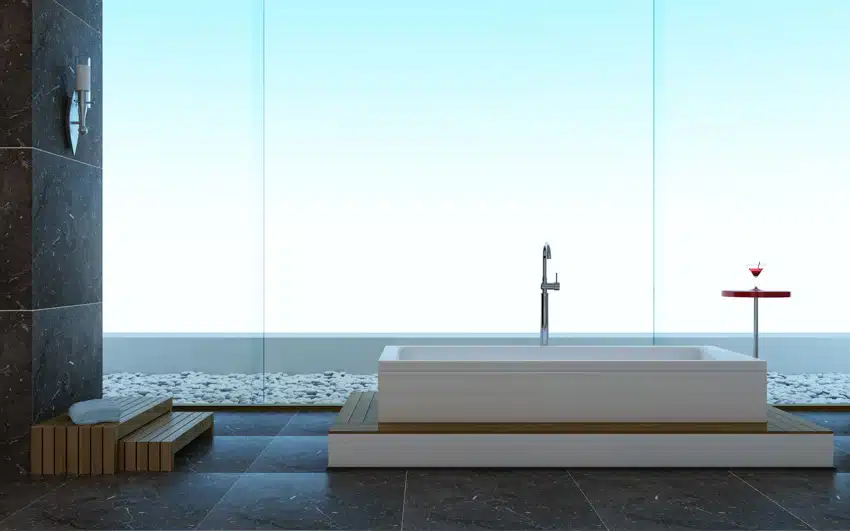 Flow Rate: The flow rate is the volume of water that comes out of the faucet every minute. This feature is beneficial for those who want to save water or who use a sizable bathtub.
Temperature Control: Numerous bathtub faucets include a temperature control option that enables you to modify the temperature of the water according to your preferences. Certain faucets also include a scald guard, which restricts the optimum water temperature to minimize inadvertent burns.
Spray Pattern: Bathtub faucets featuring several spray patterns including a wide spray, a targeted spray, and a massaging spray, are available. This function is handy for individuals who want to personalize their bathing experience.
Touch-Free Technology: Touch-free technology is used in certain advanced bathtub faucets, allowing you to switch the water on and off without actually touching the handle. This is particularly important for preventing the transmission of germs.
WaterSense-Certified: WaterSense is an Environmental Protection Agency certification that validates water-efficient technologies and aids in water conservation.
Anti-Scald Protection: Certain bathtub faucets have an anti-scald technology that constantly regulates the water temperature to avoid burns.
LED Lights: Several bathtub faucets include built-in LED fixtures that shift colors depending on the temperature of the water. This function is beneficial for individuals who like a more high-tech or modern appearance.
Shower Attachment: A shower attachment is a mechanism that may be attached to a bathtub faucet to transform it into a shower. It is usually composed of a hose and a handheld shower head that attaches to the bathtub faucet's spout.
Additionally, shower attachments are an excellent way to add adaptability to a bathtub faucet, and they are extremely helpful for people with restricted mobility or households with small youngsters.
There are various kinds of shower attachments, and one of them is a stationary shower head that is installed on the wall, can be altered in both height and angle, and typically has a variety of spray patterns. Another form is a removable shower head, which is attached to the faucet spout and may be detached for handheld application.
Thermostatic Temperature Control: A feature that enables you to set and maintain a certain water temperature for the bathtub faucet is called thermostatic temperature control. These control systems include a thermostat as well as a heater and/or cooler.
The thermostat is a thermally driven control that switches between the "on" and "off" modes at a certain, typically configurable temperature. It may be operated manually or digitally.
If you want to reduce temperature fluctuations of the water before it enters your bathtub, it is a smart idea to install a thermostatic control valve. This can significantly lower the risk of scalding skin while also saving money on energy costs.
Backflow Preventer: A backflow preventer is a mechanism mounted in a plumbing system to keep unclean water from entering the clean supply of water. It works by constructing a barrier that only permits water to travel one way, preventing impurities or pollutants from entering the uncontaminated and pure water supply.
Mechanical and atmospheric backflow preventers are the most commonly used types of backflow preventers. Mechanical backflow preventers inhibit backflow by using mechanical devices such as control valves, pressure-relieving valves, and suction breakers. On the other hand, to avoid backflow, atmospheric backflow preventers depend on the pressure change between the supply as well as the drainage.
Bathtub Faucet To Shower Converter: A bathtub faucet-to-shower converter is a mechanism that connects to a bathtub faucet's spout, as the name suggests, to convert it into a showerhead. The equipment usually comes with a hose as well as a handheld shower head for bathing or washing.
In addition, certain converters come with a diverter device that allows you to shift between the bathtub faucet and the shower head. This enables you to easily transition from a regular bathtub faucet to a shower.
Bathtub Faucet Extender: A bathtub faucet extender is a component that connects to the spout of a bathtub faucet to properly extend the water flow's capacity. It is intended to make it simpler for youngsters and shorter adults to access the water while bathing.
It normally attaches to the current faucet with a basic clamp or screw connection and has a little spout that protrudes from the bathtub faucet.
This spout may be changed to various angles and locations to meet the demands of the user. Several bathtub faucet extenders include a built-in water flow regulator to help you save water.
Bathtub Faucet Height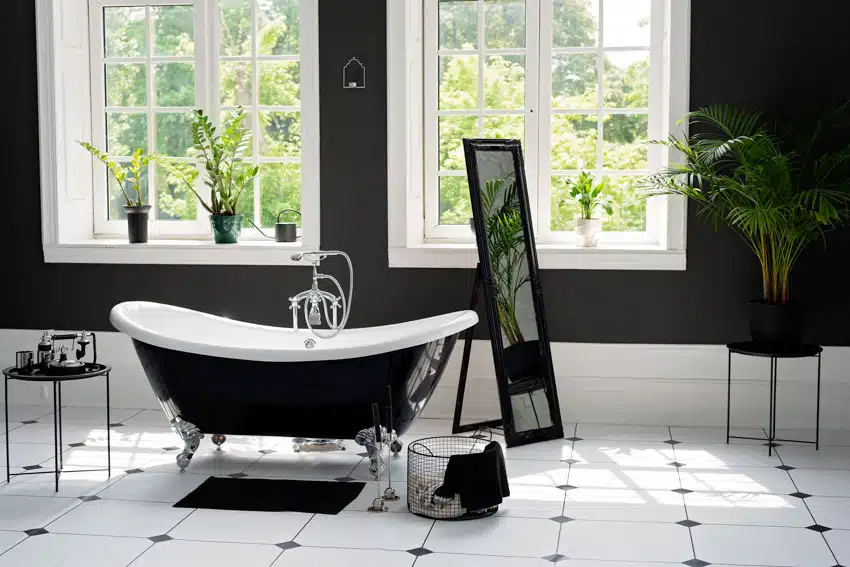 The reasonable faucet height for a bathtub faucet is around 12 to 18 inches just above the bathtub rim. However, bathtub faucets are sometimes set 20 to 35 inches above the rim of the bathtub.
This height is intended to be suitable for some adults, allowing them to conveniently reach the faucet and change the temperature and water flow.
It is important to note, nonetheless, that certain people, such as youngsters or shorter adults, might find this height to be excessively high and may struggle to reach the faucet. Hence, lowering the height or using a faucet extender may be ideal.
Why Is My Bathtub Faucet Leaking?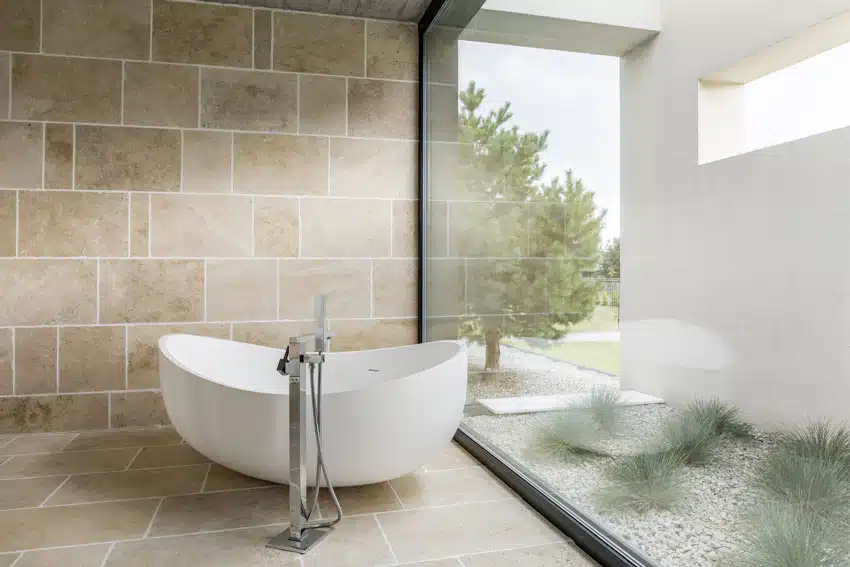 A leaking bathtub faucet is frequently caused by a damaged or aged washer in the stem. The washer is pressed against the valve every time the water is turned on. The washer wears down as a result of repetitive friction.
Moreover, a bathtub faucet may potentially leak as a result of an old and damaged valve or loose cartridge. It could also be induced by a defective or malfunctioning diverter valve, causing water to flow from the spout.
It may be due to faulty installation or a broken pipe in some circumstances. Therefore, an experienced plumber will be able to identify and resolve the issue.
Cost To Fix Leaky Bathtub Faucet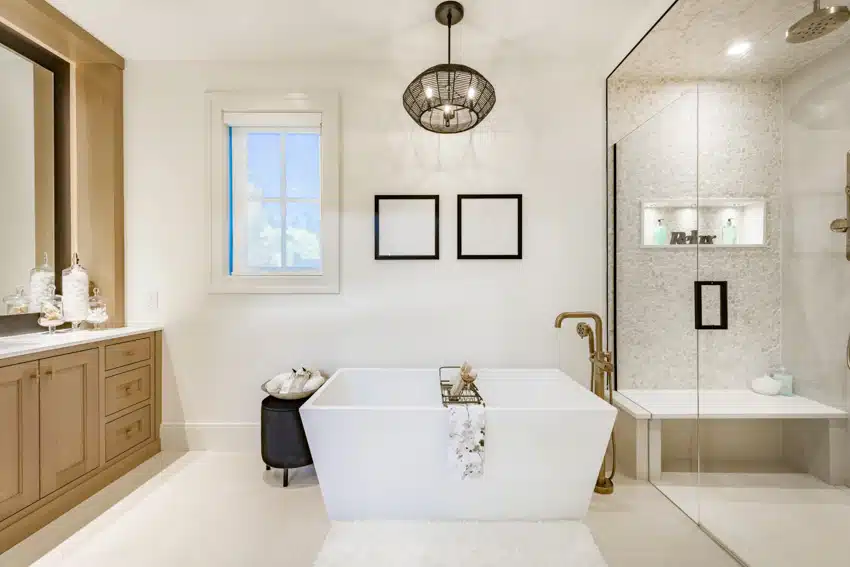 The nationwide rate for fixing a bathtub faucet is $27 per faucet, with a range of $25 to $29. The total cost of labor and supplies per bathtub faucet is $185, ranging from $168 to $205.
Your actual cost will be determined by your location, project size, working conditions, and the finishing selections you pick.
It is crucial to remember, nevertheless, that these costs are only estimates and may vary based on the location and the specialist you hire. To obtain a better understanding of the cost of the repair, you can request different quotations from various plumbers.
How To Clean A Bathtub Faucet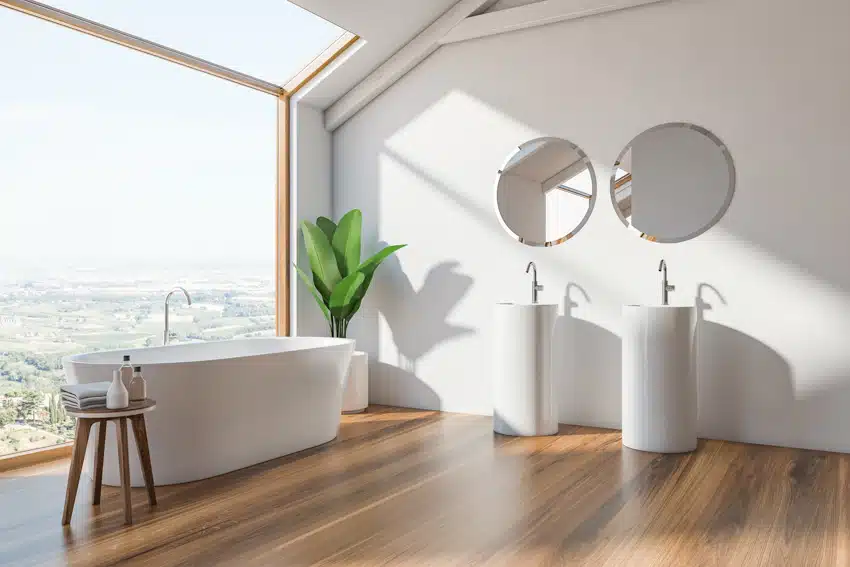 Cleaning your bathtub faucet is crucial not only to retain its appeal but also to maintain the faucet's functionality and ensure it continues to perform correctly.
A step-by-step guide for cleaning your bathtub faucet is provided below:
1. Gather the necessary cleaning supplies. A clean and soft cloth, mild detergent, vinegar, and an old toothbrush or little brush may all be necessary. Abrasive cleaning products like steel wool or scrubbing pads should be avoided since they might harm the finish of your bathtub faucet.
2. To start the cleaning process, you can use a wet cloth to wipe off the faucet to eliminate any loose sludge or debris. Scrub away any residual debris or filth with an old toothbrush or small brush.
3. To clean the faucet, combine a small portion of mild detergent with slightly hot water. Keep a close eye on any spots that are especially unclean or grimy.
4. After using mild detergent to wash the faucet, properly rinse it with water to eliminate any residual soap or grime.
5. Prepare a solution of equal parts of vinegar and water to eliminate any tough watermarks or mineral accumulation. Allow it to sit for around 15 minutes after applying it to the faucet using a soft cloth. Wipe away any stains or deposits with a brush.
6. To eliminate the vinegar mixture and any leftover stains, completely rinse the bathtub faucet with warm water.
7. Lastly, use a soft dry cloth to dry the faucet and avoid watermarks from accumulating.
Take Note: Make sure to clean your bathtub faucet on a regular basis to avoid dirt and filth from accumulating. In addition, any leaks or even droplets from the faucet might indicate that it must be fixed or replaced.
Furthermore, bathtub faucets with a particular finish like brushed nickel or oil-rubbed bronze may necessitate specialized cleaning techniques to avoid ruining the finish. In certain situations, it is recommended to follow the manufacturer's cleaning and maintenance guidelines.
See more related content in our article about the different types of bathtub drains on this page.