See the matte black bathroom fixtures pros and cons including what they are, reasons for and against using this finish, and tips on how to clean and maintain matte black fixtures.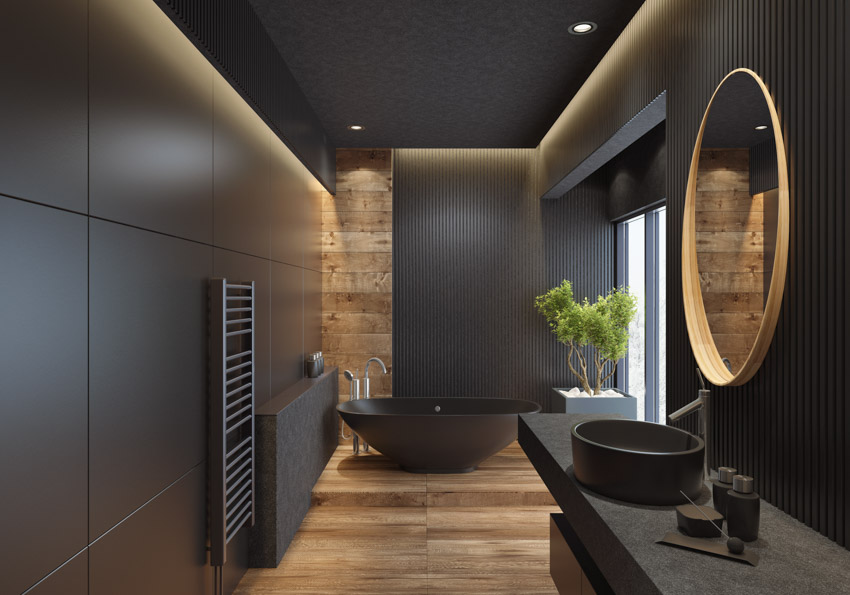 Matte black bathroom fixtures are a fast-growing style that indicates no indications of faltering. This tapware design appears to be practically as appealing as the conventional chrome or stainless steel bathroom fixtures that have had perennial aesthetics.
Due to its versatility, the matte black finish is becoming increasingly popular in numerous homes. Nonetheless, though black bathroom fixtures such as sinks, faucets, toilets, and bathtubs are readily available, it is indeed crucial to weigh the benefits and drawbacks before making a decision.
Notwithstanding our newfound enthusiasm for these elegant fixtures, there are advantages and disadvantages to choosing this finish in your bathrooms and kitchens, and these are what we are going to discuss here.
We examined this topic to assist you in making the best option for your household, specifically your bathroom.
What Are Matte Black Bathroom Fixtures?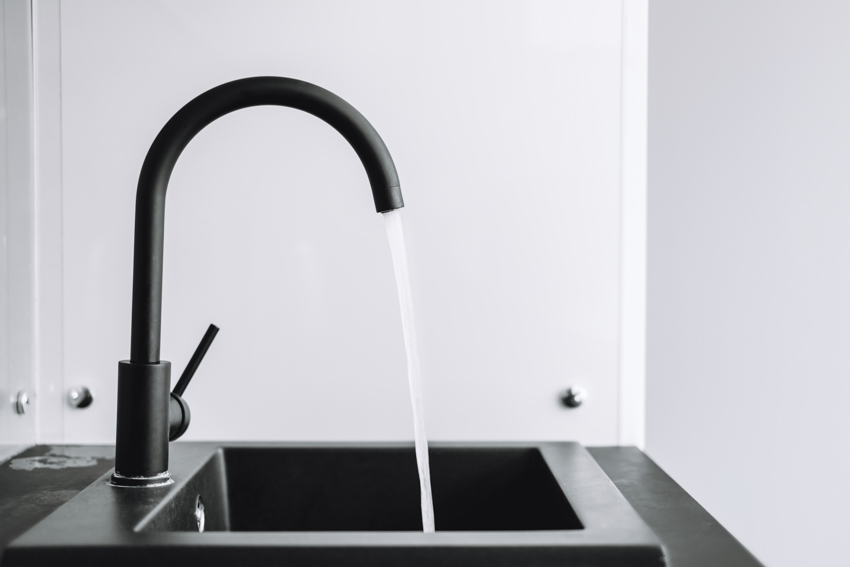 Matte black bathroom fixtures are made with a deep and satin black tint. These black colors are typically applied to brass, steel, or iron substrates.
Powder coating is commonly used to obtain matte black surfaces. Matte is a texture that is midway between flat and glossy.
Moreover, the matte black coating minimizes the tough impression of black and adds a distinctive notion to your bathroom.
Pros of Matte Black Bathroom Fixtures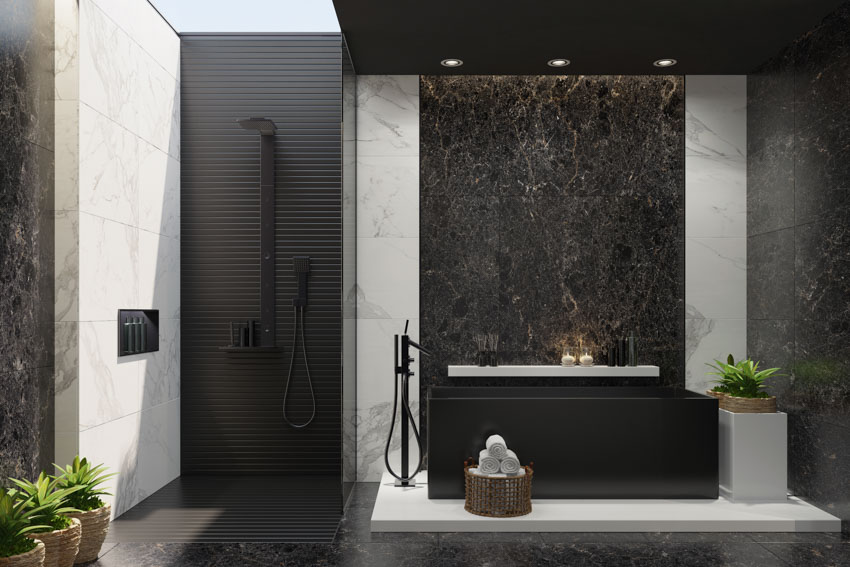 We usually suggest reading a rundown of the pros and cons first for each development or renovation task.
Before implementing any significant modifications or spending money, this will help you assess if the construction or renovation is perfectly suited for your preferences.
Here are the pros of using matte black bathroom fixtures:
Aesthetically Appealing: Since we are so accustomed to viewing and using chrome or metallic bathroom faucet finishes, among other fixtures, we start to become attracted and drawn to matte black options because it is distinct and sleeker than the conventional fixture designs and finishes.
Incorporating matte black fixtures adds a contemporary touch to the bathroom. It is a trend that can drastically spruce up a dreary area.
Easy Maintenance: Another benefit of matte black fixtures is that they are uncomplicated to maintain.
A matte black fixture is more impervious to smears, marks, fingerprints, and scratches than chrome or other metallic finishes. Plus, the water will not end up leaving those unsightly water stains.
The matte finish also adds sturdiness and protection against scratches and dings. Furthermore, while they show dust and debris more visibly than traditional finishes, they are indeed simple to clean. Simply wiping it with a microfiber cloth will often restore its luster.
Can be Matched Well in a Wide Range of Bathroom Color Palettes: Lots of bathrooms nowadays are created with a neutral color palette to maintain the aesthetic and design's permanence.
Well, these neutral colors complement the matte black finish. Most neutral color schemes contrast or complement nicely with black.
Moreover, the best aspect about using matte black tapware in a neutrally colored area is that it will shine through, and the black tapware itself could become a focal point in your bathroom.
Affordable Value: One of the primary advantages of matte black fixtures is that they can be purchased in a variety of ways, are simple to obtain, and are reasonably priced.
In comparison with chrome or oil-coated bronze, you can purchase a matte black bathroom fixture at a more competitive price. Matte black taps are frequently less expensive than chrome faucets of the same design and quality.
Additionally, the cost of matte black tapware varies from extremely reasonable to high-end and exquisite to accommodate everyone's budget.
Cons of Matte Black Bathroom Fixtures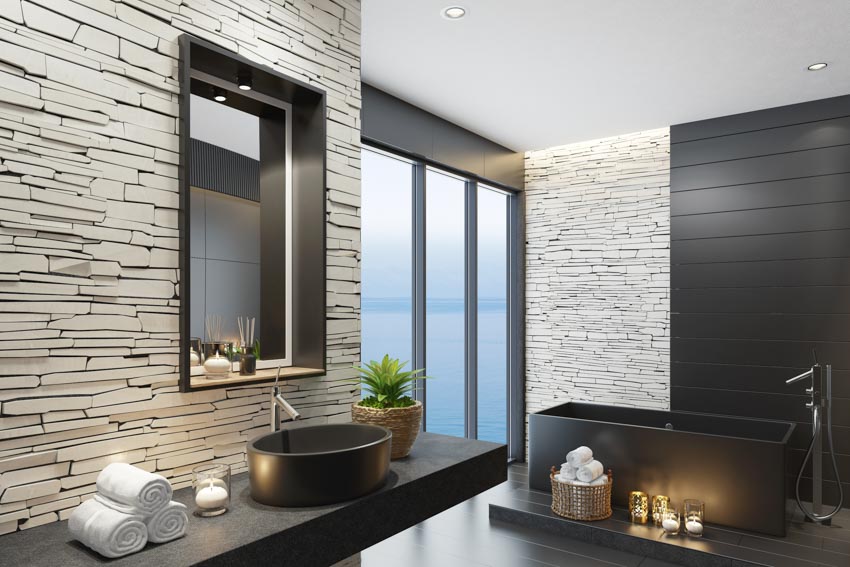 Although matte black bathroom fixtures have a lot of pros, they also have their cons: Here are some of them:
Fades Over Time: The color of your matte black plumbing fixtures will eventually fade, even if it looks like the best paint finish for bathrooms.
The easiest approach to prevent your matte black fixtures from fading is to wipe them down after each wash with a cotton or microfiber towel.
This can be inconvenient, but we assure you it will increase the longevity of your matte black fixtures.
Can Easily be Damaged by Certain Plumbing Tools: Although the black coating is resistant to wear and tear, it will be scratched by basic plumbing tools used to hold the pipe in position throughout the assembly.
When mounting your matte black tapware, your plumber must take precautions to prevent dings and scratches caused by multi-grips or imprints. A towel should be put around the mixer to protect the tap's interface from the fangs of the tools.
Requires Specific Cleaning Methods: The main tip to follow here is to avoid using any cleansers on your matte black plumbing fixtures.
Always use gentle soapy water to wash and dry the tapware thoroughly so that the water does not form stains on the exterior surface. Harsh cleaning agents can damage matte black finishes.
Easily Exposes Dirt and Dust Appearance: Unfortunately, this is one of the major drawbacks of matte black fixtures.
Though matte black plumbing fixtures are resistant to prints and watermarks, when dust accumulates on them, it seems drastic and unpleasant.
Matte black fixtures are not recommended if your bathroom is frequently dusty.
Are Matte Black Faucets Hard to Keep Clean?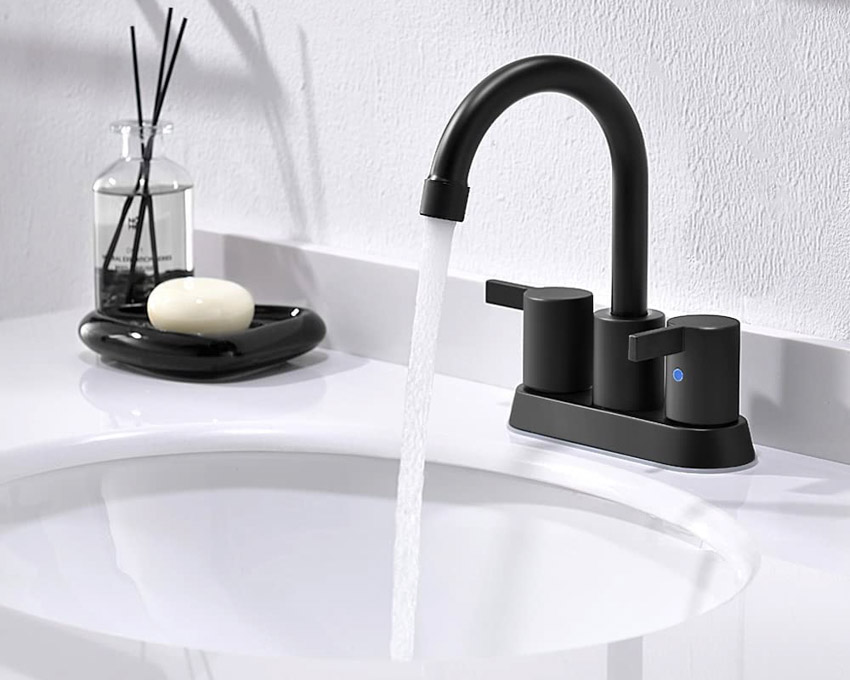 See this matte black bathroom faucet at Amazon [sponsored link]
A matte black surface is somewhat easy to clean and maintain, but it mainly depends on the quality and substance of the fixture.
Stubborn moisture marks on matte black faucets are a typical issue, and a quick wash with soapy water will not solve it.
When cleaning off your matte black plumbing fixtures, avoid using anything abrasive as this may damage the finish.
How Do You Clean A Matte Black Bathroom?
Matte black bathroom fixtures, such as some types of bathroom sinks and faucets, can be relatively easy to clean and will retain their lovely matte surface for a lifetime. When maintaining your matte black shower or grab handrail, the finish is a bit rough.
This rough finish deflects and reflects light, giving the surface a genuine matte look. This implies that the surface is vulnerable to harm if not properly maintained.
Thus, in addition to examining the dos, you should also keep in mind the essential don'ts when cleaning your fixtures. Provided below are a few basic Dos and Don'ts that you must follow:
The Dos When Cleaning a Matte Black Bathroom
• Using warm, foamy water or a pH-balanced soap-based cleaning solution used with a soft, moist cloth is the most recommended cleaning approach for your matte black fixture.
• We recommend using a clean microfiber cloth. These are inexpensive, washing machine-friendly, and, most significantly, will not damage your matte black surfaces.
• Wipe off your fixtures after every usage to minimize chemical buildup and water spots.
• Before beginning any cleaning procedure, always read the manufacturer's directions.
The Dont's When Cleaning a Matte Black Bathroom
• Abrasive cleaners, ammoniated products, rubbing alcohol, detergents, antiseptics, bleach-based cleaners, intense chemicals, abrasive cleaning pads, or aggressive waxes should not be used.
If you are unsure regarding your cleaner and it contains ingredients that you cannot identify, then do not use it.
• Allow no soap residue or toothpaste to accumulate on the surface. These will progressively tear away the coating and may reduce the finish's durability.
Do Matte Black Fixtures Fade?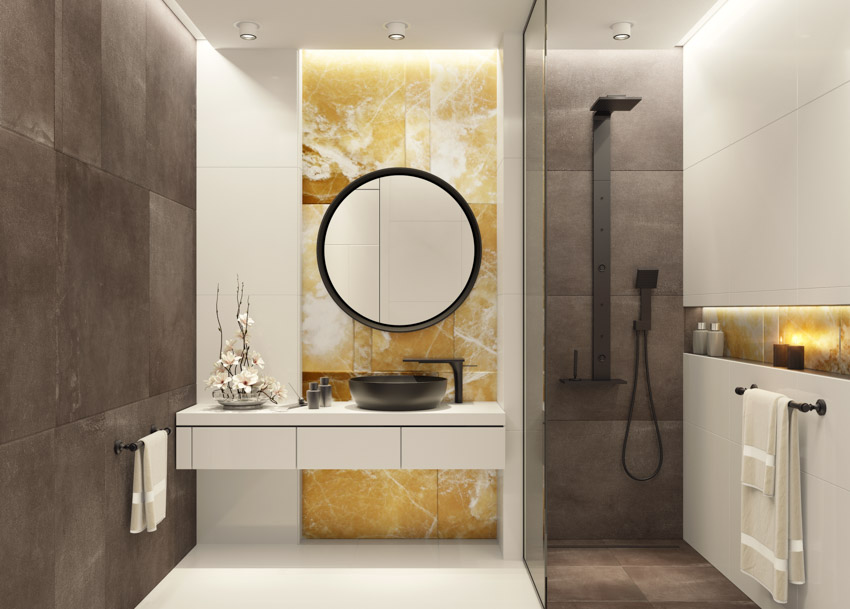 Matte black fixtures will fade over time, but only the color will be the one that is going to fade, not the finish itself.
There is no definitive timescale for this, although the deep black tone will gradually lose color eventually. Unfortunately, matte black fixtures may fade quicker than other finishes.
However, that will depend mainly on the overall quality of the matte finish. Nevertheless, the color of your black fixtures will fade with time, regardless of the finish.
Trust the plumber since they are the ones who always come to replace it if the color has faded. They are convinced that all types of finish fade after a while.
Do Matte Black Fixtures Scratch Easily?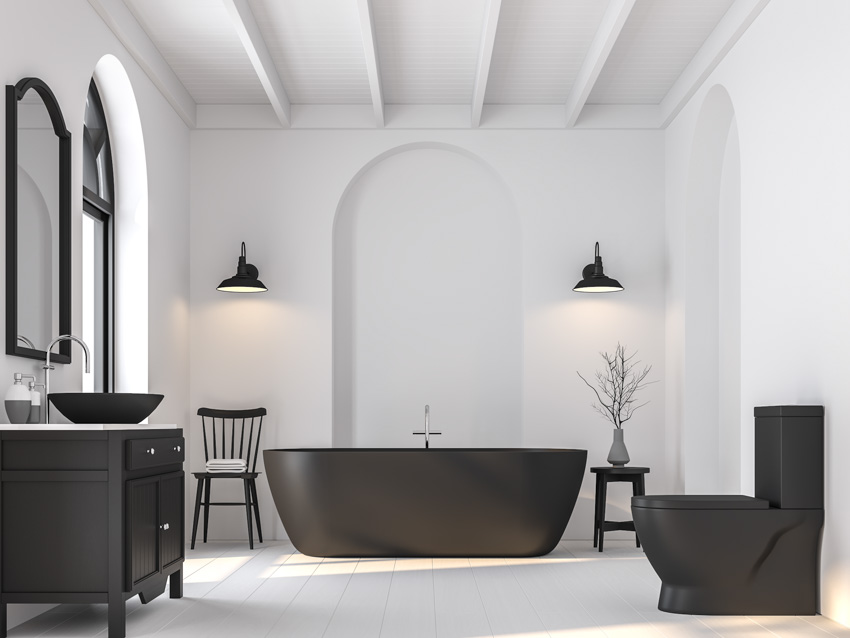 Numerous customers are concerned that black fixtures would turn lackluster, damaged, or difficult to maintain.
Luckily, this is not the case here. Black fixtures are simple to clean and cannot be quickly damaged, making them ideal for families. But still, it will depend on the quality of the finish.
Matte black plumbing fixtures that have undergone such a rigorous coating procedure will not have the surface accidentally scratched or corroded from contaminants such as soaps and detergents.
Consult your contractor to see if the fixture is properly coated or if it will require ongoing maintenance.
Aside from that, even though the matte black coating is difficult to scratch, it can still be damaged by plumbing equipment used to secure the tap during the installation process.
Hence, to avert damages or scratches, your plumber should take extra care when working with your matte black fixtures.
Are Black Bathroom Faucets In Style?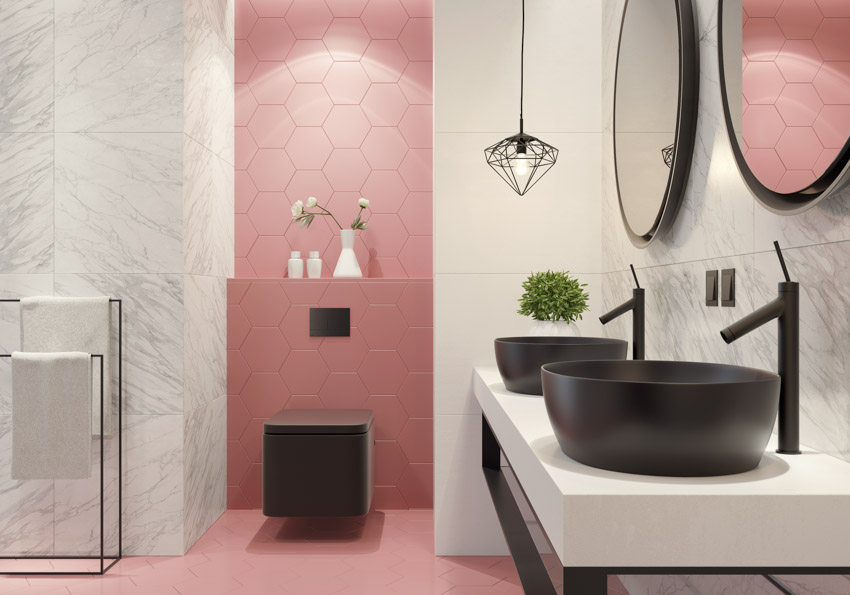 Black bathroom fixtures were formerly popular, but are still recognized as a well-known design option in the majority of interior design forums.
Consider if black fixtures, not only in your bathroom but throughout your house, will complement your present design mood. In terms of aesthetic appeal, though, there is no correct or incorrect.
It all boils down to what you enjoy and what works best in your house for you, your family, and your way of life.
See more related content in our article about the best black and white bathroom ideas on this page.