Welcome to our gallery of pebble tile shower floor design ideas including popular types, installation & cleaning tips.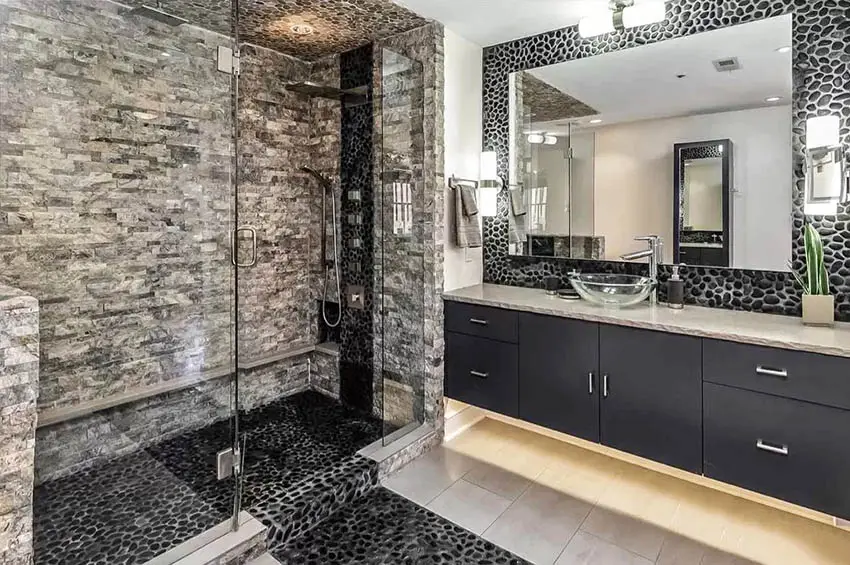 Have you ever considered installing pebble tile in your bathroom? Remember those walks on the beach or riverbanks and collecting those beautiful pebbles you found? In time, you just might have collected enough pebbles to use for your shower floor.
The problem is it's quite demanding and meticulous to install these pebbles on your shower floor and requires a lot of patience if you were to do it yourself. While the results of creating your own timeless piece of art can be very satisfying, there are much easier ways to achieve similar results.
There are pebble mesh tile available which are made from natural pebble stones and formed into tiles. These are easier to install and offer the same beautiful natural look for your bathroom floors.
Pebbles are made available either round or flat which have been cut and polished for a smoother surface. These pebble tile shower floors are ideal for wet spaces because of their slip-resistant qualities brought about by the many grout lines it creates when installing them; and pebbles are naturally comfortable on feet.
What Is a Pebble Tile?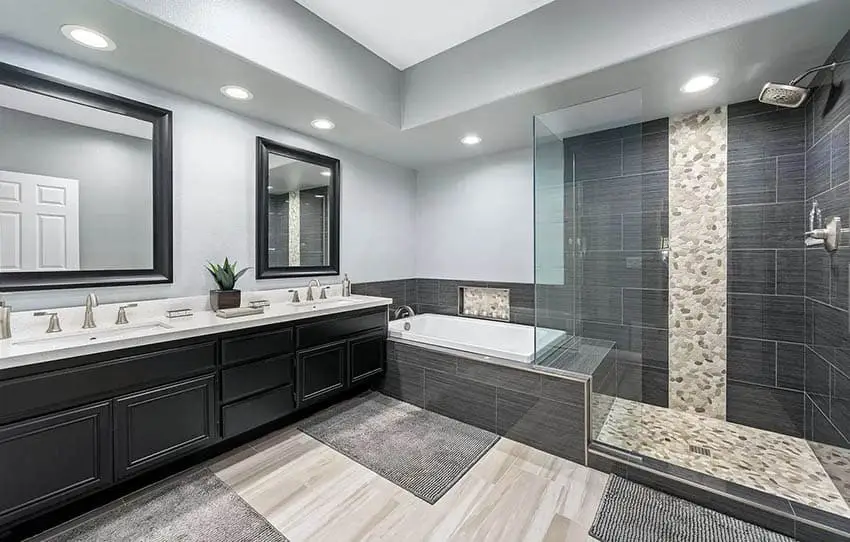 Some homeowners prefer a pebble foot massage every time they step in the shower. And so, they opt to use pebble tile flooring for their bathroom. When choosing pebble tiles for your bathroom shower, make sure that water doesn't build-up on the floor and the room should be well ventilated to dry out water quickly.
With its different colors and sizes, pebble tile flooring makes a beautiful finish for your bathroom merely for its rustic beauty and with water running over it gives off a feeling of tranquility. Pebble tiles are significantly applicable when used in water features ideally in bathrooms, kitchens and can be a focal point or accent in feature walls. It ensures a solid footing on your shower floor due to its natural uneven shape. Installing pebble tile flooring is inexpensive compared to that of a tiled shower floor.
Types of River Rock Tiles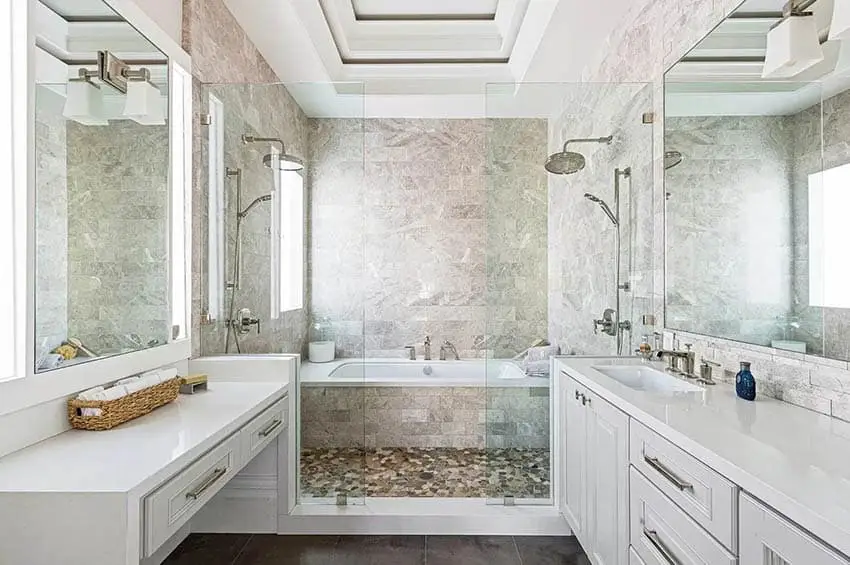 This beautiful walk in shower features a tan pebble tile flooring with a tub inside and dual rainfall shower heads.
Flat Pebble Stone Tile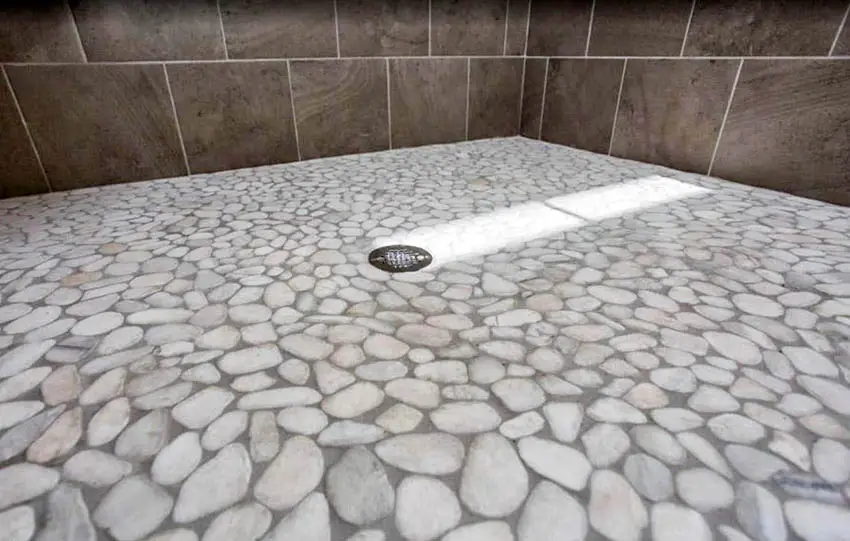 The smoothness of the flat surface as its name suggest, makes it possible to achieve a clean line since the grouts are finer when installing for maximum pebble coverage than other pebble tile. It gives an impression of a natural pebble in flat format.
Glass Pebble Shape Tiles
Glass pebble tile usually comes in round, pebble shape glass chips done in a mosaic pattern. It combines the dazzling and delicate look of glass tile in the shape of rounded pebbles, creating an elegant, striking and sophisticated glass pebble mosaic tile design.
Glass pebble tiles are resistant to stains, mold, mildew and are very easy to clean. Since glass tend to reflect light, the glass pebble tile seems have a luminous effect that glows.
Interlocking Pebble Type Tile
Interlocking pebble tile design has invisible joins and has consistent pebble height level surface which provides an element of a patterned design. It has a delightful therapeutic feel beneath your foot.
Most types of pebble floor tile feature an interlocking design for ease of installation. If your tile sheets come with straight edges its a good idea to alter the sheets so it does not create a straight line when laid. Straight lines are often noticeable after installation is complete. By creating variations in each sheet you can create a more natural looking and feeling bathroom flooring.
Pebble Mosaic Tile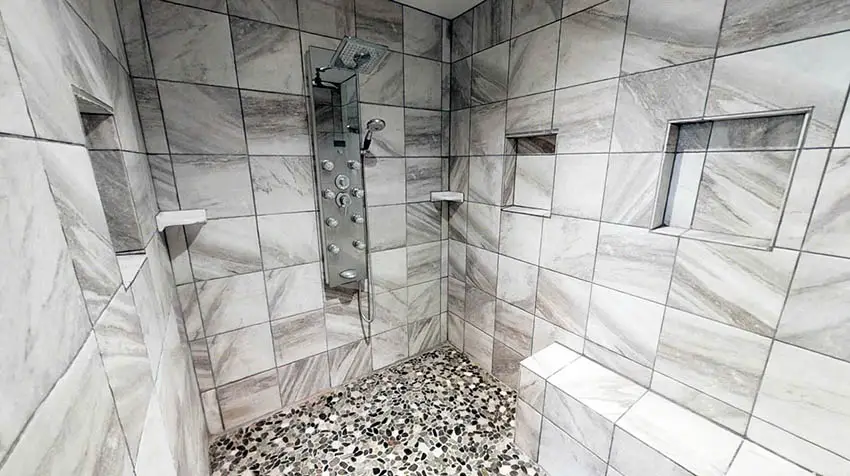 The pebble mosaic tile is a type of mosaic work that uses pebbles which are arranged in decorative patterns. Pebble mosaic was the earliest type of mosaic dating back to the 8th and 7th centuries BC and used for pavements in the eastern Mediterranean. Very classic and timeless. Each pebble has its own unique tone and texture creating an array of exceptional design.
Java Pebble Aggregate Tile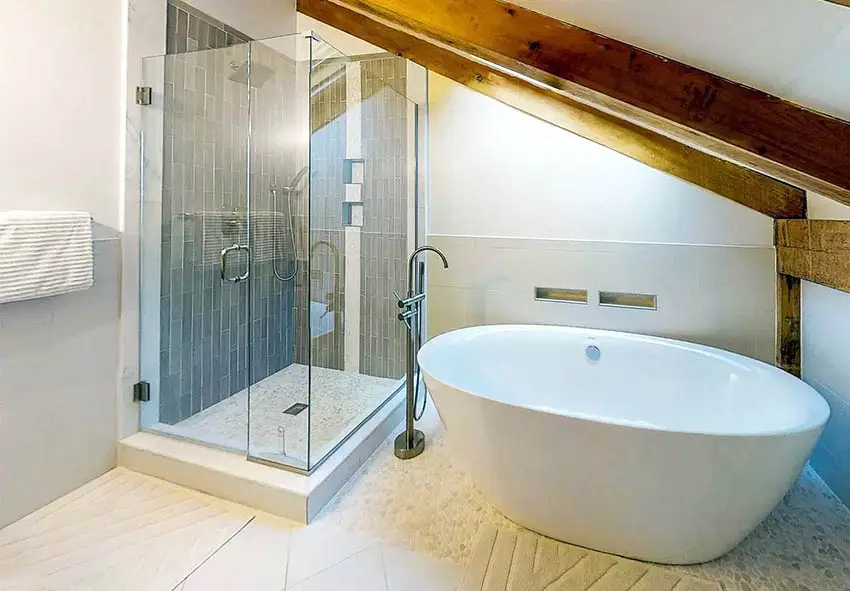 The java pebble tile are pebble aggregate and commonly called beach pebbles since they are naturally found by the sea. They are often found in tan, light brown and cream colors.
Black Pebble Tiles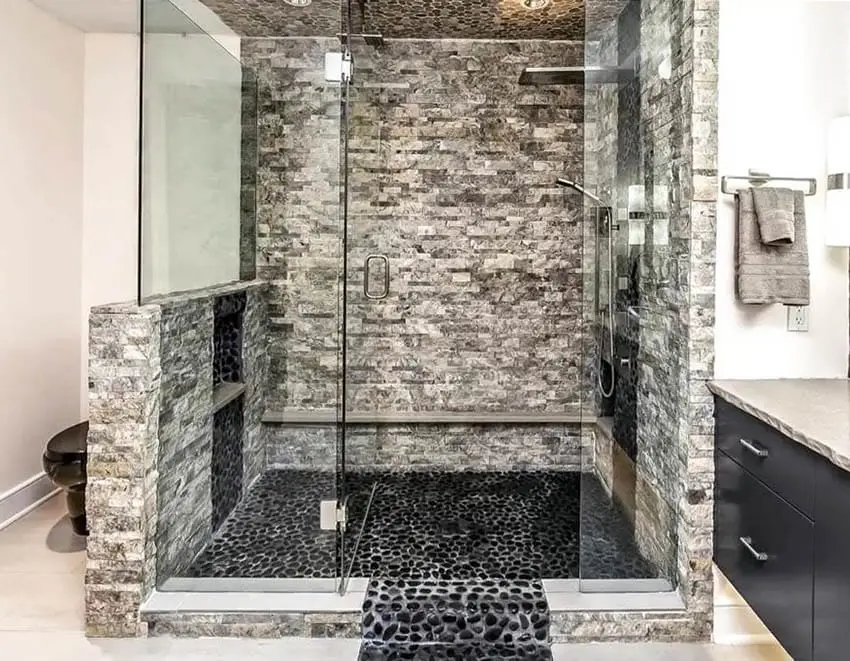 Black river rock floor tile for the shower is often made from random sized quartz stones. They are often used for shower floors or kitchen backsplashes.
How to Install Pebble Rock Tile Shower Floors
Step 1: Preparation
In preparing to install river rock shower floors, make sure the area is clean and the surface is flat. There should be a minimum of 2 inches slating when pitching the shower floor to the drain. Make sure that water is not seeping through the floor by sealing the sub-floor and walls with silicon sealers.
Step 2: Application of Thinset Mortar
Starting from the far corner of the shower area, apply about 1/8 inches of thinset mortar no more than 3 square feet at a time to avoid hardening. Use a high quality white thinset to avoid discoloring the river rock tiles. Use a ¼ inch notched trowel to spread the thinset mortar. Make sure that you create ridges while spreading the mortar to help the tiles stick on.
Step 3: Installing Pebble Floor Tiles on the Thinset
After applying the thinset, gently place the river rocks on the mortar in an interlocking pattern. Be careful not to press down the tiles so hard that it touches the concrete beneath. Should there be gaps in between tiles or sheets, gently fill them in with loose pebbles by pressing them firmly into the thinset.
Do this process until you have covered and completed all areas of your shower floor.
Step 4: Applying Tile Enhancer to Pebble Mosaic Tile Flooring
It is highly recommended that you apply a tile enhancer or seal the river rock tiles to help prevent damage when removing excess grout later in the process. Applying enhancer will preserve its color and will give a natural shine to the river rock tiles. Allow the tile enhancer or sealer enough time to dry before proceeding to the next step.
Step 5: Grout Application
For the grout, you can either choose a standard cement grout or use a high-performance cement grout. By using a grout float, work in small areas in applying a uniform level of grout in all the tile joints and section of tiles. Allow the grout to dry as per instructions. Once the grout sets in, use a damp sponge to remove excess and uneven grout, thus exposing the pebble. When the grout has dried, use a damp sponge to remove the fine film which the grout has left behind. Make sure to rinse the sponge often.
Step 6: It's Time to Apply Sealer Again
Once the grout has completely dried off and the river rocks are free of the fine film, it's time to apply another sealant layer. Another coat of sealant will ensure that the river rock tiles are protected and seals it and the grout completely. Allow the final sealant to fully dry before stepping on your river rock shower floor and taking that much anticipated shower bath.
Do Pebble Shower Floors Need Sealing?
It is required that pebble shower floors be sealed with high-quality stone sealer before and after applying grout. Applying sealers or tile enhancers to your pebble shower floors will help keep your pebble floor tiles durable, waterproof and will help preserve its natural look and timeless elegance. To maintain the natural outlook of your pebble tile shower floor, it is important to apply sealants every 2 years.
How to Install Pebble-Style Tiles
How Do You Clean a Pebble Tiled Shower Floor?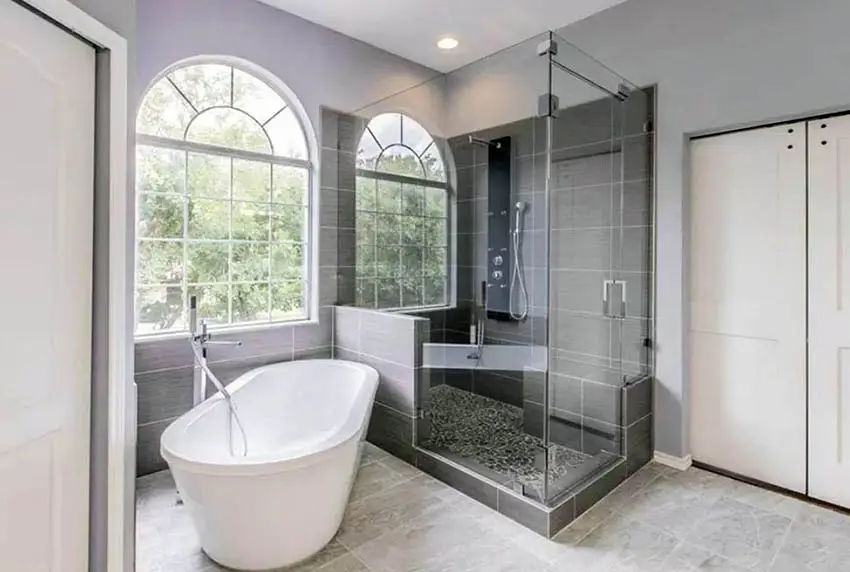 Cleaning pebble tile shower floor is relatively easy to clean if installed correctly and both pebbles and grout have been properly sealed using a quality sealant.
• Make sure your bathroom is well ventilated especially when mixing hydrochloric acid.
• Wear rubber gloves and safety glasses.
• Wipe any loose build-up and grime on the pebble tiles.
• Avoid using acid solutions when cleaning a pebble tile shower floor, use pH-neutral mild cleaners or a weak vinegar solution instead.
• For the vinegar solution, mix 1-part vinegar to 16 parts water in a clean spray bottle then shake to mix everything.
• Spray the vinegar mixture thoroughly over the pebble surface of your shower floor and then leave it for several minutes. In doing so, this will lift soap residue and hard-water deposit caught in between pebbles and grout and those which adhered onto the pebbles itself.
• Using a circular motion, gently scour the pebbles and grout with a stiff bristled or nylon brush. This method will really help clean around the stones and its corner.
• Rinse out shower floor with warm water until your pebble tile shower floor washes clean.
• For unrelenting stains, mix 1-part hydrochloric acid – hydrogen chloride to 10 parts water.
Caring for your pebble tile shower floor is an easy process especially when you combine proper cleaning tools and the right method of scouring.
Common Issues with Natural Stone Mosaic Type Tiles for Shower Floor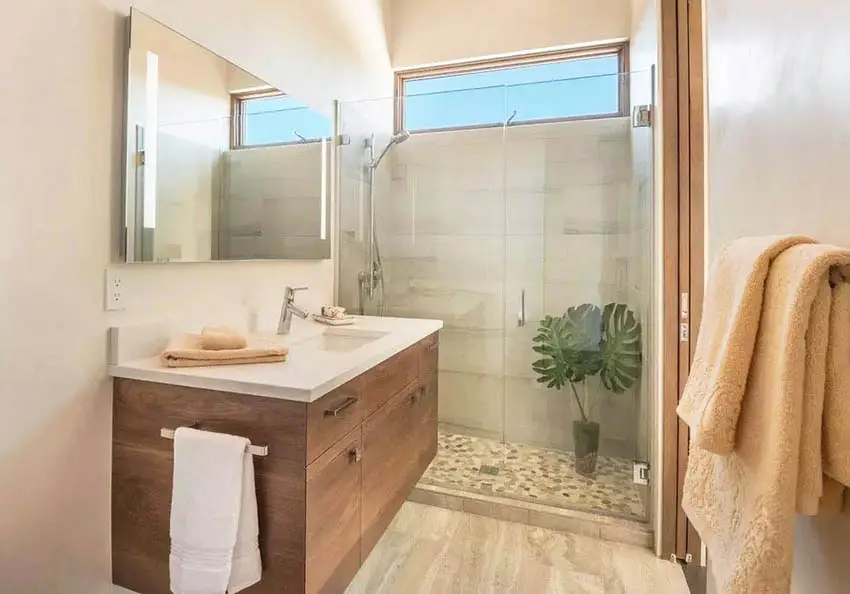 Installation of pebble tile shower is relatively easy, although it is much better to have someone with expert skills to assess the shower area and do the installation of the pebble tiles. If not done correctly, you may encounter problems along the way.
• Water seepage can be a major issue if bathroom tiles are not installed properly. This can lead to the rotting of the shower floor area.
• Water not draining properly and pooling up are due to not having the correct pitch or slope of the floor to the shower floor drainage; this can also pose a major problem. All horizontal surfaces must also slope towards the drain such as shower seats, sills and curbs.
• Pebbles coming off and grout pieces are falling out are result of poor installation method and low- quality adhesive, sealant and grout.
• Pebble stone tiles needs to be sealed but may become very slippery when wet – caution should always be observed especially when used by children or elderly people.
• Since natural stone is porous it is easily discolored by moisture.
Pebbles help create a natural ambiance and a relaxing space. Pebble tiles can be used almost everywhere, and you are only limited by your imagination.