Here's our curbless shower (zero entry) design guide including pros & cons, cost and sizes.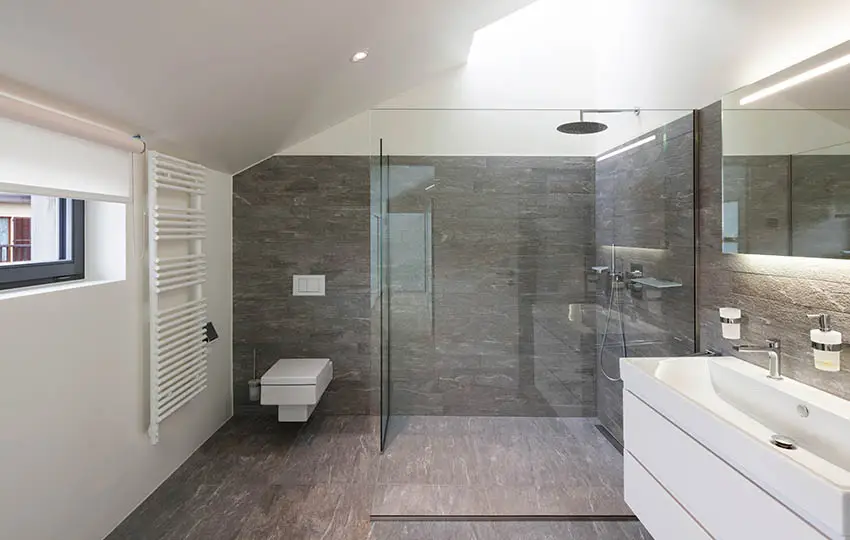 There are certain essentials that are among a homeowner's first thoughts when they decide to renovate an area of their house. For instance, in the bathroom, you have to make sure you have the basics like a sink, toilet, and a shower. These are necessary to the functionality of the bathroom.
Showers aren't without their options, though, so you'll need to decide what kind of shower – in both design and functionality – that will work for you. If you want something functional and spacious, it's worth considering the benefits that a curbless shower can offer.
We'll break down everything you need to know about a curbless shower in this guide.
What is a Curbless Shower?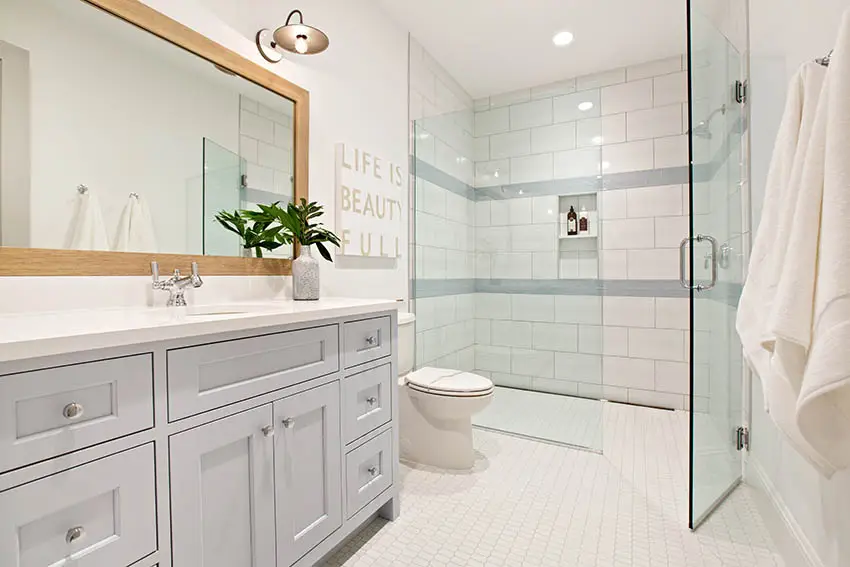 What sets curbless showers apart is they don't feature a lip or raised floor compared to the rest of the bathroom. Instead, they're flush with the floor without a curb at all. There is no shower pan, instead the floor is sloped control water runoff to the drain.
This can help open up the space, making a smaller bathroom look bigger. Most homeowners opt out of the use of additional materials like a shower curtain as well.
A curbless walk-in shower design is a rather sleek and modern layout that does not feature a tub. This means you'll need a separate tub if you're really committed to having an option for a full bath.
On the other hand, this can save a lot of space if you don't have a bathroom that can accommodate the additional size requirements for a tub.
Of course, to keep the floor safe from any damage, water-resistant floor options are common. On top of that, the floor is often waterproofed to ensure that it won't be damaged by being exposed to water as a tub or shower stall would.
Curbless Shower vs. Zero Entry Shower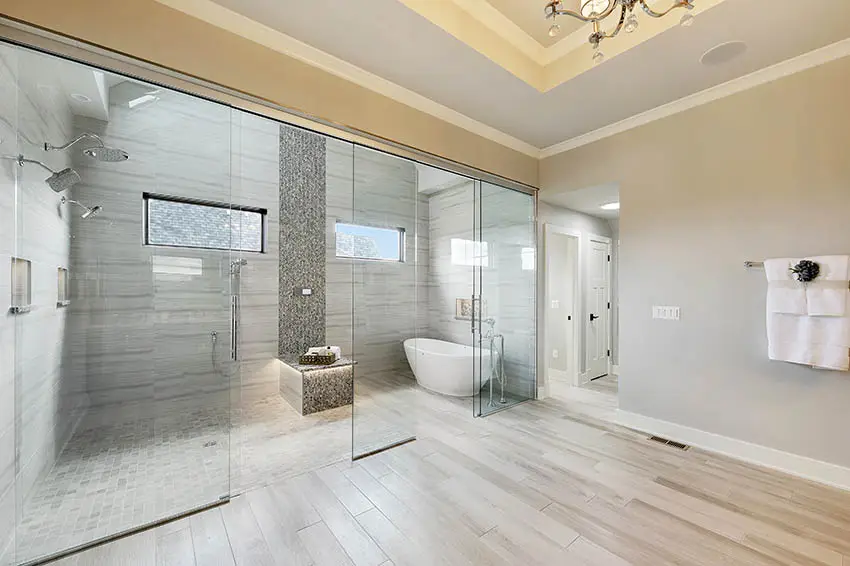 When it comes to a curbless shower, you might run into a few terms that you aren't familiar with. After all, they're specific to the function and design of a curbless shower, so it makes sense that they'd be new as a first-time owner of this type of shower.
The main term you'll see used is "zero entry shower." In fact, you might even see the term "zero entry shower" used in the place of the term "curbless shower."
Don't worry, though. If you see this term instead, you're still looking into a curbless shower. The two terms are used pretty much interchangeably for one another and don't have any major differences aside from name preference.
Curbless Shower Pros & Cons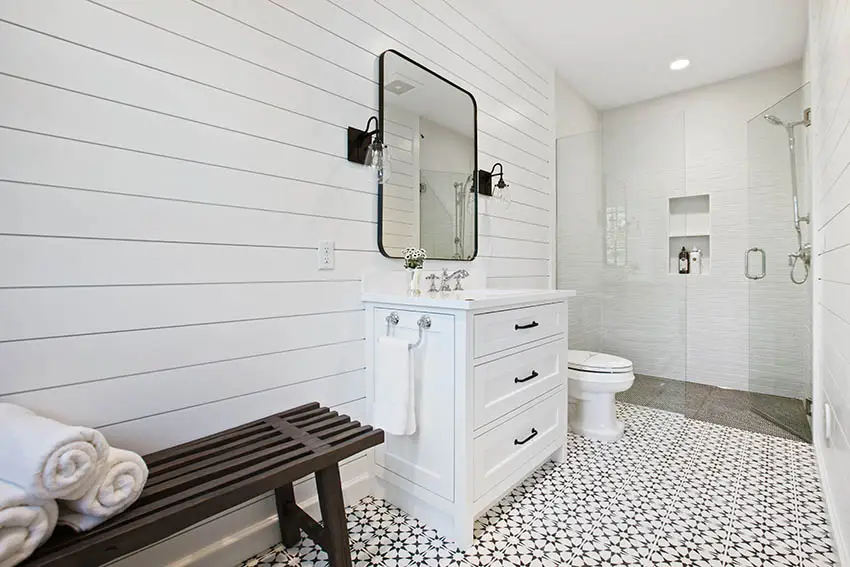 Just like any other home renovation that you might do in your home, it's important to weigh the pros and cons of adding in a curbless shower.
Here, we'll take a look at some of the best things about featuring a curbless shower in your bathroom and a few of the drawbacks that you should be aware of before installing one.
Pros of Curbless Showers
One of the best things about a curbless shower is that it's easy to get into and out of. This is particularly helpful for people using the shower that may have limited mobility, including avoiding any falls for senior family members. This is because, by design, curbless showers don't feature a ledge to step over when entering or exiting the shower.
Another great thing about curbless showers is that they can fit in almost any area. They don't have to be large or small. The design specifically refers to the shower featuring a curbless transition. It doesn't reference how the shower itself is shaped or sized.
These are also praised for the open concept they introduce to a bathroom. Without a ledge for a shower or tub, the transition into the shower is more natural. It opens up space well, actually helping to make small bathrooms seem larger.
Curbless showers are much easier to clean as well. Since they don't feature a shower door or curtain and are mostly made up of ceramic, there isn't much that mold or mildew can latch onto. Their sleek design is easy to clean too.
Further, a curbless shower design can give you a wide array of design choices to choose from. Since the shower is designed as it is, it's a great way to show off gorgeous and interesting tile choices.
This concept includes incorporating a luxury shower design into its space as well. Since curbless showers typically have more room and less constricting features and size constraints, there's room for a more spa-like experience.
This means that there's room if you wanted to add a bench to sit on in the shower or even shelves set into the wall to make more space. These are also a great option if you're interested in a heated floor.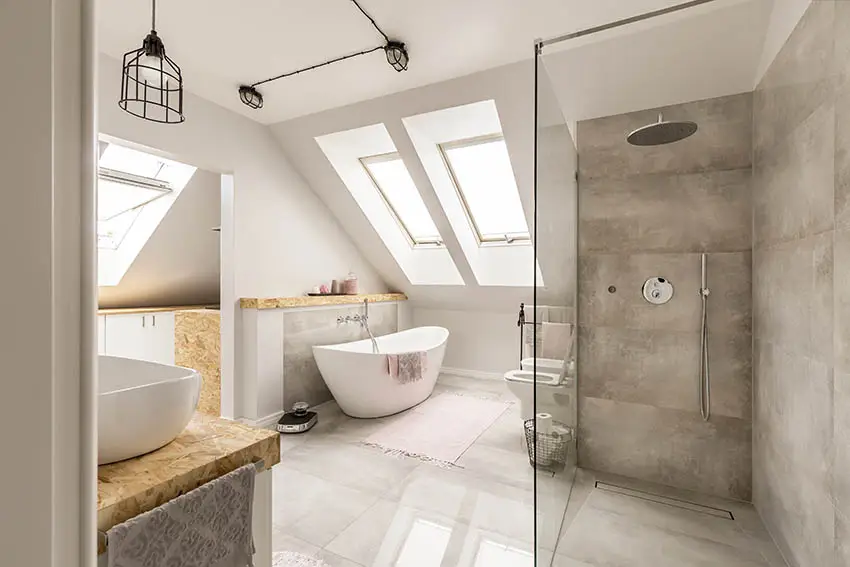 Cons of Curbless Design
To look at curbless showers fairly, it's important to consider the drawbacks to the design as well. These are the major cons to worry about when you're considering a curbless shower for your bathroom.
First, the chance of your floor being wet is much higher with a curbless shower. After all, there's no lip to keep the water in the shower. To avoid this, it's recommended that the center of your shower layout slopes inward, guiding the water towards a drain.
This one has a silver lining to it: you don't need a shower curtain. This is one less thing to take care of. On the other hand, it also means your shower will have less privacy.
Yet, this isn't too much of a problem unless someone else is in the bathroom during your shower. All in all, the two cons are outweighed by the number of advantages curbless showers introduce.
Curbless Walk-In Shower Cost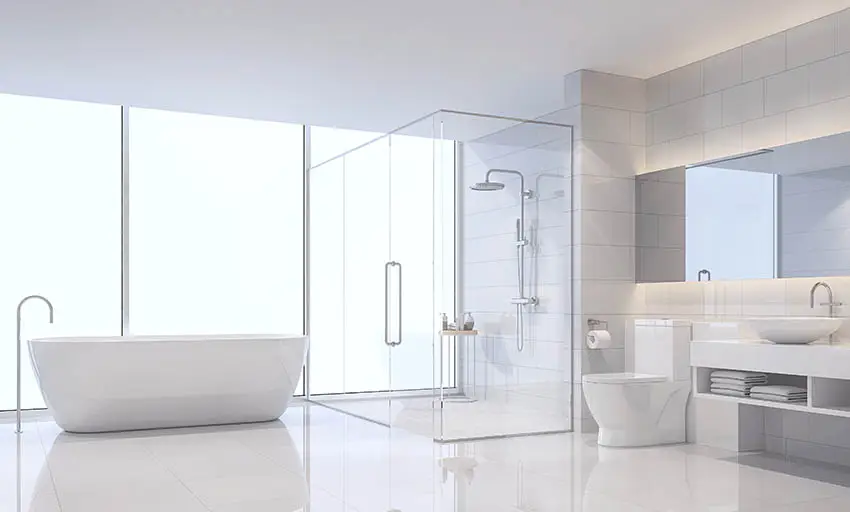 No home renovation is without its cost and, usually, every homeowner has a budget for their remodel. This means that cost is a crucial factor to consider when you're thinking about whether a curbless shower is right for you. Luckily, we've broken down some cost guidelines here.
The average cost to simply install a curbless shower often sits at around $5,000. That being said, most homeowners are probably renovating an existing bathroom rather than building an extra one when they're considering a new shower.
This means that the cost of removing a tub and installing a curbless shower is actually higher than that, usually in a range of $8,000 to $12,000.
Of course, this price can vary on a variety of factors aside from whether you're removing an old tub or not. This includes items such as the type of materials you use in your curbless shower, how large the shower will be, any extra features and the cost of labor and how much time it takes to complete the installation.
How Much Space is Needed for a Curbless Shower?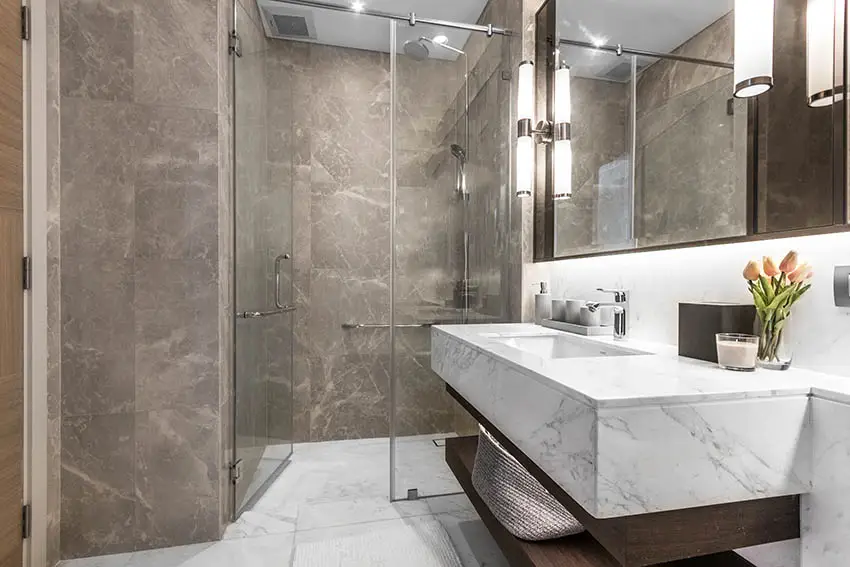 Another consideration to keep in mind when weighing the pros and cons of any home renovation is how much space is necessary to install the feature. For curbless showers, it's important to consider the size options you have for the shower type.
To clarify, there isn't a single correct size to have your curbless shower. We'll get into the minimum size that you need for a shower in a moment. For now, here are some of the most common sizes for curbless showers and their uses.
If you're just worried about fitting one adult in the shower, either a 36"x36" curbless shower or a 42"x60" is a good choice. The latter will allow for a wide range of motion in the shower.
Ideally, to leave space for someone with a wheelchair and their aide to use the shower, you'll want it to be 60"x60". Finally, if you want a curbless shower that's sloped down but doesn't feature any barriers like a glass divider, the curbless shower should be 72"x72".
The slope of the bathroom floor can vary depending on the needs of the homeowner. However, the International Plumbing Code (IPC) requires the slope be 1/4" per foot.
What is the Minimum Size for a Doorless Shower?
When it comes to discussing the size of a doorless or a curbless shower, it's crucial to know the absolute minimum. This is necessary information to allow you to plan your shower around measurements that are required for safety.
One model to follow if you want to plan for everything is to follow ADA compliance. This will ensure that there's room in case that a wheelchair user.
The standard for ADA compliance is a shower that is at least 30 inches by 60 inches. However, it's highly recommended to have a curbless shower with a depth of at least 36 inches.
At an even five-foot by five-foot measurement, the shower would be big enough to permit a wheelchair user and an aide inside at once.
Curbless showers offer a lot of benefits to a wide range of homeowners. This means that whether you want more space in your shower or if you just want to make a smaller bathroom look bigger, there are plenty of benefits for everyone. Curbless showers also offer an array of design options to give you the shower of your dreams.
If you are designing a bathroom with a curbless shower you can use one of the many bathroom design software programs on the market. With this type of software one can layout the room to your home's exact square footage and specifications.