A popular question is does a platform bed need a boxspring? See the pros and cons of using a boxspring, how it's different and type of mattress to use.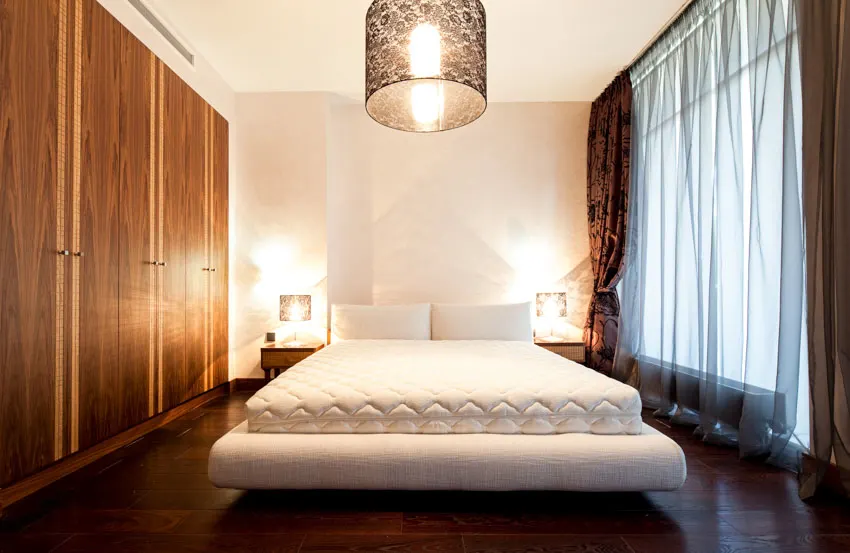 When shopping for a new bed, you'll find the market now offers more bed bases than traditional mattress and box spring sets. Various mattress foundations are offered, including stylish and versatile platform beds.
Years ago, the popularity of heavier memory foam mattresses created a need for a more sturdy foundation, eliminating box springs and leading to the creation of platform beds. Because of the support they offer, platform beds don't require a box spring under the mattress.
Can You Put A Box Spring On A Platform Bed?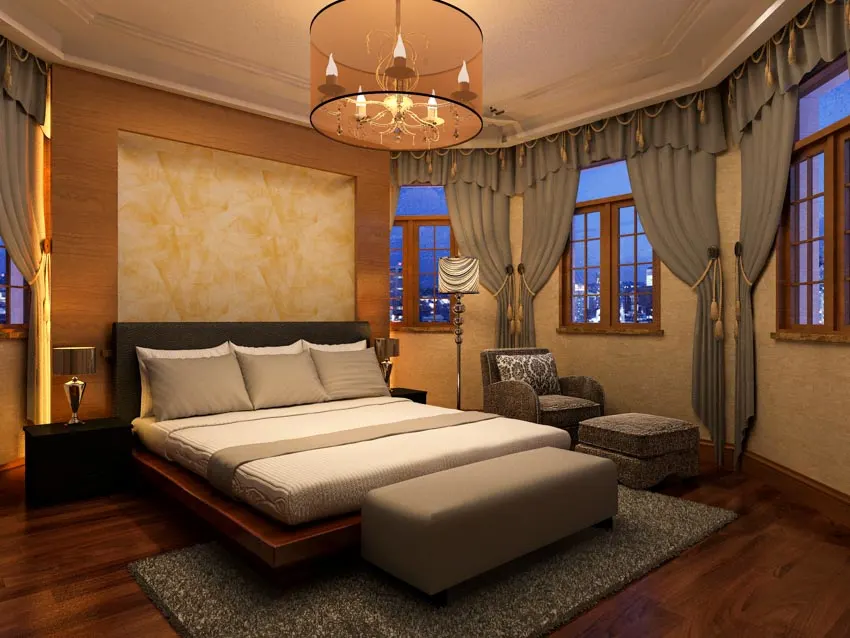 Although a platform bed supports a mattress without needing a box spring, you can put a box spring on a platform bed. The box spring will add height to the bed as platform beds have a lower profile than traditional mattress and box spring sets.
Platform beds typically have a height of as low as 5 inches and up to 12 inches. The lower height gives platform beds their modern, stylish look but may be difficult for some people to get in and out of bed. Older people and those with a disability or mobility issue may need more height.
Adding a box spring to a platform bed and mattress can increase the height of the bed to 15 inches and as high as 26 inches as long as the mattress in the standard size of 10 to 14 inches high
Does Platform Bed Feel Different Than Box Spring?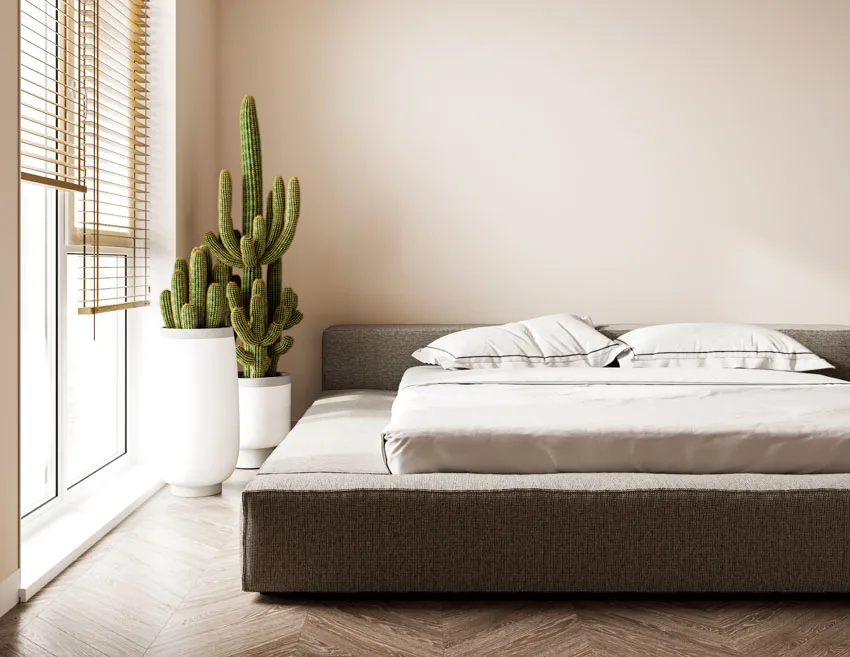 A platform bed is actually a frame and a base in one piece, while a box spring requires a frame to sit on, making a platform bed much more stable. Both a platform bed and box spring add comfort to your mattress, but it depends on what type of mattress you have.
A box spring makes an innerspring mattress more comfortable as it works with the coils to absorb body weight and add support. For those who sleep with back pain, this type of support relieves some of the discomfort. A box spring doesn't provide much airflow, so when paired with a mattress, such as a memory foam types of mattresses, it will trap heat, causing the bed to be warm.
Platform beds, depending on their construction, provide more support. There are three types of platform beds; solid, slatted, and metal. A solid platform bed is made from wood, metal or plastic and has a solid base mounted in the frame.
Slatted are made with slats attached to the frame made from wood, metal or plastic, and metal platform beds are made from wrought iron or steel having a metal grid as the base with support wires.
Solid platform beds provide firm support for the mattress, causing it to have little to no give for people who prefer a firm mattress. Slatted platform beds will have some flexibility depending on the type of wood used and the distance between the slats. Pine is a soft wood rather than a hardwood such as oak and will allow some give.
Platforms with slats farther apart are less firm than slats closer together and metal platforms offer the most support. All platform beds provide better air movement under and through a mattress, keeping it cooler for people who tend to be hot while they sleep.
What Kind Of Mattress Do I Need For A Platform Bed?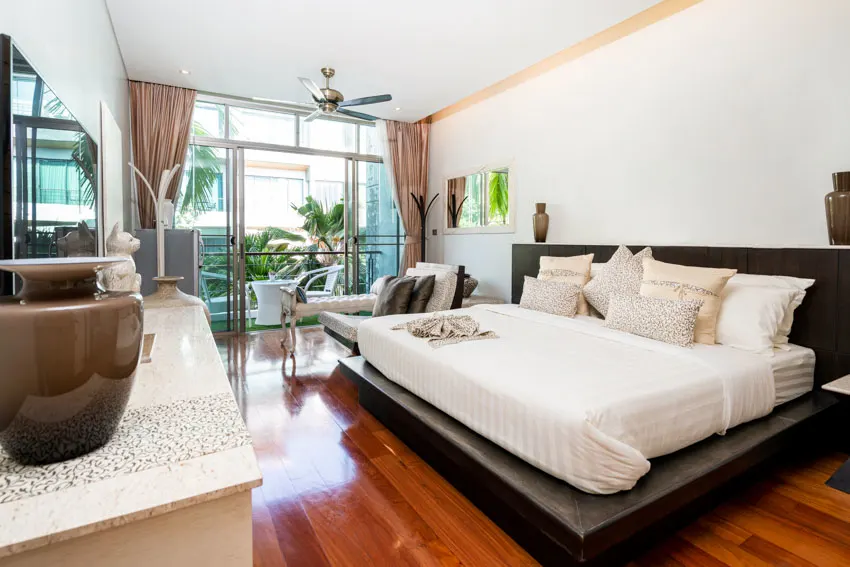 Although you can put a typical innerspring mattress on a platform bed, there has to be enough support for the mattress, such as a solid platform or metal. Slatted platform beds need to have very little space between the slats to properly support innerspring mattresses.
However, there are innerspring mattresses available, known as hybrid mattresses. A hybrid innerspring mattress is made with two different components; springs and a comfort layer on the top made from latex, memory foam, or polyfoam.
Typically, platform beds are fitted with either a latex mattress, memory foam, all-foam, or hybrid types. These mattresses benefit from the support of a platform bed and also benefit from the air circulation provided.
Essentially, almost any mattress can be used on a platform bed, and the supportive base ensures proper wear of a mattress and prevents sagging. Read more about how a platform bed compares to a box spring bed here.
Platform Bed with Boxspring Pros and Cons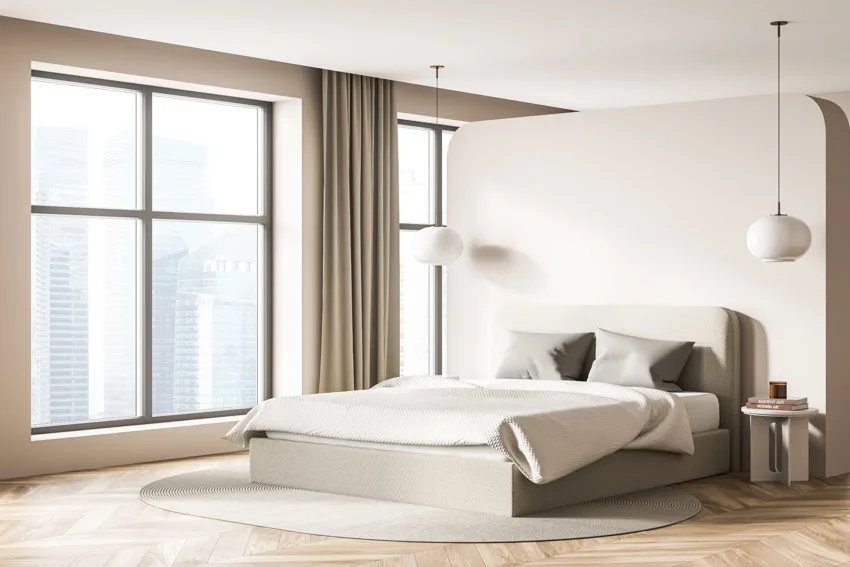 Platform beds offer many pros but do come with some cons. These pros and cons are important when you're shopping for a new bed.
Platform Bed Pros
• Provides air circulation for cooler sleep
• Sits lower to the floor, making it easier for some people and children to get in and out of the bed
• Many platform beds feature built-in storage
• Platform beds come in various styles, materials, and finishes
• They're more durable than other bed frames
Platform Bed Cons
• Platform types of beds aren't always compatible with traditional mattresses
• Wooden frames may wear out sooner than conventional metal bed frames
• Platform beds can be much heavier, making them difficult to move
• It May be too firm for some sleepers
• Some people find their lower height makes them harder to get in and out of
• More expensive than traditional box springs and mattresses
When opting for a traditional box spring and mattress, there is an equal amount of pros and cons to consider.
Box Spring Pros
• They add height to a bed
• Often, box springs provide more support
• Box springs are better at absorbing shock from sleepers who toss and turn
• They're easier to move
• Less expensive than platform beds
Box Spring Cons
• Not compatible with all mattresses
• Springs can wear out over time and become squeaky
• Over time, springs may wear unevenly and make the mattress lopsided
• Not much room for extra storage
• Box springs are not good at isolating motion
When deciding on a platform bed, check the manufacturer's recommended support for your mattress. Some companies will offer advice on the best frame and box spring or platform for particular mattresses. If not followed and the mattress sags or becomes damaged, the warranty may be voided.
See more related content in our article about the best bed alternatives for smaller spaces on this page.