Here's our guide to bookshelf dimensions, including standard sizes for up to five-shelf bookcases, corner, media storage, library, and shelving measurements for popular products.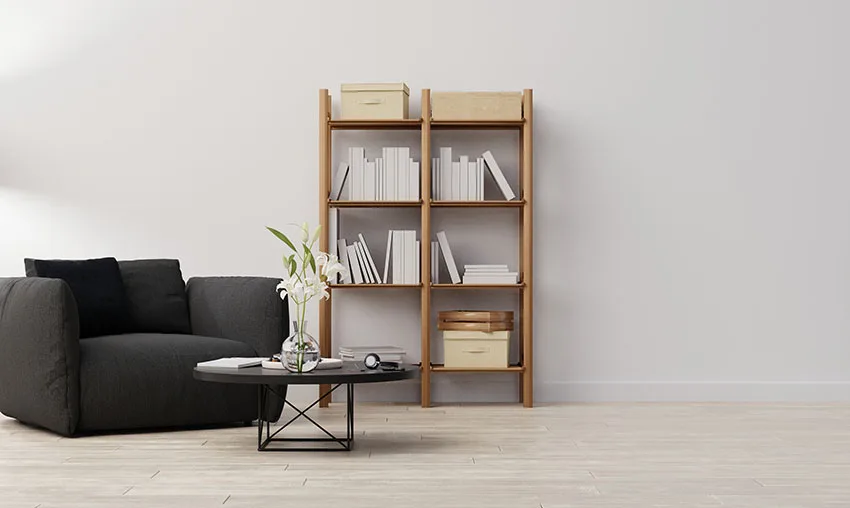 Bookshelf or bookcases, as they are sometimes called, are vertical or horizontal furniture with shelves used to store books. They have adjustable or fixed shelves with a utilitarian purpose that can be big enough to hold everything from books to records to figurines. Bookshelves are also utilized for businesses like retail stores and bookstores.
There are many types of bookshelves, and they can be affixed to the floors, walls, or freestanding. Aside from that, it can also be made from various materials with varying heights and widths, and some have added features like glass doors or multiple bookcases that create a more extensive bookshelf system.
Standard Bookshelf Dimensions
Many standard bookcases are symmetrical, with shelf spacing evenly apart from one to the other. Regardless of their heights, whether short or tall, most will have shelves with the same dimensions as the other.
There is no precise measurement of a standard bookcase since they will vary in height and space for each frame, but sizes are pretty common, ranging from small to custom-made bookshelves.
The most standard bookshelf size range is 31″ to 32″ width, 10″ to 12″ in depth and 9″ to 12″ of space between shelves.
Knowing bookcase dimensions for any interior decorating plan ensures the shelves will be harmonious and work well within the space.
Bookshelf Width
A bookshelf will have varying widths according to the types of shelves and the manufacturer of each style. Widths will vary if you are looking for specific shelves, so know what you will store if it is regular-sized paperbacks, bigger binder sizes, or coffee table books.
On average, the standard bookcase will have a width of 31 to 32 inches or 79 to 81 centimeters. At the same time, there are smaller bookcases at 24 inches or 61 centimeters, while bigger styles can have a width up to 48 inches or 122 centimeters.
Book sizes can vary; however, the average paperbacks measure 5″x 8″ to 6″x 9″, while mass market paperback books measure 4.25″ by 6.87″, and the average hardcover book is 6″x 9″ to 8.5″x 11″
What Is A Good Width For A Bookshelf?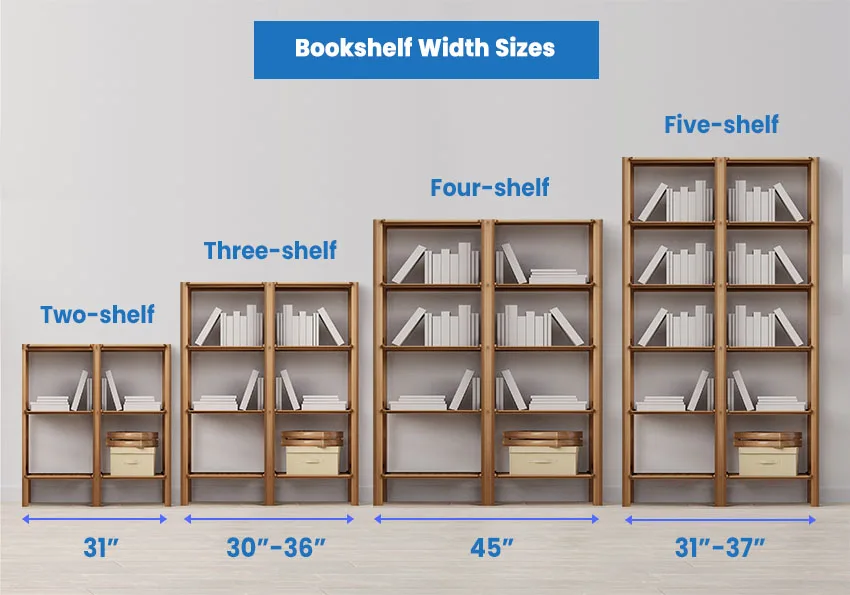 The best bookcase width is one that ticks all the boxes for any homeowner's requirement, and that will depend on whether they are looking for a smaller or larger shelf. A bookshelf width will help anyone determine how many books, depending on their size, can fit side by side on the shelves.
A two-shelf bookshelf will have a standard width of 31 inches or 79 centimeters, while a three-shelf unit can have widths ranging from 30 to 36 inches or 76 to 91 centimeters.
On the other hand, a four-shelf bookshelf will have a width of 45 inches or 114 centimeters, and a five-shelf bookcase will have a width of 31 to 37 inches or about 79 to 94 centimeters.
Bookshelf Depth
Aside from the width and the height of a bookcase, another essential dimension to consider is the bookshelf depth since it will determine what you can essentially store on the shelves.
Smaller bookcases with smaller depths will only hold pocketbooks or CDs, while bookshelves with immense depth can hold more oversized materials like records and coffee table books.
The average bookshelf depth is 10 inches to 12 inches. Bookcase depth will vary from the smaller depths of 6.5 inches or 17 centimeters to the deeper shelves at 14 inches or 35 centimeters. Anything deeper than the average depth will require custom-made frames.
How Deep Should A Bookcase Be?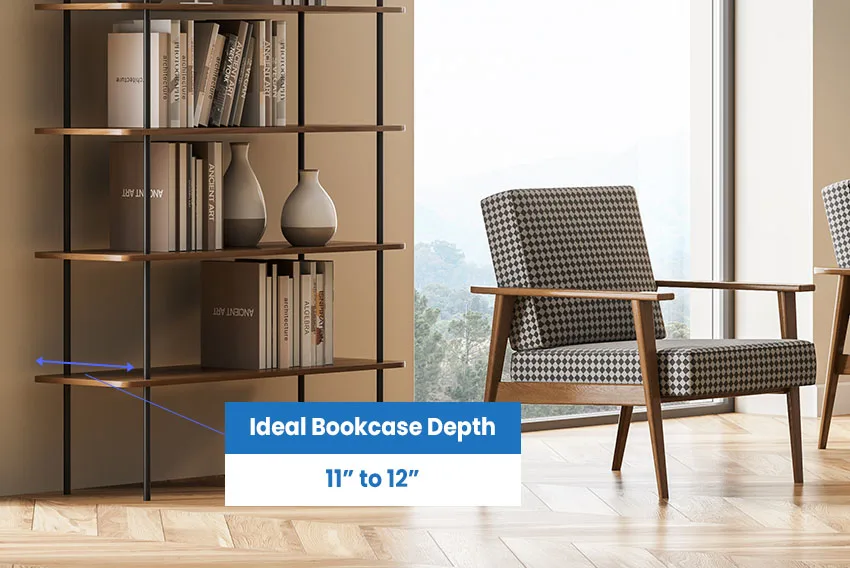 More or less the ideal bookcase depth will range from 11 to 12 inches or 28 to 30 centimeters.
Like the widths of a bookcase, there will be no perfect depth that would work for every need, so knowing what a homeowner is looking to store on the bookshelf will streamline choosing the ideal bookcase size and type.
Are they looking to keep trimmer pocketbooks or more enormous art tomes and specialty coffee table books? Sometimes, things like board games are also stored on the bookcase, as well as records that will require more shelf space from shelf height to depth.
How Much Space Between Bookshelves?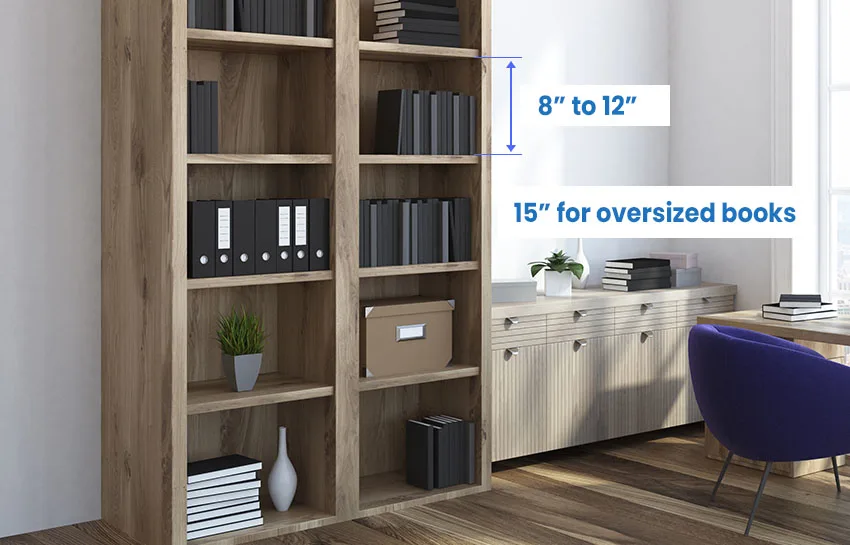 Another crucial dimension to consider in choosing the perfect bookcase is the space between each shelf. This measurement is also vital for people looking to DIY the ideal size and buy the right amount of shelving brackets for their needs. So, what is the average spacing for each frame on a bookcase?
A good space between each shelf is 8 to 12 inches or 20 to 30 centimeters. If they want to store more oversized books on the shelf, upping the space size to 15 inches or 38 centimeters can help carry more items like oversized books and binders.
Corner Bookshelf Sizes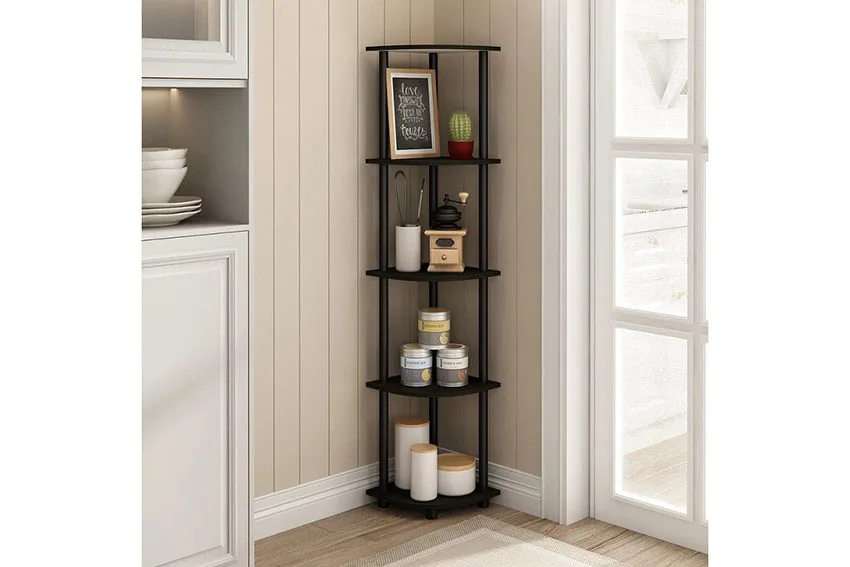 See this corner unit at Home Depot [sponsored link]
A standard corner shelf has 13 inches or 33 centimeters of space for each shelf, which is normal to fit small to average-sized books. It will have a height of 67 3/4 inches or 172 centimeters.
A corner bookcase will help utilize and maximize any room space due to its space-saving design. Corner bookshelves are available in many height variations since they will be taller than they are wider to save floor and wall space, and some corner shelves can even be as high as the ceiling.
Bookshelf Size For Media Storage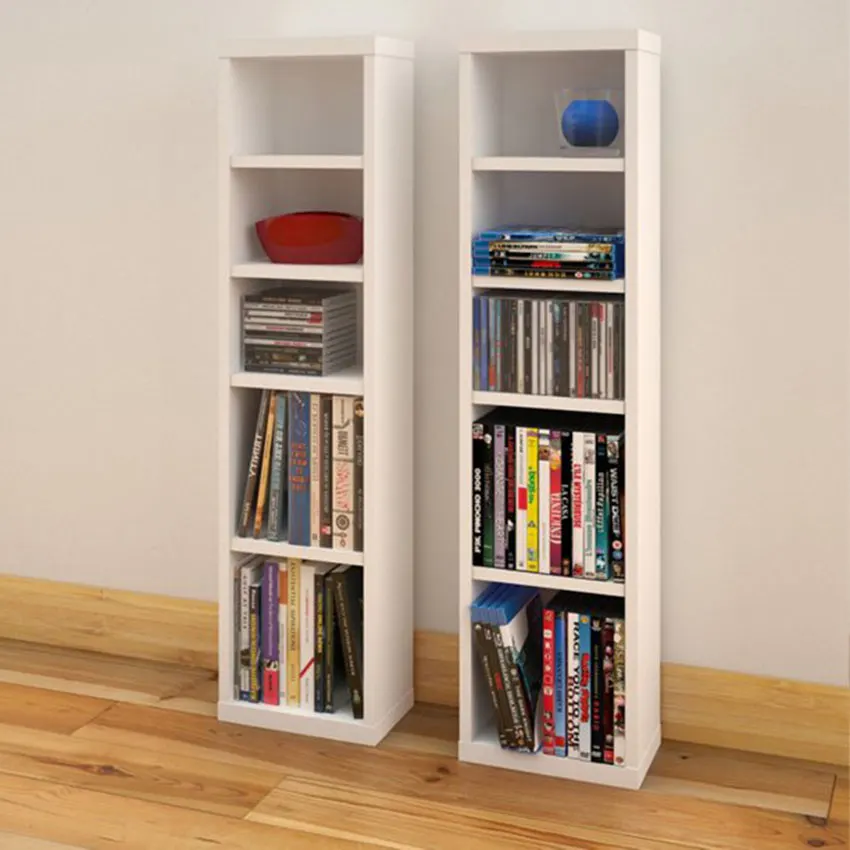 See this media storage shelf at Home Depot [sponsored link]
A good size for media storage is a narrow, 15 3/4 inches or 40 centimeters wide product.
There are bookcases made explicitly to fit books, and some shelves are made to fit them, and media storage. With this shelving size, a homeowner can store their collections of DVDs, Blu-rays, or even cassette or VHS tapes. Action figures or stuffed toys can also be kept in this media storage, especially for higher shelves up to 93 1/4 inches or 237 centimeters tall.
Library Bookshelf Dimensions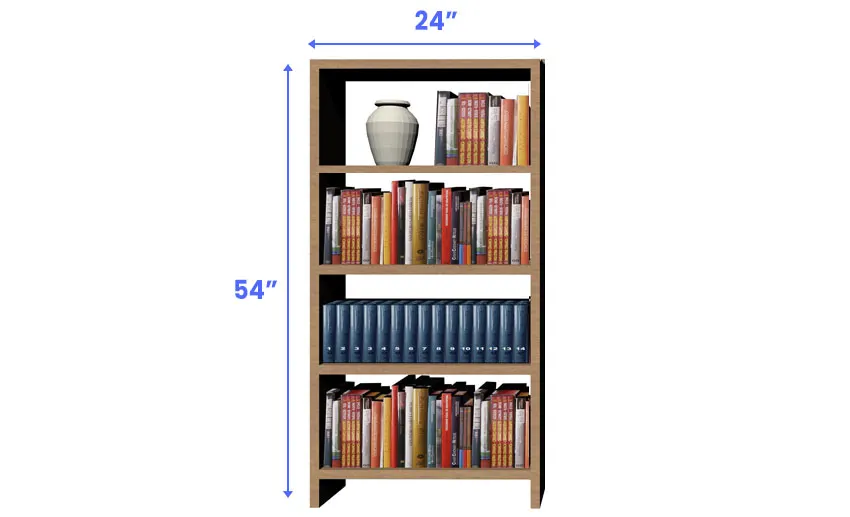 Most library bookshelves will have four shelves, with heights of 54 inches or 137 centimeters. There are narrow versions of a four-shelf bookshelf, and their width will average 24 inches or 61 centimeters.
At the same time, wider wall mounted options found in most libraries can have widths up to 45 inches or 114 centimeters. Depths will vary, but most will range from 12 to 14 5/8 inches or 30 to 37 centimeters.
The large units found in a public library are called main stacks and are designed to accommodate any book, from novels to textbooks.
IKEA Bookshelf Dimensions
A much-loved bookcase from IKEA is the Billy furniture series, which offers buyers flexibility and functionality. This storage unit can accommodate all spaces and uses, making it a perfect choice for people still unsure what to get.
The IKEA Billy bookshelf is available on the shorter side at 41.75 inches or 106 centimeters, or they can choose the taller one that goes up to 93.25 inches or 237 centimeters. This bookcase's widths range from narrower shelves with 15.75 inches or 40 centimeters to more expansive bookcases at 31.5 inches or 80 centimeters.
Hemnes Bookshelf Dimensions
Another notable IKEA product is the IKEA Hemnes Bookcase. This bookshelf has six rectangular shelves with equal space measurement and legs that raise the unit from the floor to let metal cables pass through. There are two style variations of the Hemnes bookcase, one wider and the other narrower.
The more expansive Hemnes bookshelf has a height of 83.5 inches or 212 centimeters, a width of 35 inches or 90 centimeters, and a shelf depth of 14 inches or 37 centimeters. On the other hand, a narrow design Hemnes bookcase has the same height and depth, with the width varying at 19 inches or 49 centimeters.
Kallax Bookshelf Dimensions
Another versatile IKEA shelf is the Kallax, which can be fixed vertically or horizontally to fit any space. It has a height of 30 inches or 77 centimeters, a width of 58 inches or 147 centimeters, and a shelf depth of 15 inches or 39 centimeters.
Did we miss any essential questions about shelving dimensions or organizing? Let us know in the comments. Visit our best wood for shelves guide for more related content.