Here's our guide to maintenance free outdoor furniture including different types for weather resistance & durability in wet, hot & cold climates.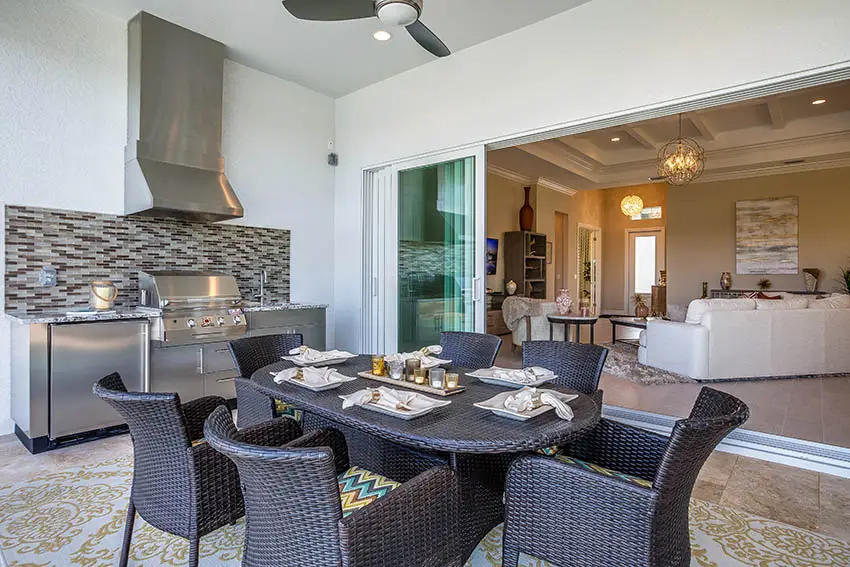 Outdoor furniture is a major investment and choosing the right material is the most important thing to consider when buying furnishings for your patio design.
There are different types of outdoor furniture depending on the material and style you desire. We would like to first discuss the different types of patio furniture depending upon its functionality.
Types of Low Maintenance Furniture
The most popular types of outdoor furniture are benches, garden table & chairs, sofas, bistro sets, patio bars and dining sets.
Outdoor Bench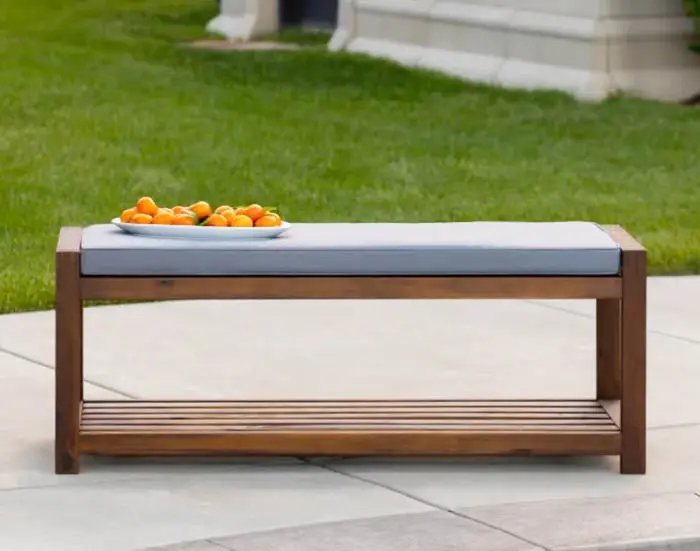 See this padded outdoor bench at Pier 1 [sponsored link]
An outdoor bench is a popular furniture piece used in the garden. Benches provides a very warm and intimate feeling.
An outdoor bench can be used as a place to sit, coffee table or ottoman. Benches are available in different materials such as wood, flat polyethylene weave and cast iron.
Garden Chair and Table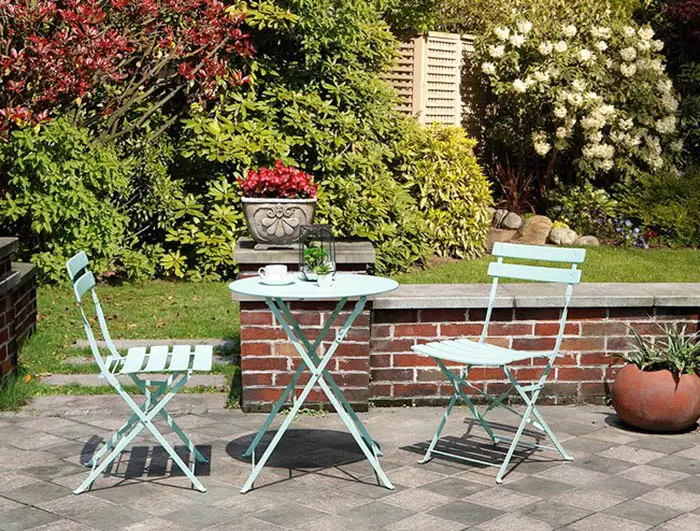 See this powder coated garden chair set at Amazon [sponsored link]
Garden chairs are an essential part of the outdoor area and a great option for small gardens, where you can relax. These can be anything from Adirondack chairs to rockers as long as they are made of material that can hold up outdoors.
Garden chairs are made usually in wood, plastic, wicker, and aluminum. A garden table on the other hand, serves many purposes such as for dining, painting, and studying.
Garden chairs look incomplete without a garden table, it gives your garden or outdoor entertaining area a finished and welcoming look.
Outdoor Sofa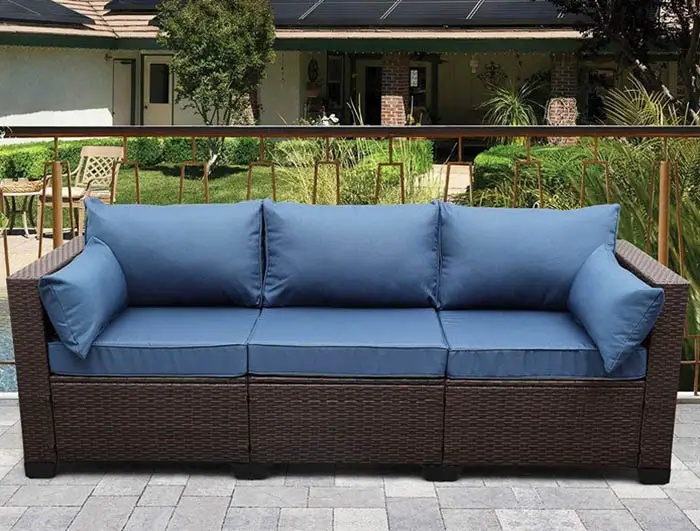 See this wicker outdoor sofa at Amazon [sponsored link]
This type of outdoor furniture provides an attractive, classy, and ultimate comfort to your garden or outdoor area.
The best choice of outdoor furniture where you can spend some time sitting and chatting outdoors with guests. There are several types of outdoor sofas to use such as sectional patio sofa, three-seater, and the loveseat sofa. Read more about the types of sectional sofas here.
Bistro Sets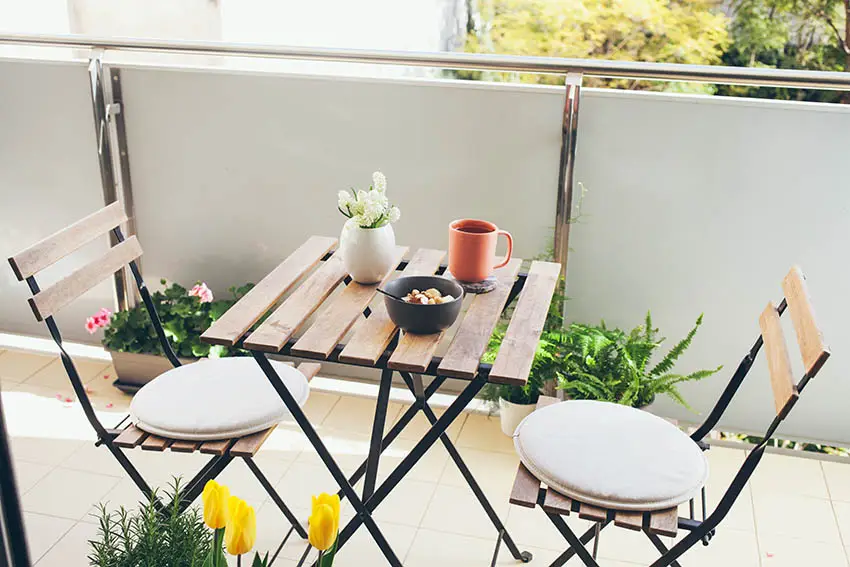 Originating from 19th century France, this type of outdoor furniture is usually consisting of pub stools and a small, round, or oval café table. Bistro sets are usually made of iron and they give your garden a trendy and classy look.
Outdoor Dining Sets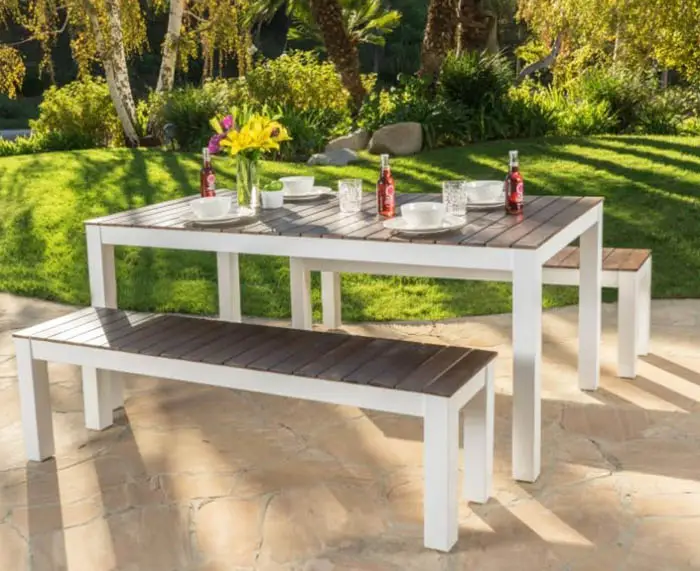 See this wood outdoor dining set at Pier 1 [sponsored link]
Outdoor dining sets are perfect for entertaining guests and provide the perfect ambiance for an outdoor dinner with the family.
Usually, outdoor dining sets are made of wicker, resin weave, wood, and metal. If you have the space for it, outdoor dining set will make your garden look cozy, warm, and welcoming.
Patio and Deck Bars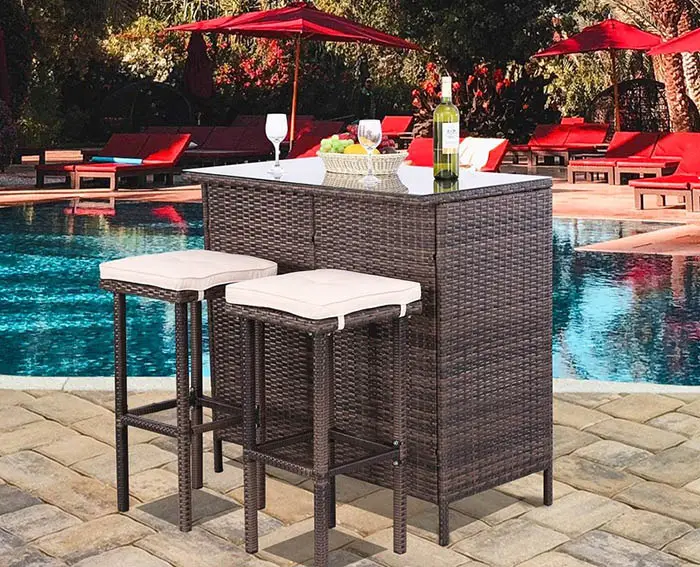 See this wicker patio set at Amazon [sponsored link]
Entertaining outdoors is so much fun when you have this patio and deck bar furniture. Patio bars provides space to store and refrigerate your beverages and offer more patio seating.
Now that we have mentioned some of the most attractive and popular types of outdoor furniture in terms of make, in the next topic, we have a list of outdoor furniture by material used to help and guide you in choosing your next outdoor furniture. Read more about the types of patios here.
Best Weather Resistant Furniture
Here's our list of the best maintenance free outdoor furniture materials currently available.
Aluminum
One of the best weather resistant outdoor furniture are the ones made out of aluminum. Why? Rust is iron oxide, and aluminum cannot rust because it has no iron component unlike steel or iron materials.
When aluminum oxidizes, it has a protective layer that seal the underlying unoxidized aluminum inside; this allows it to resist moisture-induced corrosion better than other metals.
Polypropylene
This type of outdoor furniture material is extraordinarily strong, durable, and virtually impenetrable. Water and moisture simply cannot seep through its dense material composition.
If you live in a saltwater environment, this type of outdoor furniture would be the best since it cannot ever rust. Also, because of its smooth and slick surface, mildew and corrosion cannot pervade. This type of outdoor furniture is sturdy, heavy, and designed to look just like painted wood.
Resin wicker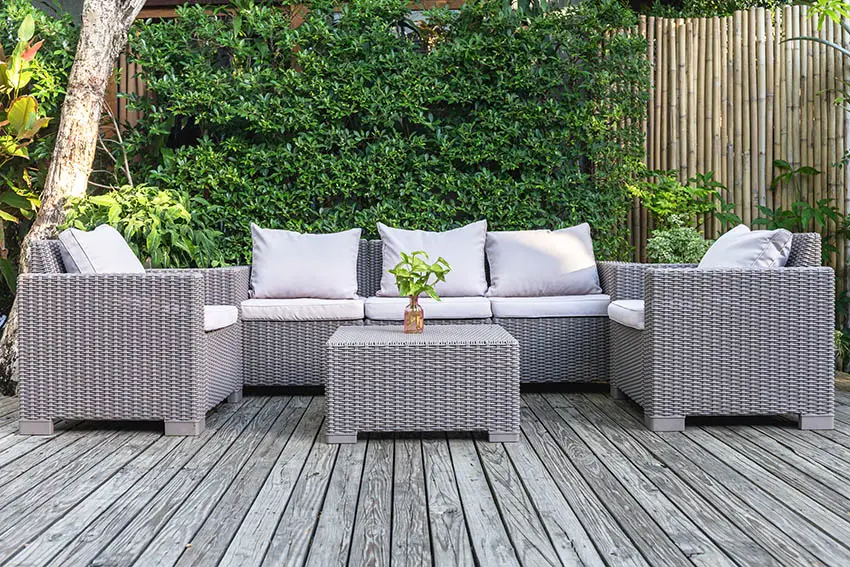 This type of outdoor material is a great alternative to organic rattan yet retains its charming and earthly look.
Resin wicker mimics the rattan's natural texture and natural look; it is made of braided synthetic materials and weaved between the twine without leaving any space for water to seep through or molds to grow.
Polystone
This is an elegant material to use for an outdoor furniture because of its grainy texture it gives a touch of a gritty-chic look. Polystone is made out of cemented mix of powdered stone and polyurethane resin, which is then molded and sanded into any shape and type of outdoor furniture.
Teak wood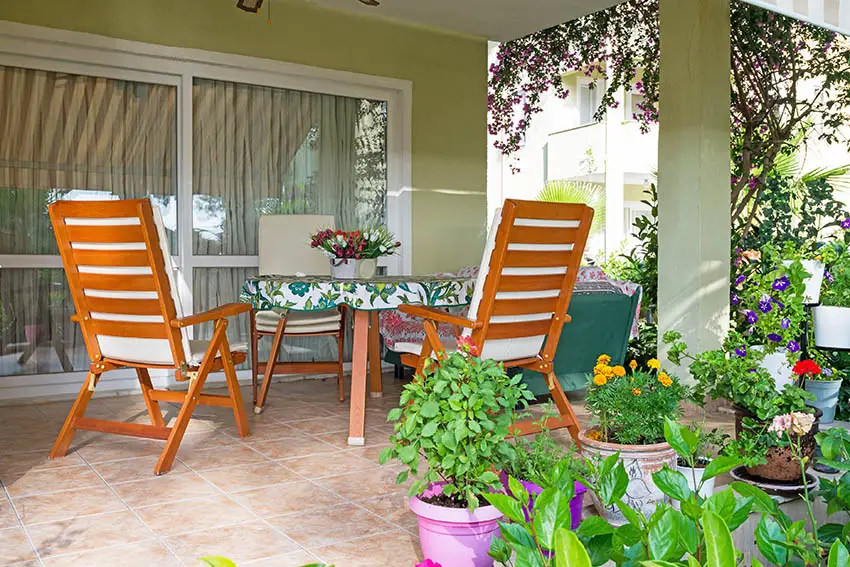 Found mostly in Asian forests frequented by tropical downpours, teak trees are used to monsoon storms and humid weather conditions.
Teak wood is water resistant and often is the hardwood choice for outdoor furniture. Teak has a tight grain that seals off water and contributes to its high degree of resilience and beauty. It's durability makes it one of the best wood choices for chairs, coffee tables and bistro sets.
Wrought iron
This type of outdoor furniture is strong, sturdy, and durable, and since wrought iron is heavier than most outdoor furniture types, it a suitable choice for windy outdoor environments.
However, wrought iron outdoor furniture requires painting very now and then because its paint can easily chip. This type of furniture needs cushions for comfortable seating.
Stainless steel
Stainless steel offers a modern look and style to any outdoor space and has proven to be superior outdoor material since it is resistant to corrosion and oxidation. Read more about our comparison of aluminum vs stainless steel patio furniture here.
Recycled plastic patio furniture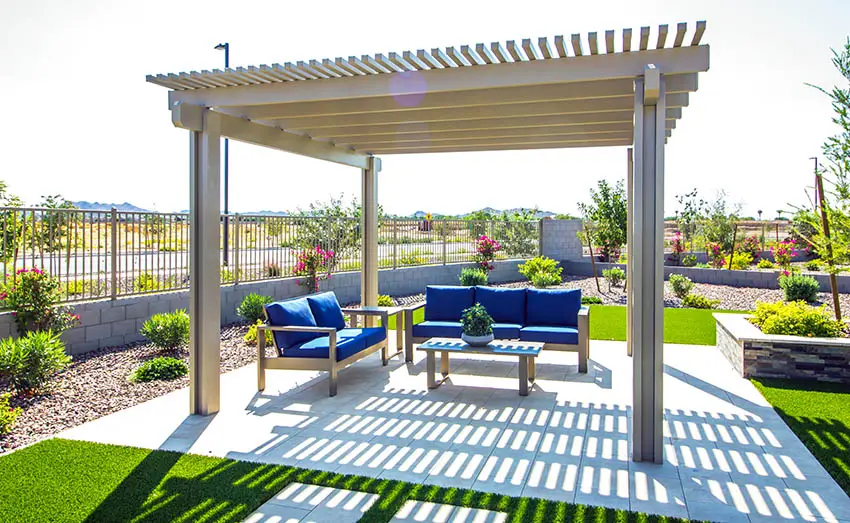 Recycled plastic outdoor furniture can be made froma varity of different types of materials. One of the most common is high density polyethylene (HDPE).
HDPE is a 90% recycled material that is used in many household items such as milk jugs, soap containers, bottles of detergent etc. They are recycled, cleaned and molded in to outdoor furniture.
Not only is buying recycled plastic patio furniture good for the environment, it is low cost and virtually assembly and maintenance free.
Polywood lumber
This material used for outdoor furniture is made from high-density polyethylene (HDPE), UV-inhibited pigment systems, foaming compounds, and other process additives mostly recyclable materials.
It features natural resistance to water and outstanding durability which makes it the best material for an all-weather outdoor furniture.
What is the Best Quality Furniture for Outdoors?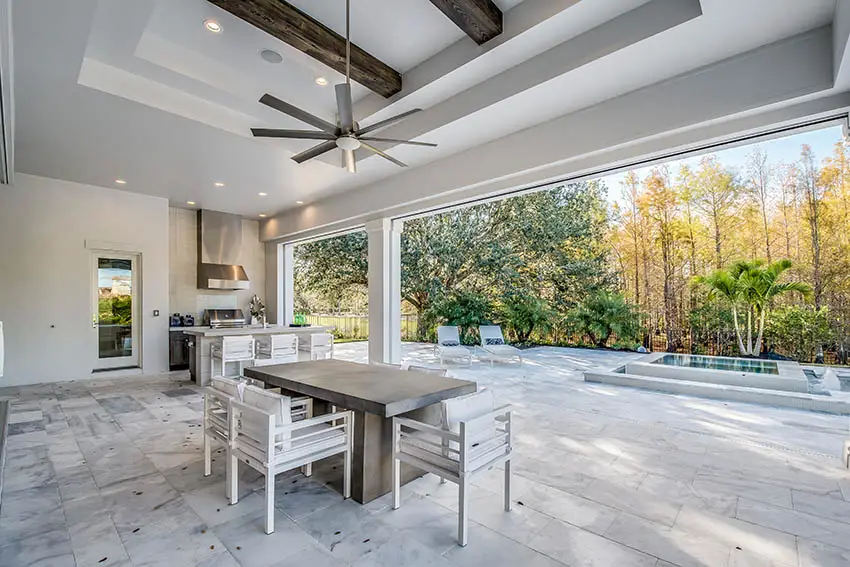 Creating a beautiful outdoor living space is a rewarding experience, and choosing the best quality outdoor furniture that will stand the test of time can be quite challenging if you do not know what is best to consider and look out for.
Consider the Style of Your Furniture
Choose furniture that has low center of gravity, this creates an anchor effect on the furniture so it does not tip over easily.
Avoid outdoor furniture which has cloth-backed seating, this can have a parachute effect on your outdoor furniture on windy days.
Instead, choose for outdoor furniture with breathable mesh, grated or low-rise back and side styles; these features allow the winds to flow through or go around them. Breathable mesh chair backs are also most comfortable for people on hot days.
Choose Furniture with Durable Fabric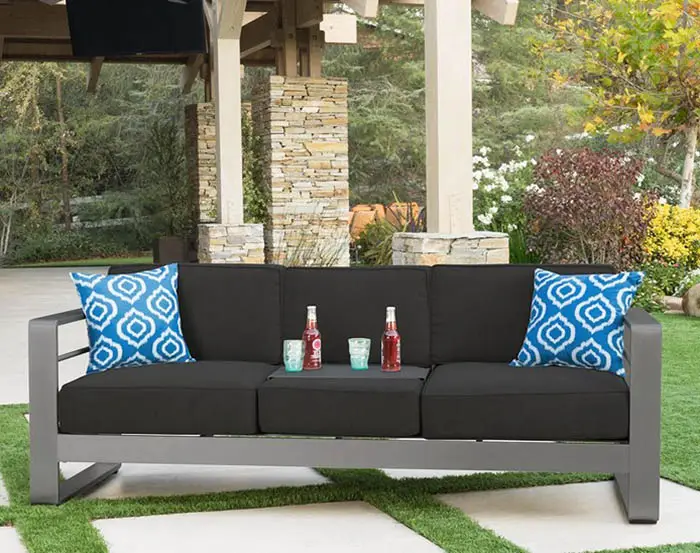 See this aluminum patio sofa with polyester cushions at Amazon [sponsored link]
The harsh environment can easily cause outdoor furniture to weather from the sun and precipitation. Vibrant colored cushions can turn dull from UV rays, while rain, snow, heat and wind can all cause threads to tatter, peeling the paint and can rough-up surface areas of your outdoor furniture.
Make sure that the cushions of your outdoor furniture are tight-knot and fabrics that are naturally UV resistant. Such fabrics include solution-dyed acrylic textiles, polyester and polyethylene blends fabrics; these are examples of tight-knot weaves which does not allow much precipitation penetration.
There are also furniture style which does not require any cushions, such are furniture made out from synthetic materials such as polyethylene and powder-coated aluminum outdoor furniture. These materials will neither corrode or wear when exposed to harsh weather conditions.
Is Polywood the Best for Outdoors?
There are different types of polywood lumber that are perfect material for an outdoor furniture. The most popular is the high-density polyethylene (HDPE) material used for the construction of an all-weather outdoor furniture.
It features resistance to water, and it is very durable material; it has a smooth and waxy feel similar to an orange-peel texture which makes it aesthetically appealing to homeowners and designers. Whether it's the best will depend on your areas climate and needs.
What Outside Furniture Lasts Longest?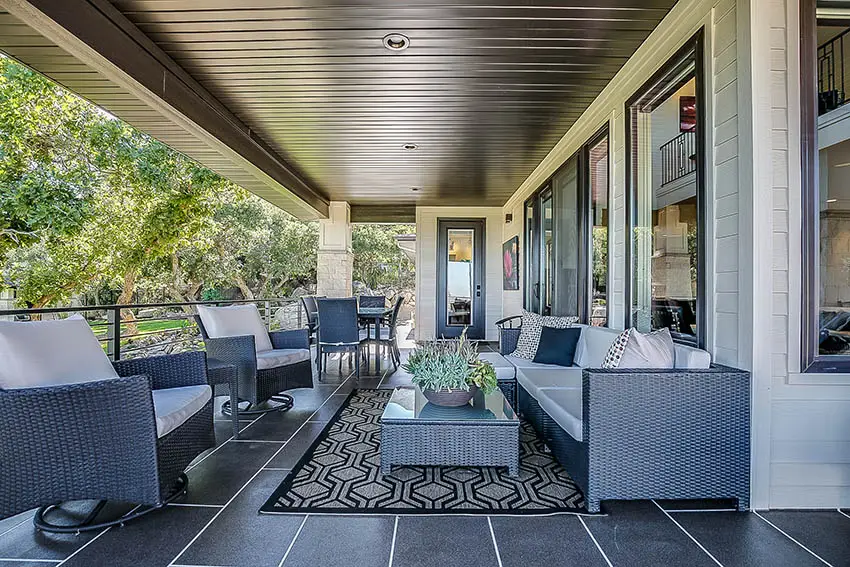 Depending on where you live, the best quality outdoor furniture are the ones that will stand the test of time. Check out our guide below for choosing what type of outdoor furniture is the most durable for any climate.
Furniture for Rainy Weather with Humidity
If you live in a tropical country or in the Pacific Northwest where it rains all throughout the year, you need to choose outdoor furniture that is resistant to rust and can withstand constant exposure to moisture.
The outdoor furniture that is best for rainy weather includes resin wicker, aluminum furniture, polypropylene, and polywood lumber. Avoid wrought iron because it can rust in dump climates.
Furniture for Salt Air Environment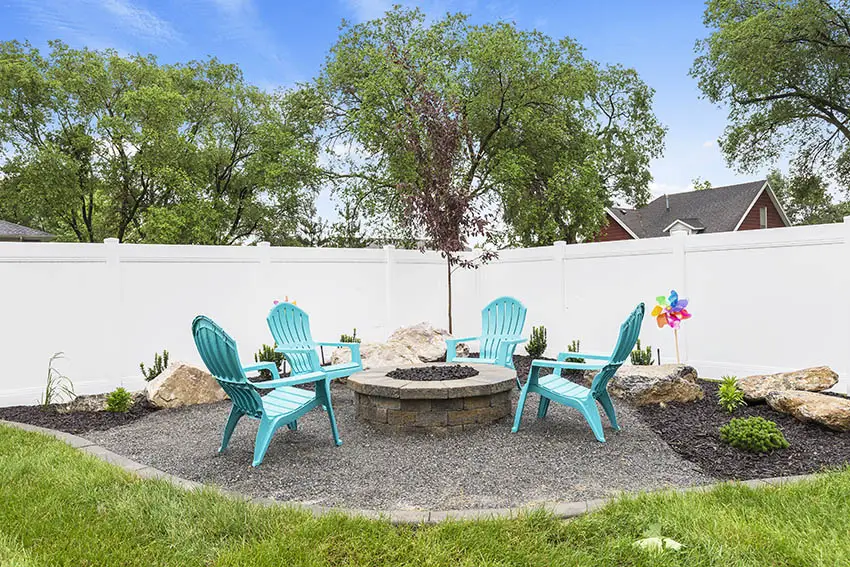 You have that beautiful view of the coast and to keep the good vibes throughout your property, make sure you choose outdoor furniture that are resistant to rust, can withstand salt and moisture and furniture with similar properties for rainy weather such as resin wicker, polypropylene, polystone and polywood lumber.
Furniture for an Extreme Heat Climate
In desert climate areas, choose outdoor furniture that can withstand the bright sun all year round.
Popular choices for this type of outdoor furniture should be as durable as the ones made of polywood lumber, polystone and resin wicker made from high-density polyethylene.
If you want a more natural material, teak wood is another good option as long as you polish it regularly in order to maintain its natural color.
Furniture for an Extreme Cold Climate
If you live in areas where you experience extreme snow in the winter, you can opt to invest in a powder-coated aluminum outdoor furniture, resin wicker or teak wood which is treated with a sealant.
What is your favorite type of maintenance free outdoor furniture? Let us know your favorite in the comments below. For more similar content visit our gallery of enclosed patio ideas.