Here's our guide to aluminum vs steel patio furniture including pros and cons and cost.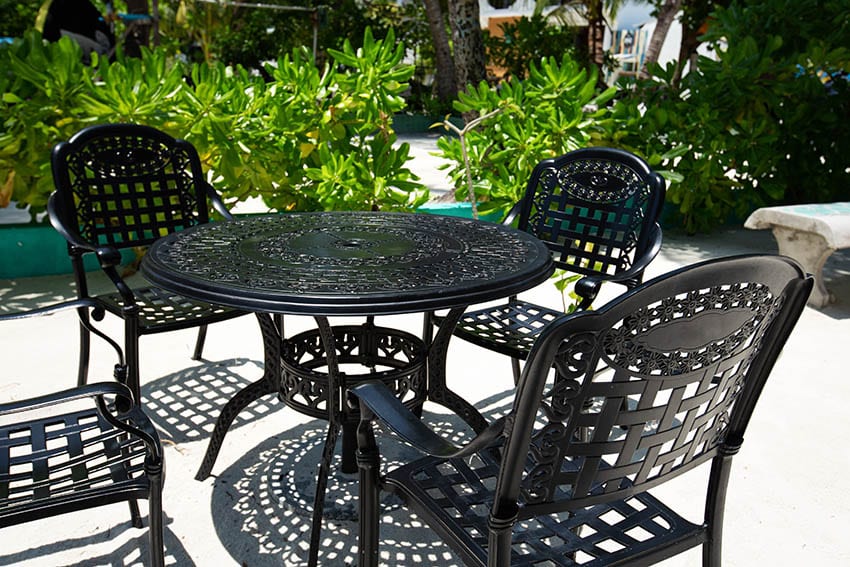 A gorgeous patio deserves to be enjoyed for a very long time and if you're on the verge of picking your patio furniture, then continue to read on to know the two most durable materials for your outdoor furniture.
Aluminum and steel patio furniture is your go-to materials when you are looking for a lifetime investment for your outdoor living.
There are a lot of patio furniture options to choose from, but nothing is more durable and long-lasting than metal materials. They don't expand or contract and their surface won't easily crack under extreme weather conditions, while insects and decay are also not a concern.
But between the two most durable materials which are better to suit your needs?
Aluminum vs Steel Patio Furniture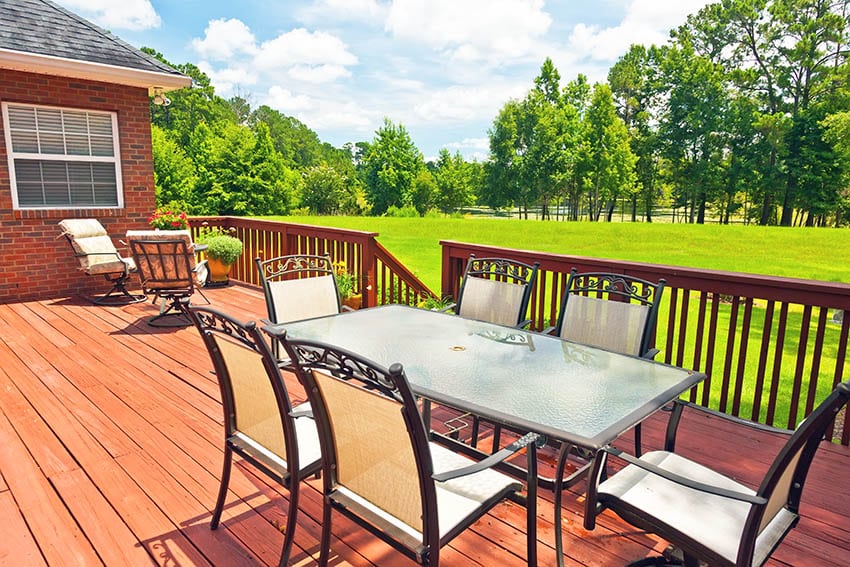 Two metals that look similar but are very different materials. Steel is simply stronger than aluminum which prevents dents or any type of damage to its surface.
Though aluminum is not as dense and strong as steel, it is lighter. Its strength to weight ratio is 1/3 of the weight which means it's easier to move around your patio furniture when an unexpected guest arrives or if you need to rearrange your outdoor furniture once in a while.
When it comes to corrosion resistance, steel excels due to the chromium additives that form an invisible film around the still and is non-porous.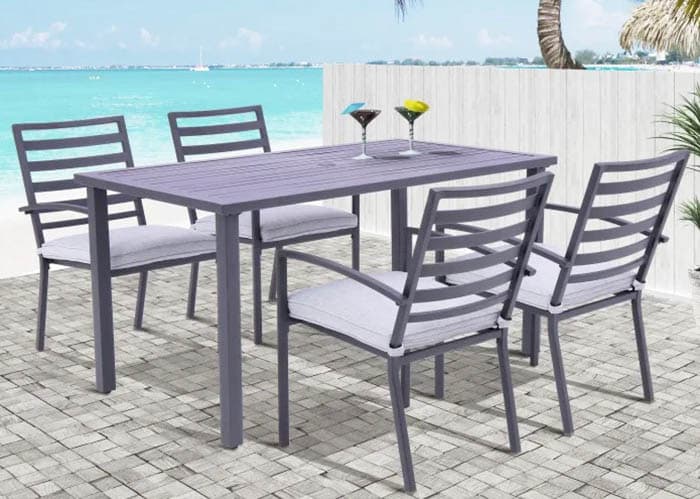 See this aluminum outdoor dining table at Pier 1. [sponsored link]
Aluminum on the other hand has high oxidization which means when it is exposed to air or any other oxidizing agent, it will immediately develop a thin hard film made of aluminum oxide.
The film protects the surface thus making aluminum corrosion-resistant. However, the oxidized surface can dull out the color of your aluminum patio furniture. To remove the pitted look, you can easily remove it by brushing it off with soap and water.
Aluminum patio furniture does not conduct and retain much heat compared to other metals making it a practical metal furniture choice if your outdoor furniture is in full exposure.
Steel on the other hand responds to heat or cold faster, so if your patio is located in a place that experiences extreme weather, you might want to consider another material or add some padding for steel patio seats.
When it comes to workability, steel is very easy to weld while aluminum can be a challenge but is easier to cut than steel.
Stainless Steel Patio Furniture Pros and Cons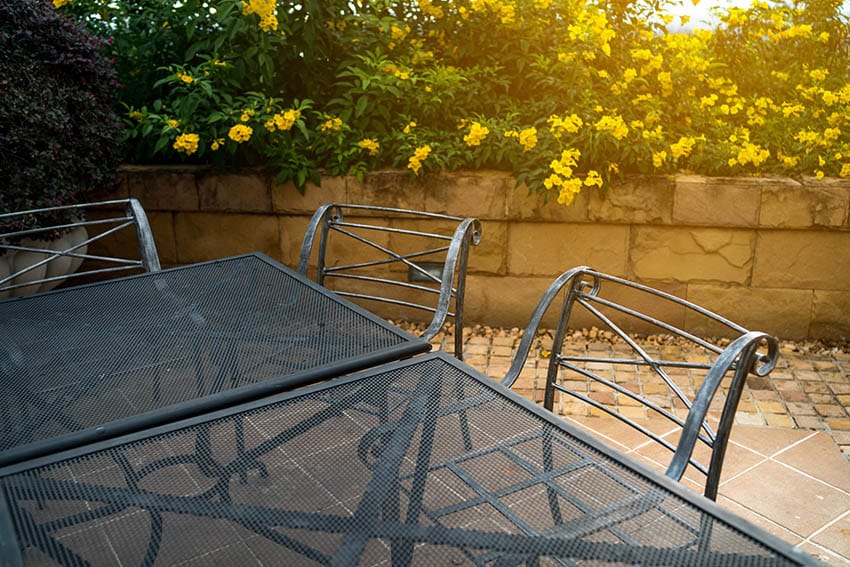 Steel patio furniture is very strong and because of its high density won't easily be tipped off even with strong winds. If you can't move or store your patio furniture when not used or during a stormy day, then stainless steel is a great choice.
Although resistant to rust and corrosion, better to apply a powder coating on the surface for added protection especially when your patio is near salty water.
Pros: modern looking, strong, rust-resistant, sturdy, and durable.
Cons: retains heat and cold, not easy to move, expensive
Aluminum Patio Furniture Pros and Cons
Aluminum patio furniture although not as durable as steel, is still a strong and robust material for outdoor use.
An advantage of aluminum over steel and other materials is its malleability making it easier to work with. To add protection on its surface, add a polyester powder coating.
Aluminum accepts most paint and other wet application making it possible to have intricate and complex aluminum patio furniture styles.
Pros: Lightweight, affordable, low maintenance, easy to work with.
Cons: Can be stolen easily, hollow or thin aluminum frames can buckle or fold from heavy weights.
Aluminum vs Steel Patio Furniture Cost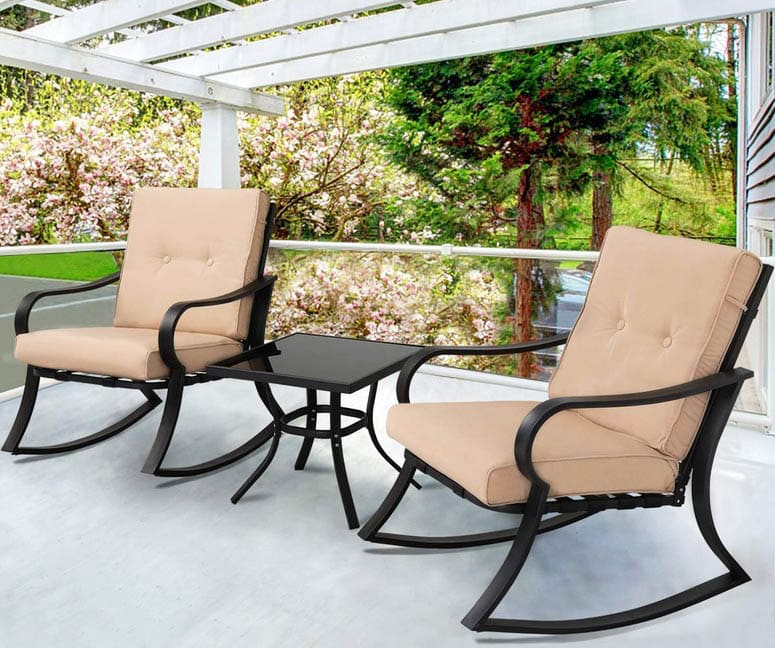 See this set of black steel patio furniture at Amazon. [sponsored link]
Generally, furniture made from aluminum is cheaper than steel patio furniture. For aluminum expect to pay an average of $1,150.00 for a 3-piece conversation set and $2,200 for a 4-piece patio set.
Steel patio sets can start around $ 1,800.00 for a 3-piece conversation set and $,2,300 for a 4-piece patio set.
Remember though that for your outdoor metal furniture, there is a wide range of prices that will depend on the size, design, material, and brand that you choose.
The finish and added cushioning will also significantly add to the cost. Be sure to make a clear budget in mind before choosing your outdoor furniture.
Possible Added Costs
Powder Coating: $200 to $2000 depending on the part which can either be a DIY or professional project. There are also instances that you'll need to disassemble and reassemble some parts during the powder coating process.
Cushioned Chairs: $800 to $2000 for quality cushioned chairs while it can cost as much as $1,800 to $3,000 for a quality sofa.
Which is Better Aluminum or Steel for Outdoor Furniture?
It depends on your type of patio and needs as each material has its strengths and weaknesses. If you want an affordable yet durable option, aluminum patio furniture is a great choice. Finish your aluminum patio furniture with a powder coating to add strength and durability.
While steel is a great option if you want to have sturdy and robust outdoor living furniture that you can leave even under stormy weather.
If heat or cold retention is your concern with steel furniture, choose to have it under a shade or add cushions and padding on your metal outdoor furniture.
Does Cast Aluminum Rust?
Cast aluminum won't rust because of its solid structure. As the term implies, melted aluminum is poured into a cast which then solidifies into the shape of its mold. There is patio furniture made from metal tubes which compared to cast aluminum can easily rust with a substandard coating.
Cast aluminum allows you to place it under the weather and you don't need a refinishing job to maintain its rust resistance.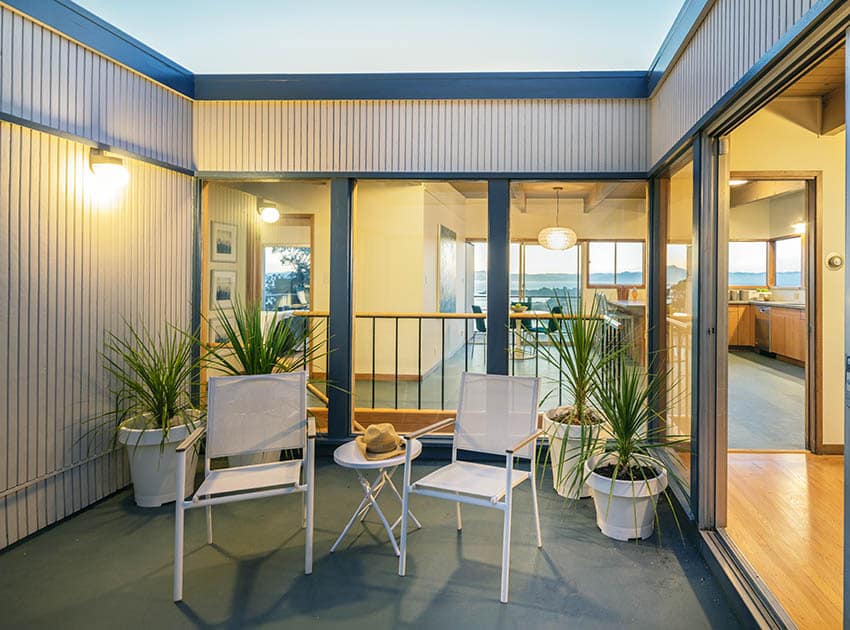 Does Powder Coated Steel Rust?
Powder-coated steel won't rust as long as properly prepared before a full coat is applied. It is also important to have a quality coating to prevent air or moisture to seep through the coating.
There is a curing period for each layer of powder coat to make it more permeable and prevent cracks on the surface coat.
What is your favorite when it comes to aluminum vs steel patio furniture? We'd love to hear your thoughts in the comments section below. For more designs visit our page about enclosed patio ideas.