Here's the best 29 dresser alternatives including creative furniture options, storage choices, and tips for organizing your clothes without a dresser.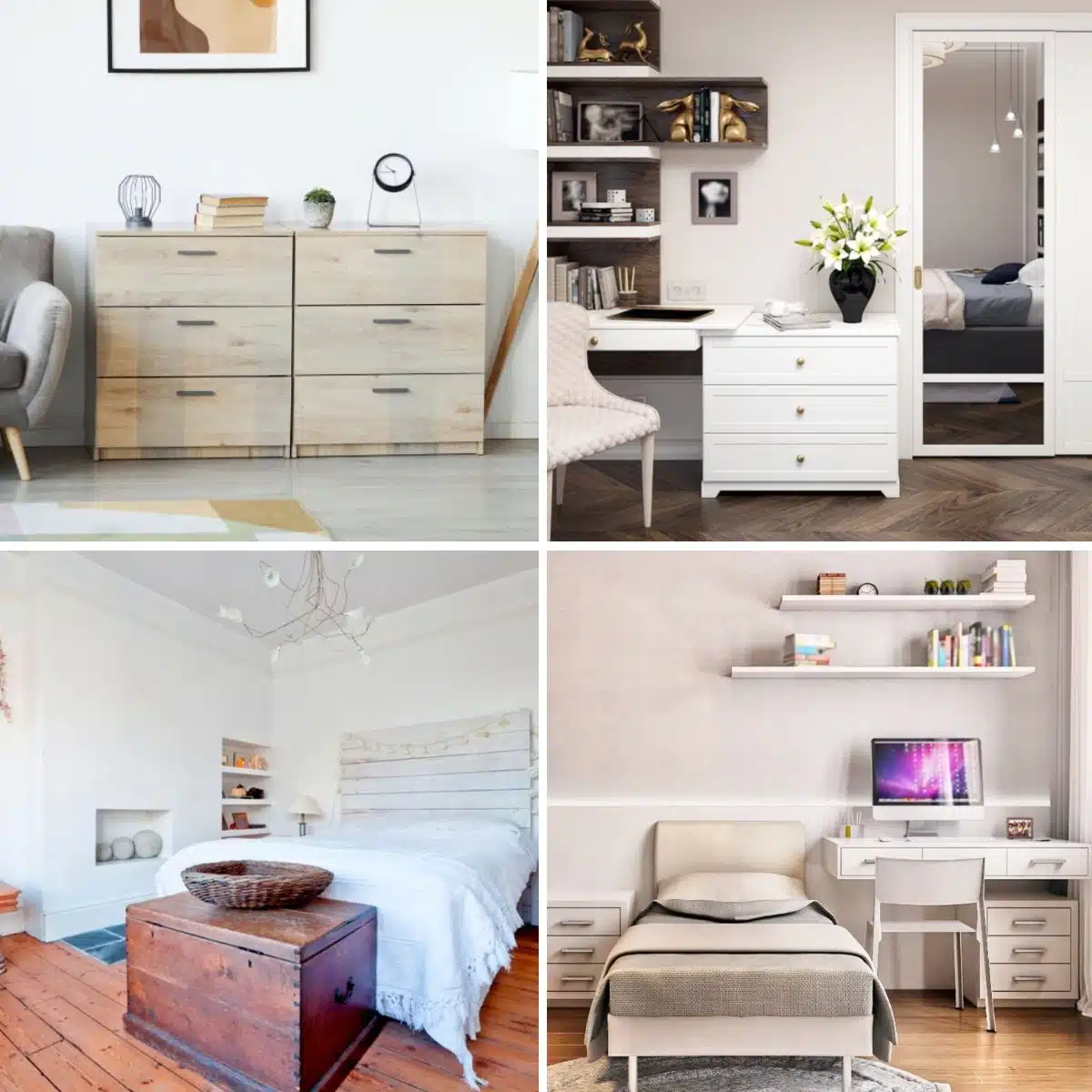 If you're one of those, who do not have enough space in their bedrooms, finding a storage alternative that works for your room might be complicated. There are many types of dressers to choose from but you may want something else.

Several fantastic storage options are available if you want to avoid bulky furniture like a traditional dresser. The goal is to make effective use of the open space in your bedroom. Check out these clever alternative storage solutions to help manage your wardrobe.
Quicklook: Different Dresser Alternatives
• Armoire
• Freestanding Wardrobe
• Storage Chest
• Rolling Bins
• Bed With Drawers
• Under The Bed Bins
• Wall Shelving Storage
• Storage Bench
• Storage Ottoman
• Cubby Storage With Baskets
• Over The Bed Storage Unit
• Wall Mounted Clothing Organizer
• Garment Clothing Racks
• Stackable Boxes
• Lockers
• Console Cabinet
• Step Cabinets
• Laundry Basket Rack With Drawers
• Lingerie Chest
• Built-in Closet
• Closet Hanging Shelves
• Closet Organizer
• Wall Hooks & Racks
• Over The Door Organizer
• Vintage Suitcases
• Clothing Hamper
• Closet Shelving Unit Above Clothing Rod
• S-hooks
• Storage Headboard
Why Use an Alternative to a Dresser?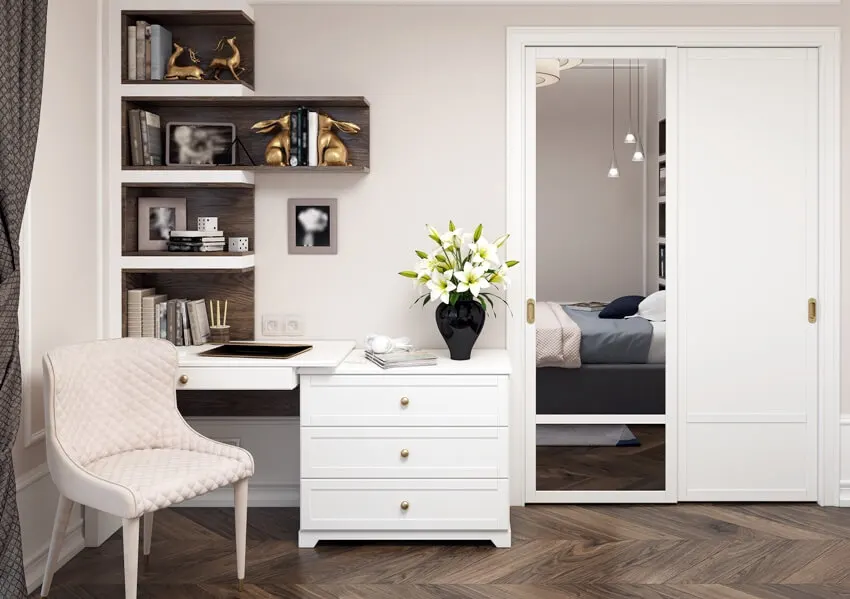 Dressers occupy a lot of room. Getting rid of the dresser can help you create more space in your bedroom. As a result, you should consider different clothing storage methods, mainly if space is limited.
Dresser tops attract clutter and garbage, especially when your items pile up. If not correctly handled, the drawers may get clogged with garments, making it impossible to open and shut them.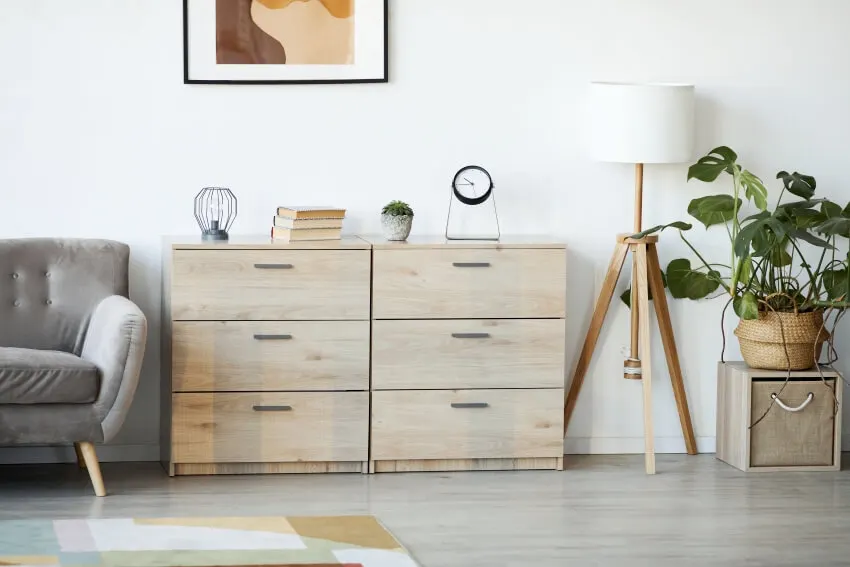 Dresser tops also collect dust and dirt, resulting in a chaotic environment and a messy dresser. If you are experiencing this problem, dresser alternatives may be of assistance.
To make things easier for you, we've compiled a list of common dresser alternatives that will work for everybody. Here are 29 fantastic dresser choices for storing your clothing!
Armoire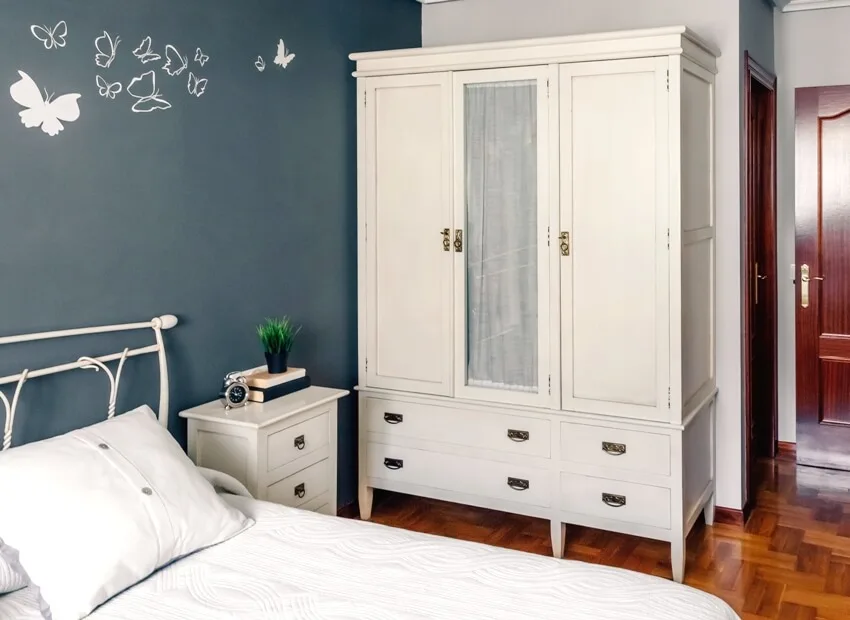 Armoires are exquisite furniture excellent for use in bedrooms if you like a more elegant design. An armoire typically consists of a top cabinet and a pair of drawers.
You may use the drawers to store shirts, undergarments, and even shoes. If you dislike having your clothing on show, this clothes storage option is ideal.
If you prefer a more roomy alternative, check for armoires with a place to hang clothing if necessary. The best part is that they match practically any design in your room, so there's no need to worry.
Freestanding Wardrobe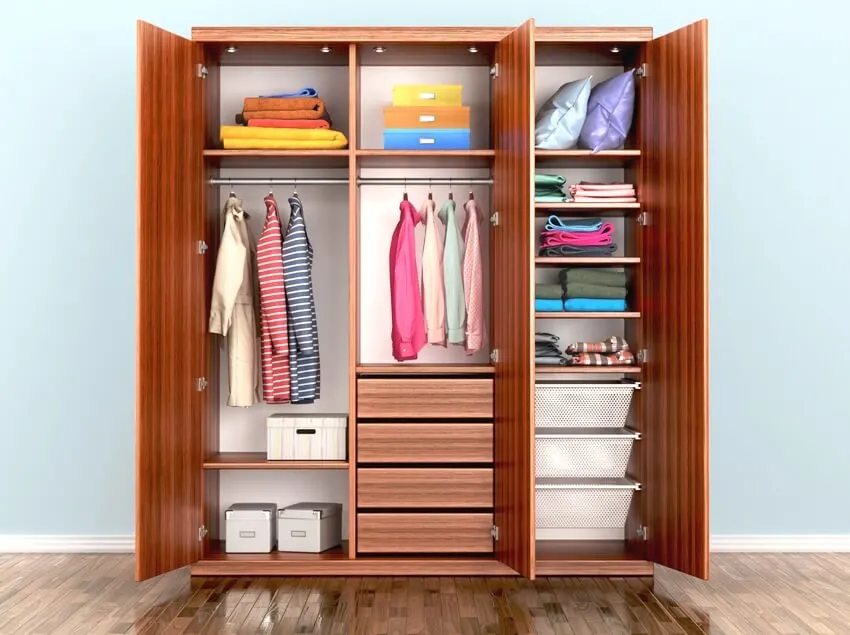 Freestanding wardrobes are closets comparable to armoires, generally broader. They often have drawers for storing clothing and a place to hang stuff.
You can convert your bedroom into a magazine-worthy haven by combining it with a matching bed, chest of drawers, and nightstand.
Look for high-quality wood sets with craftsman-inspired elements like curved paneling for a sense of luxury. See more wardrobe designs on this page.

Storage Chest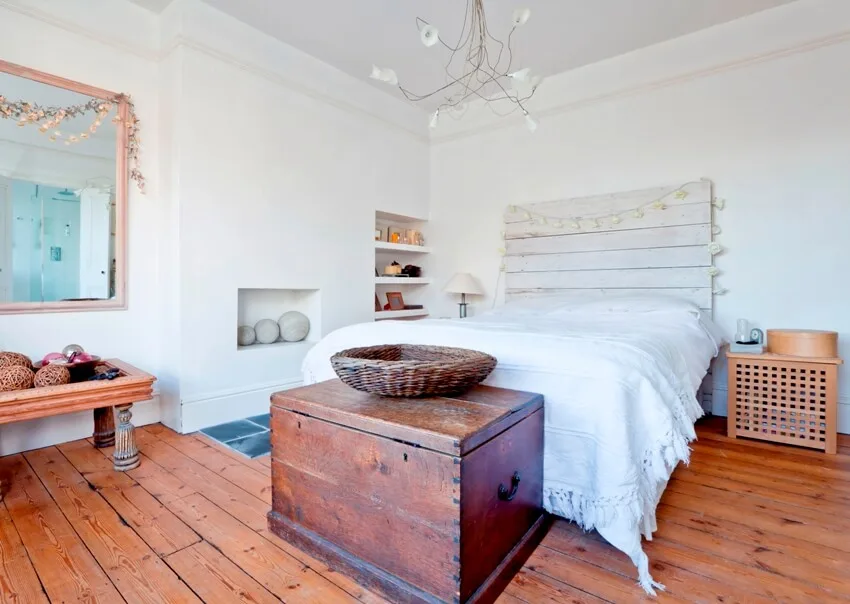 Storage chests are another no-closet dresser option and are ideal for placing at the foot of a bed. Apart from aesthetics, they are also 100% functional: they may be used as chairs when necessary. This storage might be convenient in some scenarios, such as getting dressed or putting on your shoes.
These may be conveniently put in the corners of your room and take up little space. If you want to tidy your room, fill these chests with items such as old clothing, toys, and so on.
Rolling Bins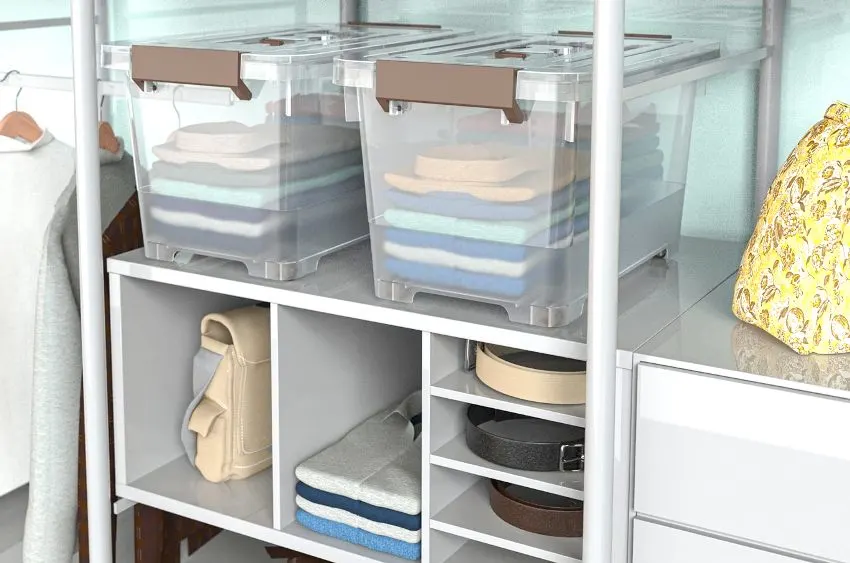 See this stackable box organization rolling bins at Amazon [Sponsored link]
A rolling bin is an excellent alternative to store clothing. This mobile item may be wheeled into and out of rooms, closets, and all around your bedroom. They are lightweight, opaque, and generally made of plastic.
Keep some of your infrequently worn garments and decorations in under-bed rolling bins to take advantage of the free space. Rolling bins and baskets are ideal for storing many possessions and transporting goods from one location to another.
Bed With Drawers
A bed with drawers is one of the most excellent no-closet alternatives for keeping your clothing and is beneficial in small bedrooms. These drawers offer plenty of storage and quickly pull out from under your bed.
Beds with drawers are available in several styles: from classic to modern. They properly fit under the bed and provide additional clothing and other stuff storage.
They may be purchased in regular sizes or custom-made to perfectly suit the proportions of your bed. See more ideas in our article about space saving beds here.
Under The Bed Bins
For a tiny bedroom, every square inch matters. It also means using under-bed storage bins to keep some of your clothing.
You may purchase plastic containers or small baskets to fit beneath your bed. Look for bins with casters to help get things out from beneath the bed simpler.
Alternatively, add DIY casters for simple under-the-bed storage. This storage will also free up valuable floor space.
Wall Shelving Storage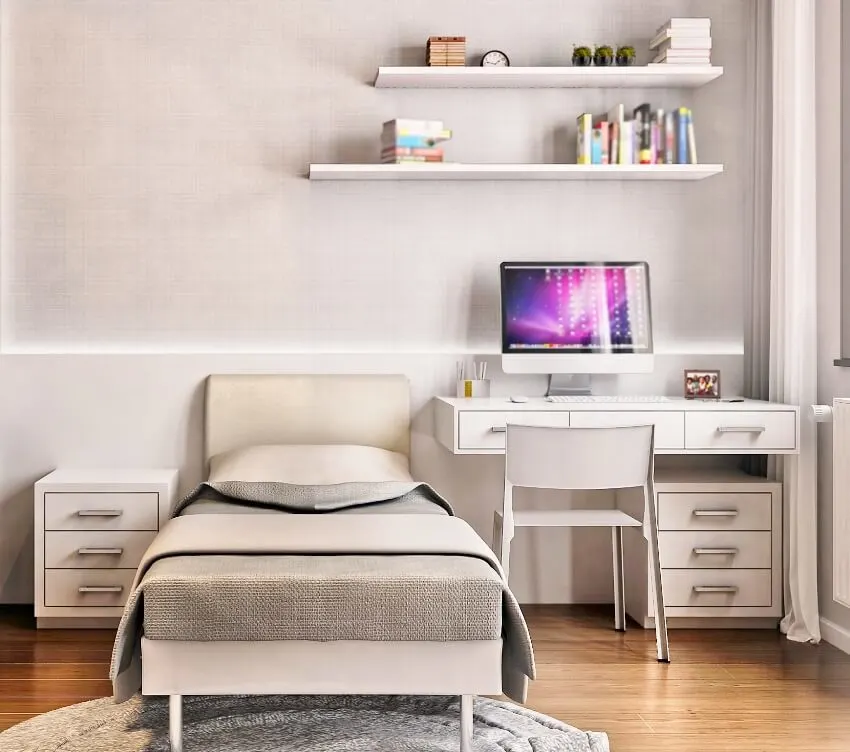 Wall shelves transform bare walls where you may store and display your belongings. They come in various designs, finishes, and sizes, so whether you want a wall shelf with hooks or even one with drawers for your clothing, they have them.
Remember that you'll need a design with vertical supports; otherwise, your belongings will fall off the shelf. Because it fits neatly into the wall, this display does not seem bulky.
It is adaptable enough to be used for various storage types. Check out our guide to the types of shelves with different designs and materials here.
Storage Bench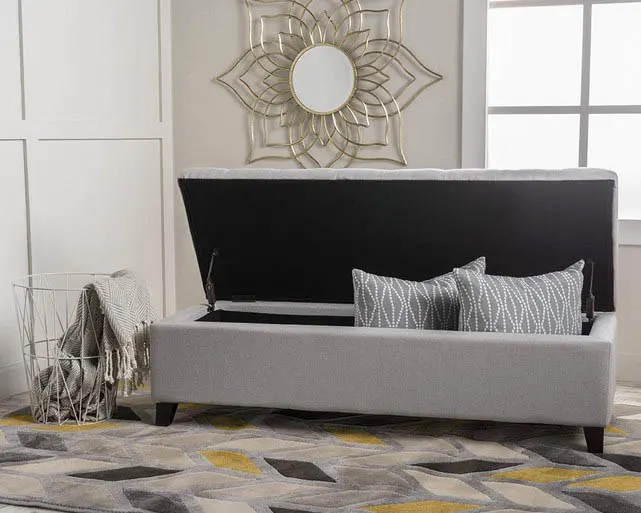 See this storage bench at Amazon [sponsored link]
Storage benches with a flip-up top are ideal for storing bulky sweaters and pants. It also adds flair and functionality to your bedroom.
Whether at the end of your bed or under the window, it gives additional sitting and storage space in areas of your bedroom that might otherwise go unused.
Depending on your storage area, you may keep everything from books to cushion covers, curtains, and blankets.
Storage Ottoman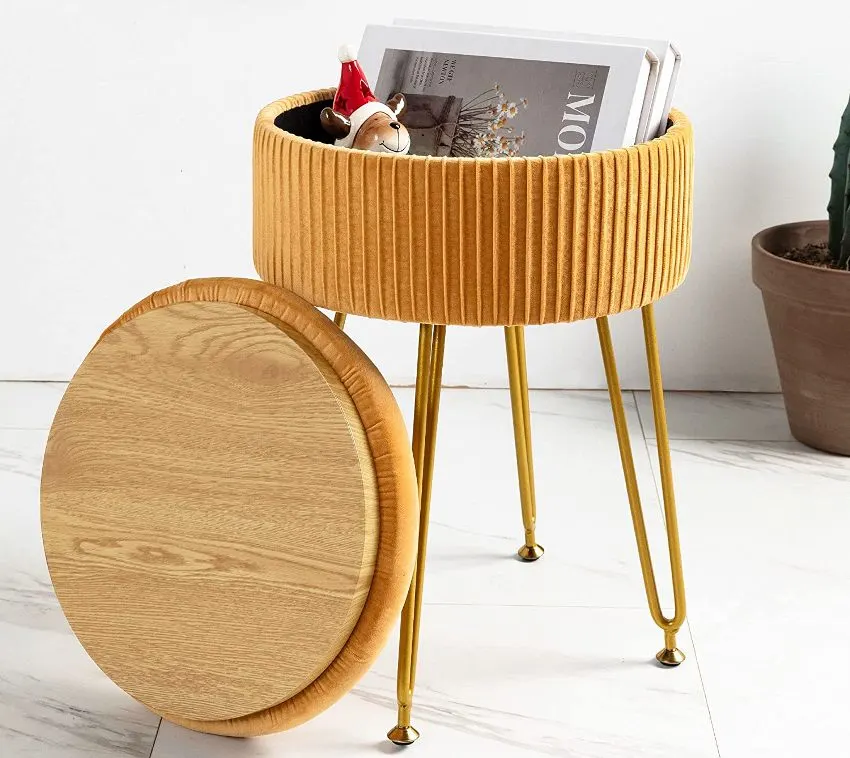 See this velvet storage ottoman at Amazon [sponsored link]
The storage ottoman is another item that you may utilize in place of a dresser. It also offers a lot of storage capacity and looks like an armoire. This storage is also a multi-functional solution that you can sit on, store stuff, or even put additional furniture pieces on top.
If you're planning to buy an ottoman , get a storage ottoman that can double as a coffee table. – No Rules — Just Fun Decorating, Gloria Hander Lyons
Two or three storage ottomans, similar to storage benches, may be placed at the end of your bed for alternate clothes storage. Add two extra storage ottomans with trays and use them as nightstands and storage.
Cubby Storage With Baskets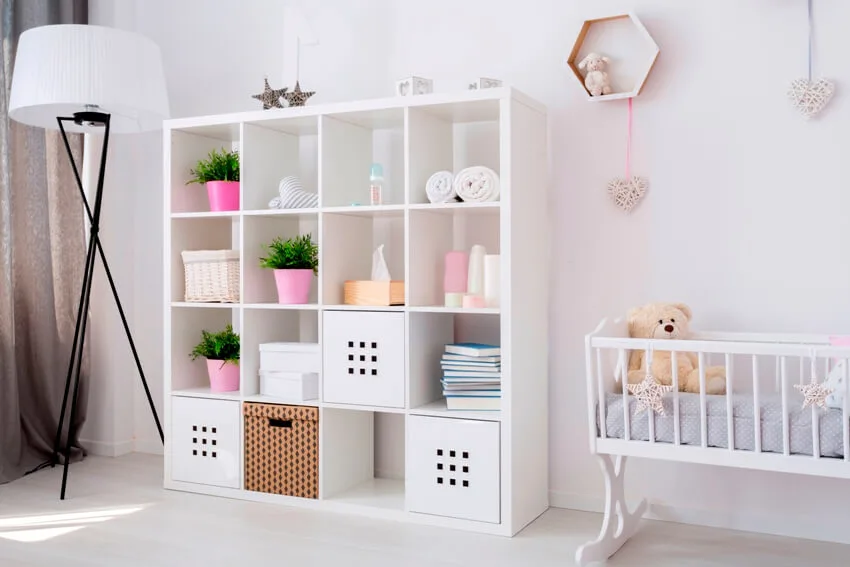 The innovative form of cubby storage with a basket is ideal for increasing storage space in often underutilized places.You can often find cubbies in mudrooms or children nurseries.

It is suitable for keeping clothes, plush animals, and other items. It is perfect for bedrooms, playrooms, and other locations with limited space.
Most cubbies are simple to clean and keep in good condition. Non-woven fabric baskets with interior cardboard support panels are also available.
Over The Bed Storage Unit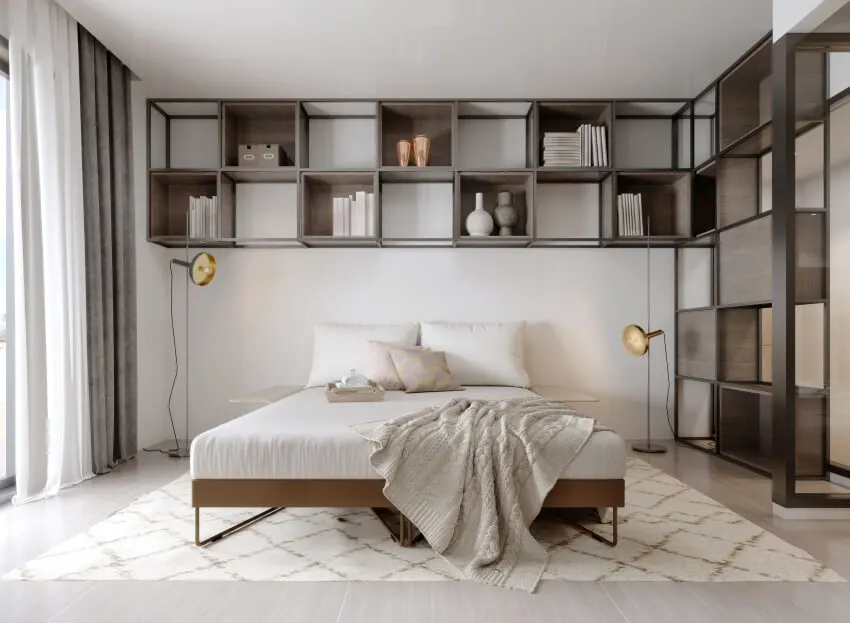 Many bedrooms have plenty of wall space above the headboard. Utilize this area by hanging shelves that double as dresser alternatives. These are the most excellent little bedroom clothing storage options, especially in places where a dresser would be too big.
Shelving above the bed may function as a clothes storage option and a lovely focus piece in your bedroom. These shelf units may help you organize and simplify your space.
Wall Mounted Clothing Organizer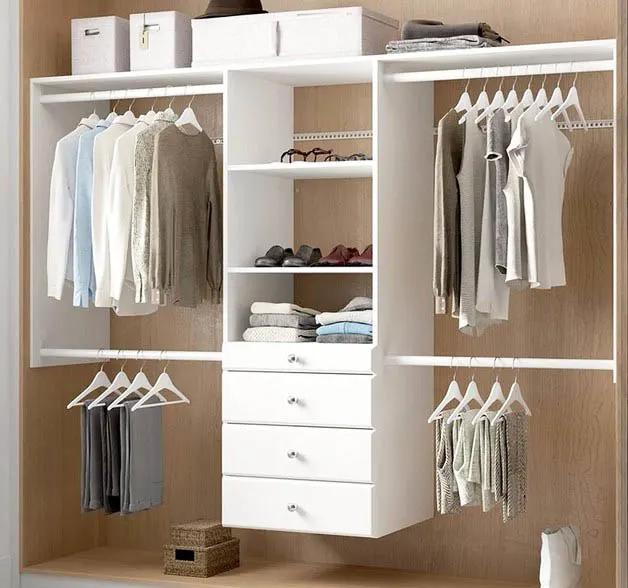 See this wall mounted organizer at Amazon [sponsored link]
Wall-mounted closet organizers are one of the most common options for organizing clothes. Wall-mounted clothing organizers may include hanging space, shelves, cubbies, and drawers.
This organizer is a terrific method to keep clothing off the floor and free up even more space for your bed in a compact room. They save space and make your tiny area seem more ordered. You may use these open shelves as additional storage in your closet.
Garment Clothing Racks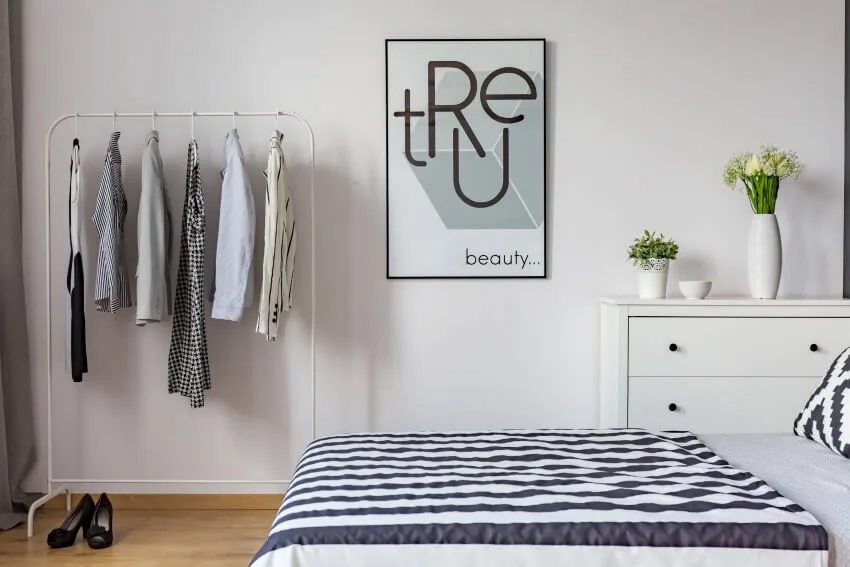 A garment clothing rack is another popular dresser solution because of its ease. Since it is open, you can easily pick up your dress on the move.
Pick a rack that fits your space and needs. If you have little room, go for one that is basic and compact. You may use this to store not just clothing but also shoes, hats, and other accessories.
If you don't want your garments on show, use a cover to conceal them. You may move it about the room if you choose one on wheels.
Stackable Boxes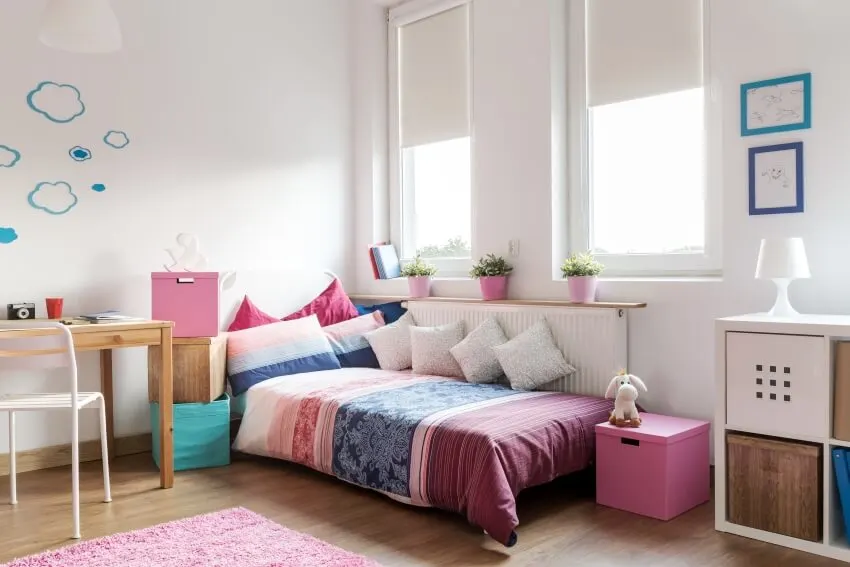 Stackable boxes are another excellent garment storage alternative. They are made of plastic or strong cardboard and are readily stackable.
The most significant advantage of stackable boxes is that you may expand them when you need additional storage capacity. They also aid in the use of vertical space.
You will know what's inside since they are transparent or feature peek-in windows. That means you won't have to open and discard everything else when looking for stuff.
Lockers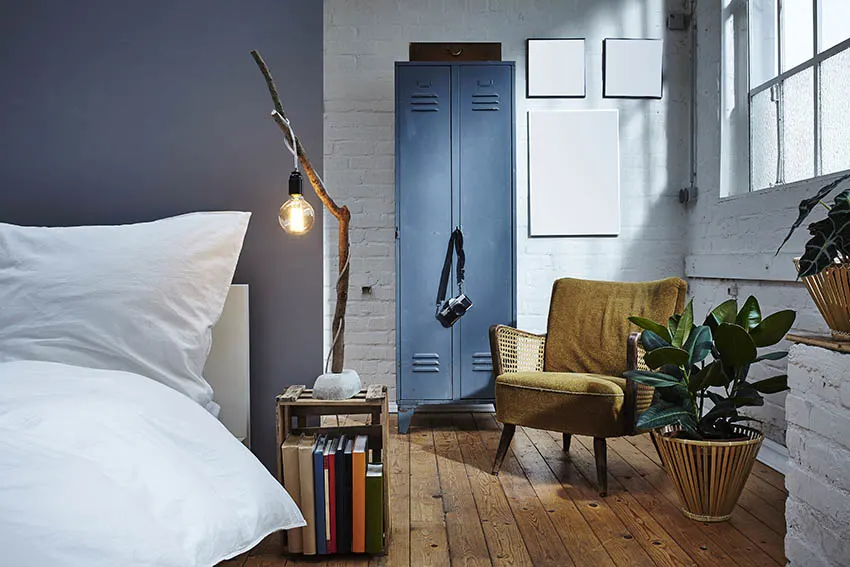 If you like rustic furniture, you will adore lockers. Lockers are storage units that lend a retro touch to your space. It also has plenty of room for clothing storage and other necessities.
The best part about lockers is that you can secure your belongings and keep your folded clothing in place. If you have children, this is quite useful!
Lockers take up less floor space than dressers and may even have enough vertical room to hang more fragile goods.
Console Cabinet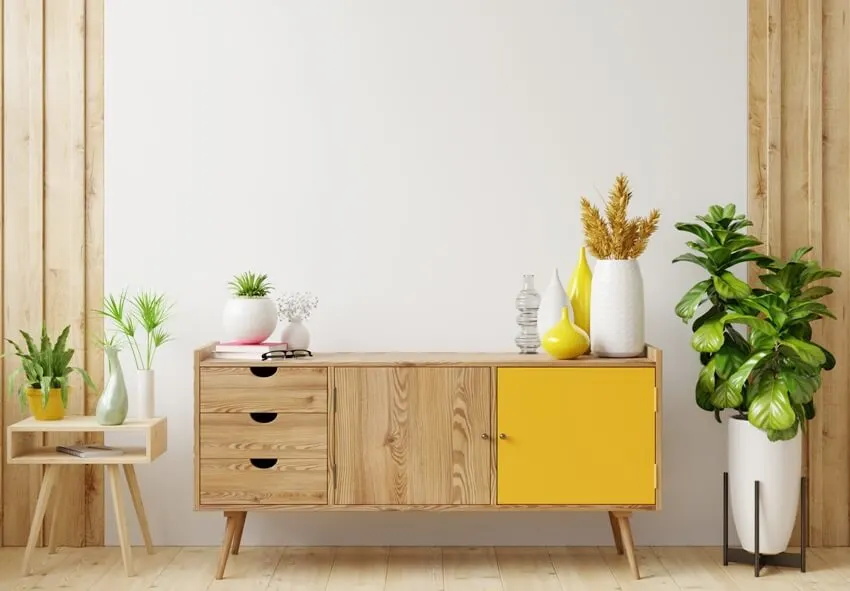 Since the French Revolution, console tables have evolved, with cabinets, shelves, and drawers added for more storage. A wide range of designs has arisen, transforming the console table into maybe the most flexible piece of furniture: console cabinets.
The console cabinet not only acts as storage but also as an interior decoration piece. A console cabinet with glass on top adds elegance and contemporary appeal.
Step Cabinets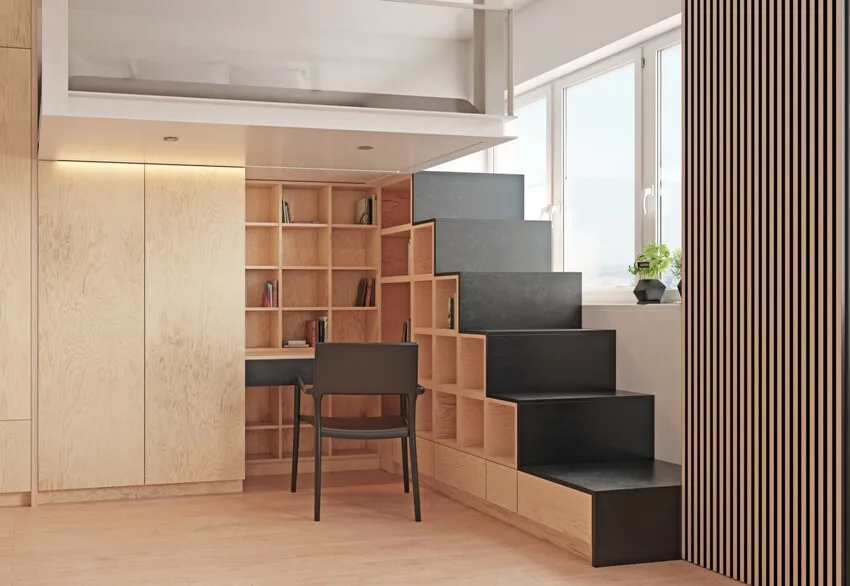 Step cabinets are simply drawers or chests piled in the shape of stair steps. It also helps to use space since they are vertical, using otherwise wasted vertical space. They are usually composed of wood and come in various finishes for magnificent grandeur.
Step cabinets must be strong, long-lasting, cozy, and secure. You may choose elegant, touch-release step cabinets if you like contemporary home furnishings.
Laundry Basket Rack With Drawers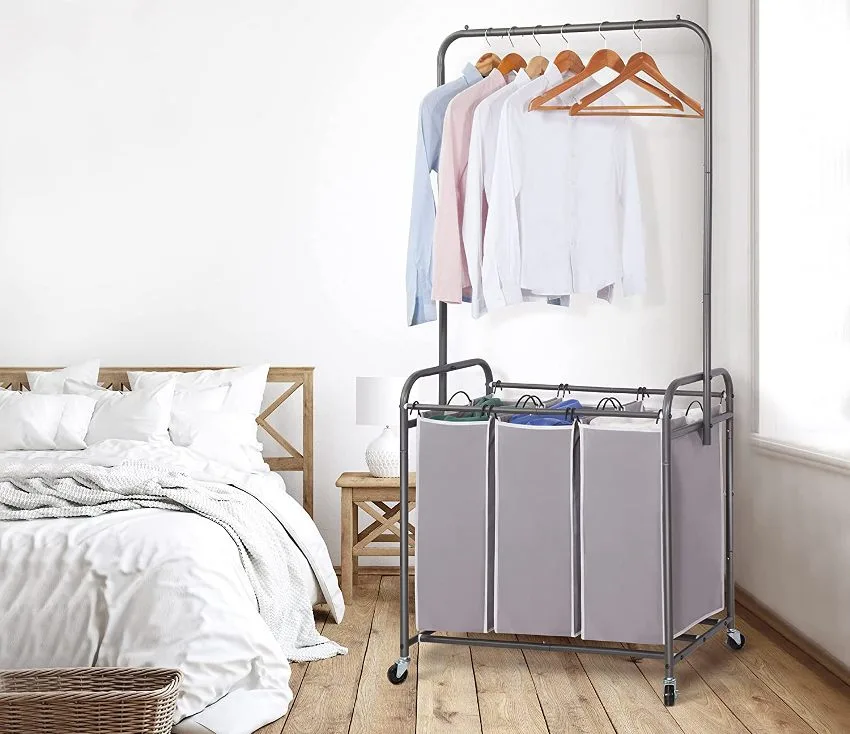 See this laundry basket rack with drawers at Amazon [Sponsored link]
Laundry room baskets are helpful for more than simply a hamper for dirty clothing. They function as a creative, multi-layered drawer unit. Laundry basket racks with drawers provide enough room to carry a reasonable quantity of clothing that you would have wished to put in a dresser.
You may choose a style with two smaller baskets nestled within one more giant basket or a huge basket with slatted edges. Wicker laundry baskets are simple, functional, and inexpensive dresser replacements.
Lingerie Chest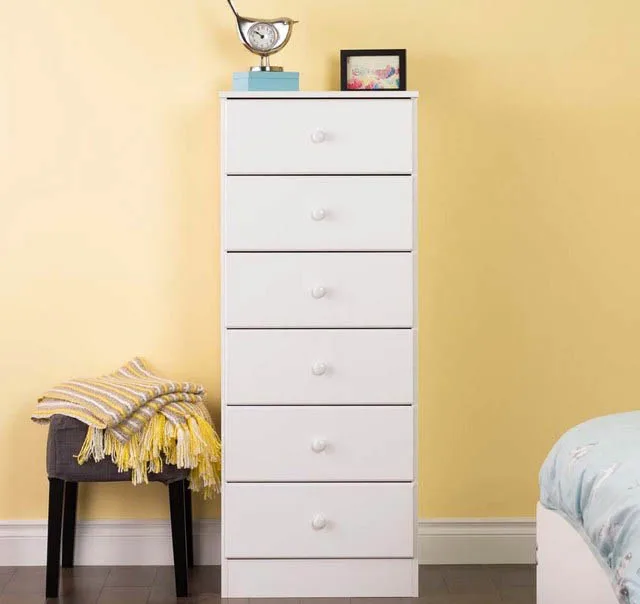 See this lingerie chest on Amazon [sponsored link]
In comparison to dressers, lingerie chests are tiny and thin. They can fit into even the most minor areas and corners, which aids in space optimization.
These chests also help organize small apparel items such as underwear and infant outfits. These chests are available in various styles to suit modern and classic bedrooms.
A lingerie chest resembles a little cabinet, each with considerable depth to accommodate more than simply skivvies. It may also serve as a bedside table, depending on the height of the chest.
Built-in Closet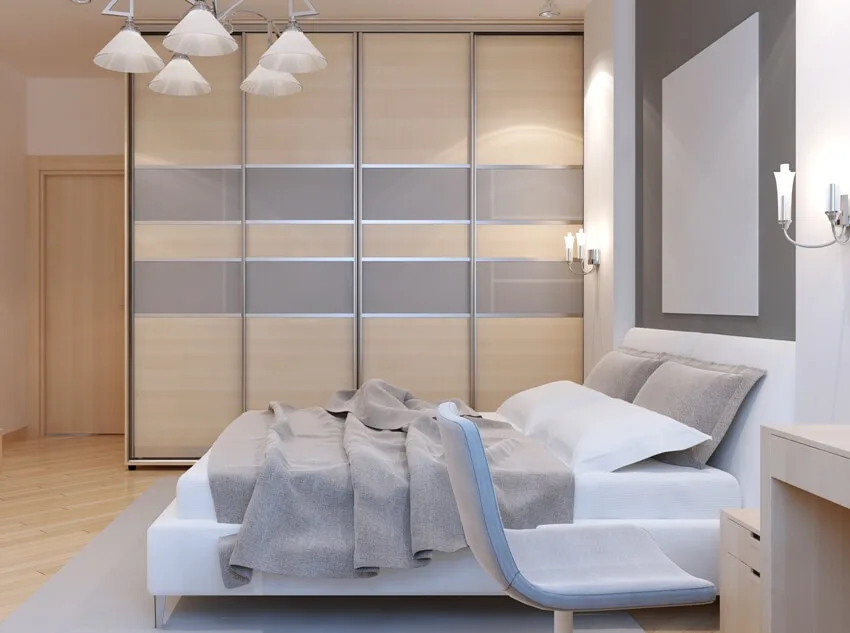 Built-in closets fit your storage demands, as it allows for several purposes. You may create shelves, drawers, and other storage areas to keep your clothing in your built-in closet. Built-in closets are a fashionable and contemporary addition to any home.
Most people make built-in closets extend to the ceiling. Many bespoke organizing systems feature a variety of clever techniques to make the built-in wardrobe not only functional but also easily accessible.

Closet Hanging Shelves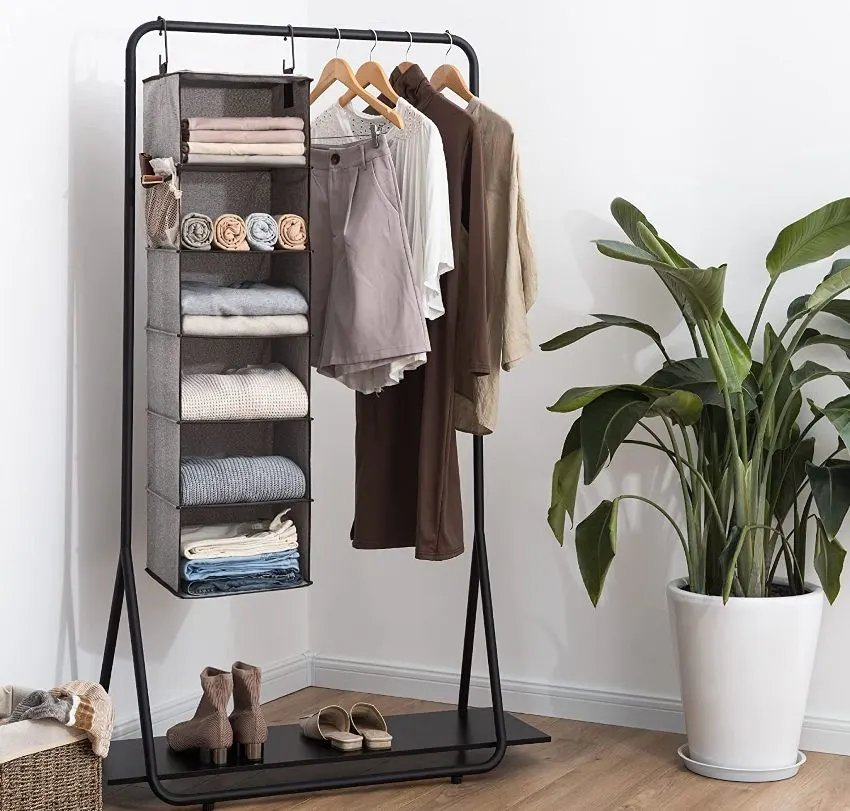 See this closet hanging shelves at Amazon [Sponsored link]
You can quickly change your closet, regardless of size or design, into a functional and organized place with closet hanging shelves. The idea is to use little wall space to make every inch count and create extra space for clothing and scarves on the wall.
Instead of standard brackets, these shelves generally include rope or chain hangings. Closet hanging shelves can change almost any area, from dramatic suspended forms to simple wall hanging styles.
Closet Organizer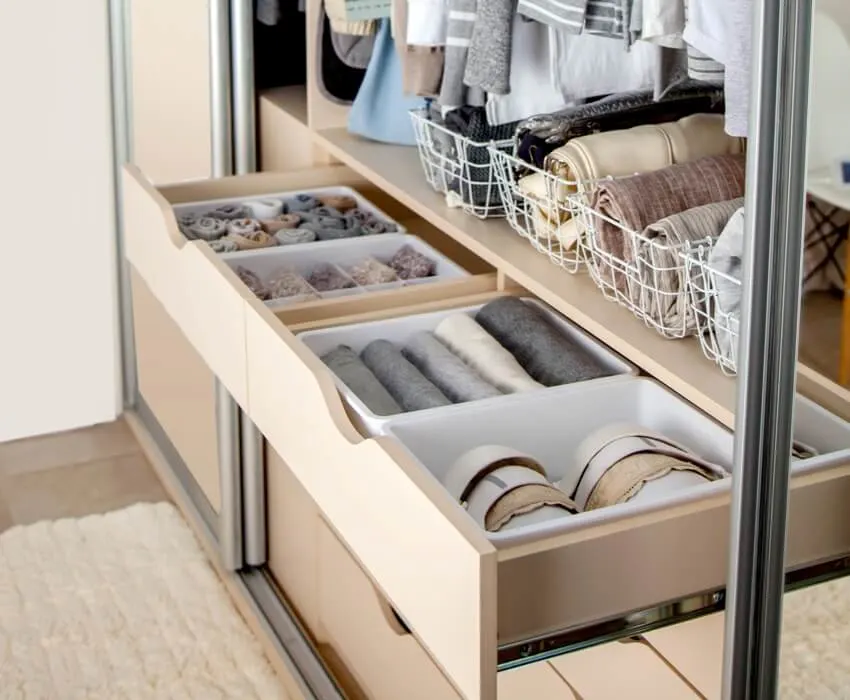 A closet organizer is a fantastic solution to increase storage space without taking up more floor space in your bedroom.
There are many types to pick from, including hanging and folding organizers, all of which have various shelves, racks, and drawers. Its elegant appearance makes it suitable for any bedroom.
When making your choice, search for one that matches your bedroom and complements the rest of your furniture.
Wall Hooks & Racks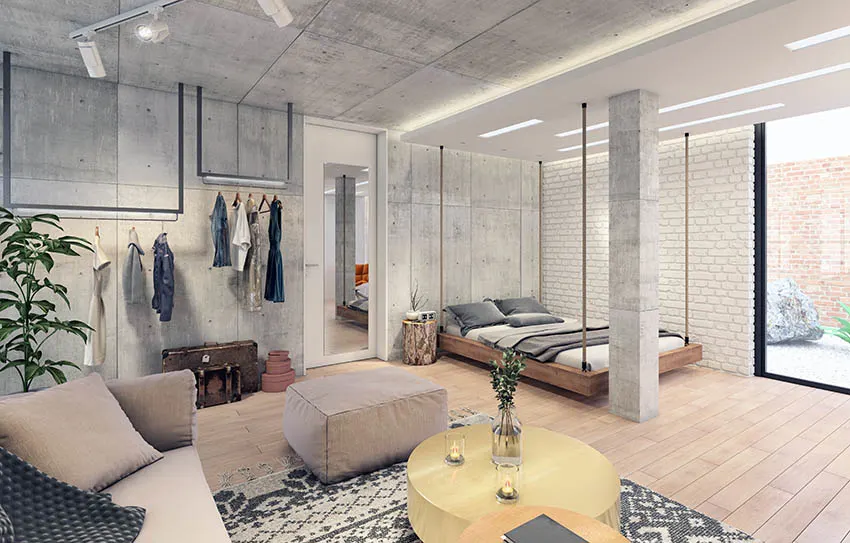 Installing fashionable wall hooks to keep your necklaces, ties, and scarves is one of the simplest and cheapest ways to get rid of a dresser.
They are also great for hanging towels or robes in the bathroom. A hook rack on a wall is both decorative and practical. Individual hooks may also be acquired and hung in your space at varying heights to enable you to put more oversized items without needing a second hook.
Over The Door Organizer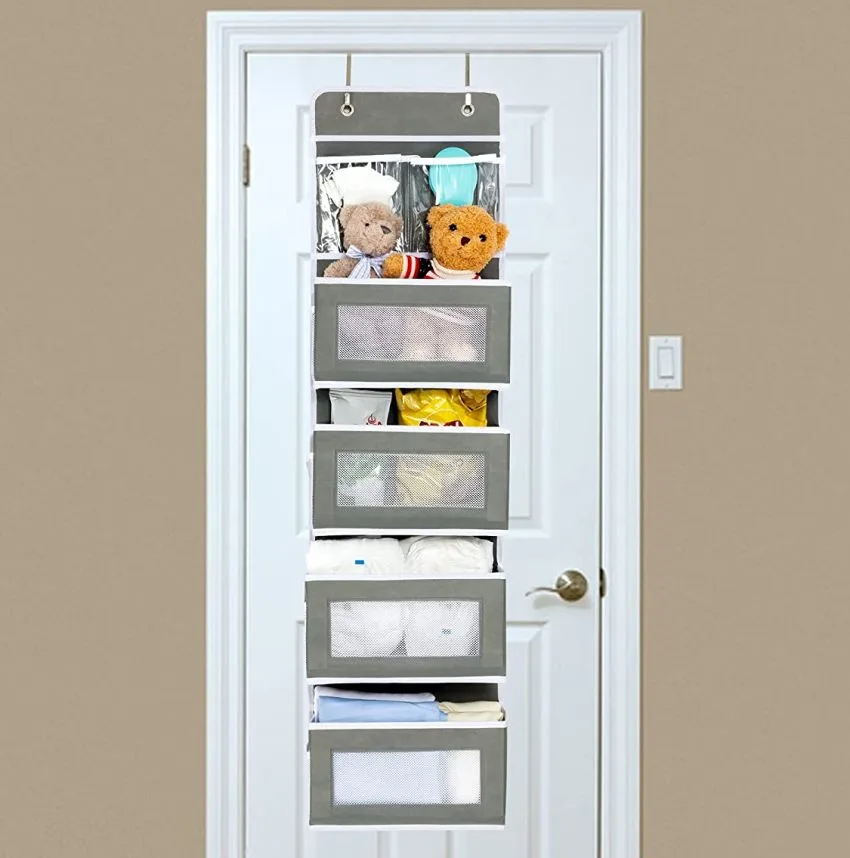 See this over door hanging organizer at Amazon [Sponsored link]
You may utilize over-the-door storage if you don't have enough storage in your room. You may use it to hang clothing and small luggage. This storage method will keep your bedroom clutter-free.
Add an over-the-door organizer with huge capacity see-through shelves to each door as an alternate option to store clothing and accessories. You may improve this style by folding your garments into smaller bundles.
Vintage Suitcases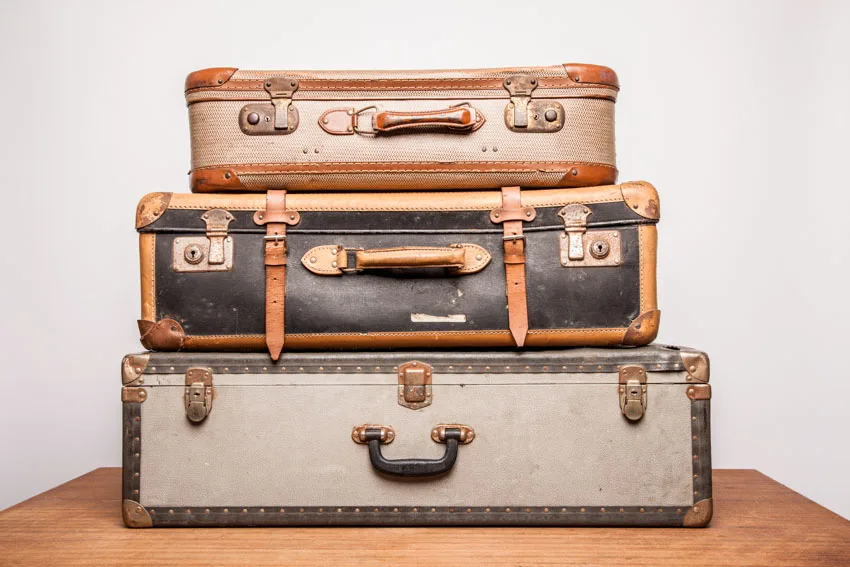 Vintage suitcases are one-of-a-kind alternatives to dressers. You may also use them as unique display pieces.
It doesn't matter if they have scratches since the idea of having a vintage suitcase is to have a used one, giving it character. So go ahead and acquire one with dents and scars; you'll have a piece of furniture that will only improve with age.
If you have attractive old luggage, use them for storage and stack them to function as a bed table or end-of-bed bench.
Clothing Hamper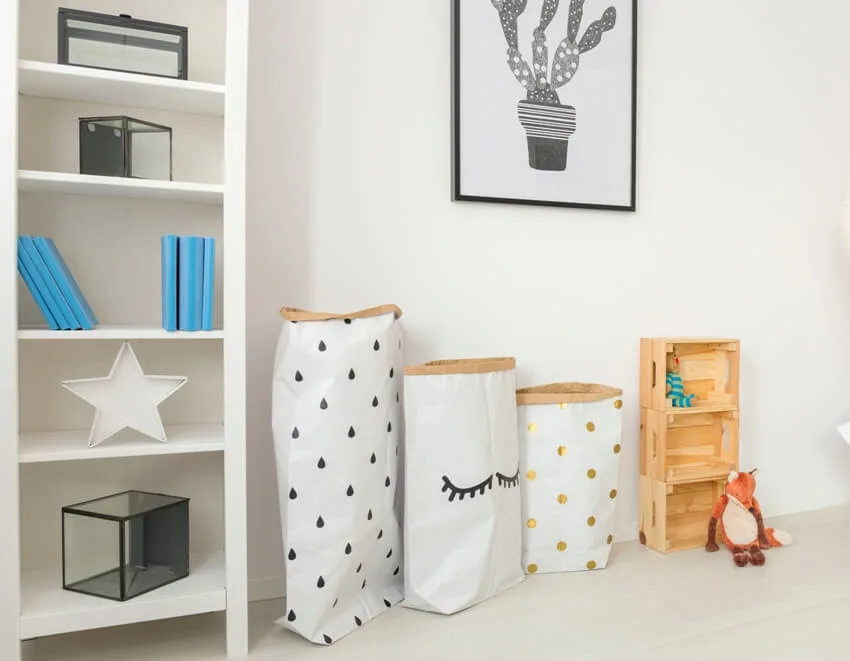 Some clothing hampers are too beautiful to be used for dirty clothes. You may accommodate bulky coats, sweaters, and other seasonal goods in a hamper. If it fits, place it out of sight in the corner of the bedroom or closet.
You may get a breathable, washable, and portable hamper to make storing as simple and stress-free as possible. Winter jackets and couch throw pillows are all excellent items to store in clothing hampers.
Closet Shelving Unit Above Clothing Rod
Have you ever tried hanging a garment on a doorknob? In this manner, you need a closet shelving unit above the clothing rod. They're often used to hang clothing in the bedroom, and some even put one in their laundry rooms.
Because it is practical and straightforward, a clothing rod is the most popular closet addition. Its clever use of space makes it stylish, and several rod designs are available.
S-hooks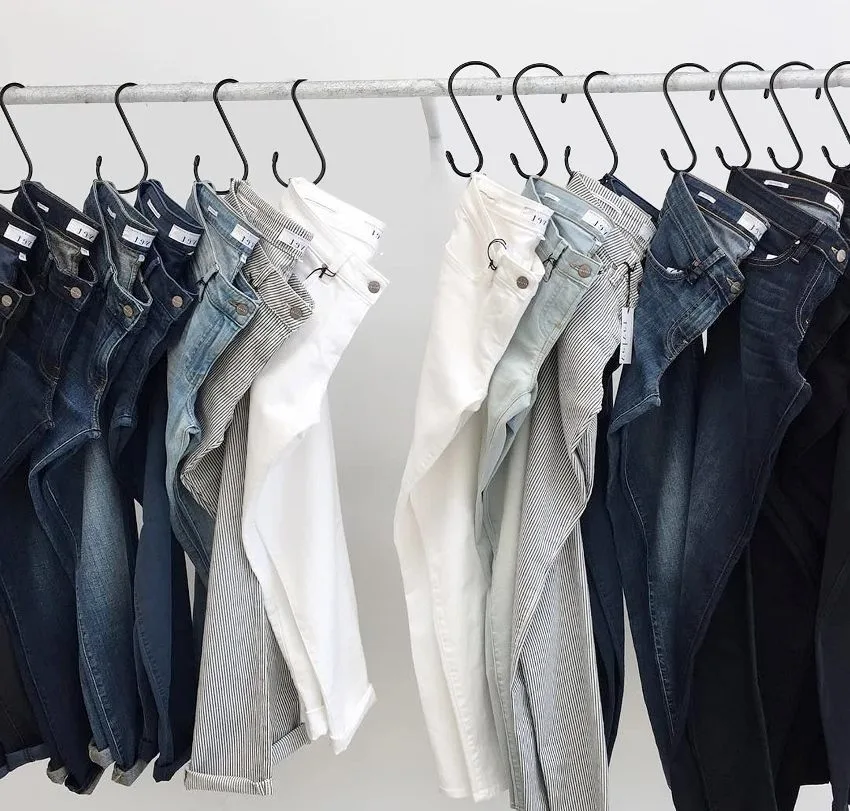 See this large vinyl coated S hooks at Amazon [Sponsored link]
S-hooks conserve room in your closet by allowing you to move jeans and other hangable things from your dresser to the closet rod.
S-hooks are available in various sizes, so be sure they are broad enough to fit over your rod. Choose hooks with rounded balls at either end to avoid poking your hands when looking for your favorite pair of jeans.
S-hooks are inexpensive and adjustable. You may increase the storage capacity of your walls, doors, and closets with S-hooks.
Storage Headboard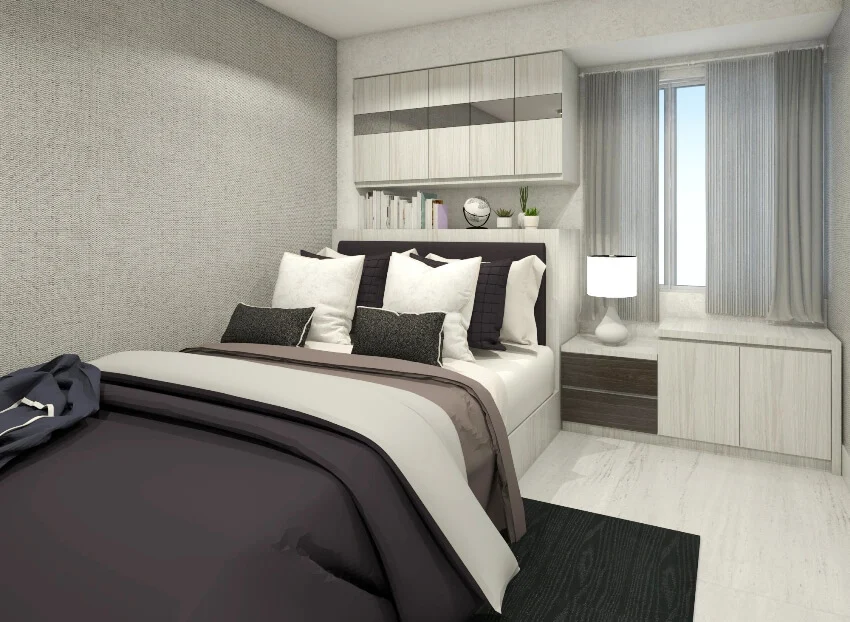 Headboards can be much more than just a pretty accent or something to rest against when reading in bed. If you're looking to improve, explore the options for this piece of furniture and think about selecting a headboard for your mattress that will provide additional storage.
Storage headboards can store clothing, shoes, and luggage. It increases your bedroom's storage space and improves your bedding set's appearance.
How To Organize Clothes Without A Dresser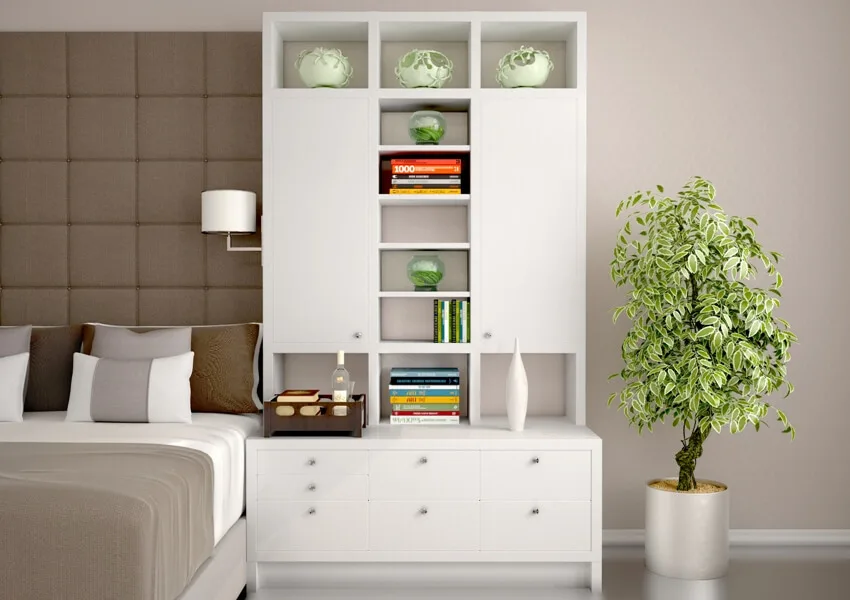 There are countless clothing storage alternatives without a dresser to keep your things nice and tidy. First, you need to declutter so that you only have to make room for clothes that you genuinely use daily.
Organizing and keeping fewer things helps you to readily reach your belongings and provides you greater peace of mind while getting dressed in the morning.
Use every available space to create dresser alternatives. It can be under the mattress or the back of the door.
Also, you can utilize the vertical space on walls to build shelves or floor-to-ceiling storage systems. Fold and arrange clothes items neatly to optimize space. Find out more storage ideas for small bedrooms on a budget here.
As you can see, obtaining a dresser replacement is not difficult. Remember that the unit size and design should be appropriate for your bedroom area.
For more related ideas, visit our article about the types of furniture styles with material options and design styles.