Discover all you need to know about walnut bedroom furniture , including what it is, durability, hardness, color, wood grain, the different types, and refinishing tips.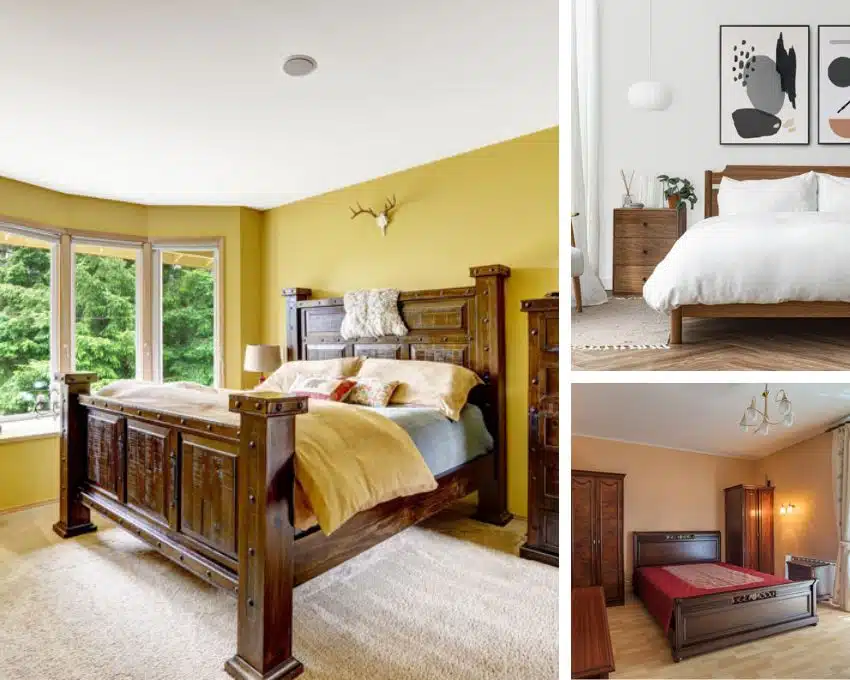 When it comes to creating a stylish, comfy, and warm bedroom, picking the correct furniture type and material is indeed essential – it can significantly make a huge impact. Interestingly, walnut is among the finest options for bedroom furniture. Because of the versatility, luxury, and timeless elegance of walnut bedroom furniture, it has become an increasingly popular furniture option.
The warm, rich, and eye-pleasing tones of walnut wood are what make it an ideal option for bedroom furniture. This hardwood material is widely used for building bedroom furniture pieces such as platform beds, dressers, nightstands, and many more. Interior designers prefer using walnut furniture pieces as they can match a plethora of interior design options.
Quicklook: Types Of Walnut Bedroom Furniture
• Solid Walnut
• American Walnut
• Black Walnut
What Is Walnut?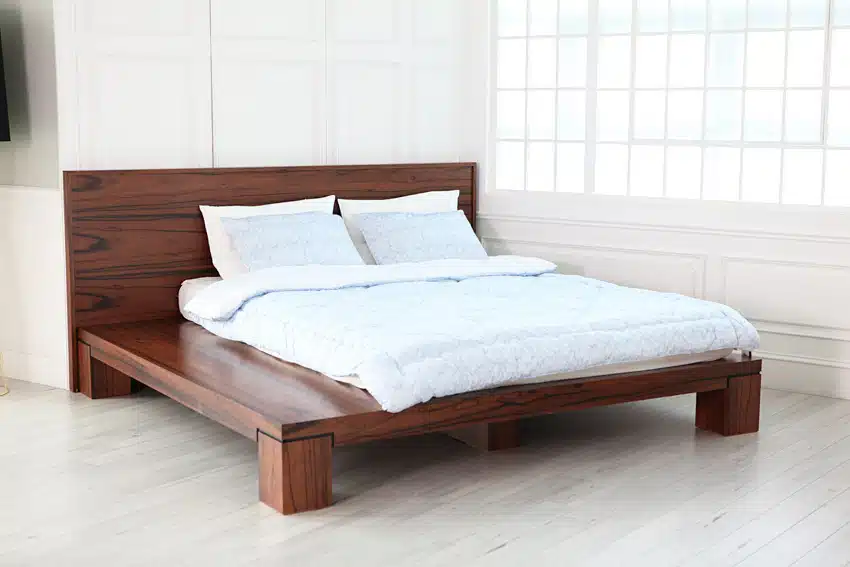 The timber of walnut is dark, durable, solid, and tightly grained. Furniture makers and interior designers value it for its exceptional strength, texture, and color. It also finishes well to an extremely smooth sheen and varies in color from creamy white sapwood to dark brown heartwood.
Genuine walnut wood acquires a beautiful patina over time. Hence, it maintains a large audience of passionate woodworkers and exquisite furniture enthusiasts as walnut is one of the most unique dark-brown native wood species. Walnut hardwood flooring, high-end cabinetry, kitchen accessories, and gunstocks are several examples in which this material is used inside a house.
Even though there are numerous types of walnut trees, only a few are native to North America. The Eastern Black Walnut, also known as American Walnut, is the most commonly used for furniture making.
Walnut finishes are now more nearly like the natural color of the wood and vary from light to dark brown. A medium light-brown tone that shows a figure of darker streaks is considered especially attractive – Utilization of Black Walnut, Warren David Brush
Walnut trees, especially black walnut trees, normally require significant sunlight as well as well-drained soil. They are located across the eastern United States as well as eastern Canada, although the healthiest and most well-known walnut trees can be prevalent in the American Midwest, particularly in Ohio, Indiana, and Illinois.
Walnut Durability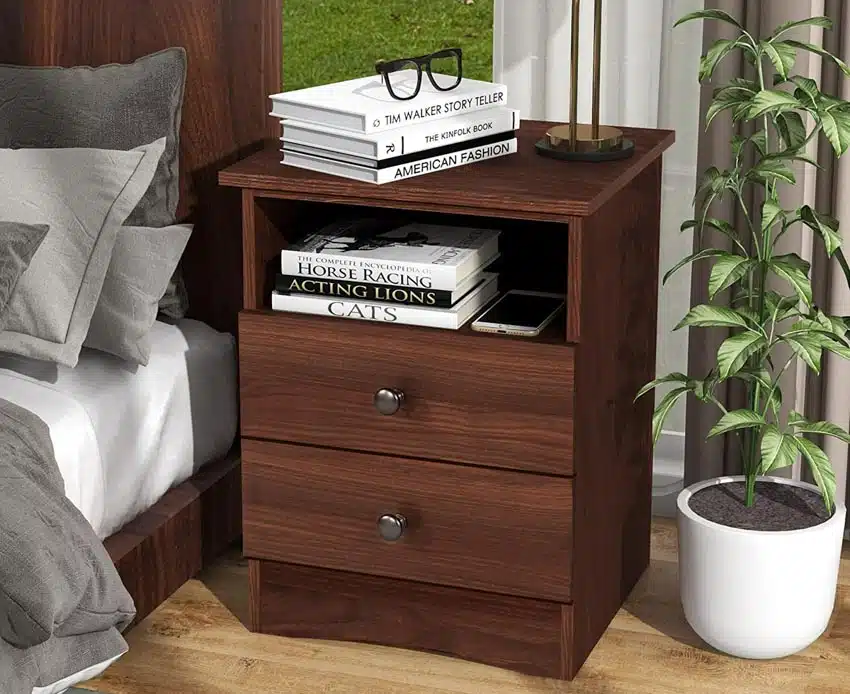 See this walnut wood nightstand at Amazon [sponsored link]
Walnut is a highly durable furniture hardwood material. Despite fluctuations in both temperature and humidity, it generally does not warp, and it is also rot-resistant. It is appropriate for both indoor and outdoor furniture because of its stability and durability. Walnut is a medium-density sturdy wood that is popular for different types of bedroom furniture as well.
Furthermore, walnut wood is long-lasting and requires minimal maintenance. With proper care, walnut wood can even last for 150 to 250 years. It is indeed a tried-and-true bedroom furniture material that can withstand daily wear and tear. Whether it is for bedroom closets, bed frames, bedside tables, cabinets, nightstands, or dressers, walnut wood would be a wise option.
Although walnut is relatively durable when it comes to decay resistance, it may be vulnerable to insect infestation. Furthermore, walnut wood is neither soft nor rock-hard. It may dent if you are careless with your bedroom furniture, thus, you may want to keep small and overly active kids and pets away from the precious walnut furniture pieces in your bedroom.
Walnut Hardness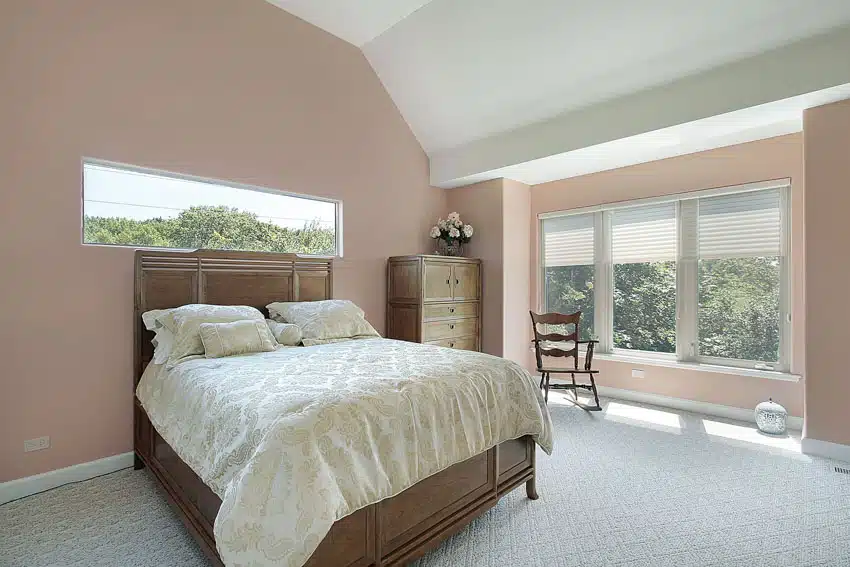 Walnut is a hard, medium-density hardwood with considerable bending and crushing capabilities and minimal stiffness. It has an excellent steam-bending grade. In fact, walnut wood has a Janka hardness rating of 1,010 lbf.
The hardness of a particular wood material is normally tested using the Janka Hardness Scale. A steel ball is usually dropped on a hardwood block during this experiment, and force is exerted until the ball is buried halfway.
The force is typically expressed in pounds-force (lbf). Walnut timbers can be rated either on their "side hardness," which is measured perpendicular to the wood grain, or on their "end hardness."
Walnut Color for Furniture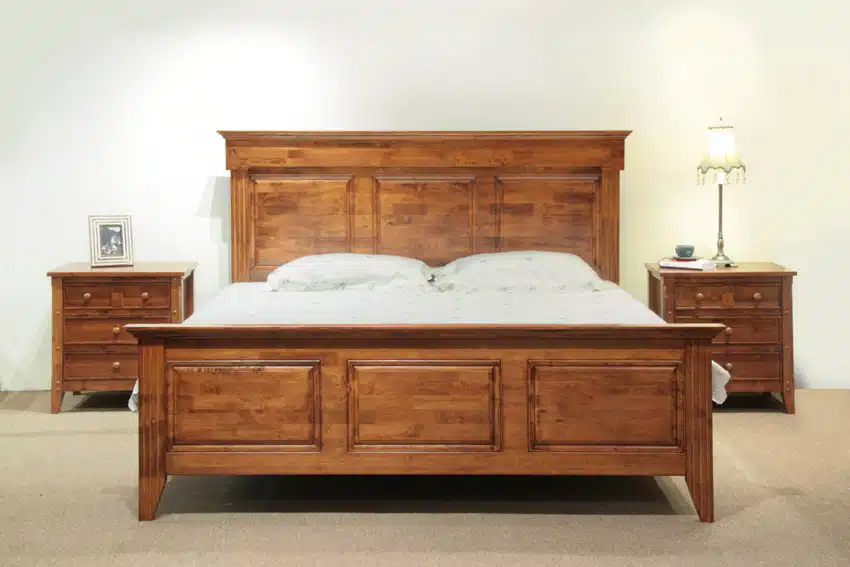 We normally see walnut wood in its darkest form, which may display a dark chocolate or coffee-like color. It is, in fact, the only dark-colored hardwood native to North America. Nevertheless, dark colors are usually only found in the heart of the tree.
The heartwood has lighter browns, lavenders, grays, and reddish hues. The sapwood, which refers to the outermost part of the tree that delivers the tree's nourishment, is normally a pale blonde tint, although it can also be yellowish-gray.
Unlike maple, cherry, or oak bedroom furniture, which all darken as time goes by, walnut wood usually lightens gradually. This process of aging is not as drastic of a shift as some other woods that woodworkers sell, and it can be delayed partially with an oil treatment, which soaks up the grain and provides a faint honey-like shade that comes out in considerable detail as the furniture item ages and additional oil is used.
Several factors can influence the inherent color of walnut wood. For instance, environmental elements frequently darken light wood and brighten dark wood, hence direct sunlight over time may typically lighten walnut wood bedroom furniture.
Although some homeowners or woodworkers apply stains on walnut wood to keep the darker color indefinitely, it is usually clear-coated or oiled. A clear coating does not completely prevent color change, but it can reduce it if maintenance is undertaken on a regular basis. An oil-finished bedroom furniture piece, however, must be oiled periodically to maintain its richer colors throughout time.
In addition, certain wooden furniture manufacturers may also use steam in their drying procedure to balance the coloring of the heartwood as well as the sapwood. This frequently brings out more gray tones in the bedroom furniture piece, which is a negative factor, according to several woodworkers.
Walnut Wood Grain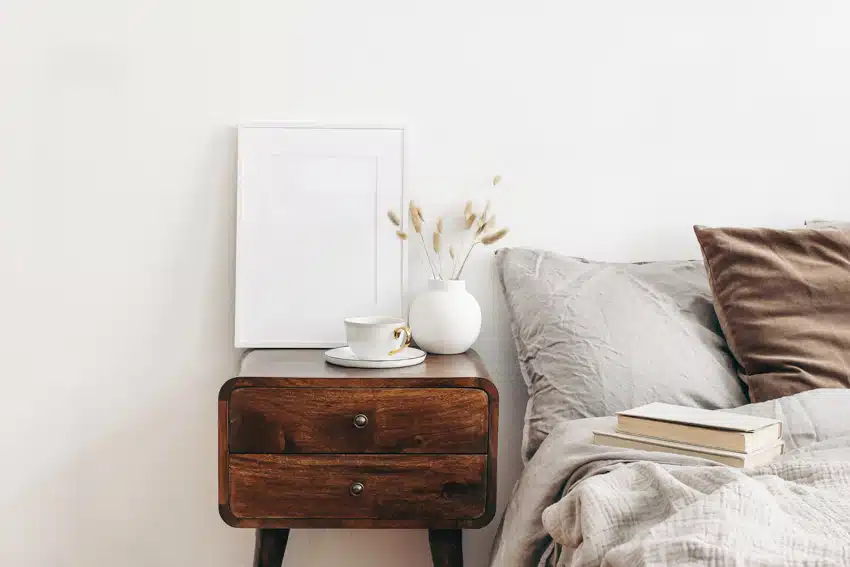 Walnut wood is typically straight-grained, although it can occasionally include waves or curves that add to the uniqueness of a bedroom furniture piece. The medium of walnut wood generally features a natural luster and a coarse texture, but it can be further enhanced using a particular type of finish.
Walnut is considered to be among the most aesthetic wood grain patterns, which makes it a bedroom furniture material option that is highly valued by both furniture makers and interior designers.
Walnut bedroom furniture pieces are indeed a versatile option, making them ideal for a vast array of applications. According to Dutchcrafters an Amish furniture maker, walnut wood has a straighter grain pattern when compared to oak wood which has a distinct looking wavy grain pattern.
Solid Walnut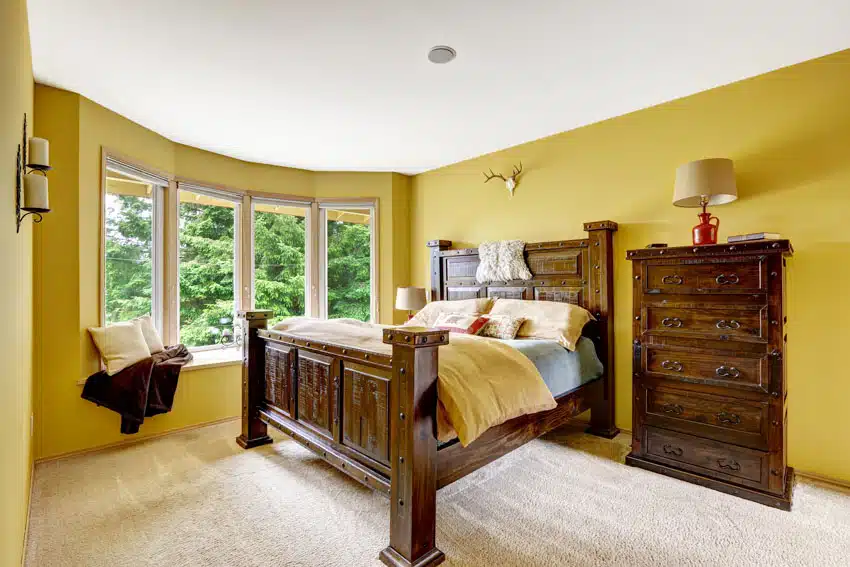 Solid walnut bedroom furniture is proven to endure a lifetime. In fact, it is a widely known option for homeowners who truly enjoy the inherent durability, attractive beauty, and naturally beautiful wood grain of the walnut. Most of the time, solid walnut bedroom furniture pieces are left unfinished to maintain their original beauty.
Moreover, solid walnut bedroom furniture has been a favorite option because of its versatility and timeless elegance. If you want to prolong its beauty and protect its original state, you have the option to finish it using a natural oil or lacquer. Wood paint or stains can also be applied to achieve a more artistic and modern appearance.
Due to the utmost stability, genuine elegance, and timeless appeal of solid walnut, it is often used for a vast array of major bedroom furniture pieces, which include bedroom closets, bedside tables, dressers, or beds. Plus, solid walnut bedroom furniture pieces are generally dent- and scratch-resistant, thus, they are very much ideal for bedroom furniture pieces that take daily abuse.
However, to keep solid walnut bedroom furniture from looking pristine and beautiful, homeowners must undertake regular cleanup and proper maintenance. Maintenance will be fuss-free as dusting using a wood cleaner and soft cloth would be enough. Polishing solid walnut bedroom furniture may also be a good way to preserve its natural elegance and warmth.
Finding solid walnut bedroom furniture pieces would be easy as they are commonly found in many home improvement stores and online furniture manufacturing companies. They are also obtainable in a wide variety of furniture styles, designs, and sizes, from traditional, rustic, to modern.
American Walnut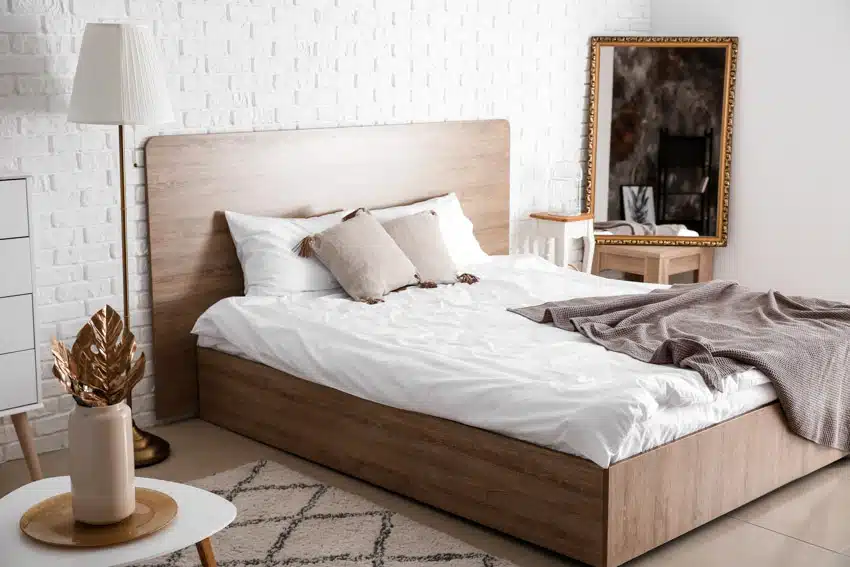 American walnut bedroom furniture is another popular option for homeowners who prefer walnut as a bedroom furniture material. It has been valued for its warm, rich hues as well as remarkable wood grain patterns.
American walnut, in fact, has been a staple hardwood material in American woodworkers' workshops. Moreover, American walnut bedroom furniture items usually have luxurious, complex, and artistic headboards as well as intricately turned legs; hence they are ideal for master bedrooms.
The color of American walnut bedroom furniture varies. It comes in a variety of colors, including pure white, creamy white, gray, reddish-brown, dark brown, and light brown. The hue of American walnut furniture is determined by the location of the tree from which it is harvested.
The sapwood, or outermost layers, are lighter in color. The heartwood from the tree trunk's core regions is deeper, with a reddish-brown or deep-brown hue and several dark patterns. The diversity of American walnut allows for the creation of one-of-a-kind bedroom furniture pieces with a variety of shades or even stark, bi-color designs.
Also, American Walnut wood frequently has a Janka score of 1010 lbf, which implies that it is ideal for high-traffic bedrooms. If you live in a humid climate, keep in mind that bedroom furniture constructed of American walnut can withstand warping and rotting. Although it is still important to take care of your bedroom furniture, bear in mind that American walnut wood is built to last.
A well-made piece of American walnut bedroom furniture can survive for decades due to its resilience. Furthermore, the longevity of bedroom furniture pieces manufactured of American walnut contributes to the long-term viability of American walnut trees as a renewable source.
Black Walnut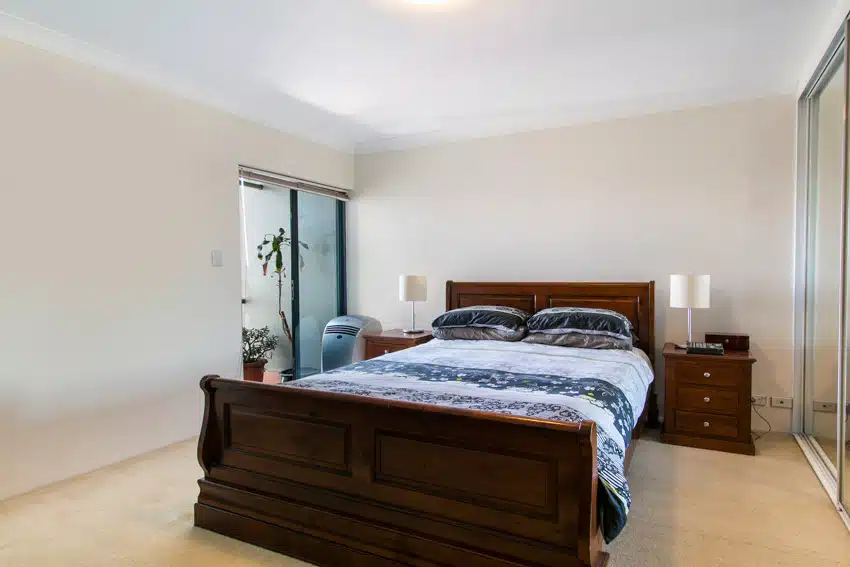 Black walnut furniture typically evokes a sense of confidence and even luxury for most people. Indeed, black walnut timber is greatly valued for its linear, dark, heavy, robust, fine-grained heartwood, which is suited to produce high-quality bedroom furniture.
Even in decay-friendly conditions, the heartwood of black walnut is among the most durable wood materials alongside cedar, black locust, and chestnut furniture pieces. Black walnut has always been a highly regarded material for bedroom furniture due to its distinct hue and grain qualities.
Black walnut furniture may look grayish, although other types of walnut may appear brown or white. Also, since this wood lightens with age, antique black walnut furniture might have a yellowish-brown tint. Furthermore, black walnut is frequently utilized to construct independent bedroom furniture items such as nightstands, extra armchairs, or bedside tables.
Furthermore, black walnut is an effective wood that is ideal for shaping, and it is also among the finest commercial hardwood species for wood-turning. Black walnut bedroom furniture is often straight-grained, can be easily handled using power or manual tools, and has exceptional machining qualities. Furthermore, black walnut bedroom furniture pieces finish beautifully, can be stained or painted, and are safely glued.
Aside from that, black walnut bedroom furniture has a powerful presence and establishes a mood – regardless of how prominent or subtle a bedroom looks. Black walnut furniture's robustness, beauty, and adaptability make it a fantastic option for decorative furniture items that will be passed down through generations.
When it comes to maintenance and care, black walnut furniture is simple to clean and will not fall victim to scratches, dents, or other sorts of damage as quickly as other common kinds of wood.
Walnut Vs Black Walnut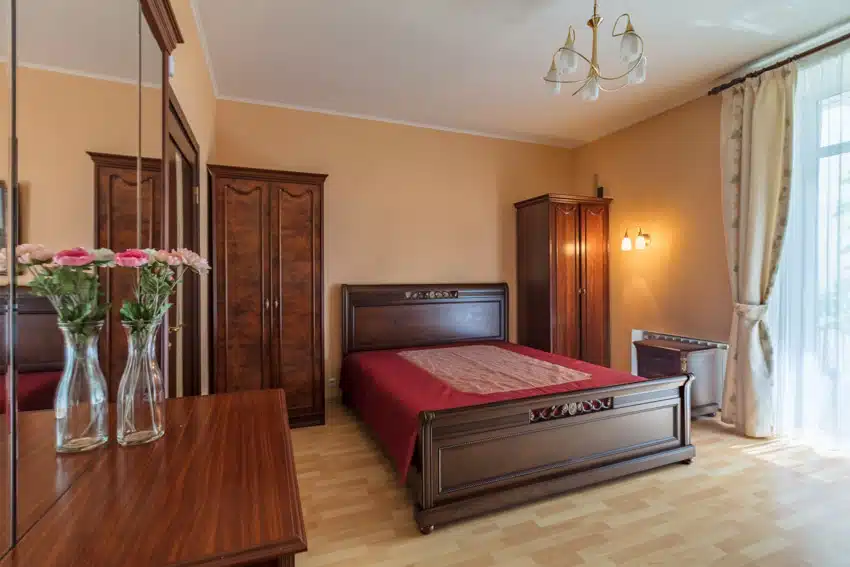 Walnut and black walnut are equally prestigious types of wood for furniture that are widely developed in the production of furniture. Although these two hardwoods have many similarities, there are a few key characteristics that distinguish them.
Black walnuts and walnuts are not always the same thing. Walnut is a type of tree that is indigenous to eastern America as well as Canada. The black walnut, on the contrary, is a walnut tree species endemic to the eastern and central United States, as well as sections of Canada. They share similarities yet are not exactly the same.
However, they are both members of the Juglandaceae class. Walnut trees are classified as Juglans, while black walnuts are classified as Juglans nigra. Even so, walnut is a kind of tree that produces edible nuts, whereas black walnut yields dark-colored timber.
The Differences Between Walnut and Black Walnut
Walnut:
• Walnut is a hardwood that ranges in color from light to dark brown.
• It is straight-grained and consistent in texture.
• The color is often light to medium brown, but it can vary from cream white to rich chocolate brown.
• It is utilized in the manufacture of furniture, cabinets, and flooring.
Black Walnut:
• Black walnut is a hardwood as well. Yet, it is dark brown to almost purplish in color.
• It is distinguished by its wavy or curly wood grain pattern.
• It is utilized in the manufacture of furniture, cabinets, and gunstocks.
The Key Differences Between Walnut and Black Walnut Furniture
Walnut Furniture:
• Walnut furniture pieces are produced from solid walnut wood, which ranges in color from medium to light brown.
• They have a homogeneous texture as well as a straight grain.
• Walnut furniture pieces are intended for more intricate and expensive furniture , including dining tables, chairs, beds, and cabinets.
• They are also resistant to cracks, dents, and various kinds of damage.
Black Walnut Furniture:
• The color of black walnut furniture is darker.
• The grain of black walnut is more complex; with curling patterns and occasional reddish and purplish streaks
• Because they have a more formal appearance, they can be used for more current and modern-style furniture pieces.
• Due to their scarcity, they are more costly than the standard walnut.
Walnut is an excellent option for individuals who want a lighter and more natural furniture appearance, whereas black walnut is great for those homeowners who desire a more striking and upscale appearance. Interestingly, both of these hardwoods provide remarkable durability, distinct character, and ageless beauty that will last for centuries.
Refinishing Walnut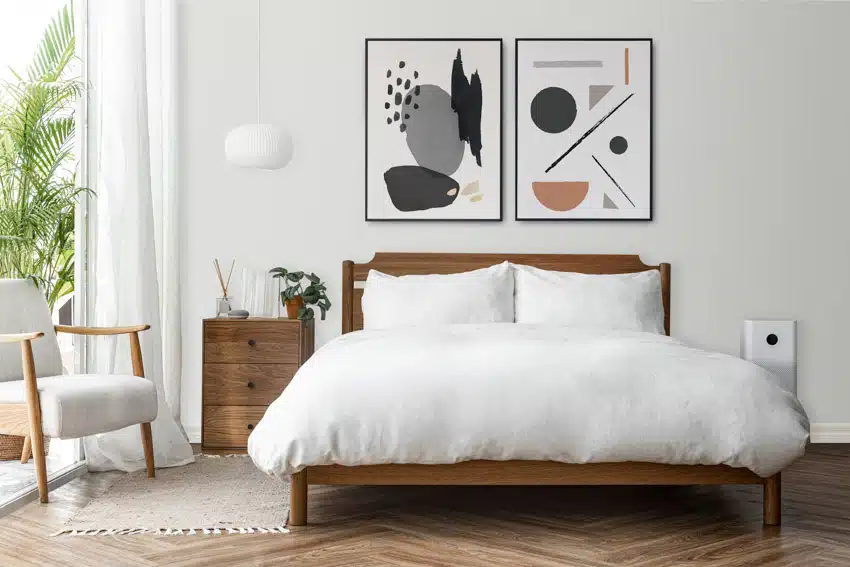 Refinishing your walnut furniture would be a wise move to update it and make it look brand new. The following are some steps, tricks, and reminders that will guide you in your walnut furniture refinishing process:
Things You Will Need in Your Walnut Furniture Refinishing Procedure:
• Sandpaper
• Chemical stripper
• Paintbrush
• Denatured alcohol or any mineral spirits
• Paint, stain, or any finishing treatment that is suitable for walnut wood
• Cleaning cloth or towel
1. Inspect the Current Condition of Your Walnut Furniture: You have to take a closer look at your walnut furniture before you actually begin the refinishing procedure. What you will need to do is assess if there are dents, cracks, or scratches on your walnut furniture and observe if they require either minor or major fixes.
If your walnut furniture does have a thick layering of old paint or any finishing treatment, we recommend using a chemical stripper first to strip the treatment off. By doing so, you will prepare the surface to be refinished safely and smoothly. If practical, you can disassemble the furniture piece you are working on to thoroughly refinish every part of it.
2. Start by Sanding the Walnut Furniture You Are Working On: After inspecting your walnut furniture, you can now sand it using rough-gritted sandpaper, suggestively 80 grit. By doing so, you will remove any old paint, stain, or treatment from the walnut furniture surface. Make sure to sand your way toward the wood grain and only work in small parts.
Once you are done removing the old paint or stain from the walnut furniture, you can now start switching to fine-gritted sandpaper, suggestively 120 grit. Sand the entire walnut furniture surface until you observe a smooth, scratch-, and damage-free surface.
3. Apply Your Chosen Stain, Paint, or Any Wood-Compatible Finish: Your walnut furniture as of now should be well-sanded and smooth. After that, you can now apply the stain, paint, or any wood-compatible finish that you have.
If you are using paint, stain, or polyurethane, ensure making use of a gentle paintbrush and work toward the direction of the walnut wood grain. The amount you will apply should be thin yet even. If there are any excess stains or paint, gently wipe them off using your clean cloth.
Let the finishing treatment dry completely after applying it. After several hours of the drying process, you can gently start sanding again the finished surface to prepare it for a second finishing coating.
4. Apply a Second Coating: Adding an extra protective layer on top of your refinished walnut furniture would be a wise move to maintain its beauty for a long time and increase its durability and longevity.
A wax- or oil-based coating might be a smart second coating option to protect the walnut from several elements. You can apply the second coating by working your way toward the grain of the walnut wood.
5. Reassemble the Furniture Piece You Are Refinishing and Finalize the Process: Once the second coating totally dries, you can now reassemble or reposition your walnut furniture piece to its whole and original state.
How To Clean Walnut Furniture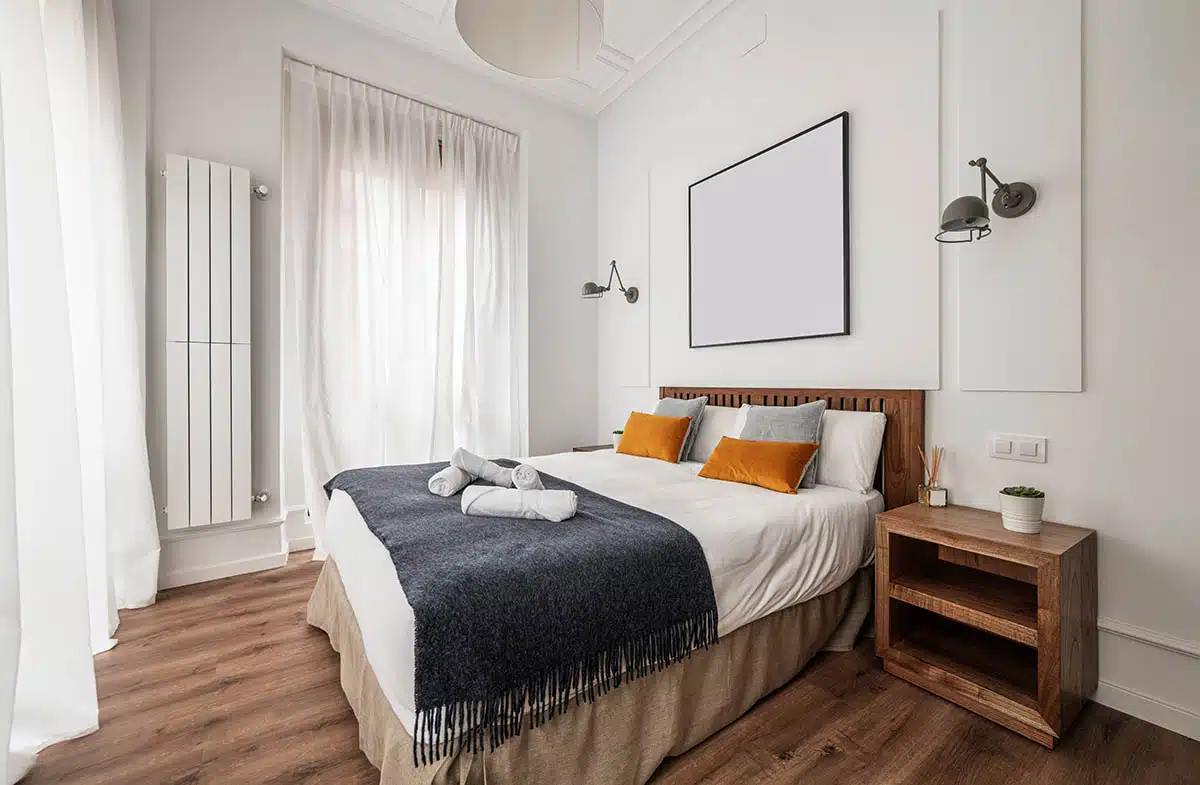 Here are some techniques that you might want to try to clean your walnut wood furniture effectively:
• Cleaning Your Walnut Furniture the Basic Way: Regular basic cleaning is necessary for keeping your walnut wood furniture in good condition. You need a cleaning solution for this that is delicate but effective, and the solution we normally suggest is as simple as it sounds.
Simply combine equal parts white vinegar with hot water and spray it over the walnut furniture surface before wiping it down with a soft and clean towel. This cleaning solution can be used to disinfect wood furniture, as well as wood floors.
It can help in effortlessly removing dust and debris while allowing the walnut's inherent beauty to come through. Do not, however, worry about the vinegar odor as it will go away once the cleaning solution gets absorbed by the walnut.
• Using a Stronger Yet Natural Cleaning Solution: You will need a cleaning solution that is a little more powerful for older walnut furniture or furniture items that have not been well-maintained.
Hence, we recommend combining 1 tablespoon of white vinegar with 3 tablespoons of olive oil in a container. Spray small quantities of the solution on the furniture with a towel. This will help in gradually removing dirt and grime and regaining the shine of your walnut wood furniture.
• Using a Powerful Polishing Solution: Grating beeswax until you get a fourth of a cup would be required. You can combine this with one cup of walnut or olive oil. The beeswax must then be melted and mixed with the oil of your choice, and before using the solution, they should cool down first. To avoid segregation, keep stirring the beeswax and oil until it cools. The ideal applicator would be a soft cotton cloth.
See more related content in our article about shaker bedroom furniture on this page.