Here we share shaker bedroom furniture designs including what this style is, the different types, materials used, and where to buy shaker style bedroom furniture pieces.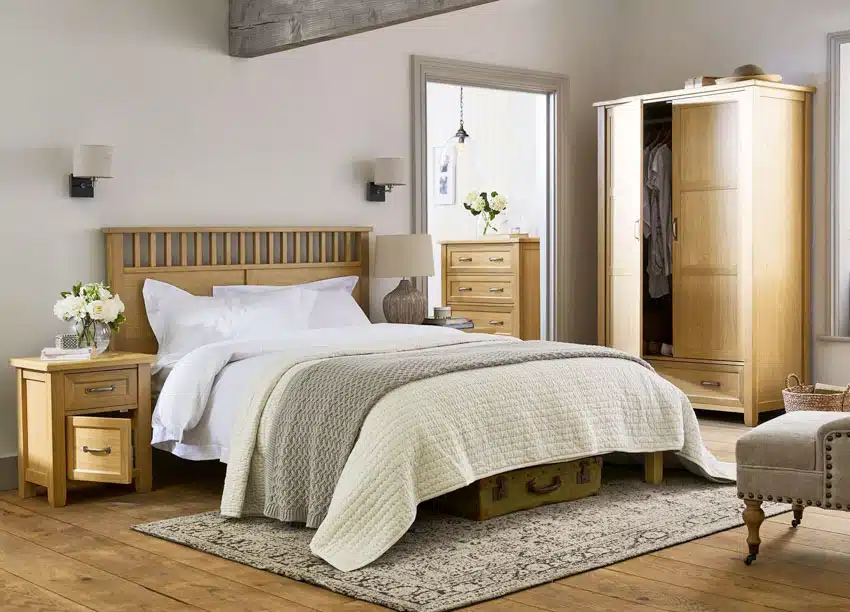 There are some moments when simplicity is key in your furniture. Maybe you take a modern approach to your space and only the minimalist idea of decor will do. On the other hand, maybe you already have plenty of striking focal points in a busier decor scheme.
Plus, you might just need a simple touch to bring everything together and suit a specific need. In any situation, Shaker bedroom furniture will help offer you beautiful, sturdy furniture that will last years to come.
What Is Shaker Bedroom Furniture?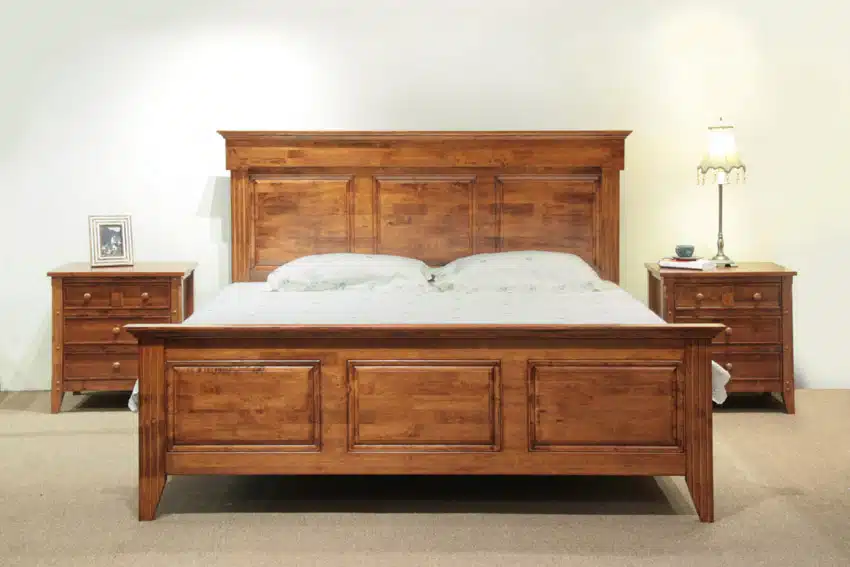 The Shakers are a religious community with their own unique culture and, much like the Amish, the furniture they build and have built has long been admired by those outside the community. Shaker-style furniture is defined by its simplicity and functionality however, unlike the Amish, Shaker-style furniture is often made with the help of electric tools.
Here, you'll find furniture that looks great but won't be ornately decorated. The idea here is pure practicality. The furniture is sturdy, meets your needs, and fits into your decor but it avoids excessive decoration. This comes back to the concept of not being too prideful in day-to-day life – even down to the furniture.
So, when you're looking at Shaker-style furniture, you'll notice distinct characteristics like clean lines and utilitarian designs that might bring to mind some of the same principles as minimalism in a way.
When it comes to the cabinet designs for Shaker style you will not find intricate carving details or inlays. Instead, Shaker cabinet doors have a simple yet stylish four corner frame with an inset panel to make up their distinctive style.
Still, despite this practicality, you have plenty of options when it comes to the Shaker-style furniture you choose in your home. Not to mention, the simplicity of the furniture means that it fits into a variety of decor styles no matter if you're looking for something more traditional or even something more modern and minimalist.
Adding to the versatility is that you can find Shaker style furniture to fit into almost any room. After all, Shakers have needed their whole homes furnished over the centuries just like you.
Expert tip:
For a modern touch, use nickel or stainless-steel bar pulls to transform traditional Shaker cabinets into contemporary style cabinets. – interior designer Maria Bott.
White Shaker Style Bedroom Furniture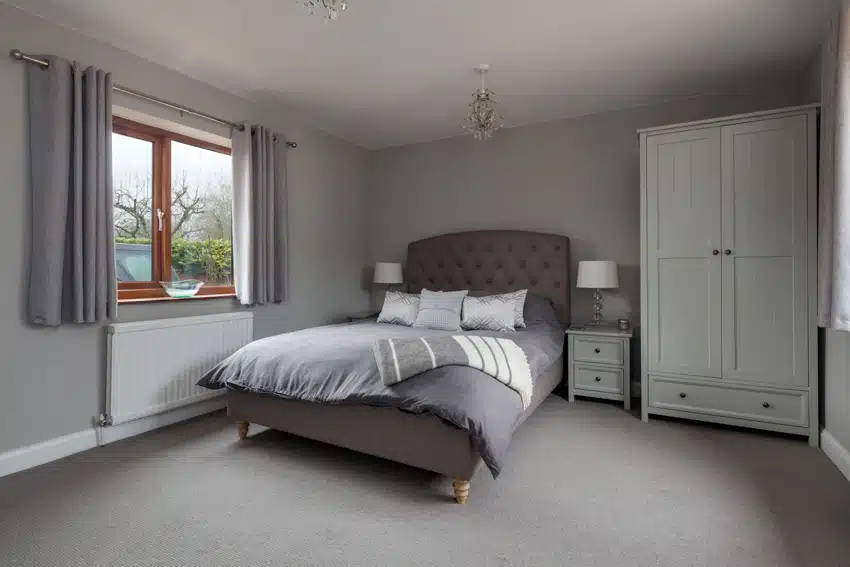 White furniture is often popular because it offers a clean, light look that is neutral enough to go with any color. It's a particularly popular choice when you're talking about rustic or even beach house decor. When you're talking about Shaker bedroom furniture, you'll, of course, be looking at white wood furniture.
The good news is that plenty of types of wood take to stains and paint. As a result, it's not hard to find white furniture that suits your wants, even when you're looking at Shaker bedroom furniture specifically.
If you find something you love, you may even be able to paint it to match the white decor you want on your own. The only downside to white furniture is the maintenance. As you might expect, your white furniture is a lot more likely to show smudges and stains than a darker option like brown.
However, it's not as impossible to keep clean as you might think. As long as you keep up with regular cleanings, you shouldn't have too much of a problem. Not opting for glossy paints will help prevent every single smudge from showing up right away too. Still, it might prove a challenge in a children's room, for example.
Modern Shaker Furniture for the Bedroom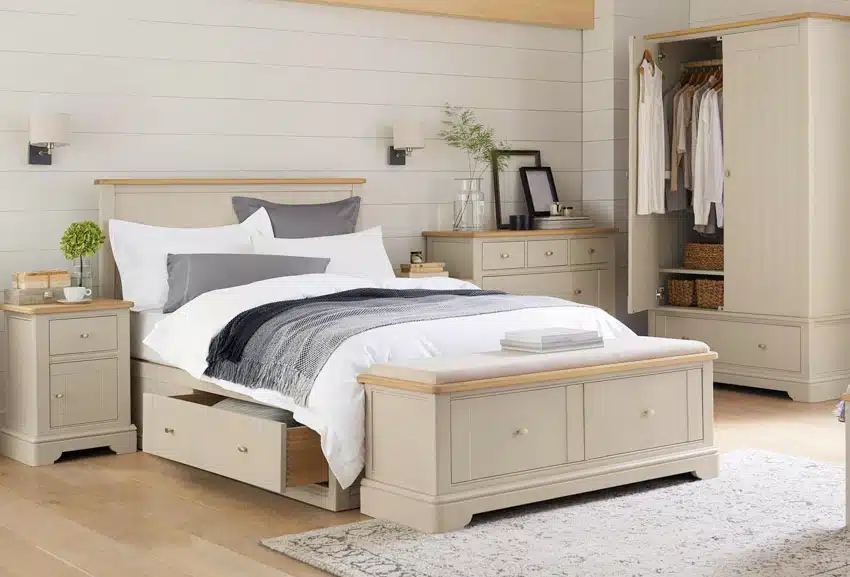 When you think of modern decor, you probably think of minimalism and stark lines. These features both have their place but Shaker bedroom furniture can actually fit into these monochromatic themes better than you might think.
A great way to complement the more well-known aspects of modern decor schemes is to bring in a bit of nature. As such, it's popular to use some natural materials in a modern home design.
Wood furniture is great to add a bit of natural color and it's easy to shape from natural gnarls and branches into certain types of dressers with smooth planes and beds with pin-straight lines in the headboard design. Plus, varying types of wood can help you match your decor scheme or serve as a great way to create a focal point of your furniture.
Shaker-style bedroom furniture has a particular appeal to modern home design. This is because, by its principles, this type of furniture is simple. That fact matches up well with the principles that modern design is built upon too – an appreciation for clean lines. Shaker bedroom furniture is made to serve its purpose and it won't add much visual clutter to your bedroom.

Expert tip:
The straightforward design appeal of Shaker cabinets make them perfect for more modern interiors that lean towards a minimalist & clean aesthetic. – interior designer Rachel Razal-Padilla.
Solid Wood Shaker Type Furniture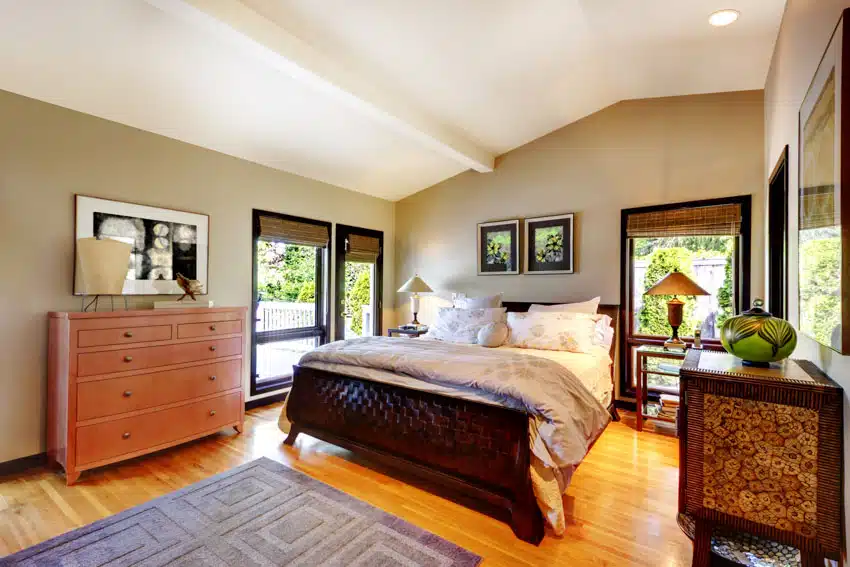 As we've covered, Shaker furniture is built to last and woodworkers following this practice often rely on different local materials to help build the furniture. So, there are a few aspects of Shaker bedroom furniture construction that help reach that goal.
One thing that makes Shaker furniture so strong and long-lasting is that it's often made out of solid wood. While it can be made out of a variety of different woods to take advantage of their individual benefits and appearances, this has a universal appeal in making for a strong, versatile piece of furniture that will fit in any home like it always belonged there.
Solid wood furniture is often praised for its warmth as well. As such, even simplified designs like those favored in Shaker bedroom furniture will help make your room even cozier with your new bedroom furniture set.
Yet, you'll also want to be aware of the individual drawbacks of the wood you're using. Some general things to watch out for are things like sensitivity to moisture and vulnerability to pests. Most solid wood furniture is rather heavy too, although hardwoods tend to be heavier than softwoods when you're comparing the final weight of the products they form into.
Furniture Materials Used in Shaker Bedrooms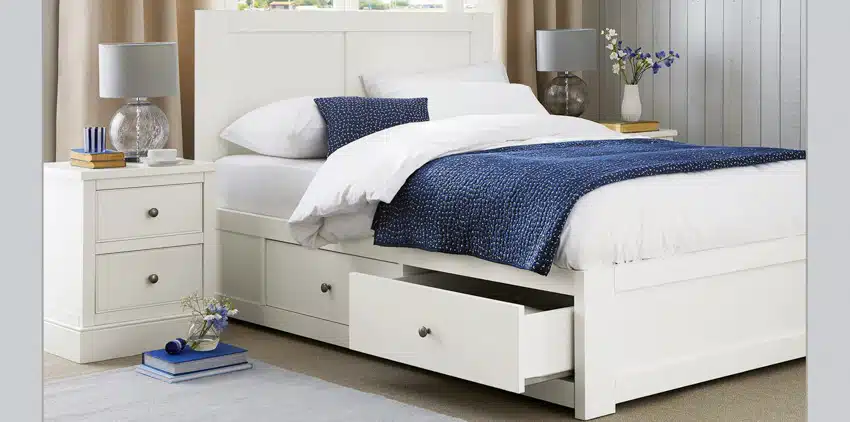 Shaker bedroom furniture – as well as any other type of Shaker-style furniture – was made with local wood options for communities. Today, you can find these types of bedroom furniture made with woods like alder, cherry, maple, and oak.
Cherry Wood Furniture in a Shaker Bedroom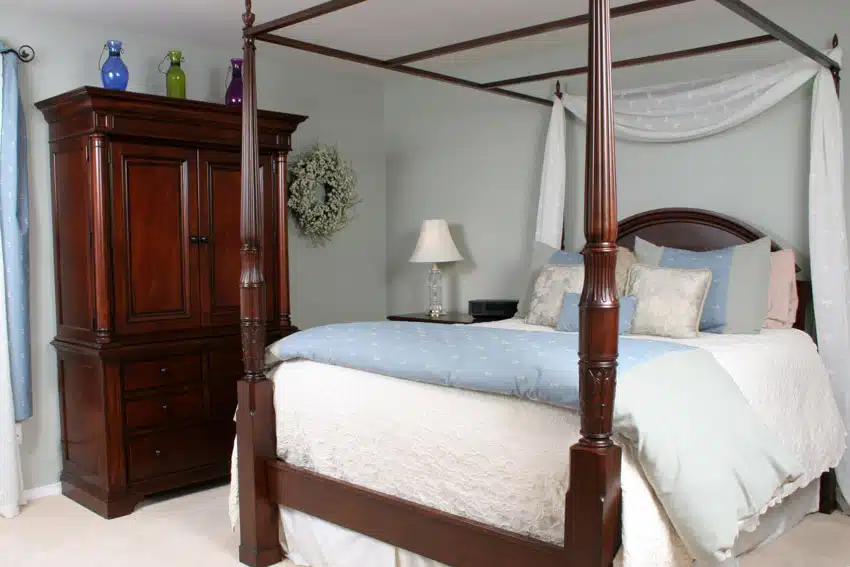 Cherry wood is a common choice for Shaker bedroom furniture and the material has its own unique pros and cons to bring to the table. In appearance, cherry wood has a reddish-brown tone that deepens as it ages.
This change of color as the furniture ages is sought-after by some while others don't prefer this visual sign of aging in their furniture. There's still some variance in how these shades are present, enough that you'll likely see some minor variation between different pieces of bedroom wood both made from cherry wood.
For the people making the furniture, cherry is flexible and rather easy to work with. So, it's easy to see its appeal of it to woodworkers and thus its popularity of it among consumers.
The end result is something that will last you years to come too. Keeping with the practicality of Shaker furniture, cherry wood is known for its strength and durability both in indoor uses like bedroom furniture and even outdoor uses as well.
Cherry wood has a hardness of 950 on the Janka scale which is lower than some other hardwoods such as oak, maple, and walnut. However, it is still a very strong wood with a beautiful straight grain that works well for furniture construction.
However, you won't want to try to stain your cherry Shaker bedroom furniture without doing plenty of research. This type of wood is one of the more difficult options to stain but it's possible. Still, many find the natural color of the wood beautiful enough with its natural coloring.
Maple Shaker Master Bedroom Furnishings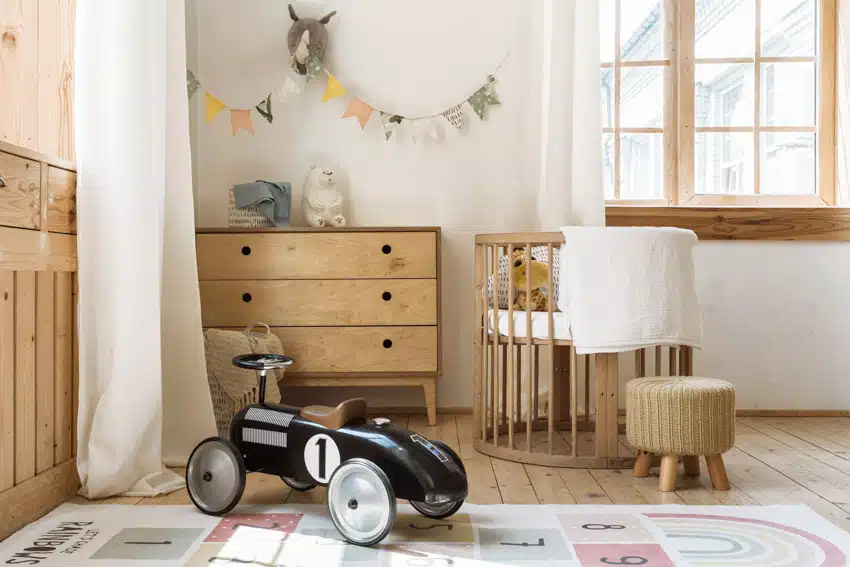 Maple is another common material choice when it comes to Shaker bedroom furniture. This hardwood comes with a lot of benefits, so it's often used in construction, flooring, furniture, and more.
On a practical note, maple is incredibly durable. So, when you purchase maple Shaker furniture, you can rest easy knowing your new bedroom set is going to last for years to come, making maple wood furniture a worthwhile investment. Maple wood provides a hardness of 1450 on the Janka scale making it an extremely durable variety of wood.
Its smooth straight wood grain is attractive. With resistance to dust and decay, it's not a bad choice if you're trying to keep allergens out of your home. It's wear-resistant as well, meaning it won't break down quickly even if it's a piece of furniture you regularly use, like a dresser, desk, or bedframe.
Of course, maple is also often highly regarded for its natural beauty. With a uniform appearance, they're well-suited to a decor scheme with less variance. If you decide to opt for furniture with a polish, maple takes to this rather well.
There are a few downsides to maple. To start, the material tends to fade over time, so your furniture may change tone as the years go on. This is often seen quicker in maple furniture that sits in the sunlight. On that note, maple is better used indoors but that's not likely a problem when you're considering new bedroom furniture.
Oak Shaker Furnishings for the Bedroom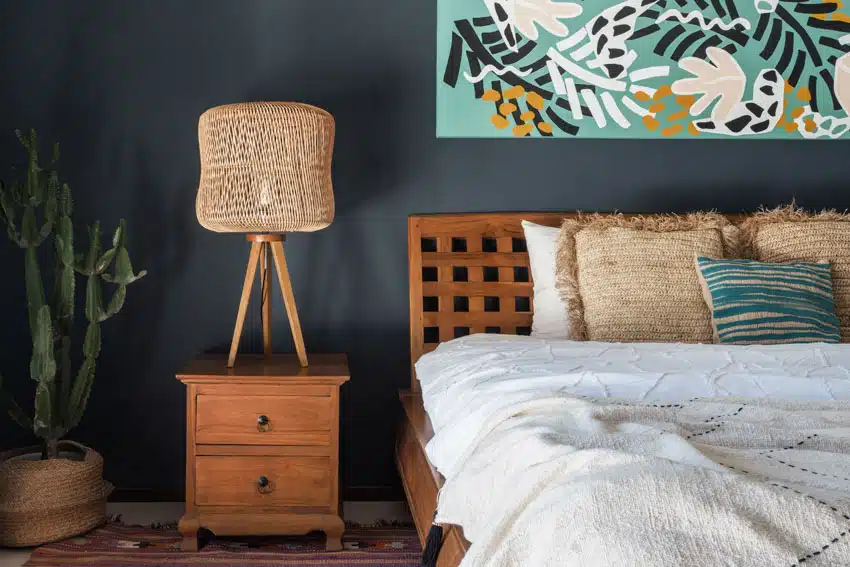 Oak is another hardwood that's not uncommon to see when you're looking around at Shaker bedroom furniture. There are a few different ways that you can benefit from oak and the fact that it's so ample makes it a popular choice for furniture and more.
As a material for furniture, oak is rather dense. This means you aren't going to have to worry about it breaking easily. It's also favored for how easy it is to work with, making it popular among woodworkers.
As for its longevity, it not only boasts strength but a few features you don't always get from wood such as water resistance and the ability to resist warping and shrinking. It's not prone to rotting either and it's highly available for interested customers.
The hardness of white oak wood ranks 1360 on the Janka scale while red oak ranks 1290. Its timeless look and wood grains make it a solid choice for furniture makers. There are a few drawbacks to oak too.
In appearance, you'll likely see it darken over time. Exposure to sunlight will speed this process along, so the sunrise spilling across the bed may contribute to your bedframe darkening over time. The good news is that oak takes stains and finishes rather well.
Another consideration is that oak is a rather heavy wood as well. This means moving your new bedroom furniture from place to place can be a hassle.
Bedroom with Shaker Alder Furniture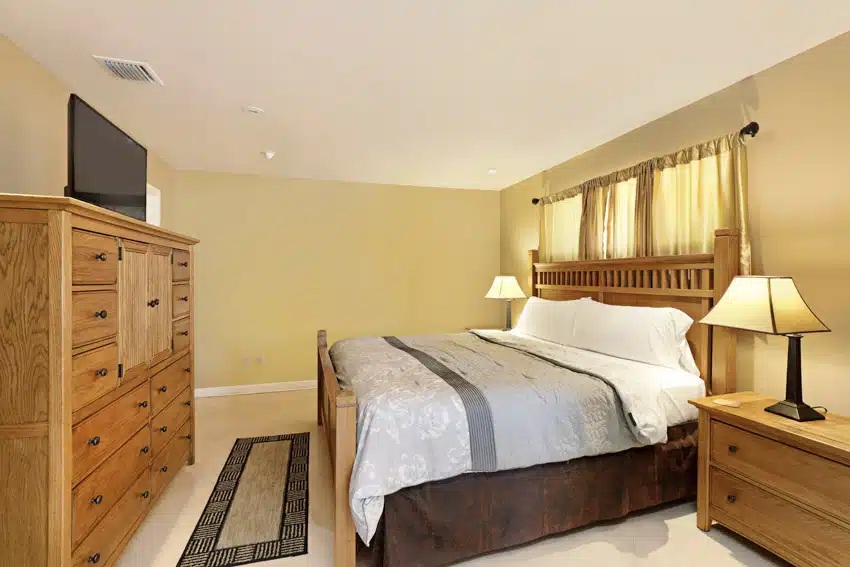 Alder wood is a rather light-toned wood. If you look at the tree, you'd mistake it for white but by the time it's constructed into bedroom furniture, you'll likely see a pale brown color with undertones ranging from yellow to white. It also darkens over the years but this tends to bring out these undertones, something that not everyone is against – it all comes down to taste.
Aside from being gorgeous, this type of wood has some working facets that help make it a great choice for bedroom furniture. This includes the fact that it's easy to stain and works well with screws, nails, and glues. This makes it much easier to work with.
Unlike oak, alder wood also has the benefit of strength without excessive weight. It manages to make for strong but simultaneously lightweight furniture. This wood also offers the added feature of shock resistance.
There is a wide range of harnesses among the types of alder wood. They typically range from 590 to 1690 on the Janka scale depending on the variety. For instance red alder scores only 590, European is 650, white alder is 1320 while Nepalese alder comes in at 1690 on the Janka hardness scale.
What about the downsides? Well, while it's strong, alder wood isn't going to hold up to wear and tear the same way that oak or cherry might. As such, you'll want to be careful of denting or damaging the wood.
It's also sensitive to moisture, so it's best kept away from humid environments like the bathroom unless treated. Those who have unfinished alder kitchen cabinets may want to treat them with a dewaxed shellac sealer and lacquer combination.

Who Makes Bedroom Furniture Inspired by the Shakers?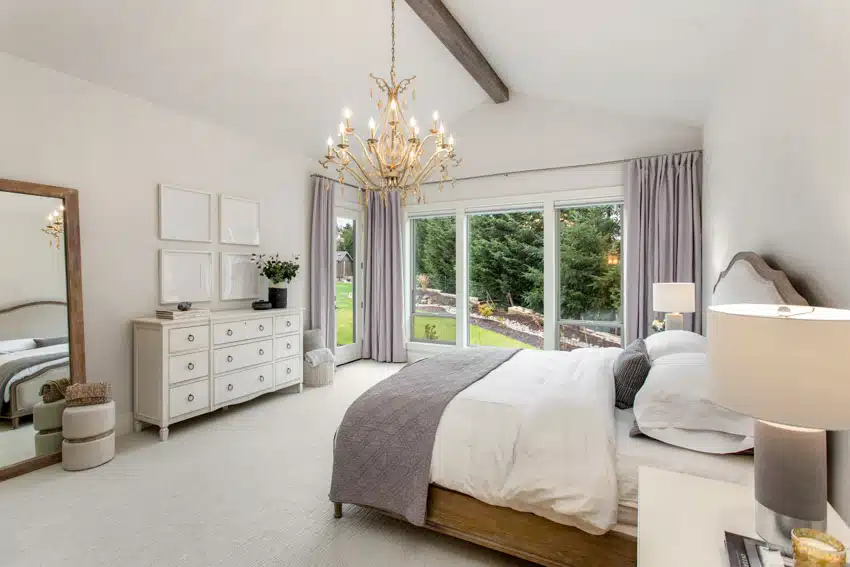 Today, the Shaker-style bedroom furniture that you find likely isn't made by Shakers themselves. The community isn't as large as it once was but there are still plenty of places that you can turn to when you want to add Shaker-style furniture to your bedroom.
A good idea is to start looking for places where you might get Amish or Amish-style furniture as well. You can turn to stores like Countryside Amish Furniture, Dutch Crafters, or the Amish Outlet Store. These all offer options for simple, wood furniture that will last you years to come.
You may also be able to find woodworkers that offer a variety of furniture styles, including Shaker-style furniture. Sites like Vermont Wood Studios offer this style of furniture and you may even be able to find more by looking at woodworkers and furniture makers in your area.
Of course, you may be able to furniture that fits the mold of Shaker-style bedroom furniture secondhand as well. All in all, if you can't find what you want online, don't be afraid to work with woodworkers near you and keep an eye on local options.
See more related content in our article about Frank Lloyd Wright furniture style on this page.