Get ideas for mismatched kitchen cabinets including how to mix and match, combining upper and lower cabinets, and the best kitchen cabinet design & color matching tips.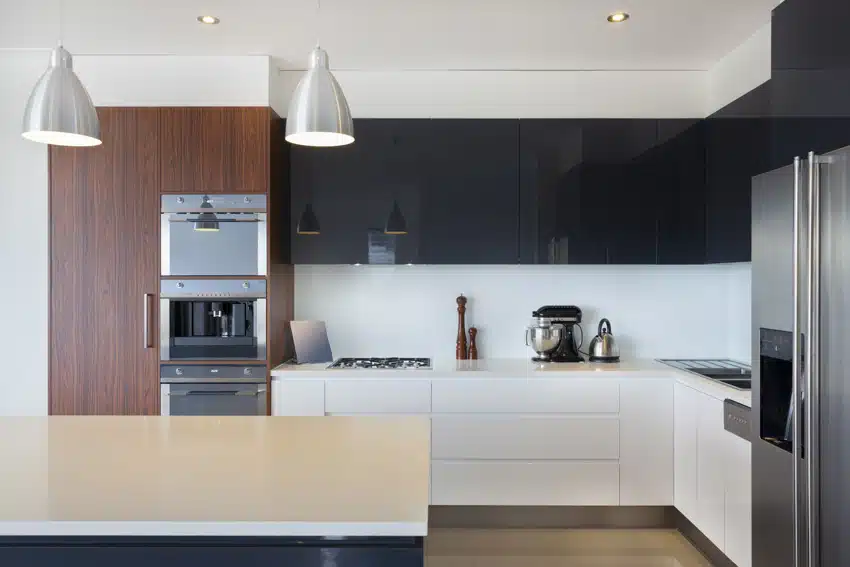 Whether it's a hint of surprise or an all-out twist to your conventional designs, mismatched kitchen cabinets can bring intrigue and character to your ordinary space. The budget-conscious can also get lower prices on discontinued styles.
Indeed, when armed with design principles, it does give you confidence and a better chance of having that gorgeous kitchen you've always wanted. Besides, design decisions can be daunting, especially when working with the heart of the home where tried and tested designs give clear guidelines that are readily there to follow.
However, sometimes design constraints can limit your creativity and instead produce a boring copycat or an overly done interior. Breaking rules can be exciting. This intentional mixing and matching of color, texture, pattern, or form of your kitchen storage space can produce unique designs that reflect your personality and lifestyle.
If you dare to break free from the conventional, we've gathered useful guidelines on mixing and matching your kitchen cabinets and creating a functional and gorgeous kitchen interior.
How To Mix And Match Cabinets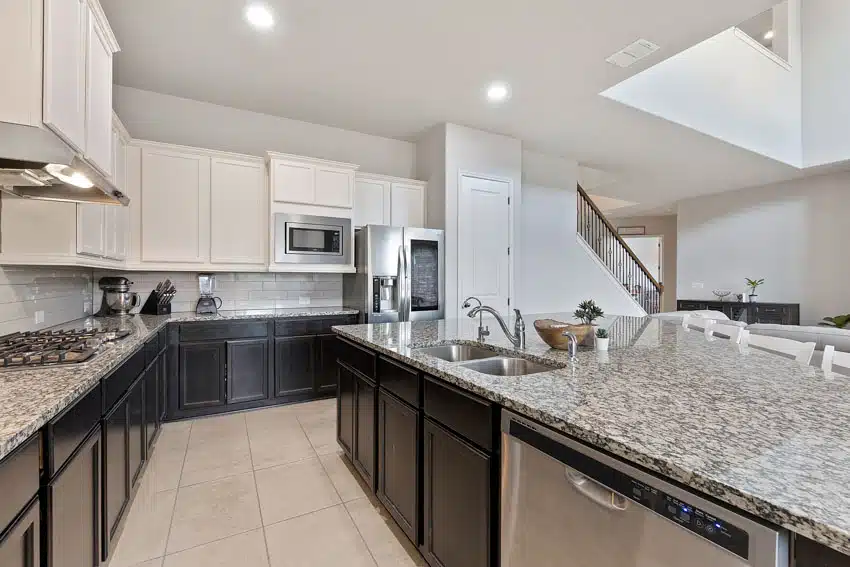 Color Blocking – Paint or Stain
Give your kitchen a brand-new look without a significant renovation through color blocking. There's a notion that color-blocked cabinets can look chaotic; moreover, having mismatched colors on one row of your kitchen cabinets can be uneasy for some.
However, with a careful selection of colors, you can get a stylish, vibrant, and cheerful atmosphere with this design approach. Color blocking uses high-contrast colors together with simple geometric forms. This method will work smoothly for handleless and flat-paneled cabinet doors.
Combine intense shades such as yellow with green or red with orange. Choose complementary colors such as navy blue and orange, magenta and green, or yellow and purple.
These vibrant colors will add structure and depth to a space with numerous design possibilities. Pastel colors are also the perfect alternative to strong ones as they have a softer appearance but still have a lot of presence.
Another way to use color for your mismatched kitchen cabinets is by picking one accent color and matching it with a neutral tone. For instance, lime green can be matched with beige or black.
The direction and size of your kitchen cabinets are another effective way to utilize color. Choose a different color for your vertical cabinets and another for your horizontal cabinets. The trick is to use the more dominant color on which cabinets cover the lesser area.
Similar to this method, sectioning is another great way to color block your kitchen cabinets if you have a section of cabinets that is separated from the rest of your cabinets.
Mismatched Styles
When you intend to have your kitchen cabinets as the focal point, combining two different styles is effective in catching attention aside from colors. You can even have a monochromatic color palette for your eclectic kitchens to still maintain a level of cohesiveness.
Mismatched styles are also a great opportunity to explore the art of repurposing and to purchase affordable cabinet faces from thrift stores. A trending way to combine styles is by integrating slab doors and drawers with Shaker cabinets. The effect is a contemporary look but not too sleek.
Similar to color blocking assigning a particular cabinet style can be done by grouping cabinets according to directionality. Horizontal cabinets can be Shaker style cabinet doors, while tall and vertical kitchen cabinets use modern and sleek materials such as chrome or steel.
Mixing kitchen cabinet colors can be done using different approaches — one is to use a contrasting island and the other method is to use two-toned cabinets. – interior designer Rachel Razal-Padilla.
Mismatch Pulls and Knobs
Another quick and easy way to break free from your conventional kitchen look is your kitchen cabinets mismatched pull and knob styles. When using metal materials for your pulls and knobs, use a similar metal family to still have that stylish and cohesive look.
For painted knobs, black and white are a great start, with a hint of vibrant color in one row. Mixing pulls with knobs is a subtle way to break a monotonous look though it is recommended to have the same finish.
Stenciling
Adding details to the faces of some of your kitchen cabinets is a fun and creative way to achieve that mismatched kitchen cabinet.
Anyone can create striking patterns. Use a bold color or choose a shade that's close or complementary to the color of your cabinets if you're uneasy about stronger contrasts.Read more about mixed kitchen cabinet colors here.

Create interesting patterns with a stencil. Stenciling is when designs are transferred on a surface using cut cardboard or metal pattern that is painted or inked over.
Add a Surprising Texture
Choose to have a single door panel with a different texture to create surprising detail. For instance, choose a wood texture to contrast with sleek finishes for your mismatched kitchen cabinets.
You may consider using a horizontal wood grain cabinet combined with a solid lacquered or matte finished cabinet for a contemporary/modern style.
But when selecting wooden texture, make sure it is easy to maintain and won't harbor mold or oils over time. Available finishes can protect your textured look, though be mindful of the overall effect, especially when struck by your ambient or natural lighting.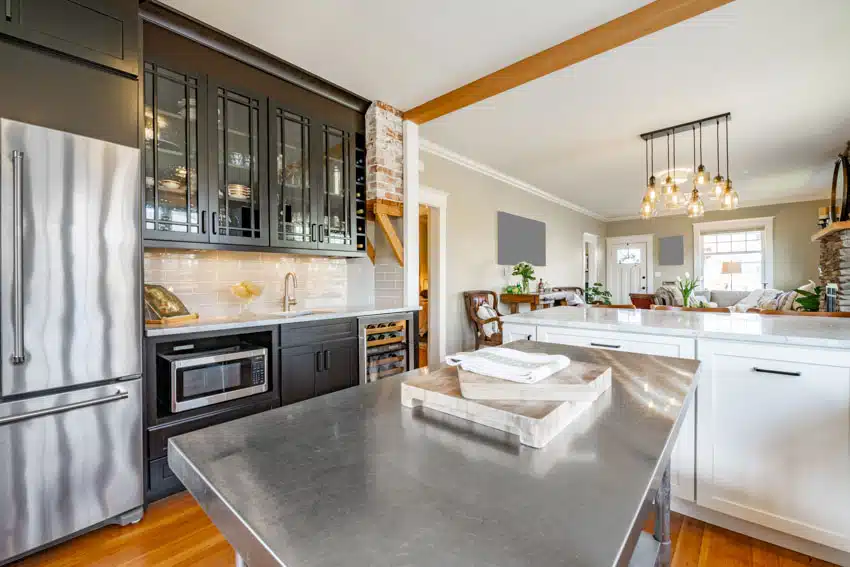 Mix-up Your Storage Types
Create different levels of surfaces for your kitchen storage with varying types of storage systems. For instance, a slatted wall panel amidst a stretch of closed cabinets or integrate open shelves in closed cupboards.
The different types of storage systems can then be grouped with different textures or colors. When choosing storage types, practicality and functionality should be prioritized as they can disrupt the workflow in your kitchen.
Make Your Kitchen Island the Centerpiece
Spruce up the types of kitchen islands you're using by adding a surprising color to its cabinets. This approach diverts the visual attention from your upper and lower counter cabinets to your kitchen island. Choose a contrasting color or vibrant hue for your island counter cabinets.
Diversifying the storage spaces can also help add interest to your kitchen island instead of having a single block of closed cabinets.
Also, add different materials, such as a travertine façade with under cabinet backlighting, to further highlight the element. Another option is to use or combine above cabinet lighting with under cabinet lights for an intriguing aura.

Mismatched Upper And Lower Cabinets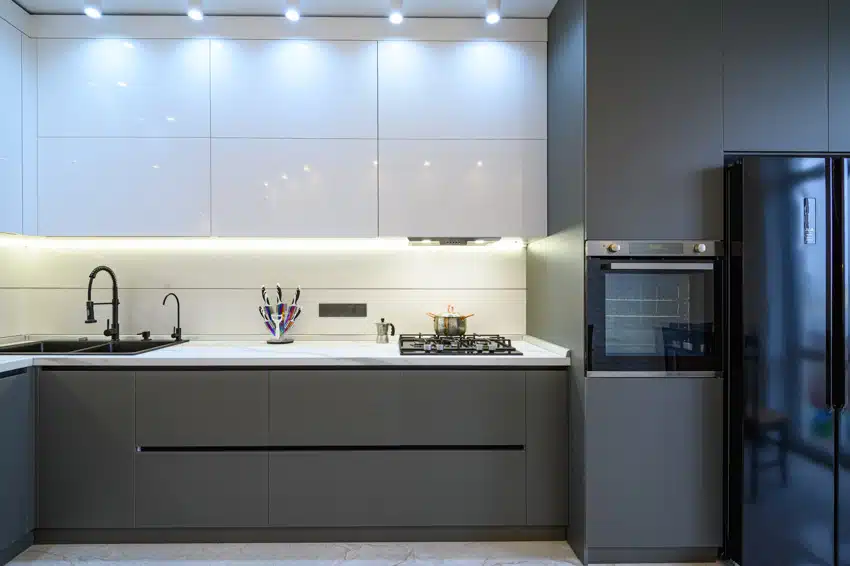 Dubbed the tuxedo cabinets, a lighter color is assigned to your hanging kitchen cabinets, while a darker color is for your base cabinets. For wood cabinets, using different stains is an effective way to achieve light and dark contrast without having to spend too much on renovations.
A great way to assign colors for your two tone cabinets is that a lighter shade is used on the upper section of the hanging cabinets and the lower cabinets use darker colors. There's also a practical side to why lighter colors go to the upper cabinets while darker shades are better with the lower cabinets.
Lighter colors open up the vertical spaces avoiding that enclosed feeling, while the lower cabinets are more prone to get dirty due to their location. Darker cabinets like brown and grey show less dirt easily.
Matching colors with different color temperatures is another excellent way to add some depth to your kitchen look. For instance, combine a cool ocean green hue for your upper cabinets and match it with a warm honey-colored base cabinet. Combine a neutral with a stronger color, such as lime and white, beige and blue-green.
Mismatching Cabinets Design Tips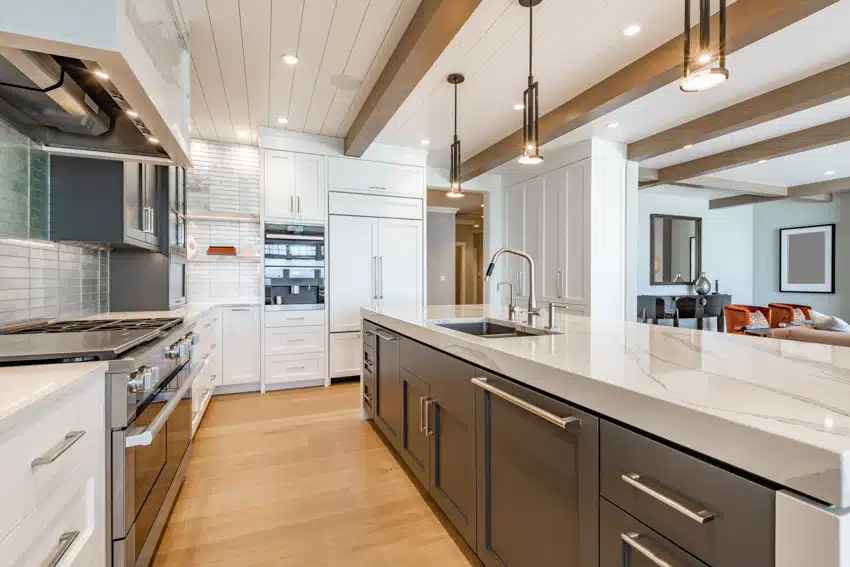 1. Less is More: There are hundreds, if not thousands, of colors to choose from, not to mention the number of different styles you can incorporate.
Only choose two to three colors to make your design process easier and not feel overwhelmed. Also, limit your styles to two – this can be a painted cabinet with wooden island or two tone cabinets, or using a different color for the island than the cupboards.
Usually, a modern element with a similar type of style works best but with a different color, so the difference is apparent.
2. Follow a Color Palette: While beauty within chaos works, following a color palette, even with clashing styles, makes the look stylish and well put together. Choose paint colors and match them with strong accents like black, silver or gold.

3. Cabinet Refacing: For first-time DIYers and budget-conscious renovators, refacing kitchen cabinets saves you more and only takes 40% of the cost when replacing them.
4. Remember Your Countertop: Your cabinets take up a lot of visual space, and the colors you choose can affect the overall feel of your kitchen. Stone countertops come in a variety of different styles and colors. However, also consider your kitchen counters and other elements that take up much of the visual space.
It helps to have neutral-toned walls as you can inject more vibrant and sophisticated designs. For example, highly patterned and colorful floors will look stunning, with an all-white kitchen with tinges of vibrant hues on your cabinet doors.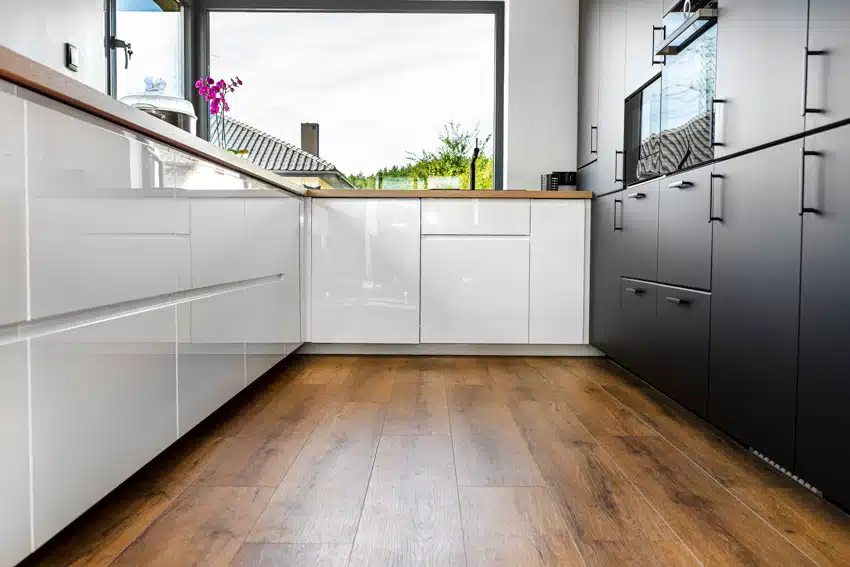 5. Consistency is the Key: A mismatch that works means having a consistent design in mind. If you plan on incorporating two styles, such as modern and shabby chic, make sure that other elements, such as the stools or décor, have the same approach. This creates a rhythmic and cohesive look without being boring.
6. Add Matching Décor. A few hints of vibrant color may look not much and even may look out of place. Add matching décor with the same bold color to create a cohesive look. Or add an art piece such as a painting or photograph to tie up the elements. These simple knick-knacks can make a huge difference for your mismatched cabinet kitchen ideas.
7. Don't Forget to Set a Budget: To make design decisions easier, set a kitchen plan & budget. This way, you can set goals, cut down the long list of design possibilities, and draw to a workable design that fits your budget.
If you have some ideas you can use one of the free or paid kitchen cabinet design software programs available to help bring them to life.