Welcome to our laminate kitchen countertops design guide including what it is, different types, cost and the answers to the most popular questions.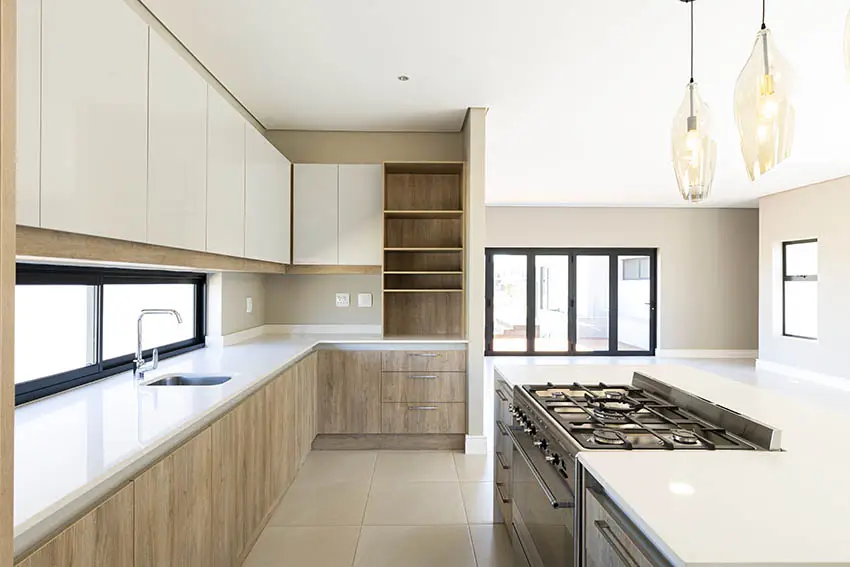 Other than your flooring, the countertops in your kitchen probably see the most use and take the most abuse of any surface in your house. They are a major design element, so you want them to be attractive, but they also need to be durable and user-friendly.
Natural stone was once the only option for countertops. When laminate was introduced in the 1950s and 1960s, it quickly became popular due to it's low-maintenance requirements, easy-to-wipe-clean surface, and durability.
Most man-made materials don't last as long as the substance they were designed to replace, and the same is true of laminate and natural stone countertops. However, when properly cared for, laminate can look as good as it did the day it was installed for many years.
Laminate kitchen countertops is also significantly less expensive than natural stone, so the total investment you're making is less. You may need to replace laminate countertops more frequently than natural stone, but this just gives you an opportunity to change the look of your kitchen!
What Are Laminate Countertops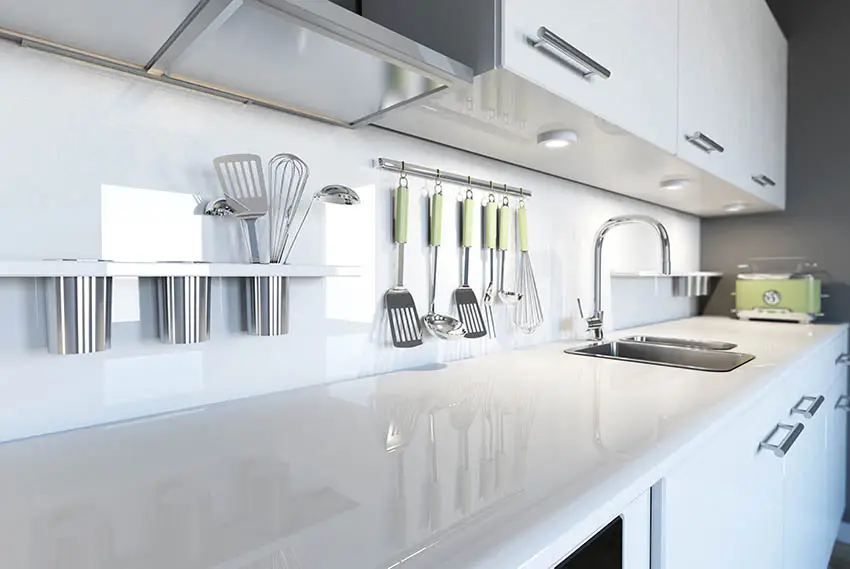 Laminate is made from layers of paper. The top layers have a decorative design, while the bottom layers form the core. It's then soaked with resin and cured with heat. The resin-bonded paper is fused to a backing board called substrate.
Pre-form laminate countertops arrive on the jobsite ready to install. The backsplash is formed during the manufacturing process, so all that's left to do is drop the countertop in and secure it.
Flat-lay laminate comes in large sheets, which are then laid out, cut, and installed to form countertops.
Pre-form laminate is more convenient, but you have no control over where two slabs meet. Since laminate is susceptible to water damage at the seams, kitchen layout experts usually try to position seams away from the splash zone of the sink.
If you have a sink in the corner, flat-lay laminate might be the best choice. Your installer can cut a hole for your sink in the middle of the slab, keeping it safe from water damage.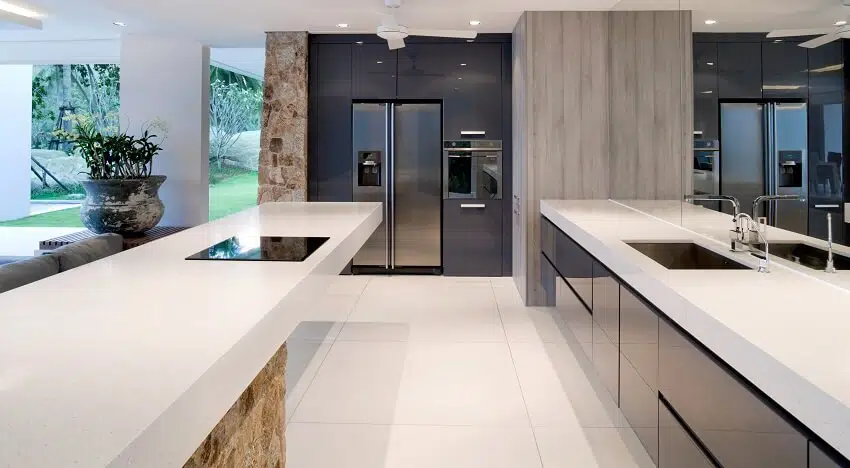 Laminate countertops are popular for their decorative design. If you want to further explore the different benefits and disadvantages you can experience, there is a variety of types of laminate countertops that need to be considered. And out of the different types, pre-form laminate is considered the most convenient.
Laminate Countertops Pros and Cons
If you are planning on considering laminate countertops, checking out the pros and cons of installing one in your home is one of the first steps to accomplish.
Pros of Laminate Countertops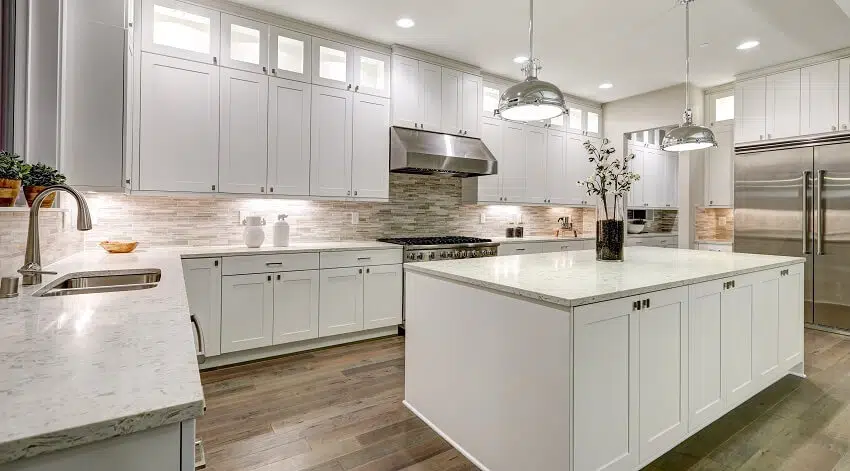 Taking into account the benefits you can get from using laminate countertops will help you make a decision on whether this type of countertop is the ideal one to choose. To help you along the way, here are the factors to love about laminate countertops.
Affordable and budget-friendly – Laminate countertops are affordable, from their materials to their installation (And yes, you can even DIY it!). You can save hundreds choosing this countertop and let you purchase other items for your project.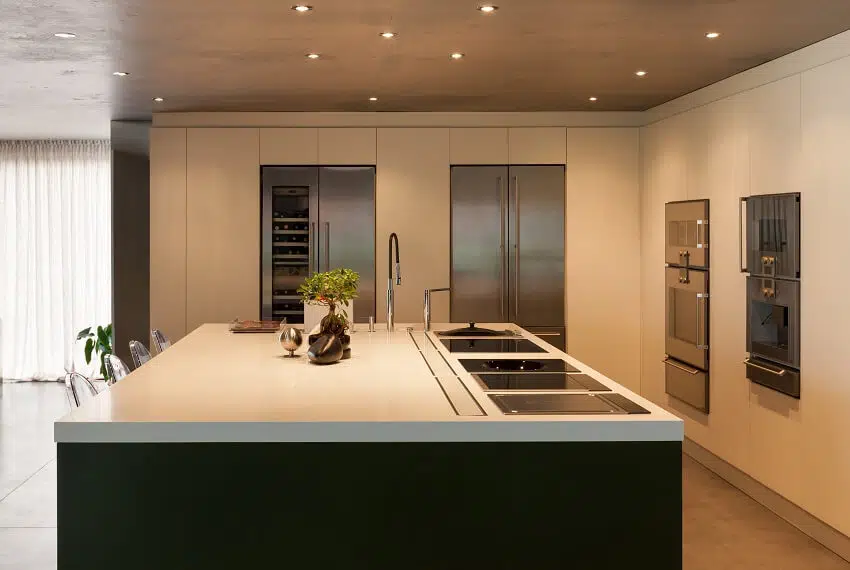 A variety of options – You will have wide options to choose from that include colors, patterns, designs, and even edge options!
You can check out designs similar to granite, marble, and quartz, as well as other styles that can match even with stainless steel appliances. Some of the edge choices you can check out include bullnose, beveled, and ogee.
Easier maintenance – Laminate countertops are easier to clean since you only need a standard cleaning solution or even with just water and dish soap.
And the great thing is that it does not need sealing, as well as other specific care just for protection (Tip: Use a non-abrasive cleaner and bleach so as not to damage the surface that can cause discoloration).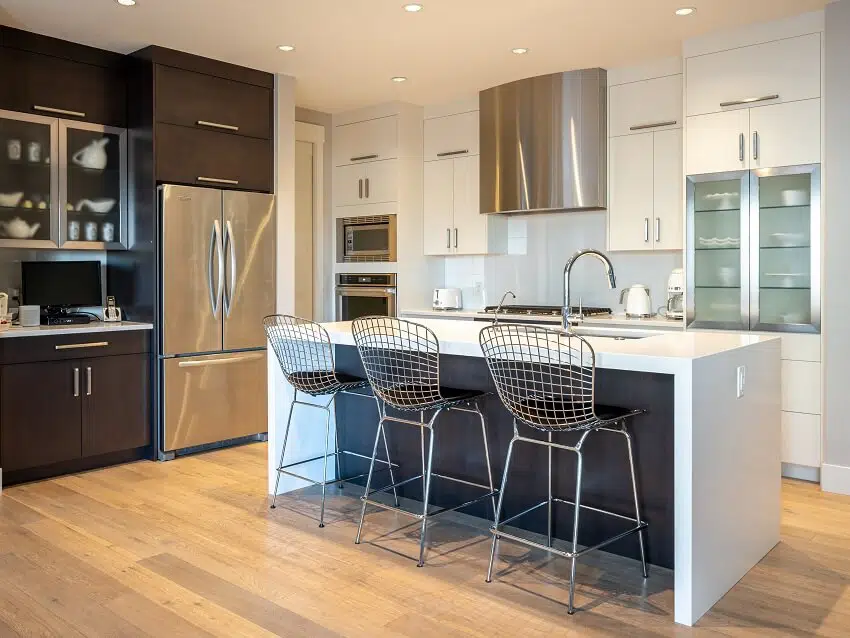 DIY-friendly and easier installation – Installing laminate countertops is easier because the material is light and easy to move around. While you can still hire professionals if you don't want to do the job, DIY-ing it is easier with its straightforward installation so even if you're not a pro, you can do it on your own!
Stain-resistant – Laminate countertops have a non-porous surface, which means that they won't absorb dirt and moisture. Stains and spills will not be your problems in using these countertops.
Cons of Laminate Countertops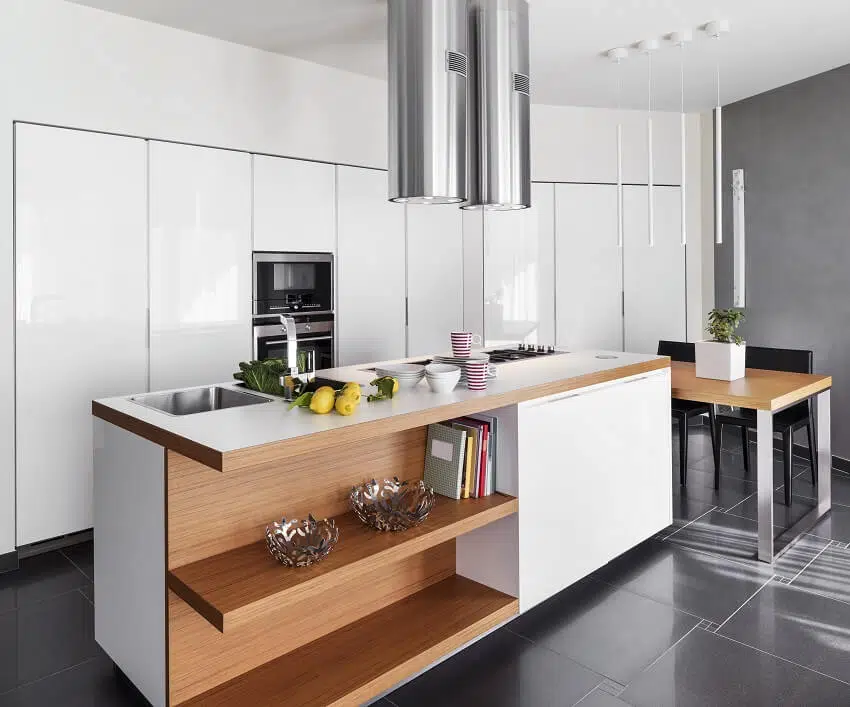 You won't benefit from using laminate countertops without experiencing the hassles that come along with them. Here are some of the disadvantages you have to face when choosing laminate countertops.
Low durability – Laminate countertops may be non-porous but they are easily scratched and damaged.
They are also susceptible to delamination and burns since they are made from plastic and kraft paper/particleboard. Use these countertops more carefully and avoid scratches by properly using cutting boards.
Not heat-resistant – Since laminate countertops are made from not durable materials, it is also susceptible to burning and damages from heat. Avoid placing hot pans, pots, and plates on top of your laminate countertops.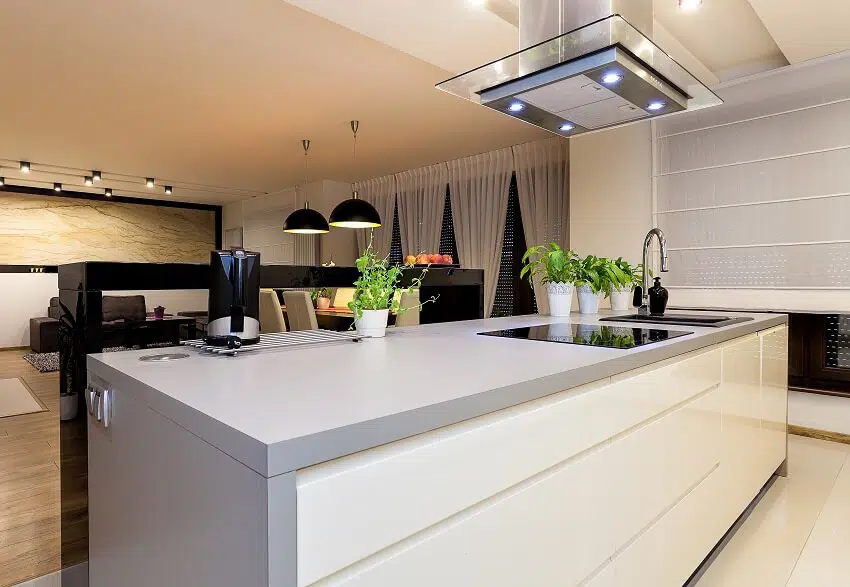 Shorter lifespan – Laminate countertops have a shorter lifespan compared to other types of countertops. With the right care and proper cleaning and maintenance effort, it can last for years.
Difficult or cannot be repaired – Since moisture can go through the seams, it can cause delamination, which is difficult to repair and will force you to replace the entire countertop.
While some repairs are possible, they can be expensive and time-consuming, and at the end of the day not really repair the problem entirely in the first place.
Expensive to maintain – You will be required to spend money and time on maintaining its quality if you choose laminate countertops.
With low durability and a surface that's easy to scratch and damage, will its low price be worth it if you'll be repairing and sealing it every now and then? (And yes, you might be forced to replace them at some point.)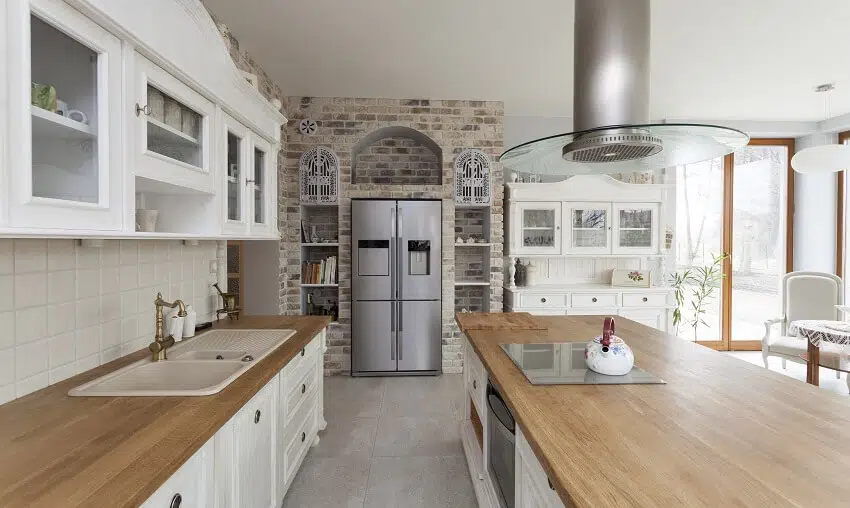 No added value and no resale value – It's true that today's laminate countertops are better in quality but they still do not add to the value of the home and its resale value compared to other countertops made from marble or granite.
Worse, it may even be a negative selling point for your home since the buyer would need to replace it after the purchase.
Visible seams – Seams are lines that you create when you lay two laminate pieces next to each other and with laminate countertops, they are visible which can make it look a bit cheap.
Kitchen Countertop Laminate Sheets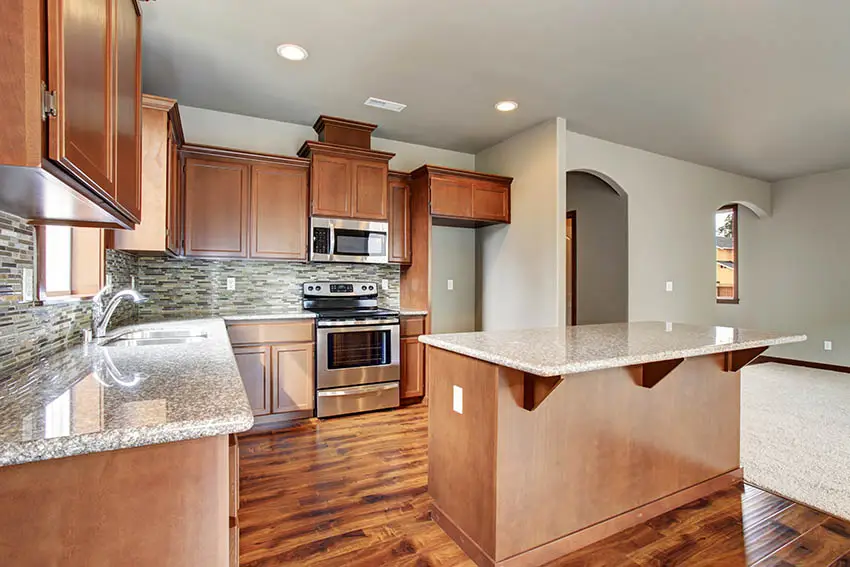 Now that you know the difference between pre-form and flat-lay laminate countertops, let's discuss laminate sheets.
This unique product is a favorite among DIYers. It is manufactured in the same way as laminate countertops, but is not mounted on a backing board.
Instead, the paper and resin layer is rolled and sold directly to consumers, who can then bond it to a surface of their choice. It is an excellent choice for refreshing the look of tired or scratched laminate.
Granite Look Laminate Countertops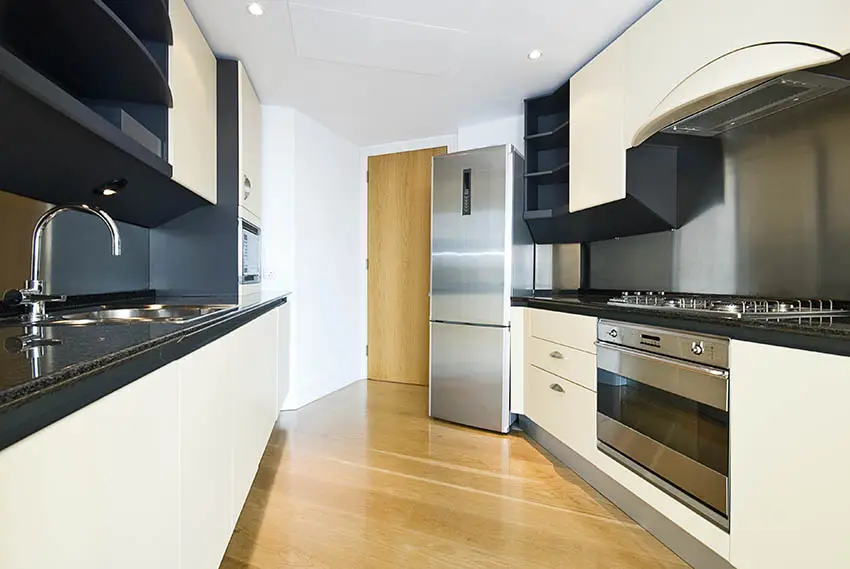 As mentioned previously, laminate is made from layers of paper coated in resin and bonded to particle board or MDF.
The design of your countertop comes from the top layer of paper. Generally, the pattern repeats every 18 inches or so. This repetition isn't highly visible, but you can pick it out if you spend enough time studying your countertop.
This pattern repetition has long been the limiting factor in producing high-quality granite-look laminate countertops. Formica has solved this problem with their unique photorealistic granite finish.
Rather than a repeating pattern, high definition photos of granite are printed on sheets of paper up to five feet long. These sheets of paper are used as the top layer when constructing the countertops. The result is a varied, non-repeating pattern on the laminate, which can be used to achieve a faux granite look.
Choose square edges for your granite-look laminate countertop profile to support the illusion of natural stone.
While laminate may be able to mimic the look of a granite slab, it cannot duplicate the texture or cool temperature of stone. However, if you're looking for a budget-friendly alternative to granite countertops that gives you the same beautiful design, granite-look laminate fits the bill.
Laminate Countertops that Look Like Quartz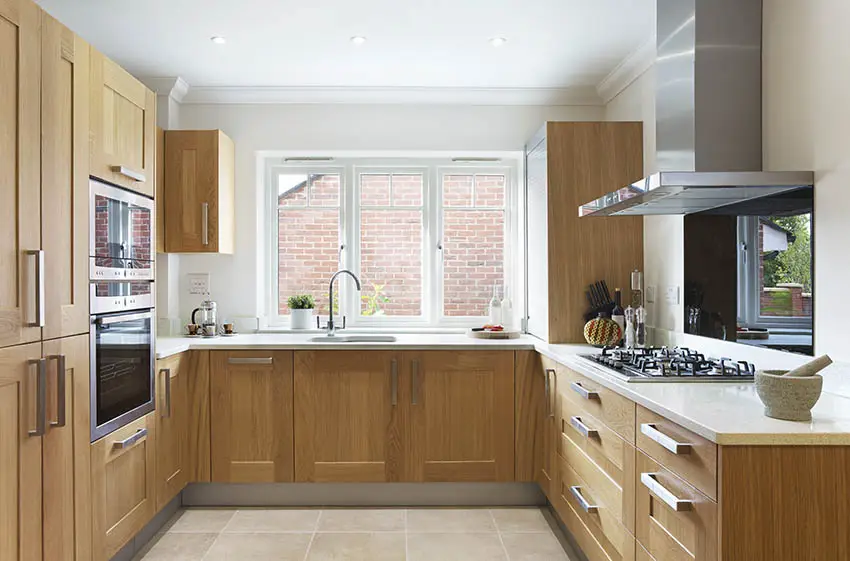 Granite isn't the only natural stone that laminate can mimic. The popularity and availability of laminate countertops that look like quartz are on the rise.
It's not just the pattern of the stone that these countertops replicate, it's also the appearance of depth. Just like granite-look laminate, the design layer of faux quartz laminate is actually a high definition photograph. This keeps the laminate from looking two dimensional.
Touching the countertop will reveal the illusion, as laminate does not feel like stone. Also, if you're looking for the sparkly of natural quartz countertops, you may find that aspect hard to replicate with laminate countertops.
Laminate Kitchen Countertops Cost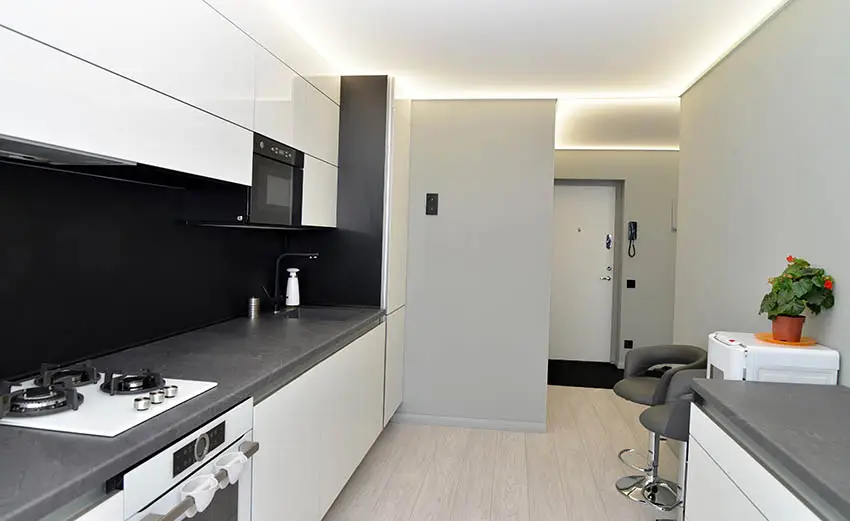 The first cost of installing laminate countertops is removal of the old material. Believe it or not, this isn't included in most installation estimates. You can remove the old countertop yourself, or pay a professional $200 to $400 to do it for you.
Laminate countertops are priced by the square foot. Prices range from $27 to $34, with the average price hovering around $29 per square foot. If you install the countertops yourself, you won't need to pay for labor.
Labor costs vary according to your location, but plan to spend an additional $10 to $30 per hour for professional installation. Installation generally takes between eight and ten hours to complete.
A small kitchen is generally considered to be one with less than 60 square feet of counter space. Installing the cheapest available laminate countertop yourself in a small kitchen is likely to cost around $1,400. If you pay for help and factor in removal of the old countertop, that number will be closer to $2,500.
A medium sized kitchen has 60 to 80 square feet of countertops. For medium-quality laminate in a kitchen with 70 square feet of countertops, the material cost will be around $2,000.
Installation and removal of the existing countertop adds an additional $1,000. The total cost of updating the counter tops in a mid-sized kitchen is likely to be close to $3,000.
Large kitchens are those with 80 to 120 square feet of countertop, or more. Professional installation of 120 feet of high-quality laminate would cost $4,380. Without labor for installation, the cost drops to about $3,400.
Painting Laminate Kitchen Countertops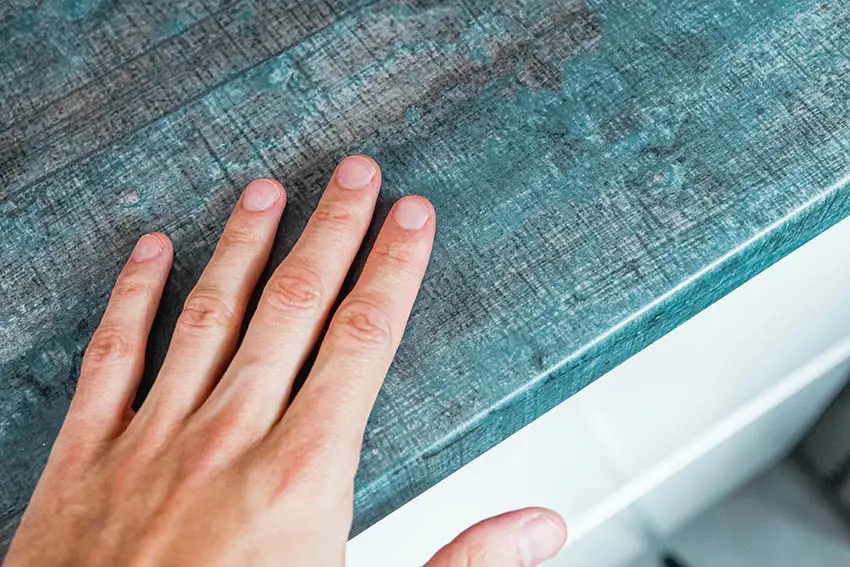 If you've gotten tired of the pattern on your laminate countertop but it's still in good shape, you can change the look using paint. You will need two or three days for this project.
Paint sticks best to a clean, dry surface. Use hot, soapy water to clean any dirt from the surface of the countertop. Follow up with an ammonia-based cleaner to strip oil and grease from the surface, and allow it to dry completely.
Sand the entire surface of your countertop with a fine or medium grade sandpaper, and fill any scratches or nicks with wood filler. Vacuum up the dust and debris, then apply an appropriate primer. The primer coats the laminate and prepares the surface to accept paint.
Choose an oil-based paint for best results. The drawback to oil-based paints is how long they take to dry. Allow 24 to 48 hours for the paint to cure, in accordance with the instructions from the manufacturer. Stencil can be employed to create a decorative pattern. You can even purchase a faux granite paint to achieve the look of natural stone.
Once the paint is completely dry, you are ready for the last step: applying two layers of topcoat. Use a polyurethane topcoat to protect your new, painted, laminate countertop from damage. Plan to reapply topcoat every six months or so to keep your countertop looking great.
Another useful alternative to painting over laminate is to create epoxy kitchen countertops. Epoxy coating can be a good DIY way to apply epoxy resin on top of old laminates to give them an improved design.
Kitchen Island Laminate Countertop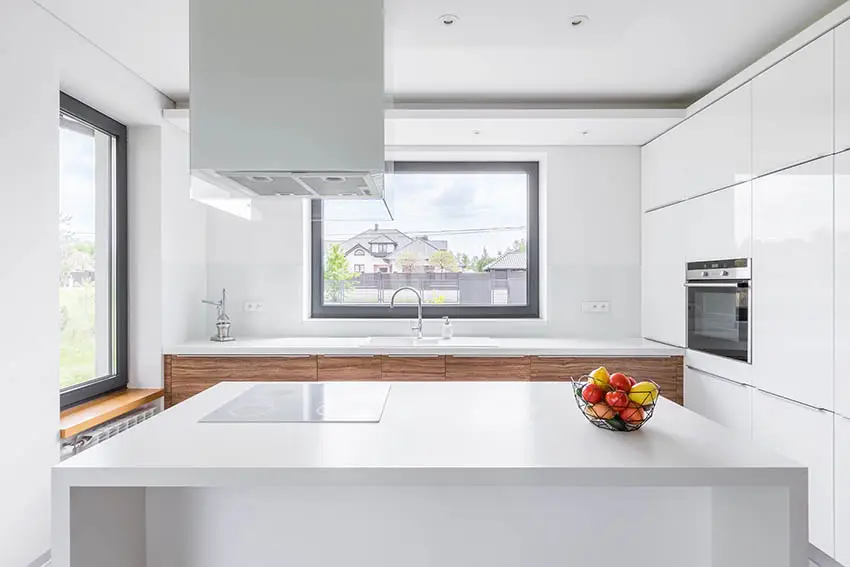 Laminate countertops are also frequently used for kitchen islands. Using laminate to create a waterfall countertop kitchen island such as in the picture above is less expensive than using many other types of countertop materials.
When buying laminate countertops for your island you can purchase a cut to size sheet that enable one to get the exact specifications needed. There are also different edge styles one can choose from as well as oven or sink cut-outs for islands with appliances or a built-in sink.
Laminate Kitchen Countertops Q & A

Can I Place Hot Pots Directly On Laminate Countertops?
No. Laminate is somewhat heat resistant, but should not be exposed to scorching-hot metal. Use a trivet to protect your countertop when taking pans out of the over.
Can I Chop Food On Laminate Countertops?
No. Laminate is susceptible to scratches, which are difficult to repair. Protect the investment you've made in your kitchen by using a cutting board.
Do Laminate Countertops Off-gas?
Many man-made products release Volatile Organic Compounds (VOCs) into the air for a period of time after production. Because VOCs have been linked to health conditions, many consumers understandably want to limit their exposure.
The main source of VOCs in laminate countertops is the particle board, which generally contains formaldehyde. You can avoid this by sourcing eco-friendly particle board and using laminate sheeting, rather than purchasing pre-form countertops.
Where to Buy Laminate Countertops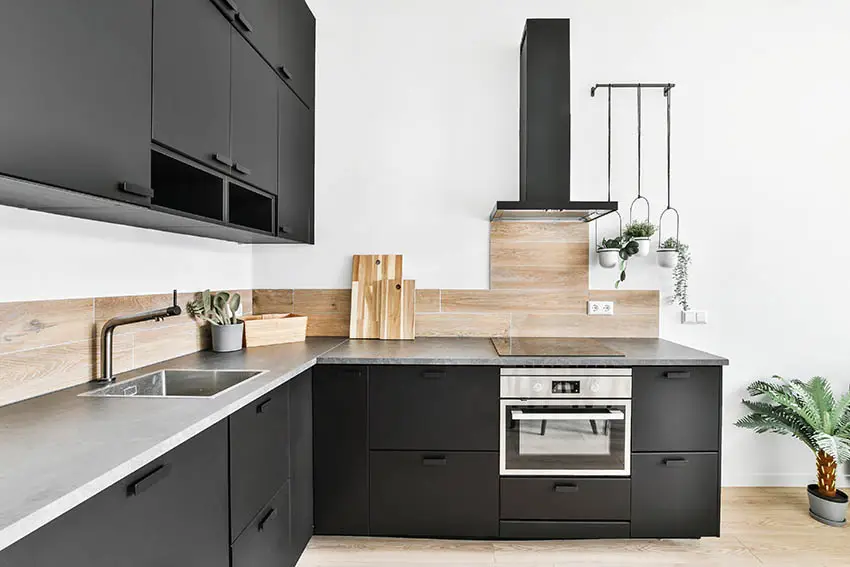 Formica has continued to stay on the cutting edge of laminate countertop production, and offers more options than almost any other supplier.
Their DecoMetal line of products mimics the look of metal countertops, while the 180fx line uses high-definition photography to bring the natural look of granite into your kitchen. You can even submit your own design and order a custom countertop.
They can even embed charging technology into the countertop, so that your battery is recharged every time you set your phone down in the kitchen.
Wilsonart is the second-best-known name in the business. One unique offering from Wilsonart is their thin-profile laminate countertops, made to match cabinets with a thinner profile.
Design-wise, Wilsonart offers countertops that look like quartz, granite, marble, or concrete. They also have a program that allows you to upload your own design.
These two major brands are usually ordered through a home improvement store of some kind, whether that's a big box home improvement center like Home Depot or Lowe's, or your neighborhood hardware store.
Is Laminate a Good Choice for Counters?
Laminate's scratch-resistant and stain-resistant surface will help repel damage from normal use. Laminate countertops are susceptible to impact damage and will show denting if you drop something heavy on them.
Chips, cracks, and burns may not be able to be repaired, so treat your laminate kindly to make it last as long as possible.
Minor scratches and chips can sometimes be fixed with laminate repair paste. You'll need to carefully mix the color to get a good match with your existing countertop.
Clean the countertop with an ammonia-based cleaner to remove oil, grease, dust and dirt. Mix the paste, and spread with a putty knife.
Wait for the paste to cure in accordance with the manufacturer's instructions, and then wipe up any excess.
A countertop polish will also help hide small scratches for a few months, but needs to be frequently reapplied.
Water damage is the major threat to the integrity of your laminate countertops. Remember, they are made out of paper. Just like paper, when it gets wet, distortion can occur, causing the laminate to separate into layers at the edge.
Sometimes applying glue and clamping the laminate can resolve this problem. Put a dish towel or rag between the clamp and the surface of the laminate to make sure you don't scratch or dent it during the repair process.
If the separation or peeling is too severe for this method, you can sand away the damage and use contact cement to apply a new laminate edge.
Natural stone may be more resistant to damage than laminate, but it's also harder to clean and requires regular maintenance and resealing.
You may also need to purchase a special cleaner that matches the material of your countertop. Laminate does not require maintenance once installed, and does not require a special cleaner.
Laminate countertops are a fantastic choice whenever durable, low-cost, and easy-to-maintain countertops are needed.
What Is the Difference Between Laminate and Formica Countertops?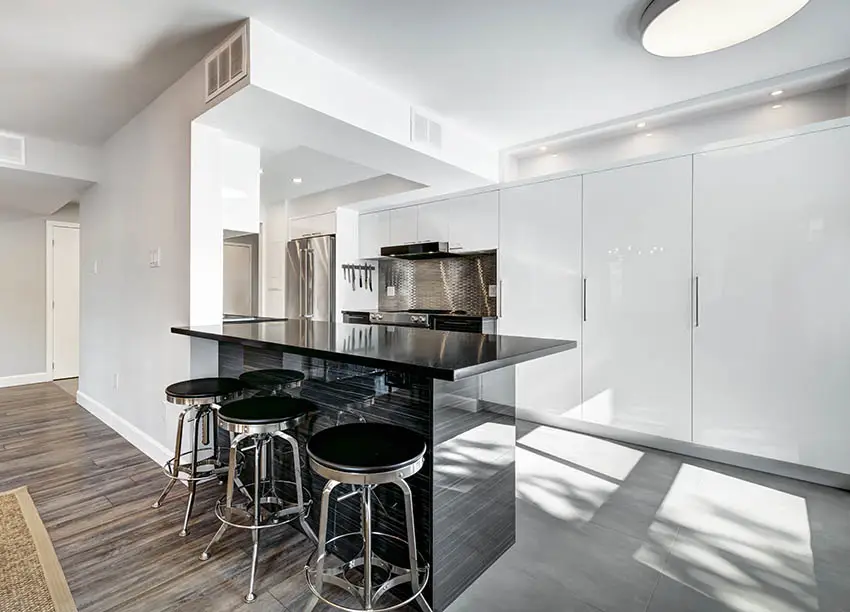 Formica is the name of the company that popularized laminate countertops. Like Xerox and Kleenex, the brand name was used by consumers as a synonym for the product.
Before laminate was developed, electrical components were commonly insulated using a highly conductive mineral called 'mica'.
Two scientists decided to search out alternatives 'for mica', and named their company with that goal in mind. They discovered laminate. Not only was laminate useful for electrical insulation, but it was also flexible, durable, and easy to clean.
Recognizing the opportunities of this material, Formica started to produce wall panels and countertops. They are still in business today.
Technically, only laminate countertops produced by that company can be referred to as 'Formica'. Realistically, any countertop professional will know what you mean, so the two terms can be used interchangeably.
Are Laminate Countertops Still In Style?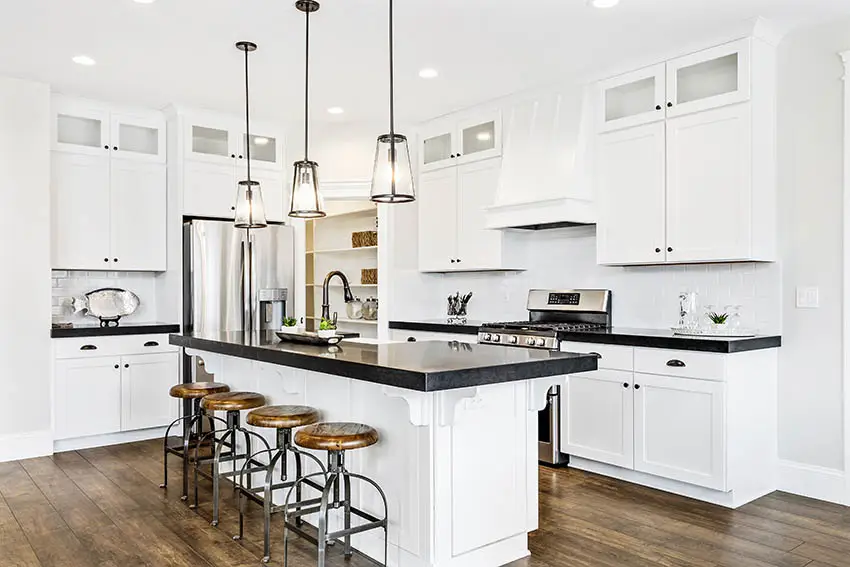 The laminate that Boomers remember from their childhood looked fake, scratched easily, and was highly susceptible to moisture. But laminate has evolved since then.
Today's laminates are difficult to distinguish from natural stone, resistant to scratches, and have moisture-protection built in. Laminate that doesn't look like laminate is definitely still in style.
Can You Put New Laminate Over Old Laminate Countertops?
Yes! You can put laminate sheets over old laminate to give it new life. Laminate sheeting is designed specifically for this purpose. You need a smooth, even, and clean surface.
Start by using wood filler to fill any gouges or significant scratches. If the edges of the laminate are separating, glue and clamp them to restore the original profile of the countertop before adding laminate sheeting on top.
Measure and cut the laminate sheeting. Make sure to allow enough room for the front and end overhangs.
Clean the existing countertops with soap and water, then strip any oil and grease from the surface using an ammonia cleanser. Allow to dry.
Use sandpaper to roughen the surface of the laminate. A soft brush or vacuum cleaner will remove any dust — run it over the back of the laminate sheeting, too. Apply contact cement with a natural bristle brush.
Choose non-flammable contact cement and keep the area well ventilated while you work. The fumes of contact cement should not be inhaled, as they can cause dizziness, nausea, and lightheadedness — not compatible with carrying out home improvement projects.
Should I Get Granite or Laminate Countertops?
If you want granite countertops, you need to find an affordable and reputable supplier. You will only be able to choose from the kinds of stones produced in nature.
Exotic, rare, and scarce granites come with a premium upcharge that can blow your budget out of the water. Or, you could choose laminate instead.
Granite is also much heavier than laminate, so you may need to reinforce your cabinets to support it, increasing the scope of your project. Lightweight laminate countertops can be installed over any cabinets.
Choose laminate for the look of granite without the cost, upkeep, and extra weight.
What Are the Best Laminates for Countertops?
The best laminate for your countertops is one that fits your budget and design sensibility. Here are a few standout designs to consider for your next project:
Carrara Bianco. This offering from Formica gives you the look of white marble countertops with gray veins at a fraction of the cost and upkeep. You can even choose the undertone of the gray veins to precisely match the rest of your kitchen.
Typhoon Bordeaux. The third major player in the world of laminate countertops is Arborite, and this design is one of their most popular. Designed to look like granite, it has a blue-white base that is barely visible through reddish veining.
Wilsonart tends to focus on their commercial customers, but still has a significant number of options in their residential line. Antique Bourbon Pine is one of the most unique, giving you the look of distressed wood countertops with orange, red, and black streaks.
Whatever supplier or design you use, laminate countertops are a stylish, durable, and affordable addition to any kitchen.
For more similar content visit our gallery of solid surface countertop ideas.