Here we share our yellow kitchen walls guide including if it's a good choice, pros and cons, the different ideas, and ideal paint colors that match yellow.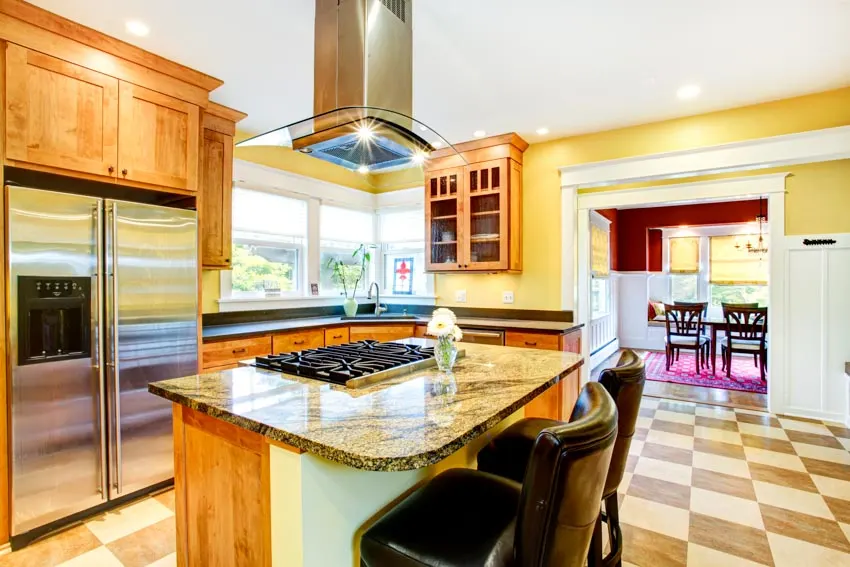 The kitchen in your home serves as the command center for your family, producing nutritious and delicious meals that can energize them for the day. This is the reason why it's important to style your kitchen in a way that can contribute to the area's function in the home.
One of the best elements you can use for styling is the kitchen walls. The expanse covered by your kitchen walls can tell you that whatever you put on your walls can affect the ambiance of your kitchen. A simple choice of color or patterns can drastically spruce up and improve your kitchen. But with many colors to choose from, which color is ideal for a kitchen setup?
Is Yellow A Good Color For A Kitchen?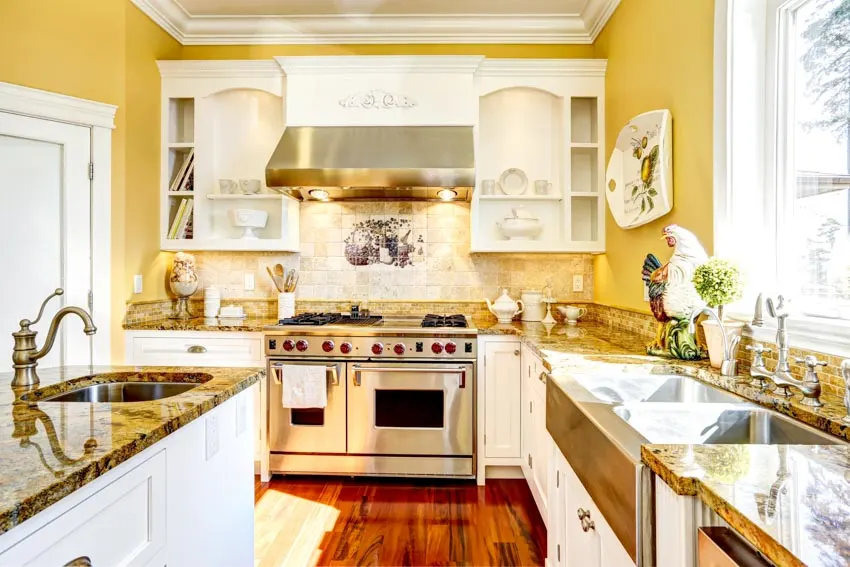 Yes, yellow is a great color option for a kitchen primarily because it is usually associated with appetite stimulation. This means that painting your kitchen yellow can add an inviting vibe to the room that will make you want to eat more. Besides the kitchen, it will also be an excellent color option for your dining room.
Yellow is also a good color for kitchens that do not get natural light inside. The sunshine color adds visual warmth to the space, giving it the brightness it needs. Besides that, the color is clean enough without looking too clinical like how white usually appears. And you don't even need to paint every wall of the kitchen for the color to produce the necessary effect you're looking for.
---
Using Yellow Paint Colors in the Kitchen
We asked interior designer Danielle Porter for her best practices for using yellow paint colors in the kitchen and here is what she had to say:
The kitchen has always been, and always stands to be, the heart of the home. If you're looking to create a statement and a space that exudes culinary creativity, happiness, and energy, yellow may just be the accent color for you to use in your space.
Bright and sunny yellow brings warmth and energy to a space, but just as with any other color, it doesn't elicit that response from everyone. Before you grab the paintbrush and dive in, it's important to explore the pros and cons of yellow in your kitchen, colors to complement it for a cohesive space, and some ideas for specific shades and tones from some of our favorite vendors.
As mentioned, yellow is, in color theory, said to elicit happiness, excitement, and creativity. There are a lot of other great reasons to bring this vibrant color into your space, including:
Creates a warm, homey, and bright atmosphere
If your kitchen is on the smaller side, bright colors like yellow can make it feel larger
Pairs well with a variety of colors and patterns and creates a great focal point
Complements and works well with a multitude of design styles – traditional, modern, bohemian, and more
On the flip side of color theory, yellow is also said to sometimes elicit a sense of caution, egotism, and even anxiety.
If too much is integrated, it may feel overwhelming
Certain shades of yellow can make food look unappetizing
Can be difficult to pair with some natural wood tones
May not be the best choice for a neutral or muted palette
Because the pros and cons of yellow are highly subjective, we always recommend a test wall in your space to see how you feel after a few days before committing to the hue. Even if you're looking to bring in a yellow backsplash or something more permanent than paint – get a paint sample that closely matches it and give it a test before finalizing – you'll be glad you did!
As with any color, there are a variety of shades and tones of yellow that you can try to really hone in on the vibe you're looking for. Two of our favorites approaches for the kitchen space are:
Soft and Subtle. If a subdued look is more your style, try a pastel tone or a buttery yellow. They'll bring warmth and brightness without being overwhelming. This can be a great option for a family-focused kitchen, where you want to encourage everyone to gather together and create happy memories around food.
Your Paint Palette: Try out Friendly Yellow (SW 6680) or Lantern Light (SW 6687) from Sherwin WIlliams and Sunny Side Up (367) or Luminaire (374) from Benjamin Moore.
Bold and Bright. For those who love a good, bold accent color, try going with something more saturated. Think a sunny yellow-orange or a bright lemon yellow. This yellow is great for those culinary explorers who like the vibrant energy the color can bring in.
Your Paint Palette: For Sherwin Williams, give Bee (SW 6683) or Lemon Twist (SW 6909). Benjamin Moore's options might be in the wheelhouse of Sunny Afternoon (356) or Golden Bounty (294).
One of the more difficult questions to answer is about tones and colors we would not recommend. We recommend avoiding yellows that have too much gray or brown in them – they'll end up reading as muted and muddled and may distort the way your food looks – something you certainly don't want in your cooking space.
Once you've determined your approach, it's time to pair it up with other colors. Choosing a complementary color like plums (think grapevines, etc.) or even blues can always be a safe approach, just stick to the same saturation and tone. An analogous palette would bring in tones of either greens or oranges, which can work particularly well in a vibrant kitchen space.
One approach we don't recommend is a tertiary color palette here unless done very subtly – as the tertiary colors for yellow are red and blue – together making the primary color palette. And when in doubt, a neutral palette of pairing yellow with whites, creams, and lighter shades of yellow itself is always a safe approach.
So, when designing your kitchen space, yellow can be a great option, presuming the shade you've selected matches the vibe you're looking for. When in doubt, start with one feature wall and then add more once you've lived with it and know it's what you're looking for.
By considering the pros and cons, exploring different ideas, and choosing the ideal shade, you can create a beautiful and functional kitchen that reflects your personal style and taste.
---
Yellow Kitchen Wall Ideas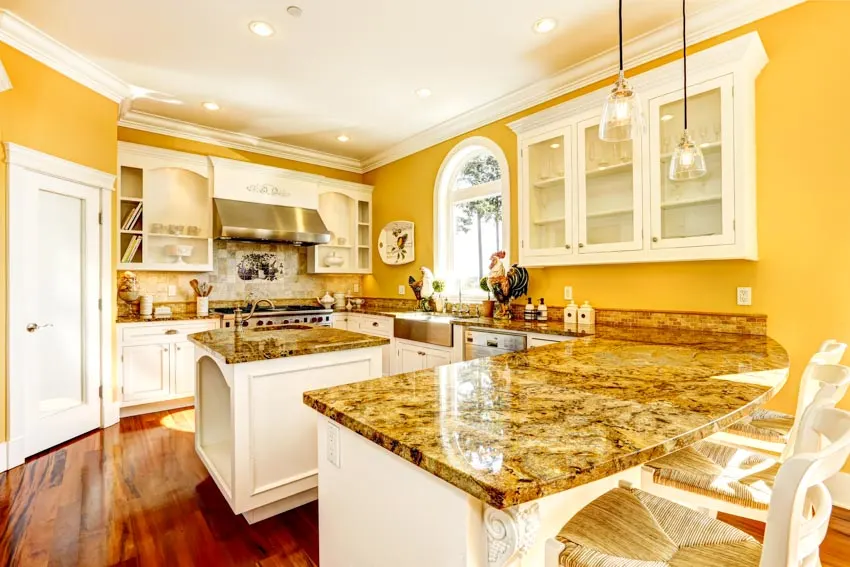 Having white kitchen walls is a stereotype and while these walls will definitely look clean, they can get too clinical. If you choose yellow kitchen walls, you take out that factor in the mix.
One of the best things about the color yellow is that there are many shades you can consider. You just need to find the right shade that can help you produce the ambiance you want for your kitchen.
To be honest, it might not be an easy task especially since there are many yellow shades to consider, from bold and bright ones to mellow and more serene tones. If you need good kitchen accent wall ideas, bright yellow is better to cheer up the space and make the wall stand out.
You can't use the color on all your kitchen walls since they can be too distracting. And if you are going for something calming and relaxing, light and mellow shades of yellow are better to create a homey and comforting ambiance. Here are some shades of yellow you can consider for your kitchen walls and what it means for you when you choose them.
Butter Yellow Kitchen Walls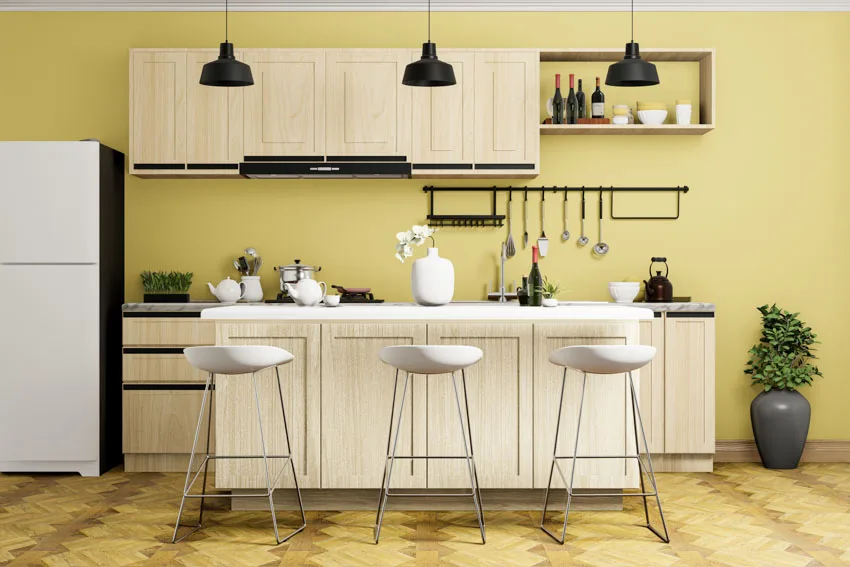 Butter yellow is one of the popular shades of yellow you can consider for the walls in your kitchen. Butter yellow kitchen walls can add softness and warmth to the room without overwhelming brightness. They are perfect for hardworking spaces like kitchens, where you cook and work for your food. If you want kitchen walls that stand out, butter yellow is a great color to go to.
For a rustic and old-fashioned aesthetic for your kitchen, match your butter yellow walls to beadboard ceiling and embossed stainless steel island base and above the range. The butter yellow delivers warmth that balances the cool look of the stainless steel. And yes, it can still make your kitchen easily stand out.
Here are some butter yellow paint colors you can check out if you feel like this shade is worth a try:

Kelly-Moore Sunny Side Up (KM5218)
Benjamin Moore Golden Groves (313) Behr Daffodil Yellow (380-B4)

Valspar Top Banana (3008-1C)
Modern Yellow Kitchen Walls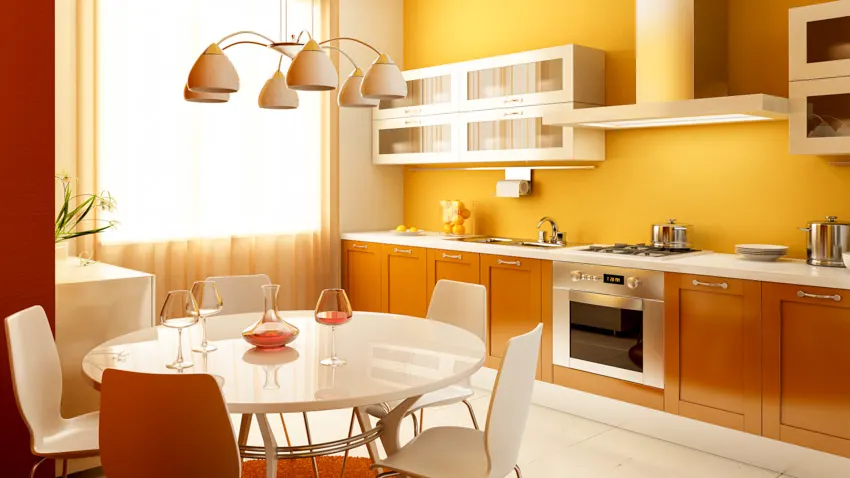 If you're envisioning modern yellow kitchen walls for your home, there are many elements and factors worth considering. Since this is technically not a shade of yellow but leaning more on the style that the yellow kitchen walls are used, there are some ideas you can imitate or use as an inspiration, including the following.
• Black and yellow kitchen walls: The combination of black and bright yellow features a dramatic aesthetic that makes both colors stand out from each other. This color combo can reinvent the classic 1970s yellow-and-brown kitchen style but in a louder way.
• Bold yellow accent wall: Use bold yellow color to accent a wall in your kitchen and place different elements in the same color like the cabinets or wall decors.
• Modern yellow farmhouse kitchen: Introduce a rustic kitchen with white cabinetry and exuberant yellow walls that adds warmth to the mix.
If you want to take a chance at this with modern yellow kitchen walls, here are several paint colors you can make use of.

PPG Dilly Dally (PPG1213-6)

Valspar Sweet Lemon (3006-3B)

Sherwin-Williams Decisive Yellow (SW6902)
Soft Yellow Kitchen Walls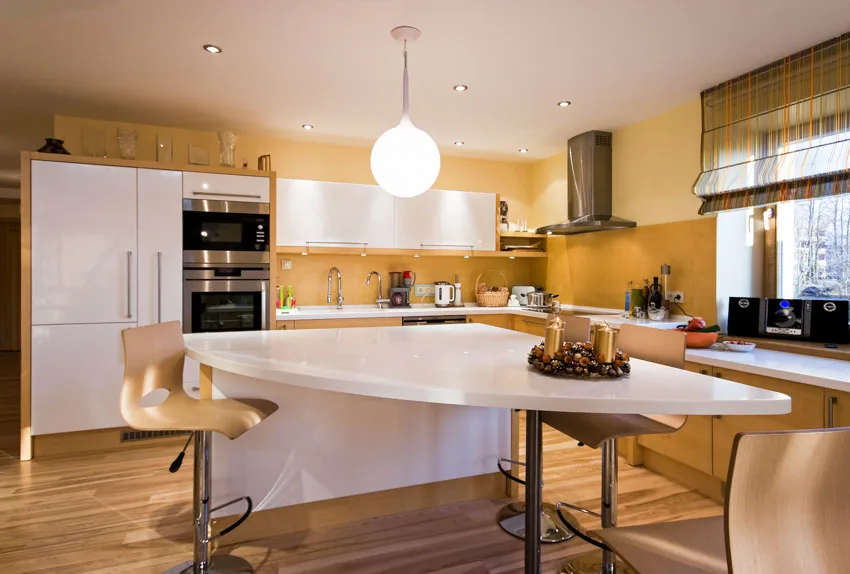 If you want something more subtle and calming, you can choose soft yellow kitchen walls at home. Light yellow kitchen walls are ideal for small rooms since it has the effect of making them appear bigger than it really is.
This shade of yellow can easily be matched with other colors and kitchen elements because of its subtle hue. If you want to build your own serene kitchen, here are additional elements to consider with your soft yellow kitchen walls.
• Red-toned wooden cabinets (For added richness and elegance)
• Pastel green cabinets (For cottage-style appearance)
• Black-ish backsplash
• Beige backsplash and beige granite countertop
• Oil-rubbed bronze faucet
• Brown barstools
• Tone-on-tone mosaic tiles
To help you as you explore your options, here are soft yellow paint colors worth checking out and considering.

Dutch Boy Just Cheeky (212-5DB)

Pittsburgh Paints Pineapple Delight (211-3) Pratt & Lambert Sparkling Wine (15-3) Benjamin Moore Laguna Yellow (291)
Light Yellow Kitchen Walls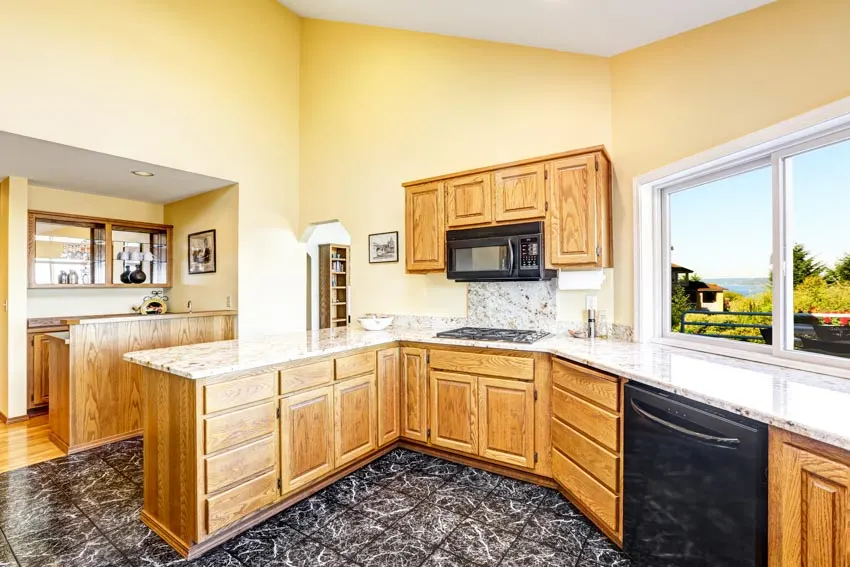 You can also go for something much lighter and enliven your kitchen walls without having to overwhelm the room. This color palette is usually seen in vintage kitchens but can also be applied in transitional and modern style kitchens.
This particular yellow color matches well with the following colors and kitchen elements:
• Aqua green cabinets
• Brown granite countertops
• Brown hardwood flooring
• Cream and brown colored pottery
Take into account the following light yellow paint colors you can use for your kitchen walls. You can easily match them with other colors for your furniture and interior decor elements. Behr Pineapple Crush (P320-4)
Mythic Paint Lemon Basil (097-3)

Kelly-Moore Golden Treasure (KM3437-2)
What Color Goes With Yellow In A Kitchen?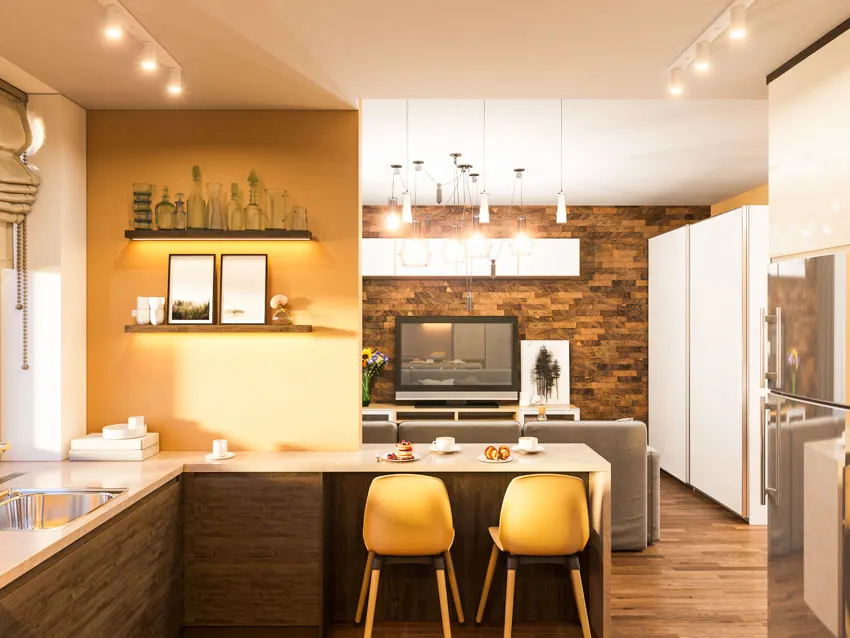 If you choose to have a yellow kitchen, you don't have to go all the way and paint the walls, cabinets, flooring, and everything else yellow. The best thing you can do is to mix it with other colors that go well with yellow, creating a stunning palette. Check out these colors to pair with your yellow walls.
Yellow And Gray Sherwin Williams Grayish (SW 6001)
Gray is a highly flexible color and you can go light with yellow then dark with gray and vice versa. This color is timeless and provides a neutral ground you can work on and its cool tone balances the brightness delivered by the color yellow.
• Traditional and retro feel: Light gray and zesty sherbet yellow
• Pastel look: Soft gray and pale yellow
• Bold look: Dark gray and bold lemon yellow
• Trendy look: Dark gray and mustard yellow
• Minimalist look: Sleek gray and bright yellow
Yellow And Blue

Sherwin Williams Endless Sea (SW 9150)
Blue is another lovely color that goes well with yellow and similar to the effect the gray and yellow combination offers, blue is a cool tone that balances well with the warmth of yellow. The color yellow is a mood booster and blue offers a cool and calming effect, balancing each other.
This color palette showcases and provides Bohemian vibes to your kitchen. Yellow walls and blue cabinets or types of kitchen countertops will make a good nautical-themed space for preparing meals.
Yellow And White Sherwin Williams Extra White (SW 7006)
White is a neutral color that easily matches all colors and acts as an empty canvass you can paint on. The yellow and white color combination is the ideal option for small kitchens considering it brightens the space and transforms the area into a bigger, lighter, and airier space. Add open shelving to the mix, this is the solution for small kitchens!
With white walls looking very clinical, pairing yellow with it adds warmth and a cozy feel to the room. And more than just the welcoming and inviting vibe it produces, bright splashes of yellow on white can also liven up the kitchen.
Yellow And Black

Sherwin Williams Tricorn Black (SW 6258)
Black is a bold color that matches well with the color yellow and this can easily be seen with the color palette of bees. So if you're going for a dramatic and bold-looking kitchen, the black and yellow color combination is the way to do it.
The brighter the shade of yellow you choose, the bolder it will look with black. But if you want a more subdued black and yellow combo, go for a lighter yellow to soften black's edginess. You only have to decide on the vibe you want your kitchen to have.
What Color Cabinets Go With Yellow Walls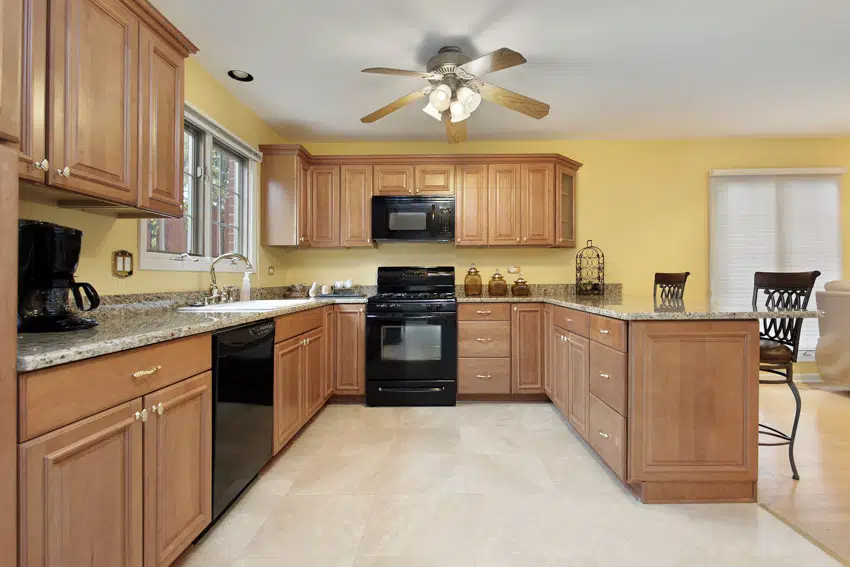 One of the important elements you need to consider when sprucing up your kitchen is the cabinets. Once you've set your decision on yellow walls, you need to take into account the color you will choose for your cabinets.
While going au natural with your cabinets and choosing authentic hardwood works too, you can also paint the cabinets with colors that can look wonderful with your yellow walls. Here are some colors for the cabinets to explore.
Monochromatic Colors: The monochromatic color palette doesn't get old and this can be a good option for your yellow kitchen. You can just choose a lighter or darker color compared to the yellow shade you use for your kitchen walls.
The best thing about choosing monochromatic colors is their stunning and uniform look. Do you have the tendency to have OCD? Then this is a good option for your kitchen!
Lighter & Darker Colors When choosing colors for your cabinet, you can either go for lighter or darker colors depending on the effect you want to produce and benefit from. Most often, when the walls are in dark colors, lighter colors are chosen for the cabinets. And this also goes the other way around.
With yellow walls, you will be leaning more towards the darker colors because of the brightness of yellow. Darker colors are also perfect for more subdued shades of yellow.
When it comes to function, lighter colors can make your cabinets look timeless and cleaner. Darker colors can elevate your cabinets to be a statement piece.
Blue Cabinets: Blue is a popular color match to yellow and the pair is often considered a classic match. You can go with other shades of blue to make your kitchen stand out and be more visually interesting. You can try out pale turquoise cabinets to pair with your yellow kitchen walls.
What Color Curtains Go With Yellow Walls In Kitchen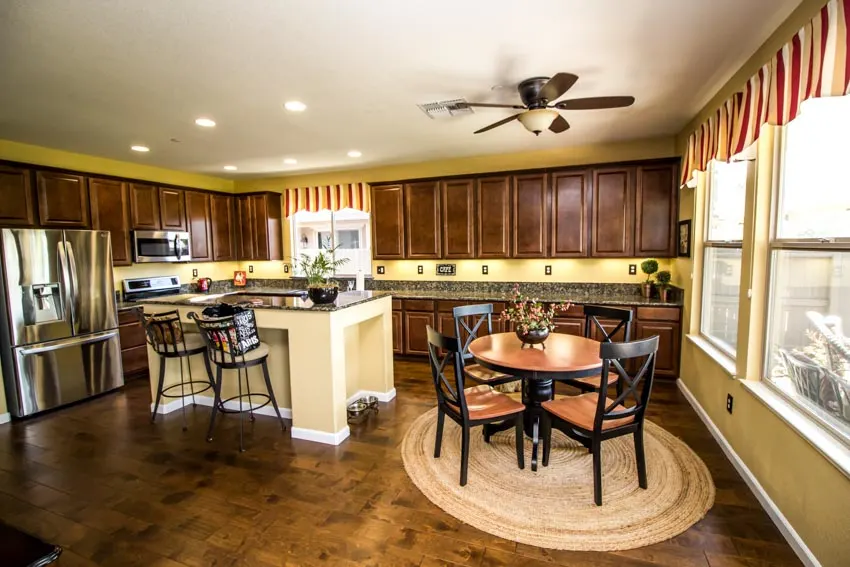 Besides the kitchen cabinets, curtains can also add visual value to the room. And with yellow walls brightening up the entire space, using curtains to add a refreshing element to the kitchen is a good step to take. But which types of curtains and what colors should you have?
White Curtains: White curtains look light and refreshing when added to a room with yellow walls. Some of the white curtains to pair with your yellow kitchen walls are the following:
• Sheer white patterned curtains
• White embroidered curtains
• White sheer curtain panels
Blue Curtains: When you pair up blue curtains and yellow walls, you get a coastal vibe that can either be bold to look at or serene and peaceful depending on the shade of blue and yellow you choose. Explore the following blue curtains for your options:
• Teal and white stripes curtains
• Navy blue curtains
• Blue chevron curtains
Gray Curtains: Gray is a neutral color you can easily pair with any color, even yellow. For your yellow kitchen walls, here are some gray curtains worth considering:
• Gray and white patterned curtains
• Dark gray curtains
Neutral Earthy Curtains: If you're going for something close to nature, choosing neutral earthy curtains will make it seem like you are under the sunshine outdoors even when inside your kitchen. Here are excellent earthy-toned curtains:
• Beige curtains
• Elegant mocha curtains
• Dark green curtains
Black Curtains: Do you want to go bold all the way with colors that stand out? You can pair black curtains with yellow walls for your kitchen if you want the room to be eye-catchy. One of the best black curtains to consider is that with a black and white pattern. Read more about what color curtains go with yellow walls here.

Pros And Cons Of A Yellow Wall Kitchen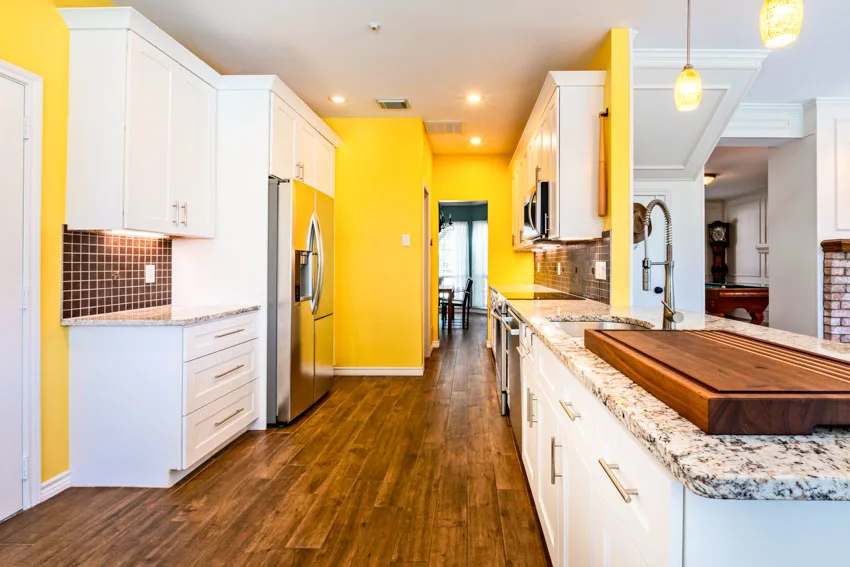 If you're still unsure and hesitant about choosing a yellow wall kitchen, weighing on the color's positive and negative effects can help you decide if it's the best option for you.
Pros of a Yellow Wall Kitchen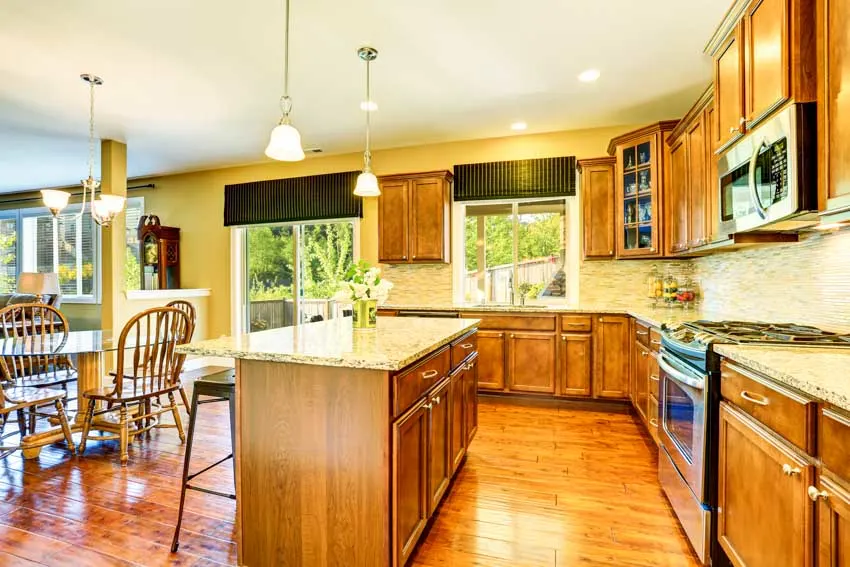 Every color produces a specific reaction that can either support or negate the vibe you want your kitchen to have. With yellow, it is a stimulating color that automatically brings joy and warmth to a space. Here are some more benefits you can get once you choose it for your kitchen walls.
• Promotes stimulating conversations
• Makes a room look brighter and more welcoming
• Can be used as an excellent accent wall and focal point of the room since the yellow kitchen wall easily stands out
• Highly versatile and can easily be matched up with other colors (as well as be used for different decor styles and designs)
• Comes in a variety of shades (mellow yellow, autumn, canary, sunset, amber, etc.)
Cons of a Yellow Wall Kitchen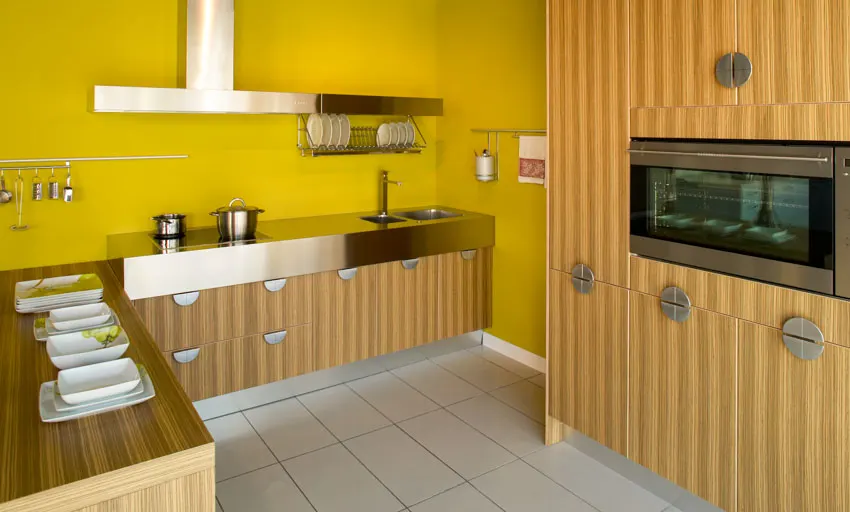 Besides the several benefits you can enjoy when you have yellow kitchen walls, there are also disadvantages and drawbacks that come with that choice. Some of which are the following:
• May induce the feeling of frustration or eye exhaustion if you choose the wrong shade of yellow
• Requires the right shade of color when considering a combination
With more advantages than disadvantages, it's safe to assume you're now leaning more on the sure side of using yellow for your kitchen walls. To help you further solidify this choice, explore some yellow kitchen wall ideas you can use for your home.
How To Decorate A Kitchen With Yellow Walls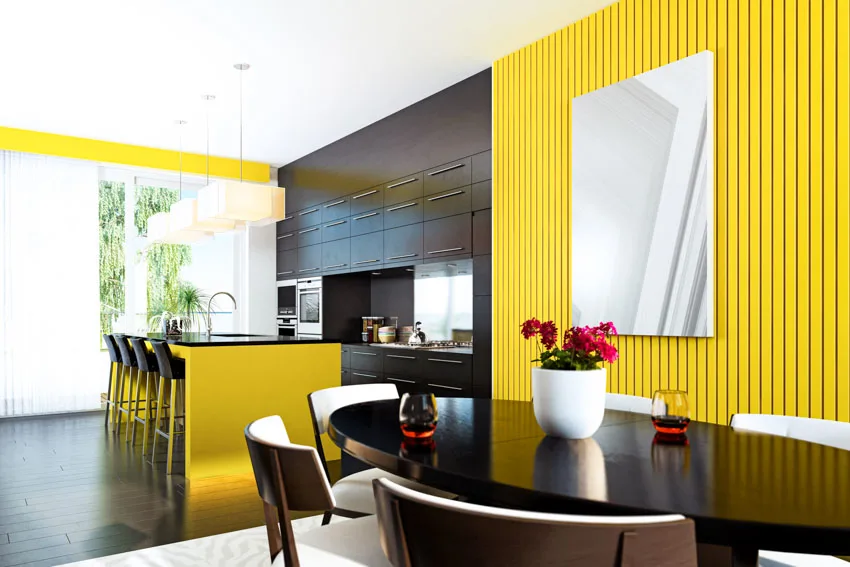 Decorating your kitchen with yellow walls is simple if you choose to paint them. While you can create patterns and designs with paint alone, one of the most important steps in decorating the walls of your kitchen yellow is choosing the right shade of yellow paint.
This choice is very important since it will set the vibe of your kitchen. After that choice, here are the simple steps to follow when decorating your kitchen with yellow walls.
1. Choose the color palette and other colors you plan to use in the kitchen (Make sure it complements the color yellow)
2. Follow the color palette and apply it to the different elements of your kitchen, including the countertops, kitchen cabinets, flooring, and curtains
3. Add splashes of yellow elements all over the room to somehow add twists and surprises to the space
4. Make sure to corroborate all elements and colors to unify and harmonize everything into the chosen color palette and ambiance
See more related content in our article about kitchen wall colors with dark cabinets on this page.