These wood fence alternatives feature different options like vinyl, corrugated metal panels, hedges, bamboo and stone, with their pros and cons.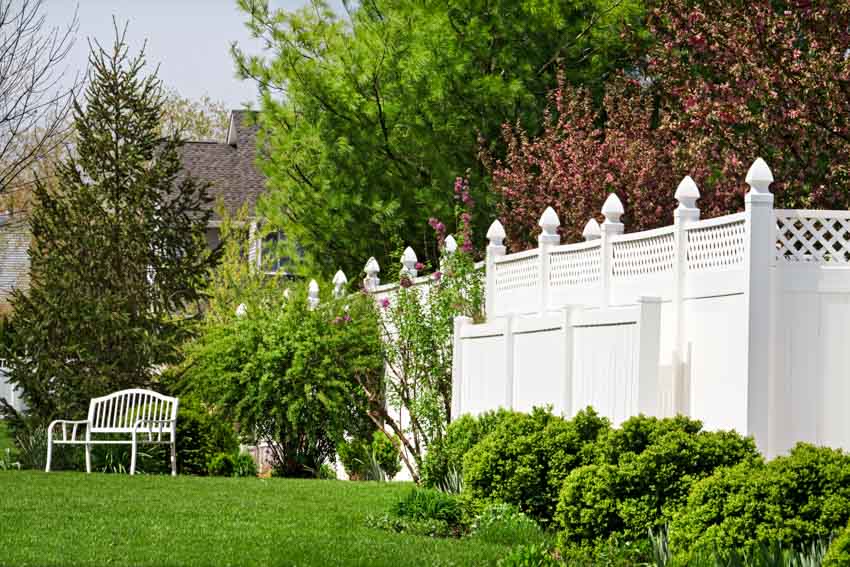 Fences have long been the go-to solution for maintaining privacy and keeping out trespassers. There is a fence type and material appropriate for your property, whether you want to keep your dogs securely in your yard or keep the local kids out of your flower garden.
Wood fence is a common and wonderful material that is sustainable, versatile, and appealing. But you need to know that wood is not the only fence option. Many wood fence alternatives could work in your home. Below are the nine wood fence alternatives and their pros and cons.
Vinyl Fencing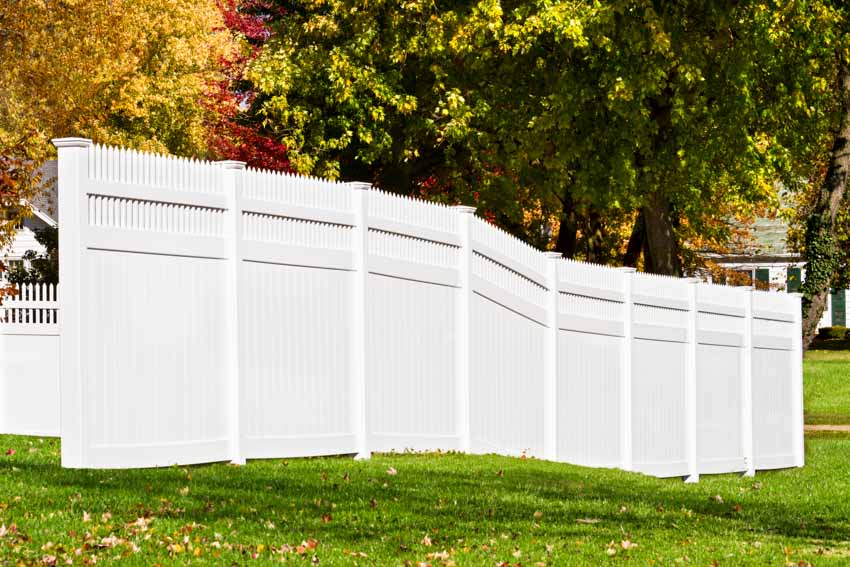 A vinyl fence has both benefits and cons. This polyvinyl chloride (PVC)-based plastic material is typically low-maintenance and won't split or break as wood may. It doesn't rust, attract insects, or need refinishing at any point, which is usually appealing to buyers. It is available in various hues and designs, from modest picket fences to high privacy fences.
Additionally, you may add features like ornate post caps, a scalloped top, or lattice at the top of the fence. Even vinyl fences with thin, rounded slats and pointed tops that mimic beautiful iron fences are available. Even though there are usually higher and shorter alternatives available, most people choose fences in the 4- to 6-foot range.
There are various color options for vinyl fences. Neutral colors include black, white, brown, and tan, and certain fashions come in more striking hues like red, blue, and green. Vinyl is often textured to resemble other materials, such as stucco and real wood.
For safety and seclusion surrounding your property, you may choose a high fence. Or you may use one to round a pool safely. Additionally, you may use short vinyl fencing to highlight certain lawn areas, such as garden beds.
Pros of Vinyl Fencing:
• Low-maintenance
• Vinyl of exceptional quality may imitate real wood
• It won't rot or splinter
• Simple to clean
• Diverse designs
Cons of Vinyl Fencing:
• Severe weather may harm the material
• Not a natural material
• High start-up expenses
• Algae, mold, and mildew may bring stains
Corrugated Metal Panels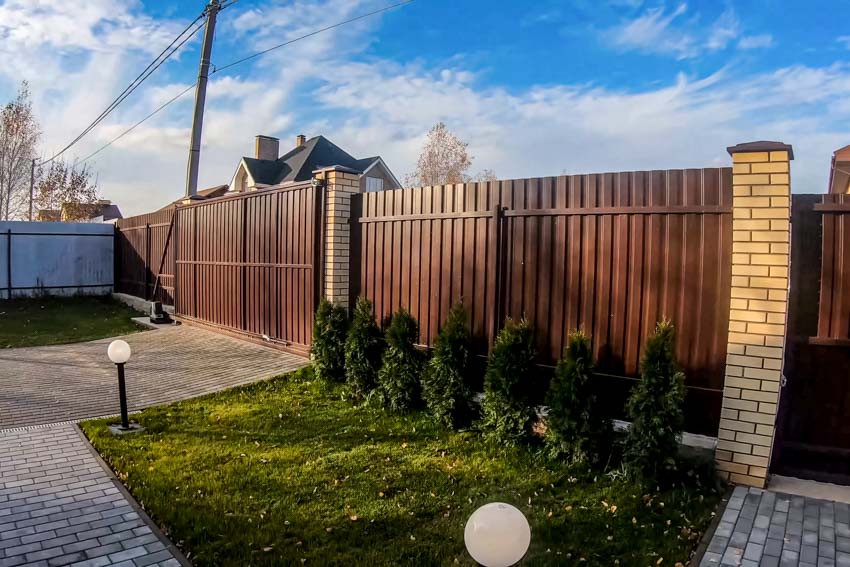 Corrugated metal panels often have a circular, wavy form. The surface of each fastener is visible because corrugated metal is an exposed fastener panel. Corrugated panels' longevity makes them suitable for commercial and residential applications when used for metal fencing projects. Many homeowners even use it for certain roof types, ceilings, wainscoting, and other house areas.
Corrugated, however, might refer to any metal shaped into ridges and grooves. It might refer to any metal panels, including those with more angular and boxy-looking panels. Metal is more resistant to breaking under stress than wood because it has greater tensile strength.
The corrugation process further increases the metal's strength, which means that a light gauge metal, which may ordinarily be weak, such as aluminum, copper, or steel, may be transformed into a sturdy panel.
Additionally, galvanized, corrugated metal has a zinc coating or a combination of zinc and other elements to make it resistant to rust and weathering. Although copper and aluminum are alternatives in this type, iron, and steel are the materials used to make fences in most cases.
When used properly, corrugated metal fencing generates a barrier with a higher degree of recyclability, a longer lifespan than standard wood designs, and often incorporates a lot of recycled material.
Pros of Corrugated Metal Fence Panels:
• Cost-effective
• Easily accessible
• Easy Installation (DIY friendly)
• Longer life span
Cons of Corrugated Metal Fence Panels :
• Panel with exposed fasteners
• Limited access to colors, shapes, or types of metal
• You must purchase more supplies such as panel sidelap
• Tend to have sharp edges on them
Hedge Fence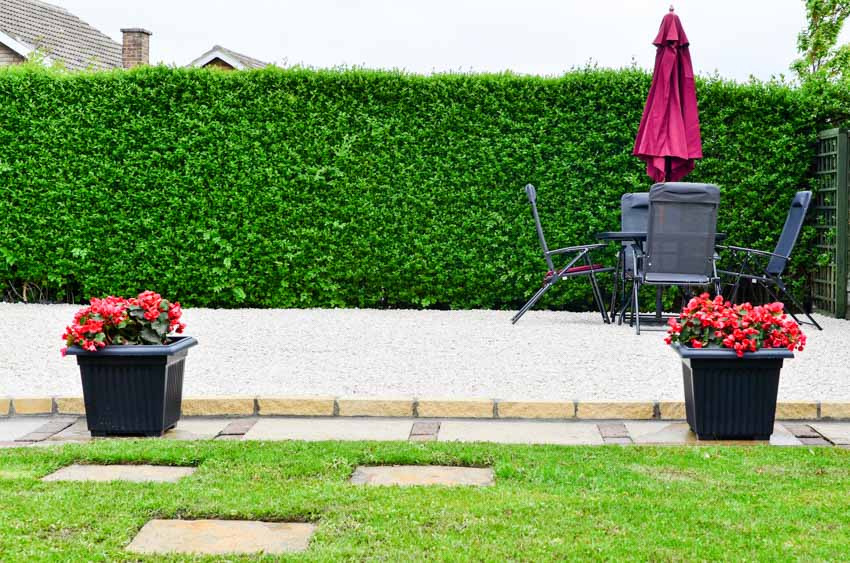 Hedge fences have gained popularity in place of fences in urban and suburban architecture due to the growing interest in sustainability and "green" environments. There are several advantages to using hedges as a privacy screen, including the absence of basic height and size constraints that homeowners must follow with concrete fences.
While most localities have 4-6 foot fence height limits, there are no such limitations on planting heights so that you may grow a hedge to any desired size and quality.
Hedges also provide homeowners who wish to create a unified landscaping appearance with a greater range of unique design options. These possibilities range from configurable height and width to several options on color and leaf form.
Hedges are particularly appealing for windier locations since they may block wind more efficiently than their tangible equivalents, similar to rural windscreens.
A hedge plants are a great privacy screen option for homes with sandier soil, steeper inclines, or uneven landscapes since it helps stabilize the soil. For waterfront homes, hedges are an effective way to prevent soil erosion. Look into the privacy-enhancing screening plants that you may use for both summer and winter.
Pros of Hedge Fences:
• Runoff mitigation
• Stabilizes the soil
• No restrictions on height
• Noise or wind buffer
• Reduced heat from reflection
• Biodiversity
Cons of Hedge Fences:
• It needs approval from the local authorities depending on your location
• It could take a few years for the hedge to reach the desired height
• Needs maintenance
• Quite difficult to control if they grow out of control for many years
Bamboo Fence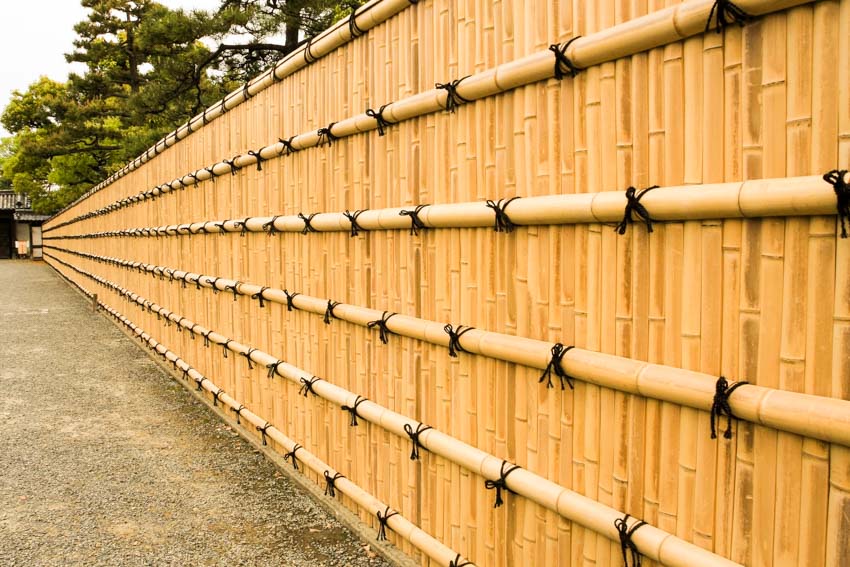 Bamboo is a renewable, adaptable material with a lower weight and greater strength than most others. Because of this, many homes utilize bamboo, especially houses in rural locations. In addition, homeowners use it for the structural elements of houses, such as posts, roofs, walls, beams, floors, and fences.
Bamboo is a beautiful and exotic material for fences. Its natural finish is extremely lovely, and you may also have it stained in the colors of your choice. Bamboo has a lovely silvery luster as it becomes older.
There are several varieties of bamboo available. The fence may also be in various ways, with bamboo poles twined together being the most common. Constructing a live, growing bamboo fence in warmer areas is even feasible.
A simple method to guarantee seclusion around your backyard pool or hot tub is with a bamboo privacy wall fence. The fence is less expensive than wooden privacy fencing, stylish, and simple to install. Tall bamboo poles are close together, obstructing the view of any pedestrians on the sidewalk or neighbors.
Pros of Bamboo Fences:
• Kind to the environment
• Tall bamboos create more privacy
• Inexpensive fencing substitute
• Installation is simple and fast
Cons of Bamboo Fences:
• Shorter life span compared to other fence alternatives
• Not fire resistant
• Bamboos are difficult to nail
Vertical Garden Fence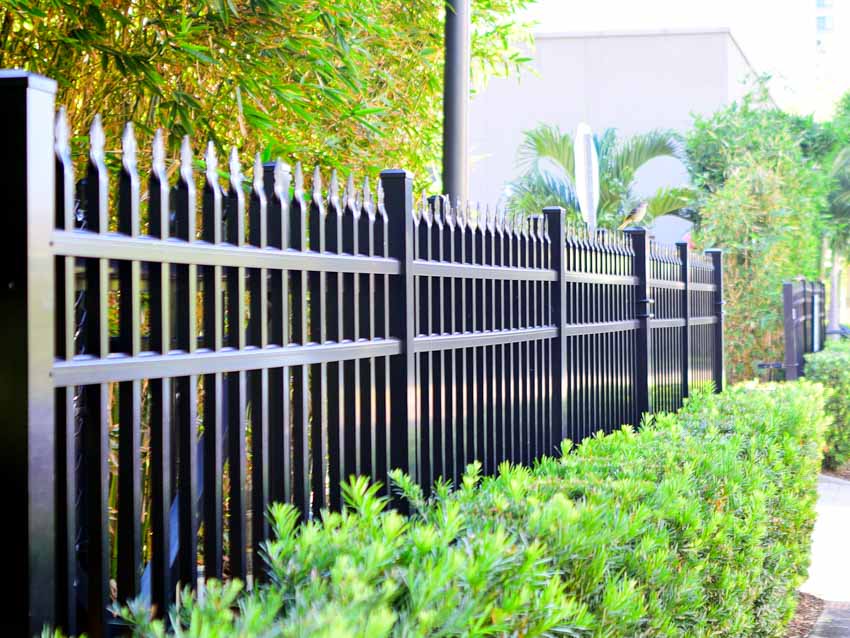 Vertical gardening is a fascinating pastime with many more advantages than downsides. Aside from saving room, vertical gardens can enrich your house and provide more mobility and planting alternatives. Additional upkeep and associated costs are a few of the potential drawbacks. However, growing a vertical garden is beneficial.
One of the simplest methods to create a vertical garden is to utilize your existing fence. There are many more options as well. Your plain old fence can support a stunning and fruitful garden with a touch of creativity and a little hard work.
Build a trellis to give your additional garden seclusion, or plant a tasty crop of fresh cucumbers. The construction of a trellis is fairly straightforward and requires a few hardware store components.
Most climbing plant species support fences from a wire or chain link. If you want to increase your seclusion, choose a plant that grows quickly, such as climbing hydrangeas or Boston ivy, and will soon cover your see-through fence in a thicket of lovely foliage.
Pros of Vertical Garden Fences:
• Lovely space savers
• You can garden whenever you like
• Many setups and designs
• Boost the quality of the air within your home
• Make the area more beautiful
Cons of Vertical Garden Fences:
• Additional maintenance
• Plants with limited sizes
• Hold moisture against the fence
• Promote rot if not installed properly
Stone Fence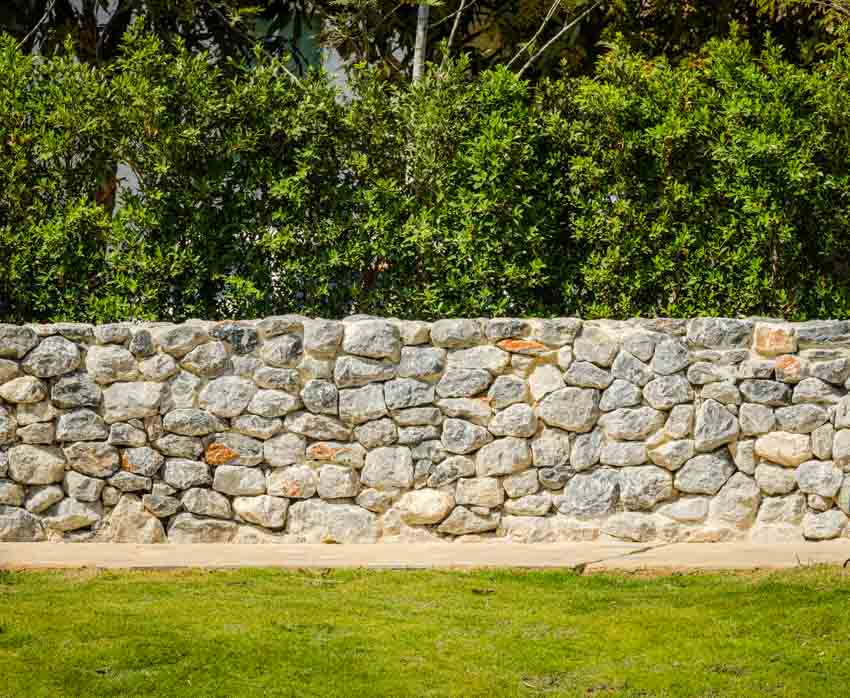 Stone fences have a rustic beauty. They give your whole landscape a natural appearance. Over the years, stone fences have been a mainstay for upscale, luxurious residences. Stone fences typically cost $25 to $85 per square foot for actual stone and $20 to $45 for fake stone.
The price will vary depending on the specific stone you choose and the labor cost, whether you opt to hire a stonemason or perform the job yourself. Hiring a professional stonemason is one of the main expenses for putting a stone fence around your house.
Stones like multicolored travertine or Kavala kinds in gray tones, a split face marble slab to emphasize an exquisite appearance, or Rhodos stone for a rustic, Mediterranean design are all options.
Lemone stone panel and multicolored slate panel are two top fence-suitable items that are quick to install. Use the same kind of stone for the external stone walls and fences surrounding the garden to establish a consistent visual theme throughout your house.
Pros of a Stone Fence:
• Strong and sturdy
• It provides a nice appearance
• Need little upkeep
• Not prone to scratching
Cons of a Stone Fence:
• Difficult to modify
• Challenging to move or repair
• Building a stone fence takes a long time
Brushwood Fence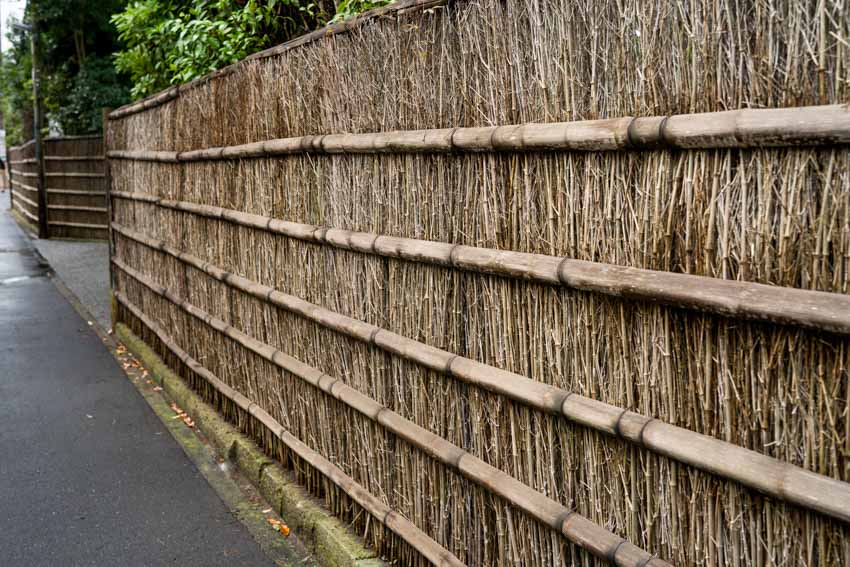 A brushwood fence is a kind of fence from an Australian hardwood broom, sometimes known as "brush fencing." If you're looking for a fence that looks like natural wood, brushwood fencing is a great choice. This material has 20 to 30 years of lifetime, much longer than metal fences.
Brushwood fences are made from renewable materials and are exceptionally strong, low-maintenance, and long-lasting. These fences have the unusual ability to absorb sound, which makes them ideal for infilling homes.
This is because it lessens noise from nearby traffic and other sources. Graffiti artists prefer to avoid them since the brushwood is a poor medium for their "work" which is an additional plus.
You may get a machine-made or handmade brush fence. You can create handmade fences in almost any design and height suitable for a level or sloping ground. Constructed with pool safety rules, you may even utilize brush fencing around your pool area since the brushwood's high salt content helps prevent the fence from decaying.
Pros of Brushwood Fences:
• Natural appearance
• Eco-friendly
• Quite economical
• Long life span
• Strong and durable
Cons of Brushwood Fences:
• It is corrosion-susceptible
• Lengthy installation process
Rope With Hanging Vines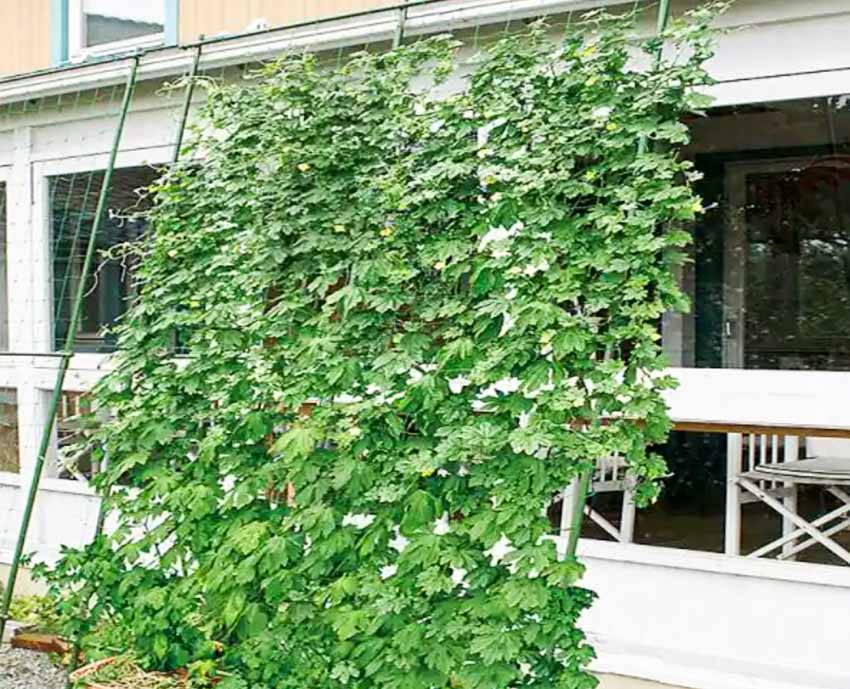 See this climbing plant square vine bracket at Home Depot [sponsored link]
The romantic allure of a façade draped with lush ivy or colorfully blossoming vines is impossible to resist. Whether it's English ivy on a 19th-century New England brick house or wisteria draping from the porch of an ancient Southern mansion, climbing plants blend a structure with its surroundings and provide a feeling of timelessness.
Ropes with hanging vines adorn anything from plain timber fences to ship hulls. But wherever they are, they all have one thing in common: they all look fantastic.
Ropes with hanging vines have benefits and drawbacks because of their positive temperament and many shapes, making them ideal for fencing. Just keep in mind that the vine ought to be the appropriate plant for that area.
Even some of the most invasive vines are ideal for shelter and greenery in the right fence. Think about the degree of upkeep you want to provide the plant and what characteristics it could have that would make it perfect for your fence.
Pros of Hanging Vines:
• Portable and simple to install
• They look fantastic
• Great for cooling and shading
• Simple to spread
Cons of Hanging Vines:
• Requires regular upkeep
• Infestation risk
• Can have debris and mess
Recycled Content Fencing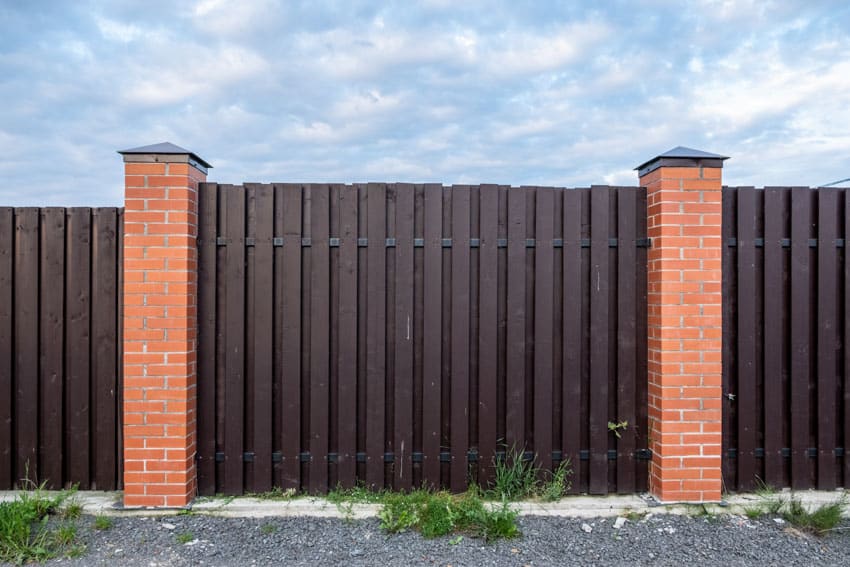 In some ways, composite fencing is gradually replacing regular fences in homes all around the globe. Organic components, either whole or partly, make up biocomposite construction materials. Recycled content fencing is from a mixture of naturally occurring wheat straw and recycled plastic.
With standard woodworking equipment, fence pickets may be cut and screwed like wood without the need for painting or sealing. The color is uniform throughout and will mute into the desired appearance.
While using recycled materials for your fencing is excellent for the environment, not everyone will find it appealing to have a fence made solely of shipping pallets, old surfboards, or pop cans.
A few commercially available items use recycled materials while maintaining the appearance of a natural, conventional fence. You may also build your fence using recycled or reused materials without making it seem too "out there."
In addition to knowing that your fence will outlive wood, PVC, and steel with recycled content fencing, you will feel good about choosing a recycled and sustainable product for mother nature.
Pros of Recycled Material Fences:
• Friendly to the environment
• Durable
• Sleek appearance
• Simple to maintain and are great wood fence alternatives

• Don't split or fracture
• Many different hues and textures
Cons of Recycled Material Fences:
• Durability depends upon the manufacturer
• Expensive cost up-front
• Color may fade
It is evident from the choices mentioned above that there are many alternatives to typical wood fences. With the appropriate materials, your fence may look sleek, lively, and brilliant, depending on the labor you're willing to put in, and the amount of time you want to devote to keeping it.
Are there any wood fence alternatives that you use? If so let us know your thoughts in the comments section down below. See more related content in our article about horizontal fence ideas on this page.