Welcome to our gallery of the best vertical garden ideas. See a variety of indoor and outdoor vertical gardens including planters, wall, DIY kits and freestanding systems.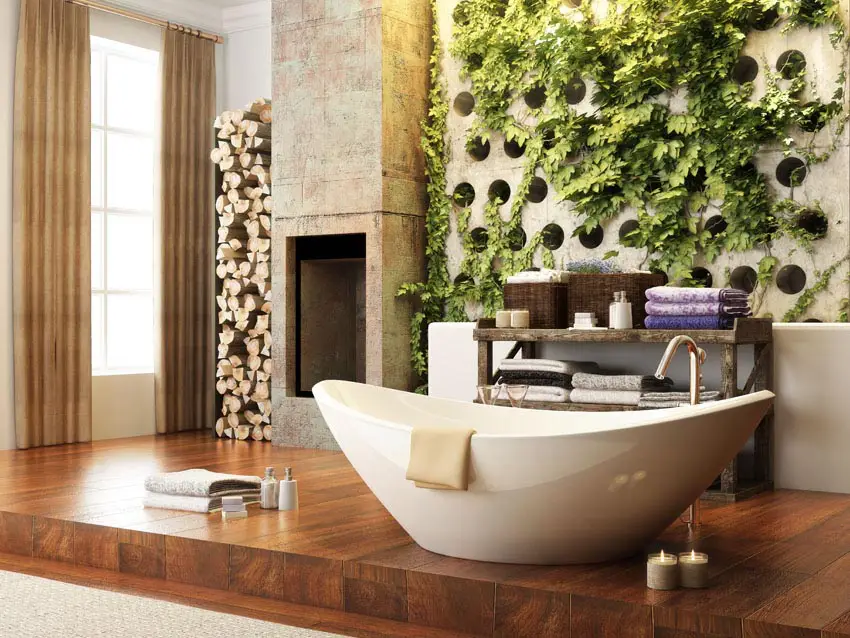 In the picture above is an example of turning your bathroom into a serene contemporary tropical oasis by adding a vertical garden to the walls. This design creatively made use of an existing wall by boring holes which are perfect for holding climbing plants. The verdant color of the plants add to the natural coziness of wooden flooring and natural stone walls.
We have all heard of the term "vertical gardening" and we've probably seen it more than once in the internet or maybe even in real life, but what is the real hype about it that makes it one of the most trending gardening methods nowadays.
Contrary to what most people think, vertical gardening isn't really new in the design scene. It was existent long ago as a traditional concept which was prevalent in one of the seven wonders of the ancient world – the famous hanging gardens of Babylon. According to several historical accounts, plants like grapevines and roses were trained to grow on walls and trellises. This concept was later on adapted and updated into different forms, making people more geared towards the idea of vertical gardening.
Read on as we take you through our gallery of vertical wall garden ideas and what makes them stunning additions to your home.
What is a Vertical Wall Garden? A vertical wall garden is a type of gardening system that allows you to grow plants vertically. Vertical gardens are typically mounted on walls or leaned against it. It can be made up of a series of containers and a support system that comes in several tiers, or it can be a simple wall that is covered up with greenery and foliage. Basically, it is a much simpler form of regular gardening but instead of plants being grown directly on the ground, they are grown at a raised height.
Vertical wall gardens may either be indoor or outdoors. The only difference between the two is the weight and the size. Since houses have limited spaces, an indoor vertical wall garden tends to be much smaller and lighter. While for outdoor vertical garden systems, there is rarely a limitation in size, thus more vast opportunities for installation – you can cover a whole perimeter fence with climbing plants, or turn a full wall into a "living wall".
The use of vertical garden is not limited to residences only but it can also be applied on office environments, retail and commercial establishments, hospitality, buildings and even on highway infrastructures.
Advantages of a Vertical Garden
There are several advantages to using vertical wall gardens and the best thing about it is that aside from being beneficial to us, they contribute to the plant's wellness too. Here are some of the pros of using a vertical garden:
• Increased visual aesthetics – One of the primary advantages that vertical gardens give is that they add an interesting aesthetic appeal to spaces. Vertical gardens can instantly transform drab areas into lively features for the home, rendering a myriad of colors and textures which are extremely pleasing to the eyes – whether it may be a room, a blank wall or a neglected space such as a fence, balcony, stair landings, garage or even closet doors. It is also a good way to conceal unsightly views in the home. In addition to that, vertical gardens can easily soften the architectural features of the home – brightening dull finishes like cement, concrete and stone.
Vertical gardens can also anchor a room. It is good starting point for design and can help your decor to blend into one cohesive look. Aside from that, it also functions well as a striking focal point for any space.
• Versatility in design – Vertical gardens can be designed in any way, using any plants and materials which suits your taste, needs and preference. It allows you to customize your very own garden, bringing wide choices for collections. Aside from that, if you get tired of how your vertical garden looks like, you can easily mix and match the plants to get a more interesting design.
• Maximizes limited space – Vertical gardens are a great way to maximize limited space because it eliminates the need for a garden plot or a vast lawn for cultivating plants. For those living in areas where ground alteration is not an option, a vertical garden is the best alternative. This also works particularly well for people who live in locations where space is at premium, like a condominium or an apartment. They take up very little floor space, and can be placed both indoors or outdoors, whether it may be on the rooftop, a balcony, a porch or a window. It is also the perfect way to take advantage of an empty wall in the house.
• Vertical gardening is therapeutic – Gardening in any form is therapeutic. Most people consider it as an effective way to unwind from the stresses of everyday life. The sight of greenery is also therapeutic. Looking at the refreshing color of green plants and lush foliages is soothing to the eyes and ca develop a general sense of calm
• Improves air quality – Vertical gardens can act as filters which minimizes polluted air, thus resulting to improved air quality. Consequently, this also produces amazing health benefits.
• Acoustic buffering – Living walls, a form of vertical gardening, can help reduce noise levels by absorbing loud sounds and reflecting it.
• Provides insulation to buildings – Living walls in particular, provide improved insulation to houses and buildings, making them cooler during hot days. Green walls can balance the humidity within an area, resulting to a naturally cooled air. With that, there is a lesser need for airconditioning, saving you a significant amount of money for energy costs.
• Eliminates the messy work in gardening – With vertical gardening, the dirty work that is involved with gardening is excluded. There is no need to dig holes, transport large amounts of dirt and soil and no need to spend a day under the sun.
• Convenience – Vertical gardening is also more convenient and lessens the "back breaking" work which is commonly involved in traditional gardening, thus saving you time, effort and money. Tasks are quicker to complete, requiring less effort and eliminating the need to hire a professional to do the job for you. So basically, it can be an easy "do it yourself" project which you can enjoy at home. This does not only involve the planting process but the harvesting phase as well. Produce can be easily accessed without putting any strain in your body. Mobility is also not a problem as plants as usually placed in individual containers and can be relocated with ease in the event of harsh weather.
• Easy maintenance – When plants are raised at an increased height, maintenance is a breeze. The plants are more accessible, thus watering, feeding and weeding can be done more conveniently. Pest control is also more efficient. Since the plants are at eye level, insects and pests are easily seen and can be removed quickly. There is also minimal weeding involved in vertical gardens. Because there is minimal soil in the plants, weeds do not grow. Also since your plants are grown indoors and in containers, there is a reduced risk of them being invaded by unwanted weeds.
• Plants have no ground contact – Direct contact between the ground and plant can sometimes result to spreading of pests and other diseases. Plants have the tendency to rot easily and a there is a higher potential for damage. However, when plants are planted vertically, these problems are reduced and the least of your worries. Since plants are also placed at higher levels, it is practically unreachable to small animals like slugs, rabbits and rodents which can damage your plants.
• Vertical gardening is a cost effective choice – Vertical gardens are practical and affordable. DIY vertical gardens typically need few tools and materials to build, while ready made containers and kits are available at local home supplies stores for a fair price.
The Cost of Vertical Gardens
The cost of vertical wall gardens greatly depend on the type of planter, the kind of material, and the design that you chose. It can go anywhere from being practically free, since you can upcycle salvaged materials, to costing a hundred dollars.
For vertical garden planters and pocket planters, prices typically range from $10 to $300, depending on the brand, quality and size. Self watering planters cost a little more, starting at $25 each.Living wall systems are on the higher range, costing $95 to $165 per square foot.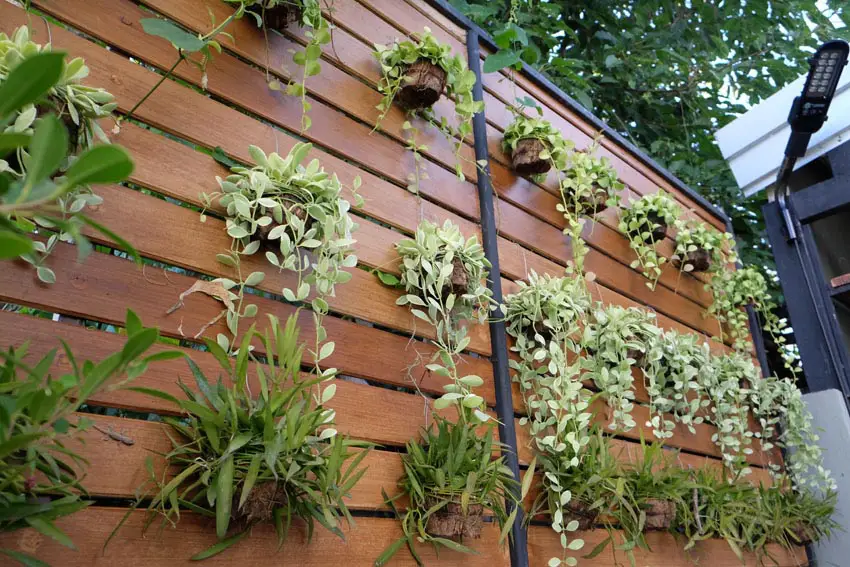 Bring fences to life by incorporating some plants into their design. This vertical wall garden took advantage of the fence's height by hanging baskets which are filled with cascading plants. Keeping the wood's natural finish renders a distinctive beauty that radiates warmth and coziness.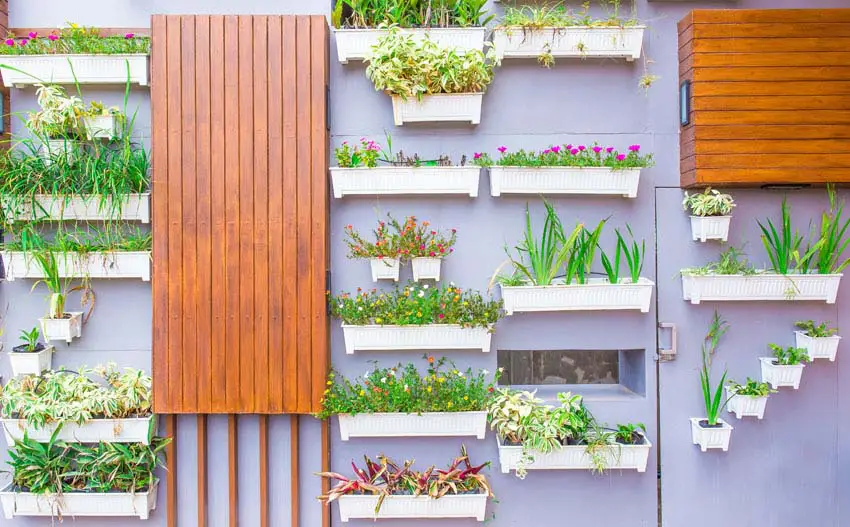 Turn a drab wall into a work of art by displaying different plant containers with blooming flowers. This vertical garden made use of various resin planters which are mounted on a wall using a specific pattern. Dainty flowers and ornamental grass contribute a splash of color while wooden boxes work as decor for the space. The lavender wall paint makes this vertical garden extra charming as it serves as the perfect backdrop for the plant's chartreuse hues.
Vertical Wall Garden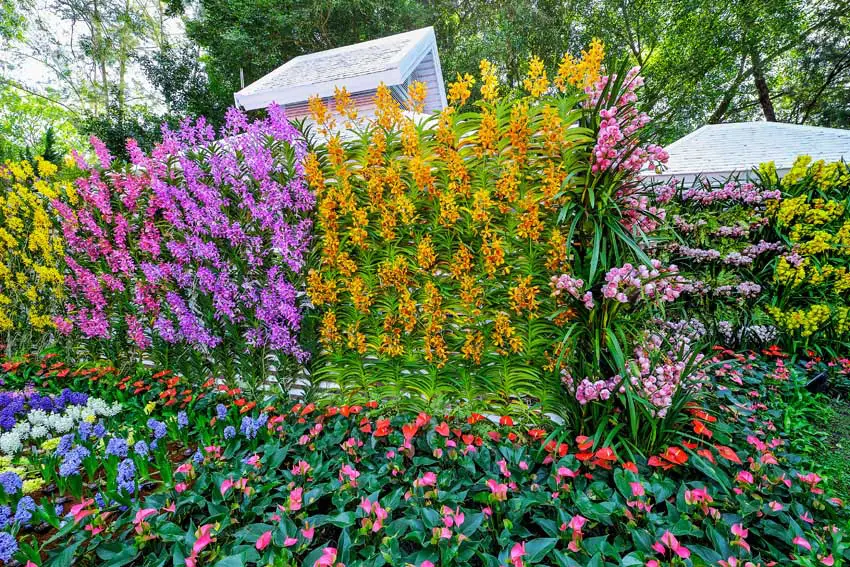 Filled with different variants of bright colored orchids, this "living wall" is a true feast for the eyes. Green walls, such as the one shown above, do not only serve as ornaments but can give health benefits as well by serving as natural air purifiers.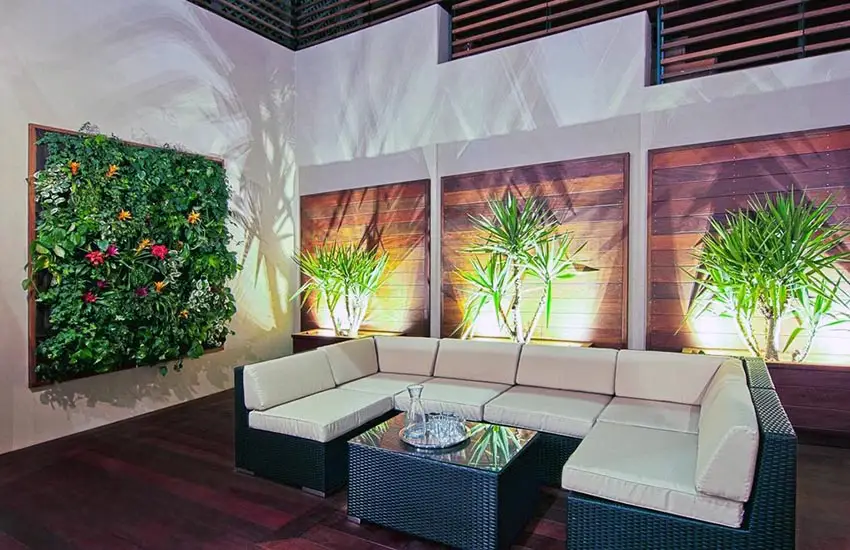 Flowering plants set in hanging pocket wall planters liven up the neutral features of this contemporary patio. When placed against a background of hard finishes like wood and concrete, vertical gardens render an element of "softness" to a space, making the design more balanced and appealing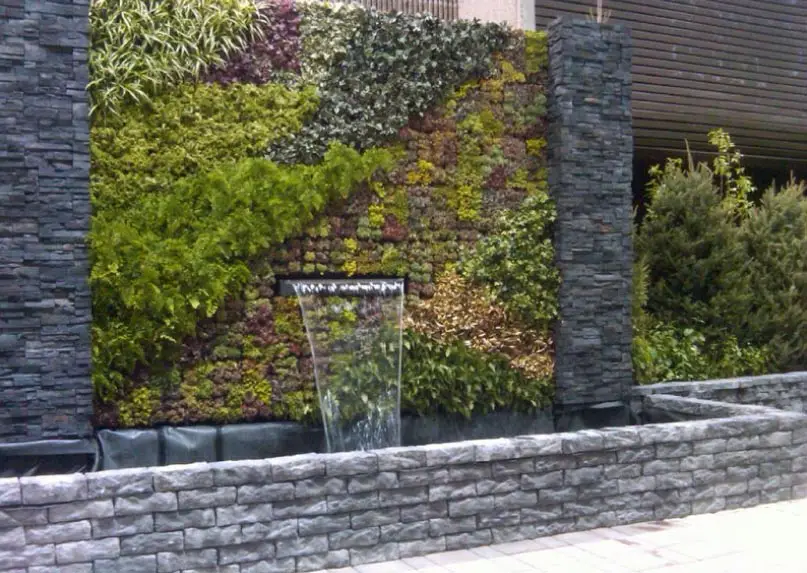 Vertical wall planter made with natural materials – Wayfair
This vertical wall garden instantly softens the rough architectural components of this rock wall feature. It makes use of ready made composite coconut fiber planters which are highly resistant to warp, insect and damage. This type of vertical garden planters can be hung individually or in group to form an interesting collection of plants and flowers. They are hung using mounting brackets and can be stacked for up to ten tiers.
Vertical Garden Planters
Vertical garden planters may either be freestanding or mounted on walls. Its types can be categorized into two general groupings namely vertical garden containers and living walls.
• Vertical Garden Container – Container systems for vertical gardens are composed of individual plant containers which are arranged in series or in different levels using a supporting system. This type of vertical garden are usually hang on walls using brackets or mounts. Ready made pots and planters which are also hang in walls using hooks can also serve as simple solutions to a vertical wall garden container system.
One type of vertical garden container which is widely available in the market are hanging pocket gardens. It is usually made up of a recycled material or fiber such as felt, which has compartments. These vertical garden containers are breathable, leak proof and can last for years. Pocket vertical gardens usually come as "solo" pieces or in tiers of three to five. This type of vertical garden container is perfect for beginners.
• Living walls – Living walls or green walls are a form of vertical gardening wherein walls are covered with plants. Some make use of trailing vines which are trained to climb over walls, while other make use of modular systems that allows the plants to grow inside structures. These vertical garden systems typically make use of irrigation to aid in the adequate supply of water.
Green walls are also often referred to as "living paintings" because of their exquisite beauty that resembles a masterpiece.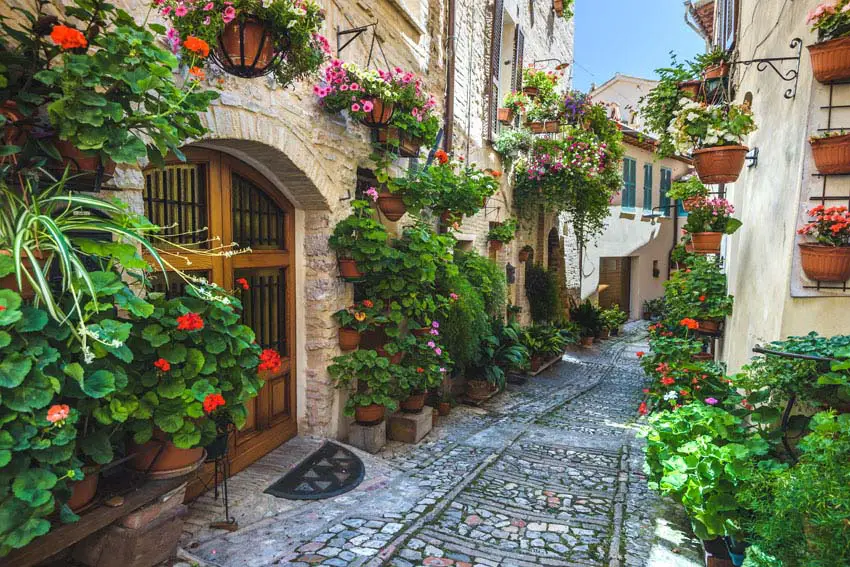 This "old world" inspired alley can make you instantly feel like you are in a scenery from a classic fairy tale book. With bright potted plants hanging above natural stone exterior walls, this view does not only brighten up the space but will surely cheer up anyone who sees it. You can easily replicate this look using ready made pots and plant containers which are widely available in local stores. These vertical garden planters are not only affordable but versatile as well.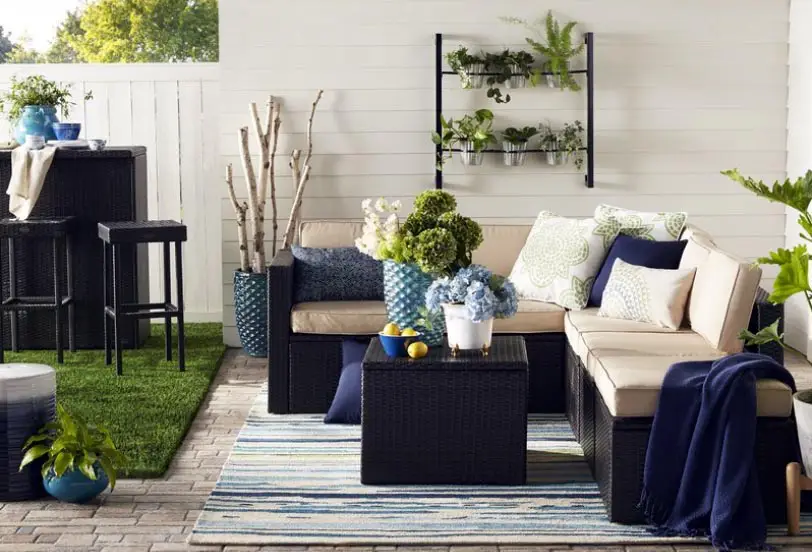 Metal wall planter set
Create a stunning vertical wall garden in your home by using this ready made hanging indoor wall planter. Made from galvanized metal pots, this chic and minimalist wall planter is perfect for holding lush plants, herbs and blooming flowers. Its chic design works beautifully for modern and contemporary inspired interiors, providing a stunning decor to your home, while at the same time, bringing your walls to life.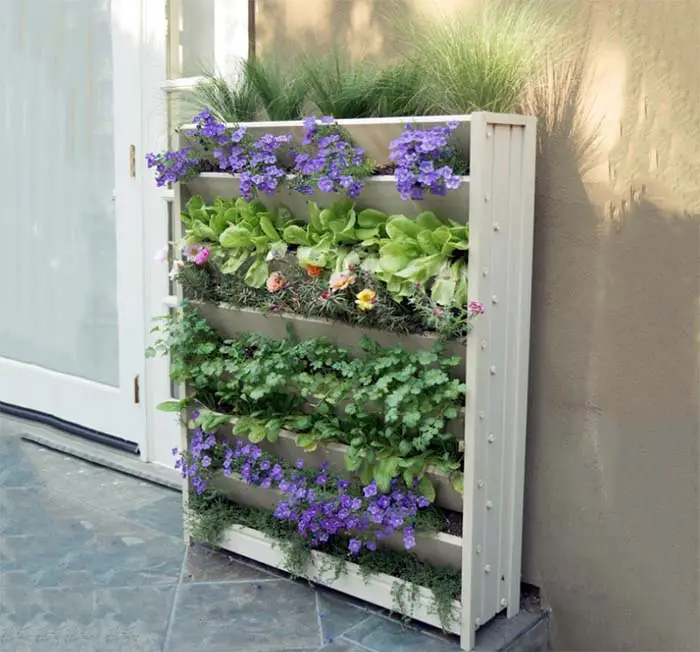 Freestanding vertical garden planter
Made with durable resin, this freestanding vertical garden offers a water resistant and low maintenance planter that does not crack, split and warp. The homeowners chose to grow a different kind of plant for each level of this vertical planter, resulting to a striking layering of colors and textures. Set beside the main door, it makes the front of this house more cheery and inviting.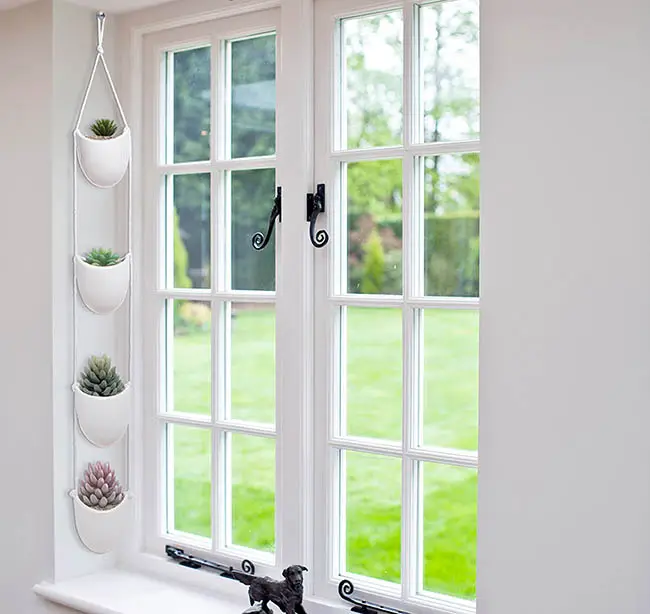 Ceramic hanging planter with succulents
Transform neglected spaces in your home into something delightful and interesting. This dainty vertical wall garden can be hang practically anywhere in your home, whether it may be indoors or outdoors. This ceramic hanging planter set features four small planter pots that are suspended between two ropes, perfect for holding small plants and succulents. Its simple and unornamented design is highly fitting for contemporary and modern houses.
Vertical Herb Garden
Herbs are usually used in small quantities, thus they do not essentially require to be grown in a large plot or garden. These types of plants are commonly cultivated in pots, window boxes or vertical wall gardens.
A vertical garden allows you to grow 3 to 5 tiers of herbs, which are generally concentrated into a single stand and since they are in one place, you can easily place them near the kitchen and pick what you need anytime.
There is actually no general rule as to what herbs can and cannot be planted in a vertical garden. Most homeowners just go with what they eat and what they commonly use. The goal is to simply use small plants which are manageable, have minimal roots and weigh less. Also, they must require less soil to thrive since vertical gardens cannot hold much soil. Avoid herbs which are also invasive and aggressive as these types of plants are more ideal to be grown in separate containers. Also, doing a little research regarding the care and maintenance of different herbs will help you choose the right ones in conjunction with the existing environment and lighting conditions of your vertical garden.
Annual herbs or herbs that lasts for one year are ideal for vertical gardens because they only need to be replaced once a year. It can be harvested during the summer before the frost starts. Perennials also work well in vertical herb garden, but require more care because they grow more quickly.
Here are some common types of herbs which grow well in vertical wall gardens:
Dill

– Dill is an annual herb and it has the ability to "self seed" if allowed to bloom near the end of the summer.

Basil

– Basil is another type of annual herb and it comes in different varieties. They require rich soil and would thrive even under the full shade.

Cilantro and Coriander

– Cilantro, also known as the "Chinese Parsley" is characterized by rosettes of lacy leaves. Its seed as known as Coriander. It is a type of cool season annual herb that usually self sows. This type of herb requires moist soil and full sun or partial shade to grow.

Parsley

– Parsley plants can live for two years but they are commonly grown as annuals to get the best flavor. Parsley is best started during the spring by sowing the seeds in rich soil. The soil must also be moist and as they grown they must be thinned out to leave only the large ones.

Chives

– Chives is a type of perennial herb and it lives for 2 or more years. This type of herb grows and spreads each year, multiplying fast so they need to be trimmed regularly. To grow chives in vertical gardens, sow the seeds in well drained soil.

Mint

– Mint is a type of perennial herb that is well love in container and vertical gardens because they are easy to grow and it leaves a pleasing aroma to kitchens and gardens. It requires the full shade and can be grown in small quantities. To keep the pants bushy, growing tips must be pinched. Mint comes in different varieties such as peppermint, spearmint, pineapple mint, ginger mint, apple mint, etc.

Sage

– Sage is a type of perennial herb characterized by greyish green leaves which grow one to feet high. It requires the full sun to grow and is quite tricky to cultivate because it has the tendency to dry out quickly. To ensure their best maturation in your vertical garden, make sure that it is periodically pruned to promote the growth of new leaves.

Oregano

– Oregano is another type of perennial herb and just like chives, it spreads quickly. This type of herb is quite an aggressive grower, so make sure to nip it regularly to keep the size manageable and to prevent it from invading other plants in your herb garden. Mexican or Mediterranean oregano are the best varieties. Grow them in light soil and keep them dry.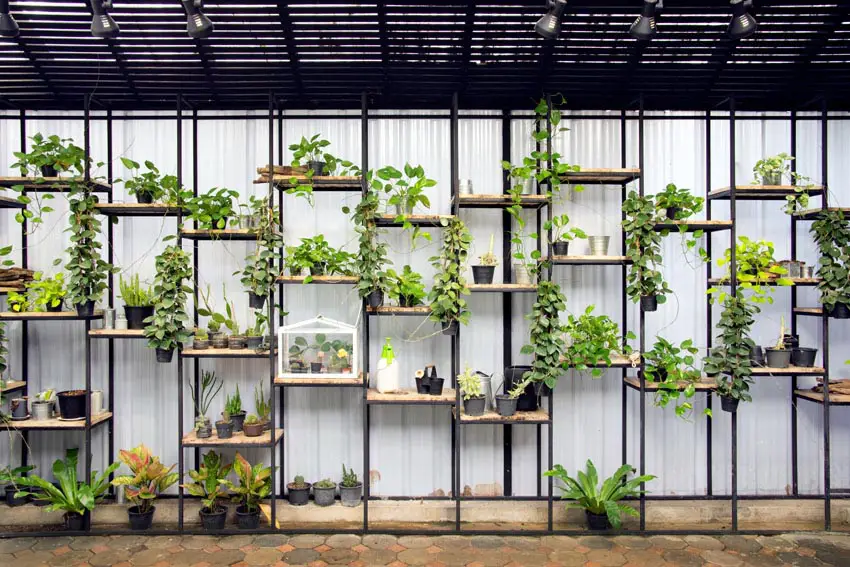 This vertical herb garden makes use of several tiers of plywood shelves which are anchored on a metal support system. By taking advantage of the ceiling height, not only is every inch of space maximized but you get a bigger amount of produce. This type of vertical garden system allows you to grow a wide variety of herbs and plants, while giving them enough room for growth.
Vertical Garden Systems
The beauty of vertical wall gardens is that it does not only allow you to grow flowering plants or herbs but it also works perfectly well for cultivating your very own vertical vegetable garden without the need for a large space or plot. It allows you to grow veggies at different levels, with different quantities and types, while concentrating on just a single area – so practically, you get more out of a limited space.
Growing vegetables in vertical wall garden will allow you to give them more care and attention. It makes your vegetables more accessible, thus watering and weeding is much easier. Unlike growing them in plots which requires "back breaking" work, vertical vegetable gardening is less laborious and saves time, effort and money.
Vegetables that thrive well in plant containers also work well for vertical gardens. However, there are some types which grow better compared to others.
Here are some types of vegetables which grow well for vertical garden systems:
Climbing vines – Climbing vines work well for vertical gardens because they grow upward. They grown towards the light and usually need some sort of supporting structure, whether it may be a trellis, wall, fence or frame. These plants usually have aerial parts which spread throughout the support, that is why they are also commonly used to cover trellises for added shade or in fences as covers for privacy. Examples of climbing vines which are easy to grow in vertical vegetable gardens are : cucumbers, peas, pole beans, asparagus beans, gourds, malabar spinach, and tomatoes. These plants are suited for trellises and lattice fences.
Trailing vines – Vegetables with trailing vines are usually grown on the ground but can adapt to trellises. However, unlike climbing vines, they are much heavier and require a sturdier support. Most trailing vines produce fruit and keeping them above ground helps prevent rotting and aids during harvesting. Some examples of trailing vines which can be grown for vertical vegetable gardens are : melons, watermelons, squash, pumpkin and sweet potato. These vines usually have a sprawling habit so make sure that their growth is directed towards a trellis or an overhead structure.
Greens – Greens are the most common vegetables grown in vertical garden systems because they have a low growing habit and can thrive well in shallow containers. Unlike vines which spread, greens need a limited amount of space. They thrive well in vertical gardens because of the improved air culation they receive. Keeping greens above ground make them less prone to pests, diseases and weeds. The plants can be grown for a longer period too because only the mature leaves can be harvested. Some examples of greens which can be grown for vertical vegetable gardens are : lettuce, spinach, mustard, amaranth, chard and collard greens.
Micro greens – Also known as baby greens or "vegetable confetti" include a variety of immature greens that have a height of up to 2 inches tall. It includes leafy vegetables, salad greens, edible flowers and other herbs which are usually harvested less than a month after they germinate just after they start to develop tiny roots. The first "true leaves" are the parts which are eaten, that is why it is also known as "edible seedlings". Unlike sprouts which germinate by soaking in water, micro greens are planted in soil.
In essence, they are also like the next stage to the "sprout". These types of vegetable grow well in vertical gardens because of their small size, requiring limited space and less soil to grow. Micro greens are also very easy to cultivate because they are usually ready for harvesting in a matter of days or weeks. Since they need to be frequently sowed and harvested, putting them at an accessible height makes work easier. Some varieties of vegetables which can be easily grown as micro greens for vertical vegetable gardens are : cabbages, chia, mustard, buckwheat, cauliflower, broccoli, cabbage, sunflower, beet, red amaranth, daikon radish, basil, kohlrabi and tatsoi.
Brassica family or Cruciferous vegetables – Brassicas are plants which belong to the mustard family. These vegetables have large contents of vitamin and minerals and are considered to be very nutritious. Cruciferous vegetables are known for their disease fighting properties which help ward off diseases like hypertension, diabetes, heart disease and cancer.
The main reason as to why these types of vegetables are perfect for vertical gardening because they are susceptible to pests like caterpillars, harmful butterflies, slugs and worms. Pest control is much easier when plants are grown at a raised level because they are not in direct contact to the ground, plus the pests can be easily noticed. Also, vegetables from the brassica family need plenty of water and need to be grown in individual containers in a vertical garden system. Some examples of brassicas which can be grown for vertical vegetable gardens are : cauliflower, brussel sprouts, cabbage, broccoli and kale.
Night shade vegetables – Nightshade vegetables are plants that belong to the Solanaceae family, mainly because they contain the compound solanine. This botanical family includes some of the most used vegetables we consume. This type of vegetable is perfect for vegetable gardens because they are easy to grow, do not need much space to mature and can adapt to containers. Just make sure that they are adequately watered and fertilized every 10 to 15 days. Some examples of nightshades which can be grown for vertical vegetable gardens are : Tomatoes, peppers (bell peppers, chili peppers, pimientos), potatoes , tomatillos and okra. Eggplant is also another type of nightshade vegetable but it thrives better in the ground compared to a vertical garden.
Root and bulbs – Though not as popular as greens or herbs, roots and bulbs can be grown in vertical gardens because of their compact size, low top growth. They will survive in vertical gardens as long as they have sufficient room for root growth, and as long as they receive ample light and water. Roots and bulbs are best grown in individual comportment in grow bags, or in deep plant containers. They require at least 6 to 12 inches of depth for the plant containers in order for the crops to mature healthily. Some examples of root crops and bulbs which can be grown for vertical vegetable gardens are :onions, garlic, shallots, leeks, radish, turnip, carrots and beets.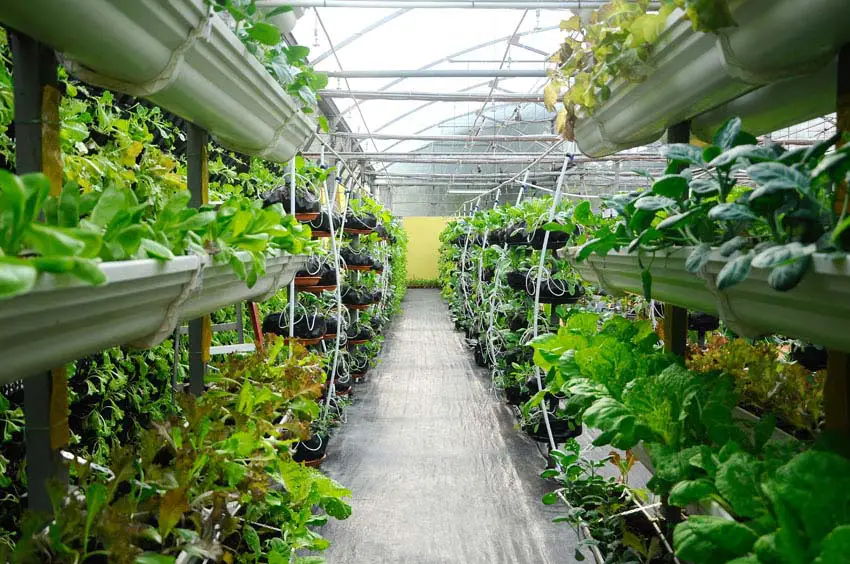 This greenhouse inventively combined different types of vertical wall gardening systems to hold a wide variety of green leafy vegetables – from roof gutters, to felt pocket wall planters and dish containers which are arranged in different levels. Aside form that, it also makes use of a built in watering and irrigation systems which ensures that the plants adequately receive their water supply.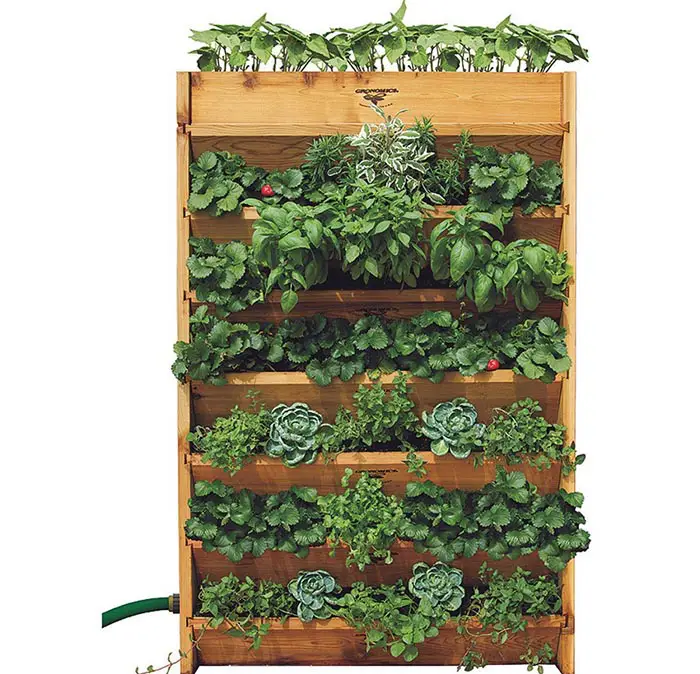 Cedar vertical garden planter – Source
This ready made vertical garden planter makes use of 100% Western Red Cedar that has a natural unfinished look. Its size makes it easy to hang anywhere in the home, while providing enough space to hold a large amount of plants -perfect for growing your very own herb gardens near the kitchen. This pallet inspired design brings a rustic flair to country and farmhouse inspired homes.
Vertical Succulent Garden
Succulents are a group of plants which store water in their leaves. They are characterized by their thick and fleshy appearance. Unlike other plants, succulents love dry climates and will thrive on areas with low humidity. They can withstand drought because they have an inherent supply of water in their leaves. Due to the water stored in their leaves, an extremely cold weather and temperature will result into freezing, leaving their leaves gelatinous and spongy, or worse, resulting to their death.
Just like any other plant, they need adequate water and sunlight to ensure best growth. If their roots are left sitting in water, they tend to get "soggy feet" and their leaves wither. If they do not receive enough sunlight, their leaves discolor, while they are subjected to excessive exposure to the sun, they "blush" turning into other colors like orange, pink, red, purple or blackish.
Succulents are perfect for vertical gardens because they multiply easily. Propagation is very quick as new plants can grow from small leaves which have fallen off the plant. They are healthy, vibrant, low maintenance and easy to care for.
Another main reason as to why succulents are well loved for vertical wall gardens is because they are visually appealing. It comes in a variety of shapes, textures and sizes, while its colors range from light greens to dark greens, with shades of pink and purple. Succulents can be combined into one interesting collection which displays a myriad of colors. Aesthetic wise, no other plant is at par with them. These type of plants are usually used to make "living art works" which instantly add interest to a space.
To grow your very own vertical succulent garden, succulents may either be grouped into clusters or planted separately in individual containers. Start up by laying your vertical garden containers in a sunny location for 4 to 0 weeks so that the plants can grow roots. Make sure that there is a right amount of potting soil, and that they receive at least 6 hours of sunlight. Do not put them in direct sunlight and regularly water your plants every 7 days. To determine whether your succulents re getting dry, try to test if the soil is moist.
Vertical succulent garden containers may be constructed from scratch or bought as ready made containers. One of the most prevalent designs which are currently trending are pre-assembled frames which are solely designed for this purpose. These type of succulent plant containers are readily available in home supply stores at an affordable cost.
Some examples of succulents which work best for vertical gardens are: hens and chicks, aloe vera, panda plant, jade plant and burro's tail. Cactus is also a type of succulent and can be grown in vertical gardens which are upright. Some common varieties of cactus which are excellent for vertical gardens are : christmas cactus (flowering type) , crown of thorns (flowering type) and pincushion cactus.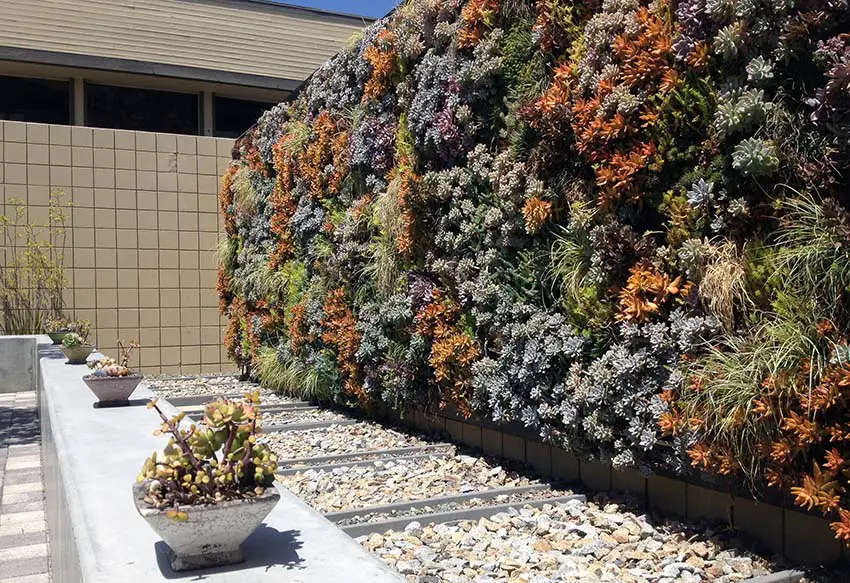 Vertical wall garden with succulents – Attribution#1
Flourishing succulents fill the facade of this green wall. The interesting plant collection which makes up this vertical garden combines a play on textures, color and size, making it a stand out feature for this backyard space.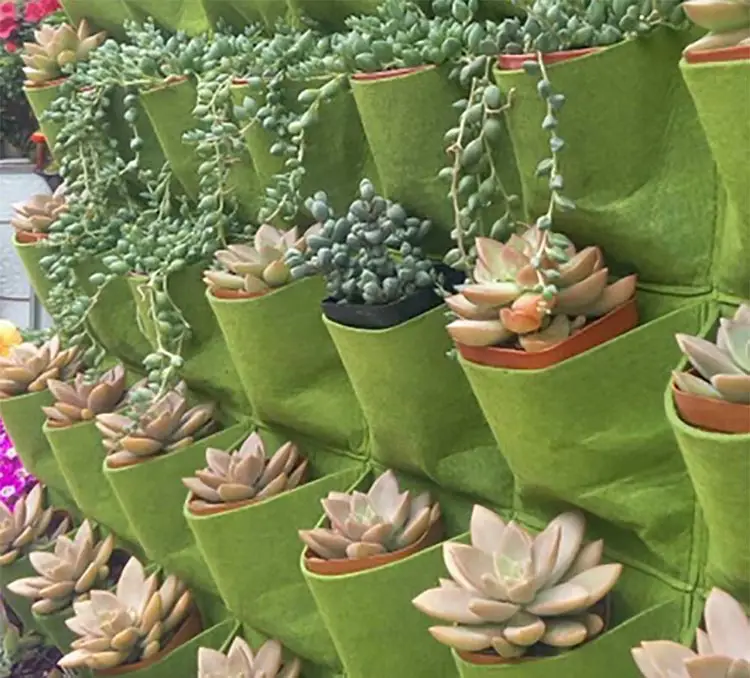 Wall hanging planter pouches – Source
Fabric planters are one of the most popular plant containers used in vertical wall gardens nowadays. This plant container, otherwise known as a plant "grow bag" makes use of pockets which are sewn into a felt hanging wall decor. Its compact size ca hold 42 different plants, allowing you to create your very own unique collection of herbs, vegetables and flowers. Since it is made of fabric, it is completely washable and easy to maintain. Aside from that, plant grow bags are quick and easy to relocate in and out of the home.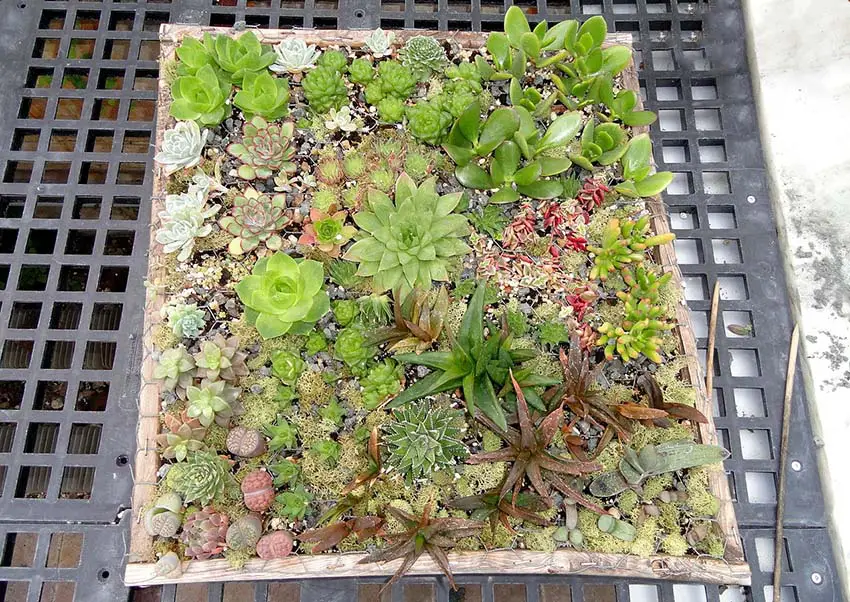 Instead of framing a photo, why not frame a mini garden for your home. DIY frames are one of the most popular vertical garden planters for succulents because they are easy to build. This type of vertical garden is also known as a "living art" – combining several varieties of succulents which are arranged in a certain composition to create a stunning masterpiece.
PVC Vertical Garden
Aside from ready made PVC plant containers, one of the most suitable materials for vertical garden systems are PVC pipes. PVC pipes are made up of plastic and is commonly used for plumbing and drainage systems. Its size and form gives enough room for growing a variety of plants and it can aso accommodate a built in irrigation system.
Aside from being versatile when it comes to design and use, a PVC vertical garden planter is also durable, lightweight and inexpensive. Unlike wood which is susceptible to molds and rot, a PVC vertical garden planter does not decay even when it is constantly exposed to moisture and harsh outdoor elements. A built in drainage system can be easily incorporated into the design by drilling holes onto the pipes, allowing the soil to retain just enough moisture for a healthy growth of plants. You can easily find DIY tutorial for PVC garden systems in the web and materials are widely available in most local home supplies stores.
Hydroponic Vertical Garden
Hydroponics is a type of hydroculture wherein plants are grown in an aquatic based environment, rather than in a soil medium. Mineral nutrient solutions are added in the water to feed the plants. In this way, the nutrients are delivered better and in more controlled quantities.
Hydroponic vertical gardens can be employed in a number of ways. The most widely used method used in vertical garden modules is the "drip system". The drip system is made up networks of water jets which releases the water and the nutrient solutions. The water pumps are timer controlled, facilitating the distribution at regular intervals. The excess nutrient solution is collected in a reservoir and used again for the plants.
Vertical Garden Kits
Vertical garden kits are ready made plant systems which come in sets, complete with a built in irrigation and drainage system. They come in a variety of sizes and design and are usually available for purchase in most local suppliers.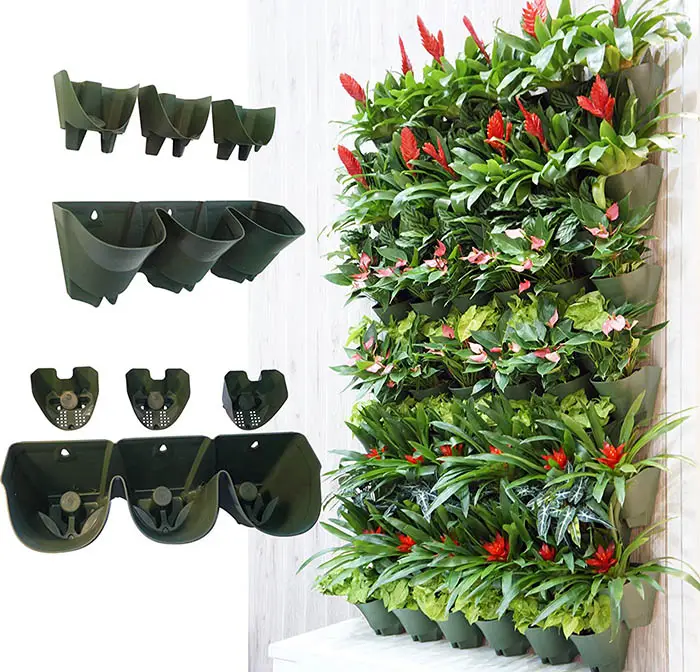 Self watering vertical garden kit – Source
This self watering vertical wall garden is the perfect alternative to conventional plant containers. Aside from providing an interesting decor to your home, this plant container can save you time and effort by keeping the plants adequately watered for up to two weeks, thus also saving you money through water conservation. It is made up of propene polymer which makes it durable and easy to maintain. This type of vertical wall garden planter is perfect for growing annuals, perennials, herbs and succulents. The picture above shows one of the applications of this type of planter – mounted on a plain wall and filled with colorful perennials and flowers.
Indoor Vertical Garden
As mentioned earlier, one noticeable difference between indoor and outdoor vertical gardens is that indoor vertical garden systems tend to be smaller in size because of the limited size inside the home. However, there is actually no general rule as to how you should design it. Their primary purpose is to beautify the home by contributing a stunning piece of living art
It is actually pretty easy to create your very own vertical garden inside the home. With the wide variety of choices available in the market, one can never run out of vertical garden ideas to explore. Indoor vertical gardens can be made using simple household solutions to more advanced materials. You can easily purchase ready made hanging plant containers to simple modular systems which require minimal assembly to install.
Growing an indoor vertical garden is very much similar to container gardening. The plants have the same needs which include soil, water, fertilizer and some sunlight. Just make sure to research on the individual requirements of each plant you plan to include in your indoor vertical garden to know which ones are more suitable for such use.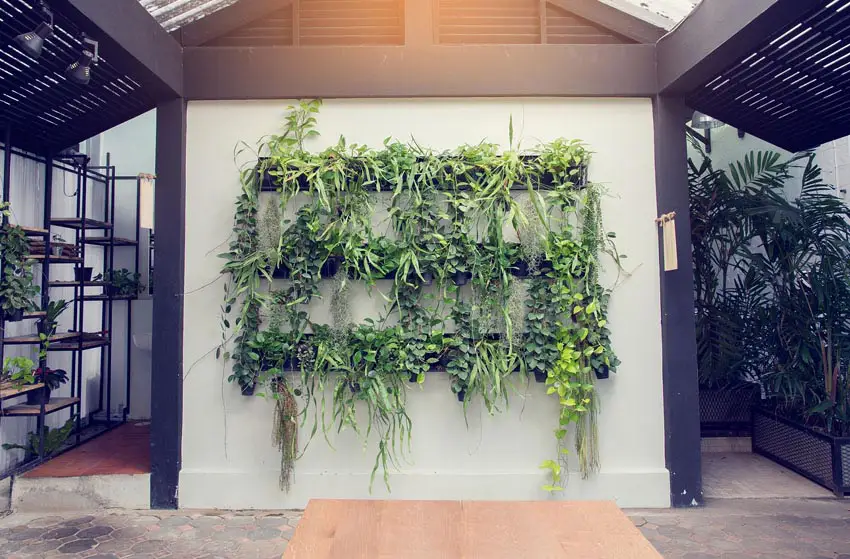 Trailing vines that spill over wall mounted plant containers fill the wall of this home. A blank wall is the perfect canvas for vertical gardening, instantly transforming a drab space into a "living" space.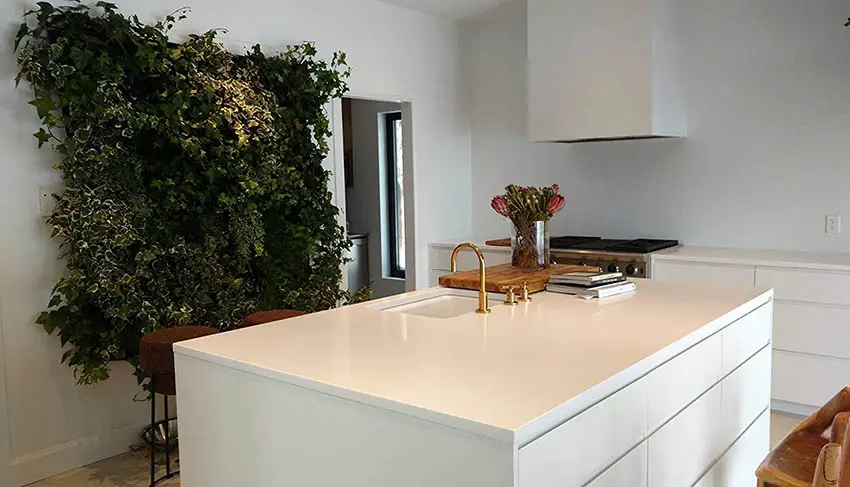 Living vertical wall planter – Source
An all white interior can sometimes look too plain boring, but thanks to this flourishing vertical garden, the lack of decor is perfectly solved. The profusion of dark green cascading plants render a stark contrast against crisp ultra white walls, making this kitchen more "soft" and organic.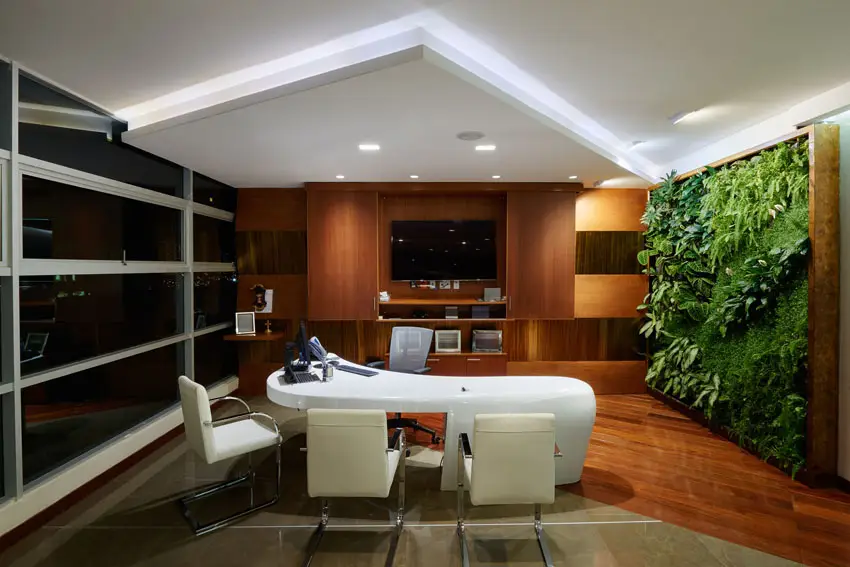 Even an office space can use the magic touch of a vertical garden. This contemporary office interior gets the much needed boost by using a green living wall to anchor the space. The sleek look of furniture pieces, the glossy textures of the finishes and the warmth of natural wood flooring all become brighter when combined with the refreshing green tones of verdant plants.
How to Build a Vertical Garden
Getting Started
• Decide on the type of system or plant container you want to use. There are numerous options of vertical garden systems which one may explore. The first step in building your own vertical system is to know what you need and want for your home, whether it may be freestanding or wall mounted, ready made or "do it yourself". Aside from that, vertical garden systems may also be a pocket garden type,container type, trellis type, wall planter type or frame type. A vertical garden also comes in different materials, so that's another aspect that you need to decide on. On the "do it yourself" track, you may use new materials such as PVC, metal gutters or wire mesh or re-purpose old ones such as wood pallets, bottles and jars. It can either be small or large depending on your need. Determining the type of vertical gardening system you want to employ will help you get an idea of all the other aspects involved such as budget, labor, time frame, etc.
•Determine the placement of your vertical garden – Where do you want your vertical garden to be? Do you prefer it indoors or outdoors? Before deciding on the final positioning of your vertical garden, consider some other factors and requirements. First, since weight is an issue as vertical garden may get a bit heavy, make sure that the area where you decide to put it can support the load. Check the load bearing capacity of your walls, fences or balcony, before starting.
The purpose of your vertical garden can also help you decide on its potential location. For example, if you want to use it for aesthetic purposes, situate your vertical garden in a dull place in your home, like a blank wall or a boring entrance. While if you want to use your vertical garden for growing herbs and vegetables, place it near the kitchen or a window.
•Select your plants. The location of your vertical garden can help you determine the right types of plants in accordance to the amount of sun exposure they need, whether it may be shade, part sun or full sun. For vertical gardens which are in sunny spots, opt to go with vegetables like tomatoes, carrots and strawberries, herbs like thyme, oregano and basil, or ornamental flowers like pansies, clematis and hyacinth bean,since they can all thrive in the heat. Succulents need mid exposure since they do not need the full sun or full shade. Choose plants which will receive the best growing condition on the location of your vertical garden.
The plant's growing habits must also be taken into consideration. If your vertical garden is in the form of the trellis, then naturally you will be needing plants trail and climb as they grow. Upright vertical garden containers are perfect for low growing plants while succulents can thrive on frame like systems. Some plants are also more "flexible" which makes them more suitable for growing vertically.
•Determine the grouping your plants. Generally plants for your vertical garden must be chosen according to their habits. Place the less aggressive ones together and group those with the same size in one location. This can be tricky because you have to take into consideration the practical elements of the plant without sacrificing the beauty of your composition.
Some people group plants based on aesthetics in order to produce a visually interesting collection. You can choose a specific type of plant and incorporate variation in size, shape and texture as you group the plants for your vertical garden. For example, if trying to build an aesthetically pleasing mix of greens for your vertical garden, try incorporating a purple romaine lettuce to your salad greens. You can also mix ornamental grass with flowering plants, so long as they fit into the same living conditions.
•Start with the basics. It is always best to start with the basics before you work your way into the more advanced parts of vertical gardening. A few planting essentials should also help you do the trick. Potting soil, for example, is one of the keys to growing a healthy vertical garden because compared to other soil types, it can hold moisture better rather than drying quickly. In terms of positioning, plants which are located on top your vertical garden should be those that need less water while those at the bottom should be plants which are suited for wetter conditions. For beginners, opt to go with easy to grow varieties which require less maintenance.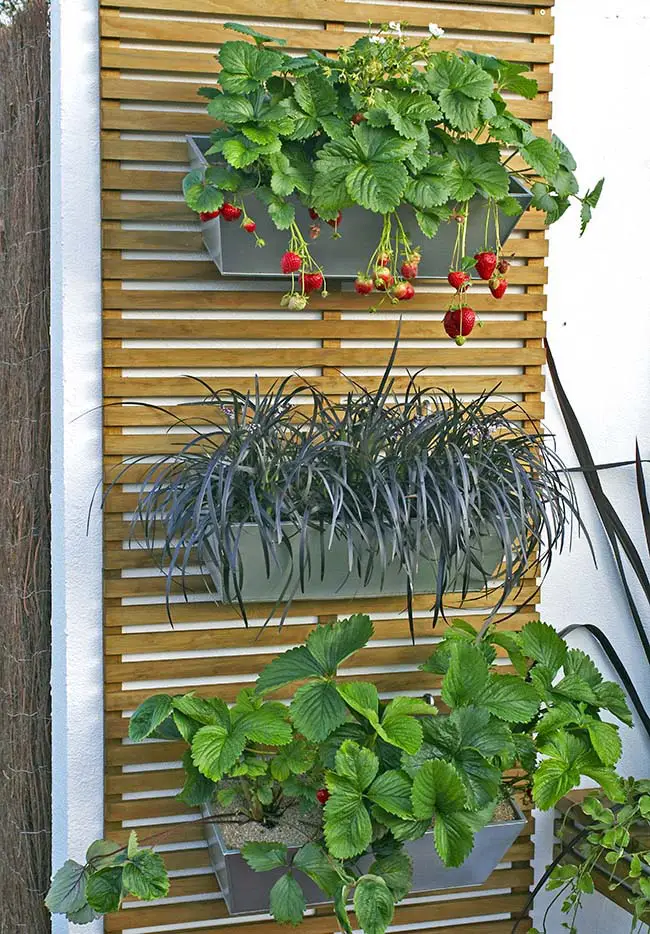 This simple vertical garden makes use of a slatted wood panel and hanging rectangular plant containers. From this example we can see that plants grown in a vertical garden are not limited to ornamental plants, herbs and vegetables – but instead it can also be converted into a personal "fruit garden" which one can enjoy.
Building your own Vertical Wall Garden
Building a simple vertical garden system can be undertaken as a "do it yourself project". Although there are a lot of ready made vertical garden planters which are available in the market today, building your own from scratch allows you to customize the shape, size and design of your vertical garden. Below we share with you the steps on building a vertical wall garden. This instructional will result to a simple wire lattice type panel which you can use to hold plants or hang ready made containers.
Materials needed:
⁃ 4 pieces of wooden planks ( for framing, size will depend on your need)
⁃ 4 pieces of 2" x 2" of wood blocks (same length as the frame, to be used as a "jute frame" and for holding the rack in the wall)
⁃ metal rack or iron frame / panel (lattice type or mesh type, study enough to hold weight)
⁃ jute fabric (for holding the soil, must be same size as the metal rack plus 20 centimeters on all sides)
⁃ plastic sheet
⁃ paint (depending on your desired color)
⁃ galvanized screws
⁃ galvanized nails (15cm nails for mounting the frame to the wall)
⁃ iron cramps
⁃ connecting strips
Tools needed:
⁃ saw
⁃ hammer
⁃ electric drill
⁃ screwdriver
Steps on How to Build a Metal Rack Vertical Garden
1.Choose your location. Decide on where you want to put your vertical garden and take the necessary measurements. Using a tape measure, determine the width and height of your vertical garden rack in proportion to the wall.
2.Prepare the wood. Wood has the tendency to rot and develop molds when exposed to moisture, s make sure that the wood species you use is naturally resilient such as cedar or redwood. However, this type of woods are generally expensive so other alternatives like pressure treated pine will work just the same. If your wood is untreated, protect it against rain by painting.
To prepare the wooden frame, saw the wood planks according to your desired size. You must get four different pieces, one for the top, one for the bottom and two for the sides. This will be used to support the metal rack as it holds the weight of plants.
The blocks of wood will be used to attach the vertical garden frame to the wall, kinda like a secondary frame. To build this, saw the 2" x 2" wood blocks according to the same size of your wood frame. You must also get four different pieces, one for the top, one for the bottom and two for the sides. To prep the wood block frame for mounting, drill pilot holes and make sure that they are smaller than the diameter of the screws you will be using.
3.Build the vertical garden rack frame. To build your vertical garden rack frame, attach the 4 planks to the metal rack using iron cramps. Turn the frame around and attach the top of the planks using connecting strips.
For the secondary frame or the "jute frame" ,attach the four pieces of 2" x 2" wood blocks together using nails. You can either use a miter joint or butt joint to connect them.
4.Prepare the wall. Use the framed metal rack to mark the points on the wall where the vertical garden will be mounted. Mark four points specifically the two corners on top, and the middle part of each side of the frame. Drill a hole on the wall using these points and put plugs in it.
5.Lay a sheet of plastic over the wall. Lay a plastic sheet which is just the same size of the vertical garden rack to protect the wall from the roots of the plants. Set it in place using nails.
6.Cover the woodblock frame with jute fabric. Once your 2" x 2" wood block frame is assembled, lay the jute fabric over it and make sure that it is covered from end to end. As a result you will be getting a "canvas like" frame.
7.Set the vertical garden rack in the wall. First, attach the "jute frame" or the secondary frame to the wall using long galvanized nails. Once set in place, fix the vertical garden rack frame onto the jute frame using screws. Cut any any excess plastic sheet around the vertical garden rack.
8.Start planting. This vertical garden rack is versatile because you can either plant first on individual ready made plastic containers then hand them on the metal rack later on. Or you can also, plant directly on the soil and use it as a trellis for climbing plants.
Some other tips on building your own vertical garden:
-Prepare the plants for vertical gardening. If building a vertical garden using plant containers, allow the plants to establish their roots first to help keep the soil in place. Let them grow horizontally or flat laid to help secure the garden. Once they have established their roots, you can now elevate them in a vertical position.
-Use an effective irrigation system. Since vertical gardens have less soil, they need to be watered more often. An effective irrigation system is needed especially for large living walls or for vertical gardens which are high because accessing them can be a bit harder. Drip irrigation is one of the most recommended watering systems for vertical wall gardens because it ensures that water is evenly distributed in all the levels. This is done by drilling holes at the bottom of the plant containers in order to allow the water to drip down.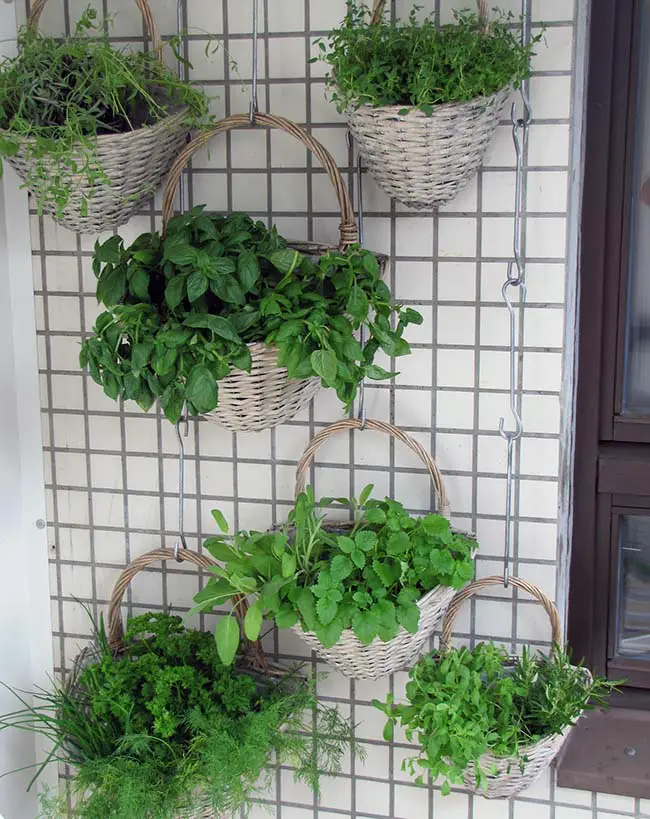 This vertical wall garden design is one of the simplest methods which one can explore. Shown above are a collection of various herbs which are planted on woven baskets and hang on mesh metal racks using hooks . Set this up near your kitchen to get a fresh supply of herbs every time you prepare meals for your family and friends.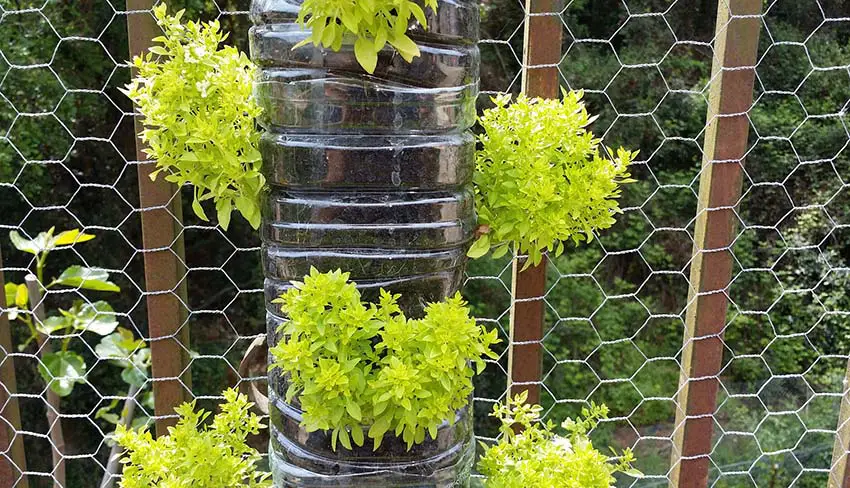 You might want to reconsider saving that used plastic bottle before throwing it in the trash. This vertical wall garden is an easy DIY project which made use of recycled plastic bottles which are mounted on a chicken wire fence. Not only are these attractive but it can save you a significant amount of money too.
Vertical Garden DIY
The materials which can be used to create a vertical garden is not limited to conventional materials which are commonly found in the market. Aside from ready made planters, modules and systems, one can explore both old and new materials to produce a vertical garden that completely suits your needs and preference in style.
"Do it Yourself" vertical gardens allow for customization and gives the owner freedom to exercise his or her creativity. DIY vertical gardens can be made in a variety of ways, using old and new materials – from old furniture to gutters, wood pallets, reclaimed wood, used jars or bottles, and large fabric bags with pockets. You can also use mulch which is bound together or PVC pipes with irrigation holes – basically, anything can work as long as you don't limit your imagination. In addition to that, it is a good way to practice upcycling and lessen the waste in the environment by turning trash into treasure.
One of the most common materials used in DIY vertical wall gardens are picture frames. Frames are often transformed into living art by allowing easy to grow plants like succulents in them. Start with a salvaged old wooden frame then attach some chicken wire. Secure it in place by sandwiching the chicken wire into another frame. Once ready, begin filling it with soil and plant your choice of succulents in them.
Another popular DIY vertical garden idea is the "gutter system" wherein old roof gutters are arranged in three to four levels and attached to a solid wall. These gutters are then simply filled with soil and and plants, serving as an interesting wall feature for the home.
Simple DIY vertical gardens can be made using different ready made plant containers which are mounted vertically in tiers using support systems like brackets, hooks or hangers.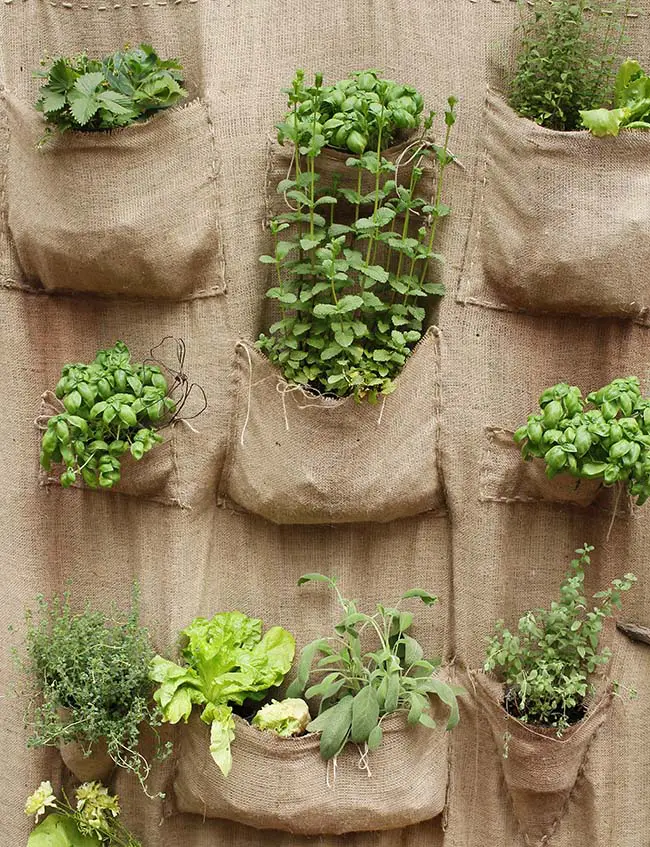 Make you very own hanging "gunny sack" planter using burlap or jute fabric that is sewn with differently sized pockets. This fabric works well as planters because it allows the plants to breath. This type of vertical garden planter is practical, easy to make and can be customized according to the number of plants you want to grow. Shown above is a DIY pocket garden with various greens and herbs.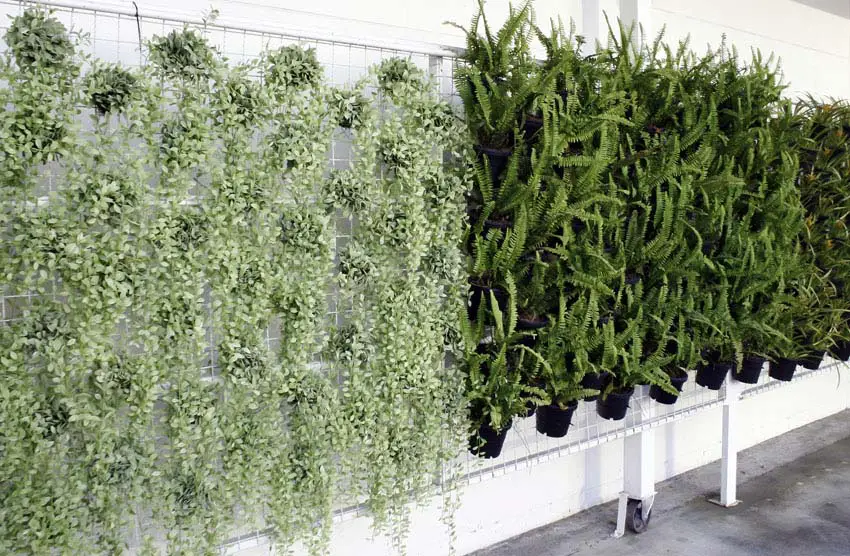 Mesh metal racks are very versatile when it comes to vertical garden use. They can work as trellises or supports for hanging plant containers or for holding mulch. This vertical garden shows ferns and cascading plants in plastic containers which are hang on white metal racks – cheap and very effective to use.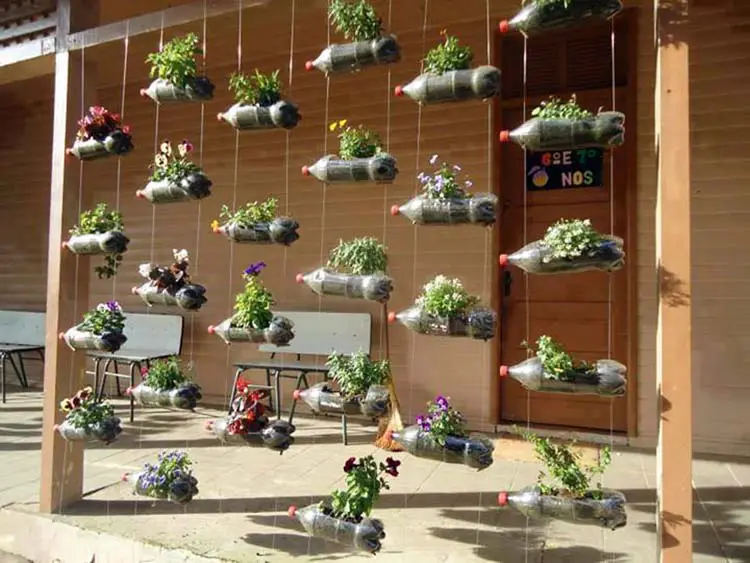 Hanging soda bottle planters – Attribution #2
Upcycle soda bottles and turn them into charming vertical garden planters.This DIY vertical wall garden made use of soda bottles and horizontally suspended them in a wooden frame using two pieces of string which are tied on both of the bottle's ends . There is really no limit when it comes to vertical garden planters, all you need is your imagination and resourcefulness to produce a stunning design.
Pallet Vertical Garden
Wooden pallets are a byproduct of warehouse inventories. These are flat wood boards that are made up of vertical members with no bottom board. Their solid structure makes them the perfect material for re-purposing into a vertical wall garden. They are sturdy enough to hold the weight of plants even as they are watered down.With a few tools and materials, an old useless pallet can be turned into a beautiful thriving vertical garden which can add visual interest to your home.
The best thing about re-purposing pallets for vertical wall gardens is that they are easy to find and can be availed at a very low cost. Most warehouses just dispose them after use, so more often, they are practically free.
Pallets have just the right size to accommodate a number of plants from ornamental flowers, to vegetables, herbs and foliage. Some directly plant on it by layering it with some felt fabric, while others use it to hold ready made plant containers. Pallet vertical gardens are more commonly used outdoors and can be attached in walls, fences, porches or balconies.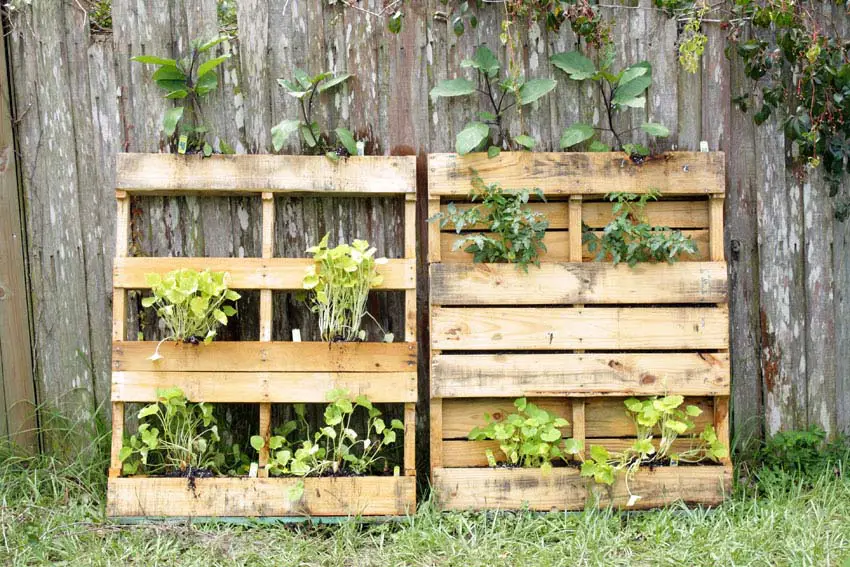 Even a plain old wooden pallet can turn into an attractive vertical garden using a few other materials and some simple steps. Wood pallets are the perfect material for a freestanding planter because their sturdy structure can support the weight of plants. You can also leave it with a raw unfinished look if you want the natural beauty of wood to stand out.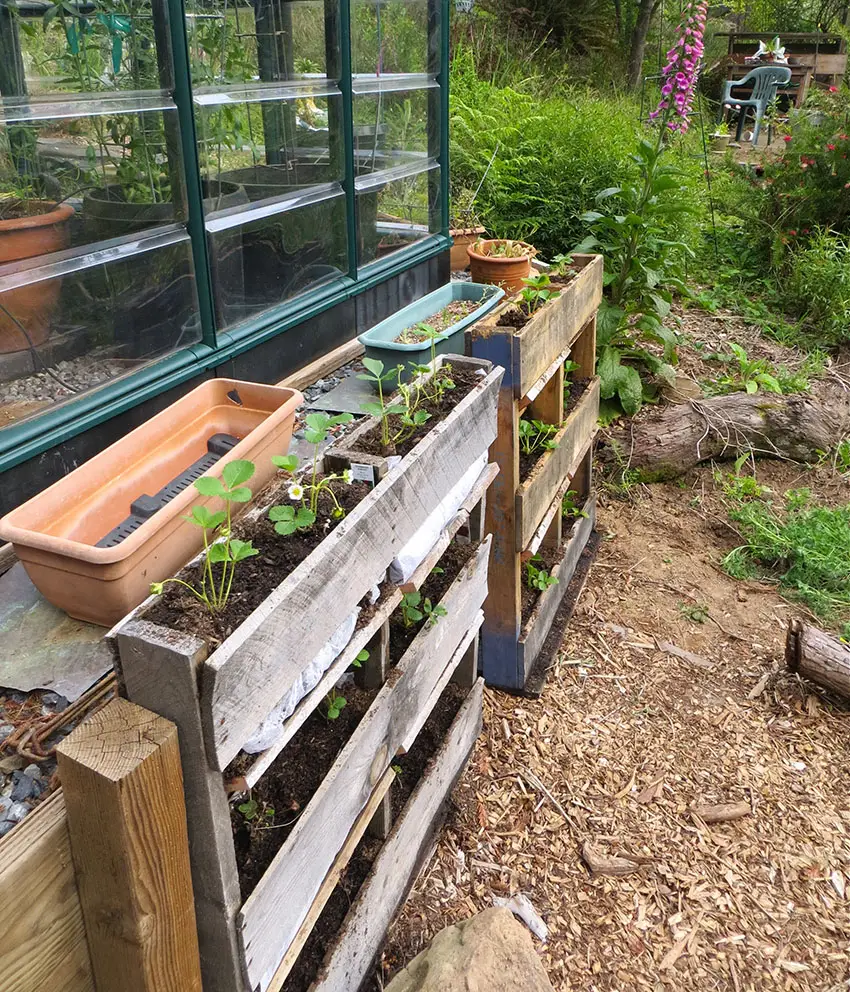 A simple wood pallet can make an easy DIY vertical garden for small vegetable plants.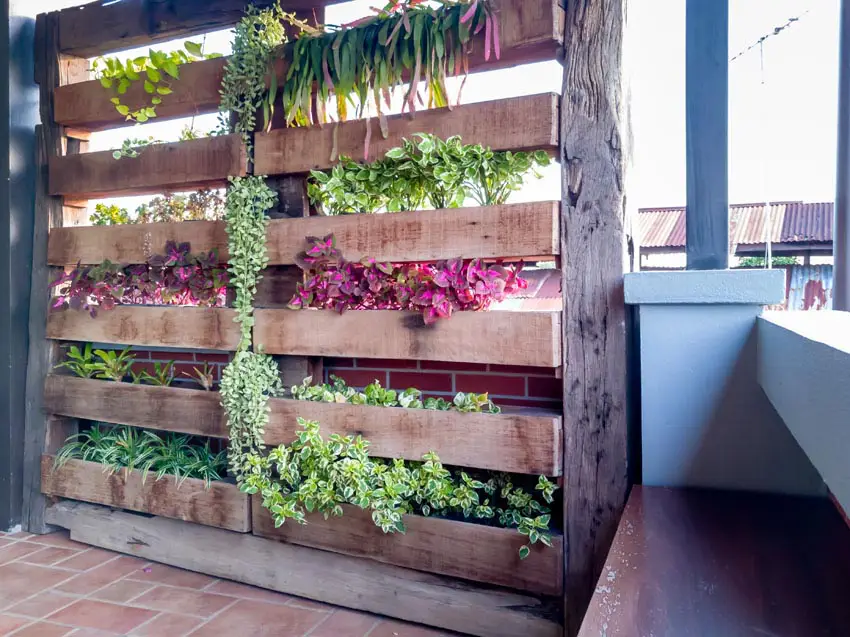 The inherent beauty of colorful plants were given a chance to stand out against its background of natural weathered wood planters. This rustic inspired wood pallet vertical garden is perfect as a colorful focal feature for terraces, balconies and porches.
Freestanding Vertical Garden
Freestanding vertical gardens are vertical garden plant containers which stand upright, without the need for an added support like brackets. These plant containers do not need to be mounted on walls and usually resemble the appearance of shelves – with three to five tiers which can hold a good quantity of plants. Most freestanding vertical garden planters come with a built 0 in drainage and irrigation system.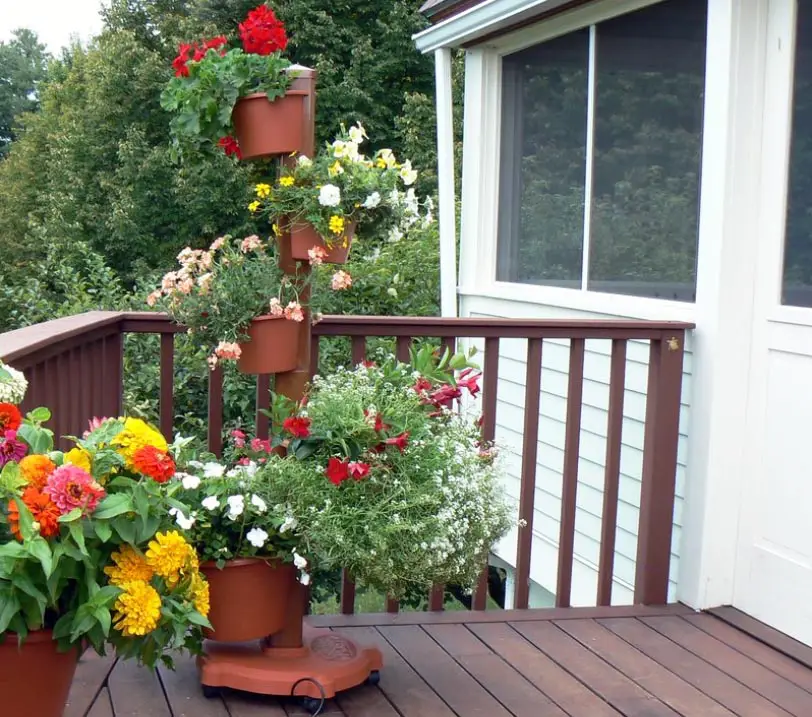 Freestanding vertical flower planter
Grow an entire garden in a compact 4 foot vertical garden system. This UV resistant plastic planter is the perfect solution for houses with limited spaces. Designed for growing flowers, herbs or vegetables, this vertical planter is not only functional but equally decorative and durable as well. The alternate positioning of the pots in the tower gives the plants enough room to grow and spill over the planter's edges.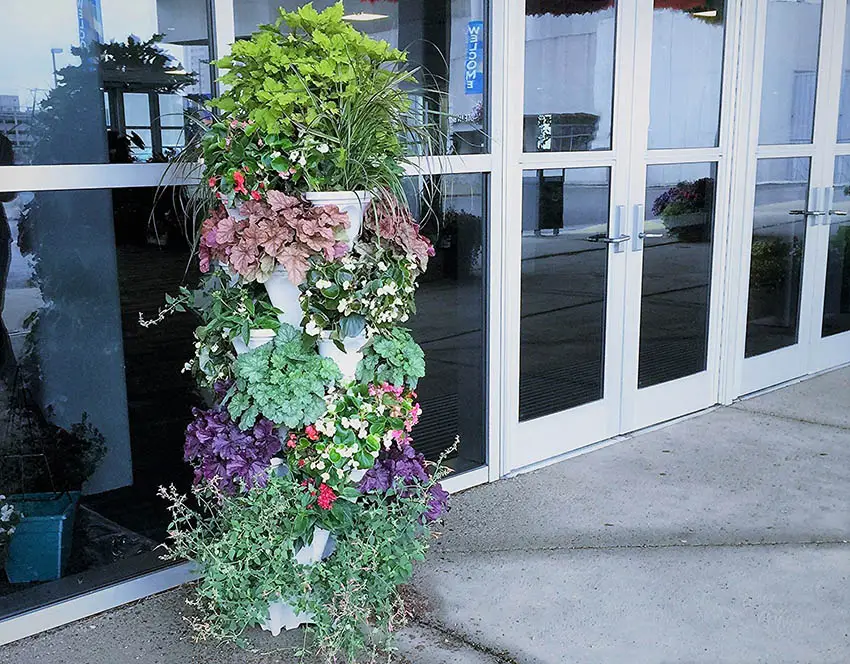 Tiered vertical garden planter – Source
Stacking planters are a smart and efficient way to create a space saving vertical garden. This ready made "plant and stack" vertical gardening planter makes use of large heavy duty resin pots which are perfect for compact areas like corners in the house, balconies and front doors.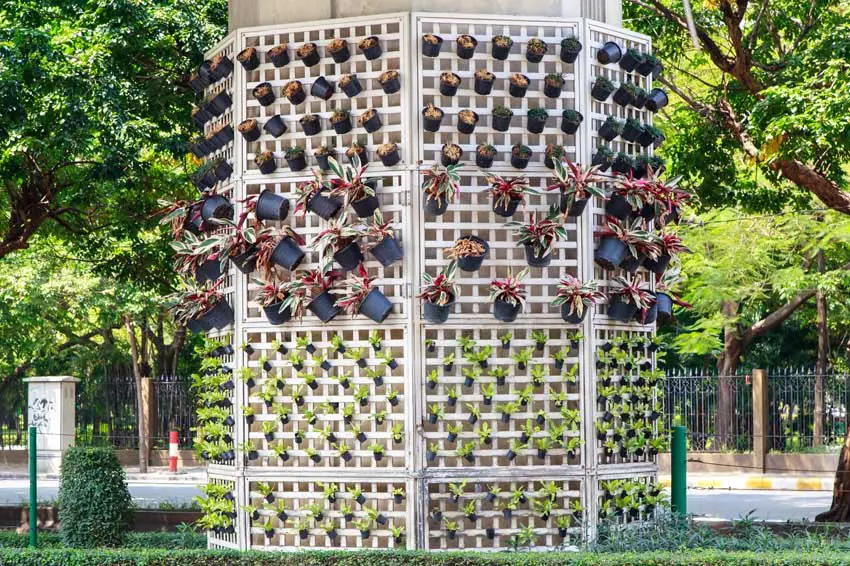 An unsightly view, such as this octagonal concrete column provides the best opportunity for vertical gardening. With a few lattice screens, some hanging planters and a plentiful selection of ornamental plants, it is instantly transformed into something eye catching from being too boring.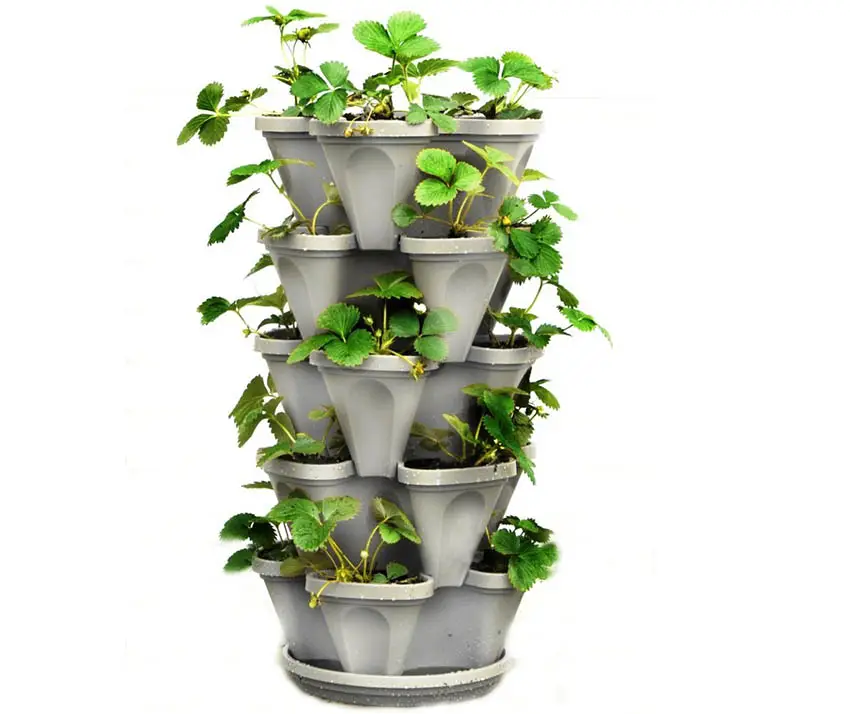 Stackable garden planter – Source
Another example of the stacking planter, this ready made vertical gardening system offers not only a space saving attribute but a water saving feature as well. It allows you to effectively distribute the water to all the plants by just watering the top most part – consequently resulting into healthier crops. This is vertical gardening made easy.
Vertical Garden Ideas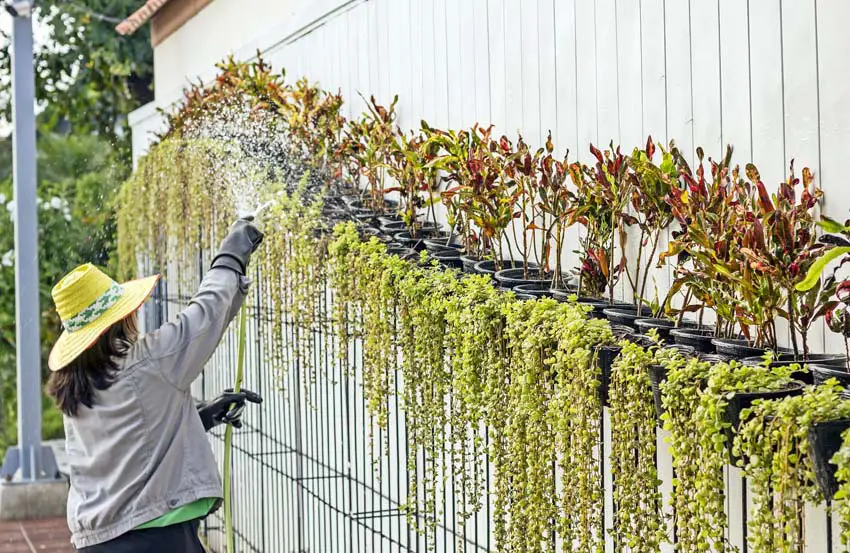 Resembling the flowing waters of a captivating waterfall, this vertical garden features a series of ornamental plants which cascade beautifully on hanging resin planters. Their unique curved form shows a creative take on the traditional vertical garden arrangement.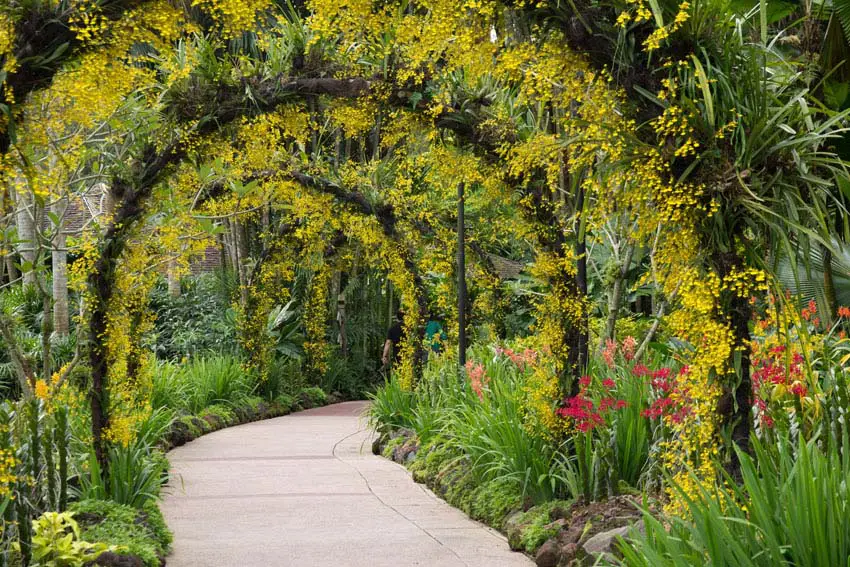 This delightful path is adorned with a series of charming floral arches that feature an abundance of sunny yellow hues, bright pink tones and refreshing green shades. This vertical garden gives not only an alluring view but an enchanting experience as well.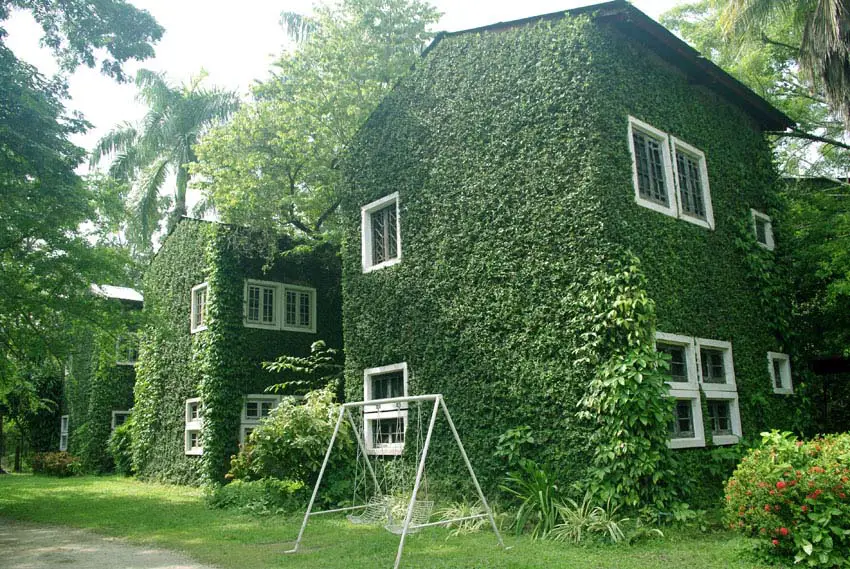 Aside from living walls, green houses are also becoming popular as homeowners try to take their gardening and design sensibilities into more creative heights. This house seamlessly blends with surrounding nature as verdant vines trail all over its exterior.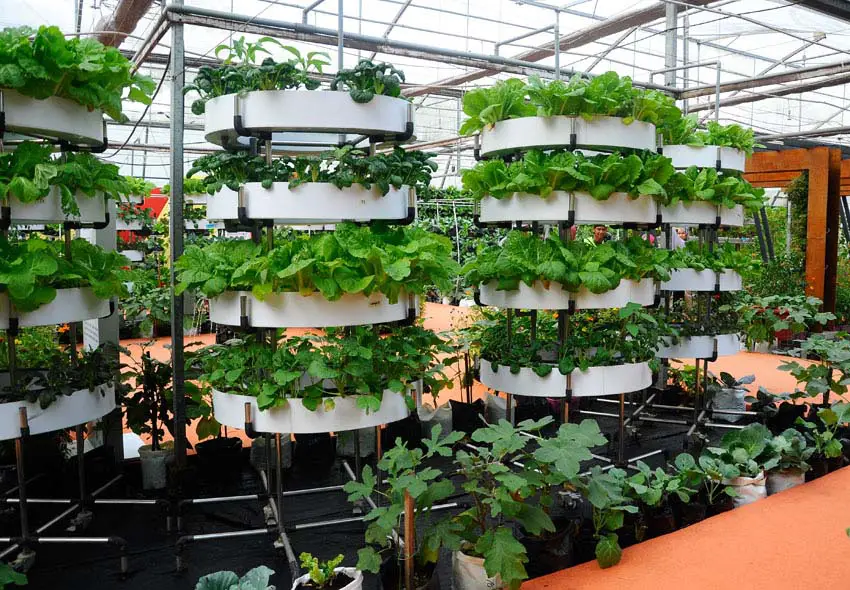 This greenhouse makes use of a vertical garden system with built in irrigation and drainage systems. This design is highly suitable for growing vegetables and other edible crops as it ensures that they receive the proper care and nutrients they need to get a bountiful and healthy produce.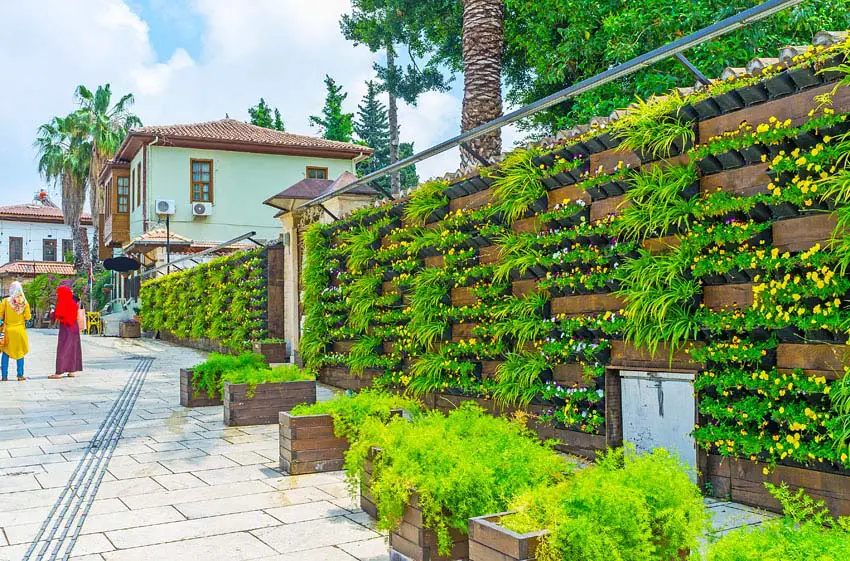 This perimeter fence is an excellent example of vertical gardening as it makes use of uniform planters which are elegantly arranged in an eye catching pattern . The complementing colors of natural weathered wood and flourishing green plants effortlessly creates a cheery , homey and inviting vibe to the space.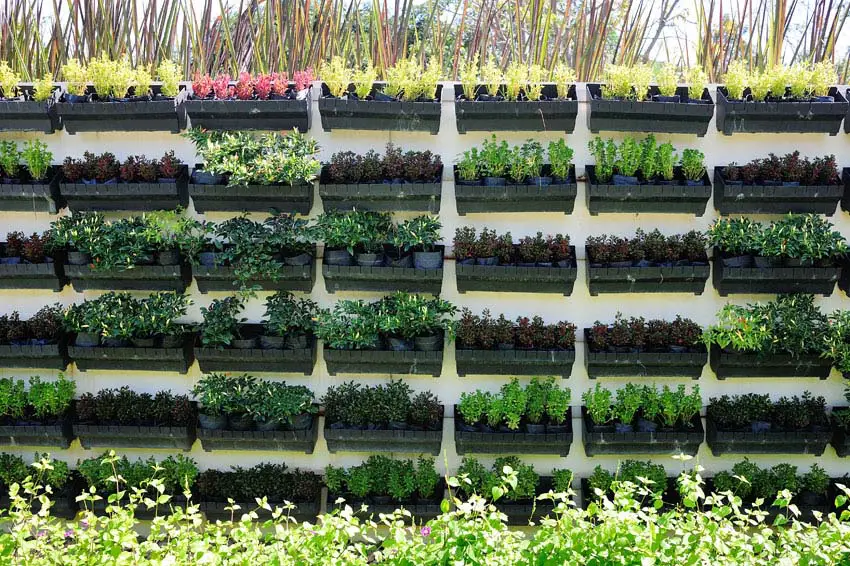 Instead of hanging planters in small sections of your wall, why not try to fill the whole space with it to maximize your gardening potential.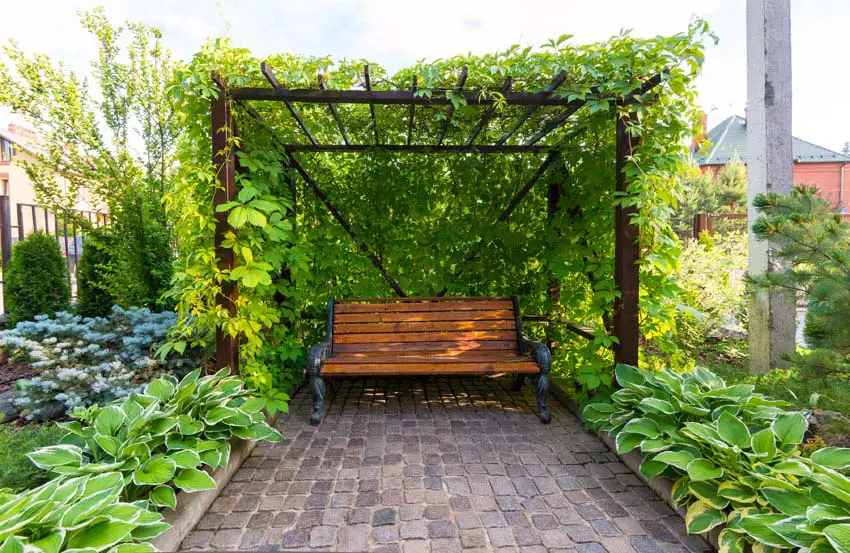 This small relaxation corner is the perfect spot to spend afternoons with a book at hand. Situated under a trellis full of lush climbing vines, this patio space is fully covered from the sun because of its natural organic canopy.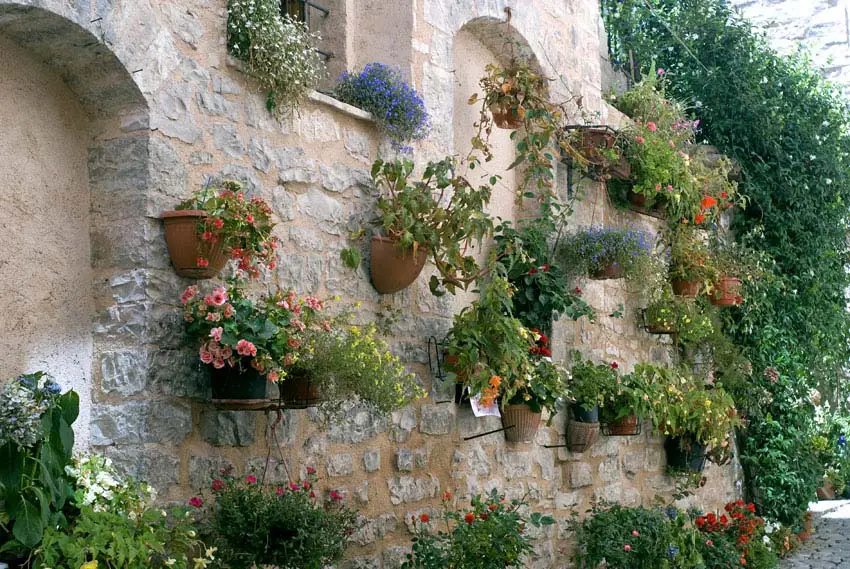 The rustic style of this old world inspired stone wall is complemented by hanging warm terracotta planters. The addition of ornamental plants and full bloomed flowers contribute a charming splash of color to the rough finish of the stone exterior.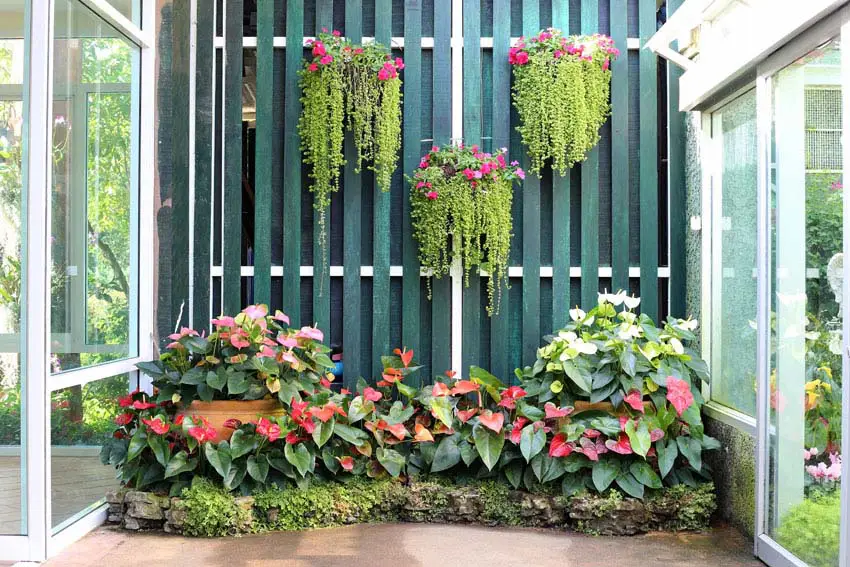 Instantly create an attractive accent wall by dressing it up with pots of cascading flowers. This sun room made use of a green slatted wall and a contrast of bright pink flowers to add an extra wow factor to the space.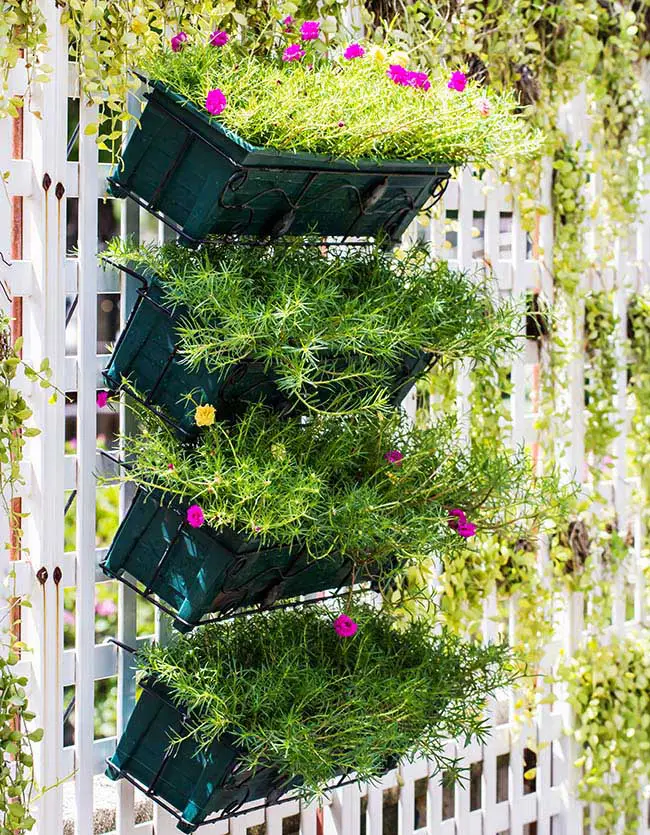 Introduce an element of charm into classic white lattice screens by displaying dainty Vietnam roses in multiple levels of flower boxes. This does not only render delightful aesthetics but it can also contribute to adding semi privacy to open fences.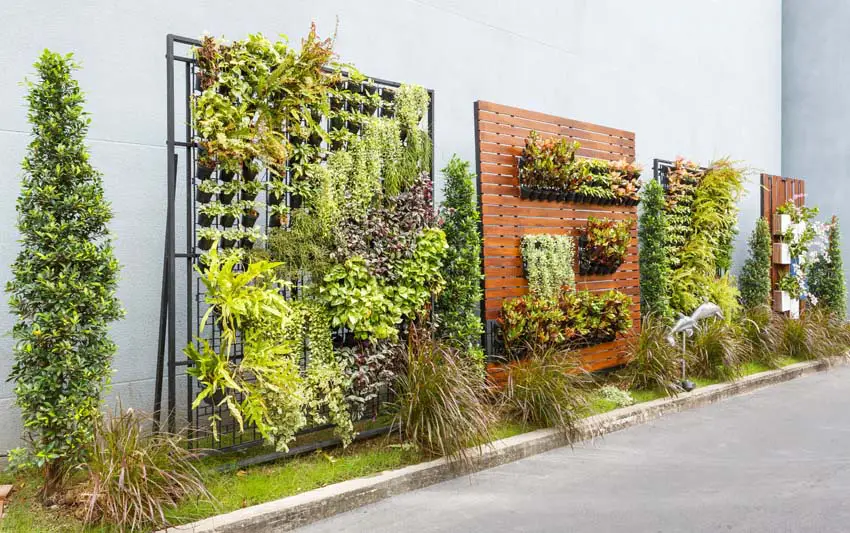 This wall comes to life as a collection of ornamental plants fill a series of different vertical garden systems. For this design, they made use of metal racks and freestanding slatted wood panels to hold varying sizes of ready made plant containers.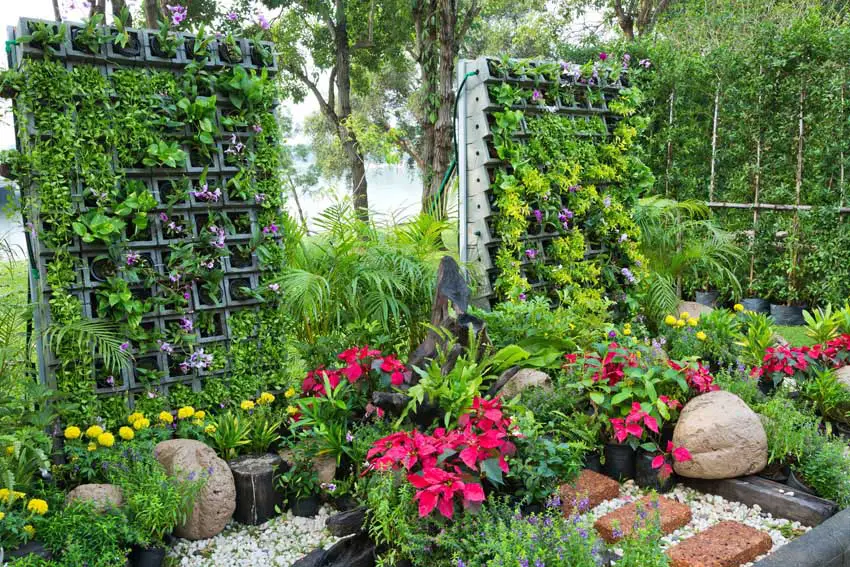 Displaying an array of dainty purple flowers, this vertical garden serves as a towering main attraction for this garden. It makes use of a modular planting systems that distribute the plant's water supply from the highest level down to the lowest tier.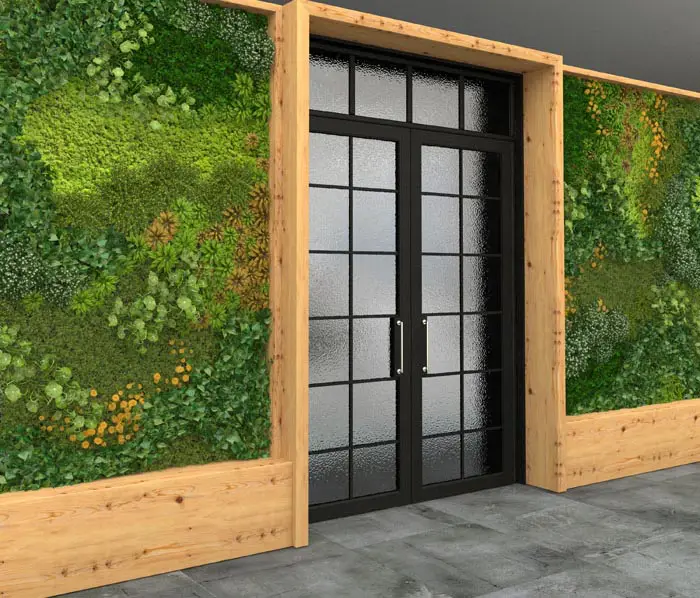 Front door and main entrances look extra inviting when adorned with a vertical garden wall that is full of an array of flourishing greens. The sophisticated and streamlined design of vertical garden matches the elegant modern style of the french main door. The wooden framing also brings a touch of contrast to the gray concrete flooring.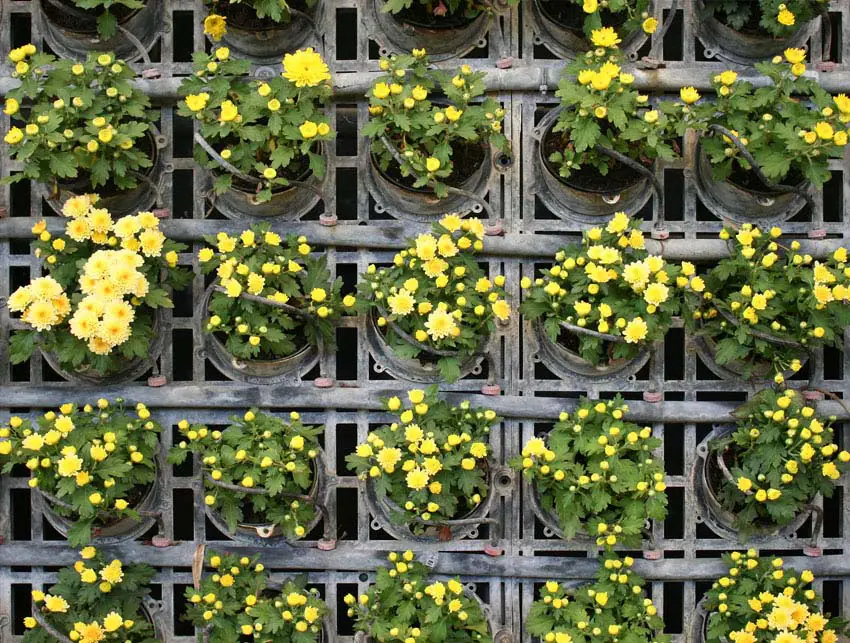 Filled with sunny yellow flowers, this vertical wall garden brings a happy mood to a space. Its design makes use of a self watering system that keeps the plants adequately watered and nourished.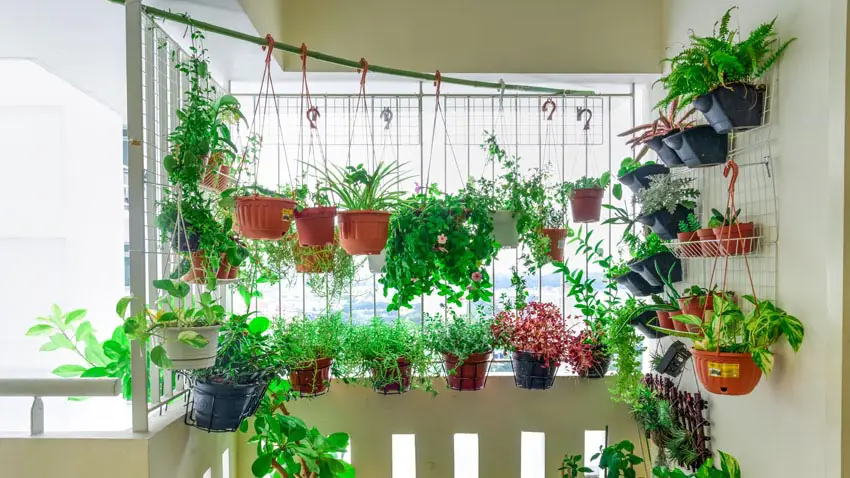 This small apartment balcony was able to accommodate a full blooming garden with only a limited amount of space. If you want a quick and easy fix to create a beautiful vertical garden, hanging ready made plastic planters is the most efficient option you can explore.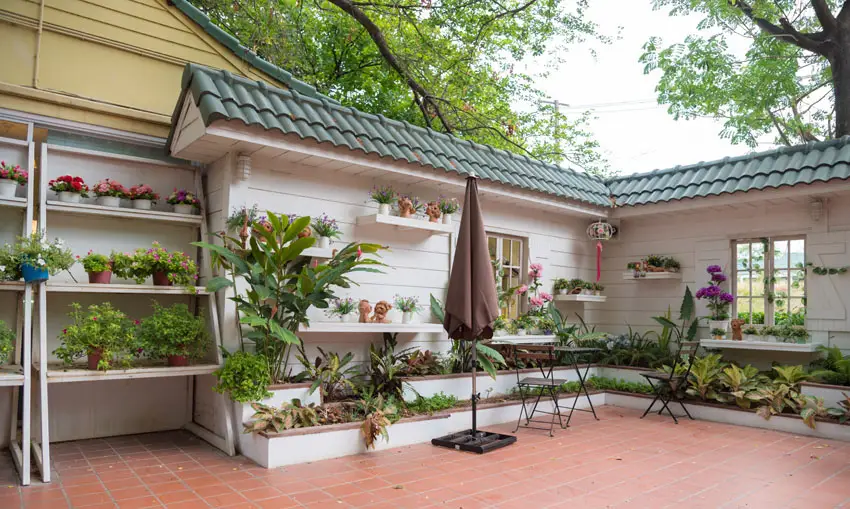 Maximize every inch of precious space by taking advantage of wall heights and structural sidings. Floating ledges and free standing shelves are effective vertical gardening solutions because they allow you to grow a large amount and variety of plants without taking up any floor space. This beautiful backyard used vertical gardens as the primary decor for the white sidings of the structure.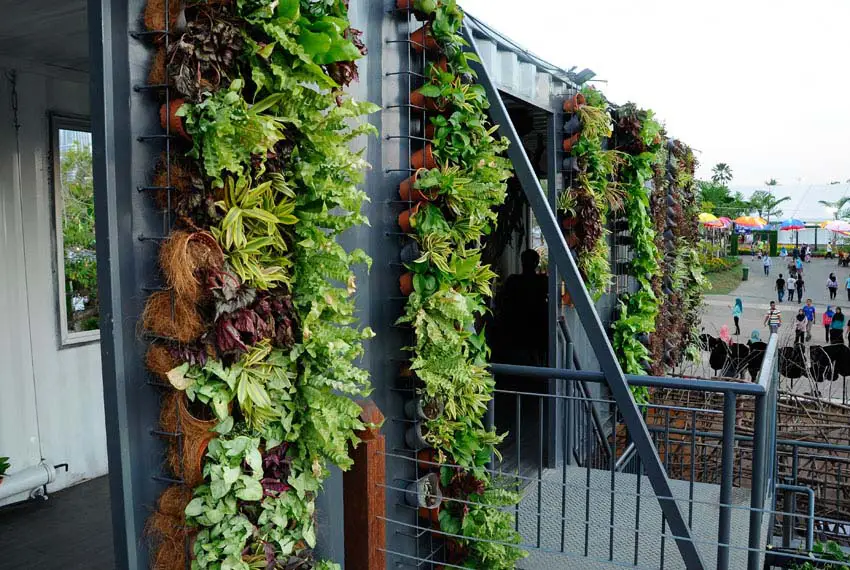 A juxtaposition of organic and industrial elements, this vertical garden made use of coconut husks as plant containers for a flourishing mix of ornamental plants. When mounted against the dark gray walls of the container van building, the vertical garden softens the strong look of the steel.
A green wall can bring in a breath of fresh air, both figuratively and literally, into an urban setting. This cityscape made use of modular vertical garden systems which are filled with a profusion of foliage and ornamental plants. Not only does it provide a refreshing view, but it also acts as a barrier for air and noise pollution.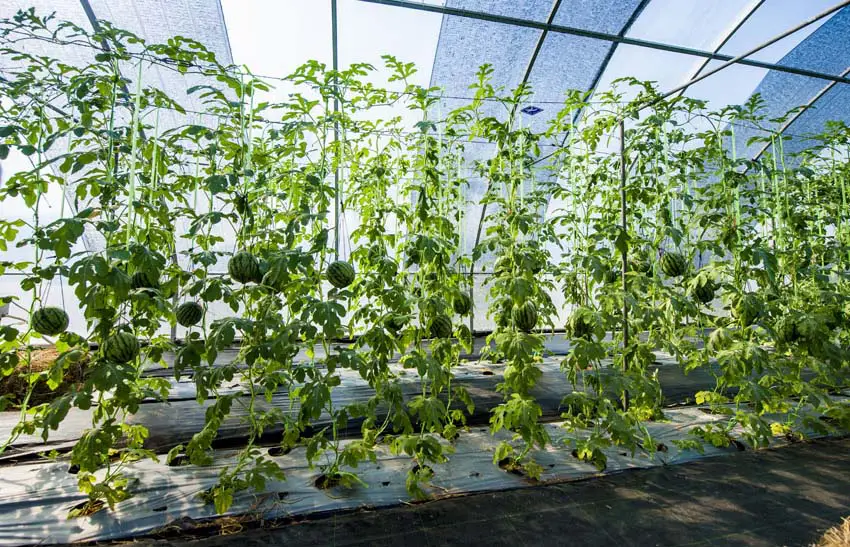 Watermelons are ideal for vertical garden walls because of their growing habit. As they mature, their leaves trail, thus the need for a sturdy support system. This greenhouse made use of a vertical garden system that is made of steel and horizontal lines of metal wires. The watermelon plants cascade beautifully down the makeshift trellises, giving a lovely sight of healthy produce.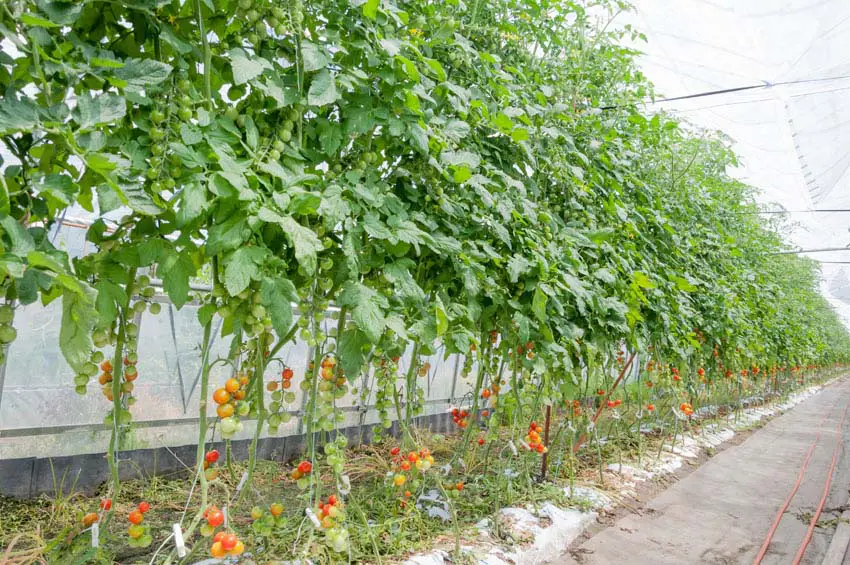 Tomato plants are highly suitable for vertical wall gardens because as they grow, their vines begin to spread, thus requiring for a structure which would support them. This greenhouse made use of metal trellises to hold beautifully cascading tomato plants. The lush fruits also create an enjoyable sight that contributes a pop of color.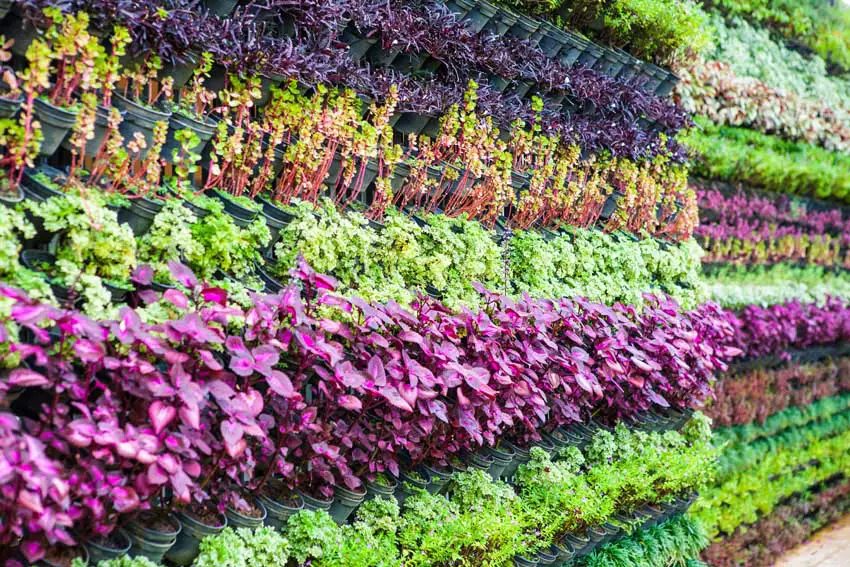 To make a vertical garden wall extra interesting, try arranging your plants in a specific pattern to create a balanced mixture of colors and textures. This living wall is filled with a rich collection of green and purple plants, resulting into one stunning exterior decor. The plants are grown in individual resin pots which are mounted on a wall in several layers.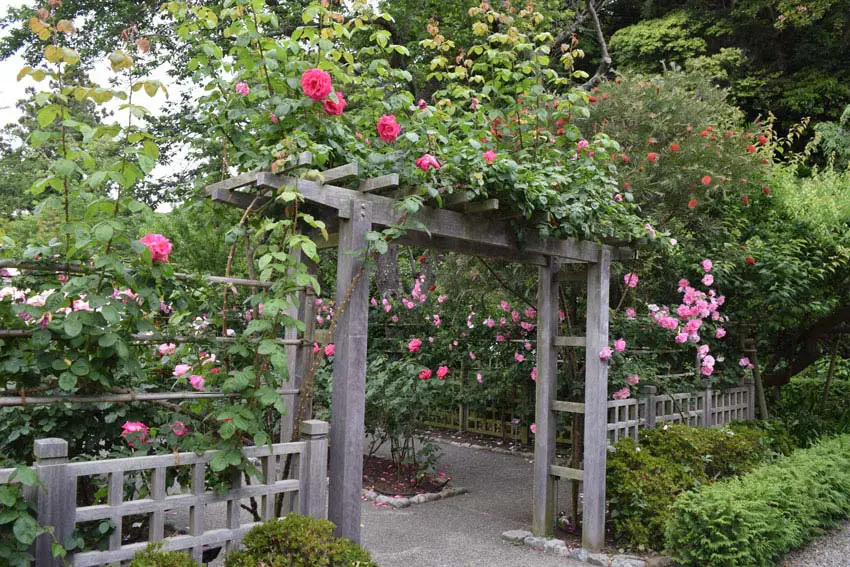 Add visual interest to fences by growing flowering plants on wooden lattice fences. This vertical wall garden design makes use of weathered wood railings which are attached to a lattice fence and a trellised doorway. Beautiful pink roses are grown over the arbor to add a charming touch to the rustic feel of this garden.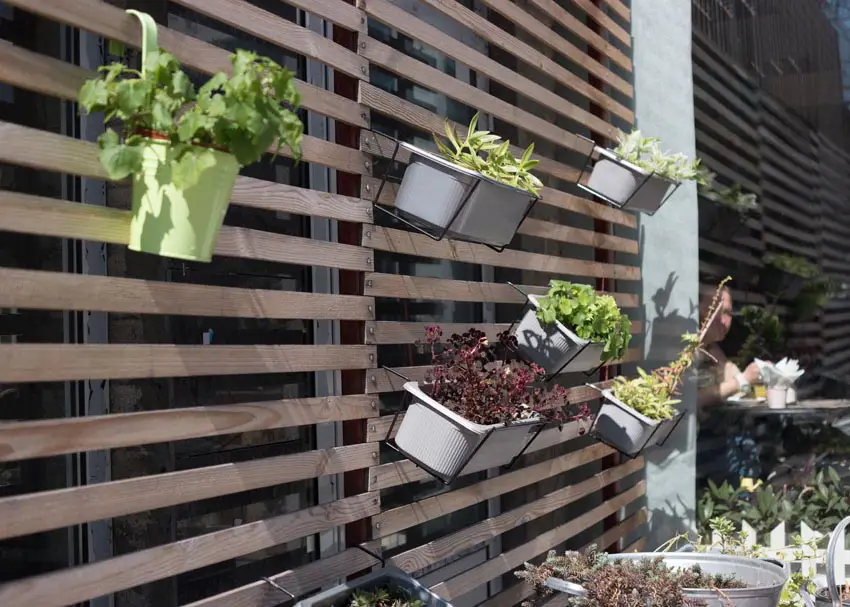 Add an inviting feel to your windows by transforming it into a living wall. Set in front of glass sliding windows are slatted wood panels in natural finish. Metal hangers are used to keep the hanging resin plant containers in place. Hanging planters are ideal for vertical wall gardens because they are widely available in the market and they do not cost much.
[expand title="Show Image Sources" swaptitle="Hide Image Sources"]
#1 Chris Hunkeler from Flickr (Creative Commons License)
#2 211org from Flickr (Creative Commons License)
[/expand]
Related Garden & Landscaping Galleries You May Like:
Window Flower Box Ideas – Flower Box Ideas – Fence Planter Designs – Wheelbarrow Flower Boxes