Here we share our pros and cons of composite fencing including what it is, advantages & disadvantages, cost, durability, if it fades, and if a composite fence is a good option.

Putting up a fence in your yard can transform it in a variety of ways. It will not only give your property a completely fresh appeal, but it will also increase the fundamental privacy and security of your residence.
Perhaps you are considering building a fence for your property and are striving to narrow down your selections. Well, a composite fence might be the correct alternative for you if you want something simple to maintain.
In comparison to other fencing materials, composite fencing has a lot of advantages, but it is not exempted from downsides as well. In this article, we will identify what exactly is composite fencing. After that, we will discuss its pros and cons.
What Is A Composite Fence?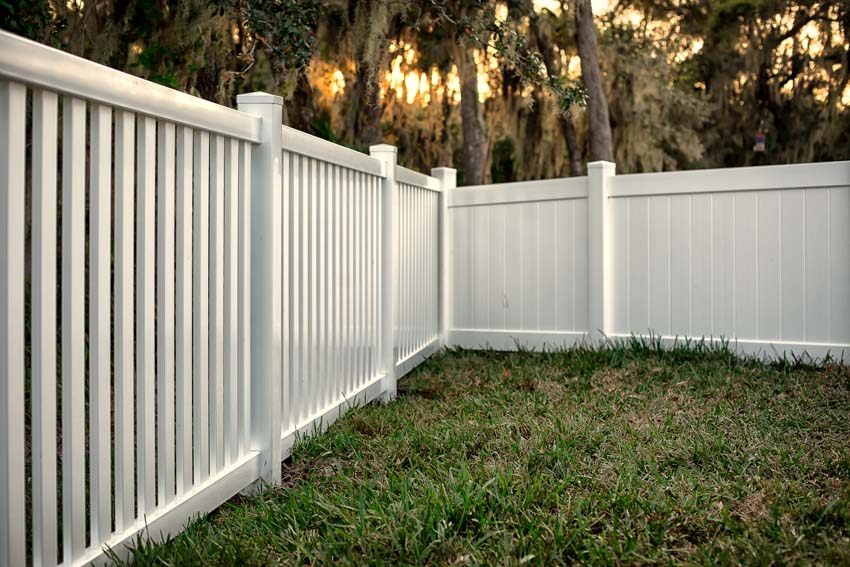 Composite fencing is composed of a mixture of plastic and wood fibers. It is produced in either single panels or boards, depending on the manufacturer.
Just about any fence type that can be made from wood could also be made from composite elements such as security and great neighbor fences. This type of fencing is very durable and can withstand different outdoor elements.
Furthermore, composite fencing is a promising alternative for hardwood fence designs and ideas, with the disadvantage that it is a bit more expensive than wood.
Wood is generally valued over composite materials due to cost. However, composite materials are growing in prominence due to the simplicity of usage and upkeep in the long run.
Composite Fencing Pros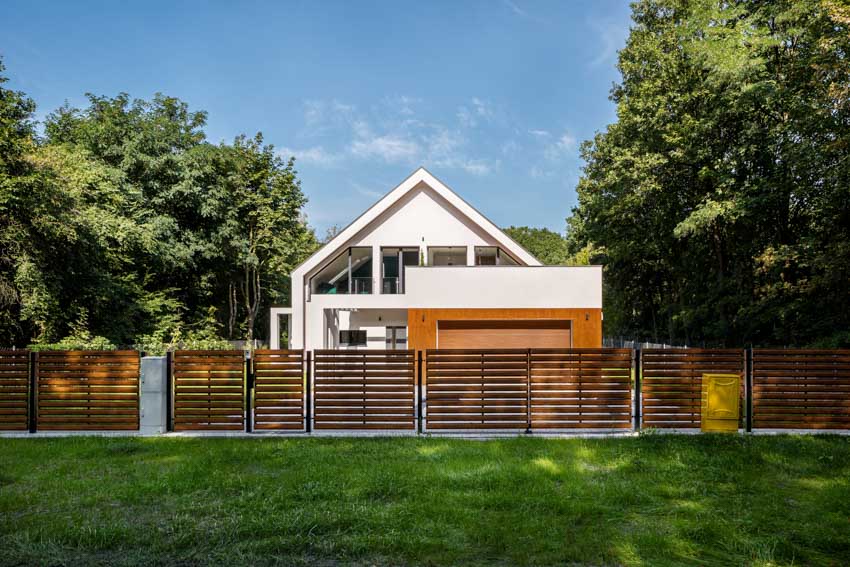 Composite fencing did not become popular for no reason. There are various reasons why it has become a favorite choice among homeowners. Here are the pros of composite fencing:
It Is Extremely Long-lasting and Durable: As previously stated, composite fencing is extremely durable. It is, with the exclusion of worked iron, the most resilient fencing material available. When it pertains to composite fencing, you can anticipate it to last at least 30 years, which is quite a long time.
It is composed of a fusion of wood and plastic and has a high degree of strength. This tensile strength enables it to survive all kinds of pressure.
Maintenance will not be burdensome with composite fencing: The fact that composite fencing needs minimal to zero upkeep is arguably its most appealing feature.
It is impervious to rotting and decay since it contains merely small components of wood. This implies that you do not need to add any finishes, glazes, or anything else to maintain and extend its longevity and survivability.
It is not only immune to outdoor elements, but it is also impervious to insect and pest infestations. Termites will not be able to burrow their way through your composite fence.
Most probably, the only routine maintenance you can undertake to preserve its appeal is by power washing it. Furthermore, because the composite fences are built of synthetic colors externally, you are not obliged to paint them.
Composite fences are more visually appealing than most types of fencing materials: Probably, you prefer a wooden fence but do not want to deal with the complicated upkeep that accompanies it. If that is the case, composite fencing is exactly what you are searching for.
This type of fencing has a strong resemblance to wood but is considerably easier to manage. It is indeed one of the most aesthetically stunning fencing materials on the marketplace, and it comes in virtually any color you want.
Composite Fencing Cons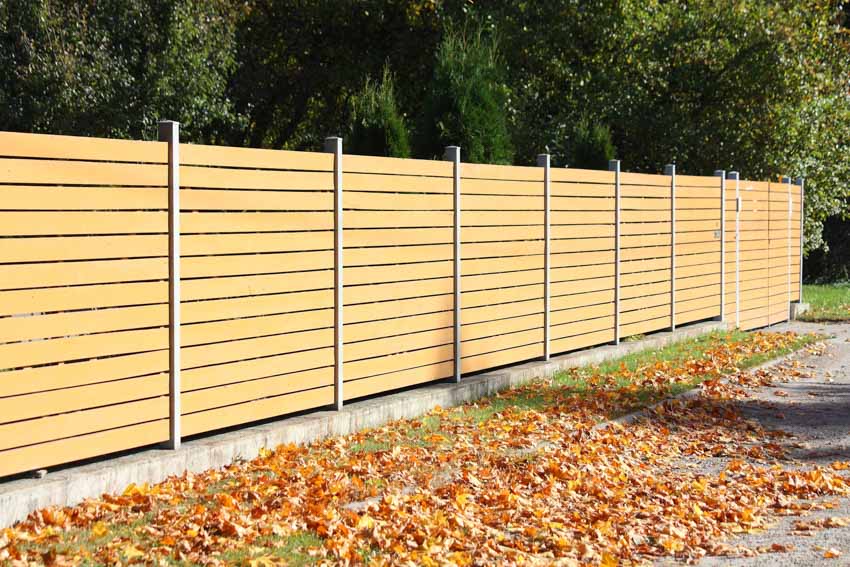 Although composite fencing is extremely durable, easy to maintain, and visually attractive, there are also a few reasons that make it somehow a not-so-good choice for homeowners. Here are the cons of composite fencing:
The cost of composite fencing is in the expensive category: Numerous homeowners do not choose composite fencing since it is more costly than other types of fencing.
Composite fence is not as costly as iron-made fences, but it is significantly more costly than wood, vinyl, aluminum, or different types of chain link fences.
Nevertheless, since it does not necessitate a lot of care and attention, it can save you funds in the long run. Hence, a square foot of composite fencing typically costs roughly $30. But on a positive note, paying for such high-quality fencing would be worth it at the end of the day.
Composite fencing can be prone to fading: Although composite fencing primarily has an eye-pleasing appearance, it might struggle to keep that appearance over time. This is particularly applicable if your composite fencing is dark-colored like brown, dark gray, or black.
Moreover, the issue is that after the color has faded, restoring its original state will be almost impossible. Your options are either to accept the fact that it has faded or replace the entire fencing.
Furthermore, because the composite material present in this type of fencing is non-porous, the paint will not adhere properly (just in case you wanted to change its colors).
Composite Fence Cost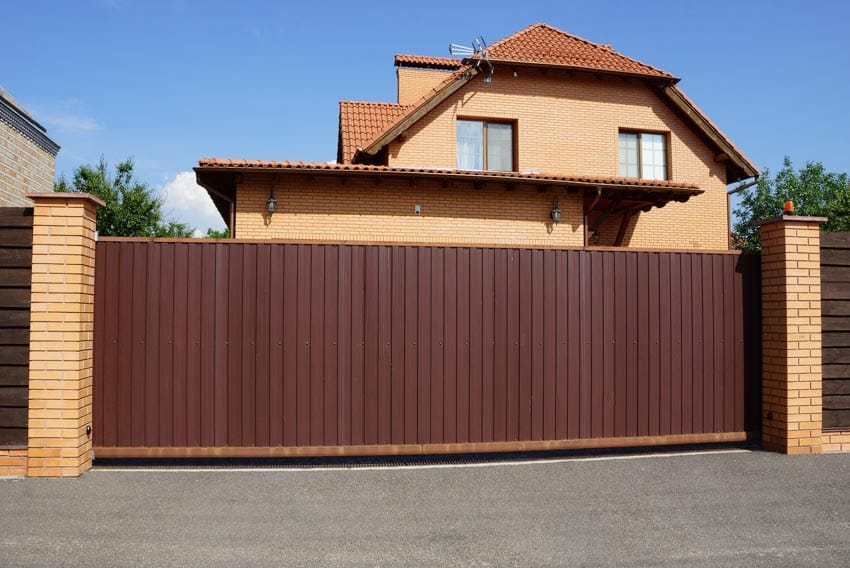 Composite fencing is more costly than wood, chain link, and even bamboo-made fencing. The price of composite fencing is influenced by the composite material's quality, the height of the fence boards or planks, and the kind of fence.
Most picket fence designs are less expensive per square foot than privacy or any premium fencing because it uses fewer materials. The following are the composite fencing costs per square foot (each type):
• Picket-Type Composite Fencing: around $10 to $23
• Privacy-Type Composite Fencing: around $20 to $35
• Premium-Type Composite Fencing: around $30 to $50
When you get fence quotations, they must break it down into materials and construction prices so you can see where your funds are going and you will identify how much you would save by completing the fence just by yourself.
Composite Vs Wood Fence Cost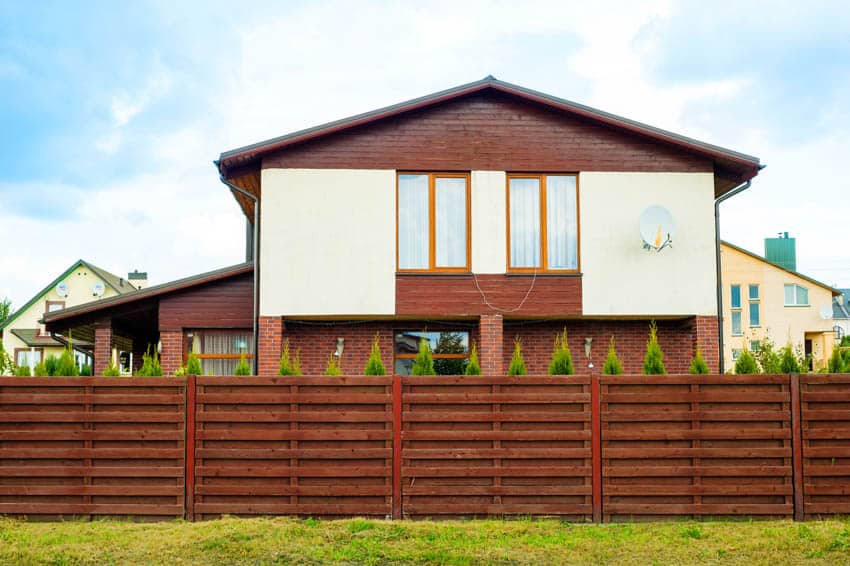 Composite fences normally come in prefabricated panels that cannot be modified, as opposed to wooden fences that can be trimmed, the type of materials chosen can have a significant impact on the cost.
Composite fence is available in a variety of styles such as split rail, board-style frames, post, and rail types. Because of their size and the number of materials required to make them, board-style fencing would be the most costly of them. They typically cost around $200 to $250 per panel.
Installing a wood fence, on the other hand, is a more difficult construction project. Most people take into account the price of the posts, pickets, and rails, but they sometimes overlook the costs of gates, accessories, stain (or paint).
That is why you must select a trustworthy and expert fence contractor to provide you with a precise quotation and guarantee that you end up with the proper materials for a long-lasting fence.
Nonetheless, in general, decent-quality wood fences may be purchased for roughly $10 to $15 per square foot. Lumber fencing costs around $7 to $15 per foot, while labor costs around $10 to $30 per foot. The length, thickness, and type of wood used in the fence are the most significant considerations.
To help add up the differences in the total cost of a wood vs composite fencing you can use one of the available fence design software programs that add up the total project costs.
Is Composite Fencing Strong?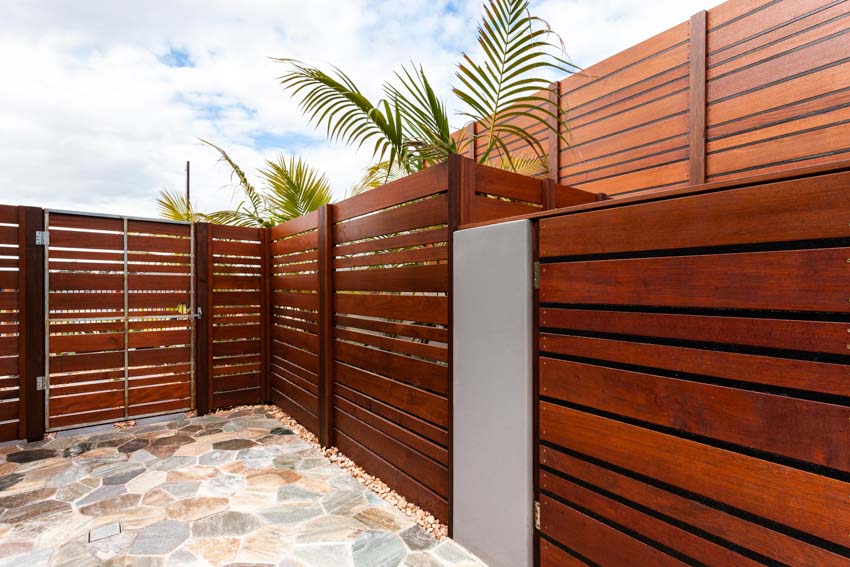 Because of its plastic element, composite is particularly rot- and mold-resistant. As a result, it is indeed exceptionally strong and generally less expensive than hardwood alternatives.
It has an extremely long lifespan, and numerous manufacturers claim that it can last around 20 to 30 years. Furthermore, it is more weather-resistant than other wood alternatives.
Does Composite Fencing Fade?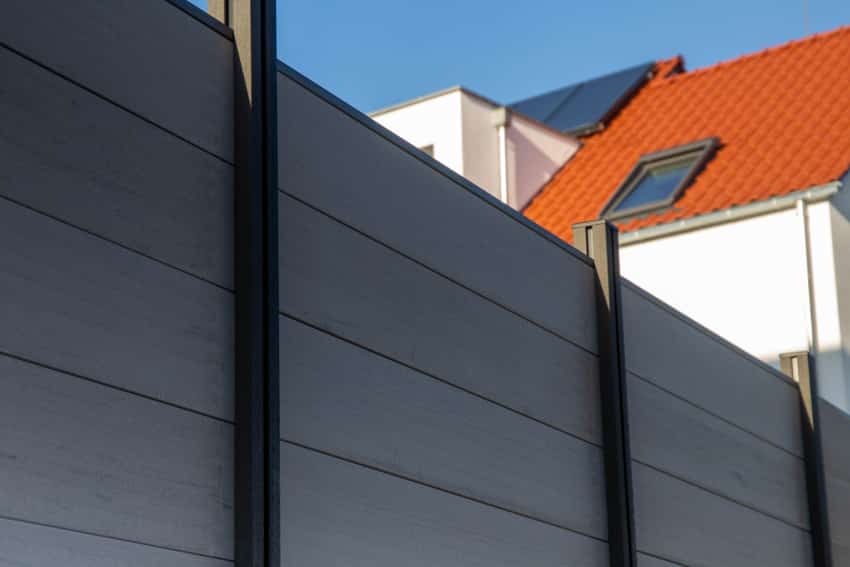 The majority of composite fence boards on the marketplace will fade within the first 6 months to 1 year of exposure to the outdoor elements. This is a natural occurrence caused primarily by the way composite elements are designed.
When the fence boards are constructed, roughly 60% of repurposed wood and 30% of reused plastic are mixed with organic wood oils known as tannins. These are dark brown in tone and ensure that the panels are all the same tone.
When the fencing is in persistent contact with different elements, especially rainfall, and other inclement weather, the tannins begin to drain out of the panels, a phenomenon known as 'extractive bleeding.' Thus, your fencing will appear a bit lighter than when it was first constructed.
Because fencing is parallel to the ground, unlike decking, less water will collect on the panels, which means the organic wood oils might take 4 to 6 months to wash off.
In rare cases, particularly if the fence was constructed during a hot summer, the extractive bleeding procedure can take up to 7 months. The color shift is most noticeable in lighter colors, wherein tannins add a greater proportion of the underlying color.
Is Composite Fencing Any Good?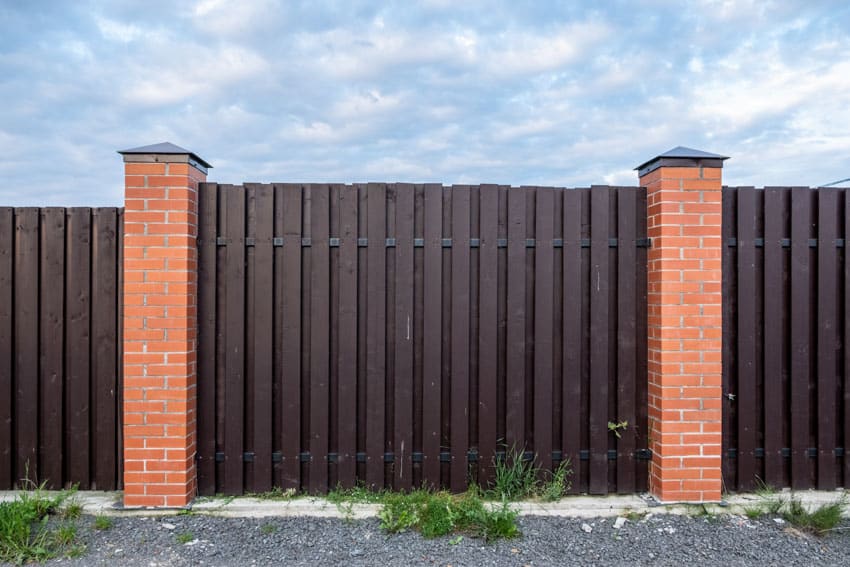 Yes! Composite fencing has outperformed conventional wood fencing in popularity among homeowners. Indeed, it would be an ideal alternative for so many people due to its lifespan, corrosion resistance, and low to zero maintenance.
Furthermore. composite fence boards not only endure a long time and appear wonderful, but they are also impervious to rotting and decaying. Plus, you will not have to patch any openings in your fence because there will be no cracking or fracturing.
However, just like any other fencing material, composite fencing is not 100% perfect either. Just like what we discussed earlier, it also has its minor disadvantages. But anyhow, it is still an excellent fencing option.
By keeping all of these things in mind, you must now have a clear idea if composite fencing is ideal for your construction project.
See more related content in our article about the best garden fence ideas on this page.