Here we share the types of chain link fence including its materials, gauge, sizes, cost and the best chain links to choose for your fencing.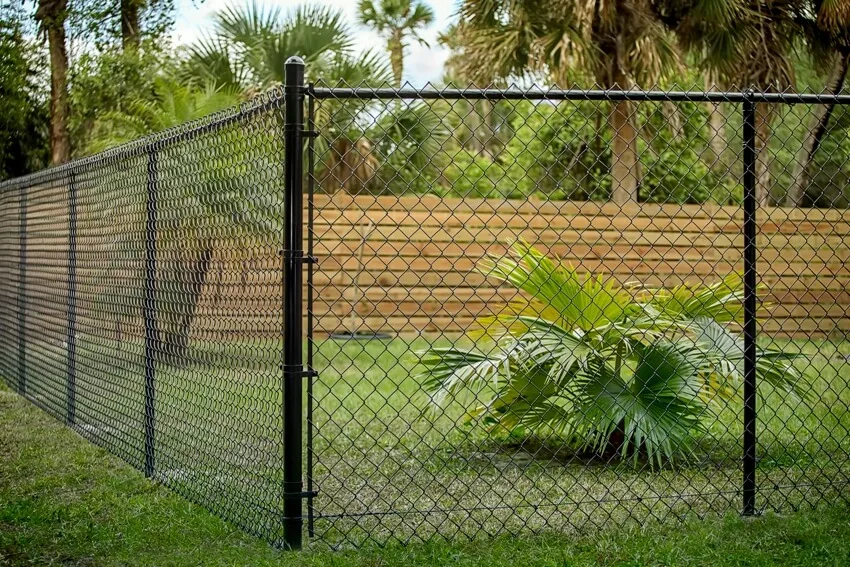 Chain link fences are a recognizable option when it comes to fencing. However, they're everywhere for a good reason – there's a lot of benefits to having a chain link fence! If you've decided that a chain link fence is what best suits your needs, it's a good idea to narrow down what type of chain link fence you want.
In this guide, we'll take a look at everything you need to know about types of chain link fences that'll help you no matter if you're nailing down the details of your renovations or just considering chain link fencing as an option.
What Is A Chain Link Fence?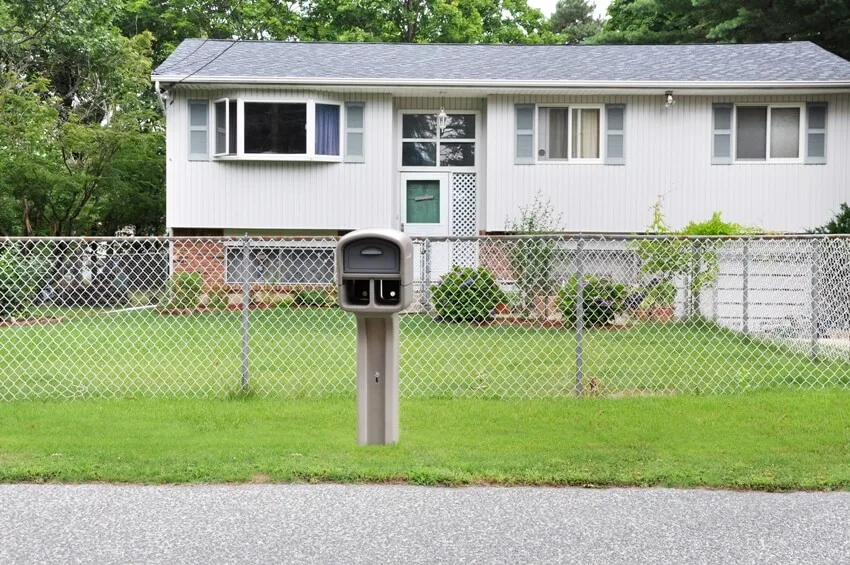 You might hear this type of fence referred to by a few different names but the most commonly accepted term is a chain link fence. These fences aren't made for privacy but rather rely on a woven pattern, usually to keep people out of an area or inside of it, in the case of household pets or children.
This shape is achieved by using an interlocking pattern. This way, the design is lasting and durable. The woven design won't easily break or pull apart easily.
Another question you might have is what is a chain link fence made of? Well, the answer can vary quite a bit but you can usually depend on either LLDPE-coated or galvanized wire.
Most of the time, the metal wire at the core of the operation is made of stainless steel. We'll take a deeper look at some of the materials involved in making a chain link fence in the next section.
The specifics of individual options for chain link fencing might vary depending on what you want. This includes concepts like color, material, additional features, and more. Check out our guide to fence design software here.
Chain Link Fence Materials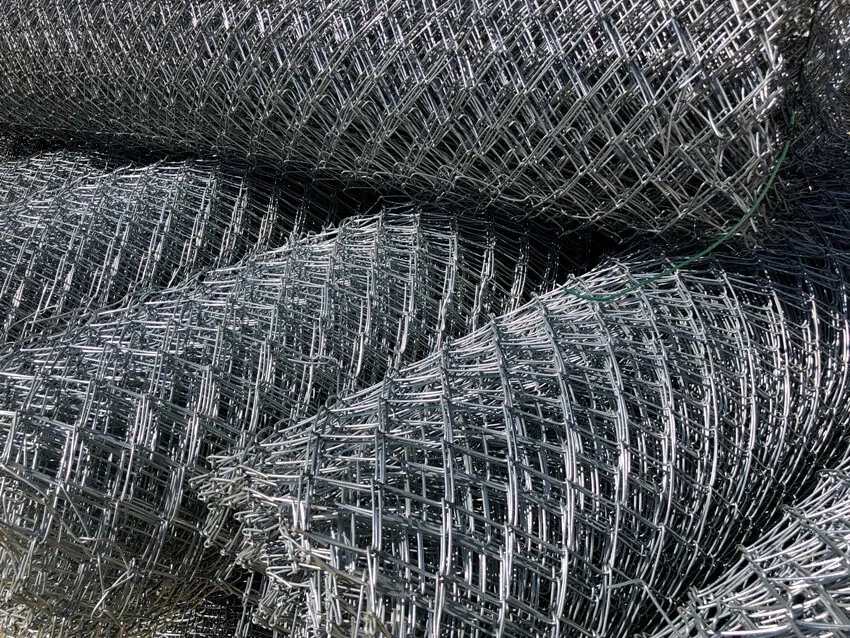 As we've said, many of the chain link fences that you'll encounter are made with stainless steel wire. However, we also noted that there are exceptions to this rule and you'll likely encounter a few material options. Here, we'll break down some of the options you need to know.
For one, while the wire material might often be stainless steel, you usually have some options when it comes to different coatings used as material. For example, you can opt for a metallic coating such as galvanized, aluminized, or galfan.
Galvanized steel is a zinc coating that helps with rusting and corrosion. Aluminized coatings also help prevent rust, as aluminum isn't naturally prone to rusting. While different from both processes, galfan coatings offer the benefits of both with a zinc-aluminum alloy covering the stainless steel wire within.
For a non-metallic option like vinyl, PCV, or polymer. These synthetic materials are reliable for a few reasons. While they aren't as durable as a metallic coating, they do create a softer, more welcoming texture to the fence which could be valuable around young kids.
On top of that, you can get these polymers in more color options than a metallic fence. As an example, you're probably going to stick with the natural gray of stainless steel but polymer coatings can be a multitude of colors including common options like green or black vinyl.
Styles Of Chain Length Fence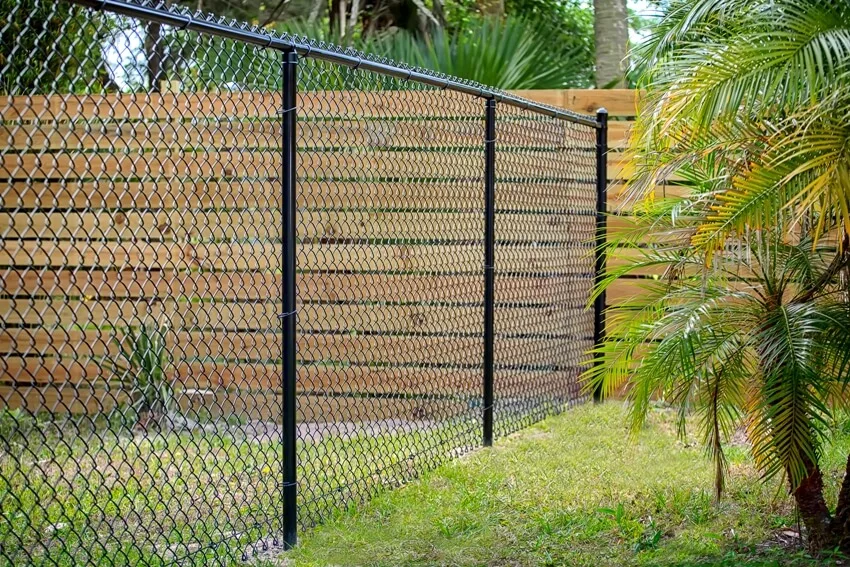 While we've considered the materials of a chain link fence, there are other things you can change to find the perfect chain link fence solution for you. This includes taking the style of the fence into account, not just considering the other technical matters of what the fence is made of and the coating that's used on it.
We've considered that chain link fences, by their nature, tend to have a recognizable woven pattern to them. That doesn't mean that they all look the same, though. You have a few different options when it comes to the style of your chain length fence.
One option that we've already looked at is varying the style by changing the color of the fence. If you use a polymer coating rather than a metallic one, you'll have a few options when it comes to the color of your fence.
We mentioned earlier that chain link fences aren't often installed for privacy. After all, it'd be hard to stay private when you're standing behind a fence with big holes in it. To combat this problem, some homeowners choose to install slatted chain link fences. See our guide to privacy fence ideas.
These fences add material to the links – such as slats – that will offer more coverage from either side of the fence. This style is often used to boost the aesthetic appeal of a chain link fence as well.
Chain Link Fence Options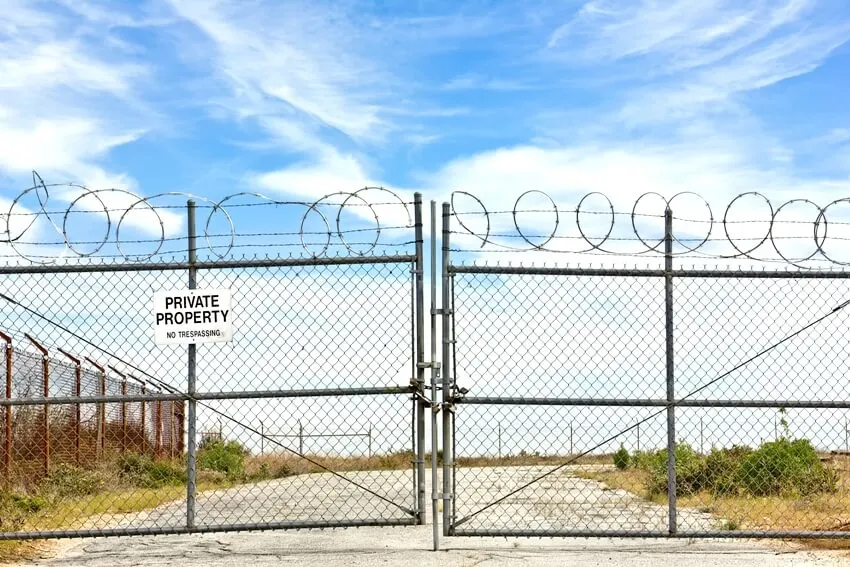 We've already seen and we'll continue to see that you might have more options than you thought when it comes to chain link fencing. We've looked at and will continue to look at a lot of the technical aspects but, in a broader sense, who are your options for chain link fencing?
The good news is that chain link fences are a common choice in both residential and commercial use. This means that many popular fencing brands have options for chain link fences.
This includes not only fence brands such as Hercules but you can also turn to a lot of hardware chains for options such as Lowe's and Home Depot as well as some local hardware and fencing stores.
Chain Link Fence Gauge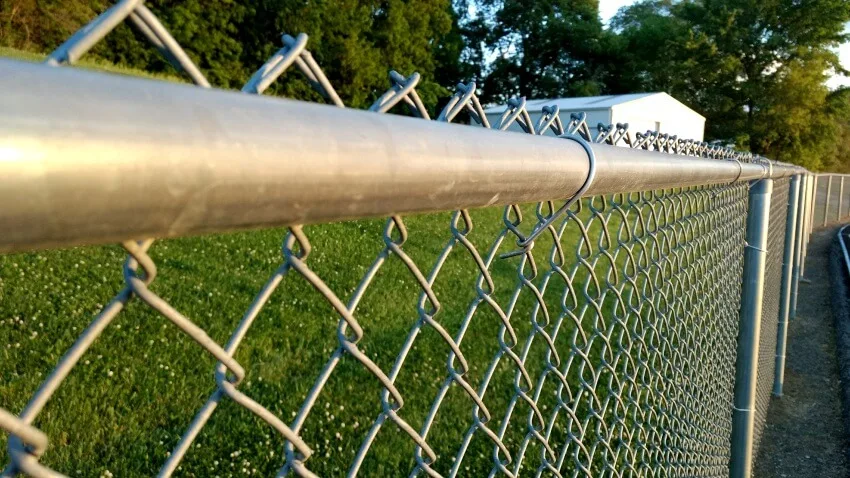 One decision you'll have to make regarding your chain link fence is the gauge that you need. This refers to the diameter of the wire used to create the chain link fence.
The gauge of the chain link fence doesn't necessarily affect the woven pattern. For example, a thinner or thicker diameter fence wire can still create the same woven pattern.
As such, if you see a higher gauge number, it means that the fence itself would have a smaller diameter wire. In other words, if you want a thinner wire to make up your chain link fence, the higher gauge number you'll wand and vice versa.
Most commonly, you'll see options in 6, 9, 11, or 11 ½ gauge. To put this into perspective, these would measure out to .192", .148", .120", and .113", respectively.
As for the most common chain link fence gauge, 9 gauge often prevails in both commercial and residential uses. Options like 6 gauge are often relegated to high-security – often commercial – uses while 11 or 11 ½ gauge fences are best used in temporary, rather than permanent, fencing.
For instance, you might use those two gauges around a construction site until the project is finished before taking the fence back down.
All in all, if you're looking for a chain link fence for your home, a 9 gauge fence is a great place to start.
Chain Link Fence Sizes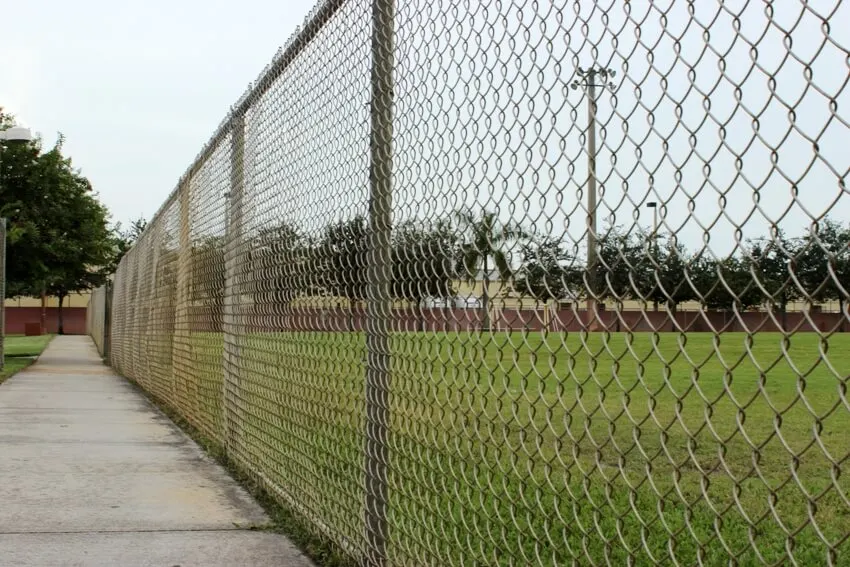 There are a lot of different measurements to consider when it comes to chain link fencing. This includes a lot of the standard fence measurements like height.
On the other hand, there are a few unique measurements to consider as well. Much like gauge, another unique measurement to chain link fences: mesh sizes.
The mesh of a chain link fence is measured by the farthest points to one another in a single repetition of the mesh pattern. For residential chain link fences, the most common sizes are 2 ⅛", 2", and 1 ¾".
If you want to get in and out of your fenced-in area, you'll want to make sure to include a gate. Chain link fence gates standard sizes are usually 3' to 30' but you'll likely stick to the lower end of that range for a residential fence.
As for the height of the gate, you can match it to the height of the fence to keep everything uniform and neat. We'll take a closer look at how to choose the height of your chain link fence in the next section.
Average Chain Link Fence Height
Another concept to consider is not only how large a chain link fence usually is but how tall you want the fence as well. This might seem a little different since a chain link fence isn't quite the same as a wooden privacy fence, for example. The most common heights for chain link fences include the following measurements:
3 feet,

3 feet, 6 inches,

4 feet,

5 feet,

6 feet,

7 feet,

8 feet,

10 feet, and;

12 feet.
That being said, there aren't a lot of limitations on what you can do with chain link fences. If you find that none of these sizes work for you, chain link fences can be made into almost any size you want and fit your purposes.
In the end, it's important that you do consider your purpose for the fence. For example, you may only need a short fence if you're just trying to cordon off a garden but a taller one if you want to use a slatted design for privacy or to keep larger pets safe in your yard when you let them out. Read more about the best garden fence ideas here.
Make sure you carefully consider why you want a fence and how tall it needs to be to suit that height. Because of its versatility, you can call on chain link fencing to work at any height you need to suit your purpose for the fence.
Chain Link Fence Cost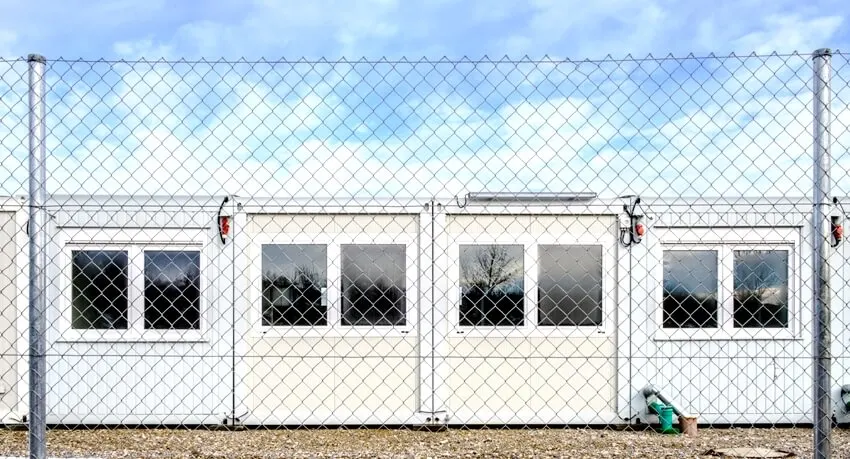 As with any project in or outside of your home, you have to take your budget into account before you get started. The same is true for installing a chain link fence. In this section, we'll break down the average costs of a chain link fence so you can understand exactly how it fits into your budget.
The good news is that chain link fencing is relatively inexpensive compared to some other fencing options. However, remember that the prices we'll discuss are estimates and can change depending on a variety of elements. Concepts like how much fencing you need, who you buy it from, and if you pay for professional installation will all affect the cost.
On average, you can purchase chain link fencing for about $5 to $20 per foot. If you want to raise the rate to include the average installation costs, you can expect a price closer to $10 to $20 per linear foot. You can reach as high as $40 per linear foot but that's usually when you opt for a thicker gauge fence for security purposes.
That's a lot of factors to consider, though, so let's take a second to put it all together. The average homeowner pays between $1,181 and $3,102 for the standard chain link fence, not including the option of thicker gauge fences. If you want a gauge that's thicker than average, the budget for the fence can reach $5,000 or more.
What Type Of Chain Link Fence Is Best?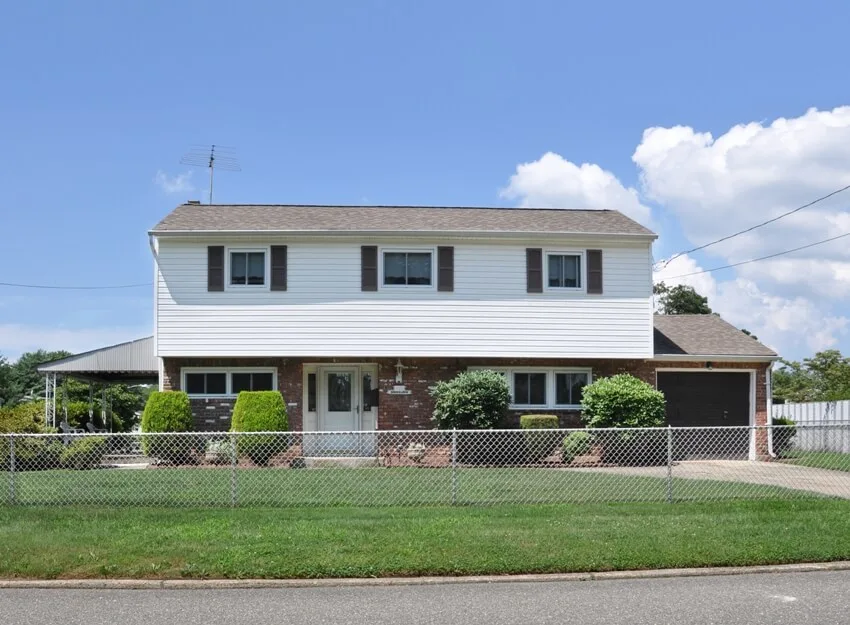 All in all, there's a lot to think about when you're considering a chain link fence. So, when it comes down to it, what are the best choices to make when you want a residential chain link fence for your home?
Let's start with measurements. For the average residential fence, you'll want to stick to a 9 gauge. Stainless steel is reliable but you'll want a coating on it to help prevent issues like rust.
A galvanized or aluminized coating is great for this but a synthetic plastic coating works well too, offers more color options, and can make the fence slightly more pleasant to the touch which can be beneficial in a home with kids. Yet, it should be noted that the colors these coverings offer often fade over time.
As for the best height for the fence, this one again is to suit your purposes. For example, a privacy fence is usually about 6 feet tall while a chain link fence serving as a simple perimeter around the edge of your yard has a standard of about 4 feet tall.
Remember, the taller the fence, the more material you'll need, and the higher your budget for the project will need to go.
For more related ideas, visit our gallery that features popular fence designs.