These beadboard ceiling ideas share what it is, different types, pros and cons, materials, maintenance, and where to use beadboard in the house.

If you're in the process of revamping your ceiling, you'll get swamped with ideas you can try. You can start with the beadboard ceiling and explore why many homeowners can't get enough of this latest trend and are actually making a comeback.
Beadboard ceiling was once known as the most popular ceiling option in country homes. And even if the first rise of the beadboard ceiling waned, it is now slowly making its way back to American homes and successfully doing a comeback in high demand.
More than just the standard and traditional beadboard ceiling, there are many types to choose from like plastic and laminate options. And before you even look at these options, let's learn everything about a beadboard ceiling and find out what may be in store for you.
What Is a Beadboard Ceiling?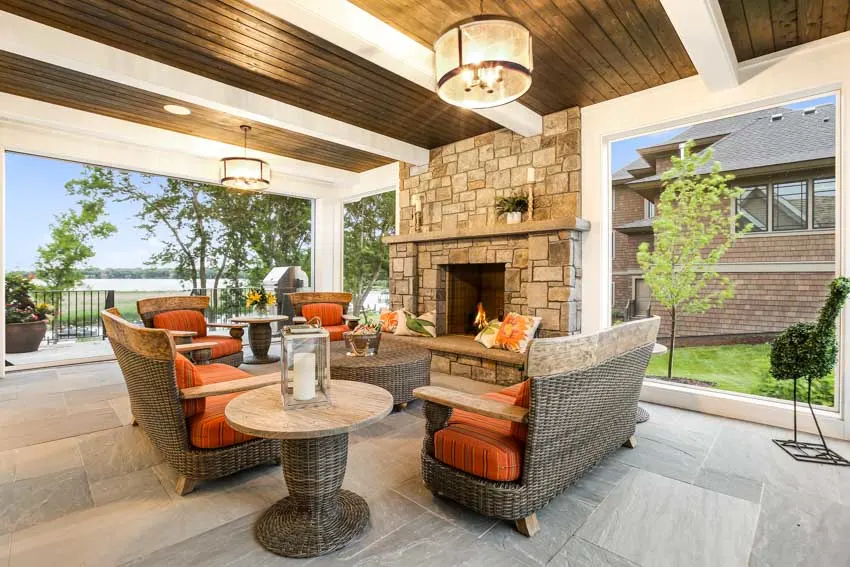 A beadboard ceiling refers to the types of ceiling boards that include decorative planks and panels and usually have tongue-and-groove design to connect to each other. This means that the wood panels have continuously long vertical grooves.
There are also raised beads that create the illusion of multiple wood panels. It's how the beadboard ceiling adds visual depth and texture to interior spaces. The traditional type of beadboard ceiling is popular with older houses and has the following notable features:
• Narrow-trimmed boards
• Routered bead edges
• Beveled edges
In older houses, traditional beadboard ceilings include a layer of popcorn ceilings. For newer homes, they have certain types of drywall or plaster ceilings.
Beadboard ceilings are guaranteed to stand out and never be overlooked. Its added visual value and aesthetics are one of the major reasons why many homeowners choose this type of wood ceiling. And when it comes to the use of the materials, the most common types are pine and cedar but you can also go for other types of wood.
Types of Beadboard Ceilings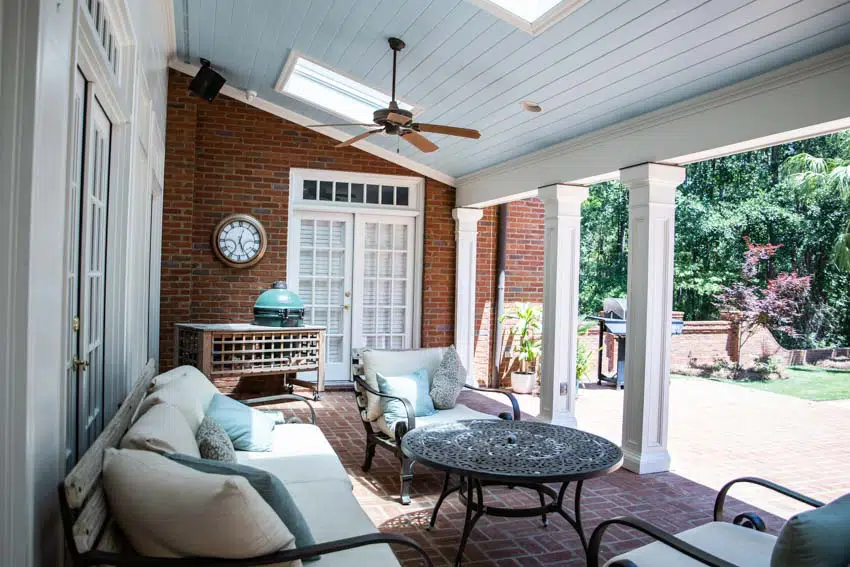 Once you've set your mind on beadboard ceilings, the next step is to see the different options. One element that set one beadboard ceiling apart from another is its style.
You can style your ceiling from traditional and farmhouse design to modern and contemporary, depending on the material you choose and how you build the ceiling. Here are some styles to check out:
• Traditional: Might be more expensive than other beadboard ceiling styles because it involves authentic wood and keeping them together using tongue-and-groove technology. This is the option to choose if you want to add an inviting and warm feel to the room where you'll install it.
• Farmhouse: Usually made from rich wood (maple, hickory, or oak), a farmhouse beadboard ceiling is often stained than painted (often in natural colors) and often installed in bathrooms and kitchens.
• Modern: This particular beadboard ceiling is often made from composite materials like Polystyrene and MDF or Medium Density Fiberboards. The good thing is that these materials are highly available in local stores.
Beadboard Panels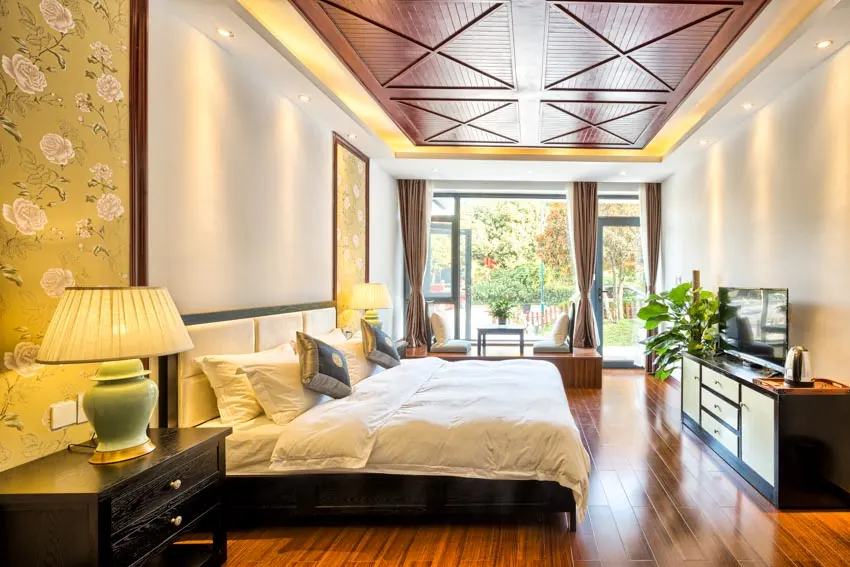 Beadboard panels are excellent materials for ceilings and are a great way to spruce up an old own to have a fresh look. The panels are nailed to the ceiling or glued using a powerful adhesive.
Benefits of Beadboard Ceiling Panels:
• Easy installation since the panels are lightweight and thin
• DIY-friendly and does not require special tools or skills for building and installation
• Can easily be painted or stained
One downside you can remember is that you might need one person to help you if you choose to install the beadboard ceiling panels yourself.
Beadboard Planks
Beadboards traditionally come in the form of flat planks and semi-circular and raised ridges with 1-2 beads. Beadboard planks are normally used for wainscoting but they can also be used for the ceiling. Beadboard ceiling planks have actually become a trend, giving the home more warmth and adding a cottage feel to it.
Building beadboard planks ceiling from scratch involves attaching planks to the ceiling joists directly using screws and clips. It's even better if you have authentic wood beams that can serve as the focal point of your beadboard ceiling planks.
Benefits of Beadboard Ceiling Planks:

• Perfect for farmhouse and rustic appeal
• Eye-catching visuals
• Convenient installation
• Compatible with popcorn, plaster, or drywall ceilings
Tongue and Groove Beadboard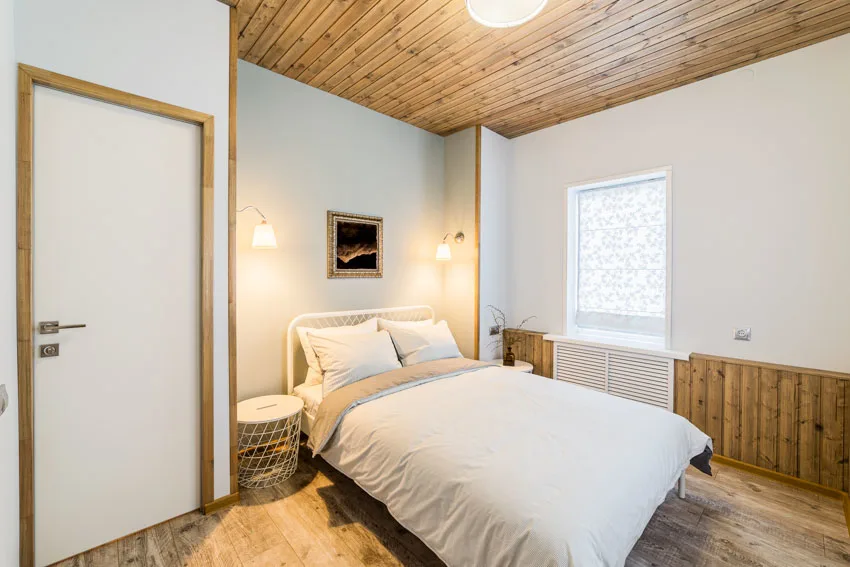 This type of ceiling is made of tongue and groove boards, which means that these boards are constructed with a protruding tongue on one edge and a receiving groove parallel to that edge.
The use of tongue and groove boards in homes started in the 19th century for walls, flooring, and ceiling. You also have the option of just working on a portion/section of the ceiling (like the center!) or going full out and covering the entire ceiling with tongue and groove boards.
Benefits of a tongue and Groove Beadboard Ceiling:
• Eye-catchy type of ceiling that can make even your kitchen stand out
• Flexible enough to create a wide array of patterns using a very stable and tight joint
• Versatile materials used and can be used for walls and flooring too for matching style
• Features a more stable and locked-in installation
Vinyl Beadboards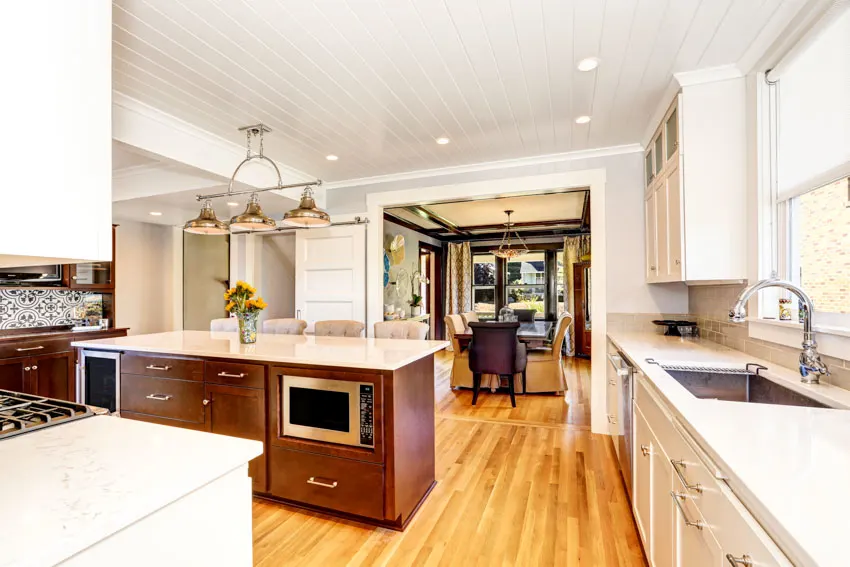 While most beadboard materials are made from MDF, there are also those that are made from vinyl. A vinyl beadboard ceiling is an excellent choice for rooms that do not have great ventilation and deal with a lot of moisture.
You can also install this type of ceiling on your porch if you won't want to worry about the beadboard getting affected by the weather and other outdoor elements.
Benefits of a Vinyl Beadboard Ceiling:
• Ideal to be installed in kitchens and bathrooms
• Very easy to maintain and so you won't need to spend too much on its care
• Resistant to rotting and warping (Unlike most wood)
The drawback with vinyl beadboard ceiling is that its availability is limited and you might need to special order it just to have it. Looking for a local store that carries vinyl beadboard may be time-consuming so you will need to really think this through. But many homeowners believe that the savings they get from its minimal upkeep are worth the effort.
PVC Beadboards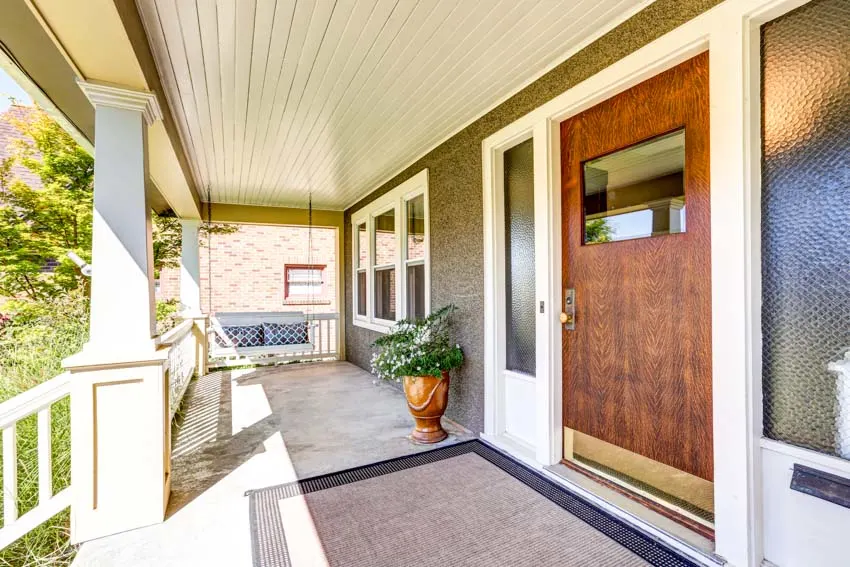 Besides vinyl, beadboards can also come in the form of PVC. This particular type of beadboard is an excellent option for homeowners living in non-ventilated homes and locations with humid climates. Using PVC beadboard ceiling means you won't have to worry about the buildup of mold and mildew even in a setting where moisture is abundant.
Benefits of a PVC Beadboard Ceiling:
• Best waterproof beadboard option for your ceiling installation
• Some feature a reversible appearance (With a single-line on one side and a double-line look on the other)
• Takes out the possibility of mildew and mold buildup
• Similar aesthetics with wood beadboard
Since not all PVC beadboards are reversible, make sure to be specific when you tell the local store what you're looking for. Tell them if what you're after are reversible PVC beadboards.
Wood Beadboards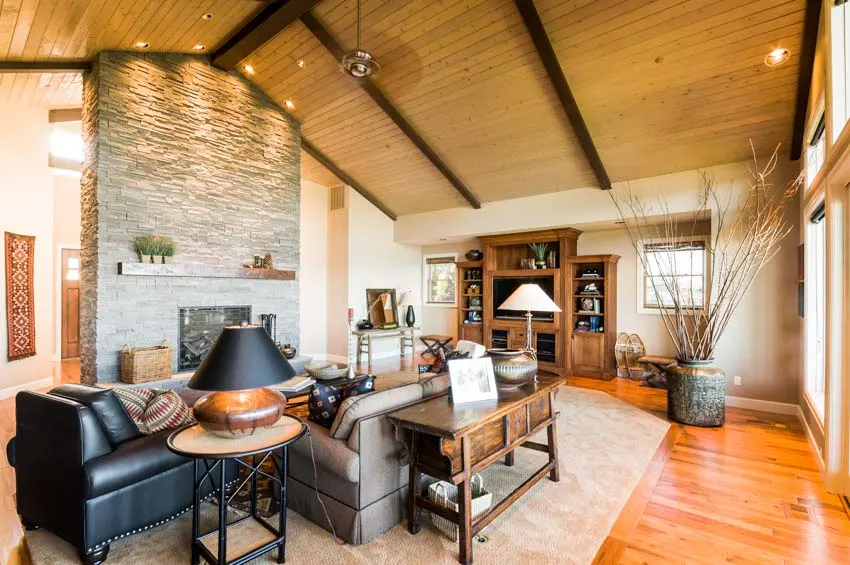 Wood is an all-time favorite building material for a reason and that's because it stood the test of time and has been used for centuries. Here are other advantages you can get from choosing a wood beadboard ceiling.
Benefits of Wood Beadboard:
• Familiar and nostalgic aesthetic (From a cozy cabin to a rustic farmhouse)
• Sturdy and solid construction material to consider
• Often impenetrable against impacts
While wood is an all-time beadboard ceiling material favorite, there are also several drawbacks that you need to know about. When you choose authentic wooden beadboard ceilings, here are some unfortunate issues you need to take into account.
• Insect damage
• Water damage
• Fire risk
• Meticulous upkeep and maintenance
Beadboard Tiles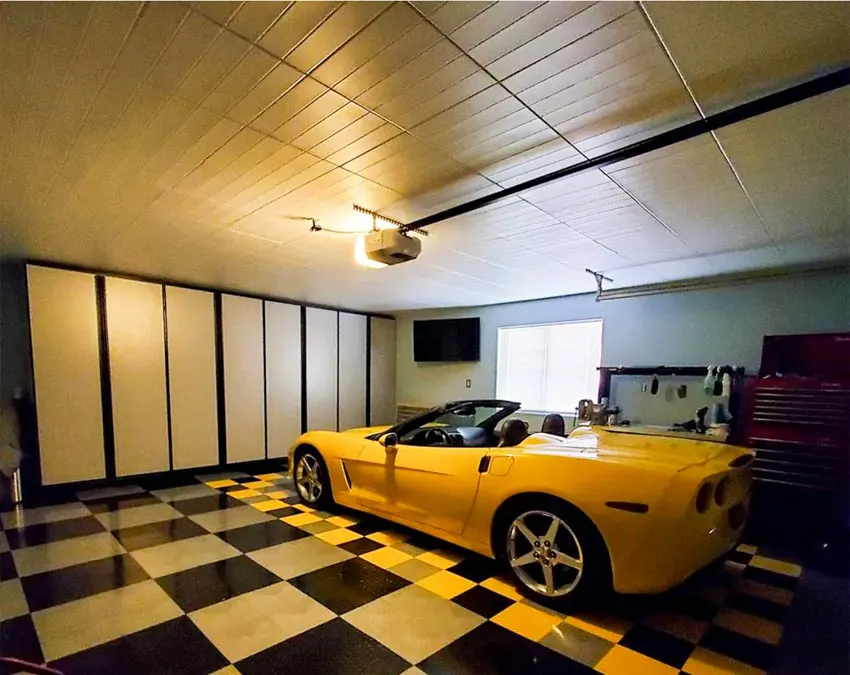 See this beadboard ceiling tile set at Home Depot [sponsored link]
Beadboard tiles are also now available in local stores and they are popular to be used for ceilings because of the simplicity in their designs and structure.
Beadboard ceiling tiles go over popcorn and most ceiling surfaces and add additional insulation. They are lightweight and so can be easily installed. And you won't even need expensive tools just to install these tiles. They can be painted with any type of water-based paint.
Benefits of Beadboard Tiles:
• Compatible to lay over most ceiling surfaces including popcorn ceiling
• Adds insulation to the room
• Lightweight and so can easily be moved around during installation
• Can be painted
Floor to Ceiling Beadboards
Uniformity is wonderful to look at and if you want to apply this at home, one of the ways to do so is by installing floor to ceiling beadboard walls. Beadboards indeed started from wainscoting to protect the lower part of walls. Its function has evolved throughout the years.
Benefits of Floor to Ceiling Beadboard:
• Adds impact to the room
• When beadboards are arranged vertically, they can make a room appear taller
• When arranged horizontally, they make the room appear bigger
• Can make a bold statement through pops of colors
Faux Beadboard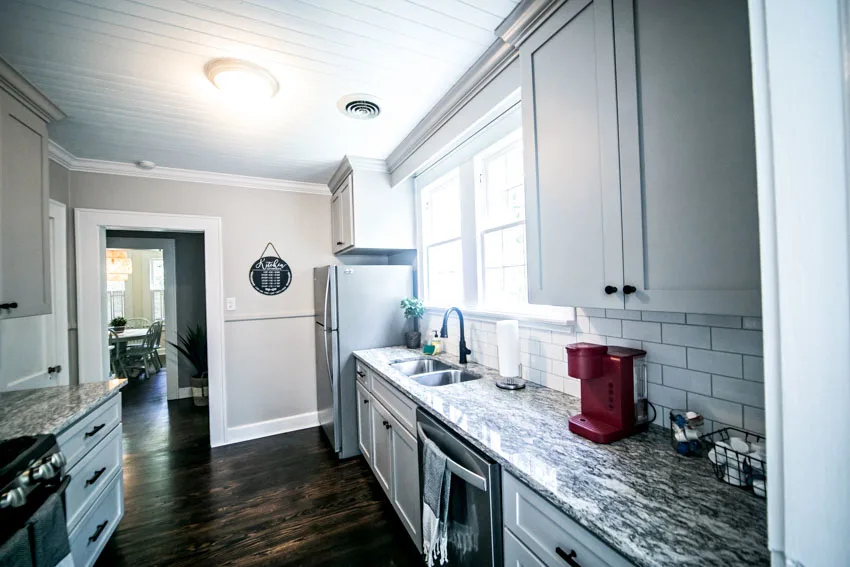 A faux beadboard ceiling is made from fake materials that while they resemble the aesthetic of wood, they are not authentic wood. Many homeowners use faux beadboards for their ceilings because of how durable and low maintenance they are compared to authentic wood.
Some examples of faux beadboards are PVC and vinyl. Here are some of the advantages you can expect from a ceiling made from faux beadboards.
Benefits of Faux Beadboard:
• Usually with improved in durability and strength since they are created with improved features compared to wood
• Mostly are resistant to moisture and mold/mildew buildup
Where to Use Beadboard on the Ceiling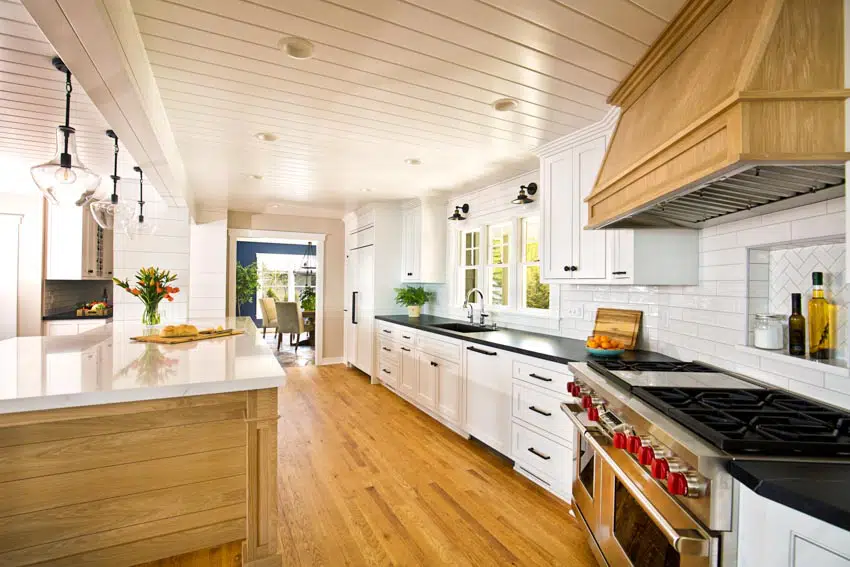 Beadboard on the ceiling is applicable in different areas of your home. If you are thinking about installing beadboard ceilings in specific types of rooms in a house, it's possible to do so but you need to know the type of beadboard to use.
You also have to determine the other considerations you might need to take into account. To serve as inspiration, here are different areas and locations where you can install a beadboard ceiling.
Kitchen Ceiling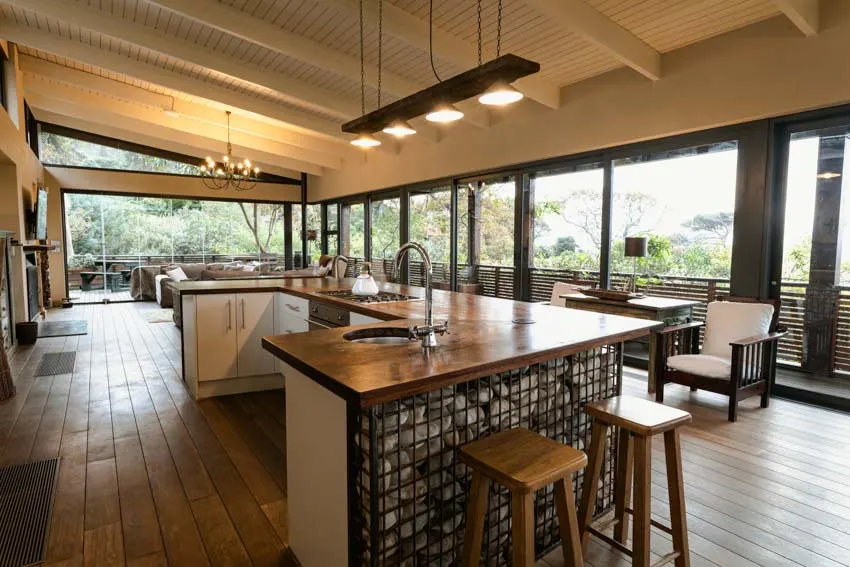 Beadboard was first used in the kitchen of farmhouses and old cottages. Today, it is unsurprising that even modern homes use beadboard ceilings for their kitchens. And the best thing about this is that it has improved in terms of style and structure since then.
You can install a beadboard ceiling in your kitchen to give it a unique charm. Many kitchens also serve as dining areas for some families, so this space can also serve as a place for socializing. So if you want an inviting and warm element to add to your kitchen, a beadboard ceiling can do that job for you.
A simple addition of a beam or molding can enhance different types of beadboard ceilings. Beadboard ceilings are great for the following types of ceilings:
• Flat ceiling: will give it a more textured look
• Recessed/tray/exposed beam ceiling: cleaner, more finished, and smoother look
The kitchen is one of the areas in your home where moisture is abundant. So it's necessary to choose a water-resistant material. A water-resistant beadboard ceiling can help protect the pieces of furniture in your kitchen when there's a leak. You can also find beadboard kitchen backsplash that can tie in the look of the room design.
Living Room Ceiling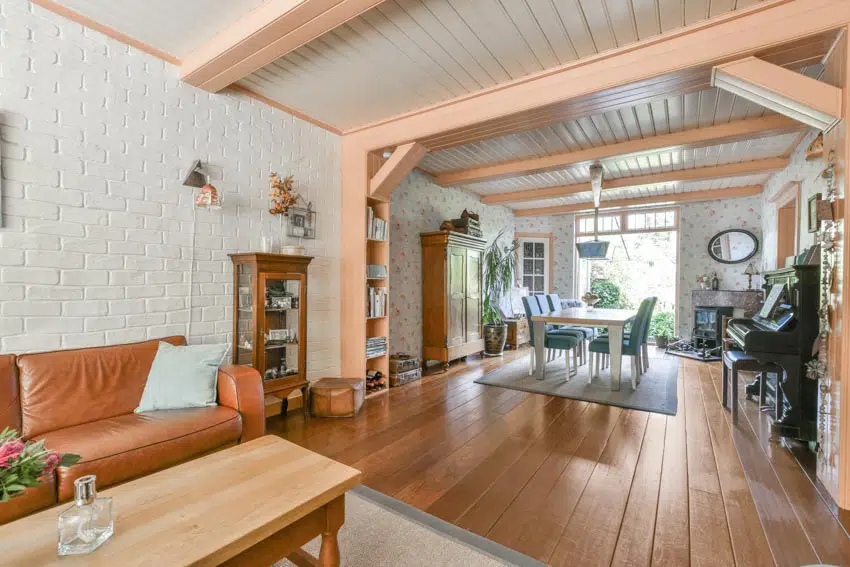 Living rooms are supposed to be the social center of homes. And you would want the area to be as welcoming and inviting as possible. One of the ways to do so is to install a beadboard ceiling in the room.
Beadboard ceilings can also be installed in the living room since it adds warmth and texture to a space. If you have a small living space, a minimalist whitewash beadboard ceiling can make the room seem bigger than it really is.
This also works well if you have a small budget and are looking for chilled, laid-back, and coastal aesthetics for your living room.
Bathroom Ceiling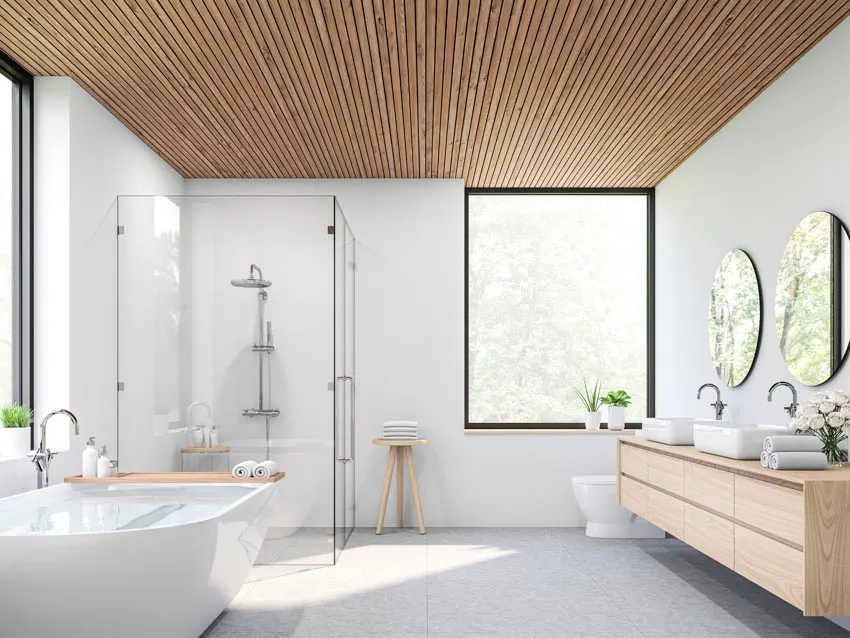 Besides the kitchen, the bathroom is also one of the areas where moisture is prominent, so wood beadboard won't really have much room in it. If you plan on installing a beadboard ceiling in your bathroom, choose waterproof or water-resistant materials to make the ceiling last long. PVC and vinyl beadboards are some of the options you can consider.
Bathrooms are usually limited in space, so you also have limited space to decorate. With a beadboard ceiling, you get to have a functional structure and a decorative element simultaneously without crowding the bathroom's limited space.
Go for a textured beadboard ceiling or something that can add texture to your ceiling and bathroom. Add a lighting fixture to the mix; it will be a great interior decor.
Basement Ceiling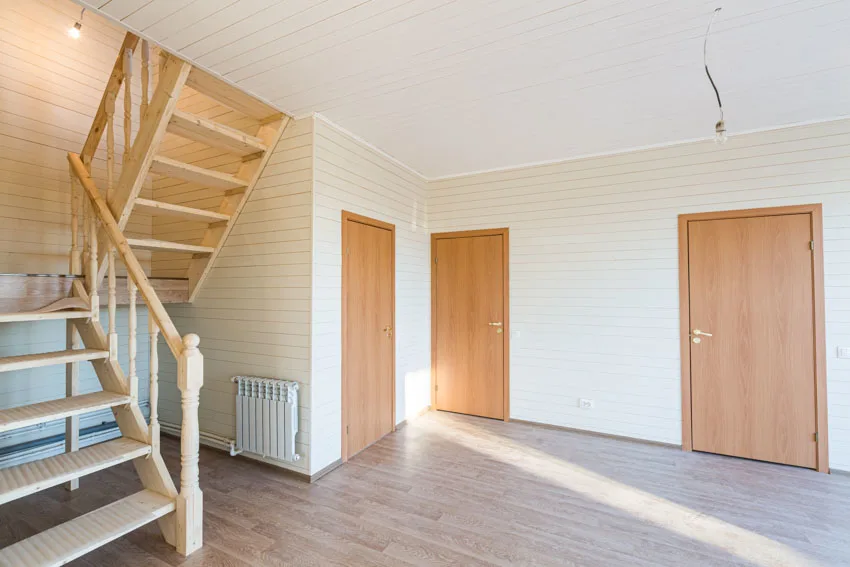 The basement and its interior, especially its ceiling, are often overlooked in terms of decor and a bit of a spruce-up. But it's an entirely different thing if you're planning to overhaul the area into something else like an entertainment room or a gaming hub.
One thing that's obvious about a basement is its humidity, ventilation, and moisture issues. A beadboard ceiling is a good option for the basement since it is thick and can work well in areas where drywall may not.
The trick, if you're choosing a beadboard ceiling, is to ensure it's not directly attached to the block wall or concrete since these are porous and can cause moisture issues.
Porch Ceiling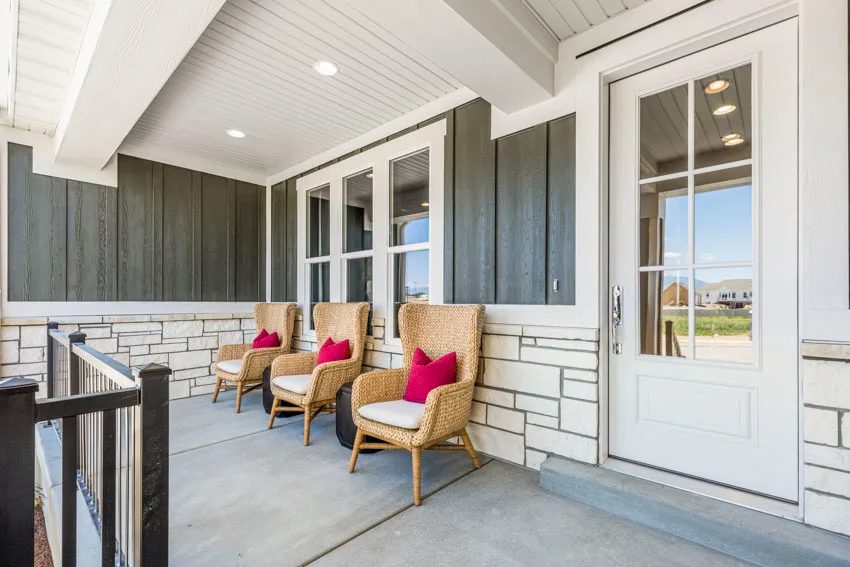 The porch is an area in the home that may or may not be subjected to weather elements so depending on how exposed the area is, you would need to adjust the materials of your beadboard ceiling accordingly. The more exposed it is, the better it is to use water-resistant materials like vinyl and PVC.
With a porch, it serves as the welcoming area for your home, and making a good impression on guests can be accomplished by sprucing up this area. You can combine dark window blinds and shingles with a clean white beadboard panel ceiling.
Vaulted Ceiling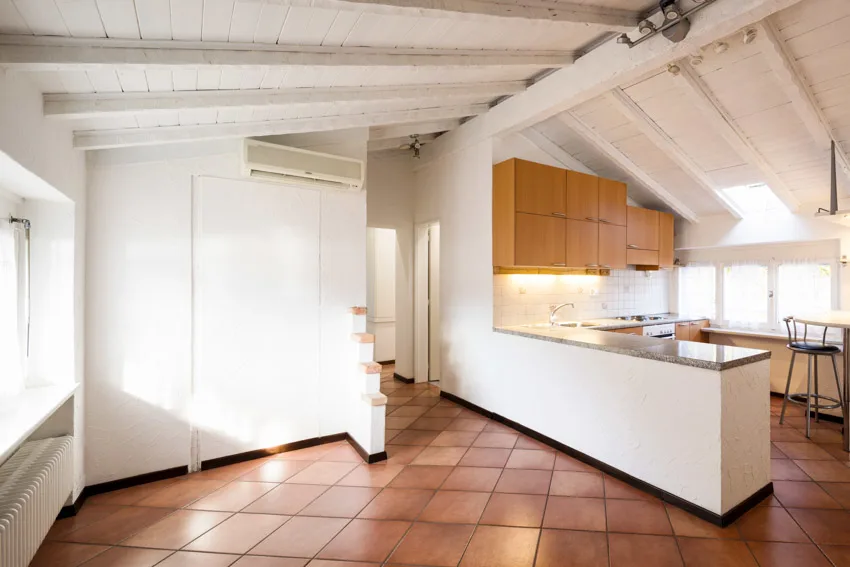 Vaulted ceilings are structured to accentuate additional height and if this is what you're planning for your home, the best option is to go for tongue-and-groove beadboard ceiling planks.
This option will be a good one if you want to make the most out of the tall vertical space in your room. With a beadboard vaulted ceiling, you can add texture and color to your room and produce the ambiance you want the area to have.
Coffered Ceiling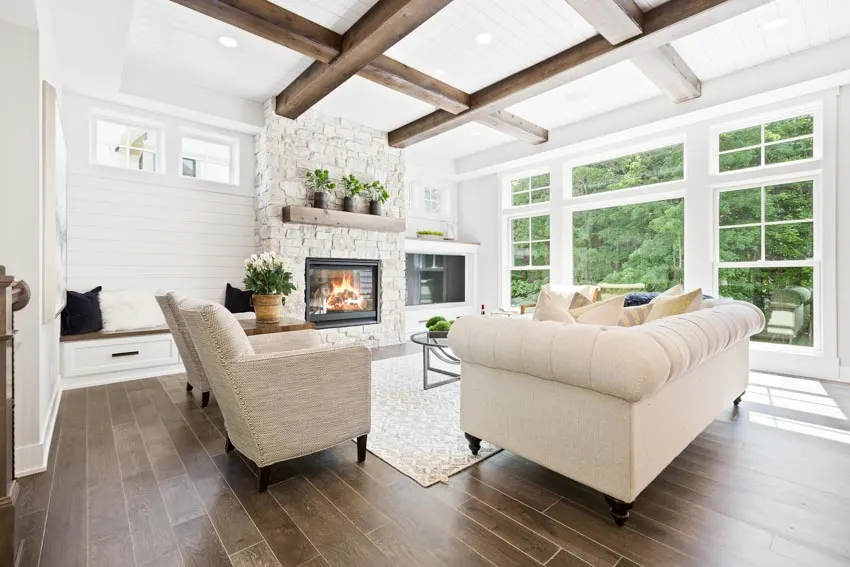 A coffered ceiling is a popular option for most high-end interiors, delivering versatile and stunning designs. They are popular in high-end interior spaces because the unique look of a coffered ceiling can only be accomplished by an experienced artisan.
There is no other choice but to hire an expert to measure and design for you. This is the same way even if you use beadboard as material. Beadboard is an excellent material choice for a coffered ceiling since you can add meticulous details without extra effort for its installation.
Drop Ceiling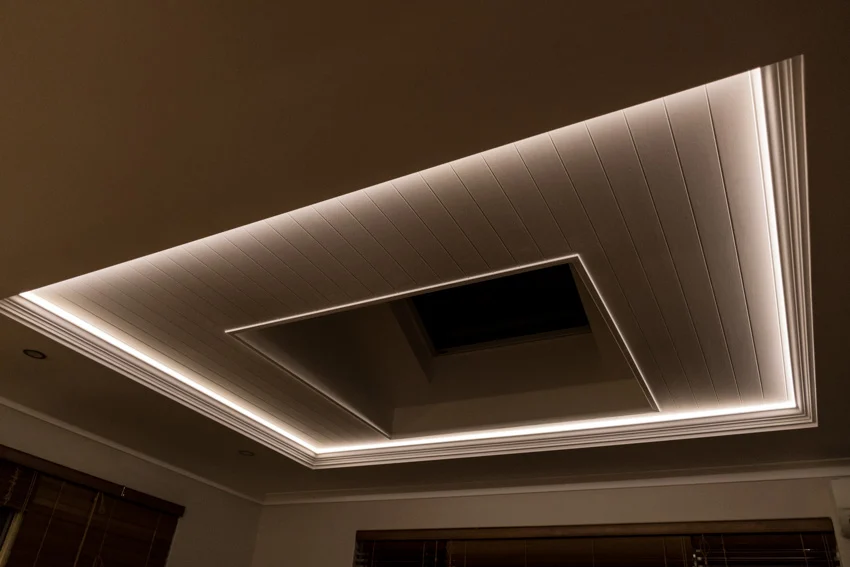 A drop ceiling is a popular option if you need to hide some marks and unsightly areas in the ceiling. This also includes wires, pipes, and ductwork.
A beadboard drop ceiling literally looks like a portion of the ceiling is dropped. If you're thinking about customizing your drop ceiling through different designs or colors, using a beadboard will make it easier to accomplish. They are also easy to install and can be laid over the existing ceiling.
While it adds sound absorption to your room, this type of ceiling requires a bit of vertical space in your room. In addition, this type of ceiling is prone to deteriorate after some time, making it unsafe.
Pros and Cons of Beadboard Type Ceiling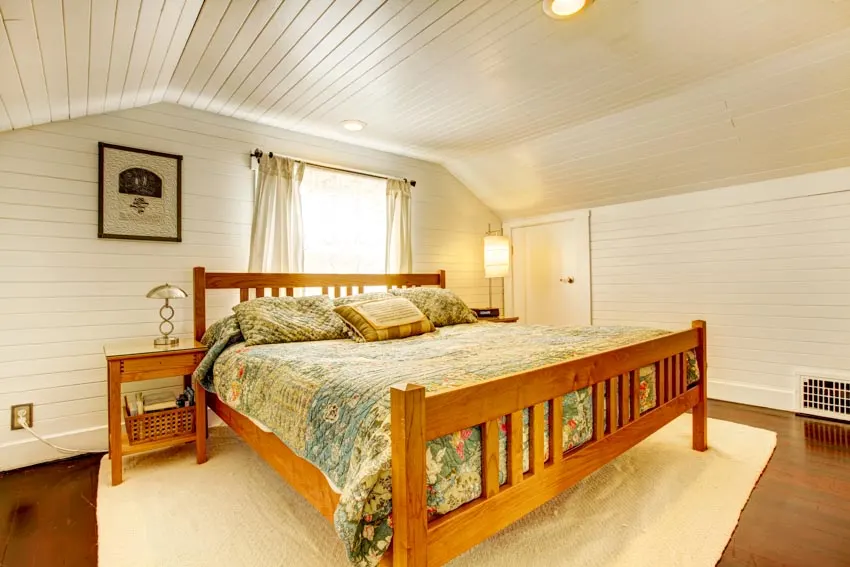 Exploring the pros and cons of a beadboard ceiling is the key to ensuring it's the ideal option for your home. Weigh them against each other and consider if you can live with the drawbacks that come with the benefits.
Beadboard Pros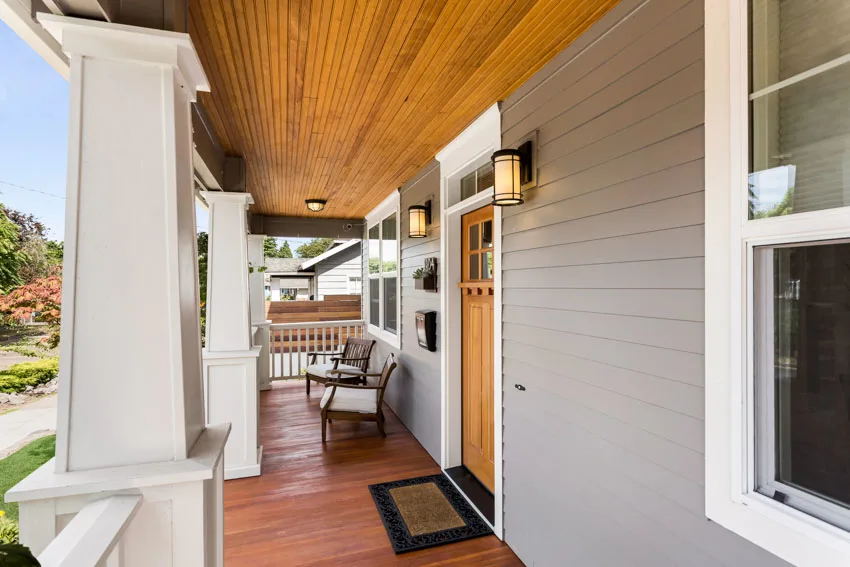 Here are the advantages you can benefit from using beadboard ceilings at home.
• Adds charm and texture to your home that easily stands out
• DIY-friendly and so can be a wonderful project you can do
• Affordable and easy to install
• Some types of beadboard ceilings are moisture-resistant (Ideal for bathrooms and kitchens)
• Can hide and be installed over the old ceiling for a fresher look
• Widely available to purchase

Beadboard Cons
To have a balanced outlook on the beadboard ceiling, you also need to consider the possible drawbacks of this choice. Here are some worth noting:
• If you choose to DIY, you may need a bit of experience for it
• Pre-finished forms of beadboards are hard to find
• You need to match the type of beadboard ceiling for installation to specific areas/rooms
• May show wear and tear signs over time
Beadboard Cost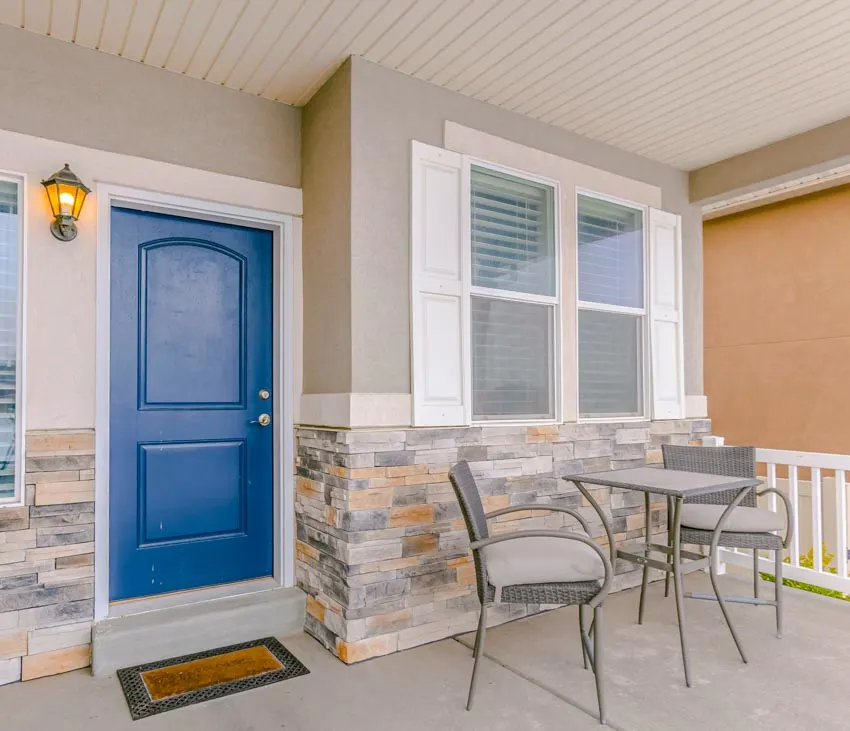 The cost of the beadboard ceiling is a major consideration in your choice. Depending on the material you choose for the beadboard, the cost can be affordable or expensive.
| | |
| --- | --- |
| Elements | Cost |
| Materials | $0.30 to $40 per square foot |
| | $1 to $4.19 per square foot |
| | $1.50 per square foot |
| | $0.30 to $0.75 per square foot |
| Labor | $2 to $3.50 per square foot |
Beadboard Maintenance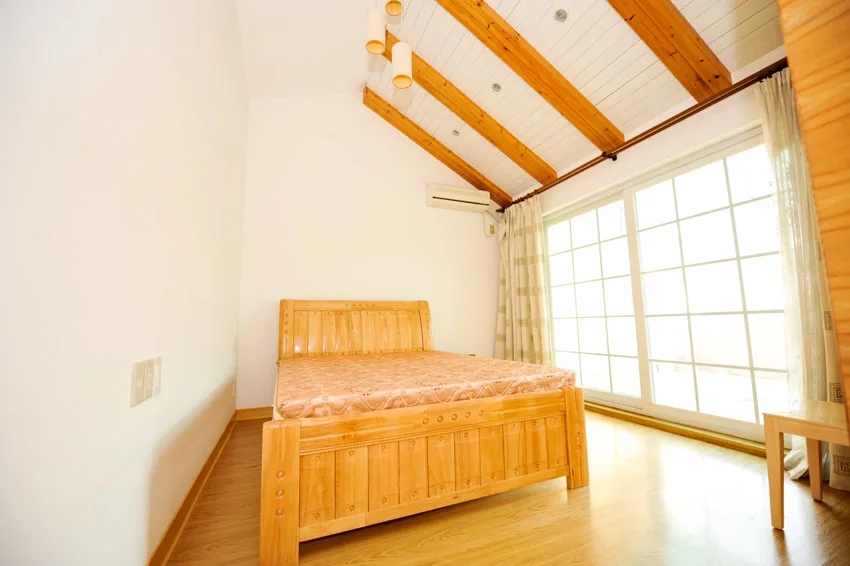 The key to a long-lasting beadboard ceiling is proper care and maintenance. To help you and make sure you know what you're dealing with, here are some easy and simple tips to follow:
• Regularly check the beadboard ceiling for loose nails and wiggling boards that need tightening
• Clean your ceiling by spraying on the surface and wiping it clean using a soft cloth
• Make use of a step stool or ladder for a more convenient cleaning
• Prevent moisture by caulking all openings and seams
• Repaint whenever necessary, preferably a light color paint to avoid overwhelming the beadboard's natural aesthetics
• Check for drips and leaks and make sure to fix them as soon as you discover them
Beadboard Sizes
When building your own beadboard ceiling, you will encounter different types with their own sizes, colors, and shapes. Sometimes, the sizes differ based on the type of wood used. Many panels are 2 x 6 inches long.
For cedar and pine panels though, they are more available in the following sizes of sheets:
• 4 x 8 inches
• 4 x 10 inches
Besides their dimensions, they may also differ in thickness and moisture resistance level, which are also two important factors to consider when choosing the type of beadboard to use for your ceiling.
History of Beadboards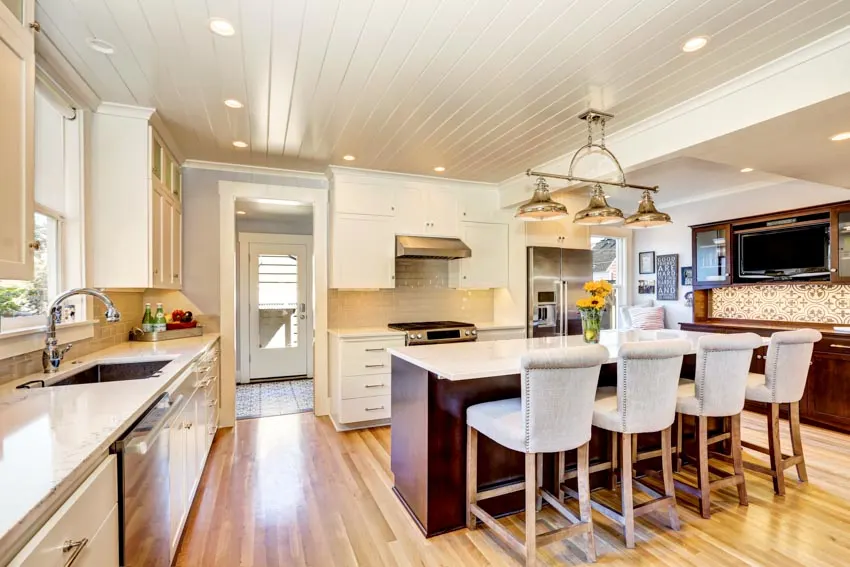 One of the best things about the beadboard ceiling is that it marked its presence in history in the late 1800s. Made from white pine, beadboard was used for interior wall paneling. More than just protection for the lower walls, these panels also add a degree of insulation.
Besides white pine, long-leaf yellow pine and weather-resistant fir are also used to create beadboard and are used on the exterior ceilings of the porches of country homes. It wasn't until the 1950s though, that beadboard was used for interior ceilings and to cover old plasters and their cracks.
Beadboard is the material used to update and spruce up farmhouses and country homes. This use of beadboard on the lower walls remained popular and heightened during the Victorian era but faded during the 20th century. And while it never disappeared, it became a symbol of elegance in the past.
Today, while most beadboard ceilings are found in old homes, the trend is starting again and showing up in modern homes. The difference is that these beadboard ceilings now come in detailed, square grooves.
How to Install Beadboards on Ceilings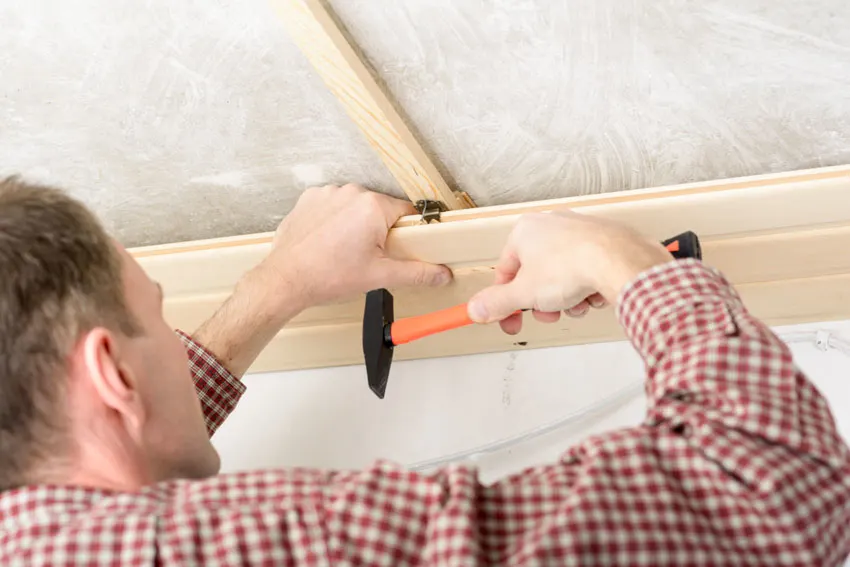 If you're planning to install your own beadboard ceiling and make it a personal project, make sure you know how to do it in the first place.
Here are simple steps to follow to get you started.
Step 1 – Gather all materials you need: If you purchase a kit, you will only need an adhesive or nails, depending on the type of beadboard you chose. Heavy and thick wood panels need to be nailed down but thinner ones can work with adhesives. Finishing nails can also help hold the panels in place.
Step 2 – Choose the type of beadboard to use: Depending on the aesthetics and vibe you want to produce using your ceiling, the type of beadboard you choose should match and support that. Other factors that can affect your choice are the following:
• Room where the beadboard ceiling is going to be installed
• Size of the room
• Needed maintenance
If you'll work on your bathroom, an area that's always exposed to moisture, choosing waterproof beadboard like vinyl and PVC might be better. If you want to go for authentic wood, pine is an excellent choice too. But make sure you know that it turns yellowish over time so if you don't want that, staining or painting the wood is recommended.
Step 3 – Measure your ceiling and mark it: Once you've chosen what beadboard to use and how you want your ceiling to look, measure the ceiling you'll be working on and mark them to take into account the joints where the panels will meet. You can also cut holes in the ceiling if necessary.
Step 4 – Cut your beadboard: After measuring and marking the ceiling, cut your beadboard to match the measurements you got. If you're dealing with an irregular shape, it's important to be accurate with your measurements and how you cut them.
Step 5 – Secure and install the beadboard: Once you've matched the beadboard with their respective marked areas, secure them to the ceiling using either a nail gun (if you're using nails) or add adhesive at the back of the panels.
Step 6 – Add the finishing touches: After the beadboard panels have been secured, you can now add your personal finishing touches. This step will be entirely up to you and your imagination.
Start with filling the gaps and cracks you see on the ceiling. This is important not just for aesthetics but so for the functionality of your beadboard ceiling. Here are other options you can choose as finishing touches:
• Add trim to cover up fillers
• Add caulk to produce an elevated look for your beadboard ceiling that will look refined and high-end
• Paint or stain the beadboard ceiling with your preferred color (Make sure to use waterproof ones when the ceiling is in the room always exposed to moisture like in the bathroom and the kitchen)
Can You Install Beadboards over the Popcorn Ceiling?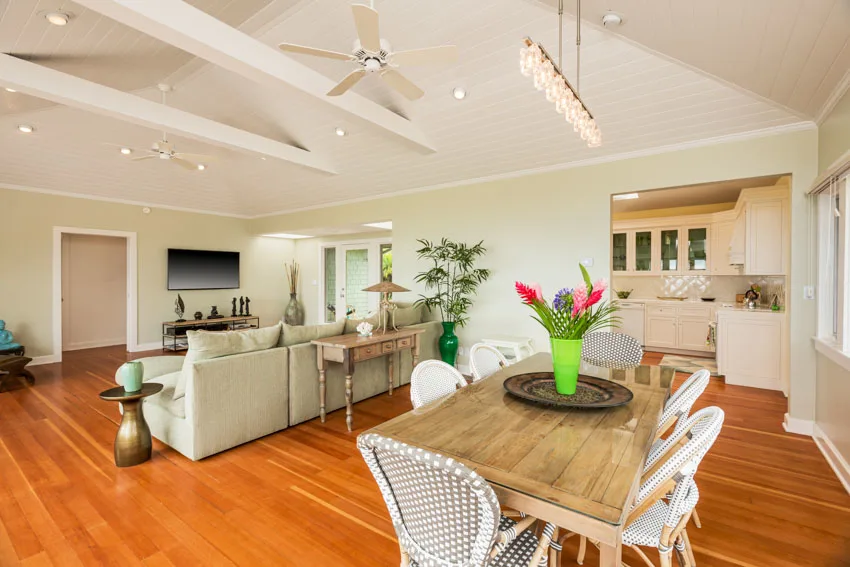 Yes, you can! One of the best things about beadboard ceilings is that you won't have to worry about taking down your ceiling to install it. You can easily lay it over the existing ceiling, especially if you have a popcorn ceiling that has seen better days.
It's necessary to remember though that moisture must be avoided at all costs when it comes to beadboard ceilings. So avoid leaks and drips from getting to the beadboard from the popcorn ceiling by repairing them as soon as you discover them. And since most popcorn ceilings have asbestos, installing a beadboard is one of the best ways to cover it and avoid asbestos issues.
Staining Beadboards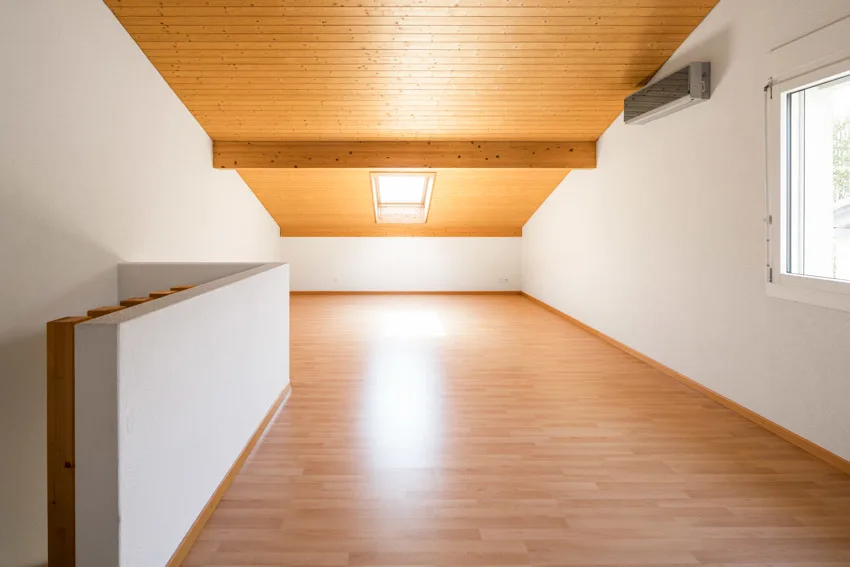 Staining your beadboard from moisture and other destructive elements is one way to protect it. Staining your beadboard ceiling will keep it away from moisture (and can cause it to rot!) and help you get the desired color you want your ceiling to have.
When staining a beadboard ceiling, here are some tips to follow:
• Stain before installing the beadboard (It's more convenient!)
• Sand out dents and scratches before staining (Use fine-grit sandpaper)
• Use a natural-bristle brush when you apply the stain on the beadboard
• Always move in the direction of the wood grain
• Wipe excess stain as you apply it to the beadboard
• If you want a darker finish, apply a second coat (Make sure that it's completely dried first!)
• Oil-based wood conditioner may be a good consideration to help you seal the beadboard and have a more uniform and smooth satin finish
See more related content in our article about the different shiplap ceiling designs on this page.