Here's our coffered ceiling ideas design guide including what it is, cost, types, materials and lighting. See coffered ceiling living rooms, kitchens, dining rooms and bedrooms.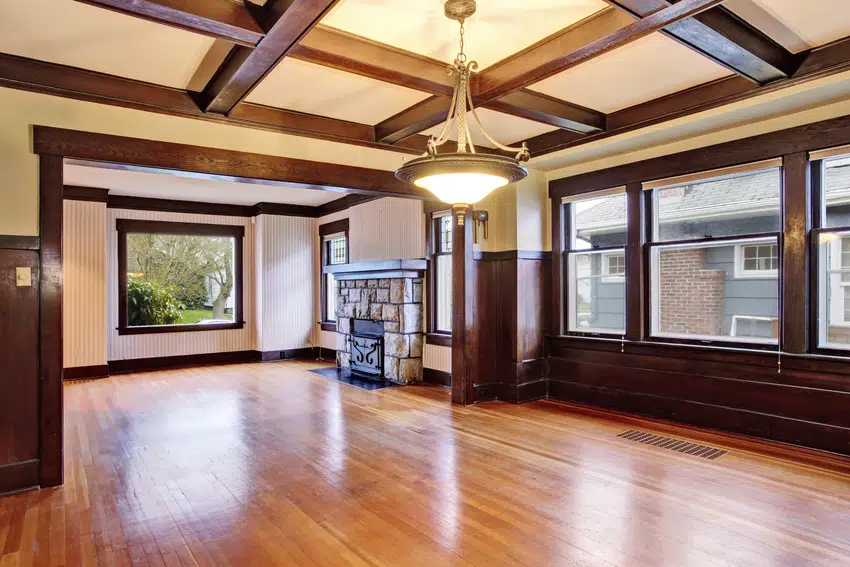 Coffered ceilings are visually striking, where the added depth and texture can transform any room into a sophisticated and elegant interior.
Ceilings are the least ornamented part in a room and usually, a plain and smooth surface is enough to satisfy one's design taste. However, a coffered ceiling is an effective way to add character to your rather ordinary interior.
While a coffered ceiling can make a room exude more style and appeal, it can also improve the acoustics of a room by reducing echo and even out sound dispersion. The architectural detail also acts as a buffer for sound transmissions between floors, covers roof truss, and keeps wirings hidden.
Coffered ceilings are typically placed in grand rooms, but it shouldn't stop you from adding the classic architectural detail anywhere in your own home, with different styles and materials to choose from.
To kickstart the coffered ceiling project, we've rounded up these coffered ceiling ideas for your design inspiration.
What Is a Coffered Ceiling?
A coffered ceiling is a type of architectural ceiling detail characterized by a series of coffers or sunken panels creating a cross-beamed effect. The coffers are usually designed in the shape of a square, rectangle, and a few more complex shapes such as octagon or diamond.
With three-dimensional paneling, you'll have an interplay of lights and shadows providing depth and texture to your ceiling.
A coffered ceiling uses beams to create a pattern of recessed panels or grid-like compartments in a ceiling. – Alan Jefferis, Residential Design, Drafting, and Detailing
Coffered ceilings have an interesting history of use, starting from the ancient Greek and Roman interior where temples, civic buildings, and other important buildings are adorned with the classic look. Its re-emergence took place during the Baroque and Early Renaissance periods mainly reserved for aristocratic architecture.
The popularity of coffered ceilings continued through Midcentury architecture where early architects were trained in European architecture which left grand homes, churches, civic buildings, and commercial establishments with the classic look.
Fortunately, today, you no longer need to be affluent to have that stunning coffered ceiling as advancements and modern construction have made the classic style more available to any home.
Although coffered ceilings can be done in any type of house, the ceiling detail is most suitable for higher ceilings as the added beam height can affect your headroom and make a room look claustrophobic. A recommended 10 feet or higher ceilings will look best with a coffered ceiling.
A coffered ceiling is commonly associated with a waffle ceiling, which is a subset of the classic style. The main difference is that waffle ceilings have beams that cross each other in a repeating pattern.
Types of Coffered Ceiling Materials
Here we share the most popular types of materials used for coffered ceilings such as wood, tiles, and faux materials.
Coffered Ceiling Tiles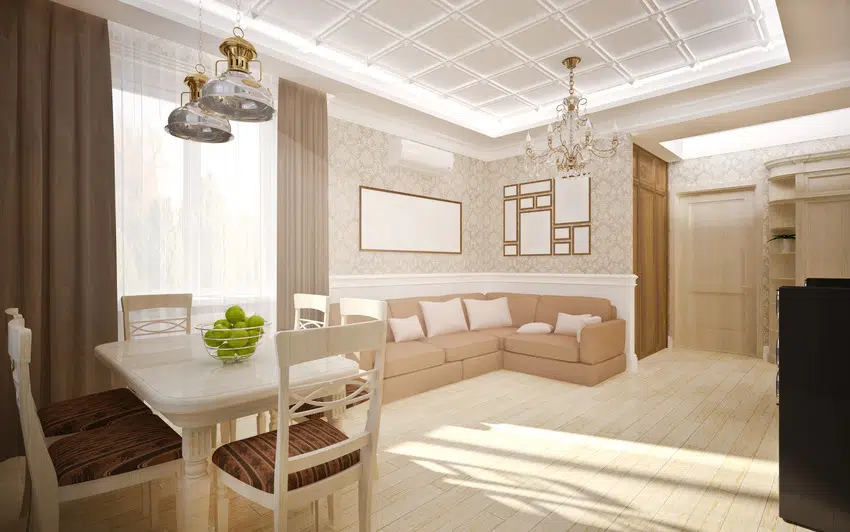 You can create the illusion of a higher ceiling without the complex installation process with coffered ceiling tiles. Sometimes called coffered modules, these are easy drop installation coffered tiles that come in as lightweight crown molding assembly that you can fasten directly on your ceiling.
There's no need to prepare your ceiling surface as the panels can be individually adjusted.
Most coffered ceiling tile products are made-to-order so you can specify the material, shape, and style you require. Nonetheless, the most common material used is the rigid PVC coffered ceiling tiles, which make it easier to lift and install in greater ceiling heights.
The lightweight material also means it's less strenuous on your structural system. Readymade coffered ceiling tiles usually come in black and with finishes of various panel textures.
You can also get coffered modules in recessed panels or without the panels around the molding that allows you to show your existing ceiling.
When looking for a readymade coffered ceiling tile it is best to get those that come with a sag, mold, and mildew resistance.
Wood Coffered Ceiling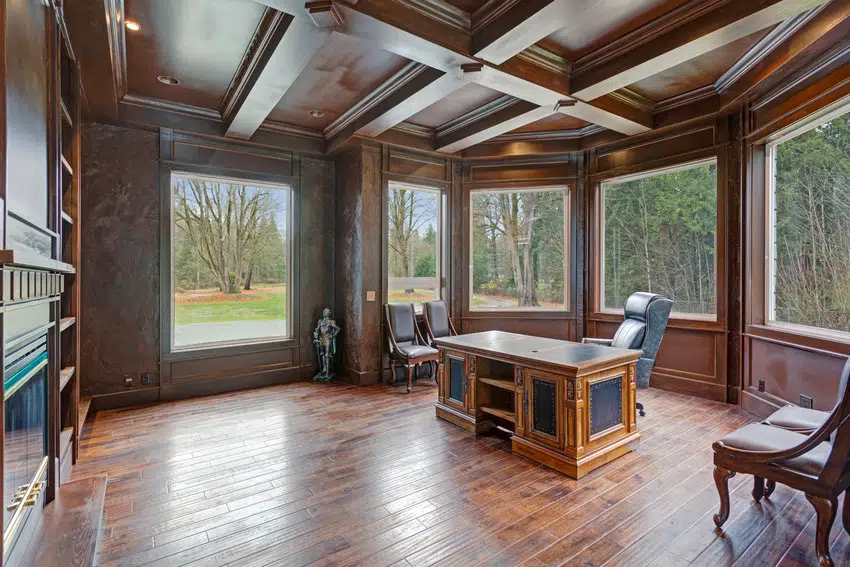 Whether going for a traditional or transitional style, coffered ceilings made with natural wood or faux wood beams can add character and a whole lot of dimensions to a room.
Softwood is a highly recommended choice when it comes to your coffered ceilings because it's easier to work with and can be stained or painted. With a clear finish, you can easily showcase the knots and graining of your wood texture.
Darker woods can add weight and contrast to your ceiling surface making it a great focal point in a room while lighter tones of wood make it not too overbearing and give a Scandi-feel to your room interiors.
Another consideration for your coffered ceiling ideas is when designing with wood with heavy textures and dark tones, the grid-like timberwork works well with simple rectangular or square panels that do away with the crown moldings.
If you have existing beams running through your ceiling, you can either showcase these crossbeams and integrate the coffered pattern. Make sure to consider the structural integrity of your ceiling joists as there is an added weight when installing your wood coffered ceilings.
Faux Coffered Ceiling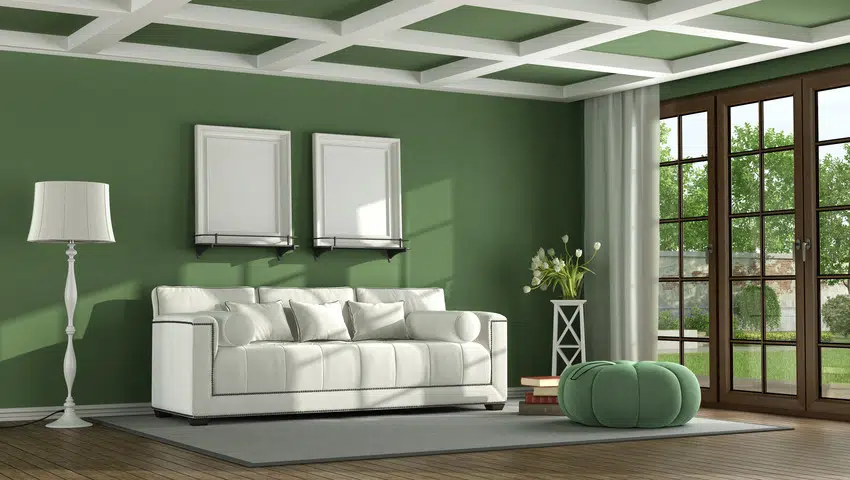 A faux coffered ceiling is the most common type of coffered ceiling which offers a more lightweight option than lumber materials. By using drywall instead of lumber pieces, you can have any depth and size of non-load bearing beams along with your ceiling.
However, if you have existing load-bearing beams in your ceiling, you can either work around your exposed beams or conceal the beams to create a uniform look of your coffered ceilings. The only downside to installing faux coffered ceilings is the need for a skilled carpenter to create the complex crisscrossed beams.
You'll need to sand and place wood filler to create a monolithic structure which can add to the cost and timeline in creating your coffered look.
A good way to reduce complex processes is to have the beams painted or stained before installing or as alternatively, assemble your faux beams as three-sided boxes so it's easier to lift and quickly install over your ceiling surface.
Although labor-intensive, faux coffered ceiling is actually a versatile option since you get to choose the dimensions of your crisscrossing beams.
Coffered Ceiling Designs
Here we share another one of the essential coffered ceiling ideas involving designs for the dining room, living room, kitchen, and bedroom.
Coffered Ceiling Dining Room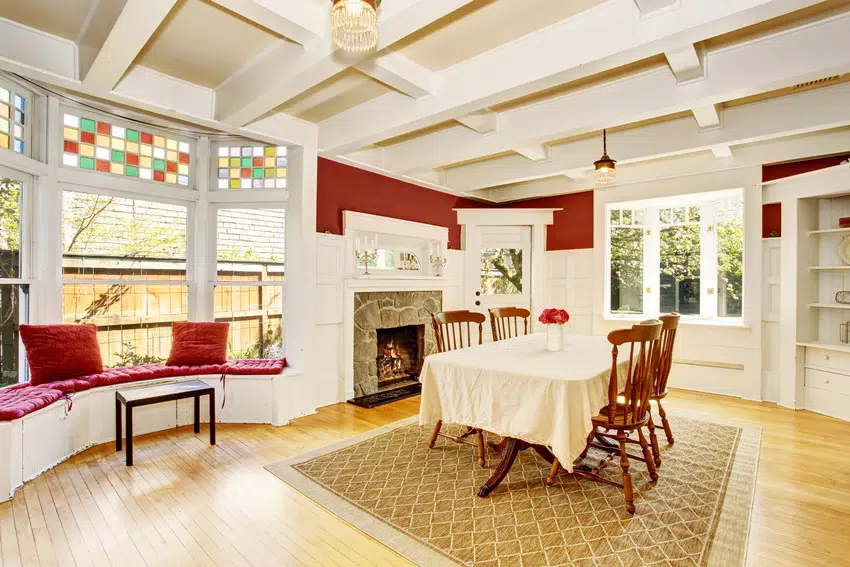 A coffered ceiling is the perfect focal point in a room and since dining rooms are usually formal and intimate spaces for the family, the centered ceiling feature brings the other interior elements together. Add a striking chandelier or any lighting fixture to add to the sophisticated look.
Contemporary spaces are typically in whitewashed or light neutral colors. Nonetheless, if you love the idea of a coffered ceiling but don't prefer it overwhelming a space, paint your coffered ceiling with the same color as your walls to create a unified look.
The monolithic look adds depth to your ceiling area but in a more toned-down manner.
Living Room Coffered Ceiling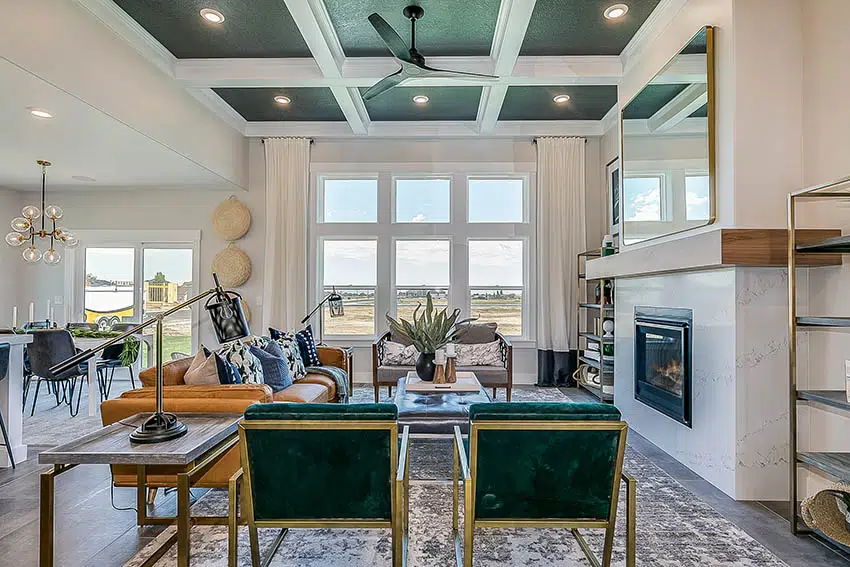 The living room is perhaps the best place to display a coffered ceiling. It can especially highlight the curb appeal of a house, especially in a large living room with high ceilings.
For example, you can add crisscrossed beams, as well as ceiling lights to add more detail and character to your living room.
Aside from its aesthetic appeal, coffered ceilings can also define spaces especially for homes with an open plan. Moreover, entertainment rooms such as audiovisual interiors can benefit from a coffered ceiling as it distributes sound evenly and prevents echo problems inside the room.
Coffered Ceiling Kitchen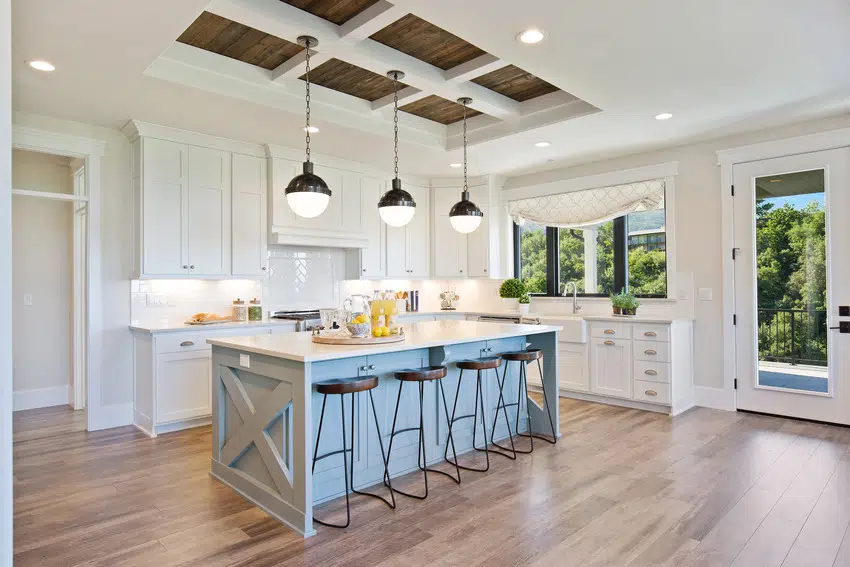 Coffered ceilings can add dimension to a rather plain ceiling and unify your elements especially for spaces with different elements such as a kitchen. Traditional coffered ceilings with crown molding are an attractive feature that goes well with your shaker cabinets.
Similar to living rooms, you can define area boundaries through a coffered ceiling in an open plan. You can use a monolithic color for your coffered ceilings similar to your walls and cabinets to make a room look even more expansive.
Coffered Ceiling Bedroom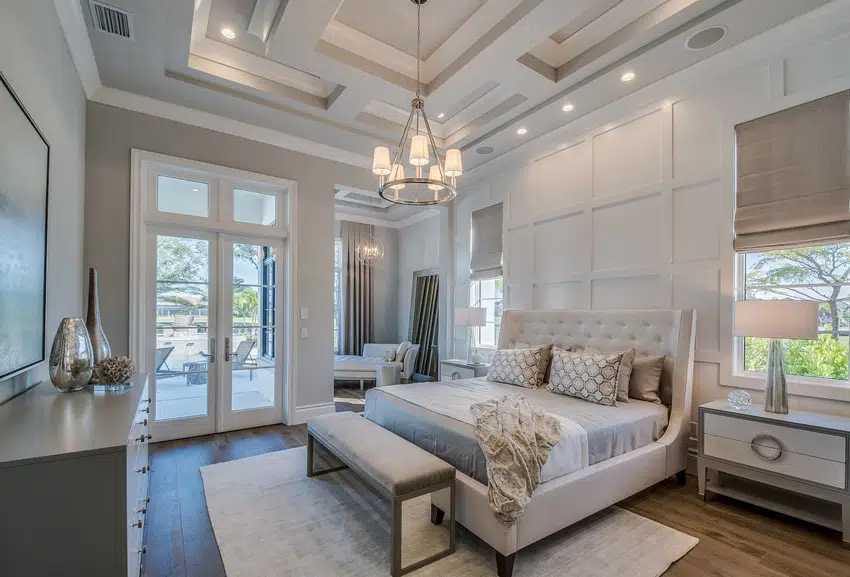 Bedrooms may be one of the least likely places to install a coffered ceiling but the ceiling feature can make an interesting visual treat instead of the dull plain surface, especially for a modern master bedroom. Coffered ceilings can also reduce sounds coming from the upstairs room as the coffers can dampen the noise better than a flat surface.
Does a coffered ceiling make a bedroom look cramped? It actually depends, but installing the coffered ceiling will definitely take up space so it is also recommended to have at least 9 feet of ceiling height to accommodate the added ceiling depth.
That said, with just the right ceiling height, a coffered ceiling can make your bedroom look intimate and cozy. You should also choose colors wisely as coffered ceiling ideas with too much detail and a prominent color can be overwhelming.
Simple Coffered Ceiling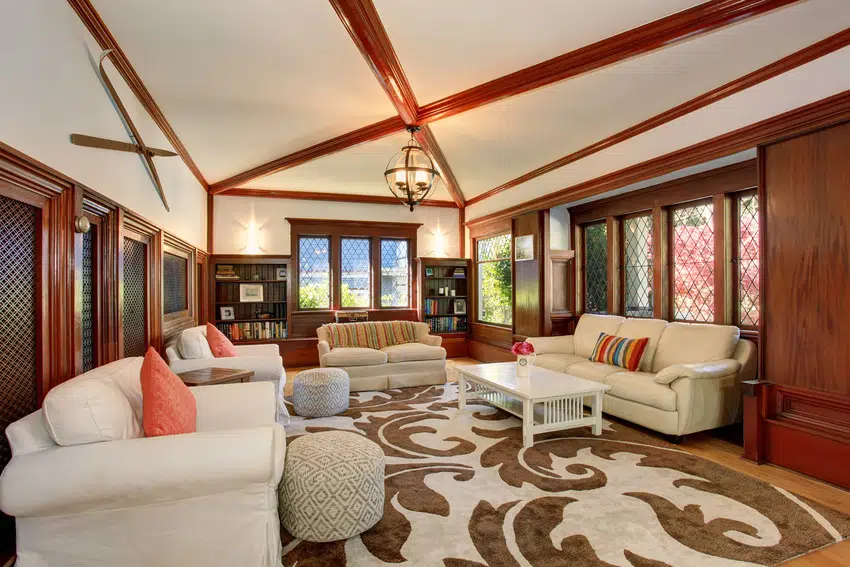 While coffered ceilings are made to emulate the traditional details, modern homes can have a coffered ceiling that is simple but at the same still strikingly appealing.
A simple coffered ceiling typically has no crown molding or beads along the crossing beams leaving a sleeker look. Faux coffered ceiling can have a simple plain box shape profile that is widely spaced between crisscrossing beams in a plain or neutral hue.
Low Profile Coffered Ceiling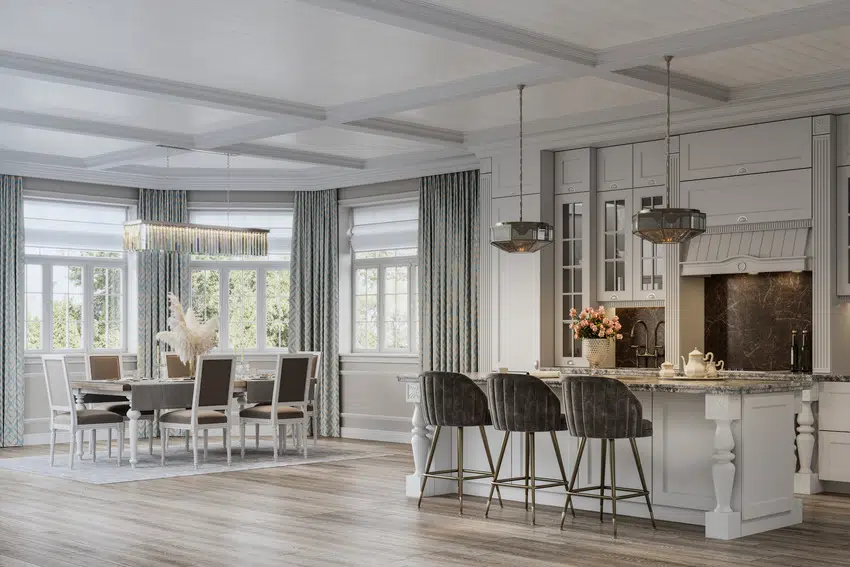 When you prefer a coffered ceiling in a bathroom but worry about taking much headroom height, a low-profile coffered ceiling is the best design option to consider. Use flat boards and moldings instead of assembling the box-type beam.
The low-profile coffered ceiling is quite simple to install and can be done as a DIY project.
When working around an existing lighting feature, measure the distances from these fixed elements and place a blue tape to check if you get a balanced and uniform distance of your flat boards.
A 1 x 6 flat board that is primed and painted is recommended for a low-profile coffered ceiling with lengths depending on your ceiling dimensions.
Coffered Ceiling Cost
For a nine feet ceiling height, coffered ceiling installation normally costs an average of $25 per square foot. Coffered ceiling installation is actually labor-intensive and requires advanced carpentry skills and structural work, hence the high labor cost.
Moreover, design details, materials, and the size of your ceiling are also determining factors for your coffered ceiling cost.
Those who have other coffered ceiling ideas in mind and plans to make it as a DIY project will need a good background in carpentry and should note that installation of the classic ceiling detail requires you to work on heights.
Coffered Ceiling Lighting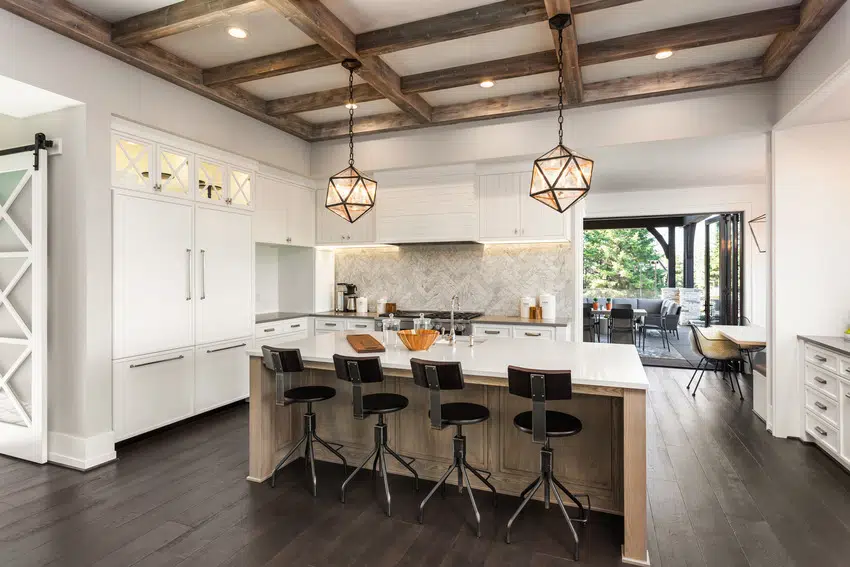 Coffered ceilings are spectacular features by themselves, but to further enhance and emphasize their details and depth, you can install artificial lighting.
The type of lighting will depend on the style you're going for and the type of interior space. If you want a dramatic and relaxed atmosphere, indirect lighting is the perfect option because of its subdued lighting effect.
Meanwhile, you can install recessed puck lights inside the faux coffered beam or along with the coffered box. The soft lights do not shine directly down the room but rather create a warm cozy ambiance as the subdued light heats the crisscrossing beams.
Another way to light up your coffered ceiling is through statement lighting fixtures. For living or dining areas, single focal lighting such as a chandelier or a sputnik lighting can finish the look with an elegant and sophisticated touch.
You can also place 2 to 3 hanging pendant lights on your coffered ceilings along a kitchen counter or dining area. adding LED lights along the main beam and crisscrossing beams.
Coffered Ceiling Kits
Coffered ceilings are a worthwhile investment as they can add value to a home, making it a visually captivating space for your guests and family.
But while coffered ceilings have an undeniable advantage over flat ceilings, it's still costly work, not to mention time-consuming. Hence alternatives such as coffered ceiling kits are gaining popularity, with a fraction of the cost from constructing with drywall and moldings.
You can either choose the standard options of coffered ceiling kits or specify with optional factory cuts to fit your preferences.
The ready-made coffered ceiling parts usually include different profiles of perimeter beams, full beams, corner fittings, tee-fittings, intersection fittings, and crisscrossing beams. Most kits also include medallions, rosettes, appliques, and tin ceiling panels, allowing more options to expand your coffered ceiling ideas.
Like Lego blocks, there are uniform fittings assigned for a particular function in your coffered ceiling system, making it easier to assemble. Moreover, coffered ceiling kits can also help you install the ceiling detail in as little as one day.
For more related content, visit our article about tray ceilings vs coffered ceilings here.