Here we share our men's closet ideas with the best design tips, different types of closet organization options, and the clothing items that should be hanged.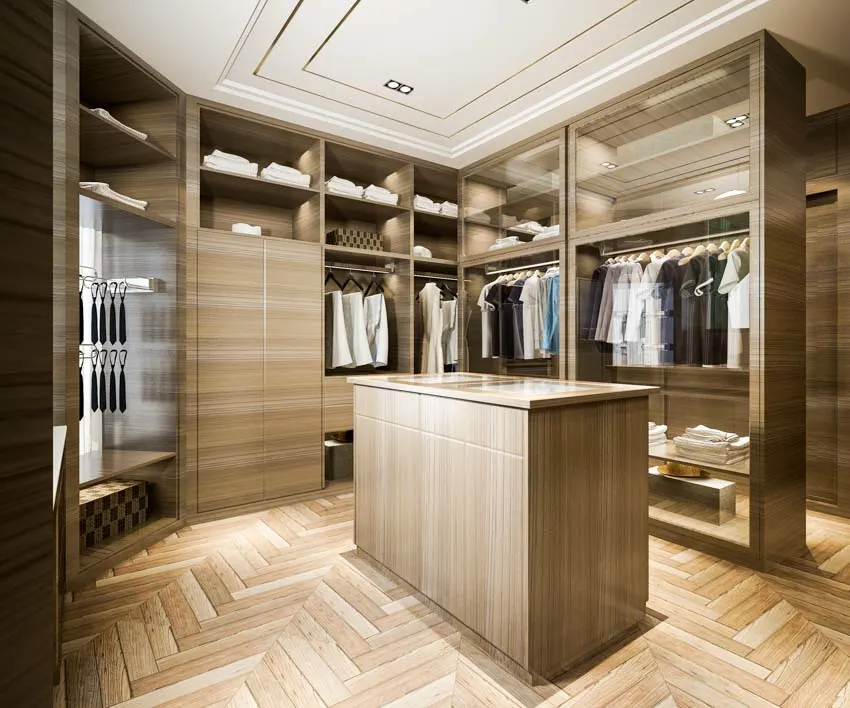 Every man requires a well-organized and structured closet space design to optimize efficient arrangement. To obtain ideal organization in a man's closet, a few easy enhancements would be essential.
However, given the numerous changes in our daily life, having a man's dresser efficiently and tastefully arranged is critical to maintaining his space; it must be eye-pleasing and organized. Arranging a closet for a man's clothes differs significantly from organizing a woman's wardrobe.
Men do not require as much space as women do for long-hanging items. In this article, we will provide you with some helpful men's closet ideas to help you build and design the ideal men's closet.
Men's Closet Design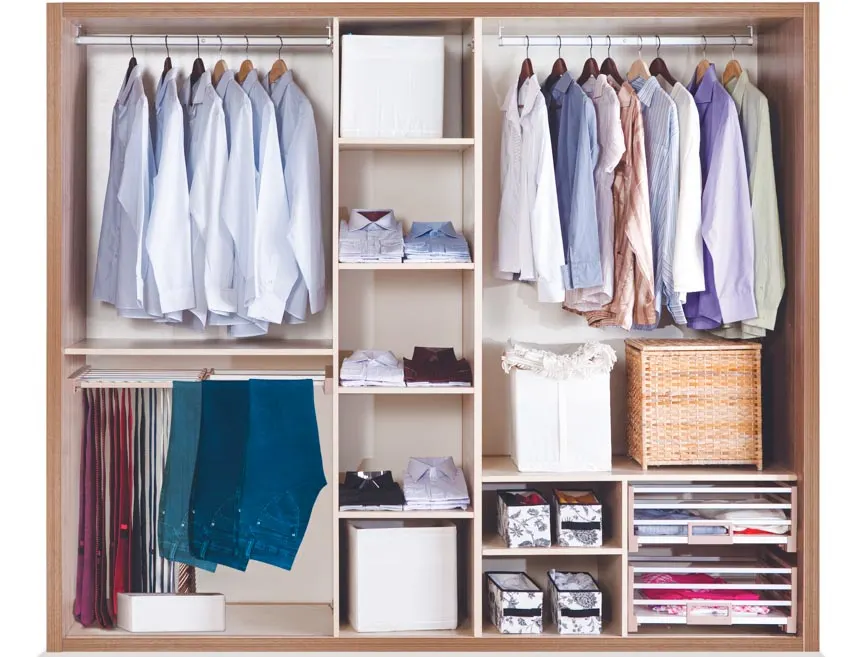 Suits, shirts, neckties, jackets, sweaters, and casual clothing normally make up the majority of a man's wardrobe. In a man's closet, the space can be utilized more efficiently. Because practically nothing is lengthier than a suit jacket or shirt, a man's closet can indeed have dual-rods.
Furthermore, the shoe racks should not be higher than the height of his casual shoes or padded running shoes.
The first step in organizing and designing any closet is to develop a set of acceptable operational standards, or handling guidelines, for the objects that will be stored in the wardrobe. You have to maintain control of the men's closet, henceforth you have to follow the standards.
Here are some men's wardrobe ideas, tips, and tricks you might want to apply:
Install a Long Hang Closet Organizer: A long hang is wardrobe organizer component that is 62 to 65 inches tall and has a single storage rod. Long dresses and jumpsuits are often stored in this sort of closet organizer. Most men's closets do not require long-hang spaces. There will not be much to store in a long-hanging area except if the male has a bunch of bathrobes or stores his trench coat in his closet.
Therefore, extra double-hang spaces in a man's wardrobe would be preferable. With the exception of knits, which should be folded and hung by the cuff or waistline, almost all men's clothes could be hung with the use of dual-hang closet organizers. This helps maximize the storage capacity in the closet. For the bathrobes, you can use some hooks.
Men's shirts are often a little longer than women's blouses, thus leaving enough vertical space underneath the rod to make sure that clothes do not reach the bottom or shelves when hung.
Each double-hang area of wardrobe organizer in a man's dresser will require at least 42 inches. This implies that two stacked parts will add up to 84 inches – the entire height of a standard men's closet system.
Install a Closet Island or Cabinet: Do not let the items like socks become a chaotic mess. Consider incorporating an wardrobe island or mini cabinet with drawers into a men's closet layout.
Moreover, drawer dividers or organizers can keep little things nice, ordered, and easily accessible. These organizers are a vital aspect of a great closet men's design plan to avoid confusing your socks.
A man's closet must have certain racks for folded objects such as knitwear and sweaters. Unless the ceilings are very high, the shelves must not be situated over the double-hang part. Wardrobe shelves can be placed next to a double hang, on its wall, or atop a closet cabinet or dresser.
You may even incorporate shelves into a closet island. As an extra bonus, having an island with shelves rather than drawers will reduce the overall cost of your wardrobe.
Organize Your Accessories: Neckties, bowties, and belts must be properly organized in a men's wardrobe design. Belt and tie racks or hooks are available in a variety of configurations. Make use of them.
Your ties will remain wrinkle-free, and you can quickly locate your belts thanks to these parts. Furthermore, many men discover that jewelry drawer organizers placed in a drawer are ideal for organizing sunglasses, watches, and other men's accessories.
Get Proper Show Storage: Men should not fail to organize their closets properly for their shoes. Nowadays, every man owns many pairs of shoes in various colors, even if just to differentiate between casual and dress shoes. Whenever you are not using your favorite shoes, you will need specialized shelves or racks to get them orderly and off the ground.
Add a Clothing hamper: A built-in hamper system must be present in every well-equipped men's wardrobe. To be properly organized, two hamper bags or units are ideal so that everyday laundry can be divided from items that must be carried to the laundry area in your house or laundromat.
Built-in hampers with detachable hamper bags or liners are among the advantageous men's wardrobe ideas since they make it simple to remove dirty items from the wardrobe to keep the said area clean and organized for homeowners to use. Read more about how to organize a man's closet here.

Paint the Closet Walls – Many interior designs prefer to paint the closet walls in a white or brighter neutral shade. Doing so provides reflective light to help illuminate the space so one can more easily find what they're looking for. Choosing a semi-gloss style paint will provide a sheen and help keep things brighter.
Men's Walk-In Closet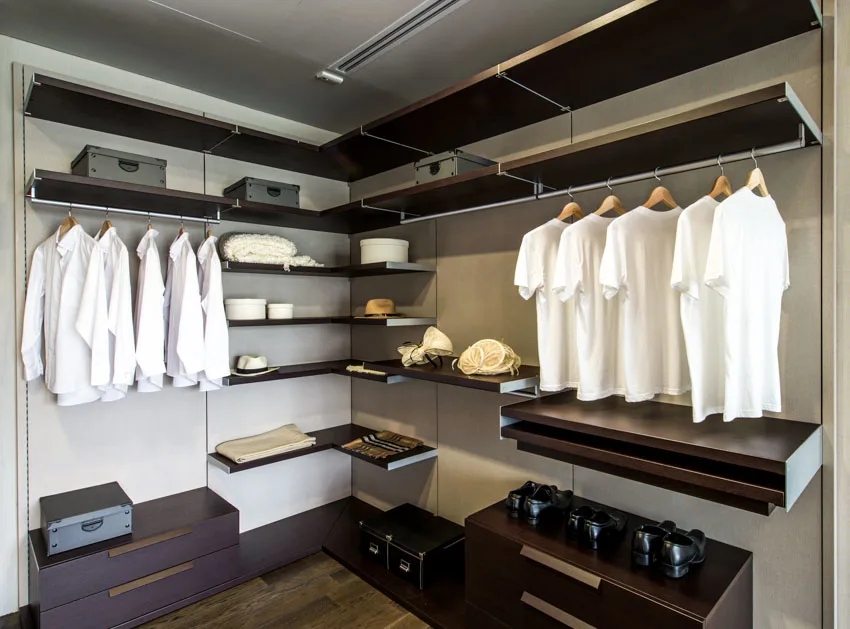 You may save time and get more things accomplished with an efficient men's walk-in dresser design that makes everything reachable. There will not be any mess, you will not be late, and you will not be anxious about getting ready for the day. Anyhow, below are some walk-in wardrobe design ideas.
Men's walk-in closets, like any other storage space, begin with establishing your preferred style. Do not even your creativity because every style may be turned cool and manly if you know how.
Among the men's dresser ideas that you can take into account is a color scheme suitable to the existing concept of the area; with the correct furniture and accessories, practically any color scheme may become more masculine.
Dark colors like gray, black, brown, and blue, coupled with tones of vibrant colors, are among men's best preferences here. You can add everything you want to the walk-in wardrobe, from various accessories to industrial-style shelving that gives a real man's impression.
A quality storage and organization system must be installed in each walk-in wardrobe. Do you wish to utilize open storage or entirely free up space? The first alternative will necessitate a large number of cupboards that ought to be capable of hiding everything.
When it comes to the second choice, it is simpler to find clothes, shoes, bags, as well as other accessories as parts of the wardrobe décor. This concept is ideal for men since the open shelf serves as both a storage shelf as well as a display area.
In addition, you can add certain types of closet light fixtures to your cabinets and shelves to start making the interiors more intriguing. Afterward, for a manly sense, incorporate wood elements, leather furnishings, various shades of black, and industrial-style objects.
The walk-in storage space is functional today and a significant aspect of your home's décor. See more pictures of walk-in closet ideas on this gallery page.

Men's Reach In Closet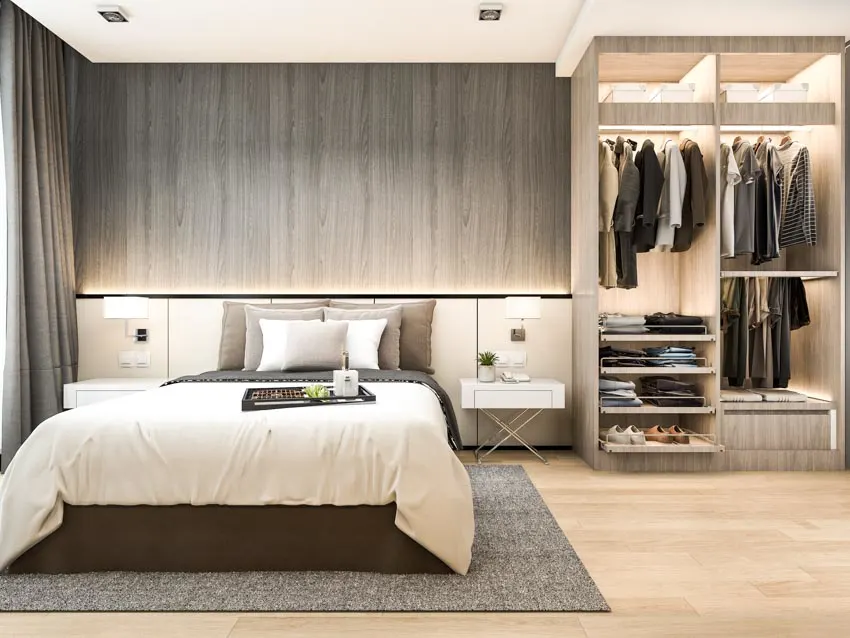 A premium reach-in men's wardrobe organization system can also help you maximize your space. Certain design concepts will ensure that you have enough space to store all of your items including your clothes, shoes, jackets, sweaters, coats, trousers, accessories, souvenirs, collectibles, etc.
A standard reach-in men's wardrobe includes constructive hardware to allow making preparations for the day simple and efficient. A wood treatment may be ideal for small spaces since it can make any place appear more natural and spacious. Even a simple design can be elegant if it is strategically built with enough space to accommodate everything you need to keep things organized.
Furthermore, incorporating pull-down rods make it simple to optimize space in this men's reach-in wardrobe system by allowing you to utilize all possible vertical space. This allows for an additional layer of hanging area. Sliding doors can also be styled to match your décor while protecting your reach-in wardrobe and intimate belongings.
Sliding doors show an organized arrangement containing drawers, hanging space, as well as shelves. You can keep your boxes, shirts, pants, and other items neatly and properly stored.
In addition, a tilt-out hamper behind a sleek beveled shaker closet door can also provide a place to keep worn items, built seamlessly into your reach-in storage nook to ensure that a freestanding hamper does not occupy too much valuable floor space.
Men's Wardrobe Closet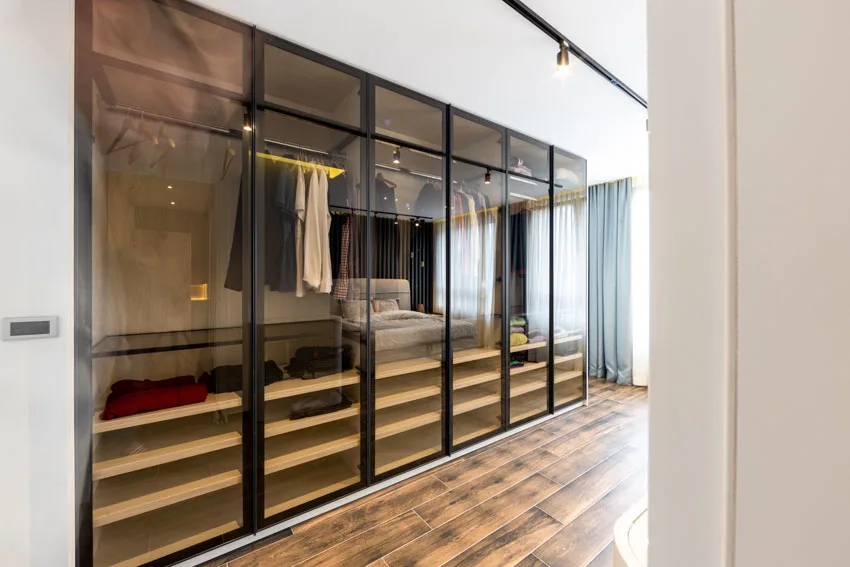 A men's closet is always contained by a door and is constructed against the wall, resembling a standard cabinet. This sets it apart from an open-fronted built-in shelving unit.
Since this style of wardrobe is frequently customized, it may be built to any size or specifications required. Thus, it is a very practical and attractive way to add storage to a house that might be needing closets.
To maximize storage and properly utilize existing space, the ideal men's wardrobe closet design considers lifestyle and occupational preferences. You may create separate rooms for everything you own with distinctive wardrobe design ideas.
You can incorporate twin hanging rods in a men's wardrobe design to make the best use of vertical space and improve the amount of storage. You can store everyday shirts and slacks at the top and less frequently used suits and suit jackets at the bottom. If you have coats that require more storage space, you can use the remaining space to double-hang your items.
Another useful addition to any man's wardrobe is pant hangers that pull out or swivel. Hoodies and sweatshirts, for example, do not need to be hung. You should ensure that your wardrobe closet design ideas have plenty of cubby openings and shelves for storing your clothes.
You can also arrange your shoe set on a lower shelf or two. You can also include loft space and a few containers for storing seasonal apparel. Most men wrap or fold their ties and store them in drawers.
Nevertheless, because ties are composed of vulnerable fabric, tie hangers should be included in your wardrobe design ideas. They assist in keeping each tie properly separated, simplifying maintenance and enabling you to pull out the right one to complement your shirt effortlessly.
Aside from that, several hooks can be used to add versatility to a man's wardrobe . To make more space for your headwear, beanies, belts, and bags, you can try placing a few of them on the inside of your wardrobe door.
Men's Shoe Closet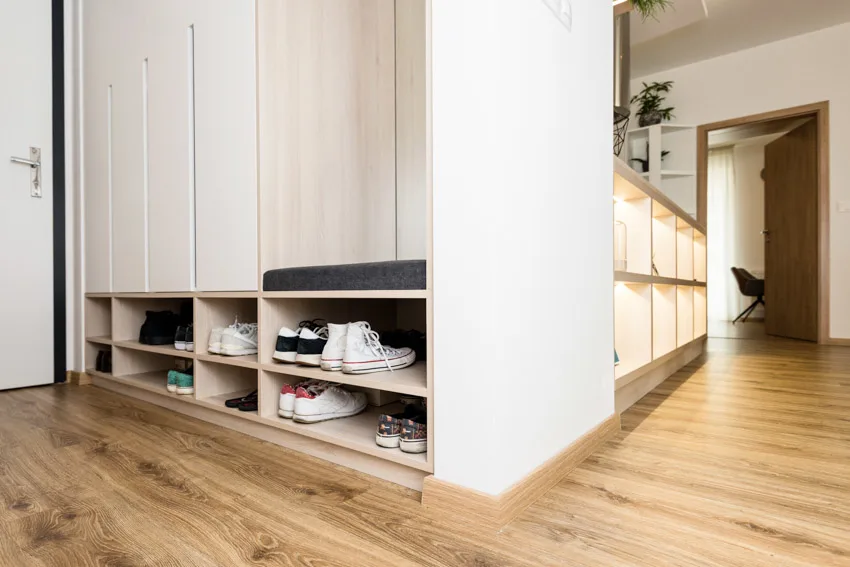 If you are a certified shoe collector, you must consider adding a shoe storage compartment to your living space. Your men's shoe compartment should be at least 14 inches deep to accommodate adult shoes. Shoes can be stored in a 24-inch deep storage box.
Pull-out shelves should be used in this case to ensure easy access to any shoes placed in the back row. To increase practicality, you can complement the shelves with built-in compartments for your socks as well as slippers.
However, a rotating shoe storage compartment might be the perfect solution for you if you are limited on room but own a lot of shoes. Rotating shoe shelves, as opposed to deep shelves that extend out, allow you to spin the shelf so that the rear becomes the front.
This kind of men's shoe storage compartment works well in a corner. You have the option to use it alone or in conjunction with other cabinets and dresser organizers. It removes the unused space that is frequently seen in gloomy corners and pulls everything into the limelight.
Closet Organizer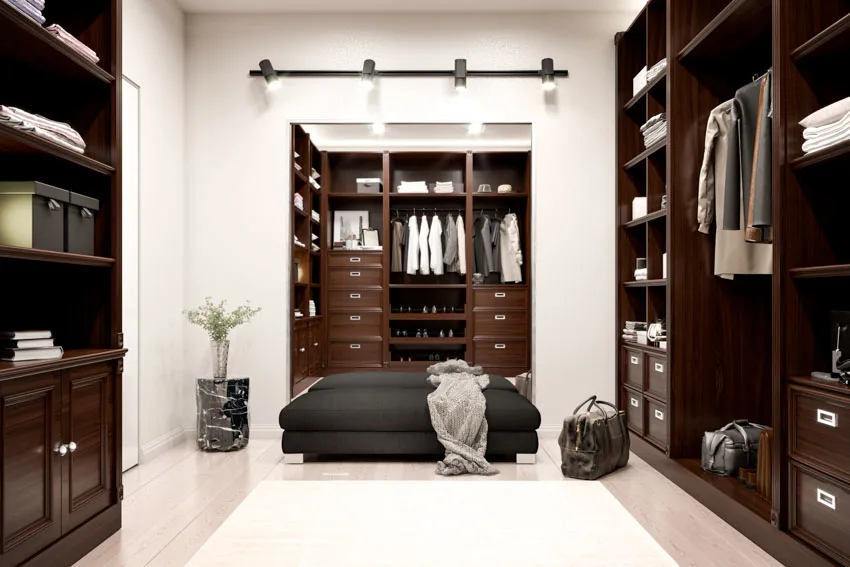 Organizers for folded clothing, such as knits and sweaters, must be included in a man's wardrobe. Unless the ceilings are quite high, such organizers must not be placed above the double-hang portion. Normally, they should be placed on the floors or middle part of the wardrobe, where they can be easily reached.
You can also consider integrating an island or hutch with storage in your design for a men's wardrobe. Some smaller essentials will remain tidy, organized, and accessible with the help of drawer dividers and organizers.
Closet Accessories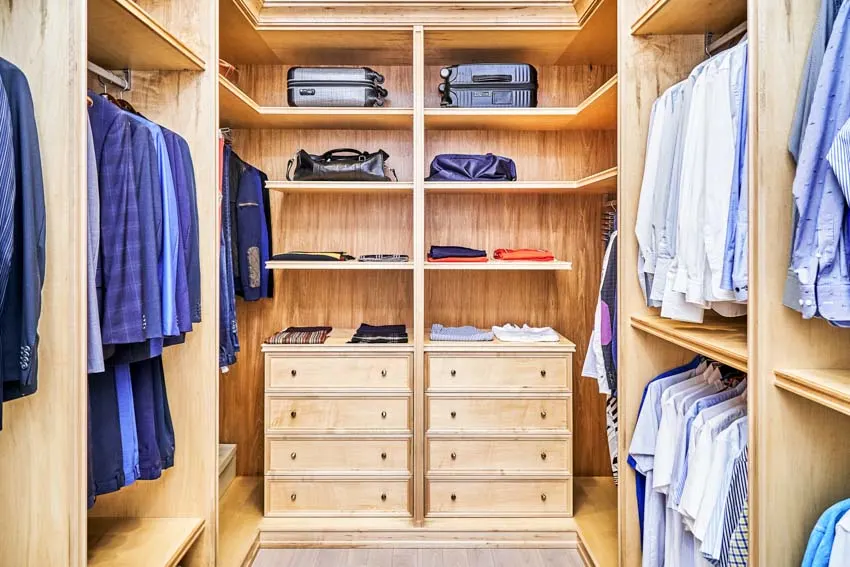 In a wardrobe design for men, accessories such as ties and belts must be properly organized as well. Belts and ties can be stored on a variety of specialized racks and hooks; you have to use them also. They help in preventing your ties from wrinkling and make it simple to find your belts whenever you have to use them.
Furthermore, the majority of men discover that jewelry drawer organizers placed in a drawer are the ideal solution for keeping their watches, cuffs, or necktie clips. The use of velvet jewelry drawer organizers is not limited to women's jewelry items. They are practical closet accessories for men as well.
Men's Small Wardrobe Ideas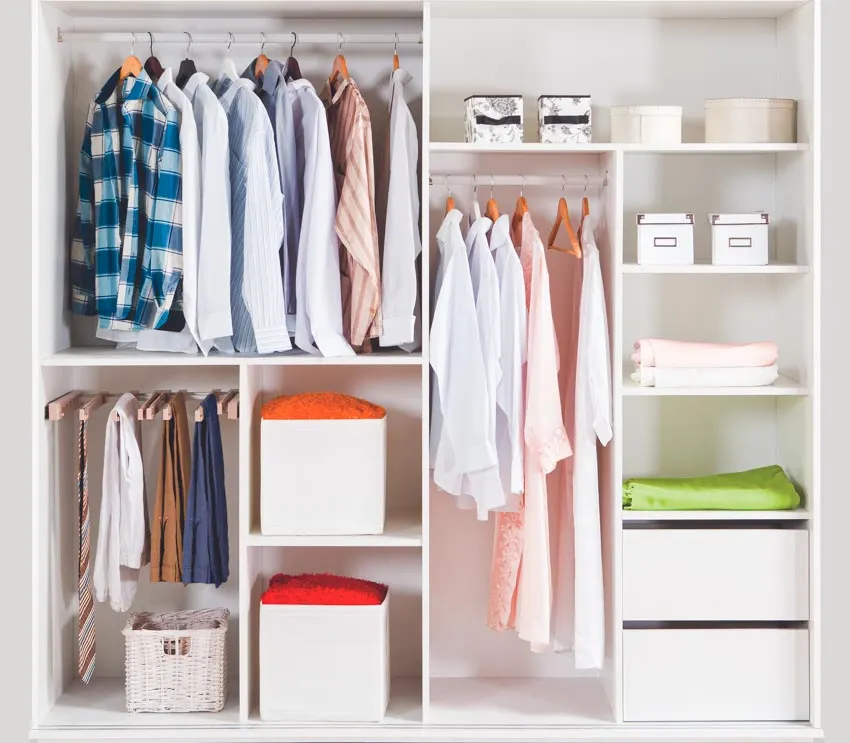 Not all men have massive closets in their houses. If you have a small wardrobe, you can still maximize the space and make it functional. It all entails putting the essentials right in a small men's storage space.
To fit everything into this small space, you must mix clever design with a clutter-free technique. Whatever your personal style is, one of the men's dresser ideas you should do is clear out all the clutter and items from your wardrobe that you do not plan to wear.
From portable racks, wall hooks, and regular rods that can be employed to hang garments, shirts, and other items, to baskets and small organizers that discreetly contain everything else, a smart combination of diverse alternatives can help you achieve exactly the men's wardrobe you need, even if it is small.
Furthermore, if you have a small men's wardrobe with little hanging or drawer space, you can take into account stacking your pants and jeans. You might also consider installing little shoe drawers. Clear shoe drawers allow you to locate what you want to use on any particular day, thus allowing you to preserve your favorite shoes unharmed.
What Should Men Hang in the Closet?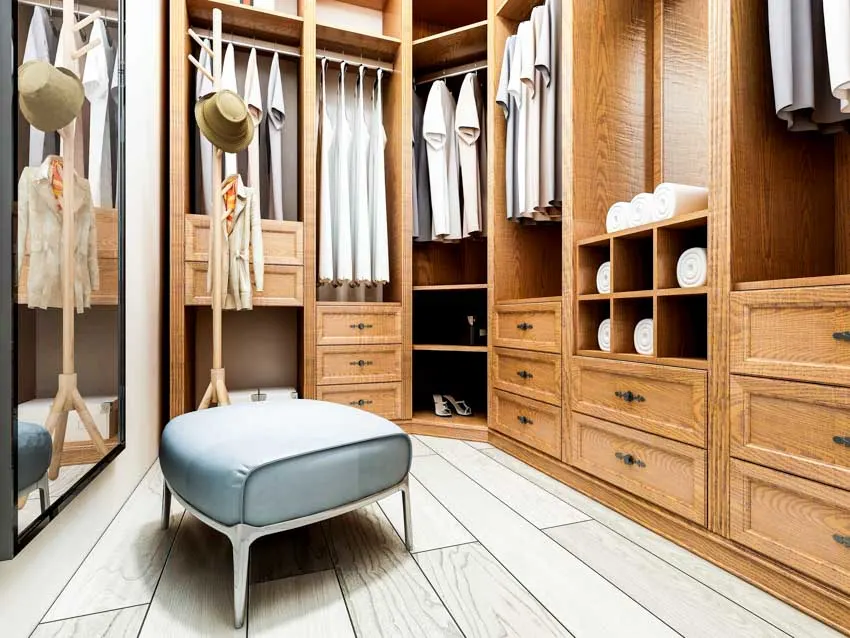 Here are the men's dresser ideas that help identify the items that should normally hang in closets:
Button-Down Shirts and Easily Wrinkled Polos: Button-down shirts and polos that wrinkle readily must be hung. However, whenever you hang them, you have to make sure to button the collars of your shirts before hanging them to keep their shape. Moreover, do not ever use wire hangers since they have a piercing impact on the said clothing items.
Suits, Coats, or Blazers: Suits, coats, and blazers should always be hung. The objective is that they keep their rigid, manly structure. You might even consider investing in hangers that extend forward to assist your suits in conforming to that arching shape.
Pants: Although pants do not necessarily require a spot in your dresser, you should absolutely plan to hang all of your other pants to keep them in good and seamless shape. Pants, both formal and casual, must always be hung. You can hang them the way down by using hangers with clips or fold them onto a regular hanger over.
Jackets: Jackets are huge items, and folding them and putting them in a dresser will not only produce creases and cause harm to the structure of the garment but will also take up much space in your storage space. Hence, they should be hung at all times.
Ties: Ties can also be rolled, but it would be more convenient for men to just hang them on a proper tie rack or tie hanger.
Flowy Fabrics: Any item that is made of flowy textiles, such as silk, chiffon, or other 'flowy' fabrics must be hung within the dresser.
See more related content in our article about the different closet office ideas on this page.