Here we share out NanaWall doors design guide including what is, its different types, costs, its protection against weather & hurricanes, and if it's better than panoramic doors.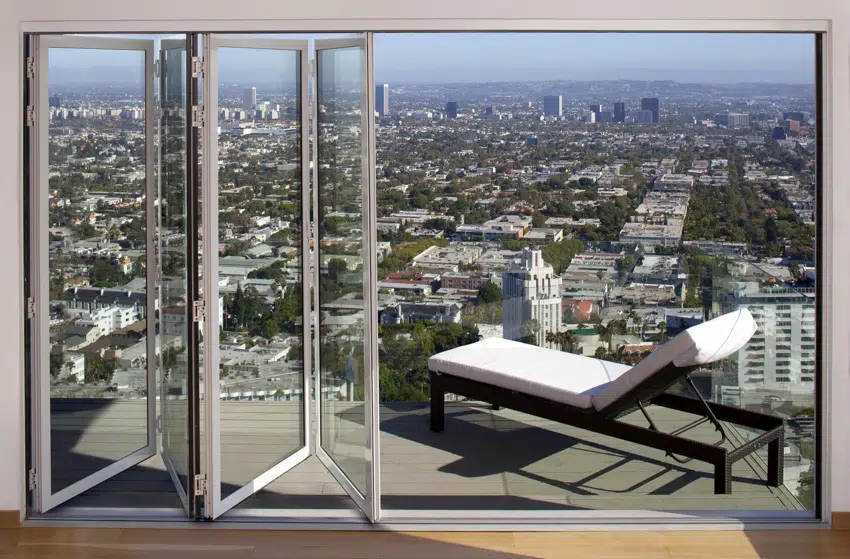 A lot of glass-made doors can easily shatter especially if they're opened or closed with carelessness. Although glass doors can perfectly enhance the appearance of every house, most people would just choose another option as most glass-made doors are fragile and hard to maintain.
However, it's a different story for NanaWall. Before we discuss why it's a different story for them, let us know first what a NanaWall truly is. Is it a brand? Is it a type of wall or door? Read on to find out.
What is a NanaWall?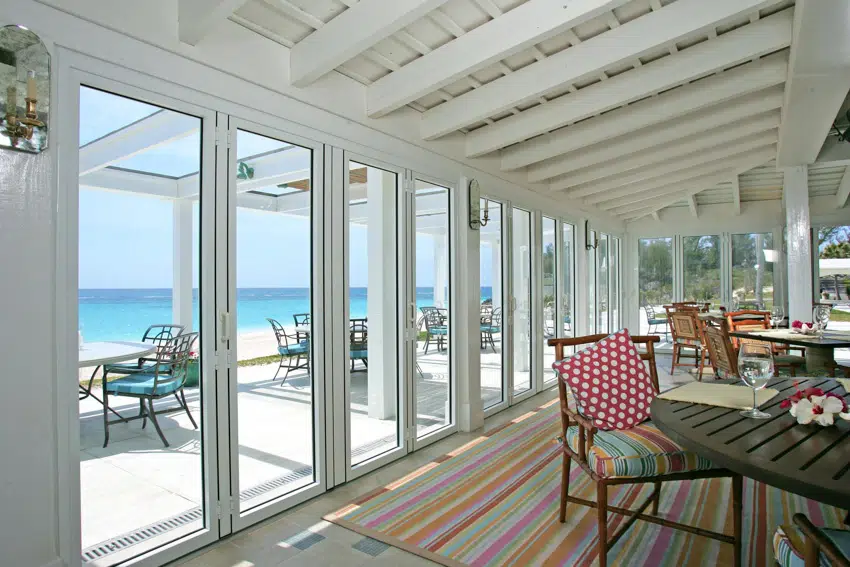 NanaWall is a successful brand that is highly known for its unique and extraordinary creation of glass wall systems. NanaWall has impressively earned the respect and trust of homeowners, architects, builders, and design experts within its 3-decade business presence.
Because of their sky-high success, the brand name, which is NanaWall, is now used as the generic label or term for the product category, especially folding glass doors. Their company was the very first to establish and publicize glass wall systems in North America.
NanaWall pioneered the classification of unique and high-quality wall systems. They are a great source for original solutions that are carefully customized for the customer. Their movable glass wall systems are constructed for long-lasting durability, elegance, and performance.
NanaWall has become so well-known because they can efficiently provide solutions for redefining how people, elements, and buildings interconnect. Their solutions are specially built to perfectly suit the particular needs of commercial and residential buildings.
They are experts in amalgamating accurate engineering and exceptional design selections for more than 25 uncommon systems.
NanaWall can create various designs upfront that are truly unique and elegant. Visit the official Nanawall website here.
NanaWall Doors (Folding Glass Walls)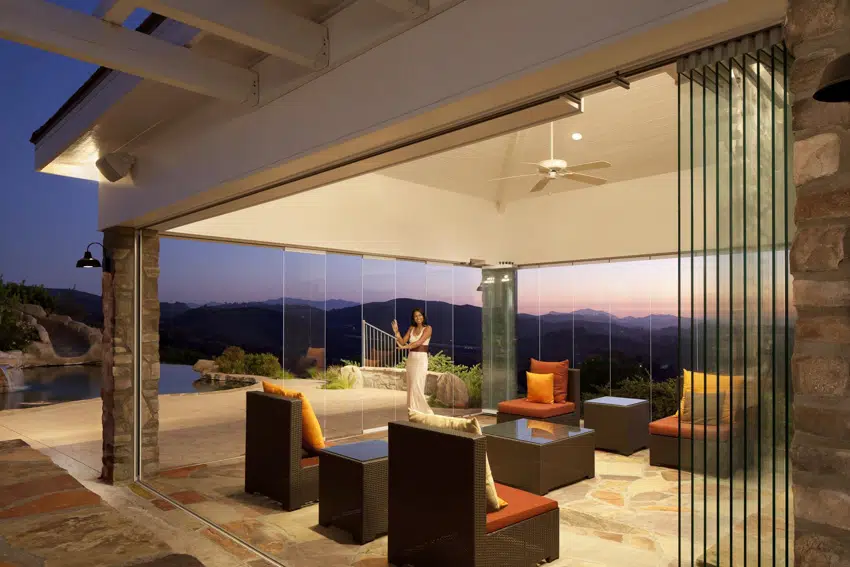 NanaWall doors, (normally recognized as folding glass walls), do usually come in various kinds:
Bi-fold doors

Accordion doors

Folding glass doors
But, their folding glass walls aren't limited to three choices. NanaWall offers more options than that to surely fit your wants and needs.
NanaWall decided to call their systems 'folding glass walls' to precisely represent and describe the features, function, and performance of their products.
Every glass folding door's panel connects to another panel and they fold whenever they're opened and this happens in just one track.
These high-quality folding glass walls provide broad and unhindered openings that aren't constrained by the fixed glass panels of a conventional slider. Read more about our guide on the folding patio doors here.
There are 4 types included in this NanaWall doors design guide:
1. Aluminum-framed. This type of folding glass door is undoubtedly constructed for long-lasting performance and service. Every frame is aluminum-based and went through an anodizing process.
The powder coating applied in these frames gives a robust finish that won't require complicated maintenance. Its dual gaskets also give weather-resistant solace.
2. Wood-framed. This variation is made out of purely natural wood. Under this folding glass wall system are Pine, Spruce, Sapele Mahogany, Western Hemlock, Meranti, and other special wood types.
NanaWall's wood-framed glass door is surely eco-friendly and a water-based treatment is what's infused into each system
3. Aluminum clad. This folding glass door type is dual-purpose. It gives the desired warmth that a wood material can give, but it has the sturdiness and excellent performance of aluminum material. This is perfect for residential buildings.
4. Frameless. This wall system undoubtedly provides the clearest, most eye-pleasing, and optimal sightlines. Each system is single-glazed. The top and bottom rails are made out of pure aluminum without stiles.
Moreover, these are the essential benefits that NanaWall folding glass door systems provide:
Top-grade and professional workmanship supported by extremely thorough scrutiny and superior materials.

Doors can be opened and closed effortlessly with one hand.

Comes with tamper-resistant and high-security locks.

When doors are closed, maximum comfort is maintained inside the area.

All systems can withstand extreme wind and rain.
NanaWall Sliding Doors (Sliding Glass Walls)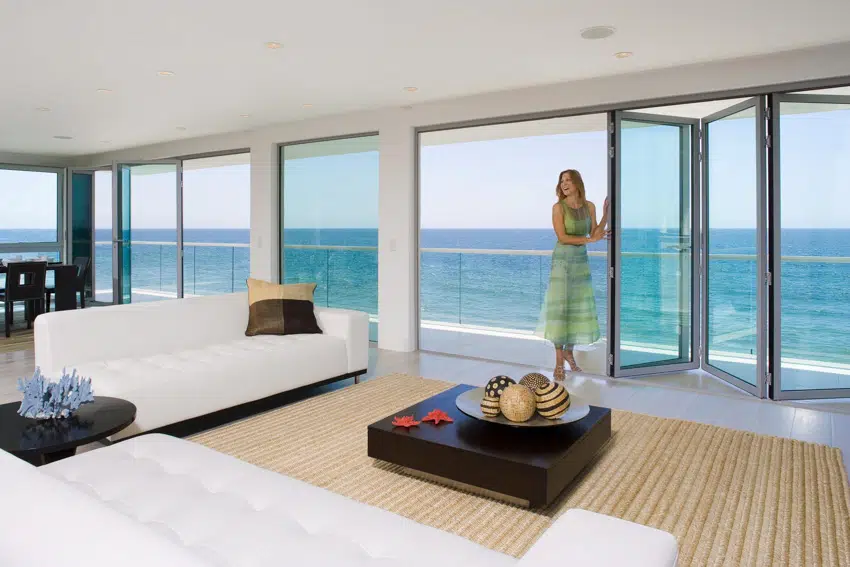 If you want to increase the functionality, elegance, and beauty of your space, be informed that NanaWall's single-track sliding glass wall systems can provide unlimited possibilities.
Each system's objective is to merge the exterior and interior areas. They're all perfectly engineered and they all provide magnificent architecture. Read more about our guide on the different types of sliding doors here.
There are 3 common variations found in this NanaWall doors design guide:
1. Aluminum-framed. This variation is a single and top-hung dashboard sliding technology that comes with fundamental equipment to decipher composite design challenges – from limitless spans to uncommon wall angles and shapes.
2. Frameless. This variation generates a boundless span of top-hung single panels that effortlessly navigate numerous angle diversions with just a one-hand operation.
This selection is ideal for optimizing space. It can also be customized. Read more about our guide on the sliding door dimensions here.
3. Wood-framed. This top-hung variation merges style adaptability and excellent performance with the natural quality of pure wood to enhance both exterior and interior areas.
Here are some of the crucial benefits of NanaWall sliding glass walls:
Each system can accommodate angle diversions up to 90 degrees to generate virtually any kind of shape.

They offer an illimitable number of panels that can all provide more spacious openings.

The swing doors are amalgamated to optimize space.

The panel stacking bay settings can be customized.

The track option is single to create ultra-smooth transitions.

Each system is designed for long-lasting use and can withstand any weather.
NanaWall Cost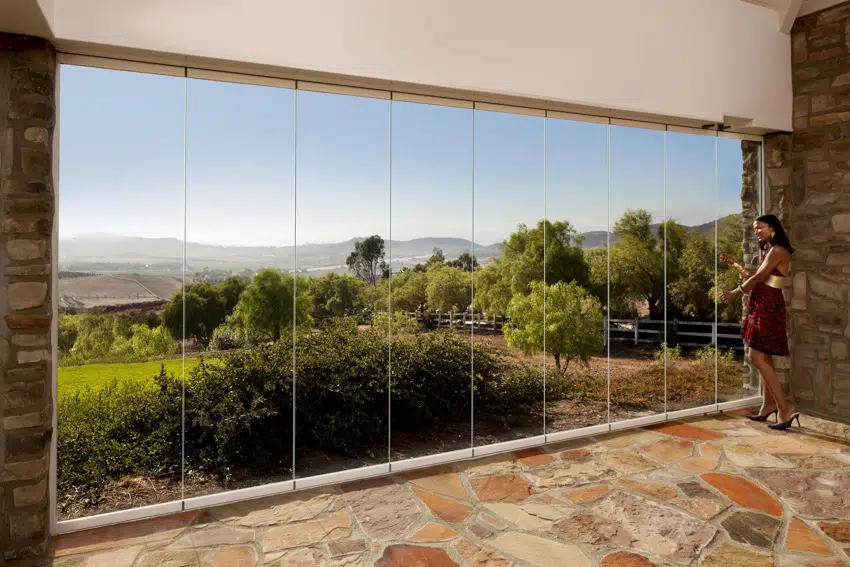 In general, the usual cost of NanaWall's glass wall systems is around $900 – $1300 per foot.
However, to know more about the prices of their products, it's best to directly inquire with a NanaWall architectural agent to get a quote. This will also help you identify what system ideally suits your budget and project preferences.
Are NanaWall Doors Hurricane Proof?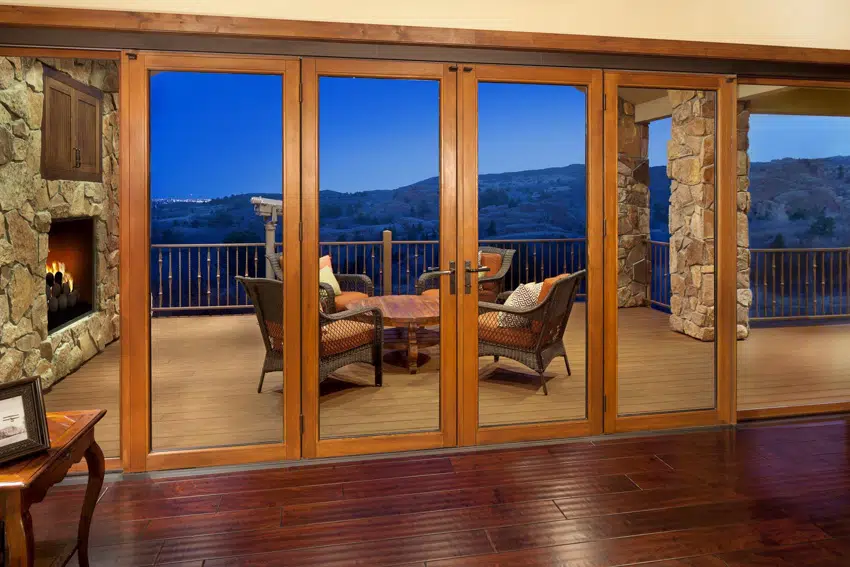 Yes. NanaWall doors are all designed to withstand different dangerous weather conditions. In fact, their folding glass door system is the very first hurricane-approved system. So, no doubt, NanaWall doors are hurricane-proof.
NanaWall vs Panoramic Doors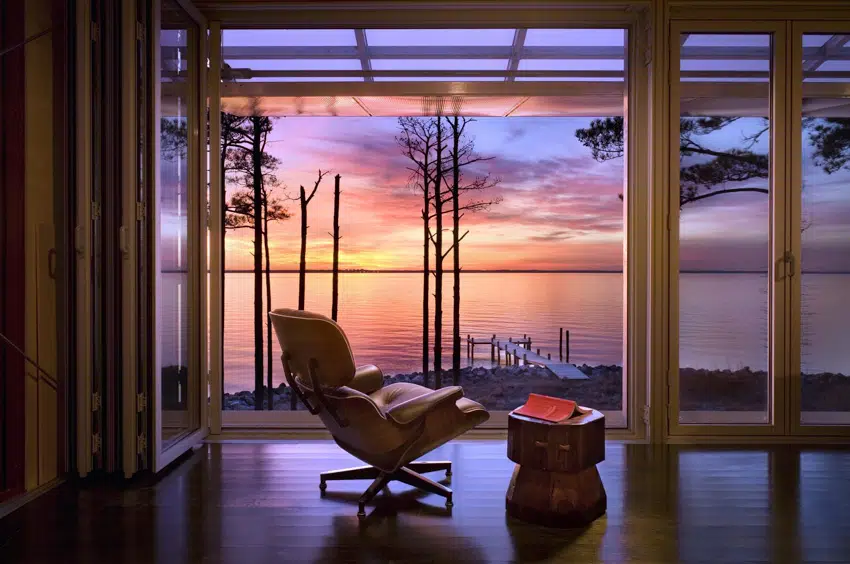 Durability, extreme longevity, security, comfort, and convenience-wise, NanaWall can easily win the contest. Although panoramic doors also offers a bunch of high-quality folding and sliding doors, that doesn't change the fact NanaWall being top of the line.
Talking about affordability, no doubt panoramic doors are less inexpensive. NanaWall products might be expensive, but with their superior systems, you'll truly get what you paid for. I'm not saying that selecting Panoramic doors is a wrong decision. However, if you want to use your budget wisely, go for NanaWall doors.
See more related content at our article about how to measure a door on this page.