Get ideas for panoramic patio doors including what it is, the benefits and drawbacks of sliding and accordion types, and the system cost.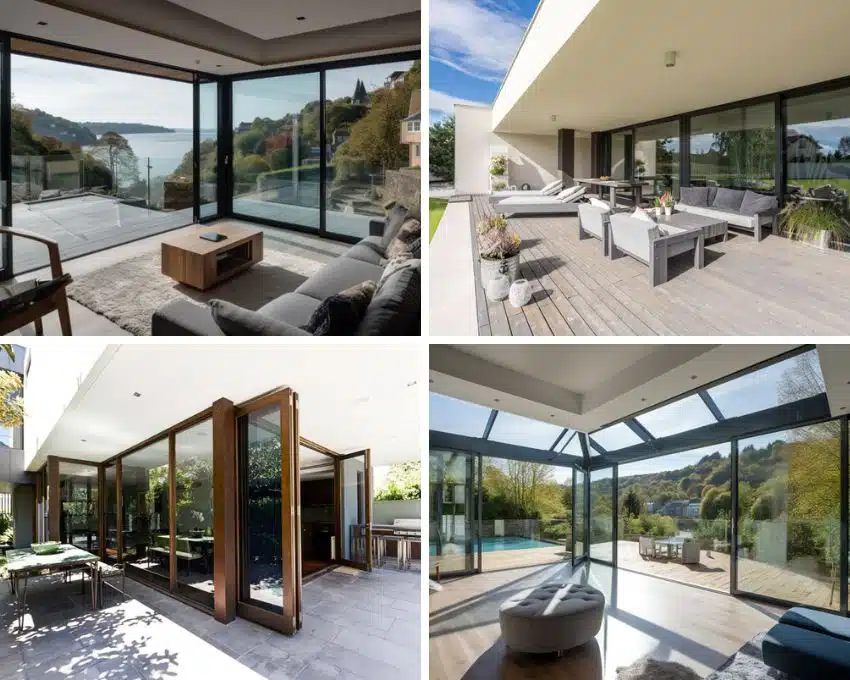 Creating a new sense of space, panoramic patio doors have become a staple feature in many modern homes, seamlessly bringing the outdoors into the indoors and vice versa.
The introduction of open planning means more expansive walls and the opportunity to install continuous window panels. Metal framing, double-glazed windows, and other modern materials also give the possibility of higher and larger glass frames. This enables panoramic patio doors to frame the natural beauty of the surroundings and maximize the full potential of a long-span wall.
What Is A Panoramic Door?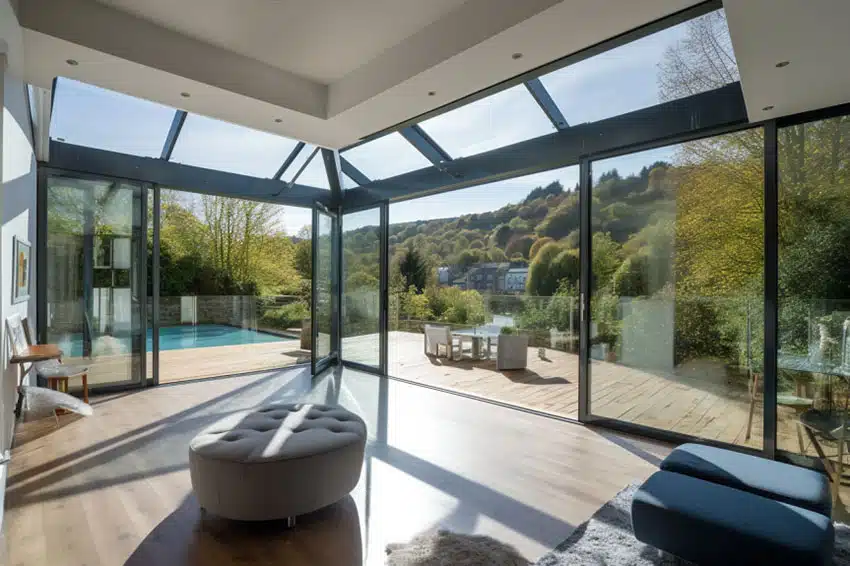 A panoramic patio door is a type of door that significantly spans along a part of a wall with several panels that can be operated independently through a slide and pivot combination or folding mechanisms. The basic operation has many variations from manufacturers with their own patented features such as interlocking systems and seamless hardware.
As the term implies, a panoramic patio door functions with the intention of providing the widest possible view of the outdoor scene. Thus, the panels have glass panes and are framed by a structurally sound material to withstand impact and weather conditions.
The series of glass door panels are usually installed in between social spaces such as the living or dining and patio areas. However, panoramic patio doors can also be installed between bedrooms and terraces or patios.
There are many designs of panoramic types of patio doors that vary in mechanism and materials depending on the manufacturer. They can either be customized or come in standard sizes. Removable screen systems are also available to be integrated into a panoramic patio door, preventing insects from flying into the opened wall.
Not to be confused with other glass paneled doors, panoramic patio doors are distinct due to the ability of each panel to slide and pivot independently.
Benefits of Panoramic Doors

• Enjoy natural vistas and promote a relaxing airy environment
• Tailored temperature comfort.
• Utilize bright natural light and ventilation.
• Improve indoor air.
• Increased living space with a seamless transition for connecting the indoor and outdoor areas.
• Unobstructed outdoor views.
• Added curb appeal.
• Increase a property's market value.
• Improved energy efficiency.
• More comfortable environment for entertaining with friends and family.
Panoramic patio doors are often used in homes and commercial spaces that have a lovely view, such as a garden, patio, or scenic landscape. Panoramic patio doors are also possible in urban and multi-story properties and will typically open into a balcony. This advantage provides extended living space when entertaining guests, which requires more area.
Panoramic Sliding Doors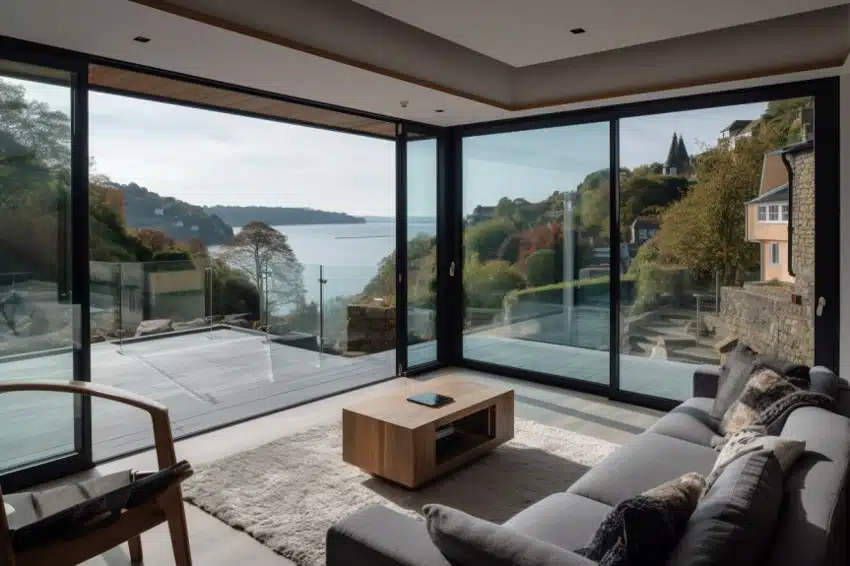 A panoramic sliding patio door functions like your typical sliding doors or windows, except each panel can slide through individually with the option to open the entire span, partially, or in a staggered opening. This versatility allows homeowners to adjust the glass doors throughout the day for changing weather conditions.
The most common sliding glass door has been bottom rollers with adjustable bearing sheaves on either aluminum or stainless steel tracks. – Construction Estimating Reference Data, Ed Sarviel and Scott Sloan
Panoramic sliding patio doors will have two or more panels, depending generally on how wide the wall or patio is and the owner's preferences. The height of the glass door heavily depends on the strength of the framing.
Fiberglass, steel, and aluminum can usually come as high as 10 feet, while PVC panels are usually 8 feet in height. The width of each panel usually ranges from 20″ to 40″, but like the height and other dimensions, it can be customized to fit the preferred size.
The most often used widths for a three panel type of sliding door ranges from 108″ or 9ft to 144″ or 12 ft according to NewSouthWindow. Four panel doors are available but are much less used and are often custom products that can range according to the needs of the homeowner.
Local contractors can offer more information regarding the available products, glass and frame materials and help answer your questions regarding different styles and the door systems that are most beneficial to your needs.
Packaged sets will have a master door or two master doors can be installed on either side of the door span. The master door serves as a traffic door that comes with a knob and lock system, and in modern versions leaves this panel with the only visible hardware.
Aside from being installed on one side, panoramic sliding doors can accommodate a corner wall, creating a more expansive view of the outdoors. Although you'll need a structure that's well-designed to carry the weight of the building where you have an unobstructed corner wall and will likely omit or relocate a column. Moreover, a load-bearing wall is needed for a sturdier structure.
Standard panoramic patio sliding doors come as packaged sets with individual parts that can be bought in bulk. One of the advantages of panoramic sliding patio doors is that they offer a seamless transition between indoor and outdoor living spaces, creating a feeling of openness and spaciousness. They can also provide ample natural light and ventilation, helping to reduce energy costs and improve indoor air quality.
Panoramic Accordion Doors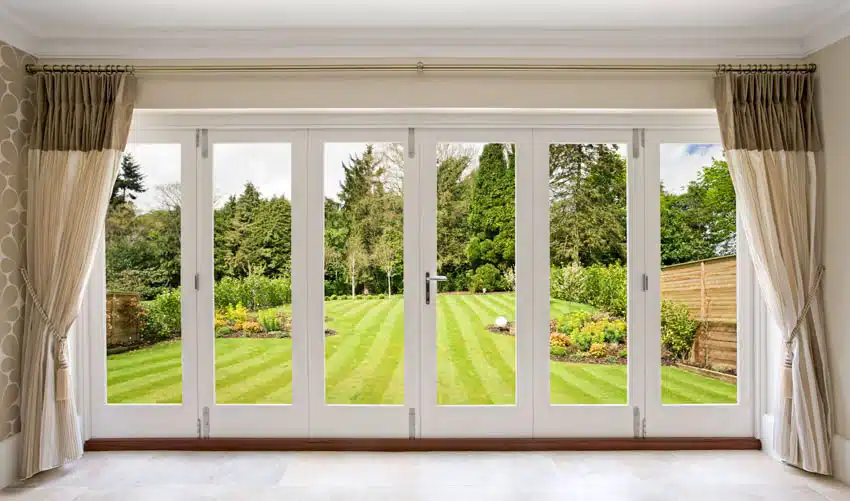 The panoramic accordion patio doors or folding patio doors also offer unobstructed outdoor views but with a different mechanism. The accordion door also slides through a track when opened or closed, but since panels are hinged side by side, they will fold consecutively into themselves when closed and unfold when opened.
The continuous panels make it quicker to open up a wall in one push, but it can be a challenge to close or open with the accumulated weight. Aluminum and PVC frames with a relative span and height make the accordion patio doors more manageable to operate. Typically, panoramic accordion patio doors come in designs with odd numbers, such as 3 or 5 panels.
A variation of accordion patio doors is the bifold door, which has two panels connected together by a hinge that folds and is stacked on one side. Since each panel is connected side by side, there is limited customization compared to a panoramic accordion patio door and a sliding patio door.
These panoramic patio doors can be made with a variety of panel frames, such as Upvc, PVC, aluminum, stainless steel, fiberglass, and wood.
Some models allow for either an inswing or outswing mechanism depending on your needs. An inswing door is recommended for those who want to maximize the space on their deck or patio area. On the other hand an outswing door is important to use for those who have limited indoor clearance or living space around the doorway.
An outswing door may be beneficial for small dwelling such as an ADU, or pool house, or garage where all of the available storage space is needed, per popular door manufacturer Nanawall. With either style you can choose a left or right side opening depending on your room layout.
Like sliding doors, accordion doors may not be as secure or durable as solid doors, and their folding mechanism can sometimes become jammed or misaligned over time. The more modern versions of accordion doors provide double lock systems, shockproof glass, and other advanced features that make them a safer choice compared to their contemporaries.
Panoramic Door System Cost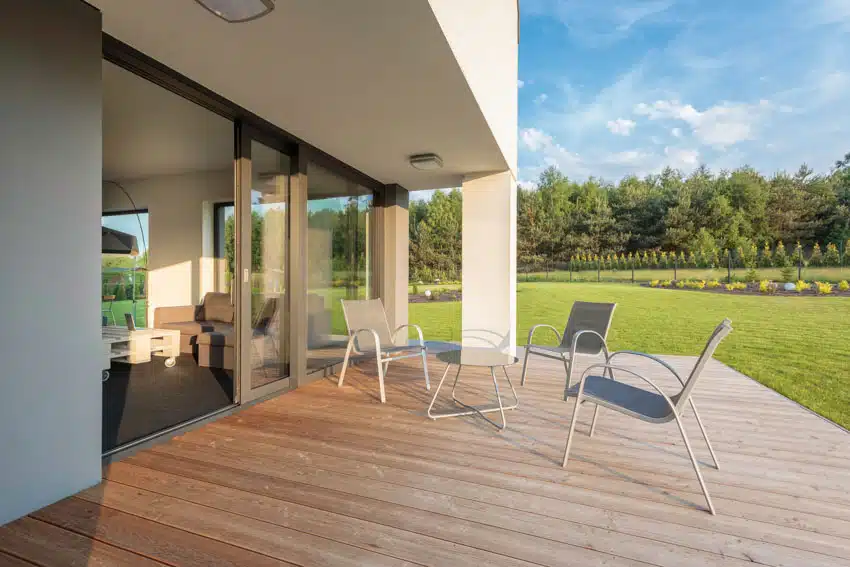 The cost of a panoramic patio door system ranges from $650 to $1,100 per linear meter for mid-range materials such as UPVC, wood, or aluminum. For more complex systems that are made with stainless steel or fiberglass, it can range from $1,100 to $10,000 or even more.
The price will also depend on the glass material used and added features. A full-wall sliding glass door can range from around $1,070 to $2,900, with an average of $2,000 per linear foot. Folding doors, meanwhile, will cost from $800 to $1,200 per linear foot, which is a slightly more affordable base price compared to sliding doors.
Aside from material, other factors that can affect the price of a panoramic patio door system are the system used, e.g., folding, sliding, bifold, or accordion. The size of the opening is a major factor in the cost, as well as the thickness of the materials.
A minimum of 3/8- to ¾ inch thick glass is recommended for weight-bearing glass and is typically made from tempered glass. The features will depend on the structural requirements.
Hardware such as concealed hinges or any other patented features will also influence the cost. Another consideration for the price is the complexity of the installation. Most panoramic patio door manufacturers provide company installation services that ensure limited warranties for their clients.
Permits are not required for replacing glass panels in a panoramic patio door, but changing the frame will likely require a permit as it involves a change to the structural integrity of the building.
Proper installation is crucial for exterior wall glass, where most manufacturers provide installation services. If services are not provided, expect to spend around $1,000 to $3,000 per square meter to install tempered glass doors. Labor rates depend on the location and can range from $35 to $150 per hour.
See more related content in our article about the best patio material on this page.