Here we share steps for turning a window into a door including door types and cost for turning a window into a door.


Converting a window into a door is a creative home solution that enables you to connect one room to another space in a more convenient way. Your bedroom, for example, can have access to your patio or deck.
Going this route is less demanding as you already have an existing hole or half a hole for your new door frame. And if you choose a glass material, you get a beautiful outdoor view too.
Without a doubt, turning a window into a door saves you from starting from scratch and a messy hole in the wall. But, how can you do this?
Steps On How To Convert A Window Into A Door
Many factors come into play when you turn a window into a door, from preparation to installation. Below are the following steps you can follow for a stress-free home improvement.
Assess Your Window
Before working on your door frames, inspect and assess your windows from their size to damages. Screws and caulk embedded on the frame may hinder the installation of a new door. In this case, it is better to remove the whole encasement, including the jambs.
You may also encounter rotting and rust, particularly in old houses, once you open the window frames. Prepare your work area by repairing damages and removing any obstructions.
Decide On Your Door Type
While the safety and durability of your door are vital when taking your pick, you will also have to decide if you want to install a standard door, sliding door, or a bi-fold door. Your chosen door type mechanism will be helpful in your planning and installation process.
Standard Single Door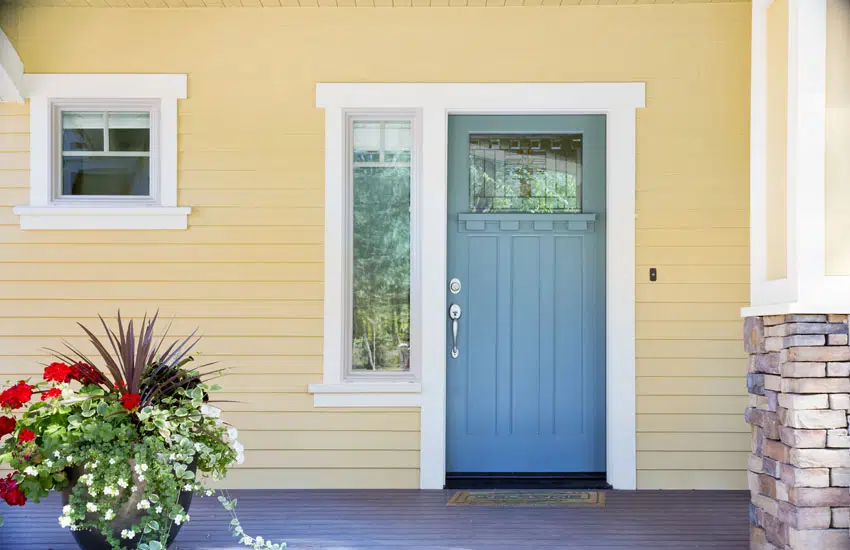 The most simple door mechanism, a standard single door, can fit a window space with at least 36 inches in width. This type of door makes it a convenient option as you do not have to alter much, including your siding.
Want something more practical? If you have pets and kids running around, opt for a Dutch door. A Dutch door splits horizontally in half, where you can open only the top if you want to let the air in, bottom to let your pets out, or both. This type of door is perfect in the kitchen or as a back door.
Sliding Door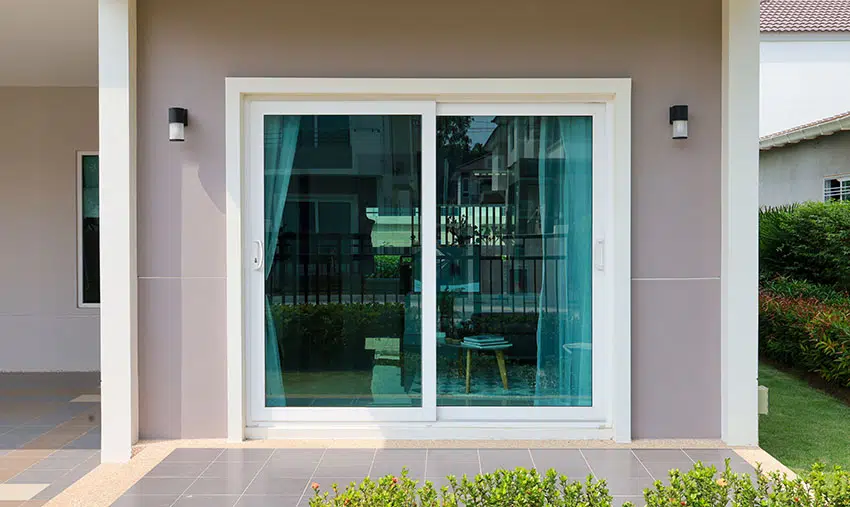 Unlike standard doors that swing open, sliding doors save you from creating a clearance space in front of the door. When crafted from glass and metal, the sliding door gives you an open view of your outdoor landscape.
Sliding doors vary from 60 to 72 inches wide, perfect when converting from large double-hung or casement windows. Read more about sliding door dimensions here.
Bi-fold Door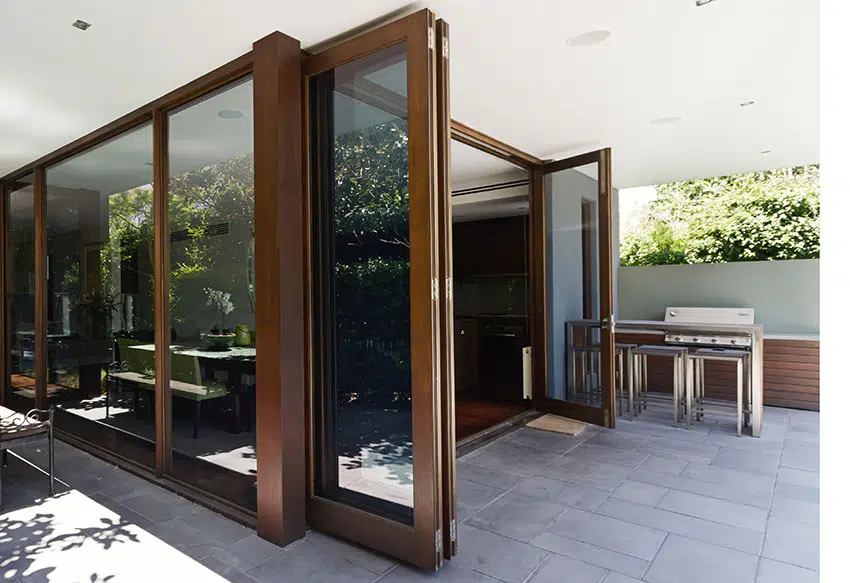 Bi-fold doors give you the flexibility to open only one part or both panels for a wider opening. They are also sought after because of the aesthetics they bring and can increase your home value.
Unlike sliding doors, they usually occupy a larger space of up to 140 inches. If you have multiple windows next to each other or picture windows, you can convert them into a chic bi-fold door.
Check Your Siding
It is advisable to have a bigger window space than your chosen door size for an easier installation. But, this may not always be the case which makes touching the siding inevitable. But the material of your siding can make this task less or more difficult.
Wood and other softer materials for sidings are easier to cut through. But this may not be the case for stucco or bricks. Although not impossible, expect the process to take longer than usual. For best results, let the professionals tackle this job.
While you can preserve the old trims, it is best to remove them and start anew instead.
Create A Hole For Door Installation
After assessing your window and choosing a door type, you're ready to cut a hole. But before this, you need to outline your exterior wall and interior wall for a precise cut.
Inspect inside the wall for obstructions or if any wiring need to be rerouted before hammering down your wall. Remove insulation and cut the studs.
When all is clear, install your indoor and outdoor door frames. The latter should match or complement your house exterior. Additional support may be necessary for the new door.
Add Front Door Steps If Necessary
Some window frames are just too high. Unless you plan on installing a door taller than the standard, it is best to create steps outside instead.
Explore varying materials for your front doorstep to create a dramatic appeal to your home. Installing stairs also prevents water and other exterior elements from entering your home.
Cost of Converting A Window Into A Door
The cost of turning a window into a door relies on the type of material you will use, the size, condition of your window, walls, sidings, and labor. According to Home Advisor, the cost can run between $250 and $3,300.
Other complications that may add to the cost will be obstructions and re-wiring. Add-ons like doorsteps, façade materials, and other embellishes can also increase your total cost.
Cost of Converting A Window Into A Sliding Door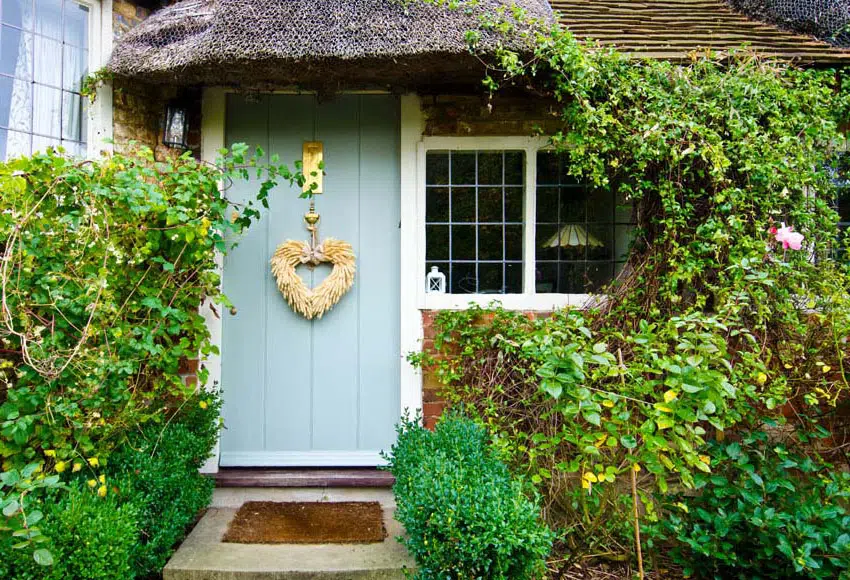 For a larger door type like a sliding door, expect to spend somewhere between $1,000 to $5,000.
Converting into a sliding door is more expensive because they require more materials, space and are difficult to install. Thus, the task can be laborious and is better left to a group of professionals, which can take a toll on your budget.
Do You Need Planning Permission To Change A Window Into A Door?
Planning permission is not required to change a window into a door if the former is in a non-bearing wall, like interior windows. However, if you are dealing with electrical, plumbing, and load-bearing exterior walls, a building inspection followed by a permit is necessary.
Check with your local department for building codes, as they vary according to your location.
For more related articles, read our guide on types of interior doors.