Welcome to our types of windows ultimate design guide, including most popular frame materials, styles, cost and features.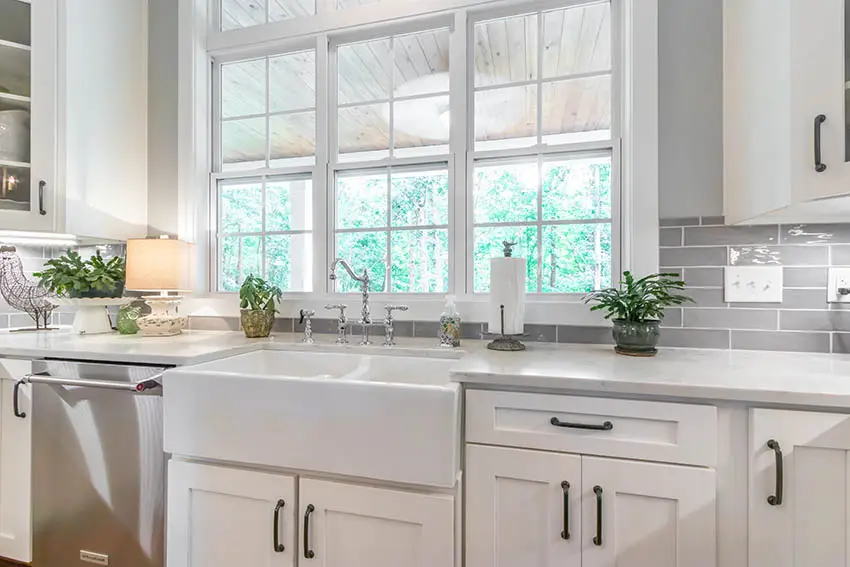 Windows are a complex part of any building or home and an important element when creating the desired interior and exterior style. They allow light and air into a home and depending on the style and operation, windows create a stunning visual effect.
Homeowners have numerous choices when selecting windows, and can customize nearly any window to suit the design style of their home.
The many types of windows for your home include replacements and new construction window choices. Whichever you're researching, being informed about the types, materials, and installation costs ultimately saves money and future repairs from faulty windows or poor workmanship.
These fixtures are expensive and not typically a home improvement job homeowners can do themselves. It's important to know the window installer and to check references and prices.
This informative guide about types of windows provides the information you need when choosing them for your new construction home or when deciding on replacements for your existing home.
Choosing the Right House Window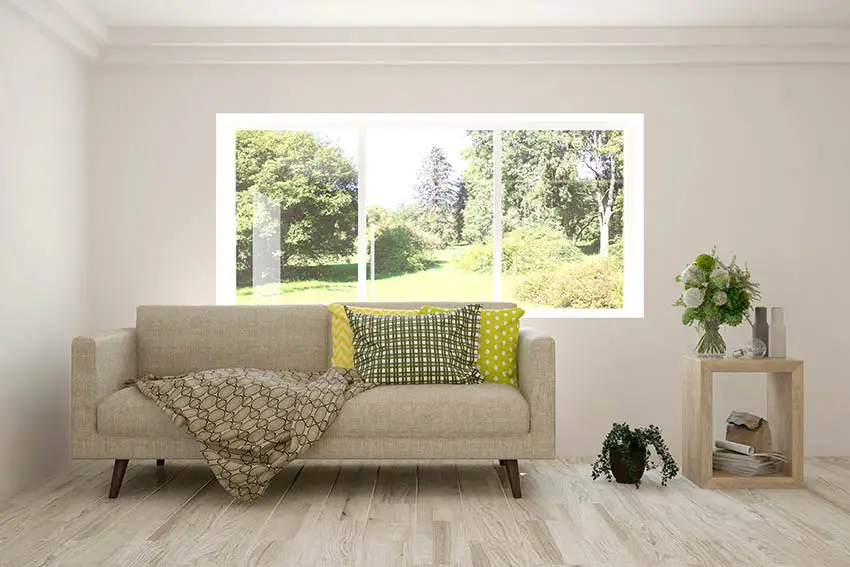 Choosing the right windows during new construction or for replacements includes ensuring they help keep the interior of your home quieter, prevent drafts, are easy to clean, fit your home's style and provide enough lighting.
Finding the right windows means selecting types that work well for the home's design and regional climate. Those that endure scorching, hot, southerly exposure in a desert climate are different from windows that will be exposed to high humidity and torrential rain in tropical areas.
The first step is to determine the types needed for a home's style and needs. Below are the many types of windows, their configurations, and their purpose.
Types of House Windows
Learning about the different types available and making a list of options that fit your home's needs provides a way to narrow down the choices.
Knowing the types not only helps to select the right windows but also opens up the choices, so you don't miss out on a unique opportunity to enhance your home's qualities and attributes.
Single Hung Windows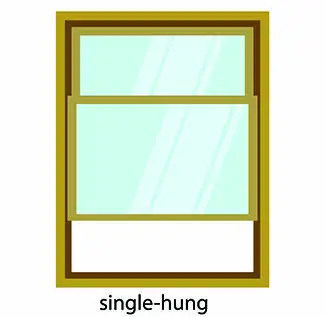 The most common window types include single hung windows found in most homes.
They include two separate sashes (sections) or the actual glass in its frame and open only by sliding up the sash from the bottom.
The top sash remains stationary. The bottom sash opens in on an angle for cleaning.
They are also good for narrow spaces, and their classic style goes well with Colonial, ranch, and Craftsman-style homes.
Double Hung Windows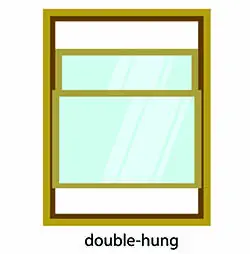 Similar to single-hung windows, double-hung types can open by sliding the sash up from the bottom or down from the top.
Both the top and bottom sash move up and down and often top out for cleaning. Double-hung windows are more expensive than single-hung types but also more practical and convenient.
They allow better airflow when both top and bottom sashes are open halfway. Air can flow in through the bottom opening and out through the top. Old double-hung variants stayed open by the use of a chain with weights but today are held open with springs.
Sliding Windows


Sliding windows are similar to sing and double hung, but they slide from side to side on horizontal upper and lower tracks.
They open halfway for airflow and ventilation.
Swiss born Le Corbusier, (https://www.britannica.com/biography/Le-Corbusier) a renowned influential architect and city planner, propounded these windows preferring the horizontal movement to vertical.
Egress types in basements and below-grade bedrooms are fitted with sliders because of the large opening and easy use.
Picture Windows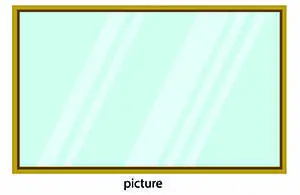 If your home includes a gorgeous view of thick forest greenery or a sandy beach shore with crashing waves, a large picture window is the best way to enjoy the view.
Picture windows do not open and have no visible elements such as frames or hardware that obstruct the scenic view.
They're also known as fixed windows and found in greenhouses, churches, or homes with floor to ceiling glass walls.
Bay Windows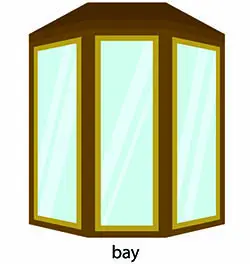 A bay window, commonly shaped as a hexagon, extends off the exterior of a home. They add dimension to a room and bring elegance and luxury to any design theme.
Larger bay types allow for a panoramic view of the outside, and add more light to the inside while transforming the exterior of a home with an elegant touch.
Floor to ceiling bay windows creates a space for houseplants, and larger bays with a wide depth can include a sitting area for reading with storage underneath.
At times, they may include outer panels that open. Kitchens and family rooms commonly have these.
Bow Windows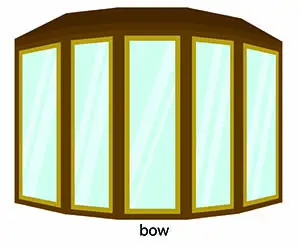 Similar to a bay window, a bow window has panels of glass with curved edges, where the frame of each window meets.
This creates an arch and usually includes four windowpanes. Sashes are optional and add the ability to open one or all of the windows for air circulation.
They are even more elegant than a bay window and provide a shelf area inside the window line perfect for houseplants or figurines.
Storm Windows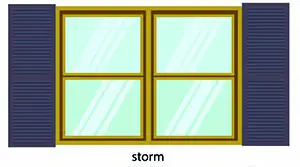 To add a layer for blocking drafts and protection from cold weather, install a storm window in the same frame as an existing window.
Storm windows are for the exterior only and often used in brutal, cold climates with frequent storms.
Many coastal living area hoes have them and areas that receive large amounts of snow in the winter. A space between the original window and the added storm window creates extra insulation.
Garden Windows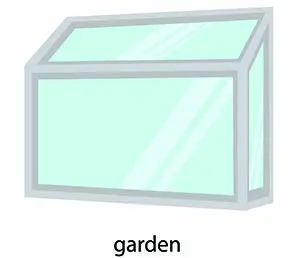 Often found above a kitchen sink, garden windows get their name from their use as a spot for plants and herbs.
They create a mini-greenhouse by protruding out from the wall of a kitchen to absorb much-needed sunshine for plants. A garden window with flowers and herbs is a useful and relaxing addition to a kitchen.
They are made durable to withstand wind and shifting from ground movement or a home that is still settling.
Awning Windows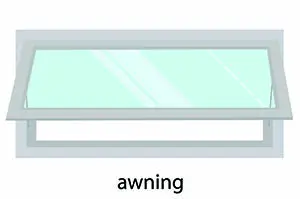 Awning windows have a hinge at the top so they can open and tilt out from the bottom. Once tilted, the window resembles an awning and prevents rain and snow from getting into the home.
By opening out, they do not limit the space in a room, but any plants or obstructions on the outside of the home will prevent the installation of an awning window. This type also provides insulation and saves energy.
Arched Windows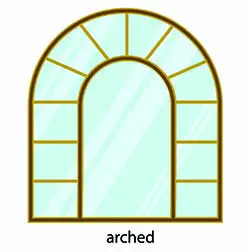 With soft curves and ornate design, arched windows, also called radius windows, increase the curb appeal of a home and are low maintenance.
They add design and interest to the tops of doors and windows, and they can act as a stand-alone type.
There are many designs possible such as half-circles, quarter-circles, full-circles, ovals, and elliptical. They may contain plain glass, glass divided by grids, and stained glass.
Victorian-era homes include ornate décor and usually incorporate arched types. Spanish, Mediterranean, and stucco homes give way to arched windows and include design elements such as archways, curved lines, and ceramic terracotta roofing.
Transom Windows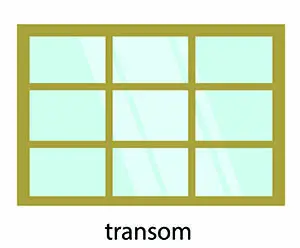 Transom windows do not open, serving as a decorative accent window found on many beautiful homes. Transoms break up space on a wall with few windows or work to provide light such as in a shower stall near the top of the wall.
A line or pattern made from transom windows creates a unique design element and is often placed among regular types to provide more light.
Transoms come in many shapes such as fan-shaped, semi-circle, square, or rectangles. A front door framed with square transoms allows an attractive welcome to any home.
Casement Windows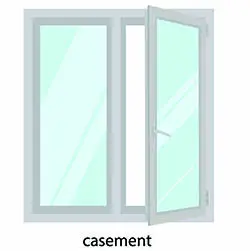 Casement windows have hinges on one side much like a door, and open sideways using a hand crank on the inside of each sash. They're made of solid glass and have optional screens that are mounted on the inside to make cleaning easy.
In climates where there is excessive wind, casement types create a weatherproof seal providing excellent protection from drafts and cold air.
They require maintenance on the hinges and seals as they are more exposed to the elements than most types. They often offer more airflow than other types as well.
Skylight Windows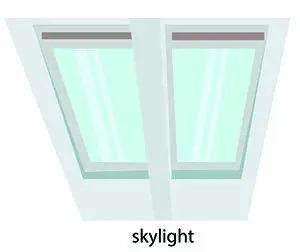 Skylight windows are perfect to add more light in your home when there isn't enough wall space.
Skylights are built in to the roof of a home affording a spectacular view of the sky. They install much like a roof vent and rarely need maintenance.
Skylights provide natural light flowing down into a room much like a light fixture and conserve energy. They complement any design style and are easy to install.
If the roofline on your home overlaps, preventing a skylight window installation, a tunnel skylight is an option. Tunnel skylights are flexible, wide, tubes wrapped around beams and rooflines, and are lined with shiny, metallic material.
Light from outside is captured by the clear surface cap on the roof and bent through the tunnel to illuminate the frosted cover in the ceiling. Like a skylight window, tunnel skylights provide natural light and even allow enough light for a nightlight in neighborhoods with streetlights or other sources of illumination. See different types of skylight windows on this page.
Hopper Windows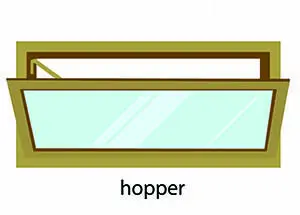 A hopper window is a single-sash window designed much like a casement window, but they open inward instead of outward like a casement window. The hinges are on the bottom so the window is tilted open from the top.
Hopper windows have a crank and make good use of tight spaces such as in a basement or bathroom. Like a casement window, they provide a tight seal when closed to protect from cold air and drafts.
The hand crank is easy to use and, along with the hinges, requires periodic maintenance. By opening inward, they are perfect for narrow spaces like alleys outside a home with little clearance.
Accent Windows
To provide more light in a home and an aesthetic flair, accent windows, come in many shapes and styles.
They are shaped like octagons, ovals, squares, and more and may have plain glass or glass with designs etched, painted, or created from metal.
Accent windows are often added to a grouping of windows, creating a unique design style.
These types of windows work well for small spaces such as bathrooms, large walk-in closets, and laundry rooms. Accent types do not open.
Glass Block Windows
Seen often in bathrooms overlooking a bathtub or Jacuzzi, glass block windows are either blocks of frosted glass or with a design built into the glass.
They are a type of accent window and add light but provide complete privacy.
They are also secure and made with thick, durable glass almost impossible to break. They provide trendy design accents, and offer many designs and finishes to fit any room.
Jalousie Windows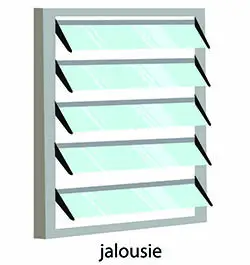 Jalousie windows contain parallel slats made of glass, metal, or wooden set in a frame. The slats, or louvers, sit in a track so they tilt open and shut evenly by use of a hand crank allowing air to flow through while keeping rain and snow out.
The slats can be completely closed, lying flat upon each other. While they allow plenty of airflow, they're narrow and don't offer much of a view.
Jalousie windows were popular in mid-century homes and sales soured in the 1940s when homeowners used them to enclose their front porches. These are not secure compared to standard windows.
Egress Windows
Most building inspectors require egress windows in basements as a safety element. If an emergency were to occur such as a fire or gas leak that blocks the door leading out, an egress window provides an escape exit.
Sometimes installing an egress window requires excavation of the ground along the outside of the home where the window is installed.
They also allow emergency personnel entry to a home during an emergency such as an earthquake. They add much-needed light to basements and ventilation to prevent mold from excessive dampness.
Clerestory Windows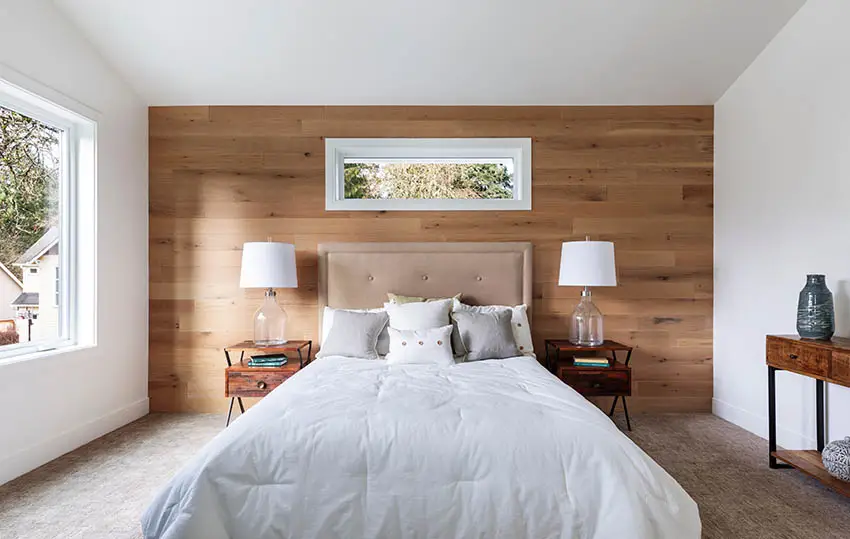 Clerestory is a word derived from the Middle English word clerestorie meaning "clear story."
Churches and cathedrals used this word to describe the upper level of a sanctuary and today, clerestory windows represent a long rectangular window or a series of small windows placed near the ceiling of a room to add light and maintain privacy.
Clerestory widows preserve wall space while promoting an abundance of natural light. They are found in private homes and commercial buildings such as libraries, conference rooms, and doctor's offices.
Larger venues including sports arenas, bus terminals, and gymnasiums make use of them for light and ventilation out of the way of spectators and equipment.
Pass Through Windows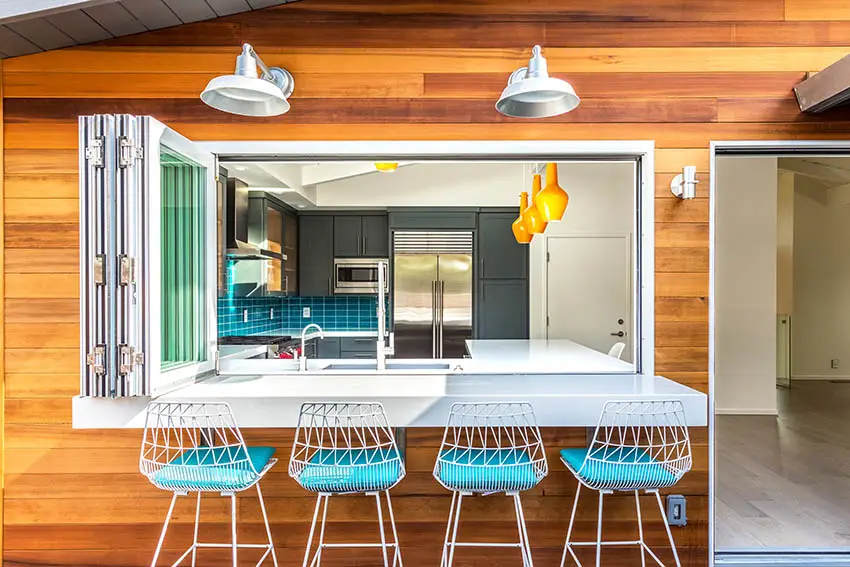 A pass through window is a window cut out of a wall between two rooms, or a wall between the inside of a house and an outside patio. Pass through windows originated for servers, maids, and butlers, making it easier to deliver food.
A pass through window in a kitchen that opens to a patio is great for serving lunch, drinks, and snacks. Alternatively, a pass through may be in the wall between a kitchen and dining room.
The pass-through has a countertop on both sides to place trays and plates of food. Pass through windows that access the outside, have two windows sashes that push out and, when pushed closed, can lock for added security.
Custom Windows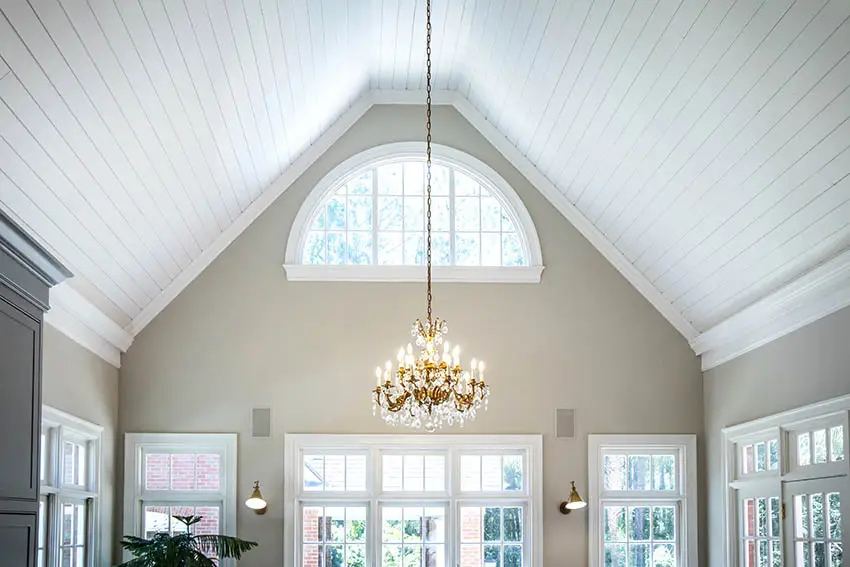 Even with all the types of windows, homeowners building a new home, or who own an existing home, may find they need a particular type of window not found commercially.
They entail meeting with a professional designer and creating the shape, style, dimensions, and design for a custom window or a set of them
When you work with a custom window designer, the choices include many options such as types and sizes of wood framing, fiberglass or vinyl, special shapes, angles, accents, and hardware.
Window Frame Materials
While the type of window represents functionality and design, the material used for the frame has a great bearing on longevity and efficiency, affecting heat and cold transfer, the life span, and maintenance requirements.
Window frames are the structural backbone, and after you choose your style, the frame material should be the most important structural decision.
Knowing what type of window frame material and the size is an important step when purchasing windows. Below are the main types of window frame materials and their recommended use.
Vinyl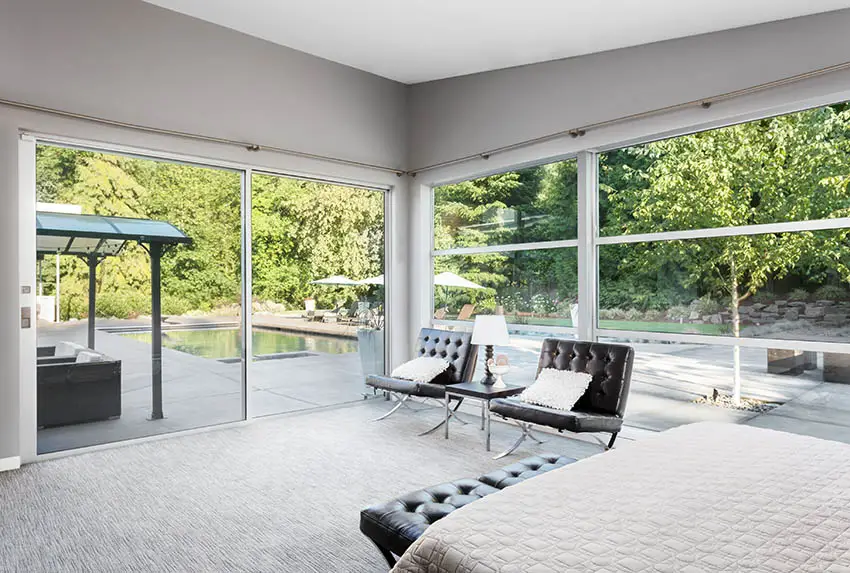 Vinyl window frames have come a long way through the years, making them more durable and affordable choices for your home. Vinyl frames are made from PVC also used for many household items during construction, including plumbing. The two types of vinyl materials are pure or virgin vinyl and recycled vinyl.
Virgin vinyl is very strong and will last longer than recycled vinyl but is more expensive. Recycled vinyl is not as durable but costs less.
All vinyl window frames are energy efficient based on the Energy Star rating, and when closed, create an airtight seal preventing drafts.
Vinyl is easy to clean and never needs painting and they have a high UV rating to prevent corrosion or damage from the sun. These factors allow a lifespan of 15 to 20 years and provide a return on investment of almost 75%.
Fiberglass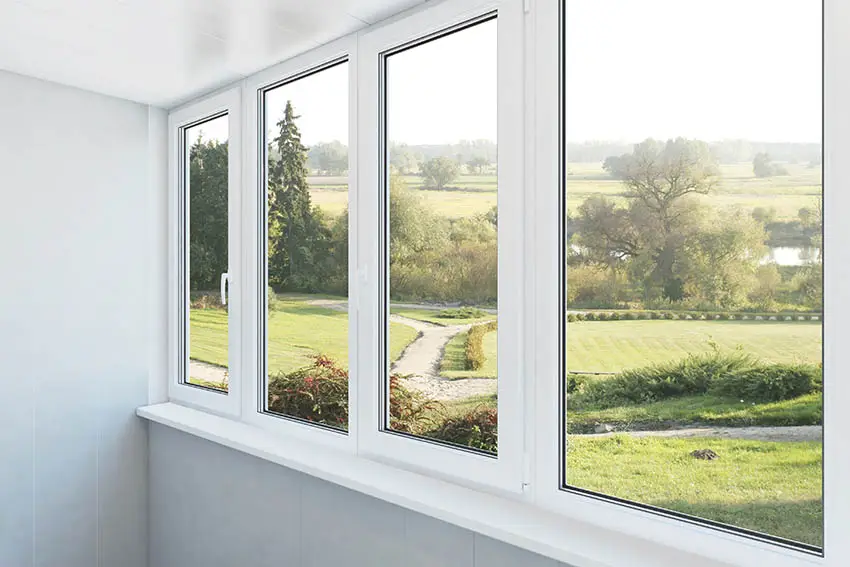 Fiberglass window frames are actually composite made with a mixture of glass fibers and polyester resins. Selling points that make fiberglass window frames include a very high energy rating because of a low thermal conductivity—low transfer of heat and cold.
Fiberglass window frames are the strongest frames compared to other materials such as vinyl and wood and they won't warp or twist. While fiberglass frames are available in limited colors, they can be painted and have a surface that allows paint to adhere well. They also come in a real wood looking finishes.
Some fiberglass window frames come filled with foam insulation to create a higher thermal rating and although they're more expensive than other materials, they provide better energy savings.
Read more about the differences of vinyl vs fiberglass windows here.
Aluminum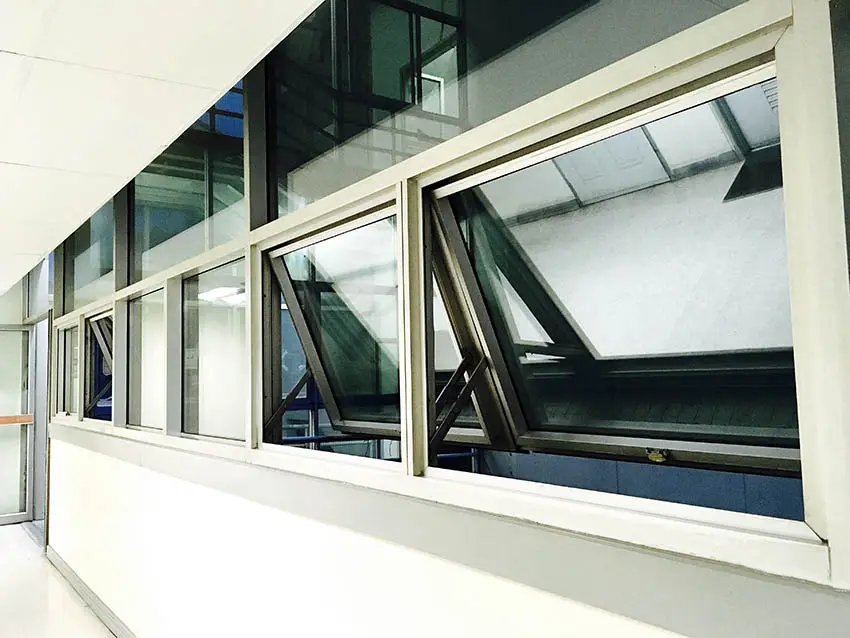 Aluminum window frames are extremely strong, allowing for thin frames and sash components. This provides more space for glass providing a better viewing diameter and the most amount of light.
Aluminum frames allow for many varieties of color finishes applied in the factory that are long-lasting and durable. While aluminum is resistant to moisture, insect damage, and rot, aluminum frames expand and contract with temperature extremes allowing seals to become loose.
Aluminum does not provide a good thermal rating, but aluminum-clad window frames have a wood core wrapped in an aluminum skin offering better insulation.
Although vinyl and wood window frames are better performers than aluminum, window frames made with aluminum offer significant noise-canceling properties.
Composite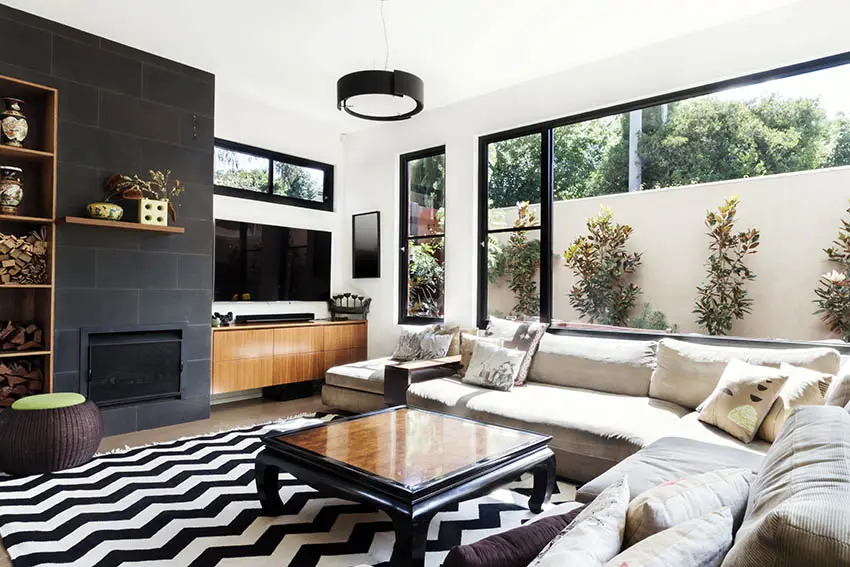 Composite means made from various elements and composite window frames are made from a blend of materials such as resin and fiberglass. These materials make up a car bumper and provide a strong yet flexible component.
Composite window frames look very much like wood window frames, except they do not include the constant maintenance of a wood window frame. Composite, like vinyl and aluminum, is a low maintenance material for window frames and comes in many colors.
For older or historic homes, composite window frames provide replacements that can mimic the original wood window frames without the maintenance. Homeowners like the ability to have wood-looking fixtures without the issues that come with real wood.
Wood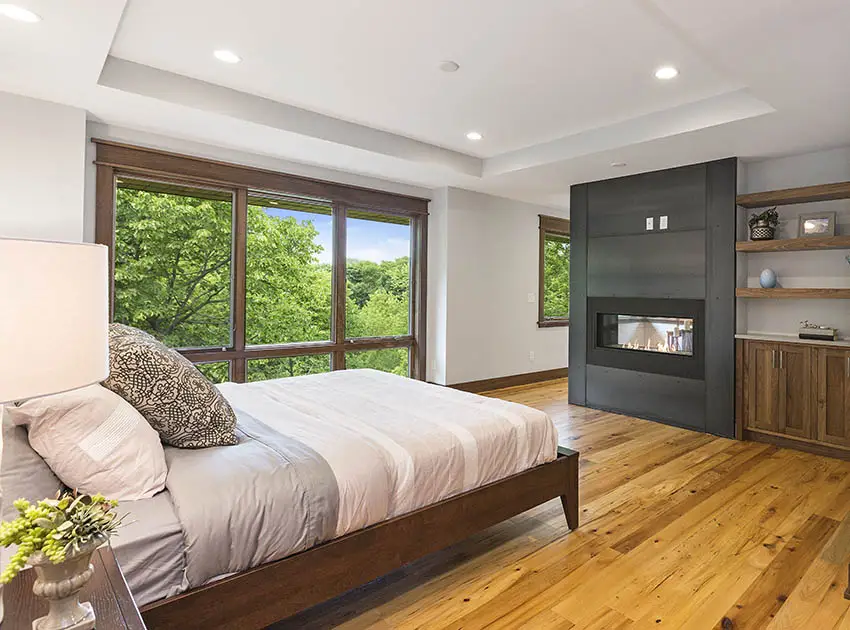 Although wood window frames are beautiful and provide good insulation, they come with quite a bit of maintenance needs.
Paint or stain needs updating regularly, and the wood has to be treated to resist moisture and rot. Wood attracts damaging pests such as termites that may require complete replacement.
Wood window frames are not a good choice for humid or rainy climates unless the homeowner can maintain the frames regularly.
Although wood window frames pose such hazards, many older homes have wood frames that have endured the test of time thanks to the species of wood used and high-quality cuts. Wood is naturally attractive and provides excellent curb appeal.
Clad Wood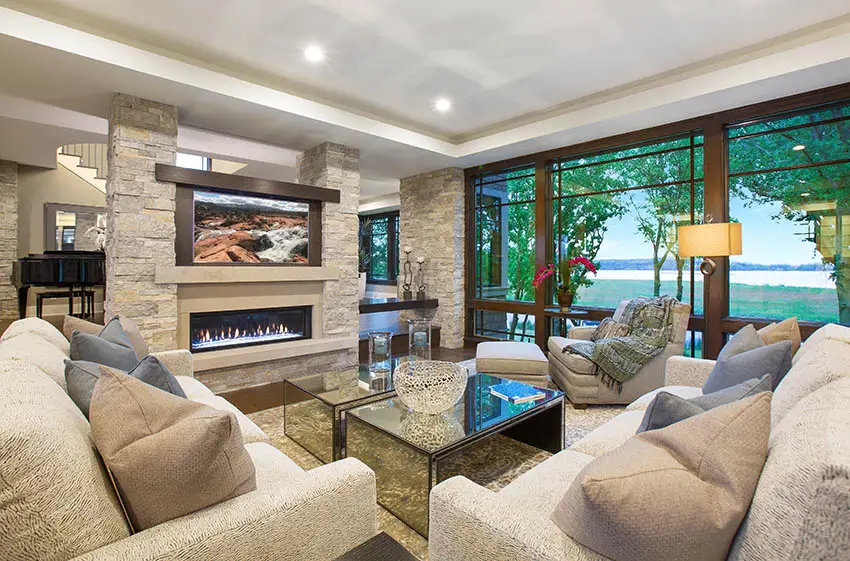 Clad wood window frames are made from real wood such as pine, maple, or oak and are covered with a protective jacket made from aluminum, fiberglass, or vinyl.
The outside frame is covered with cladding, while the inside remains the natural wood for a beautiful look inside your home. The cladding provides a durable exterior that prevents damage from inclement weather and damaging UV rays from the sun.
Clad wood frames must be installed with waterproof rubber membranes placed around the cladding to prevent water seeping in and causing the wood to rot. Sills and jambs are more prone to this than the actual frame.
Although wood clad window frames may pose some maintenance issues, the wood still allows for better protection from hot and cold temperatures.
Energy Efficient Windows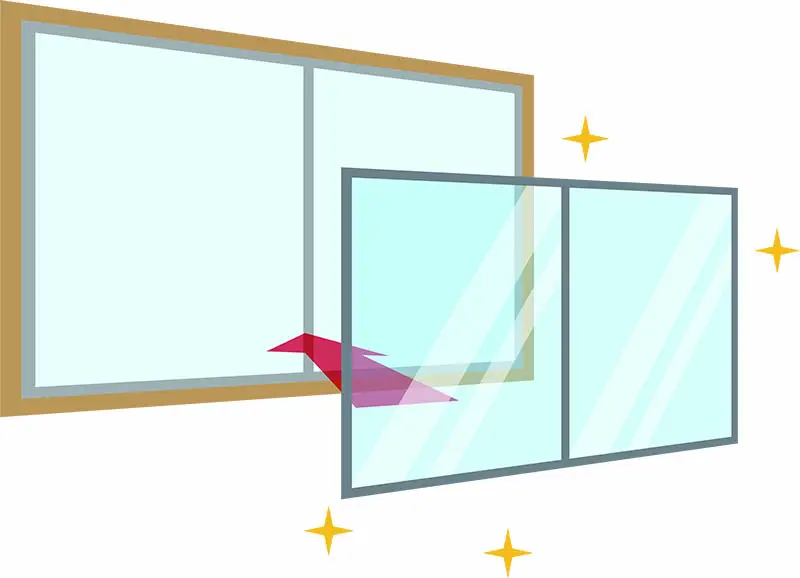 Your home's energy costs make up a large amount of monthly utility bills, and to reduce these costs, energy efficient windows are a great money saver.
Energy efficient types are also known as energy saving windows, and their design and the materials they're made from help prevent heated and cooled air from escaping your home. Energy bills go down while making your home more comfortable.
Homes with energy efficient types labeled Energy Star average a 12% savings each month on utility bills. (Source: https://www.energystar.gov/products/building_products/residential_windows_doors_and_skylights/benefits)
And replacing a home's single pane windows with newer Energy Star double pane types can save even more; 21 to 31% off monthly utilities for heating and cooling. Read on for the types of window characteristics that go into an energy efficient window.
Double Pane
A single pane window has only one piece of glass in the frame. This does not provide enough of a barrier to keep out cold or hot air.
Multiple panes such as double pane varia ntsare made by placing two panes of glass in the window frame with spacers in between.
The space between the panes creates air pockets sealed during manufacturing to prevent air from escaping. The gap is filled with different gases that help create an even more efficient barrier.
They generally reflect up to 90% of energy while letting in 10%. Simply put this means on a hot summer day 90% of the outdoor heat will remain outside while 10% gets inside. Alternatively, on a cold winter day 90% of the warmth inside the home will stay in, while 10% will escape outside.
Triple Pane
Like double pane windows, triple pane windows have three panes of glass instead of two with spacers and gas placed inside between the panes.
They provide the best hot and cold outside temperature resistance and provide the best protection from heating and air conditioning loss.
This types are even more energy efficient than both single pane and double pane. A triple pane window can reflect up to 97% of energy while letting only 3% enter the home.
This means on a hot summer day 97% of the heat from outdoors will remain outside, while only 3% gets in. Conversely, on a cold winter day 97% of the warmth inside the home will remain inside, while 3% will be let out.
Low Emissivity Glass
Low emissivity glass, known as Low-E glass, is used when manufacturing energy efficient windows. Low-E glass has a microscopic-thin coating, thinner than human hair of invisible material that reduces how much heat can flow through the glass panel.
Low emissivity glass keeps heat in your home in winter and cold air outside, and during hot summer months, it keeps cool air inside and hot air on the outside.
Low-E coatings affect the way heat from sunlight, long-wave infrared energy, moves through the glass pane without inhibiting the sunlight entering your home.
U-Value
The U-Value is a rating indicating how much heat loss a glass window allows. U-Value is measured at a rate-per-hour, and the lower the number the better insulation a glass window provides.
The National Fenestration Ratings Council (NFRC), a nonprofit organization for the window industry, created the rating system for window energy efficiency that includes U-Value ratings.
NFRC-certified windows have a NFRC label that provides energy efficient ratings in several categories. Understanding these ratings helps consumers make a good choice when purchasing these fixtures.
Solar Heat Gain Coefficient
Another rating by the NFRC is the Solar Heat Gain Coefficient (SHGC). This rating indicates the amount of heat that enters a window from solar radiation.
As with the U-Value, the lower number means less heat allowed through the glass windowpane. Check the NFRC website (Source: https://www.nfrc.org/) for more information on window energy efficiency.
Window Features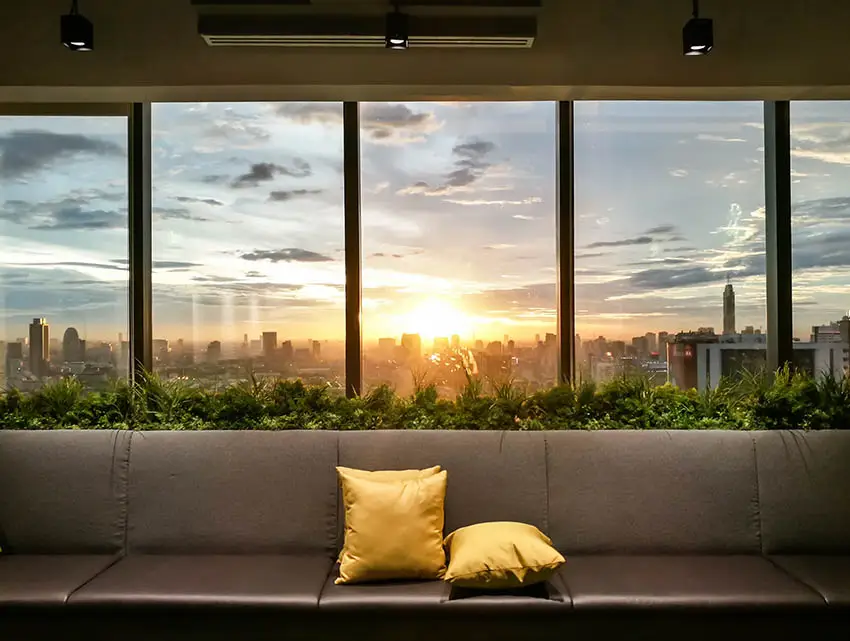 There are additional features when choosing new windows that include options increasing energy efficiency, provide more comfort in your home, and enhance your home's design style.
Below are several home window features and their benefits.
Double Strength Glass
Double strength glass is 3.2 mm thick versus single strength glass at 2.5mm thick. Single strength glass is typically found in picture frames and isn't as sturdy as double strength glass.
A window made with double strength glass does not mean two panes of glass. It represents glass that is approximately 28% thicker than single pane glass.
Thin glass panes have bends and don't always lay flat in a window frame which refracts light making the glass look like cheap plastic. Double strength glass types provide better insulation, more durability, and better resistance to breakage.
Higher Sound Transmission Class (STC)
Peace and quiet in your home are important and windows reduce sounds from freeways, trains, aircraft overhead, and other nuisance noise. Each window configuration comes with a Sound Transmission Class (STC) used to measure the window's ability to block sound.
The American Society for Testing and Materials, (https://www.astm.org/) (ASTM) creates standard procedures and measurements for environmental and engineering applications such as window sound transmission levels.
The higher ratings mean better sound reduction, and the typical rating for a single pane window is from 18-20. A double pane window increases the sound transmission blocking to 28-32. The amount of air space between double pane and triple pane types affects noise reduction.
Wider spaces between panes block more noise, and less space lets more noise pass through. Special soundproof variants with double panes offer the most noise reduction with an average STC of 48-54 but cannot eliminate 100% of outside noise.
Decorative Grids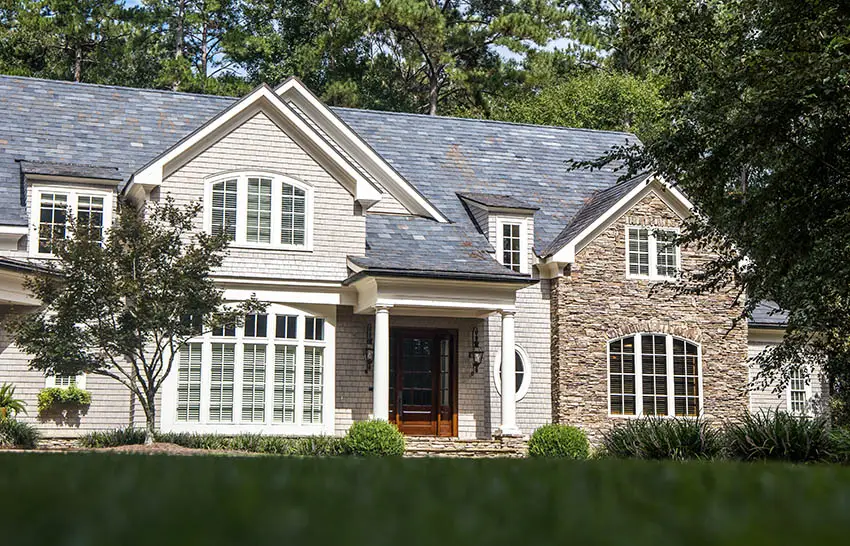 Decorative window grids create architectural interest and are an easy way to add particular design styles to your home.
The way decorative grids are configured and patterned can change the overall look of a home. Grids built into windowpanes, grids between glass, sit between panes of glass behind the window's flat surface. This protects the grids from damage and makes cleaning easier.
Simulated divided lite grills are made of materials that adhere to the inside and outside surface of glass windowpanes appearing as old-school grids but made from modern materials resistant to damage from weather, sun, and dry environments.
Grids include styles such as flat, contoured, and pencil (thin grid lines) and patterns including cottage and diamond. Colors are endless, and homeowners can match the colors on their home's exterior or provide contrasting or complementing colored grids for an artistic touch.
Tempered Glass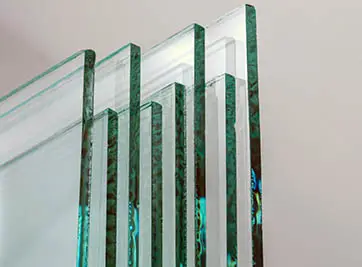 Tempered glass is also known as toughened glass and is stronger than regular glass.
When glass windows are tempered, the properties of the glass changes so if the glass breaks it will crumble into small dull cubes instead of jagged pieces to minimize injury.
Any type with the potential for breakage by a person inside or outside a home must be made from tempered glass.
The National Glass Association (NGA) provides standards indicating use of tempered glass.
• The window is less than 18 inches above the floor or ground
• The top of the window is less than 36 inches above the floor or ground
• The window is larger than 9 square feet
• The window is within 36 inches of foot traffic
• Any door made of glass must be tempered glass such as sliding glass doors, shower doors, and French doors
Most Common Types of Replacement Windows Installed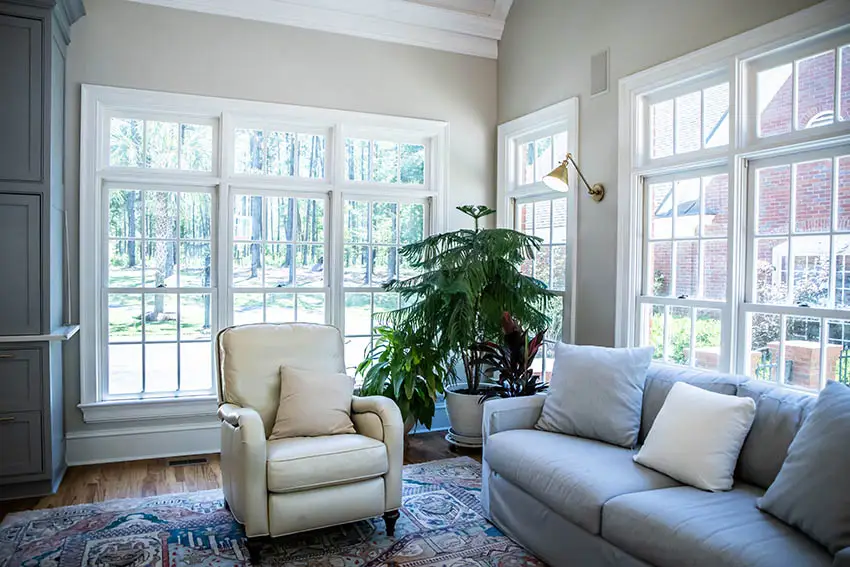 The most common types of replacements include single pane, double pane, and sliders.
Cost to Replace Windows in House
When replacing windows in your home, the styles, types, glass, frames, and other options are all factors that affect the cost. (https://designingidea.com/replacement-vs-new-construction-windows/)
With the wide range of options when replacing a window, the average is from $200 to $1600 for each window.
For example, a slider window with double strength glass and a vinyl frame averages $300 – $800.00, while a bay window with a vinyl frame averages $1200 – $3000.00 per window.
These prices include the window and labor costs. To avoid paying too much for a replacement, study the information in this guide, especially things to look for in a window, and get a quote before making a purchase. A good rule of thumb is to compare at least three estimates from local contractors.
Besides the window cost and labor, unexpected situations may increase the cost to replace existing windows. By hiring professionals with experience you can cut down on potential problems.
Once the windows are removed, installers may find structural damage that needs repair. They may have to alter the existing window frame for the new types to fit or may have difficulty accessing the existing window.
The window trim may need new metal capping, and for windows installed after 1978, lead testing must be done and if lead is found, remedial actions increase the labor rate an average of 25% per window.
What Affects the Cost of New Home Windows?
The main components of a window are the frame, glass panes, any hardware such as a hand crank or grips, the style, and the labor costs. Other situations that may increase the cost of new home windows include additional stories.
If your home is a two or three-story layout the additional floors add complexity to the installation, require proper equipment to reach the window location, and additional installers to work together. Two contractors work outside installing the window, and a third levels the window from the inside.
For homes with more than one story, the total cost for new home window installation increases 25 – 50% per story.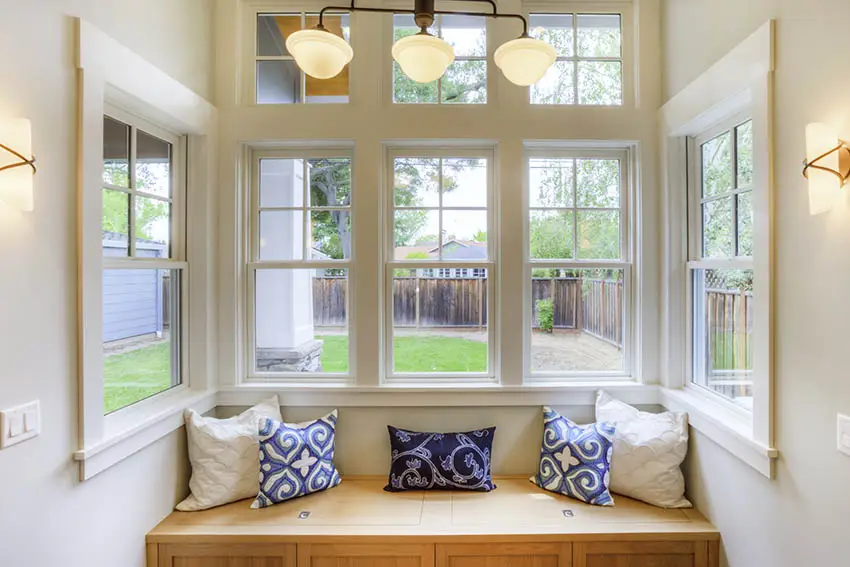 Window Cost By Type
The window types discussed above affect the cost of window replacement or installation. The list below are only averages and are subject to change according to local labor costs and installation methods needed.
• Double-hung: $250-750
• Single-hung: $100-400
• Sliding: $300 – $800
• Bay: $1,200 – $3,000
• Casement: $275 – $650
• Picture: $300 – $850
• Awning: $350 – $600
• Transom: $250 – $475
• Hopper: $240 – $550
• Basement window: $100- $250
The size of a window certainly affects the price, with full-length types costing more than a standard bathroom or bedroom window.
A living room with a large 6' x 6' window averages $300 – $800 per window, not including labor. If the window includes a more expensive frame or is a triple pane window, the cost could average as high as $1,500 for one window.
Standard bedroom types come as 2' x 3' and 3' x 5' costing between $300 – $500, and master bedrooms may cost more if they include larger or additional windows.
Smaller variants such as bathroom and laundry windows are typically 2' x 1.5 feet and 2' x 3', averaging $150 – $300 for standard windows.
Window Frame Material Cost
The frame material for a window affects the price, but these averages depend on local labor costs and any enhancements to the windows.
Below is a short list of standard window average prices with the same options but different types of frames.
• Composite: $325 – $975
• Clad: $300 – $900
• Wood: $275 – $850
• Fiberglass: $200 – $750
• Vinyl: $100 – $650
• Aluminum: $175 – $400
Window Glass
The type of glass affects the price of a window, especially when purchasing a window with upgraded glass versus standard glass.
Enhanced glass choices include the types below, and the national price averages are listed for each option. These costs are for standard window panes only and do not include labor.
• Tempered/Impact Resistant: $13 per pane
• Insulated: $10-$20 per pane
• Thermal: $12 per pane
• Double Glazed: $3-$6 per pane
Labor Cost
The national averages for labor when installing different types of window styles are listed below. These costs vary greatly by geographical location and increase when existing types require more unexpected repairs or project adjustments.
• Double-Hung: $200 per window
• Single-Hung: $75 – $200 per window
• Fixed & Picture: $100 – $500 per window
• Casement: $150 – $900 per window
• Sliding: $100 – $500 per window
• Custom: $200 – $3,000 per window
• Basement: $200 – $350 per window
• Basement Egress: $1,900 – $2,500 per window
• Bay: $900 – $4,500 per window
• Bow: $1,000 – $5,500 per window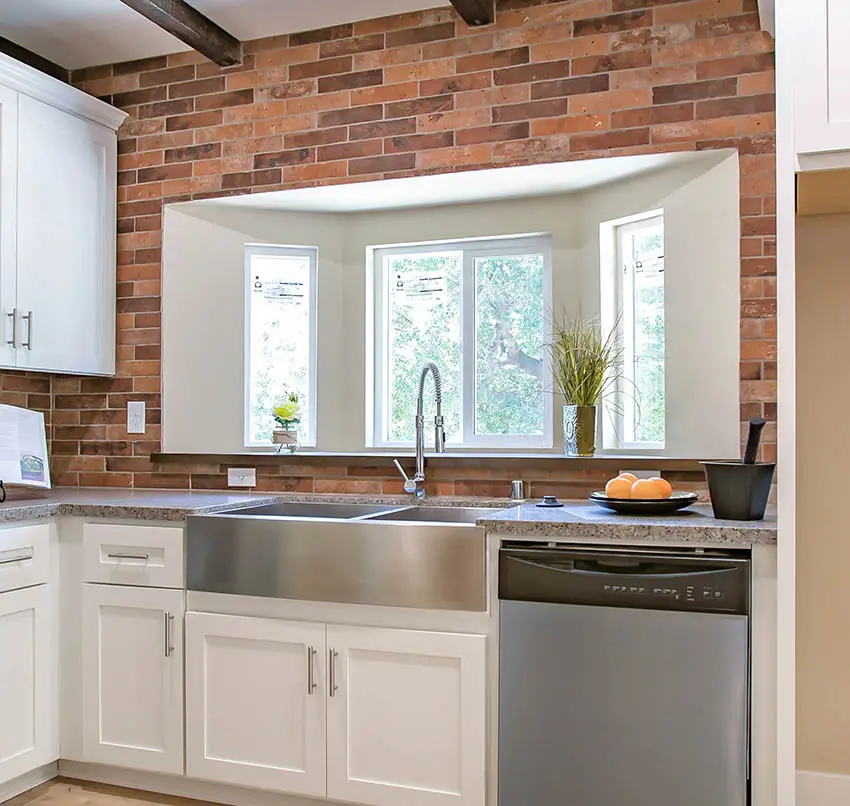 How to Measure Windows
With new home construction, the builders install the windows chosen by the new homeowner, and measuring is left up to the contractors.
For an existing home, measuring to determine the right size for replacement windows is not difficult, but measuring properly to determine exact dimensions is critical.
Several measurements for windows include replacement windows, new window screens, and storm windows.
The basic steps to measuring windows are:
1. Check to see if the window is square
2. Measure the glass width from the inside jamb in three places
3. Measure the glass height from the inside jamb in three places
For storm windows, the method is the same except the measurement used for the storm window dimensions is the shortest of the three places for both width and height so the storm window flange will fit.
When measuring for screens, if there is an existing frame that needs replacing, measure the frame itself. For a window that doesn't have a screen, measure the width and height between the screen channels, and subtract 1/8 inch.
See our guide to standard window sizes here for more details regarding popular dimensions. Always measure at least twice to be sure your numbers are correct. Ordering windows or screens that don't fit can cost a lot of money and hold up your projects.
How to Measure Windows Video
What is your favorite type of windows? Let us know in the comments below.