Welcome to our types of skylights ultimate design guide including popular styles, sizes, cost and how to choose the right one for your home.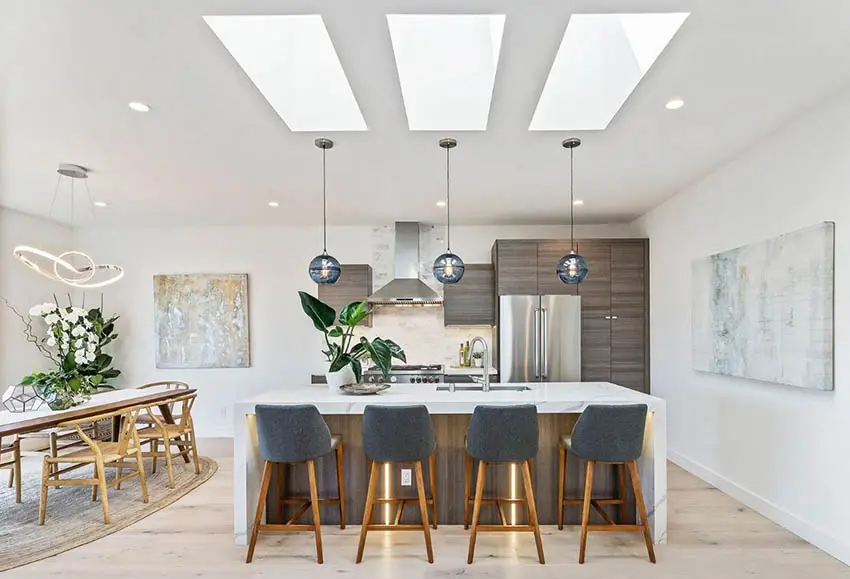 Natural lighting can improve your home's atmosphere and ambiance in a lot of ways. Flooding your home interiors with natural lights can significantly brighten it's mood, while giving added dimension to its aesthetics.
In addition to these, daylighting can also help improve energy efficiency, cut down energy costs and help regulate temperature in your home. Undoubtedly,one of the best ways to bring in natural lighting to your home is through the use of skylights.
Below, we give you our very own ultimate guide on the different types of skylights along with some guidelines which can help you choose the right one for your home.
What is a Skylight?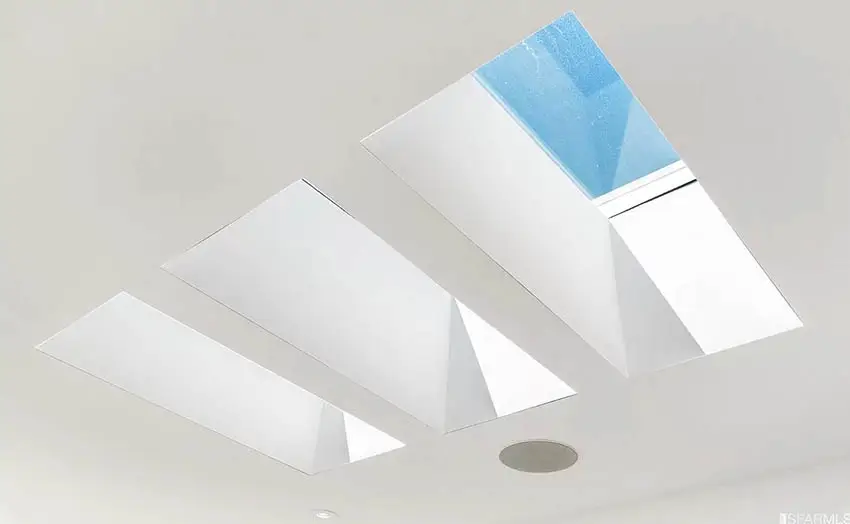 A skylight, also sometimes referred to as a "rooflight" or a "roof window" is an opening in a roof which is covered by a translucent or transparent material like glass, whose main purpose is to allow natural light to come into the structure.
Essentially, adding a skylight to a house is similar to adding a new window, but the difference is, it is located at the roof instead of the wall.
Skylights are glass- or plastic – covered roof openings designed to provide an inexpensive and attractive means of adding natural light to both homes and offices. – Craftsman's Illustrated Dictionary of Construction Terms, James T. Frane
Although they are mainly designed to transmit light, skylights can also be used to bring in heat and cold. Some types of skylights can also help provide ventilation.
Skylights also work perfectly in providing a nice view of the sky to a home. Overall, they help improve the energy efficiency of a home, while also increasing the aesthetic value of it.
Curb Mounted Vs Deck Mounted Skylight
Skylight styles are classified according to the way they are installed. Skylights may either be curb mounted or deck mounted and the main difference between the two is that a deck mounted skylight is flushed with the roof, while a curb mounted skylight is slightly higher than the roof face and held by a curb.
Below, we take a more in depth look on these two styles of skylights.
Curb Mounted Skylights
As mentioned earlier, curb mounted skylights are held higher than the roof face by a curb. A curb mount is the frame that is built to house a skylight.
This frame is typically made with wood or aluminum and is raised above the roof so the skylight can attach to it.
Despite the simplicity of the design of a curb mounted skylight, it is very effective and comes with a lot of benefits. They are excellent when it comes to preventing leaks.
Compared to deck mounted skylights, curb mounted skylights allow for more flexibility in size. You can also find a lot of curb mounted skylights in the market and the best thing about them is that they are relatively affordable. They work well in any type of room and are easy to install.
Deck Mounted Skylights
Deck mounted skylights are more current than curb mounted skylights. These skylights have frames that are flashed directly into the roof.
In this installation method and style, you do not need a curb to house your skylight, but instead the skylight itself will act as the curb.
The frame of a deck mounted skylight is typically made with galvanized steel or extruded aluminum and is flushed into the roof. This process is also sometimes referred to as "flush mounting."
Deck mounted skylights are more energy efficient compared to their curb mounted counterparts. They can be more visually appealing too because they integrate well with the structure and look more seamless. However, deck mounted skylights are a bit more difficult to install.
They also need to be sealed very tightly to ensure that no rainwater or moisture seeps inside. Flashing kits are typically used with deck mounted skylights to protect a house from leaks.
Styles of Roof Skylights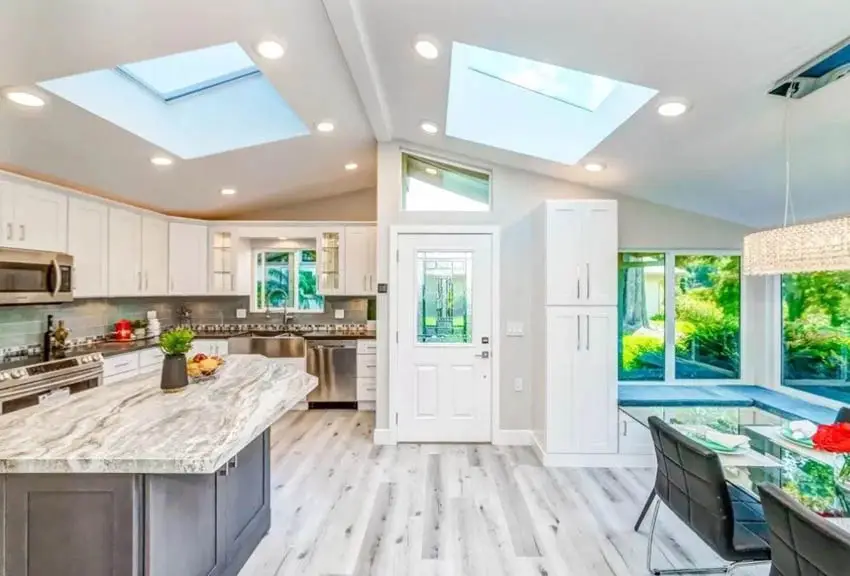 Kitchen with bay window and cathedral ceiling with skylights.
A skylight's style refers to its shape and the layout of the glass it uses. In general, skylight styles can be classified into two main groups, (1) basic style or flat roof style and (2) vaulted style.
Basic or flat roof skylights are skylights that do not project above the roof. They are flat and follow the pitch of the roof. Flat roof skylights may either be deck or curb mounted. This type of skylight is preferred if you want to keep the look of your house's exterior consistent. Compared to vaulted styles, flat roof skylights offer more illumination.
Vaulted skylights are the opposite of flat roof skylights because they project above the roof face. They can serve as a dramatic architectural feature in a home but are generally more expensive because they require more glass to construct.
Most Popular Types of Skylights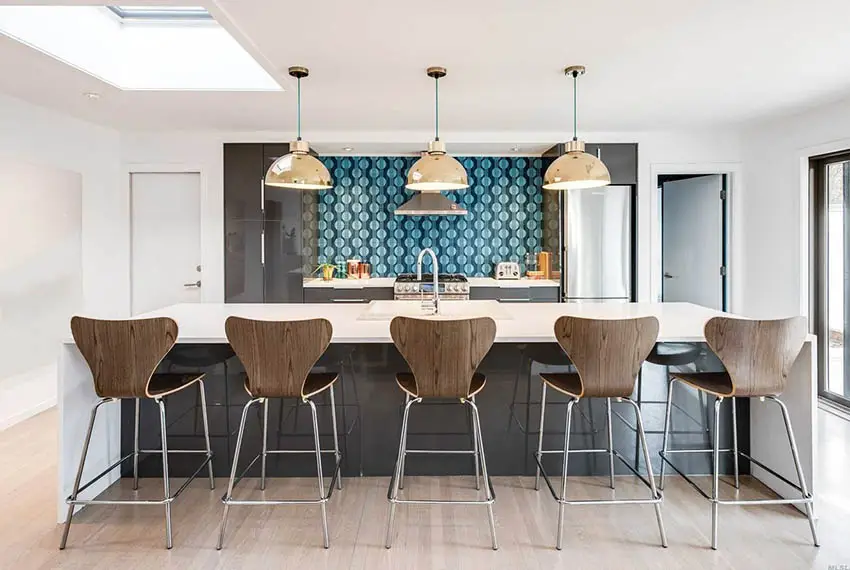 Skylights can be classified according to their materials, type of use, types of roof and types of room. Here are some of the most popular types of skylights:
Ventilating Skylights or Ventilated Skylights or Vented Skylights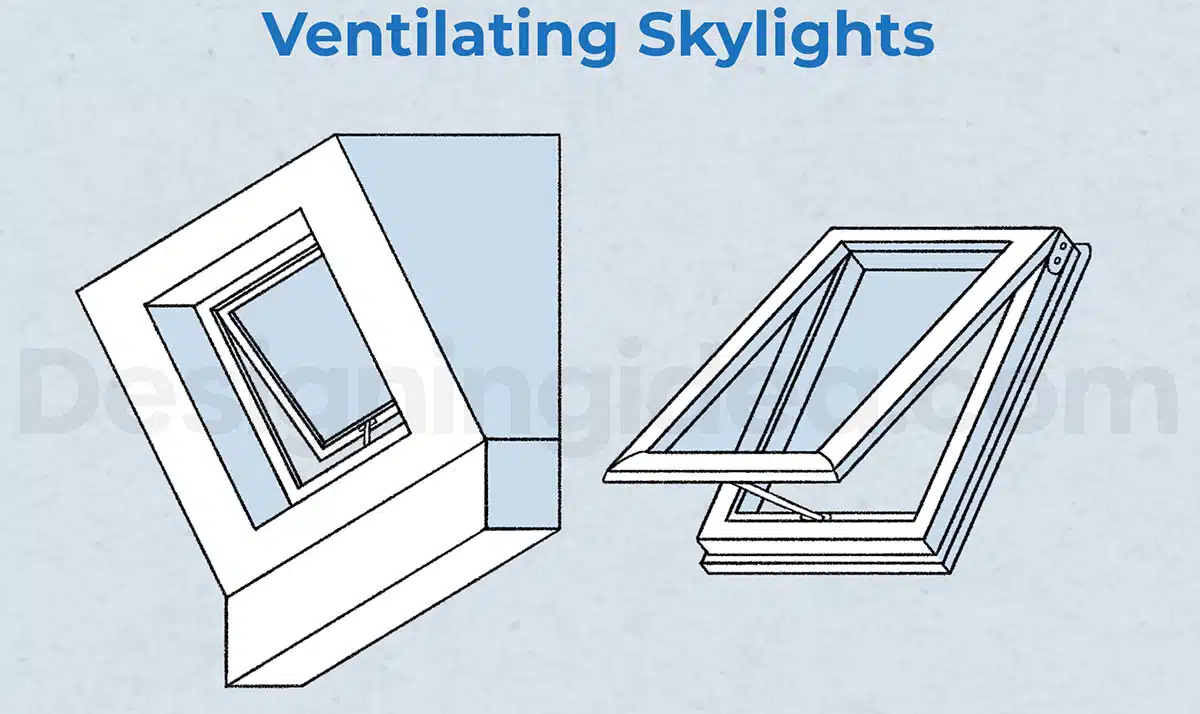 In addition to improving the look of your home, a ventilating skylight also has other practical benefits. Aside from being a source of natural light in a space, a ventilating or vented skylight serves another purpose by providing additional ventilation and by allowing air into a house — hence the name.
This type of skylight can be opened and is essentially similar to a window, but installed in the roof of your house. They are often installed in areas that need ventilation the most, like bathrooms, powder rooms and kitchens.
A ventilating skylight is every functional in these settings because they will allow any excess moisture to escape the space, while also keeping a constant flow of fresh air in the room.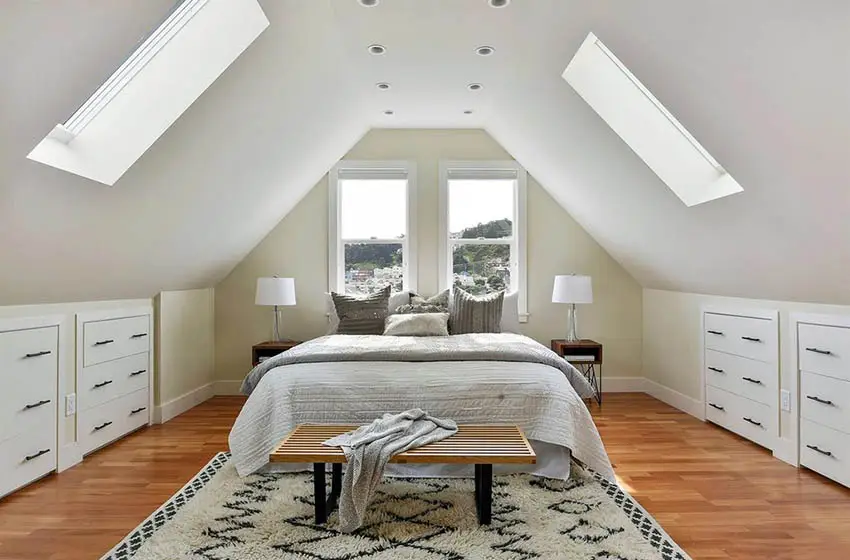 Bedroom with skylights and bed in front of window.
Tubular Skylight or Tube Skylight or Sun Tunnels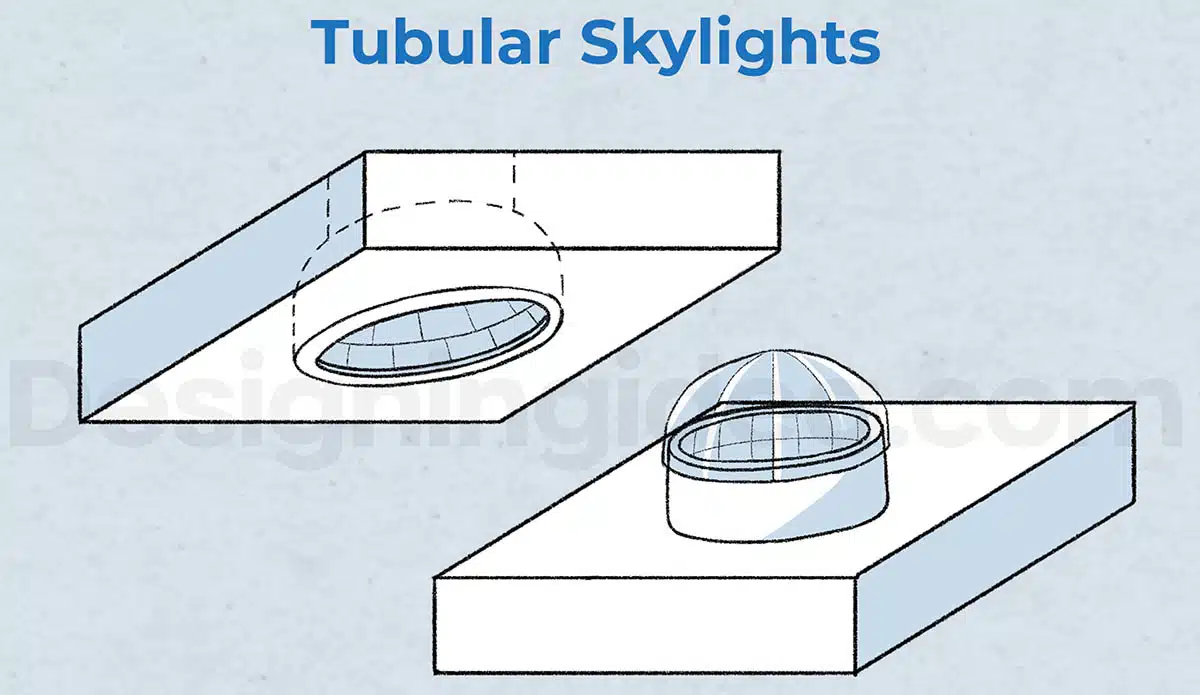 Tube skylights are the lesser known method for bringing light into a space. Also referred to as a tubular skylight or a sun tunnel, tubular skylights are not windows which can be opened up.
As their name suggests, a tube skylight consists of a small tube shaped pipe that starts on top of your roof down to the ceiling of the room where you want it installed.
Typically, the tube has a diameter of around 10 to 15 inches and is covered with a spherical dome on top. The dome collects the light then using optical techniques, it redirects natural sunlight down its shaft.
The tube is usually in a silver mirror like finish, thus it allows the light to transfer completely. This highly reflective tube connected to the interior diffuser.
Because it is compact, a tubular skylight is the perfect solution for those who don't have much space on their ceilings for a skylight.
You can angle it to fit into a space where bigger types of skylights wouldn't fit. Its size and shape also allows it to be easily integrated into the design of space.
Despite their small size tubular skylights will still be able to provide an ample amount of additional natural lighting to a space.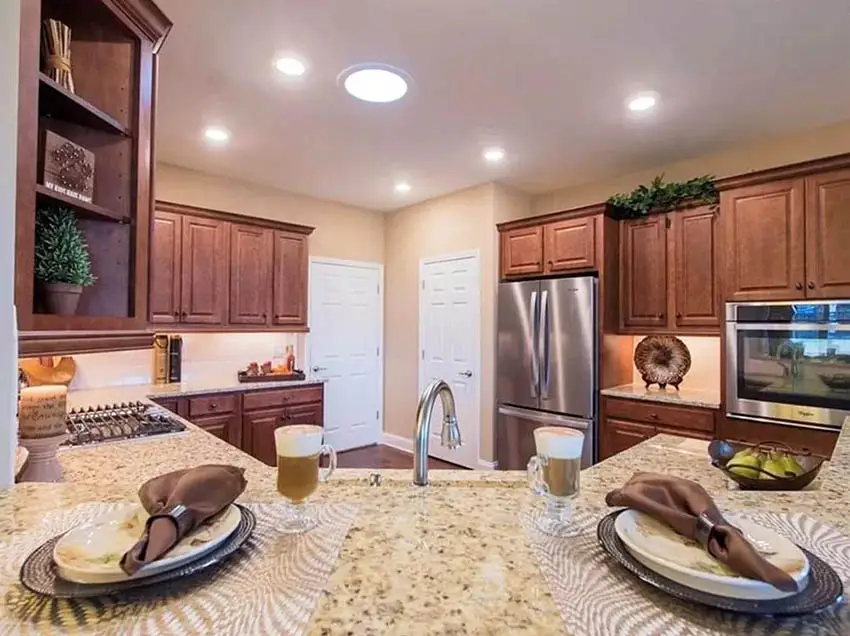 A tubular skylight is suitable for direct lighting of specific spots, spaces and objects like living room walls, closets, pantries, foyers and hallways.
Compared to other types, tubular skylights are much simpler to install. It does not require making a big opening and is also much faster to mount. However, there is one drawback to tubular skylights. It does not provide a view, unlike its fixed or ventilated counterparts.
So if you want a skylight for aesthetic reasons or want to enjoy looking up at the sky, then this option isn't the best one for you.
Dome Skylights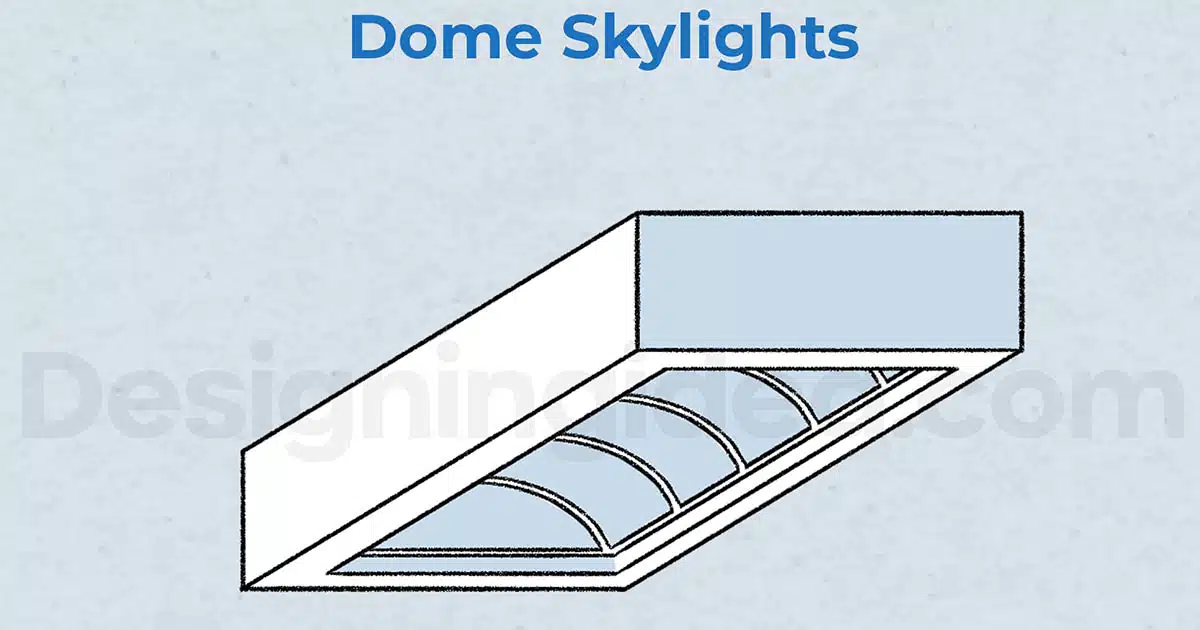 Dome skylights are in the shape of a dome and are made up of strong and flexible plastics that allow sunlight in a space. Dome skylights come in two layers, one for protection and the other for insulation.
The outside layer is thick and tainted, while the inside layer is thin and made up of a clear material. They are also sometimes referred to as dome acrylic skylights or dome shaped skylights.
Unlike tubular skylights which are made for spot lighting and for directing rays to a specific area, dome skylights evenly spread the sunlight across the room.
Even if it is a small source, it can illuminate an entire room with small streams of light. Dome skylights are well suited for building entrances as they can significantly enhance the atmosphere of the space and make it feel more inviting.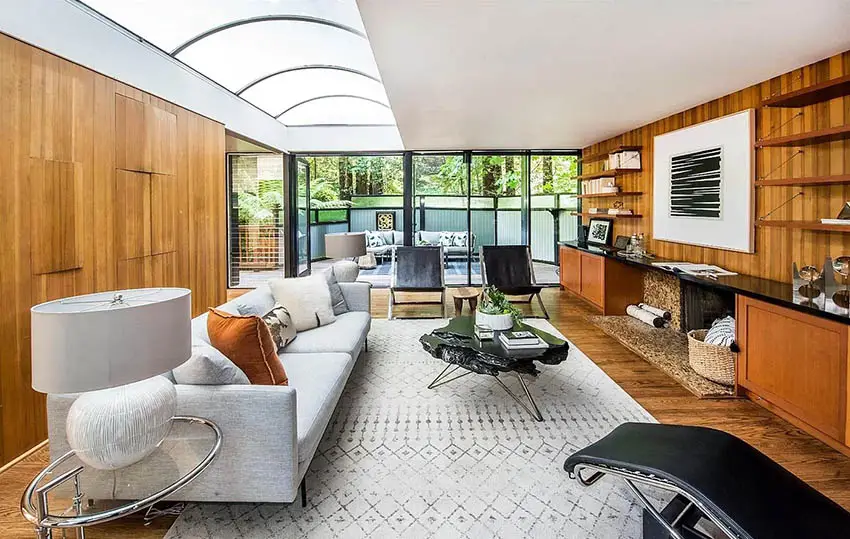 This type of skylight can be used for both commercial and residential settings, specifically for foyers and lobbies. Dome skylights can also be used as a spotlight for features like murals, sculptures, planters, paintings, reflecting pools and other items.
Solar Skylight or Solar powered Skylight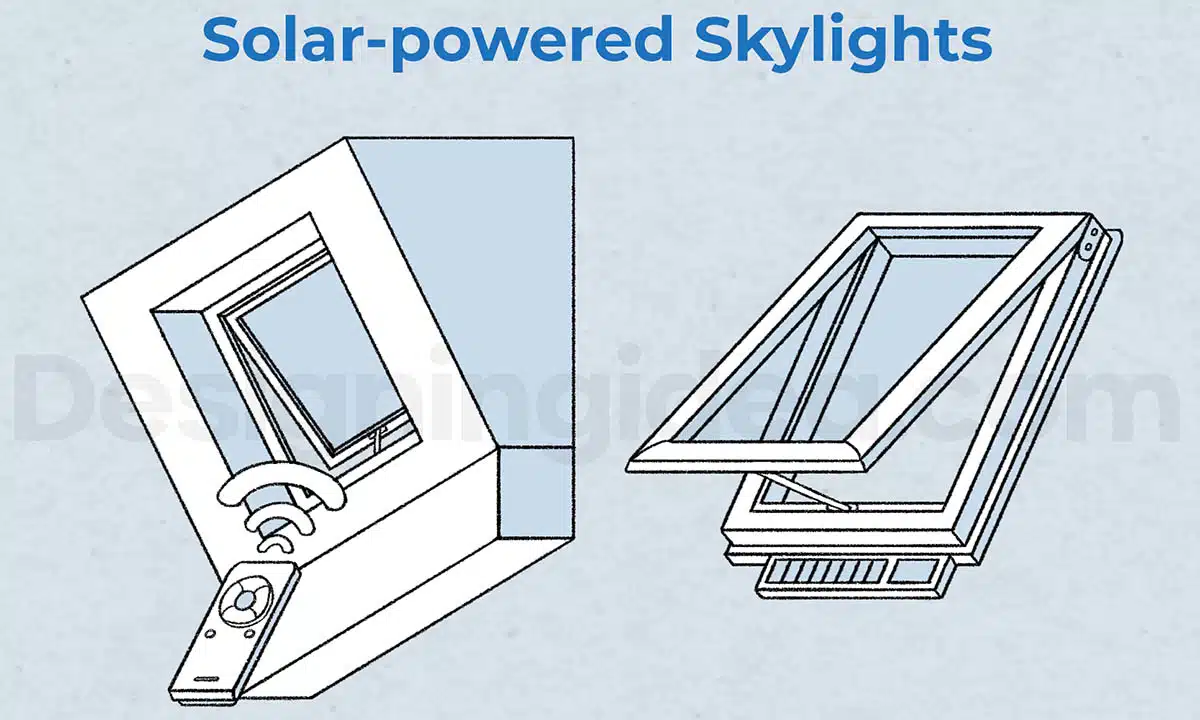 Just like any other solar powered item, a solar powered skylight uses power directly from the sun's rays. It operates in much the same way as a normal electric-powered skylight.
Typically, solar skylights come with a small remote control device that lets you open and close the skylight window. You can even purchase a ventilating skylight that is solar powered.

Solar skylights are very popular because they are environment friendly, very energy efficient and help save money on bills, while also preventing power consumption problems.
Since they come with a remote control, they are also incredibly convenient to use, as you can keep the remote nearby, allowing you to operate the skylight anytime you wish with just a push of a button. It is very reliable too.
Solar powered skylights don't cost more than an electric one. Given the practical benefits that come with it, it is actually an excellent choice to invest in one.
Custom Skylights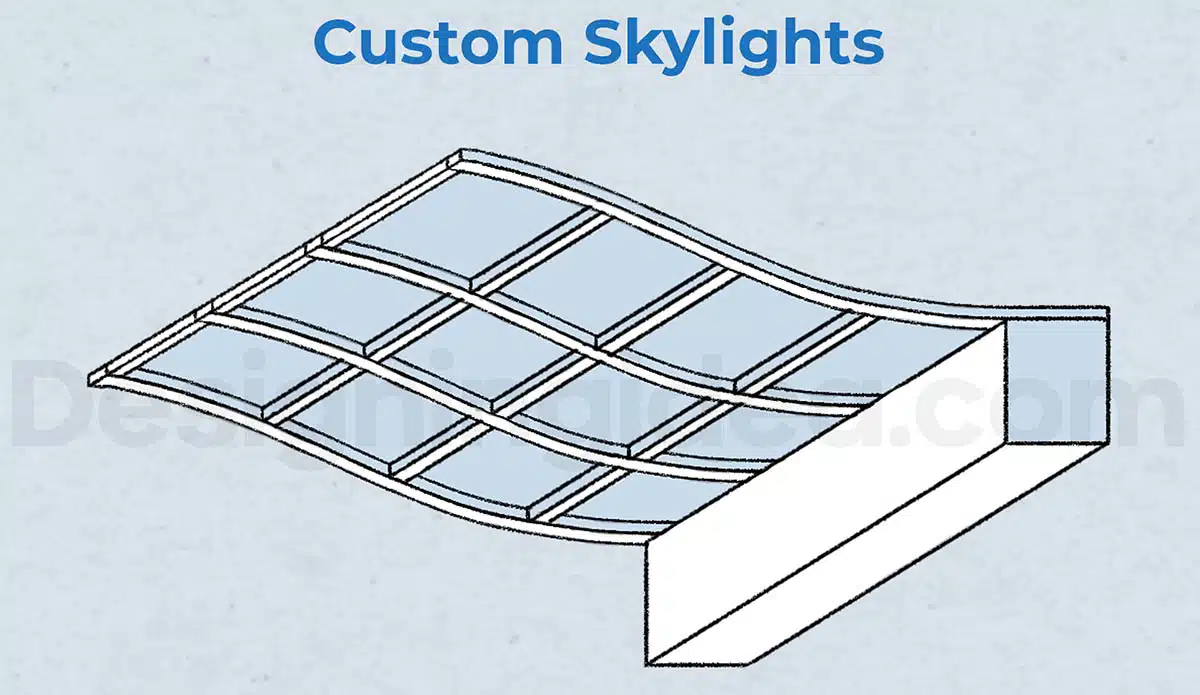 Custom skylights are skylights that are tailored according to a homeowner's specifications and requirements. They are ordered directly from a manufacturer or distributor and are customized in different shapes, sizes, design, style and dimensions.
The final design and specification of a custom design skylight will define the cost of the item and the time necessary for completing it. On the average, a custom skylight will take about a month to produce.
This type of skylight is highly suitable if your house's existing roof cannot accommodate a common or standard type of skylights.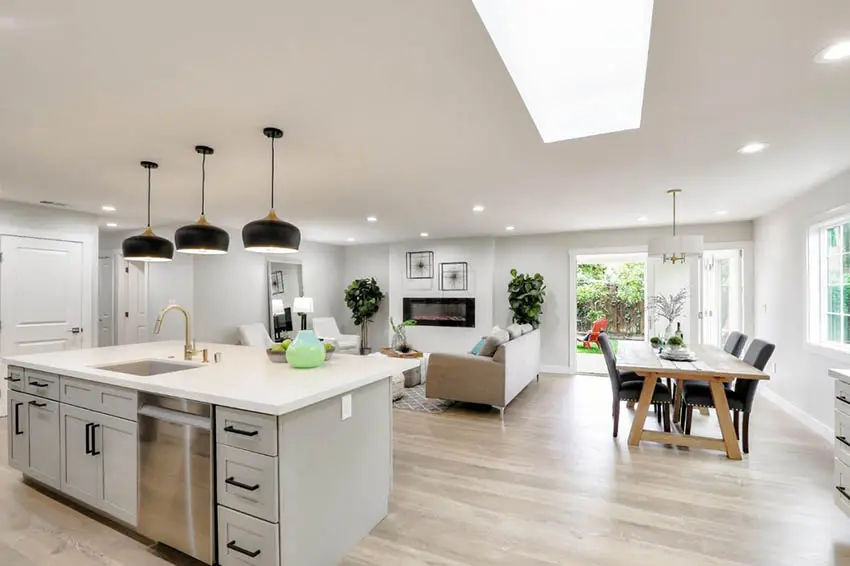 Custom skylights can be in the shape of a pyramid, triangle, round, square or rectangle – basically anything. It can be made with hurricane resistant glass and may include special features like rain and temperature control sensors.
Custom skylights can be easily integrated into a structure's design to improve its aesthetics and architectural features. In addition, they still provide the same benefits that come with any other type of skylight, like added natural light and ventilation to a space.
Fixed Skylights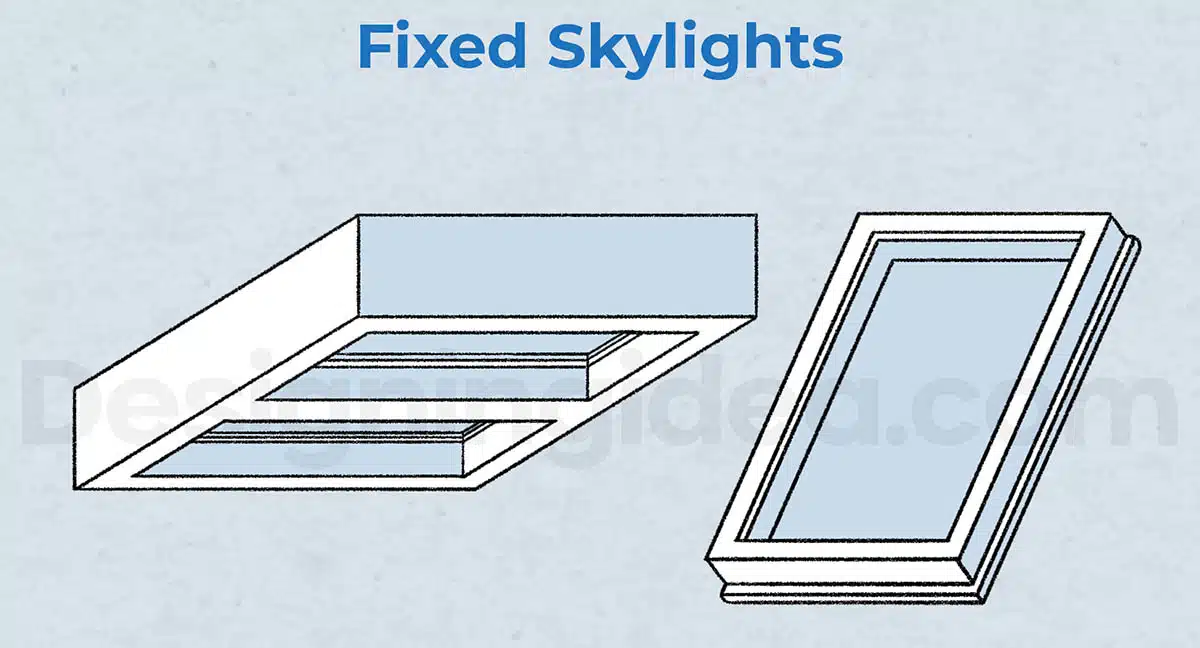 The most popular type of skylights are fixed skylights. If you do not really need to improve air flow in a space but only want to make it more illuminated, a fixed skylight is the perfect choice for you.
Unlike ventilating skylights which provide additional ventilation, fixed skylights only provide natural lighting to a space. They do not open and are much similar to a fixed glass panel or fixed window which are completely sealed.
Fixed skylights are typically made of 90% glass and an aluminum frame. Alternative materials for the frame include timber and other types of steel. The joints of this type of skylight are tightly sealed to prevent any moisture from entering.
In some cases, a durable plastic dome is added outside to improve it. Fixed skylights are widely available at local hardware stores and major online retailers.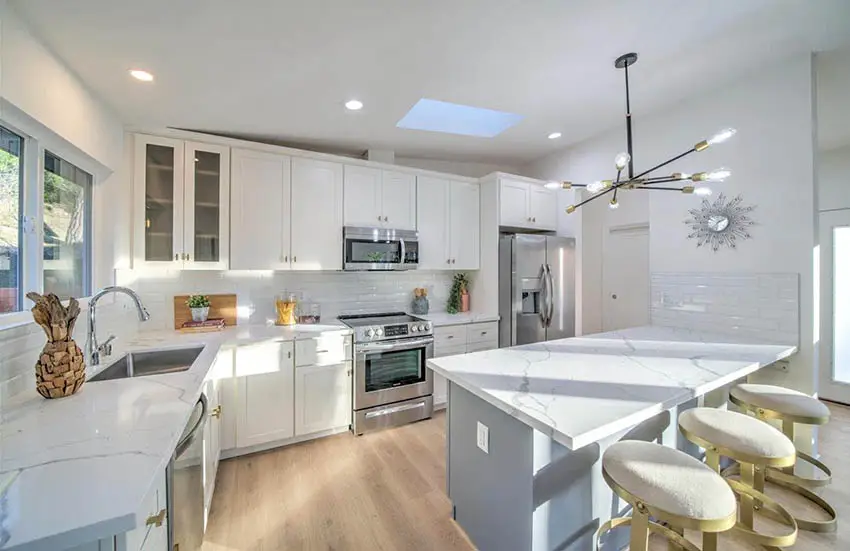 Fixed skylights are perfect for installing in hard to reach areas. They are also ideal for low lit areas like stairwells and attics as they provide a significant amount of illumination.
Fixed skylights are also suitable for application in high ceilings or cathedral ceilings and they can give a dramatic effect in such settings.
Tilt Window Skylights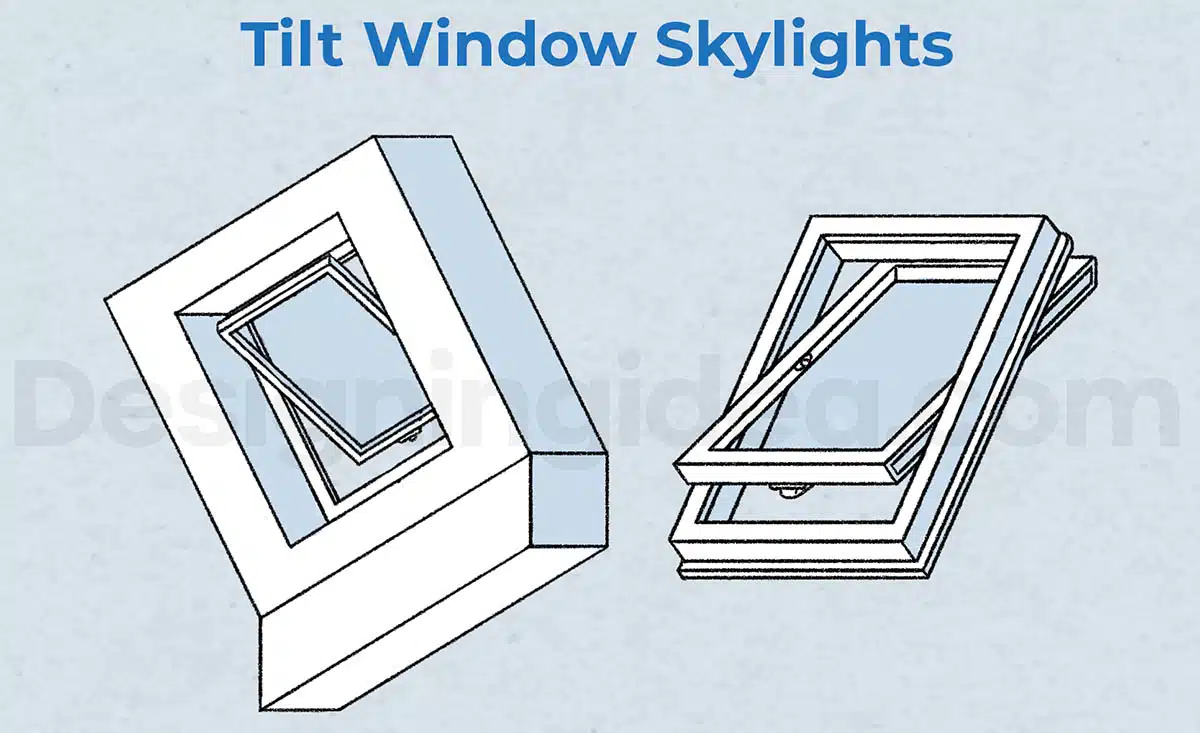 The tilt window skylight is a variation of a ventilated skylight. It differs from the normal ventilation skylights by the way it opens.
Tilt window skylights have an upper hinge that allow them to operate in such a way that they tilt.

A tilt window design is also sometimes referred to as a "tilting roof window".
Pyramid Skylight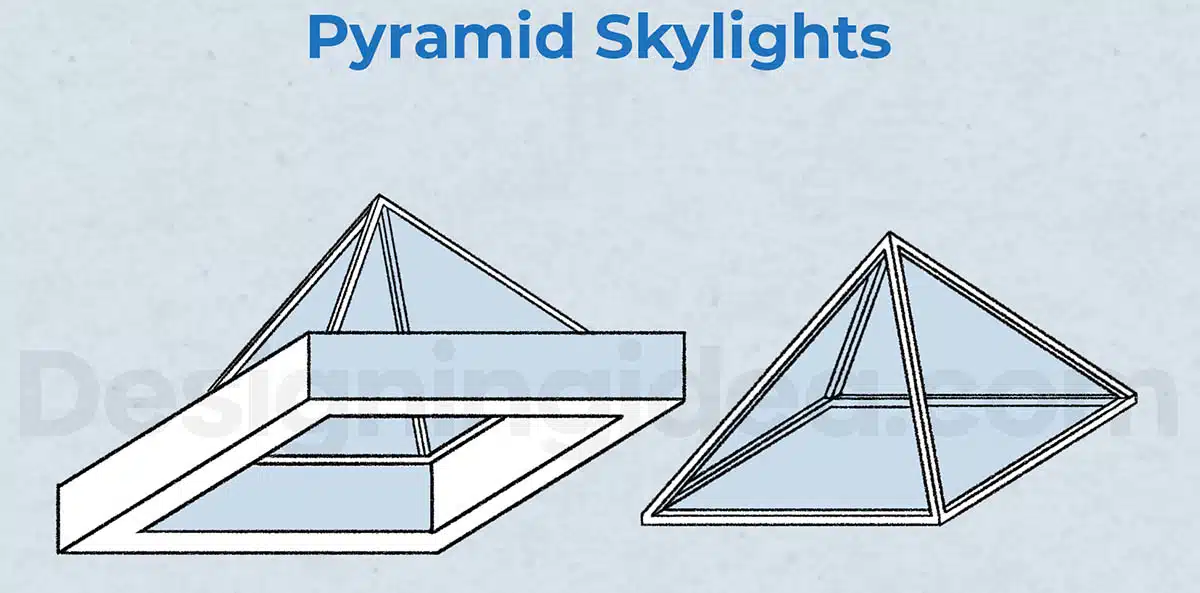 Pyramid skylights, as their name suggests, take on a shape of a pyramid and have four sides. They somewhat look like a small roof that is made with glass and a steel frame and rests on a square opening in the ceiling.
In some designs, pyramid skylights can have rafters and horizontal purlins.
These are available in several slopes and pitches, depending on the house's design and structural engineering, while their sizes can vary to as much as 20 feet wide depending on the requirement.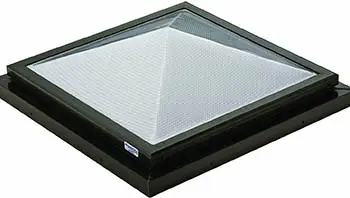 Pyramid skylights are typically mounted on curbs on flat roofs. Theta are usually preferred for use in large spaces like lobbies and in entry ways.
Some popular variations of pyramid skylights include the "multi sided pyramid skylight or polygon skylight " which typically has 6 or 8 sided openings, as well as over uneven multi-sided openings.
Another variation is the "hip ridge skylight" which is very much similar to a standard pyramid skylight, but instead of having a square opening, it rests on a rectangular opening.
Round Skylights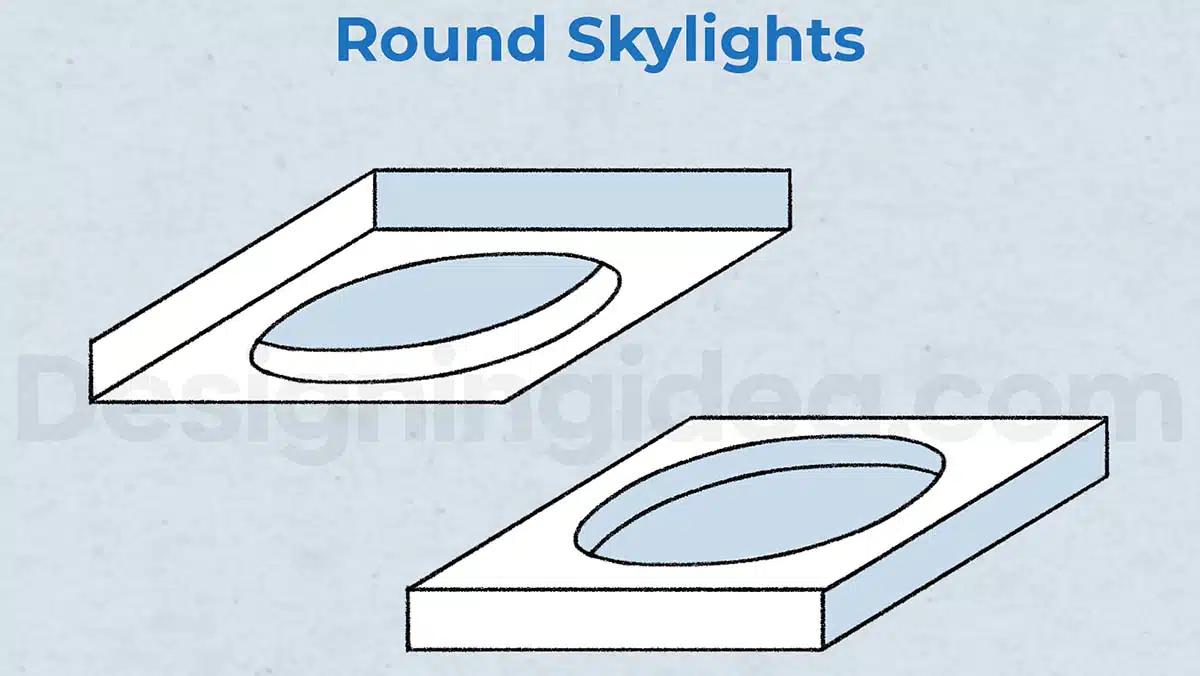 From the inside of the home, round skylights have a circular shape, but on the exterior they are flat. Round skylights may either be deck mounted or curb mounted.
Polygon Skylights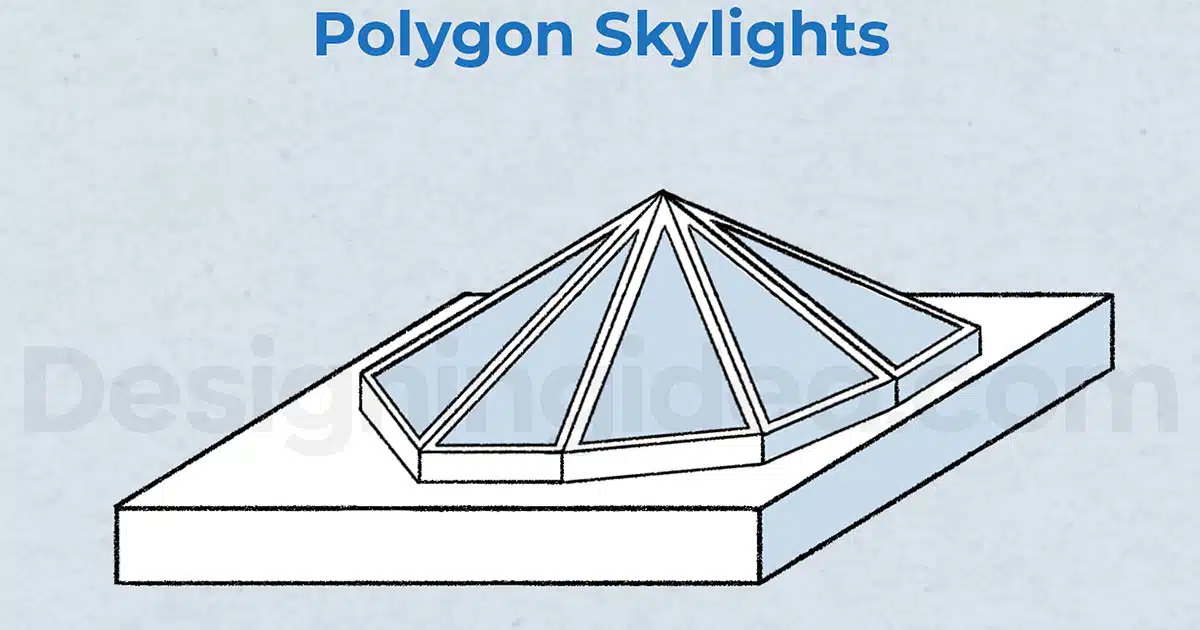 Polygon skylights are a type of flat skylight that have an unusual shape — like an octagon, hexagon, triangle or specialty shape. Polygon skylights can render a very dramatic effect on the look of a home.
Vaulted Polygon Skylights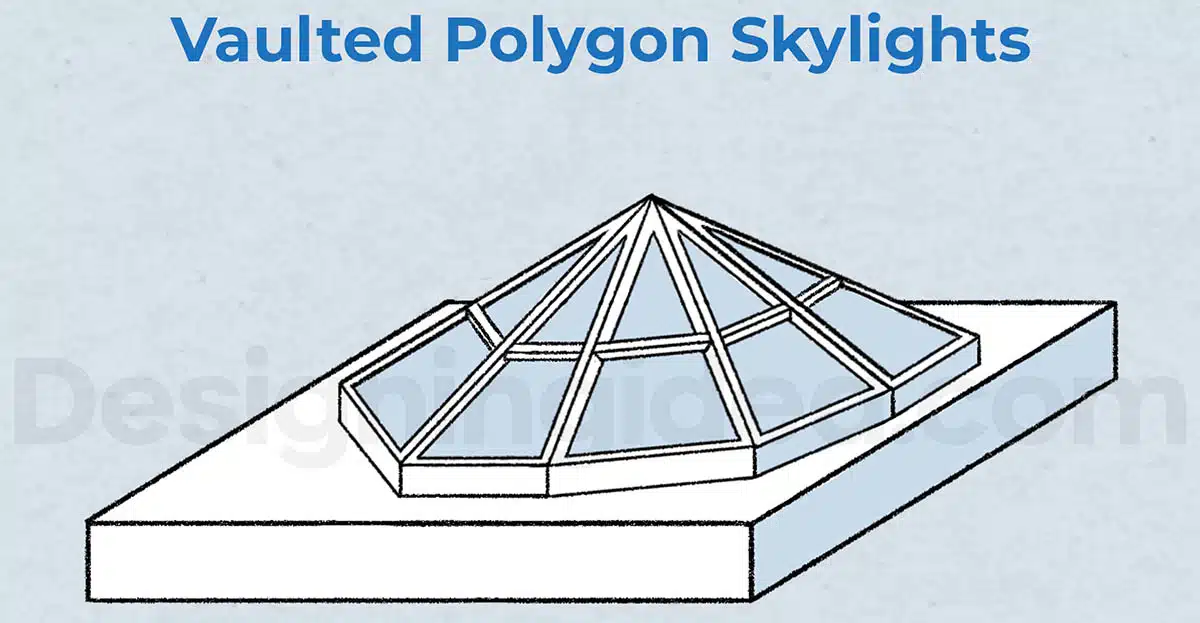 Vaulted polygon skylights are a variation of polygon skylights. It's base is usually octagonal, hexagonal or another unique shape, while the top is vaulted.
Roof Lanterns or Conservatory Skylights
Before skylights were made popular, roof lanterns were traditionally used to bring light into a structure.
Roof lanterns are typically square in shape and project up from the roof. All of its sides are installed with glass.

Picture of a conservatory skylight with a geometrical metal frame.
Barrel Vault Skylights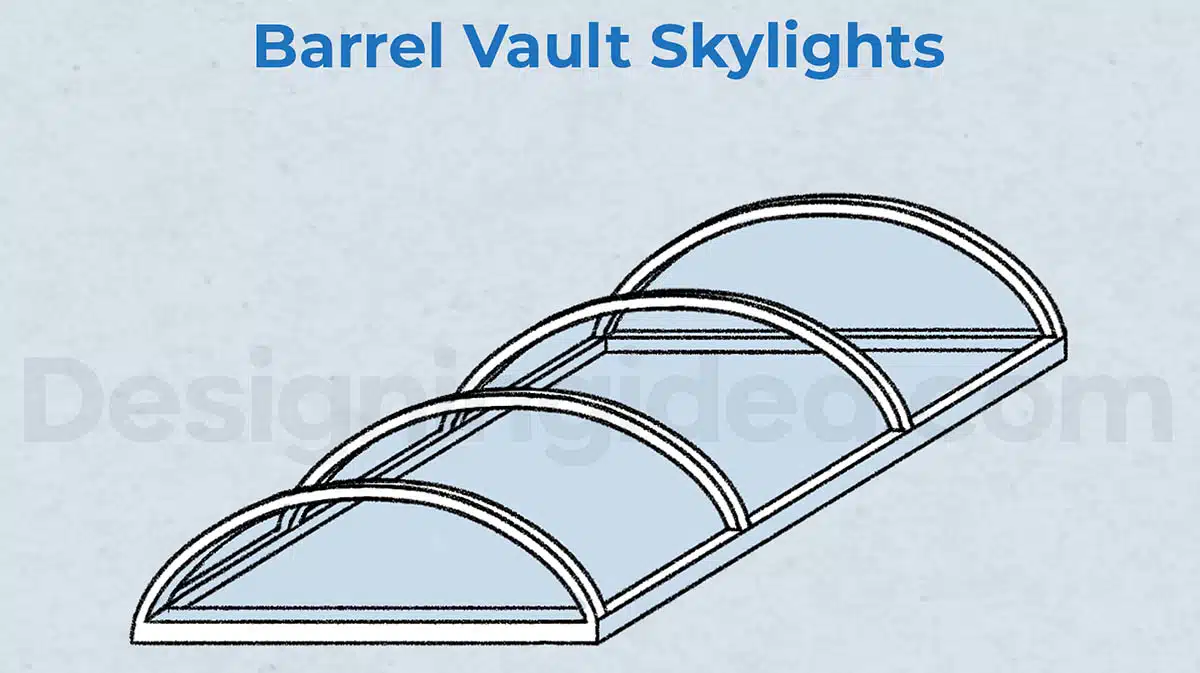 Barrel vault skylights are a type of vaulted skylight, but instead of projecting upward to create a peak, it is topped with curved glass.
The curved glass is supported on each end with a piece of half circle glass, which in turn creates sort of a barrel shape.
Quarter Vaulted Skylights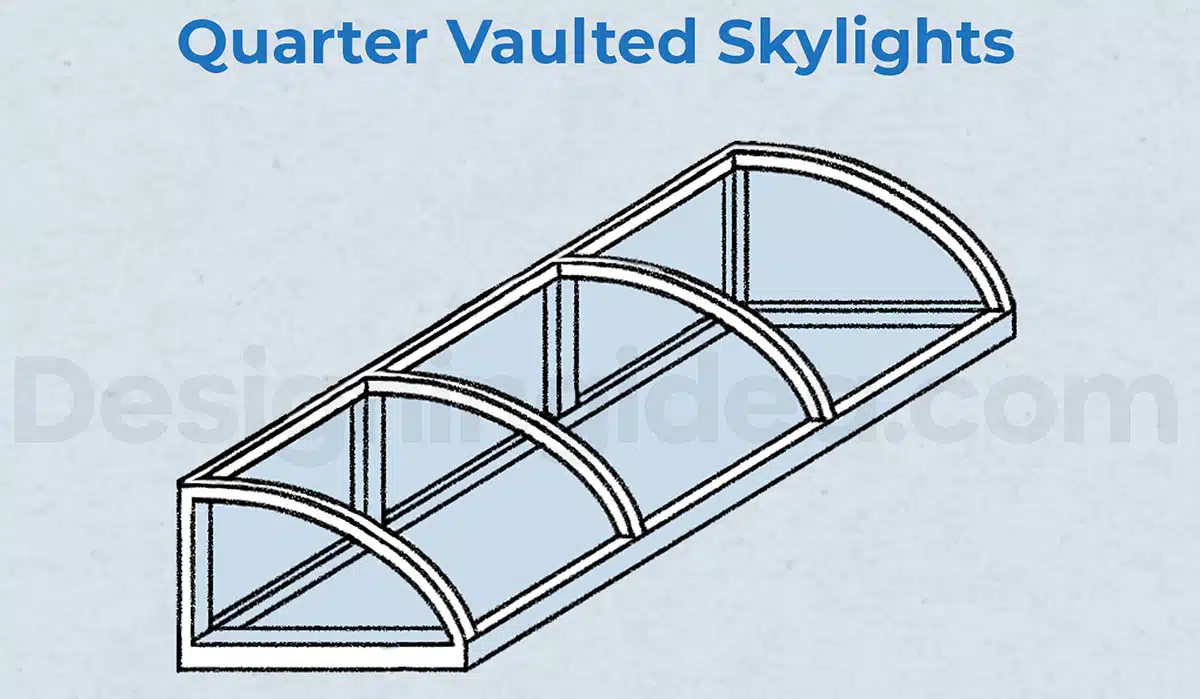 Quarter vaulted skylights are a variation of barrel vault skylights but instead of having half circle glass at the end, they use quarter circle glass.
This type of skylight is preferred usually in passageways, canopies, parking shelters, mall arcades, medical and educational institutions, and industrial complexes.
Bubble Skylight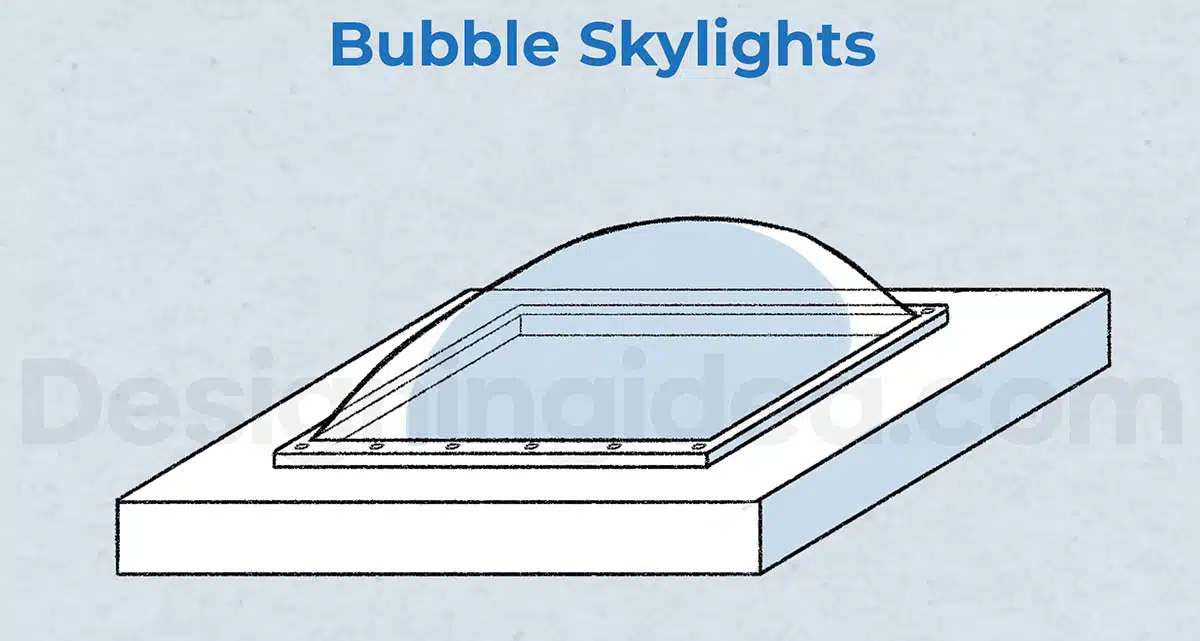 Bubble skylights make use of a bubble shaped glass instead of a flat glass. This helps dramatically increase the strength of a flat sheet of plastic.
Aside from reinforcing strength, it also helps eliminate expansion and contraction. Bubble skylights are also known as Plexiglas bubbles.

Plexiglass bubble skylights are best known for being efficient and inexpensive. They are also lightweight, which makes them very easy to install.
This type of skylight is well suited for flat roof installations as they help shed water well when raining. Their unique shape also helps them gather light from many angles.
Making any space well illuminated. In addition to these, their bubble shape also allows for increased head room.
Bubble skylights have a modern appearance and are suitable for contemporary and modern style homes.
Artificial Skylights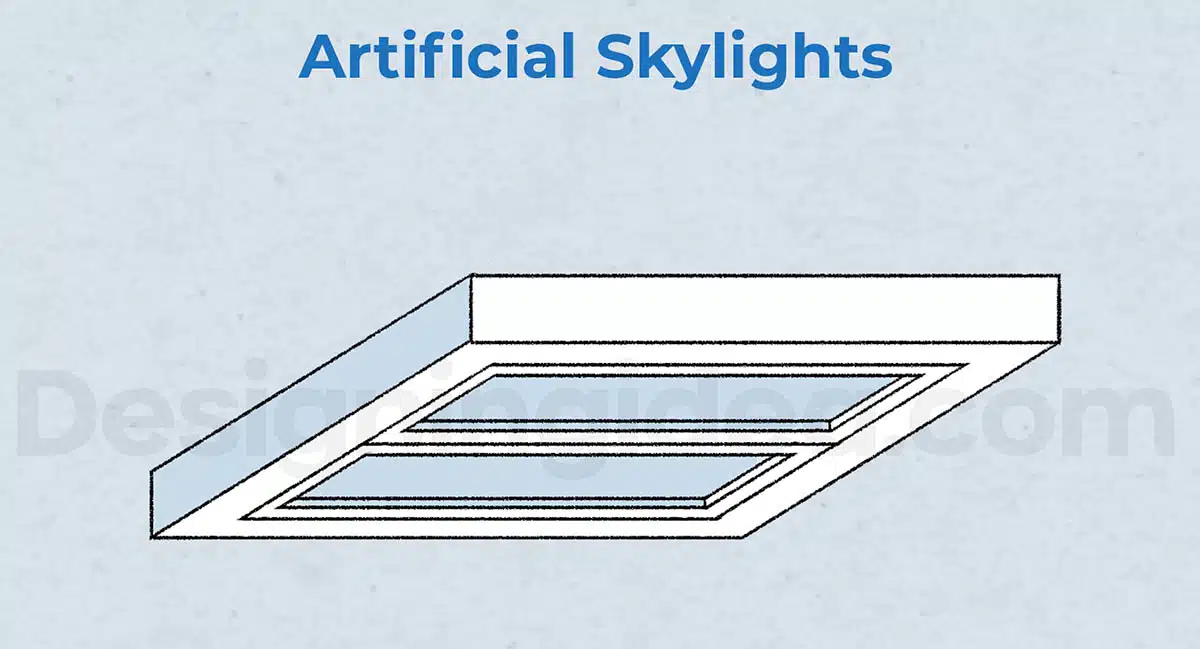 Artificial skylights are a new innovation developed in 2015 by an Italian company named Coelux
CoeLux® specializes in making artificial windows and skylights that simulate the visual appearance and recreates the true effect of natural sunlight and the sky using an optical system that is based on nano technology.
Coelux Artificial Skylight Technology reproduces what happens in real nature using a sun led-based low consumption source.
They mimic natural light — from the color down to the temperature using an artificial light source. It is actually a perfect balance of artificial light and natural light.

Artificial skylights help you enjoy the sun and the sky even while staying indoors. It helps enhance the mood in a space and make it more pleasant.
Types of Roof Skylight Glass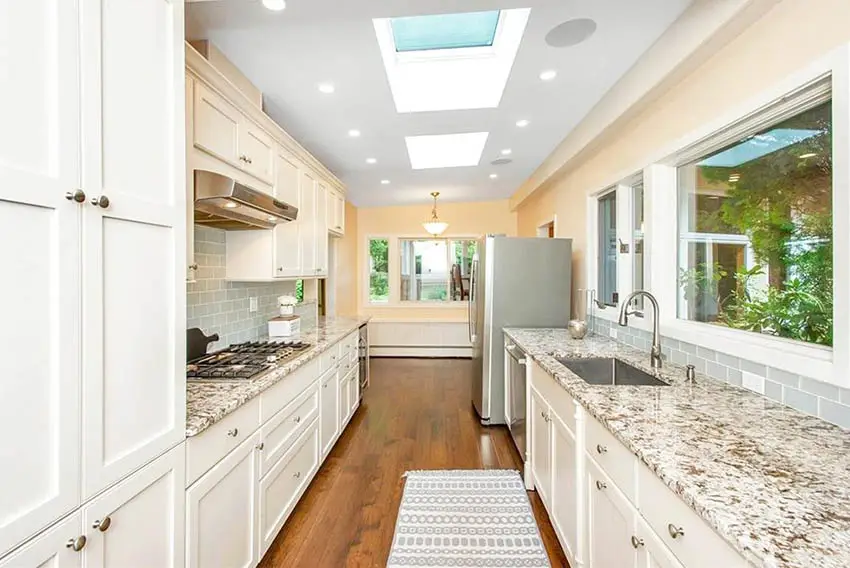 Galley kitchen with window over sink and multiple skylights.
Glazing makes up the majority of your skylight. Although you can choose between plastic or glass as your skylight material, the latter is more preferred because of a number of advantages.
The type of glass you choose will determine how durable your skylight is. Each type of glass has different features and can improve the way your skylight performs. Here are some types of roof skylight glass:
Plexiglass – also known as poly glass, Plexiglass is a lightweight material made of acrylic. Among the glazing materials for skylights, this one is the weakest and is prone to scratches and damage once debris hit it.
The greatest drawback of Plexiglas skylights is that they wear down when exposed to UV rays. Over time, they also discolor and turn yellowish, which can then distort the view and affect the amount of light that passes through your skylight.
Tempered skylight glass – Tempered glass is stronger compared to ordinary glass. It is heat treated to reinforce its strength. This also makes it scratch resistant and provides insulation. Once it breaks, tempered glass shatters into harmless pieces instead of large shards.
Laminated Skylight Glass – Laminated glass is coated with a thin layer of polyvinyl butyral (PVB) or ethylene-vinyl acetate (EVA) that is sandwiched in between two layers of tempered glass. This makes it extremely durable and sturdy.
Most high end and high quality skylights have laminated glass, making them the most expensive option in the market.
Skylight Sizes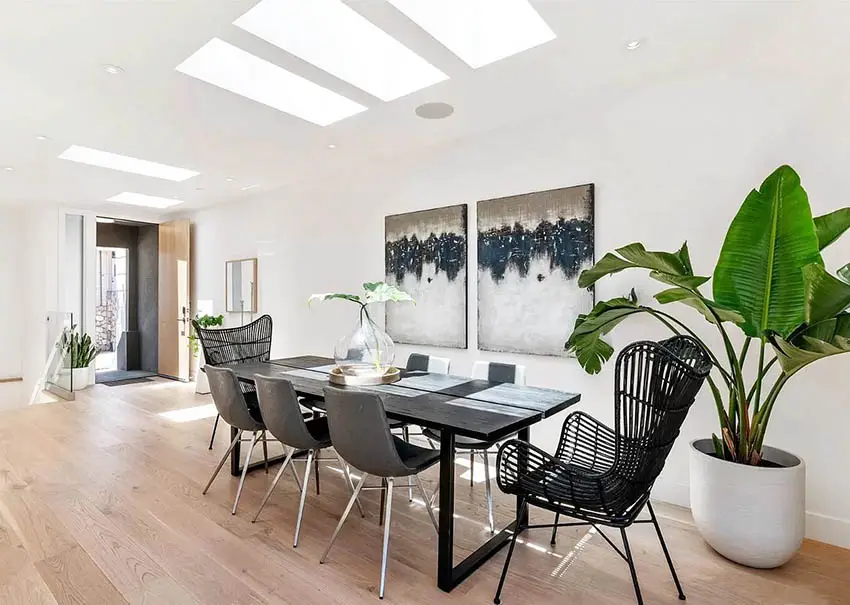 Skylight sizes do not follow a strict standard dimension as they can be customized into any size depending on the homeowner's requirements and specifications.
They are available in different widths, lengths and heights and the sizes may vary too depending on the type and design of the skylight.
Standard Skylight Dimensions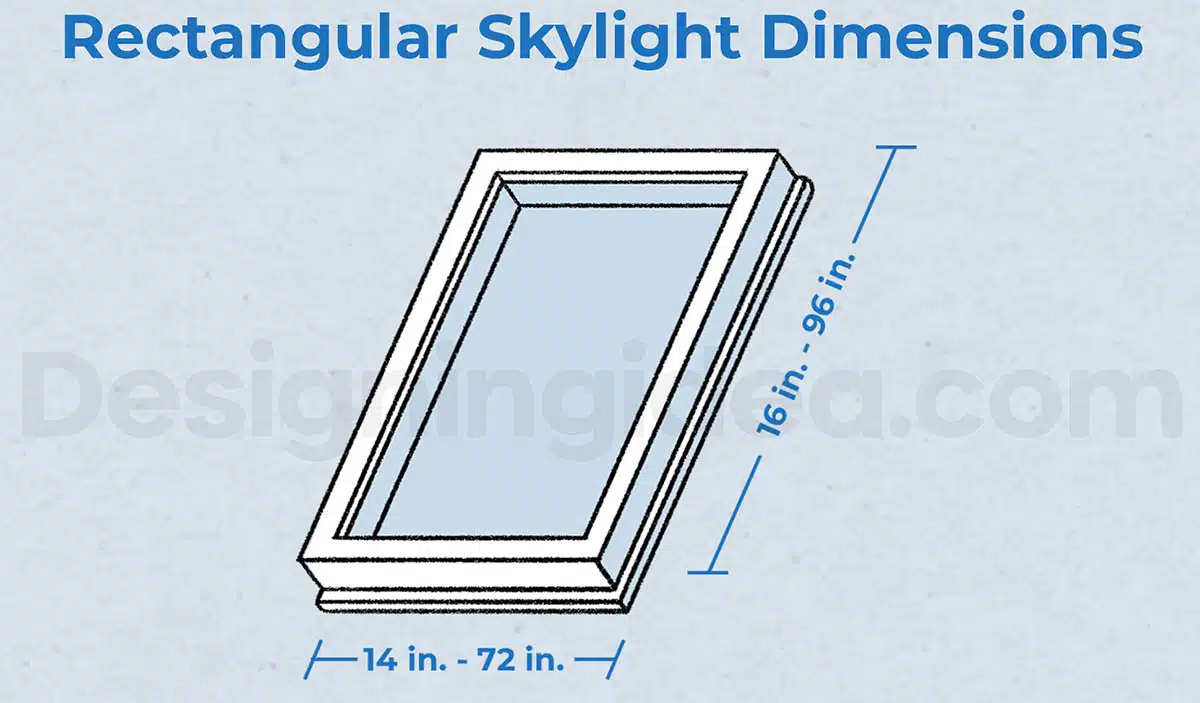 Rectangular skylights and flat tempered glass skylights typically have widths that range from 14 to 72 inches or 36 to 183 centimeters, while their length ranges anywhere from 16 to 96 inches or 41 to 244 centimeters.
For curb mounted skylights, the inside and outside curb dimensions are both defined and usually these measurements have a difference of between 2 to 3 inches.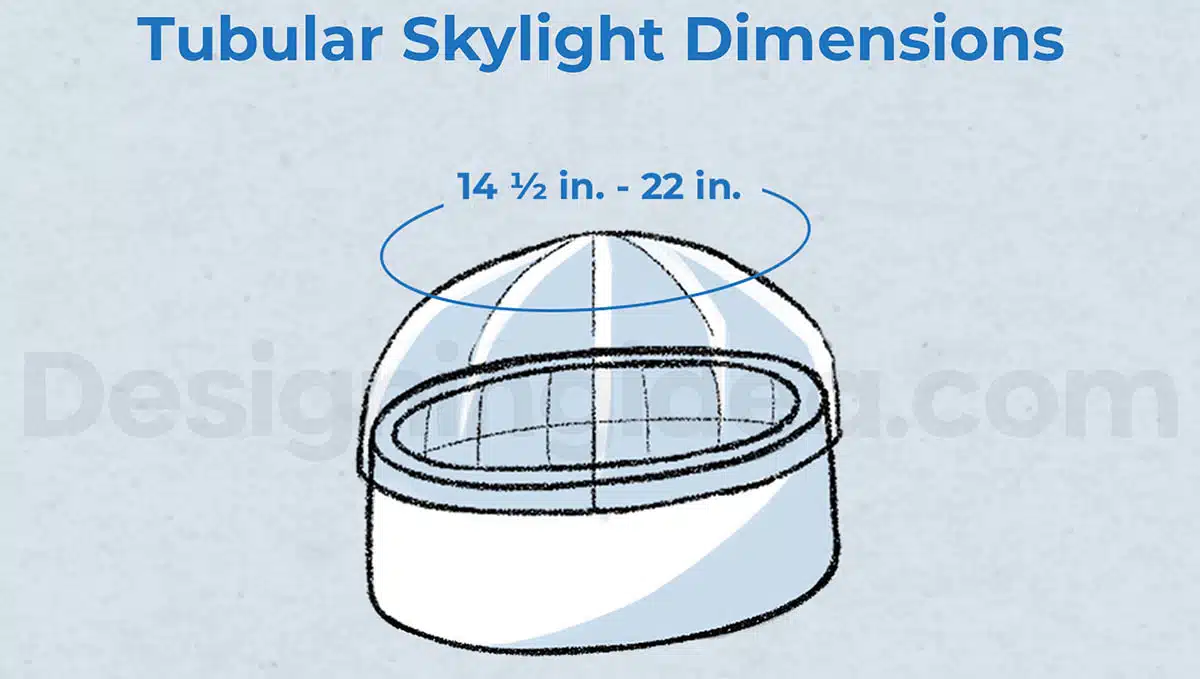 Tubular skylights usually have a diameter of 14 ½ inches or 36 centimeters and they normally do not exceed 22 inches or 55 centimeters. '
Typical Glass Thickness Of Skylights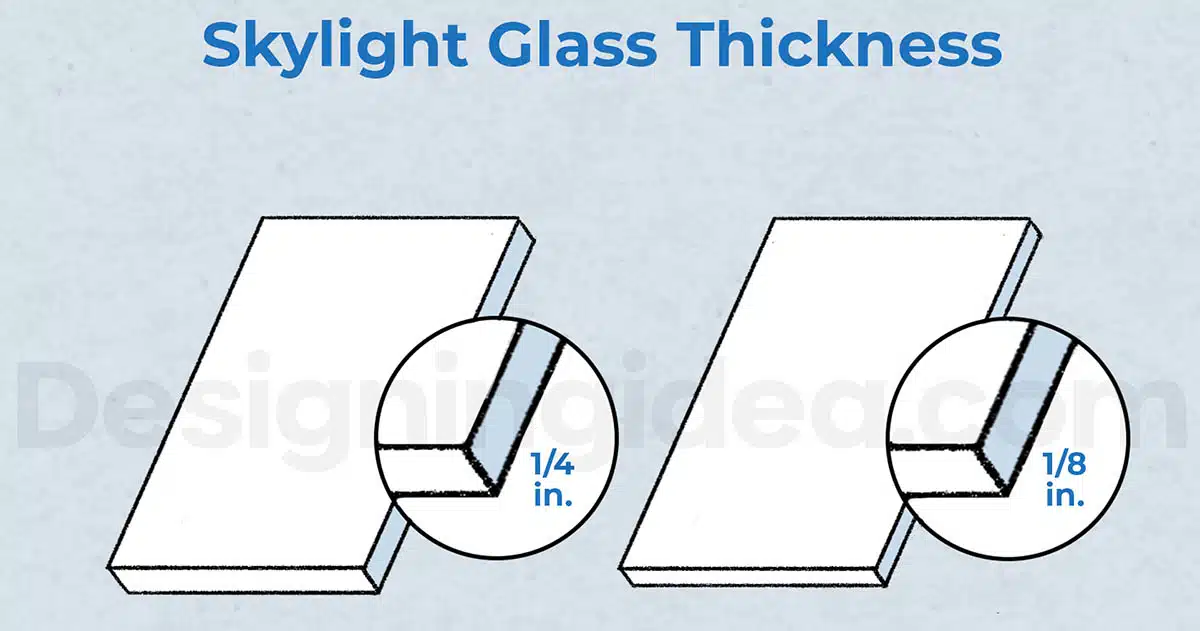 The thickness of the glass used in skylights also differ depending on the design and size, but normally the bigger the skylight is, the thicker glass it requires.
The typical thickness of glass used for skylights normally varies from ⅛ inches or 3.2 millimetres to ¼ inch or 6.35 millimetres.
How To Choose The Right Skylight Size For Your Home
Based on industry standards, a skylight should be approximately 5 percent of the floor area of a room with many windows. On the other hand, if your room has few windows, it should be at least 15 percent of the floor area of the room. This will ensure that your skylight is energy efficient.
To determine the total floor area of a room, simply measure both the length and the width of the floor using a tape measure. Multiply the length of the room by its width, and the resulting number is the total area of your room.
If the room is well lit and has plenty of windows, multiply the total floor area of your room by .05, while if it has few windows and is generally dark, multiply it by .15.
If the room falls just in between or is neither dark nor well lit, just use the middle value of .10 and multiply it to your room's total floor area. The resulting number is the approximate square footage or total area of your skylight.
How To Measure A Skylight For Replacement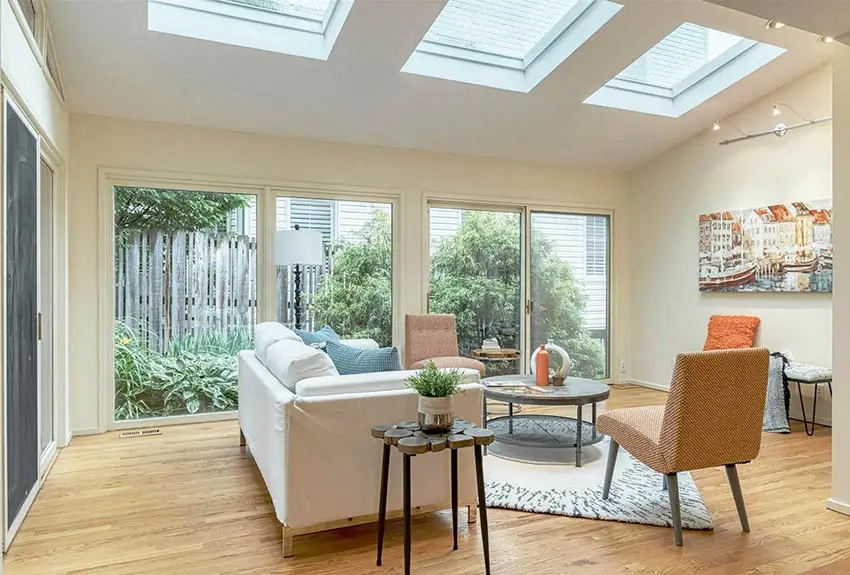 To ensure that you select the correct size replacement for your existing skylight, there are several practices that you need to follow in measuring them based on their type.
First, is to try to identify what brand the old skylight is. Skylights typically have tags found on the inside frame, exterior sash or etched on the glass that include its brand name.
If you know the brand, you can contact your supplier and they can find the right one that matches it. However, even with the information found on the ID tag, it is still important to measure the old skylight to ensure that your new one will fit the opening well.
How do you measure a skylight for replacement depending on its type?
For deck-mounted skylights

–

Measure the length and width of the exterior glass plane from the inside edge of the cladding. On the inside of the house,

measure the drywall opening length and width

and the length and width of the exterior glass .

For curb-mounted skylights

–

Measure the length and width of the outside curb and make sure to include the curb itself and any roofing material. From the inside edge of the skylight cladding, measure the outside glass and width.
Recommended Skylight Sizes Based on Room Type
Walk in closets, closets, toilet and bath, cupboard and pantries – must be 30 to 40 centimeters in diameter

Small rooms and breakfast bar – must at least be 50 centimeters in diameter

Ideal for full bathrooms – 40 x 40 centimeters

Small rooms like study – 50 x 50 centimeters

Laundry room / areas, entries – 60 x 60 centimeters

Large square rooms and family rooms and lounges – 70 x 70m centimeters to 80 x 80 centimeters

To light up lounge – 77.5 x 77.5 centimeters

For very large rooms – for square skylights, dimensions should at least be 90 centimeters x 90 centimeters , 1meter x 1 meter, 1.2 meters x1.2 meters
Rectangular skylights
Rectangular hallways – 400mm x 600mm

Over breakfast bar, or narrow rooms – 600mm x 800mm, 500mm x 900mm

Large rectangular rooms – 600mm x 1200mm
Here's an installers trick that keeps a skylight high and dry: install a waterproof underlayment before the flashing and shingles go on. – Emily Anderson, When Changing a Lightbulb Just Isn't Enough
Skylight Cost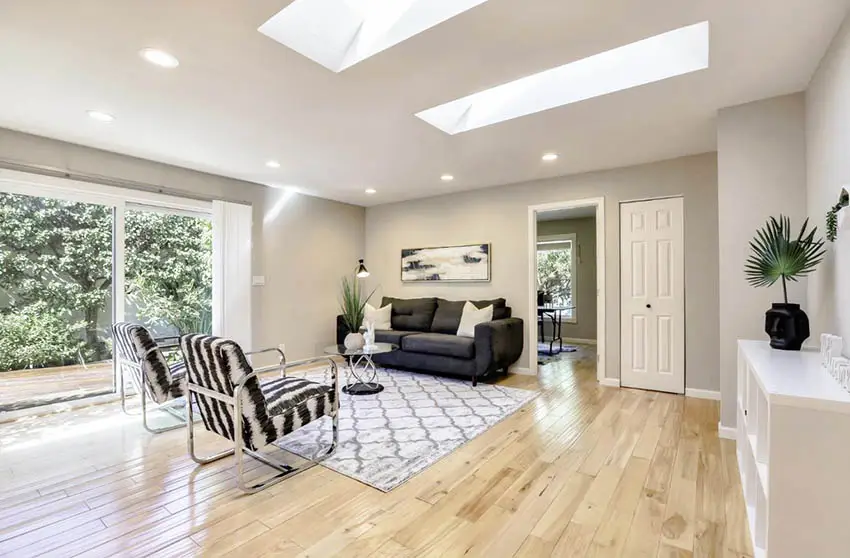 The average cost of a skylight with installation costs around $1600, with typical prices ranging between $900 to $2500 for the labor and materials.
The price of the skylight itself varies depending on the type, style, brand and size. Below are some of the typical cost of skylights based on different factors:
Cost of Skylights Based on Type
Fixed skylights – Fixed skylights cost between $150 and $1,500.

Ventilating skylights – Expect to pay between $300 and $2,500.

Flat-Roof Skylight Prices – For skylights designed for flat roofs, expect to pay between $250 and $2,000. The cost of materials for flat roof skylights are the same, but they incur more additional expenses in terms of leak proofing.

Dome skylights – The price range for dome skylights is between $200 to $3,000.
Cost of Skylights Based on Brand
Velux – Velux is the world's largest manufacturer of skylights. They offer a lot of types and models – from fixed skylights to ventilating skylight and automated windows.
Each purchase comes with a 20-year leak warranty. Velux skylights cost between $1,100 to $3,700 with installation included. They also offer tubular skylights for a cheaper price of $200 to $500, installation excluded.
Fakro – Fakro offers fixed skylights and ventilated skylights that are manual, electric, or solar controlled. Each of their products comes with a 25 year warranty for the glass and 10 year warranty against leaking. The cost of Fakro skylights range between $300 to $2,500.
Pella – Pella offers a broader product line which includes skylights. They are generally less expensive than other brands but only include a 20 year warranty that does not protect from leaks. The price for Pella skylights range between $150 to $1,700.
Sun-Tek – SunTek is a popular brand of residential and commercial skylights offered art major home improvement stores. Instead of real glass.
Their products make use of acrylic or polycarbonate compounds. Each purchase comes with a 10 year warranty that covers a full cost reimbursement for the materials only. The price of Sun-Tek skylights range from $200 to $3,000.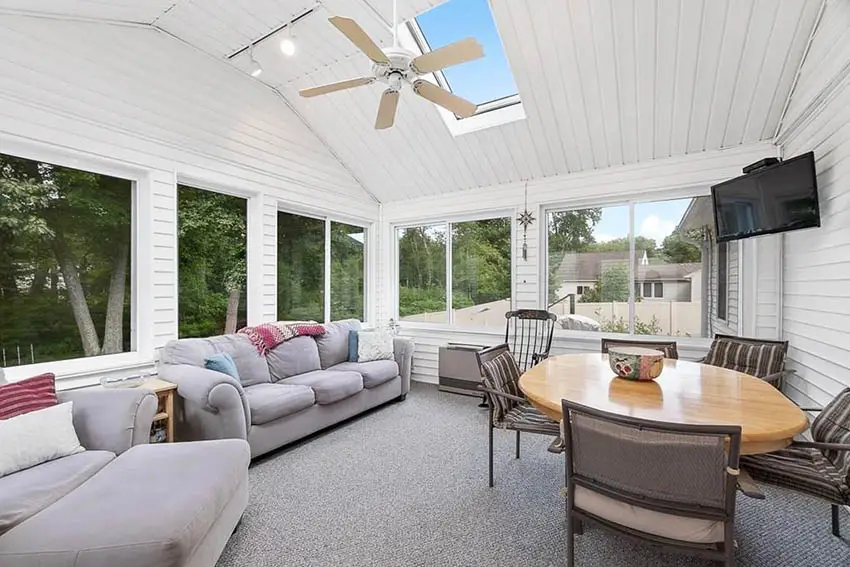 Cost of Skylights Based on Size
While skylights can be made in different custom sizes, they typically come in standard sizes. Here are some of the average prices for skylights based on their size:
16 inches W x 16 inches H – $150 to $600

16 inches W x 24 inches H – $200 to $700

16 inches W x 32 inches H – $300 to $1,000

24 inches W x 32 inches H – $300 to $1,200

24 inches W x 48 inches H – $500 to 2,000

24 inches W x 72 inches H – $900 to $2,700

48 inches W x 48 inches H – $1,100 to $3,500
Skylight Installation Cost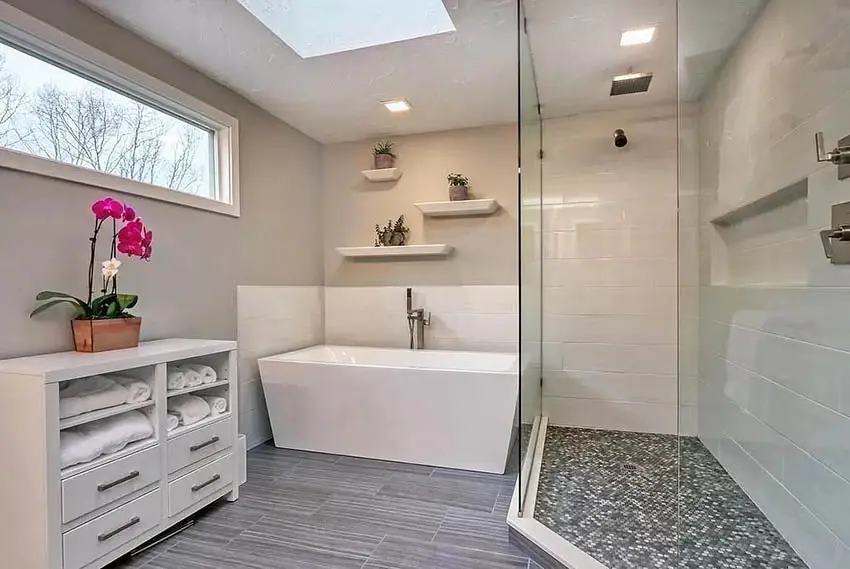 Labor charges for installing a skylight usually start at $500, but may go up to $4000 depending on the size of the skylight and the complexity of the project.
Other factors like the roofing material, accessibility and the structure of your home (pitch of roof, height of ceiling, existing room conditions) may also contribute to the increase in price.
Unless you are a highly skilled DIYer, it is best to leave the installation to the pros. A full scope of work for installing a skylight is quite tedious and needs precision.
Installing a skylight includes cutting a hole on the roof, mounting and flashing the skylight, building a chase from the skylight to the interior ceiling and repainting the entire ceiling beneath the skylight. In addition to these, leak proofing is also required.
Vented or ventilated skylights with remote controls require electrical work. This is an additional expense that has to be included in your overall budget. Typically, electricians charge between $75 and $300 for this type of work.
Skylight Replacement Cost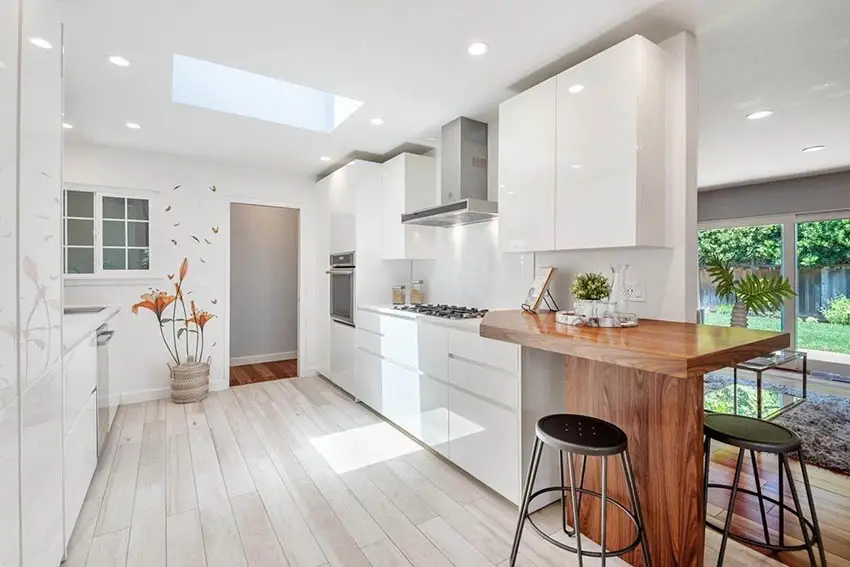 The cost of repairing and replacing a skylight varies and greatly depends on the extent of the damage. Here are some of the typical prices for each type of job:
Cost of repairing a skylight – On the average, it costs around $750 to repair a skylight, but the prices can go up to $1150 depending on the extent of the damage.
Repairing usually involves fixing broken parts, checking the opening, machinery, seal and flashing, comprehensive repair for corrosive parts and addressing problems with leaking.
Cost of replacing a skylight – Replacing a skylight costs more and usually runs anywhere between $900 and $2,300. This includes the new roof window as well as sealing and installation.
Cost of replacing the skylight glass – Replacing only the glass will cost you anywhere between $300 to $800, including labor. If your skylight has two or three panes, it falls on the high end of the said price range.
Cost of fixing leaks – Leaking is the most common problem for skylights. This typically costs around $300 to $800 to fix.
Cost to replace a skylight motor – A new solar powered motor can cost up to $500. Replacing a broken skylight motor can cost as little as $100 to $500 , but if the damage requires hiring an electrician, expect the cost to increase anywhere from $270 to $1000.
Cost of replacing a hand operated mechanism – Hand operated skylight mechanisms cost less than electric powered ones. A new hand crank will cost around $110 and with the added labor cost, replacing it will amount to a total of $200 to $400.
Skylights That Open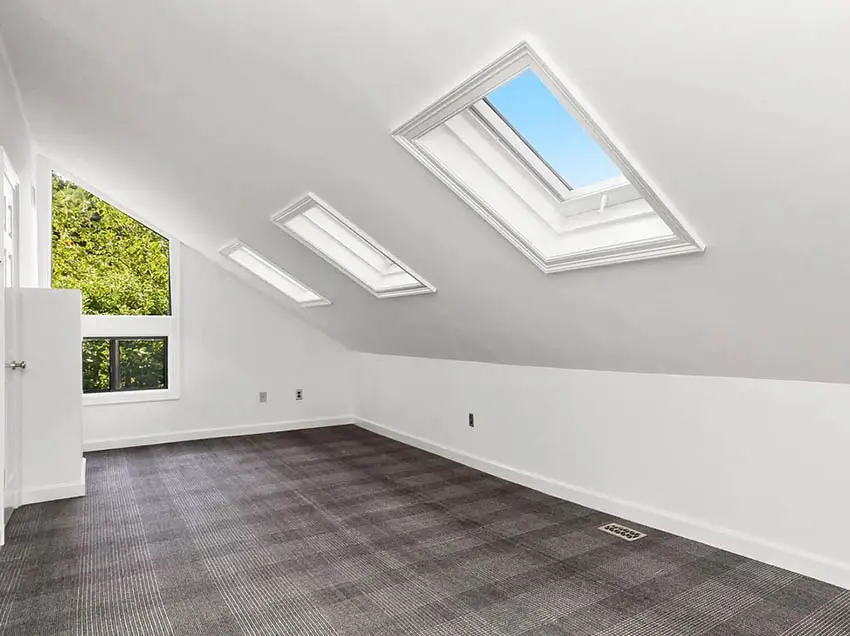 Skylights come in operable and fixed models. Skylights that open are typically called "ventilating skylights" because aside from providing illumination to a space, they also allow air circulation into a space.
Skylights that open typically have a hinge at the top and open a few inches. Since they are out of reach, manufacturers offer different ways to control them. Here are some types of operable controls for skylights that open:
Manually Operated Skylights
Manual operating skylights are the most basic models offered in the market. They are opened and closed by hand and do not use a remote control.
Manually operated skylights installed in ceiling which are less than 15 feet high typically come with an extension pole to make them easy to reach.
This type of operable skylight is a very economical choice but will require more effort to open compared to its motorized and automatic counterparts.
Motorized Skylights
Motorized skylights can be opened and closed using a wall switch or a hand held remote. Motorized skylights that have additional features like built in shades typically come with a wireless remote and a special wall console. These are suitable for ceilings that are high and out of reach and for skylights that will be opened frequently.
All major skylight manufacturers offer motorized skylights. They cost more than manually operated variants but are more convenient and easy to use. Installation cost is a bit higher too because it will require some electrical work such as routing electrical wires to the skylight.
Automatic Skylights
The most expensive type of operable skylights are automatic skylights. These models are typically integrated with a sensor that automatically closes the skylight when it detects rain or moisture.
More sophisticated models include heat sensors that automatically open the skylight when the room reaches a preset temperature. You can also program automatic skylights to operate at specific times of the day.
What you should know before installing a skylight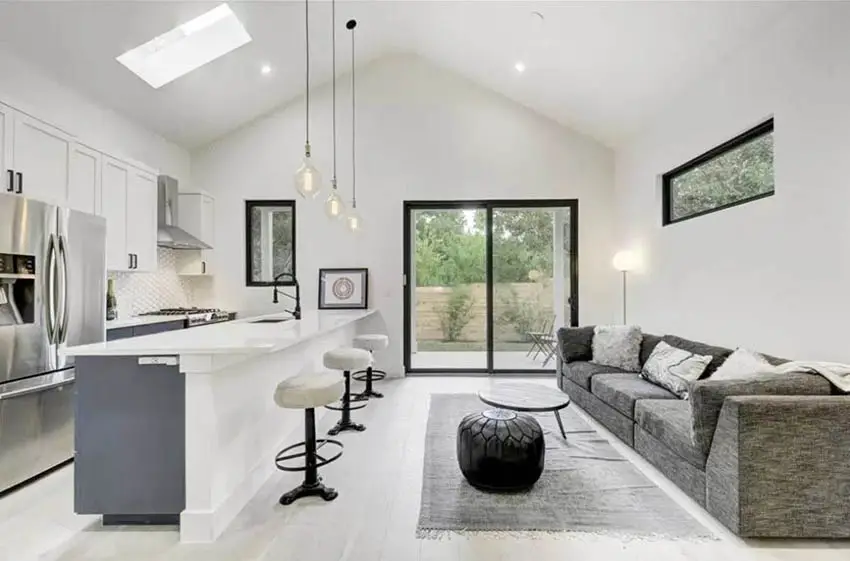 Kitchen with a skylight open to a living room with a clerestory window.
Before you install a skylight in your home, you need to evaluate your home's existing condition and structure. Here are some important design considerations to help you decide if your home is right for a skylight :
Will a skylight suit the architectural style and design of your home? A skylight can blend with almost any architectural style, whether it may be traditional, contemporary or modern.
You can find a lot of skylight designs and models which can fit into any architectural setting. It can also greatly improve the curb appeal of an older home, making it a valuable addition.
What type of roof framing does your house have? Skylights aren't right for all roofs. Because they are installed at the roof line, you have to make sure that the way your roof is constructed must be able to support the skylight. You must consider the type of farming your house employs to make sure a skylight will fit into your home.
The first type of roof framing is a Stick-framed roof, which is built with individual rafters that are spaced four feet apart. This type of roof is better suited for skylights because they have enough space to cut and fit a skylight in between the rafters.
The other type of roof framing is known as a Truss-framed roof, which is made up of trusses or prefabricated triangular units. This is less ideal for a skylight because trusses aren't designed to be modified once installed. Cutting it or altering it in any way may sacrifice the structural integrity of the roof.
However, if you still wish to add a skylight to a truss framed roof, you must choose the right size. The typical size of truss framing is around 24 inches on center and this is just enough to accommodate a small skylight.
The skylight must not be more than 2 feet wide to fit the limited space in between the trusses. If you wish to go with a bigger skylight, you have to consult a structural engineer so they can make the necessary recommendation on how you can alter your roof's trusses.
Is your attic space clear?Once you have an idea where you'd like to add a skylight, check the attic for any HVAC, wiring, or plumbing in the way.
What is the slope you need for a skylight? The slope of your roof is also important when it comes to skylight installation. In general, your skylight must be installed at a slope of five to fifteen inches degrees higher than your latitude.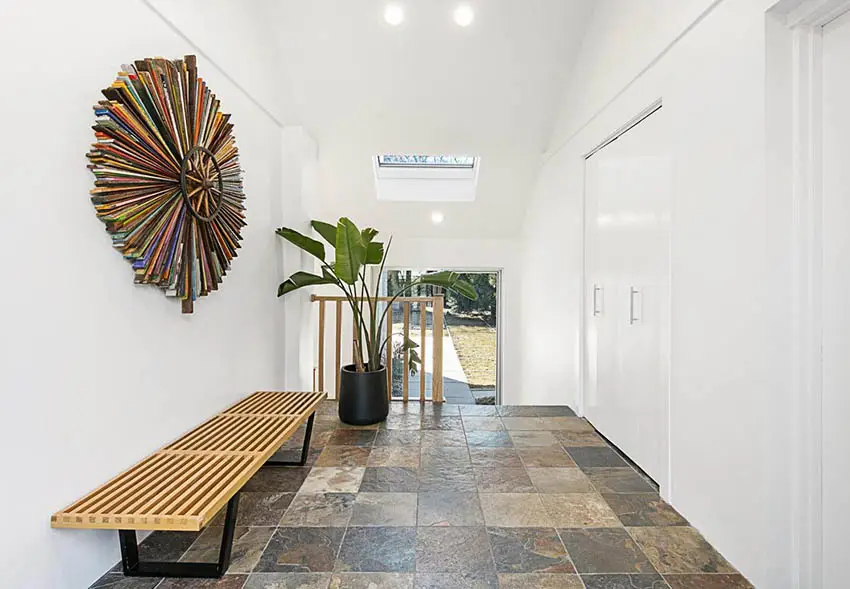 Some Additional Skylight FAQ'S
Do I need to install a chase for my skylight? Chase, by definition, is a framed tunnel that helps direct the light from the skylight through the attic to the ceiling below. It is kind of like a tunnel made with drywall. If your home has a cathedral ceiling, you will not be needing a chase for skylight installation.
What is a flashing kit? Flashing kits are used to make sure that your skylight is waterproof. It helps prevent any leaks and flooding, which in turns help eliminate the possible growth of molds in your home. Flashing kits are typically sold separately from skylights.

What is skylight cladding? Skylight cladding is a piece of aluminum placed at the exterior of the roof window. Its main purpose is to add an extra level of protection, provide weather resistance and give additional insulation.
What is a Low E coating? Low E stands for "low emissivity" and is a type of thin coating applied to glass to help reflect heat and minimize the infrared and ultraviolet waves that come through it.
Since it is microscopically thin, it does not diminish the amount of light that comes through the window. With low E glass, you can prevent any harm brought about by exposure to UV rays.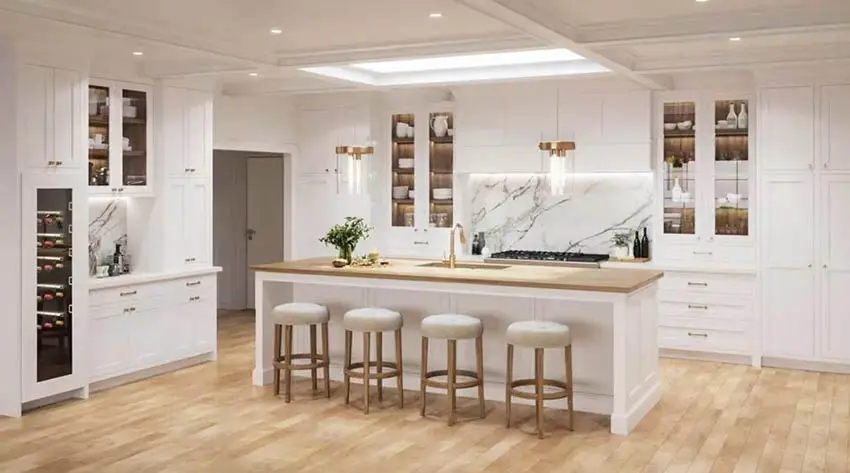 What to Consider When Buying Skylights
Skylights come in different types, materials and designs, that's why choosing one can be quite challenging especially if you are presented with hundreds of options.
While aesthetics may be one of the main factors that needs to be considered in choosing a skylight, it isn't the only thing that matters. There are a number of other aspects that you need to look out for when buying one when for your home and here is a list of them:
Function. The first thing that you need to determine when choosing a skylight is its function.
Identify your need – what do you expect your skylight to do?
Do you need it to bring in more natural light?

Do you need it for additional ventilation?

Do you need it to add a view to your home or to bring in more aesthetic value?
Aesthetic Value and Design – While skylights are considered to be a neutral architectural element, their design must still complement the overall style of your home. Their design must be integrated well into the surrounding architecture to make sure that they add an aesthetic value to your home.
Location and Positioning – The location, position and direction of your skylight matters. The main purpose of a skylight is to add illumination or ventilation to a space, so when scouting for its location, place it on a room which is dark lit or gloomy. Ideally, skylights should be placed on areas that are directly below the roof, like a finished attic.
In the same way the direction of your skylight is also a critical aspect that needs to be planned carefully. North facing room skylights are the most ideal because they provide illumination all year round.
There is also such a thing as overexposure and you don't want it in choosing the position of your skylight. Look for a spot which isn't too exposed to UV rays, but just to be extra careful, go for glass coatings which will help address overexposure.
If one of your main purposes for installing a skylight is to add a view to a room, make sure that the location that you choose is unobstructed. Your skylight's view must be unobstructed by any talk trees or large buildings.
Large trees may only be beneficial if your home is located in a region that experiences very hot climates and needs extra shade from the sun.
The positioning and location of your skylight will also affect some other factors, like the size of the skylight and the number of skylights that you need.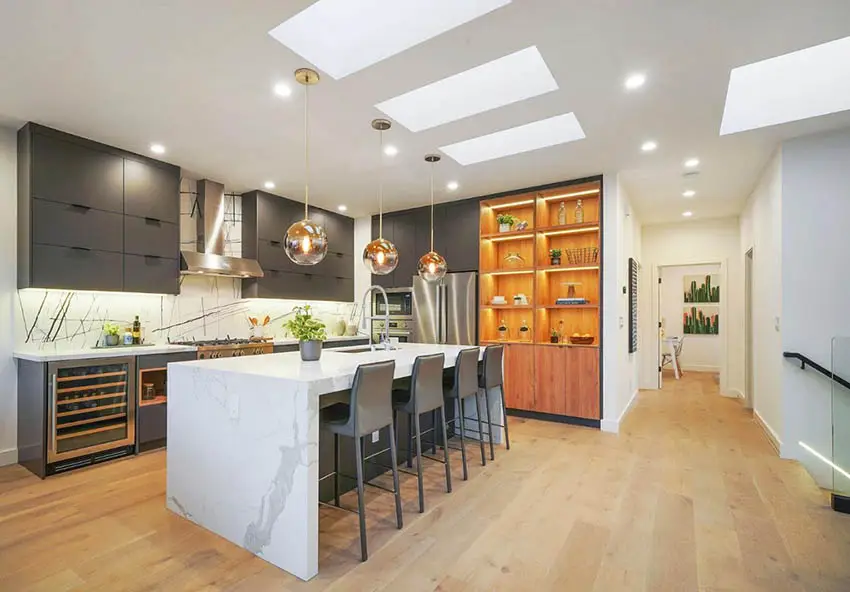 Size of the room and shape of the room – The size and shape of the room can also affect your choice of skylight. Based on the recommended and standard sizes of skylight, a skylight should be approximately 5 to 20 percent of the total floor area of a room. A bigger room will need a bigger skylight.
The shape of your room, on the other hand, will affect the type of your skylight and how it will be installed. Some rooms may demand additional steps in order for the skylight to work effectively, like additional tubing, etc.
Accessibility- The way your skylight operates will affect its accessibility and convenience. If you choose to go with a vented skylight, you have to decide on the way you want to operate it – Do you need a remote since it's a hard to reach area? Or can you manually operate it easily?
Glazing – Traditionally, skylights made use of nothing but a single pane of glass, but thanks to modern innovations, you can now choose from different materials with special features.
Glass is not the only option for skylight glazing. Aside from choosing between wood, vinyl or metal framing, you can also select glass or plastic for the glazing. Glass glazing is twice as heavy as plastic glazing and costs up to five times more.
However, it is a wise investment because it offers a lot of practical benefits like impact resistance, less discoloration and it is also highly customizable. In addition, you can add insulation to it to prevent UV rays from coming through your skylight.
If you plan to choose glass for your skylight's glazing, make sure to go with tempered or laminated glass. These types of glass do not shatter on impact. You can also go for double pane glass, which can be a combination of both, and this is the most durable type of skylight glazing available in the market.
For more related designs visit our gallery of the types of ceiling designs.